The A Block of New Japan Pro Wrestling's G1 Climax returns from Hiroshima Sun Plaza on October 7th, 2020 with a card featuring three first time matchups!
The main event will feature Shingo Takagi and Kota Ibushi in the first time they've ever faced each other in a singles match. Each enters with a long and storied history in the ring, but while they each established their careers outside of New Japan, their paths never intersected. The semi-main event will feature two wrestlers fighting for a chance at leading the block as Taichi and Jay White enter with six points a piece. Third from the top, Will Ospreay and Minoru Suzuki will meet in their first ever singles match against each other, preceded by Kazuchika Okada and Jeff Cobb, also fighting for the first time and the match on the card with the most history, Tomohiro Ishii vs. Yujiro Takahashi will kick off the block action.
Fun Fact: This event is is booked with ascending block point totals as we travel through the card. Block match one features wrestlers with 4 total block points, block match two features wrestlers with 10 total block points, and match three through five feature wrestlers with 12 total block points, headlined by Kota Ibushi participating in the main event as the only wrestler with 8 points.
---
You can find my complete statistical breakdown for every competitor in this year's G1 Climax here, I have interactive, sortable tables for NJPW's 2020, detailed results and statistics of all 1510 G1 Climax matches to date, and This Year's Tournament at SportOfProWrestling.com, and you can let me know what you find when you drill down by dropping me a line on Twitter @TheChrisSamsa.
---
Date: October 7th, 2020
Venue: Hiroshima Sun Plaza Hall
Time: 6:30pm JST
Watch Live or OnDemand On NJPWWorld
Local Time Conversions: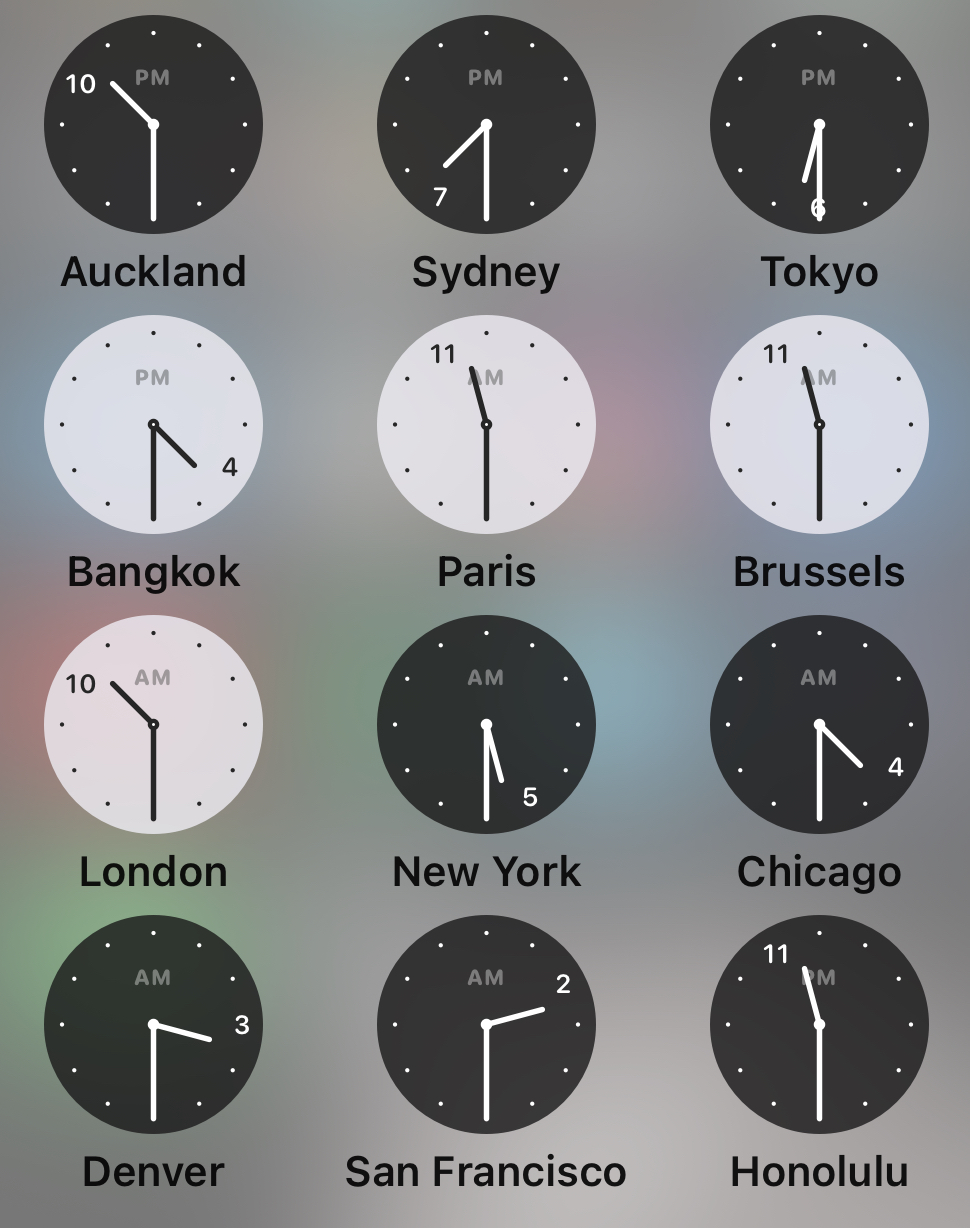 ---
G1 CLIMAX 30: A BLOCK RESULTS TO DATE


BLOCK TABLE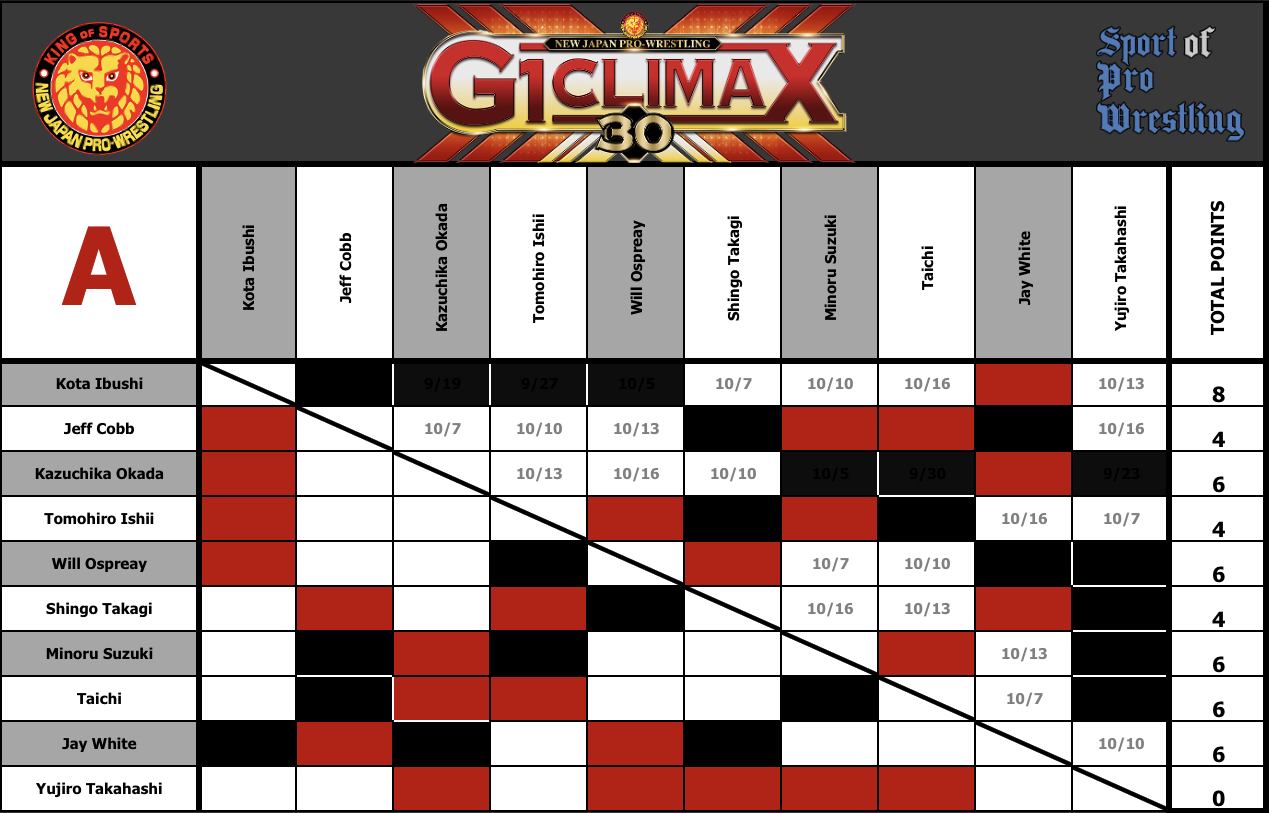 UP-TO-DATE, DETAILED RESULTS AND STATISTICS CAN BE FOUND AT SPORTOFPROWRESTLING.COM
---
G1 CLIMAX A BLOCK MATCH
Kota Ibushi [8] Vs. Shingo Takagi [4]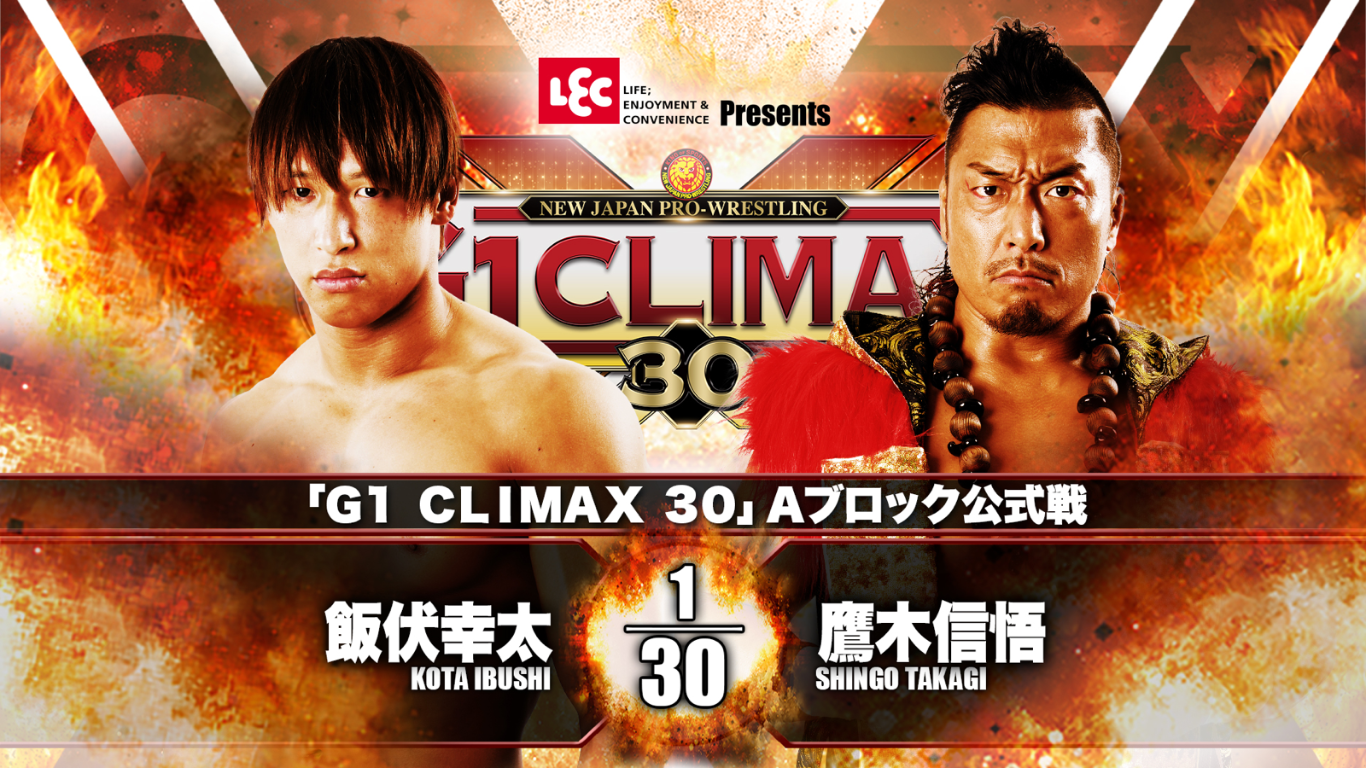 Kota Ibushi and Shingo Takagi are both 38 years old, and they have both been professional wrestlers rising up cards in Japan for over a decade, but their paths have never crossed.
It is sort of fitting fitting that their first match ever will be a main event in the middle of the most prestigious tournament in Japan, the G1. Ibushi and Takagi have had meaningful roles in Japanese pro wrestling for so long, but it is finally time for them to meet in the ring to begin a story that could continue into the back halves of their careers.
G1 CLIMAX 30 – TOURNAMENT TO DATE

Shingo Takagi's 1 hour 32 minutes and 54 seconds of Total Match Length is the longest in the A Block, tournament to date. Shingo's loss to Tomohiro Ishii at Korakuen Hall was the longest A Block match of the tournament so far.
Kota Ibushi has been significantly more efficient during this year's G1 than last year's. In last year's tournament, his average win was a tournament high 19 minutes and 26 seconds. This year, he's winning his matches in just 15 minutes and 59 seconds, with his longest clocking in at just 21 minutes and 35 seconds.
G1 CLIMAX HISTORY

2020 RESULTS

HEAD TO HEAD HISTORY
This will be be Kota Ibushi and Shingo Takagi's first singles match. They have faced each other in 23 tag matches over their storied careers, but the first time they ever set foot in the ring together was in September of 2007 when they tagged on the same team in a Dragongate match against Don Fujii and Masaaki Mochizuki.
---
SPORT OF PRO WRESTLING PODCAST
G1 CLIMAX NIGHT ELEVEN (OCTOBER 7) AUDIO PREVIEW
---
G1 CLIMAX A BLOCK MATCH
Jay White [6] Vs. Taichi [6]

In the semi-main event Jay White and Taichi will fight to be on the positive side of breaking a five way tie for second place in the A block. Both Taichi and Jay White are entering this match with six points, and they're each coming off of a loss in their prior two block matches. Taichi enters after consecutive losses to Kazuchika Okada and Tomohiro Ishii. Jay White enters after consecutive losses to Will Ospreay and Jeff Cobb.
This may be an essential match for both of these wrestlers. Whoever is able to break their losing streak and stay within two points of the block leader will be at a huge advantage as we quickly progress through the back half of the tournament.
G1 CLIMAX 30 – TOURNAMENT TO DATE

G1 CLIMAX HISTORY

Jay White's all time G1 Winning Percentage of .625 is good for 8th all time. Earlier in the tournament, he was flirting with first all time, but his two losses in a row have bounced him down the list.
2020 RESULTS

HEAD TO HEAD HISTORY

Jay White and Taichi have wrestled once in singles action, during last year's G1. Jay White was victorious in his third of what would be six consecutive victories to end his league matches in G1 Climax 29.
---
G1 CLIMAX A BLOCK MATCH
Will Ospreay [6] Vs. Minoru Suzuki [6]

In the second first time match on the card, Will Ospreay will battle Minoru Suzuki and a true battle between generations. This match will feature wrestlers with truly disparate styles. Will Ospreay may have removed the word "Aerial" from his nickname, but he is still likely to take to the skies unless the contrasting and grounded Minoru Suzuki can keep him planted to the mat.
Ospreay and Suzuki each enter this match at 6 points and a part of a five way tie for second place in the A Block. Ospreay started his tournament with two straight victories, but he has since slowed down, losing two of his last three, including a match against Kota Ibushi that may end up as an important tie breaker. His one win in his last three was a big one though, he was able to defeat Jay White in another battle of the front runners in this year's A Block.
Suzuki sits at 6 points as well, after a less than fulfilling loss to Kazuchika Okada two nights ago. Suzuki's victories have been far less impressive. He hasn't defeated anyone within the top six competitors in the A Block standings.
G1 CLIMAX 30 – TOURNAMENT TO DATE

G1 CLIMAX HISTORY

Will Ospreay's 20 minute and 22 second all time Average Losing Match Length is still the longest in G1 Climax history. Hiroshi Hase's 19 minutes and 50 seconds is second logest, followed by AJ Styles 19 minutes and 32 seconds. Ospreay has the most losses of those top three with 7.
2020 RESULTS

HEAD TO HEAD HISTORY
This will be Ospreay and Suzuki's first ever singles match. They have faced each other in multi-person matches 13 times.
---
G1 CLIMAX A BLOCK MATCH
Kazuchika Okada [6] Vs. Jeff Cobb [4]

Kazuchika Okada and Jeff Cobb are both coming off of big victories two nights ago. Okada defeated his long-time rival, Minoru Suzuki and Jeff Cobb was able to thwart Jay White and Gedo's tactics to definitively defeat The Switchblade.
G1 CLIMAX 30 – TOURNAMENT TO DATE

Kazuchika Okada's 16 minute and 43 second Average Match Length is 4 minutes and 19 seconds shorter than his 21 minute and 2 second average during last year's G1. Of course, he was the IWGP Heavyweight champion during last year's tournament so his tournament was filled with wrestlers giving their all to gain a victory over the champion and a stake in a title match down the line.
G1 CLIMAX HISTORY

2020 RESULTS

Kazuchika Okada's pinfall victory over MInoru Suzuki on Monday was his first pinfall win since New Beginning in Osaka on February 9th. He had 9 straight victories via The Money Clip before defeating Suzuki.
HEAD TO HEAD HISTORY
This will be Kazuchika Okada and Jeff Cobb's first ever singles match. They have faced each other in six multi-person matches.
---
G1 CLIMAX A BLOCK MATCH
Tomohiro Ishii [4] Vs. Yujiro Takahashi [0]

Block matches will kick off with the match with the most history but the fewest total points in this year's tournament as Tomohiro Ishii and Yujiro Takahashi do battle for the 6th time in their careers.
G1 CLIMAX 30 – TOURNAMENT TO DATE

G1 CLIMAX HISTORY

2020 RESULTS
HEAD TO HEAD HISTORY

Tomohiro Ishii leads his series with Yujiro Takahashi 4-1.
Ishii won the only G1 Climax match between these two during G1 Climax 25.