ORIGINS
The brainchild of VOW co-owner Rich Kraetsch, it all started in 2012 with a modest four person panel of Joe Lanza, Rich, VOW's PWG reviewer "Larry", and Billy Carpenter of 4 Corners Radio. We each selected our ten best matches of the year, wrote short blurbs on why each match was selected, and combined the lists to come up with a collaborative top ten.
It produced a fine list of matches, but a list that was the product of four voters who for the most part have very similar tastes in wrestling. There was a ton of crossover on the four lists, and while an impressive variety of five different promotions ultimately ended up being represented in the top ten, we were basically dealing with a tiny sample size of voters who essentially watched and enjoyed the same pool of matches over the course of the year.
For 2013, I approached Rich about expanding on his original idea by extending invites to dozens of other wrestling critics. Each year in the world of film, there are media/critic polls ranking the top films of the year. There was nothing like those critic polls we see in film that had ever existed for wresting matches. With that template in mind, we sent ballots to dozens of journalists, bloggers, radio hosts, podcasters, historians, reporters, and critics who we knew loved wrestling, had a reputation for having a solid base of knowledge and strong opinions, and had quality endeavors that we could help expose to our readers in exchange for participating. We knew not everybody would respond, but we were quite pleased with who did, and we feel like the results did bear out the variety of matches and wrestling styles that we were seeking. 25 total voters responded by voting for over 90 matches from 23 different promotions.
The growth continued with the 2014 poll, with 67 voters voting for 156 different matches, from 35 different promotions.
The 2015 poll featured 97 voters voting for 199 different matches from 42 different promotions. Another year, another massive leap in growth, and more importantly, more across the board diversity in the selections.
For the fourth straight year, we're proud to announce that we've once again shattered all previous records. An utterly ridiculous 117 voters checked in and accounted for the widest variety yet, with 239 matches emanating from 49 different worldwide promotions.
HOW THE VOTING WORKS
Each voter was sent a ballot and asked to vote for ten best matches of the year, ranking them from 1-10. We used the same weighted balloting system used by Major League Baseball for their Most Valuable Player voting, with a first place vote worth 14 points, and a descending 9-8-7… scale from there, a system which places heavy emphasis on each voter's choice for best overall match of the year.
The points for each match are then totaled, with any ties broken in the following order:
1.) Most total votes
2.) Match which received the highest singular vote on any ballot
For example, if two matches are tied in total points, with one match appearing on more total ballots, it will not require the second step tie breaker. The match appearing on more total ballots would place higher.
If two matches are tied in total points, and remain tied by appearing on the same number of ballots, the match with the highest singular vote wins the tiebreaker.
Each voter was also encouraged to add short blurbs explaining why they voted for each match. These blurbs give our panel a voice to explain why they voted for each match, and as we move deeper into the results, give the reader multiple perspectives of why a given match was great.
---
---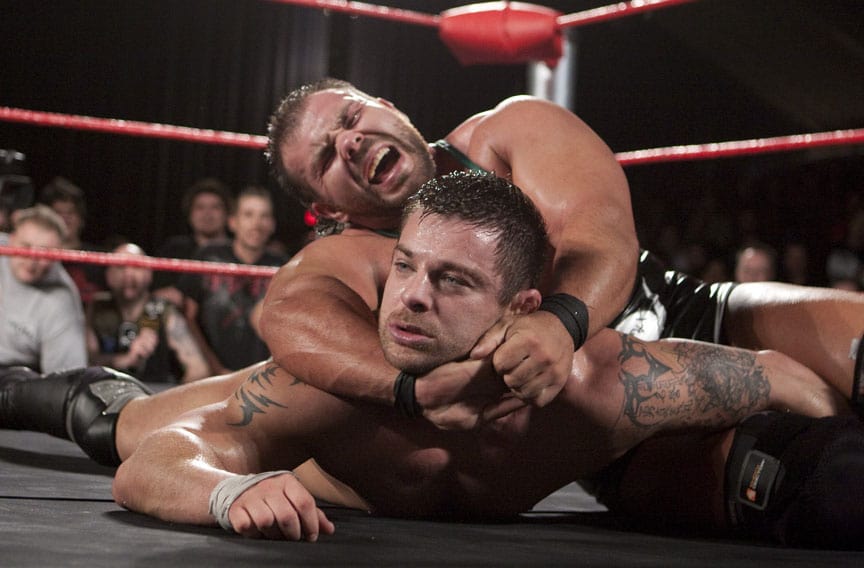 2012 Match of the Year
Top 10
1 Davey Richards vs. Michael Elgin
2 Hiroshi Tanahashi vs. Minoru Suzuki
3 Hiroshi Tanahashi vs. Kazuchika Okada
4 Akira Tozawa vs. AR Fox vs. Johnny Gargano vs. Ricochet
5 El Generico vs. Kevin Steen
6 CM Punk vs. Daniel Bryan
7 Hiroshi Tanahashi vs. Kazuchika Okada
8 The Undertaker vs. Triple H
9 Kenny Omega vs. Kota Ibushi
10 El Generico vs. Kota Ibushi
2013 Match of the Year 
Top 10
1 Hiroshi Tanahashi vs. Kazuchika Okada
2 Hiroshi Tanahashi vs. Kazuchika Okada
3 Daniel Bryan vs. John Cena
4 Katsuyori Shibata vs. Tomohiro Ishii
5 Kota Ibushi vs. Shinsuke Nakamura
6 Hiroshi Tanahashi vs. Tomohiro Ishii
7 Brock Lesnar vs. CM Punk
8 CM Punk vs. The Undertaker
9 Antonio Cesaro vs. Sami Zayn
10 Dr. Wagner Jr. vs. LA Par-K
2014 Match of the Year
Top 10
1 AJ Styles vs. Minoru Suzuki
2 Kazuchika Okada vs. Shinsuke Nakamura
3 The Shield (Dean Ambrose, Roman Reigns & Seth Rollins) vs. The Wyatt Family (Bray Wyatt, Erick Rowan & Luke Harper)
4 Adrian Neville vs. Sami Zayn
5 Cesaro vs. Sami Zayn
6 Atlantis vs. Ultimo Guerrero
7 Tetsuya Naito vs. Tomohiro Ishii
8 Daniel Bryan vs. Triple H
9 Hirooki Goto vs. Tomohiro Ishii
10 Katsuyori Shibata vs. Tomoaki Honma
---
---
2015 Match of the Year
Top 10
1 Kota Ibushi vs. Shinsuke Nakamura
2 Hiroshi Tanahashi vs. Kazuchika Okada
3 Bayley vs. Sasha Banks
4 Hiroshi Tanahashi vs. Shinsuke Nakamura
5 Brock Lesnar vs. John Cena vs. Seth Rollins
6 Brock Lesnar vs. Roman Reigns vs. Seth Rollins
7 Bayley vs. Sasha Banks
8 Tomoaki Honma vs. Tomohiro Ishii
9 KUSHIDA vs. Kyle O'Reilly
10 Fenix vs. Mil Muertes
---
---

2016 Match of the Year