Did this for the site last year. I'll update this with anything wrestling-related I can find. Really should just be Black November since everyone starts the sales earlier and earlier.
Updated 11/25
PWG's 5 for $40 deal:
http://www.prowrestlingguerrilla.com/merch/winter/
-------
Target will have the Four Horsemen pack with Flair, Arn, Windham, and Tully for $30 (regular $50). My Target has a TON of these and I always wanted to buy a set since I collect figures, but the price tag was a little too high for me to ever pull the trigger. And to celebrate, Arn and the Hulk are going to party on the Grave Digger.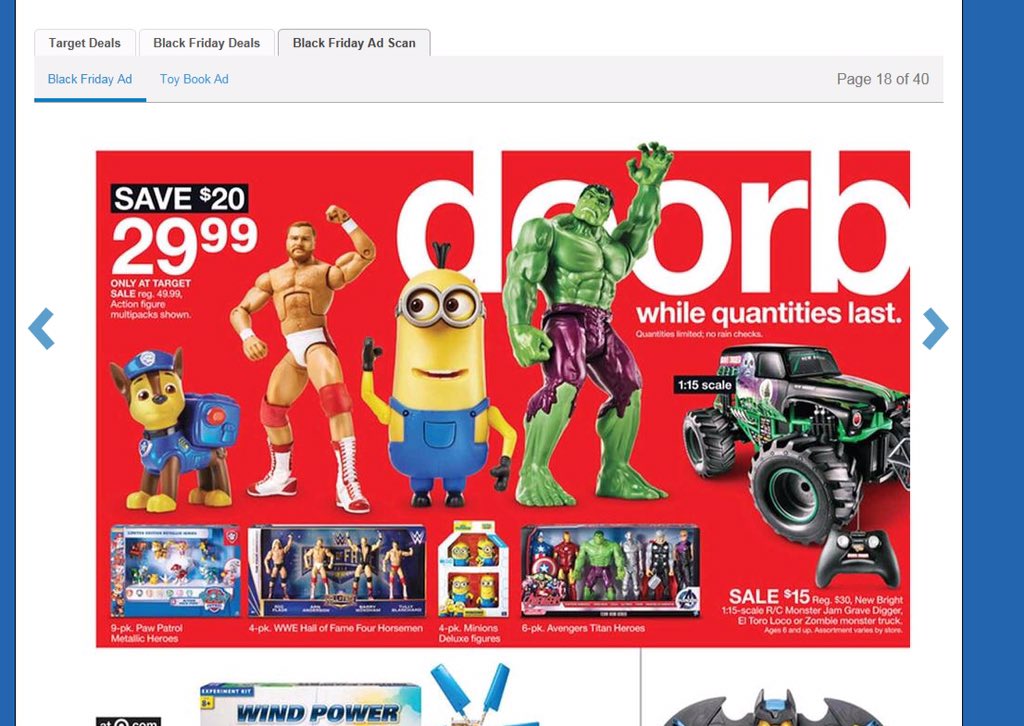 -------
Inter Species Wrestling is doing a big catch up sale for all of their 2015 shows, plus a t-shirt and action figures.
http://interspecieswrestling.com/produc
... 2015-sale/
------
Highspots.com has their Black Friday sale with 25% off most items on their website and a DVD sale. 2015 BOLA is NOT included.
Spend $20 in DVDs, Get 10% OFF
Spend $30 in DVDs, Get 20% OFF
Spend $50 in DVDs, Get 30% OFF
Spend $100 in DVDs, Get 40% OFF
*Exclusions: Ring Of Honor, Kayfabe Commentaries & PWG 2015 BOLA DVDs
------
RFVideo.com has
30% off shoot interviews
40% off ECW
35% off House of Hardcore
35% off Indy shows
35% off Best of comps
-------
RudoReels.com is doing a BF sale on discounted blu rays. Lots of New Japan, as well as comps of classic matches.
-------
http://www.DGUSA.tv
and
http://www.WWNLive.com
has
-All EVOLVE, WWN Supershow, SHINE and ACW Blu-rays are 50% off and just $10 each
-All EVOLVE, SHINE, DGUSA and Misc. DVDs are only $7.50 each. That's the lowest price we've ever offered these titles
-Most PWG DVDs are 33% off and $10 each
-All EVOLVE, DGUSA, SHINE, FIP, ACW and WWN Supershow iPPVs at WWNLive.com On Demand are 33% off and $9.99 each You will get unlimited viewing when you buy them
-Everything is the DGUSA.tv Gear section is 50% off including EVOLVE and DGUSA shirts and hats!
-----
Pro Wrestling Tee's sale starts Wednesday at noon ET.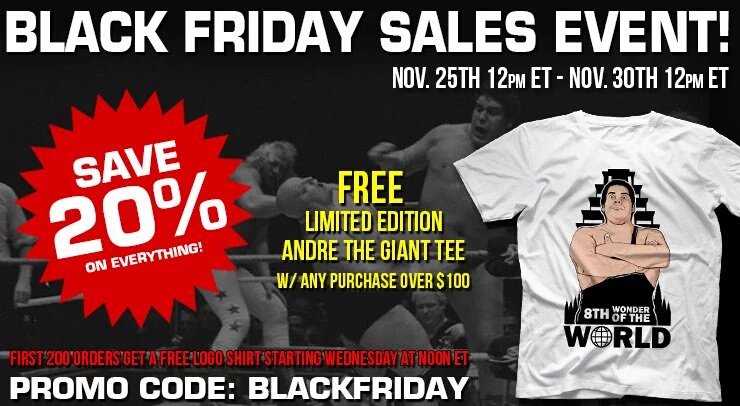 ------
AIW has all DVDs $10 minus the new releases and blu rays at
http://shop.aiwrestling.com/
------
WWEShop.com has so far--
http://shop.wwe.com/Black-Friday-Countd ... lt,sc.html
------
$3.99 for one month's access to Wrestling Observer/F4W
http://account.f4wonline.com/signup/i9cM1FU0u
-----
ROH has 25% off all apparel. If you're a Ringside Member, you get 40% off