Search found 1025 matches
by Robareid

Tue Jun 30, 2015 3:02 pm
Topic: Archive of Leaderboards
Replies: 1
Views: 2099
Season 1 (before League split):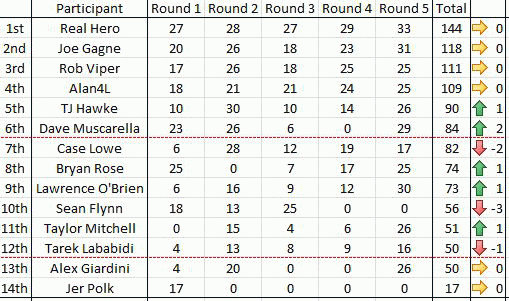 by Robareid

Tue Jun 30, 2015 2:44 pm
Replies: 0
Views: 2201
Greetings Grappling Fans! You may or may not have noticed (although thinking about it you're looking at it now so you probably have) this new sub-forum pop up at the bottom of the forums recently, mysteriously titled with a quote from the Immortal Hulkster himself. Worry not though, I am here to all...
by Robareid

Tue Jun 30, 2015 2:42 pm
Topic: Pre-Season Update
Replies: 0
Views: 2126
After sending out invites and putting in some final touches to the preparations, everything is ready to commence the inaugural Season of 'Well You Know Something, Brother?' this coming Monday. Currently fourteen participants have thrown their name into the hat, but if you got an invite and you haven...
by Robareid

Tue Jun 30, 2015 2:24 pm
Topic: Hall of Fame
Replies: 1
Views: 2327
This thread will be a record of the champions (and other competitions I plan on adding down the line) across the multiple seasons that will stretch out long into the future. Armbar League Gold Medallist Season 1: Real Hero Season 2: Joe Gagne Bodyslam Championship Gold Medallist Season 2: Fray Movem...