When AEW first signed Orange Cassidy, he was almost a litmus test for how new-age and non-traditional AEW would be capable of going without turning off more traditional fans. A creation of the ironic-based indie scene of the late 2010s, Cassidy was unlike any wrestling personality that had ever been seriously presented on major American television. A character that was based on essentially acknowledging that wrestling was a work, and that one could go through the mock competition with minimal effort but still win, was, for some old-school fans, a fundamental threat to the business of pro wrestling.
Flash forward several years, and not only has Cassidy thrived in AEW, emerging as one of the most popular acts on the roster, but he's currently perhaps the best "traditional" storyteller in all of American pro wrestling. The wrestler, who many were concerned was too comedic to be on television, has somehow become a master of traditional wrestling psychology, telling a long story based entirely on wrestling fundamentals and time-honored tropes to get the audience invested in what he is doing.
Cassidy's run as AEW International Champion and the story he is telling as champion stands out when compared to the other major stories in wrestling. A wrestler defending their title each week, slowly getting worn down by the excessive grind of matches but still finding ways to eke out victories, is a big contrast to what else is being presented on American television.
Whether it's the melodrama of The Bloodline angle in WWE, the long-running, inside-joke-filled aspect of The Elite, or the worked-shoot nature of whatever is happening with CM Punk, something is refreshing in seeing an angle that is solely based on a wrestler's ability to wrestle each week and win against a variety of opponents.
Cassidy can do this because he is an excellent pro wrestler with a great grasp of the fundamentals of the trade, despite criticism being aimed at him that all he does is his comedic schtick. His matches are built almost entirely around his excellent selling, as larger opponents ragdoll him around, and peak when Cassidy fires up, makes his comeback, hits his signature moves, and wins. It's basic pro wrestling, the most meat-and-potatoes kind of matches happening on television, and it's being done by the guy who allegedly was going to undermine the industry's integrity.
A look back on Cassidy's career offers insight into how Cassidy has been able to get over to the degree that he has.
James Cipperly has been messing around with the Orange Cassidy character since 2007, but most of his career on the independents was spent as Fire Ant, wrestling as a serious pro wrestler in CHIKARA, and other promotions. For years, he shared the ring with the same kind of opponents as Bryan Danielson, The Young Bucks, Claudio Castagnoli, and many other serious wrestlers.
As the US indies began to change and more of the top wrestlers were signed away, Cipperly began using the Orange Cassidy persona more frequently, as it was a natural move as the pool of talented opponents shrunk. The comedic Cassidy could have an entertaining match with any opponent, so he began being showcased more and more and got over, to the point he became one of the biggest acts on the indies.
When AEW started, Cassidy was a natural signing, but it was a risk. Some pundits doubted whether his act, which was working in front of hardcore indie fans, would translate to TV. If you look at how Cassidy was used early in AEW, it was very protective of him as a performer. He didn't wrestle frequently, he was used often as a mascot for Best Friends, running interference and popping up in comedy spots.
Over time though, it became obvious that not only was Cassidy's act getting over with the TV audience; his irony-laced, laissez-faire style was actually appealing to casual or non-fans who were watching the AEW product. Memorable singles match against PAC, and a long feud with Chris Jericho turned Cassidy into a legitimate singles star. Since then, he has been protected by AEW as a regularly-featured act on Dynamite.
As he has wrestled more frequently, Cassidy's act has also changed. His comedy schtick is almost entirely relegated to pre-match and post-match moments, and his backstage promos have become a highlight thanks to his chemistry with Renee Paquette. In the ring, he is basically Fire Ant dressed as Orange Cassidy, wrestling a pretty straightforward style that has been a staple on Dynamite so far this year through his numerous title defenses.
During an uneven time for AEW in terms of quality, Cassidy's title reign has been a rock for Dynamite, putting out consistently strong matches and furthering a long-term story of Cassidy getting more and more run down while defending his title. He is doing some of the best selling in all wrestling, and his body has slowly become a mummy of Kinesio tape. After he outlasted Swerve Strickland to win the Blackjack Battle Royal at Double or Nothing, Cassidy needed to be propped up by the referee while getting his hand raised.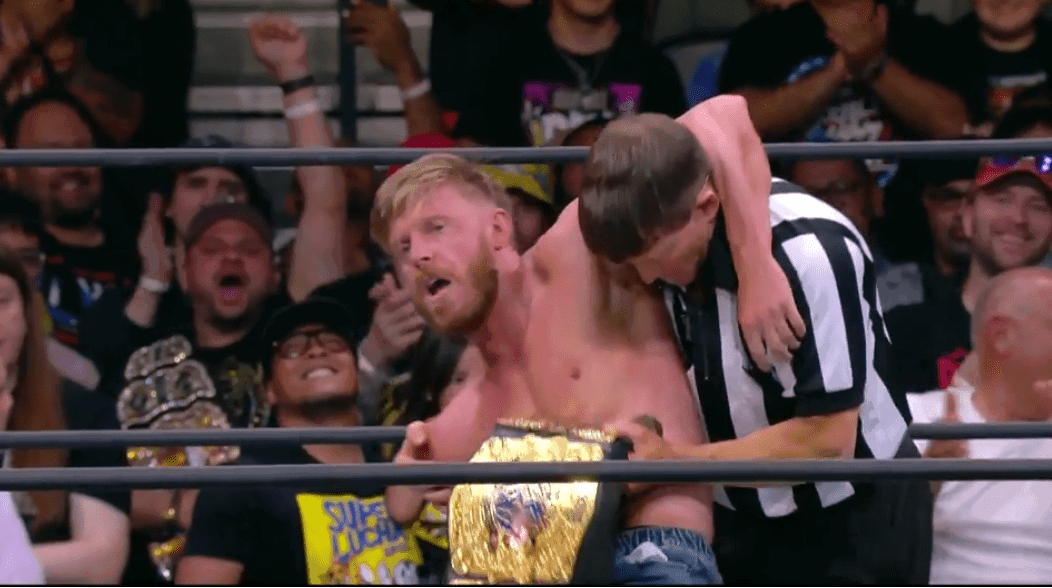 The run has established the fledgling title as an important championship in AEW, and his various defenses have showcased a lot of different wrestlers that are hungry for the belt. He's eventually going to lose the title, and that loss will mean something since he's survived for so long—which, if done correctly, should boost whoever does dethrone Cassidy.
This is all simple, basic pro wrestling—a storyline that can sometimes be lost in today's episodic television era with armies of TV writers producing pro wrestling.
There is nothing complicated or difficult to understand about the story with Orange Cassidy. A fan can watch one of his defenses and instantly understand the entire story based solely on Cassidy's selling and a few lines from commentary. The fact that it's all being performed perfectly by a guy who some people dismissed as being incapable of performing basic pro wrestling, feels remarkable. However, when you look at Orange Cassidy's career as a pro wrestler, he has been preparing for a run like this for his entire career.
Powered by RedCircle