Maxwell Jacob Friedman retained his AEW World Title at AEW Double or Nothing 2023, placing the belt on a prone "Jungle Boy" Jack Perry before Darby Allin came off the top rope with his Coffin Drop splash in full view of the referee.
With Allin incapacitated by the fall onto metal and man, MJF cheekily pinned his rival with a side headlock takeover.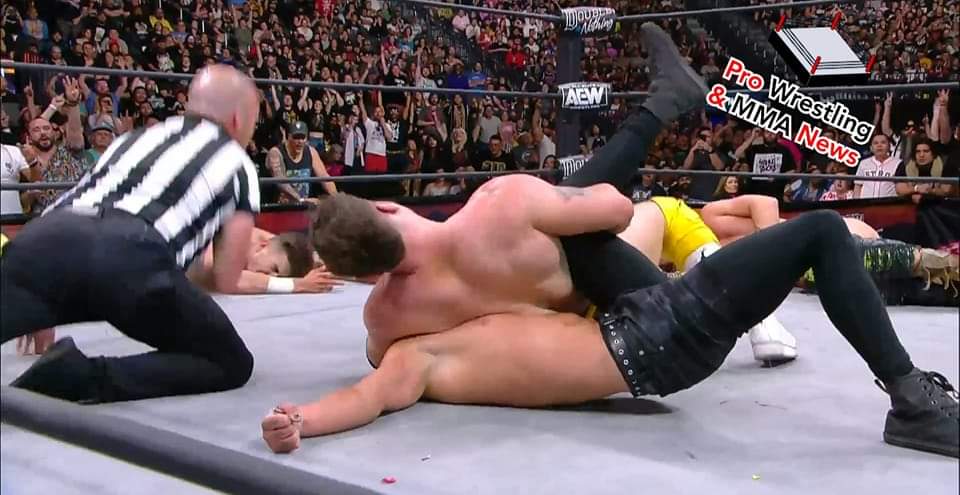 It made sense within the larger context of MJF the character and his wider story arc. While he is a solid athlete, technically proficient, and possesses an extensive knowledge of professional wrestling history, he wins because of his deviousness and willingness to bend, or break, the rules.
But if MJF could cheat at any point in the Four Pillars four-way match, why wait until title was almost out of his grasp?
Three of the matches announced for Double or Nothing going into Sunday's card had stipulations that explicitly or implicitly made weapons legal. There was an unsanctioned match between Adam Cole and Chris Jericho, a ladder match for the TNT title between Wardlow and Christian Cage, and Anarchy in the Arena between Blackpool Combat Club and The Elite.
Each of those stipulations had a certain logic behind them.
Cole wanted vengeance for the attack on his girlfriend Dr. Britt Baker, orchestrated by Jericho. Why wouldn't he want to use everything to exact that revenge?
Cage had baited Wardlow into giving away the champion's youth and physical superiority by bringing dangerous implements into the mix.
Gang warfare between the BCC and Elite, including using a screwdriver as a weapon by both sides over the preceding weeks, more than lent itself to anything-goes brutality.
Nothing in the buildup to the four-way title match justifying the blatant use of a foreign object. If anything, the story's tedious work-shoot nature should have harped more on MJF's incessant cheating.
Have Allin point out why MJF beat him with a side-headlock that previously came after a loaded punch featuring a diamond-encrusted ring.
Congrats to @The_MJF on this fair and flawless victory!

SIDE HEADLOCK TAKEOVER CITY BITCH! #AEWFullGear pic.twitter.com/iQDXmcVxa9

— Rasslin' (@rasslin) November 14, 2021
Let Sammy Guevara declare that if MJF had to wrestle more than once every three months, the villainous champion would quickly run out of shortcuts.
Allow Perry to reflect on his growth as a wrestler versus that of MJF because of his virtuous refusal to take the easy way out.
MJF should have been threatened with disqualification coming into the match if he used a weapon or benefitted from outside interference, turning the Four Pillars into three and assuring AEW of a new altruistic champion.
The drama should have been in how MJF would get around such an impediment.
Instead, the conclusion of the match raised more questions than answers. If MJF, or any of the other three competitors, could use a weapon, why not use one from the start? Wouldn't the Devil, as MJF is so fond of proclaiming himself, immediately use a taser or some other incapacitating weapon on his foes? Instead of offering to buy off Guevara, why not have MJF use wealth to assemble an army of mercenaries to bludgeon the others through sheer numbers?
This isn't a blanket condemnation of open-ended stipulations that make plunder possible. It was a submission match between Steve Austin and Bret Hart at WrestleMania 13 that produced a generation-defining image of blood pouring down Austin's face.
On This Day in Wrestling History – Bret Hart defeated Stone Cold Steve Austin 26 years ago today in a Submission Match at Wrestlemania 13 (3/23/97)

— Wrestling from 80s/90s (@Wrestling80s90s) March 23, 2023
They work best when presented in the appropriate context of the story leading up to them, while also offering a chance to advance the characters and where they might go next.
But when stipulations are piled up one after another, as happened on Sunday, more often than not, they create a cascading effect that diminishes their effectiveness as dramatic devices.
Consider some of the questions raised by the pay-per-view's insistence on loading up stipulations one after another.
If in-narrative matchmaker Tony Khan is willing to authorize the blood war between BCC and The Elite, why won't he do the same for Cole and Jericho?
Will there be any punishment for MJF's blatant cheating?
The lesson, as in most things, is moderation.
AEW has too many great wrestlers and too many great minds to simply stick a stipulation on a match because it is that time on the calendar.
One can only hope they do not fall back into the trap of Double or Nothing's relentless stipulation slog again anytime soon.
Dan Greenspan is a sports reporter in Los Angeles. He is currently writing for the Associated Press and NHL.com.
Powered by RedCircle