WWE BACKLASH 2023
MAY 6, 2023
COLISEO DE PUERTO RICO
SAN JUAN, PUERTO RICO
MEET YOUR PREVIEWERS:
Suit Williams: The last time I talked to you all as VOW's WWE correspondent for this year was at WrestleMania five weeks ago. Since then, the WWE has been sold to Endeavor to form a supergroup alongside the UFC, Triple H has been reduced to a Jim Smallman-esque role of giving rah rah speeches and making big announcements, there's been another draft, and there's a new World Title for all the geeks who couldn't beat Roman Reigns. We didn't start the fire… Follow me on Twitter @SuitWilliams, and check out my Ring of Honor reviews for F4WOnline.
Joey O'Doherty: WWE has gone through some changes since WrestleMania and while they missed the boat on Cody, they do have Endeavor coming into the fold. So to celebrate, Roman took a vacay, Hunter introduced a consolation prize for Cody and delivered a WWE Draft that "changed the game like never before." Maybe the game he was referring to was himself because WWE hasn't changed that much on camera beyond the moving of an odd bit of human furniture. Joey will watch Backlash with a shred of optimistic enthusiasm that will no doubt be extinguished by the time the show ends.
SAN JUAN STREET FIGHT
DAMIAN PRIEST VS. BAD BUNNY
Suit: Bad Bunny has been one of the biggest stars that WWE has made in the last five years, mostly because he's a star everywhere else and just drops in because he likes wrestling. Here, he's in front of his people in Puerto Rico not only as host of the show, but wrestling Damian Priest in this street fight. This is a continuation of the Judgment Day/Mysterio feud, with Bad Bunny having gotten involved at Wrestlemania to help Rey beat Dominik. It felt like they were building to a tag match with the notably absent-from-the-card Mysterios on opposite sides. But since Dominik is, well, Dominik, they'll probably just have them run interference spots. Priest is good, and Bunny takes to wrestling very well. He might be the best Bunny in wrestling, despite the clear drawing ability of the other one. They will have a fun WWE plunder match that will get a 10th place vote or two for MOTY at the end of the year. Logic would dictate that you would have the wrestler win the wrestling match, but alas. Prediction: Bad Bunny
Joey: This hasn't been a bad build by WWE standards. They have history, it's clear why they are feuding, and it's involving a talent booked like a star. As is with tradition, that star doesn't work as a full-time wrestler.
It will be interesting to see how Bad Bunny performs considering he has no tag team partner to do the heavy lifting. Bad Bunny is the clear bookies favorite to win here, which is puzzling from a kayfabe perspective as he is not a supposed trained killer like his opponent and surely loses all out in all physical metrics—ah pro wrestling.
I expected lots of plunder, lots of interference from the recently resurrected corpse of the LWO and Judgment Day. The story probably won't end here, but Bunny will stand tall when the dust settles. Prediction: Bad Bunny
WWE RAW WOMEN'S TITLE MATCH
BIANCA BELAIR (C) VS. IYO SKY (W/BAYLEY & DAKOTA KAI)
Suit: This is a RAW Women's Title match between Bianca Belair and Iyo Sky, despite the fact that both of these women were drafted to SmackDown. Get ready for a lot of BRAND talk on this show, by the way. This match may have had some juice if Bianca had spent month's overcoming Damage CTRL's numbers game before winning the title back at Wrestlemania, as opposed to beating them all like a drum immediately and making the group a complete non-factor. They're now teasing DISSENSION within Damage CTRL, because this company only tells about a half-dozen stories.
It's a shame that this tentpole title reign of Belair is as meaningless as it has been, especially when a good chunk of it was booked by women's wrestling respecter Triple H. She's been champion for a year now, but she's spent most of it dealing with this ice cold act across from her. And again, it doesn't even matter, because neither of these women will be on Raw when this split goes into effect. Bianca retains the title so she can swap it with Rhea Ripley like a Pokemon card. Prediction: Bianca Belair
Joey: On paper, this match has potential. But considering that WWE is teasing animosity within camp Damage CTRL, this match may just be the backdrop of a wider story of Bayley and her underlings falling out.
Like a mule with a spinning wheel, Bianca is a star yet WWE has no idea how to use her or give her anything meaningful to do. She's more or less just existed as a champion without being involved in anything close to memorable. In this story she appears to be playing second fiddle to a faction break up. A faction that has misfired from day one I might add.
This match might deliver but I've no reason to really get invested as WWE had given me no reason to care. Bianca with the win and Damage CTRL to part ways when it's all said and done. Prediction: Bianca Belair
SETH ROLLINS VS. OMOS (W/MVP)
Suit: From the Wikipedia page for this show: "On April 21, it was announced that Seth "Freakin" Rollins would be facing Omos at Backlash, despite the two never having any conflict to have a match." Unreal. Prediction: Seth Rollins
Joey: Why is this match happening? Oh yeah, Vince is still around and more powerful than ever. Makes sense. The giant Omos is what he is and while Rollins is a talent in the ring, I doubt he has it in him to get much out of the lumbering colossus. I can't stand Rollins (looking like a fool and cackling like a dime store Ted DiBiase is not a character), so hopefully this match is quick and painless. Though it probably won't. Rollins to win.  Prediction: Seth Rollins
WWE SMACKDOWN WOMEN'S TITLE MATCH
RHEA RIPLEY (C) VS. ZELINA VEGA
Suit: Ripley is defending the Smackdown Women's Title despite having been drafted to Raw. I'm sorry to harp on this, but this is so stupid as a concept. As a promotion, why would WWE have brand-specific champions get drafted to the other show? Why would they have to defend that title after being moved to the other show? There's no logic in it.
Then, because they do this every single fucking draft, they have the champions just hand the belts to each other like they're trinkets. Like they are toys on the playground. Hey Rhea, I'll trade you my Buzz Lightyear for your Slinky the Dog. Hey Bianca, I'll give you my Kingdom Hearts game if you give me your Zelda game. That's what these titles are reduced to, little trinkets to be passed around. Bianca Belair has been defending this Raw Women's Title with pride for a full calendar year. She just broke the record for the longest reign in that belt's history. Meanwhile, Rhea Ripley busted her ass in a genuine classic at Wrestlemania to win the Smackdown Women's Title. *fart noise* No prestige, nothing to be respected or coveted. Just toys in the toybox.
This is a continuation of the Judgment Day/Mysterio & LWO feud. Zelina Vega asked for this title match because she is Puerto Rican. In this promotion, that's equivalent to hogtying yourself to a set of train tracks. Prediction: Rhea Ripley
Joey: Rhea's feud is against the Latino World Order's valet slash wrestler, Zelina Vega. WWE has done very little with Vega, since she returned from being the union buster.
Both women are treated completely differently in terms of booking. One is mostly protected and the other regularly stares at the ceiling lights. One was recently crowned champion at WrestleMania while the other probably didn't have a match on the card of either night (I can't remember and I'm too uninterested to look it up).
Guess which one will win? Prediction: Not Zelina
WWE UNITED STATES TITLE TRIPLE THREAT MATCH
AUSTIN THEORY (C) VS. BOBBY LASHLEY VS. BRONSON REED
Suit: Five weeks ago, Austin Theory wrestled John Cena at WrestleMania. You're forgiven if it slipped your mind.
Wrestlemania was five (5) weeks ago. Did you remember that John Cena had a match at Wrestlemania before you saw this tweet?

— Suit Williams 👔 🐙 (@SuitWilliams) May 5, 2023
Austin Theory is the guy your Create-A-Character beats at the end of Road To WrestleMania mode on the WWE video games. Generically good-looking, physically put together, but completely unmemorable. He's the guy you always see at the gym, but never care enough to try and make acquaintances. There's nothing box office about him, but WWE will trudge on and try. He'll be in Baron Corbin's "heel that the heels dump on too" territory before long.
Lashley had been feuding with Reed coming out of Wrestlemania…Smackdown, where Lashley eliminated Reed to win the Andre the Giant Memorial Battle Royal. Theory got involved somehow, and here we are. Lashley will hit Reed with a move, and Theory will dump Lashley out of the ring and steal the pin, because that's how every three-way match this company does ends. Prediction: Austin Theory
Joey: It has been a few weeks since Austin Theory received a fairly phoned-in rub from John Cena and he still feels like nothing special. Nothing about Austin feels special. And if it walks like a duck and quacks like a duck, it's most likely a duck. Or in this case a lame one.
His opponents are Bronson Reed and Bobby Lashley. The latter got bumped off the Mania card because Bray Wyatt went missing, though that's probably a blessing in disguise. Bronson Reed has been gunning for Bobbo ever since he kicked him out of the Smackdown Andre Battle Royal l, which makes sense but how Theory fits in is anyone's guess. I suppose Theory has been a barnacle on the hull of Lashley for a while now, so it's got some logic but I've seen enough of Lashley and Theory go at it. A single match with Bobbo and Reed would be more appealing but C'est la Vie.
Austin will most likely steal a win once the two monsters have killed each other and the crowd won't give shit. Prediction: Austin Theory
KEVIN OWENS, MATT RIDDLE & SAMI ZAYN VS. THE BLOODLINE (JEY USO, JIMMY USO & SOLO SIKOA)
Suit: The latest chapter in The Real Uces of WWE sees Solo Sikoa side-eyeing the Usos after they lost the tag team titles and failed to win them back in the rematch on Smackdown. The babyface army is looking to beat the Bloodline back, but none of them stand to gain anything. Reigns has beaten Kevin Owens four times in this title reign alone, Zayn has firmly been downcycled, and Riddle has been written out of challenging Roman for the title again. This is just a Smackdown main event six-man on PPV. It'll be good, but there's no forward movement for anyone involved here. Babyfaces win after some miscommunication between Right Hand Uce and Sikoa. Which one is Right Hand Uce again? Doesn't matter. Prediction: Owens, Zayn, & Riddle
Joey: Is this still going on? The Sami Bloodline story has been on the stove for way too long. I've checked out and adding Matt Riddle to the mix does nothing for me.
This feels like a Smackdown main event booked on the fly by Teddy Long rather than a PPV match, so it feels like it matters little to the story anyway. Considering the talent involved, this may be an excellent bout at the moment, but I want this story to end. Though let's be realistic, as Triple H loves to say, the story never ends. Prediction: Owens, Zayn, & Riddle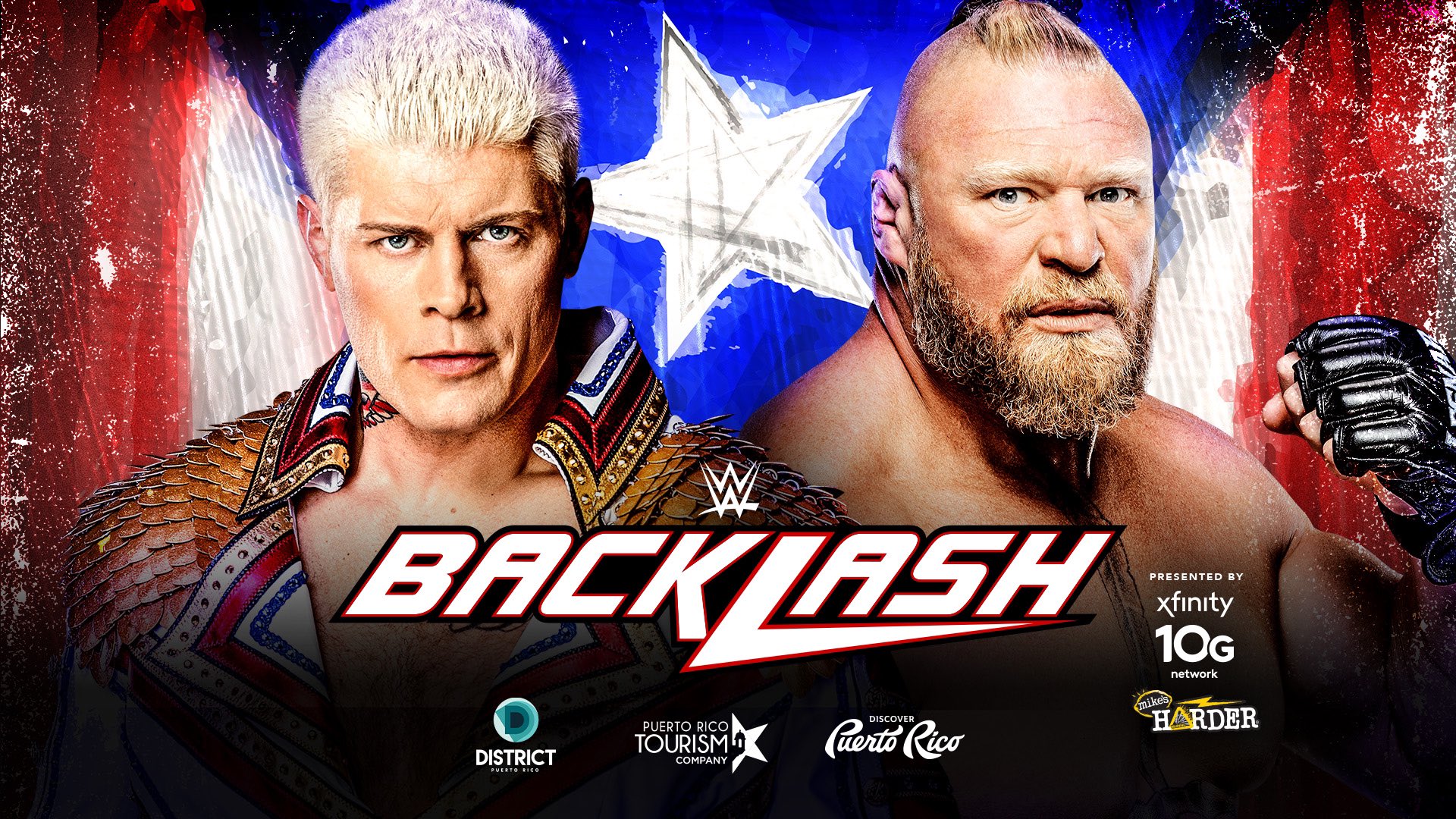 BROCK LESNAR VS. CODY RHODES
Suit: They blew it. They had a genuine #1 star in Cody Rhodes, and they've blown it. He's still over in the buildings, and I'm sure he's doing well on merch. But those Raw ratings have plummeted back down to pre-Rumble numbers. The fan interest that was clearly there on the run-up to WrestleMania is gone, and all that's left are the habit watchers. And that's a shame, because if Cody had won the title, this would have been a PERFECT first defense. You have the intrigue of this as a first-time ever match, and the fear of BORK SMASHING and going right back to him as champion at first convenience. The interest that Cody had – and it was Cody that had it, not Roman – would have carried over to a red-hot PPV program. Ah well, nevertheless.
The match is gonna rule anyway, with the only downside being that Cody almost certainly can't blade here. Cody's such a maniac that he'll probably ask Brock to cut him hardway with the elbows. The result here is in question, one because BORK SMASH, but two is because of this new World Title they will have on Raw. Cody got drafted to Raw, while Brock is a "Free Agent," AKA he goes where he's needed. So not only can they win it, but one of them probably will. Do they have one guy win here, then have the other get his win back for the title? Does Brock win here so that Cody can "finish the story" against him? Or does Cody beat Lesnar on his way to the new title? I will give the win to Lesnar here, mostly because that would be really, REALLY funny. Prediction: Brock Lesnar
Joey: Now I'm hyped. Brock still rocks, especially with a fresh opponent so I'm all into this. Yes, the storyline logic is absent, yes it's feeling lackluster since Cody lost at Mania and yes, there's no title involved, but Cody taking on Brock is right up my alley.
Brock taking on Cody at this stage is fascinating. Cody was in the star chamber at Mania and WWE failed to pull the trigger. He's not completely fucked yet, but he has to win here. But will he? Will Vince bury him once again in an attempt to build him up in his image? Logic suggests Cody has to win, but when has logic ever stopped WWE creative from missing the obvious move?
Brock throwing Cody around the ring should be fun, and I'm sure Cody will kill himself to get the match over. I'm all in you might say. Going to go wild and say Cody loses again. He shouldn't but you know. Prediction: Brock Lesnar
Powered by RedCircle