For someone that came to AEW as a completely unknown quantity, there has been a lot of apprehension about how AEW has presented and booked Wardlow.
The fact that Wardlow has never won the AEW World Championship, or feels removed from the main event picture in AEW is often cited as a failure for Tony Khan and the company, as a man who once seemed destined for that status is now firmly entrenched in the midcard.
But is Wardlow really an obvious main event talent? How does he compare skill-wise to the other wrestlers with headlined AEW PPVs? Did the original presentation of Wardlow create outsized expectations for him? The more I think about those questions, the harder it is to see Wardlow's current status as a case of booking malpractice. Instead, it feels like the right spot for a guy of his abilities.
The hype around Wardlow goes all the way back before his debut with the company, when he appeared in some vignettes hyping his arrival. While a relatively obscure indie wrestler from the Cleveland-area, the notable thing about Wardlow was that he had the size and prototypical look of a top wrestler.
That was a look that was very different from a lot of the AEW roster, which consisted of a lot of wrestlers under 200 lbs. It was logical for fans to consider that given the smallish size of the other top wrestlers in the company, it would make sense for a bigger guy like Wardlow to stand out, and he would need to be pushed to some degree as a "different" type of talent.
That interest was amplified when people actually got to see Wardlow. Despite having a very low profile as an indie wrestler, he was very impressive during the early stages of his career. He obviously had the look, but he was also coordinated, and his offense looked great. He came across as a real athlete in the ring, and convincing as an ass-kicker; clearly he had a lot of potential.
So there was something there with Wardlow, and then he got placed in almost the perfect storyline. He spent two and a half years involved with MJF; serving as the heavy enforcer for Max playing to his strengths. His main job was to look menacing, hit his spots, and work with MJF to get heat, all things that he could do very well with little chance for his weaknesses to be exposed.
Wardlow's break-up with MJF was teased several times, and eventually, to much fanfare, he turned on him in 2022. Since the feud had been built up for years, and he was working with a prodigious heel in MJF, the angle was red hot. Fans were clamoring to see Wardlow finally exact his revenge, and they cheered him on as he beat MJF in a quick squash match where he powerbombed MJF a million times at AEW Double or Nothing 2022.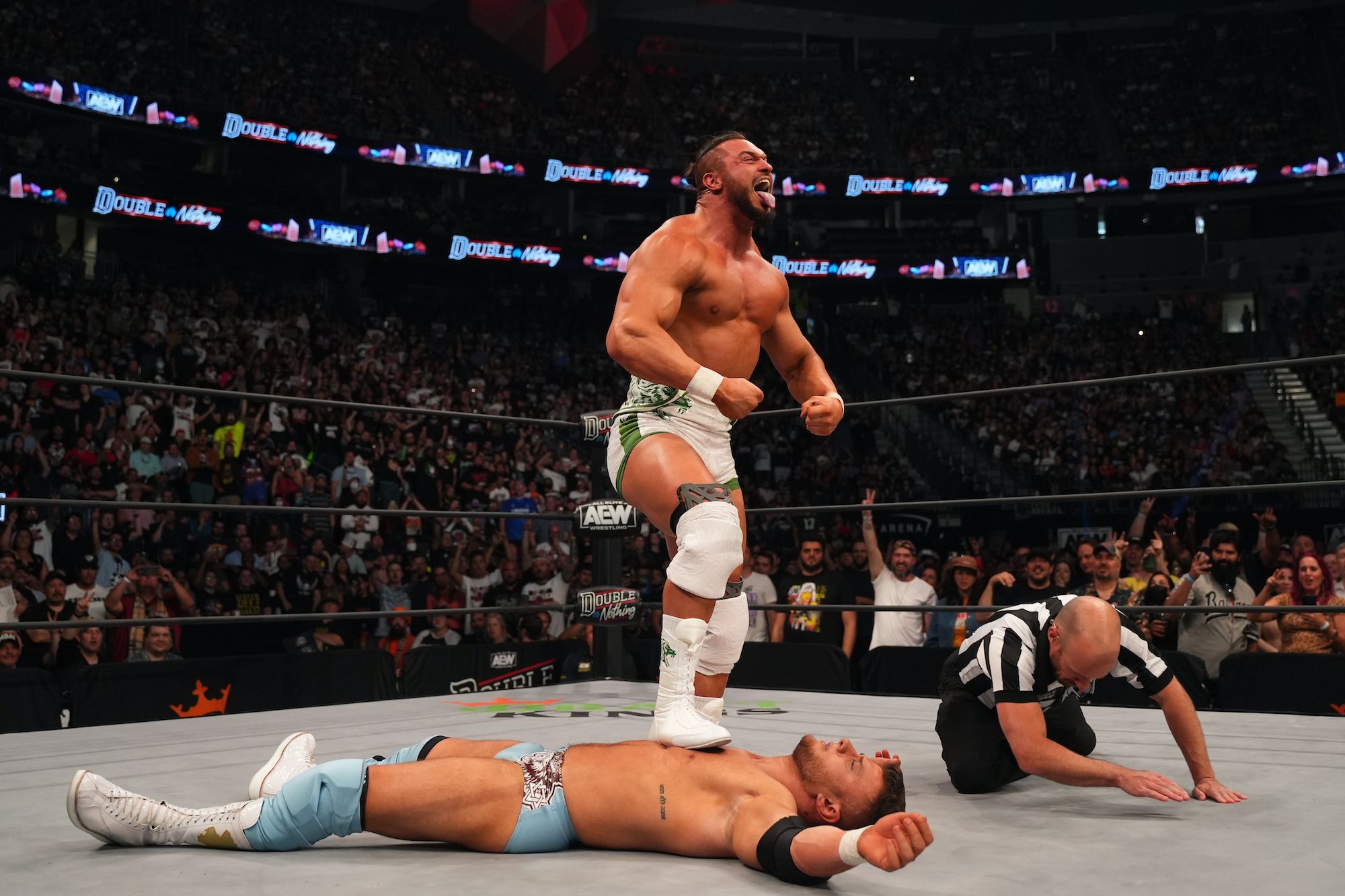 This moment has often been cited as the peak of Wardlow's career, and for good reason. This was a major feud built since he first entered the company, and AEW had capably presented the storyline to peak at Double or Nothing, with Wardlow getting his revenge. That is the natural peak of most wrestlers' careers; a long-term story working with a great opponent who brought out the best in them.
However, because Wardlow had gotten over big in the angle, and because he hadn't ever gotten a serious singles push until he turned on MJF, some fans expected that moment at Double or Nothing to be just the beginning.
Surely, Wardlow would go on to do great things during the rest of 2022 and become a main event player, right?
The truth was that now that Wardlow was past his feud with MJF, he would be asked to do a bunch of things he had never really been asked to do before in AEW. He had to cut his own promos, which have been middling. AEW is a talk-heavy promotion, and if a wrestler wants to be in the main event, they need to be a very strong promo, and Wardlow isn't close to being there yet. Without a heel as dynamic as MJF, and without a years-long storyline to play off, Wardlow slowly began to lose some momentum, even if he was still protected as a wrestler and was still getting good pops in the building.
Another new thing for Wardlow was that he needed to get people invested in his matches. While as a heavy for MJF, he had mainly worked some squash matches and tags. He had a few high-profile single matches, like his cage match against Cody, that were tied directly to MJF and his current feuds. Post-MJF, when he began working singles matches, it became apparent that there was an issue.
The crowd was and is into Wardlow. They pop for his entrance, they pop for his powerbomb spot, but they aren't really that interested in seeing him actually wrestle. Since he broke out as a singles act, many of his matches have had little crowd energy as the crowd has no interest in seeing Wardlow sell for his opponents. All they want to see is Wardlow powerbomb his opponent a million times and end the match. That's fine and good, but you can't be a top star if that is the only match you can work.
That isn't to say that Wardlow is a bad worker because I don't believe that is true at all. But he hasn't shown an ability to get the crowd interested in his matches since he broke away from MJF, and that is a critical component to making it as a top star.
He can still be over, he can still be a star to a degree, but he isn't dynamic enough of a performer to crack that top echelon, not yet, at least. If you compare him to top talent like MJF, Bryan Danielson, Jon Moxley, Hangman Page or Kenny Omega, he clearly is a level below those guys in his overall performance. Yes, he has a great look, and the crowd is into him to a degree, but he isn't close to being good enough on promos, and he is a limited, if fundamentally solid, in-ring performer.
In some ways, he reminds me of a modern-day version of 911, from ECW.
911 would come out and do his chokeslam to some jobbers, and the crowd would be really into him. But the ECW crowd would never be into a longer 911 match, because he was obviously limited. Wardlow has far more talent than 911, but sometimes I think he would be better off just being a guy who came out and tossed some jobbers around and got that pop from the crowd, but was kept away from serious, long-term storylines.
A big part of the issue is that dating back to his debut, and the excellent long-term program with MJF, some fans expected Wardlow to be the next big thing in wrestling. He had some similarities to Goldberg, and AEW leaned into that; but it was pretty obvious he wasn't going to be Bill Goldberg. For one, it's not 1997 anymore, and what was successful back then in WCW cannot be replicated 25 years later in AEW. The environment and expectations for a top star are completely different.
The MJF-storyline also introduced him as a singles star. Given that it had YEARS of storyline build-up before it reached its climax, it's unrealistic to think that momentum could be replicated after it wrapped up. Wardlow was always going to have to move on from MJF, and since he has done that it's harder to get him positioned as a top star because he doesn't have all the momentum from that feud backing him up.
There is also the fact that people like prospects, and they like to project what prospects will be in the future. This happens in sports all the time, and pro wrestling is no different. Fans see a younger wrestler with potential and start fantasy booking what their eventual world title win is going to be. Some fans might get carried away with those ideas and expectations, so that if the wrestler doesn't pan out that way, they think a travesty has occurred.
AEW originally put Wardlow in a great position to succeed. He has worked hard and improved since he first entered the company. At this moment though; he doesn't feel like a world champion—not in a company that takes who holds that title very seriously. Is that really because he hasn't been booked well, or is it because some warts have been exposed once he had to swim a little bit on his own?
I want to clarify that Wardlow's career and progress so far is not a failure. He gets a pop whenever his music hits, he's gotten his powerbomb spot over, he's wrestled on PPVs, he has had some decent matches in big spots. The guy has had a REALLY successful run. I think if this is his ceiling, an upper-midcard challenger type, that's not a bad thing at all. Those spots are very hard to get in this industry, and you can be in one for a long, long time.
Wardlow right now is like a prospect in sports that maybe had a ton of hype as a future HOF-level player, and has ended up just being a really good, but not quite spectacular player. Andrew Wiggins was once thought to be a future MVP-candidate when he was in high school. He was the #1 overall pick in the NBA Draft and came in with a lot of hype. He's turned out to be a very good NBA player, who will have a long career and make a lot of money, but he's not going into the Hall of Fame anytime soon.
That doesn't make Wiggins a bust or a catastrophic failure; it's simply a reminder that prospects are just that; prospects. You never know how their careers are going to play out and you can't project too much on what they are going to do once they start getting tested in bigger roles. Wardlow hasn't blown people away since breaking up with MJF, and maybe that is disappointing, but he still feels primed to have a very long, successful career in his current role.
Could Wardlow be pushed to the moon and be made AEW Champion? Sure, but would he really thrive in that role? From what I've seen over the past year, I'd seriously doubt it. A more protected role, where he isn't asked to carry the entire promotion, is probably a better fit for him at this stage of his career.
Powered by RedCircle