All Elite Wrestling
Revolution 2023
March 5, 2023
Chase Center
San Francisco, California
Watch: PPV, B/R Live & FITE (Non-US)
Meet our previewers
Steve Case: It's been a little while since Steve has been heard from in these parts! A flooded kitchen and living in a hotel for two months with a toddler will do that. All that aside, there's a pretty interesting show happening this weekend. After a string of A+ television since the turn of the year, AEW hit a small lull for a couple weeks. Not terrible television, but in comparison to what came before, there was definitely a downturn in quality that left this show feeling a bit cooled off. A strong go-home show with some great promos did wonders for the excitement level of this reviewer. This card looks terrific on paper and would shock many if it doesn't deliver at a high level. Steve got smart and doesn't have Twitter, so yell at someone else if you don't like what he has to say. BUT, his wife The Good Dr. has a series of children's books (including an intro to pro wrestling) available on Amazon!
Alex Wendland: IT'S THE OLD-TIMERS GAME! Coming off the very, very, very end of the bench, Alex is a longtime VOW writer. With AEW and a resurgent New Japan re-igniting an interest in wrestling, we decided to dust Alex off and drag him out for the AEW Revolution preview. Huge VOW Dad Energy in the preview for this show with Steve and Alex both coming out of semi-retirement.
Suit Williams: Suit hasn't written anything for VOW for a whole two weeks. He got antsy, so he decided to hop on the Revolution preview. Suit made the vow to review every WWE PPV this year, a vow he broke after one show. But he'll be back for Wrestlemania Weekend, so keep your eyes peeled for that next month. You can also check out his long-running Brock Lesnar retrospective series The Brockumentary before the final chapter drops on March 14th. Finally, you can follow him on Twitter @SuitWilliams.

No Holds Barred Match
Christian Cage vs. "Jungle Boy" Jack Perry
Steve: Christian on the mic is gold. He's so great at being a deplorable heel that he outshines Jungle Boy in every way. The promo on Dynamite was wonderful. He blends the self absorbed asshole and grumpy old man extremely well, only for a pre-tape of young Jack crying in Christian's grave to follow? I thought he turned a corner after the great Luchasaurus cage match, showing a harder side of himself than he ever had before. I know he can deliver in the ring, and with Christian coming off a long layoff, the "no holds barred" match stipulation will hopefully help Christian deliver at a high level. Jack needs to deliver here and continue to build on the harder aspects of his character. This HAS TO go on before Mox and Hangman. Unless they have something unseen in them, there's no way they'll be able to top that kind of brutality. Prediction: "Jungle Boy" Jack Perry
Alex: Will we remember Christian as the last great post-WWE pickup in AEW? He's been the Chris Jericho of the midcard in this great story which has served to elevate Jungle Boy, and this should be a great match. I've got full faith in Jungle Boy following the Luchasaurus cage match, and I would trust Christian in this spot even if he's not back and 100 percent following injury. The only question in this match is whether this is the blowoff or not. Jungle Boy likely needs to go over either way, but is the longterm story that Christian and Jungle Boy are destined to do this forever or are we going to keep going with these two actively engaged with each other? Prediction: "Jungle Boy" Jack Perry
Suit: This looks to be the ultimate conclusion to the Christian Cage/Jungle Boy feud that I saw begin all the way back at Double or Nothing 2021, where the partnership between these two began in earnest. The gist of this particular match, beyond the humorous jabs at Perry's mother and dead father, is Christian slating Jungle Boy for his lack of a killer instinct. While I find these stories a bit corny generally, as professional fighters being unwilling to fight professionally annoys me, this should get us past that point with Jungle Boy. I'm ready to get past this story with both of these guys, so let's give Jungle Boy his win and get going with his quest for a singles title. Prediction: "Jungle Boy" Jack Perry

AEW World Trios Championship
The Elite © vs. The House of Black
Steve: This should have been a feud that has been building since the Elite came back at Full Gear. The House of Black are cool as hell and extremely talented. Your mileage on the verbiage and presentation may vary, but every time they are in front of a crowd they deliver and the crowd lets them know it. There was a good vs evil dynamic that could have been great leading into this match, and maybe we will get that moving forward. I just like my builds to culminate at a pay-per-view, not begin. This match is going to rule and is right there with the top two with MOTN potential, I just wish there was a little more substance attached to this one. Prediction: The Elite
Alex: Why am I not more into this? Everyone involved is really good-to-great when the bell rings, but the spooky stuff just misses with me. The match itself should be the dark horse match of the night contender, though it's difficult to believe any Elite match could be a dark horse for anything. This is going to be a ton of fun so long as the hokey hijinx sticks to the entrances, but hopefully it's a one-off match and The Elite can move along to something more high profile. Prediction: The Elite
Suit: The story remains the same for me with the House of Black. Talk less, fight more. The mystical nonsense actively deters me from them, but their matches are too good to give them a full Bray Wyatt/Rosemary handwave. It's a frustrating dichotomy. This Elite match has had all the build necessary for a match that is, at best, fourth from the top on this show. There's been some hand-wringing about the Elite lately (evergreen statement), but this is an excellent use of them as other acts run with the top titles. They're over like capital-s Superstars, and they have great matches while establishing these trios titles as a legitimate prize. As far as who wins, I'm gonna go with the House of Black. It's time to do something with these guys that isn't flickering the lights like Nosferatu, and I think a title change here alongside a short feud would give both teams something to do in the short-term. Prediction: House of Black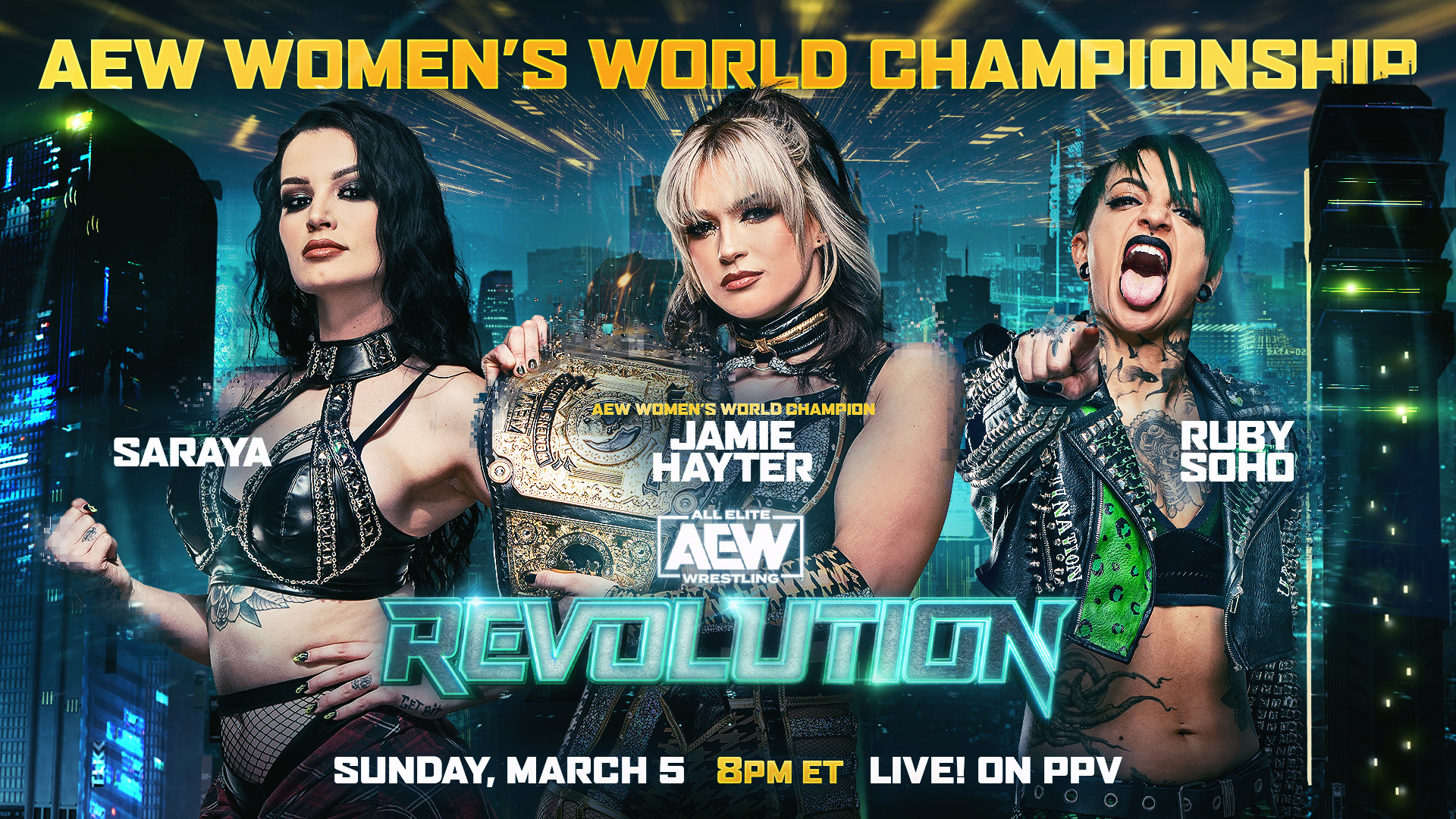 AEW Women's World Championship
Jamie Hayter © vs. Saraya vs. Ruby Soho
Steve: The most I can say about this is I hope it's quick. The less said about the disaster that is Saraya, the better. Give Tony Khan some truth serum on that signing. I suspect this will lead to a Mercedes Mone' debut on television in the coming weeks, and I have a small suspicion this will lead to a "home grown" vs "cast offs" Blood & Guts match down the road. Hayter and Ruby would have been much better, but alas. Prediction: Jamie Hayter 
Alex: The quality of the program has been litigated enough for all of us, but Joe Lanza suggested in the Thursday Dynamite Review podcast that Riho's go-home victory over Toni Storm could line her up to face the winner of this match, and now all I want to see is how far Jamie Hayter can throw Riho. Unlike STEVE, I've given up expecting Mercedes Mone' to show up in AEW. I hope she does, and I'll be waiting for the surprise, but I'm done expecting it. More Hayter, more throwing, less of this "invasion" storyline. Prediction: Jamie Hayter 
Suit: While it hasn't reached the embarrasing depths of Junior Fatu in TNA, Saraya's run in AEW has been a disaster. Her promos are outdated, her work in-ring is subpar, and her gimmick reeks of the 2015 Divas Division. I gave the signing a chance because she was the biggest name AEW had ever brought into their women's division, but she has dropped the ball on almost every level. Her feud with Britt Baker has evolved into a division-wide "outsiders vs. homegrowns" feud, only lacking Stephanie McMahon officially placing everyone into their teams. Ruby Soho has been pulled between sides, leading to the intrigue in this contest. I just want Hayter to knock both of their heads off and move onto more interesting matters. Prediction: Jamie Hayter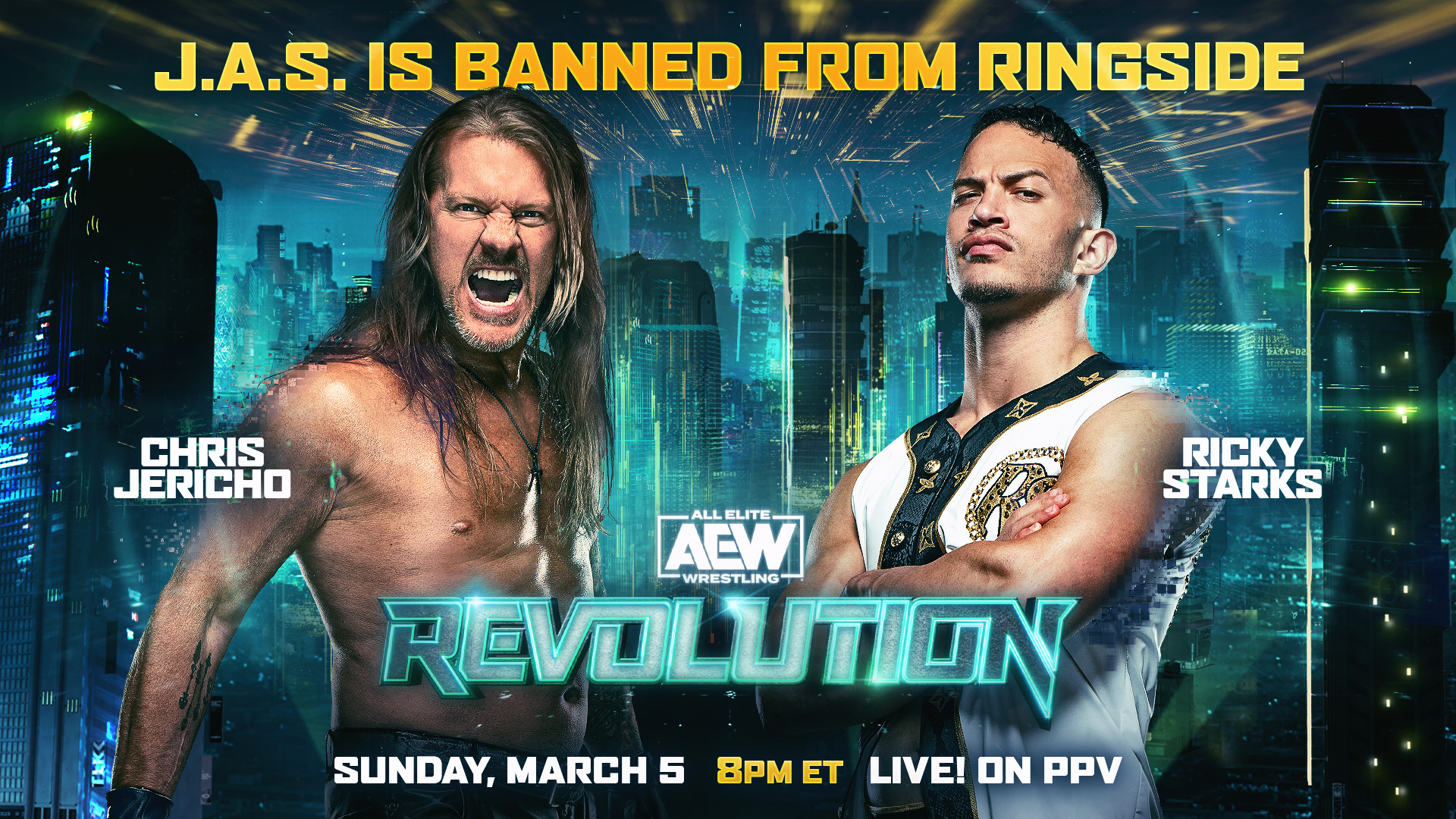 Chris Jericho vs. Ricky Starks
Steve: I feel like this feud peaked long ago with Starks' clean win on Dynamite. That said, the talent these two possess has kept the feud from overstaying its welcome. It seems obvious this is intended to give Ricky a big pay-per-view win and push him on to bigger and better things. Jericho is at the point in his career where this is his exact purpose to build the stars of the future. He's been at his best on the mic with Ricky, and Ricky has stuck with him every step of the way. I think the big show win is icing on the cake. I still think the endgame for JAS is to make Garcia, so maybe this will be the start (or restart) of that. Prediction: Ricky Starks
Alex: This story picked back up for me with Starks' open contract promo. Both Jericho and Starks have been cutting such great promos that the open contract promo seemed to have been overlooked. Starks was spectacular in that spot, and it's too rare in AEW for a lauded promo not to include (or require) growling, yelling, or wildly inflated stakes. As for the match, I just hope there's no trickery and we get the great match we've earned from Starks having to navigate months of JAS chicanery. Prediction: Ricky Starks
Suit: This feud has been a great use of Starks after his loss to MJF in December. After a win over Jericho in January, followed by a JAS attack that most people seem to forget, Starks has been fighting his way back for a rematch against Jericho. This is the rematch, and I expect Starks to win here as well. This is the place to give Starks his big highlight win on PPV after his big highlight win on Dynamite in January. The only cause for pause here is if they want to do a trilogy match with these two as AEW tends to do and let Jericho split the series, which I'm sure would delight certain segments of the fandom. Prediction: Ricky Starks
---
Powered by RedCircle
---

AEW TNT Championship
Samoa Joe © vs. Wardlow
Steve: Samoa Joe has been GREAT in AEW. He's a monster and he's been able to work that way. Pretty easy! Enter another younger, more athletic monster in Wardlow. A guy who isn't all too different from early Joe in terms of athleticism for his size. Between these two and Darby, they have really made the TNT Title relevant again, which gives this whole feud bonus points. Enter the impending challenge of Powerhouse Hobbs, and this is starting to look more like the NEVER Title division. With ROH starting to move forward, it makes sense for Joe to focus on that, so I feel like Wardlow wins here. In either case, does the winner lose to Hobbs right away? I wouldn't hate it. Prediction: Wardlow
Alex: Samoa Joe can't win after they play the dead dad card, right? You simply cannot heat Wardlow back up if he fails to avenge his dad. An intense feud driven by a strong story, but this feels like a lame duck match because whoever wins should absolutely lose to Powerhouse Hobbs next week. It seems unfair to both Joe and Wardlow to have Hobbs encroaching on the natural end of their great story, but that's how Tony has charted the course–I just wish we could have set the next challenger up one week later. Prediction: Wardlow
Suit: This TNT Title has been fantastically booked since Samoa Joe won it. The cutting of Wardlow's hair, the Darby Allin title run, the incredible rematch between Darby and Joe before the return of Wardlow, and Wardlow giving a strong meaning to the haircut leading to this rematch. It's excellent stuff happening right under our noses. For this match, while I don't think Joe winning would be the worst thing, I do expect Wardlow to win this one. I think Joe heads over to Ring of Honor full-time while Wardlow moves on to Powerhouse Hobbs on Wednesday. Prediction: Wardlow

Texas Death Match
Jon Moxley vs. "Hangman" Adam Page
Steve: This is arguably the biggest match on this show. Without this and the main event, this show's heat would seem like Siberia. This match has it all. Story? This has threads going back years. Promos? Hangman fighting his conscious after being knocked unconscious by Moxley vs. Moxley covered in blood bearing his soul to the fight. What a visual his go-home show promo was. Match quality? Every time these two step in a ring it's a MOTYC, or at worst deserves space in your notebook. Implications? These two are at the tippy top of this company, so the outcome has stakes, importance, and consequences for both men. This is the absolute goods folks. You really can't go wrong with any result here, barring injury, which is also a distinct possibility. With Moxley involved in the BCC, I feel like there's a lot going on for him in that direction, away from the top of the card where he's lived for over a year. Hangman makes sense as the next title challenger and is probably due for a big win. Prediction: "Hangman" Adam Page
Alex: What an incredible story, and THE match that matters on this show.This build could not have been more intense and it seems to be peaking at just the right time. This is going to be a bloody war, and the ceiling for this match is among the greatest matches AEW has ever hosted. And the match will have consequences! This could be Mox's full heel turn, and it could be the character redirection to define Hangman's career. Even in a vacuum, without the consequences, this is going to be a match of the year contender and the bar could not be set higher. Prediction: "Hangman" Adam Page
Suit: This feud has been absolutely fantastic, with these two bulls trying their best to prove whose the toughest in the yard. Moxley has been the top guy in the promotion for the better part of a year, plus he's been the aggressor in this feud. He's up 2-1 in the feud, stealing the last win with a roll-up. This will be the blowoff, and I expect it to be just as great as the other ones. The floor on this one is a good match, and the ceiling on this one is a legitimate Match of the Year contender. My expectation is Hangman Page definitively winning here and heading to a shot at getting his World Title back. I don't see Moxley turning full on heel here, but I do think he ends up working on the heel side more after this one. Prediction: "Hangman" Adam Page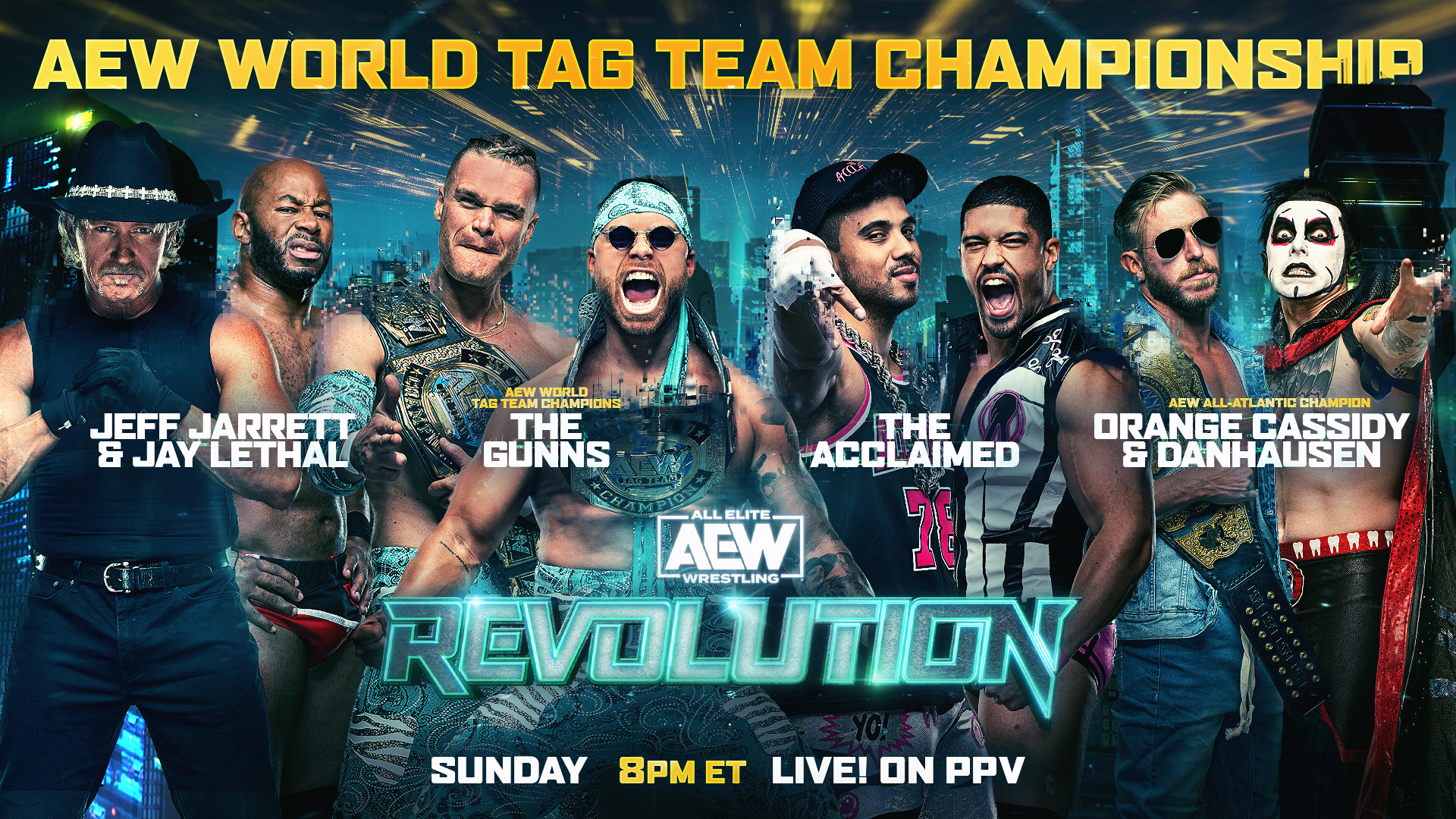 AEW World Tag Team Championship
The Gunns © vs. The Acclaimed vs. Jay Lethal & Jeff Jarrett vs. Orange Cassidy & Danhausen
Steve: This one is puzzling. Why add in OC and Danhausen? The other three teams have been intertwined to various degrees, with the Gunns and Acclaimed in a long feud that began last summer. Jarrett and Lethal are old school heel goofs that are a great foil to the Accalimed's act. Did this match really need more comic relief? If they do a full on comedy match, then this may be a good change of pace for a show full of (literal) blood feuds. If they go that route, why not belt up a team like Jarrett and Lethal for a very short run? It'd piss off all the right people and honestly, if the idea is for FTR to return, it could be a great dynamic to "clean up" the tag division. I've talked myself into this WEE WOO WEE WOO WEE WOO. Prediction: Jeff Jarrett & Jay Lethal
Alex: AEW has been bailed out by match quality with these multi-team matches in the past, but reliance on them has laid bare the fact that these tag titles lack direction. That's both surprising and disappointing for a company with so many wonderful teams. Even more surprising is how few of them are included in this match, a point which shines even brighter in the face of Orange Cassidy and Danhausen winning the battle royal on Dynamite. There were maybe 5 teams in that match who would have made this match more interesting. Instead, this lineup looks like a goofy comedy spotfest–and that could work! Lethal and Jarrett would be a total change of pace, and maybe a welcome one, but I'm not sold on them winning anything of consequence. Orange Cassidy has been having great TV matches for the All-Atlantic title, and becoming tag team champion would only serve to muddy that story. The Gunns don't seem ready for a long run if the tag titles still matter in comparison to the trios titles. The Acclaimed need to sink their teeth into a feud that has less to do with asses, and their chase to win back the titles has felt like an afterthought. So, who wins this match and what do you do with the tag team division when the biggest teams are fighting for the trios belts, gone, or just not involved? Great question. I have no idea, and I don't envy TK digging his way out of this one. Prediction: The Gunns
Suit: Two stories collide here with the World Tag Team Titles on the line. The Gunns and the Acclaimed have gone back and forth for months, with the Gunns stealing the tag team titles away last month. Meanwhile, Team TNA and the Best Friends have been feuding on the undercard for months as well. The Gunns and Team TNA have made an alliance going into this one, which I can easily see being broken at the drop of a hat. Meanwhile, the Acclaimed are the hottest team in the promotion right now. So why am I thinking about Danhausen as AEW World Tag Team Champion? Because I think there's an overall point to these teams being in this match on this show. Maybe I'm putting too much thought into this, but I think these "unserious" teams being in the mix here is eventually going to lead to FTR coming back at some point to "save" the tag team division. It just depends on if FTR comes back as heroic babyfaces or pissed off heels. To be different, I will pick Cassidy and Danhausen to really make my headcanon work. Prediction: Orange Cassidy & Danhausen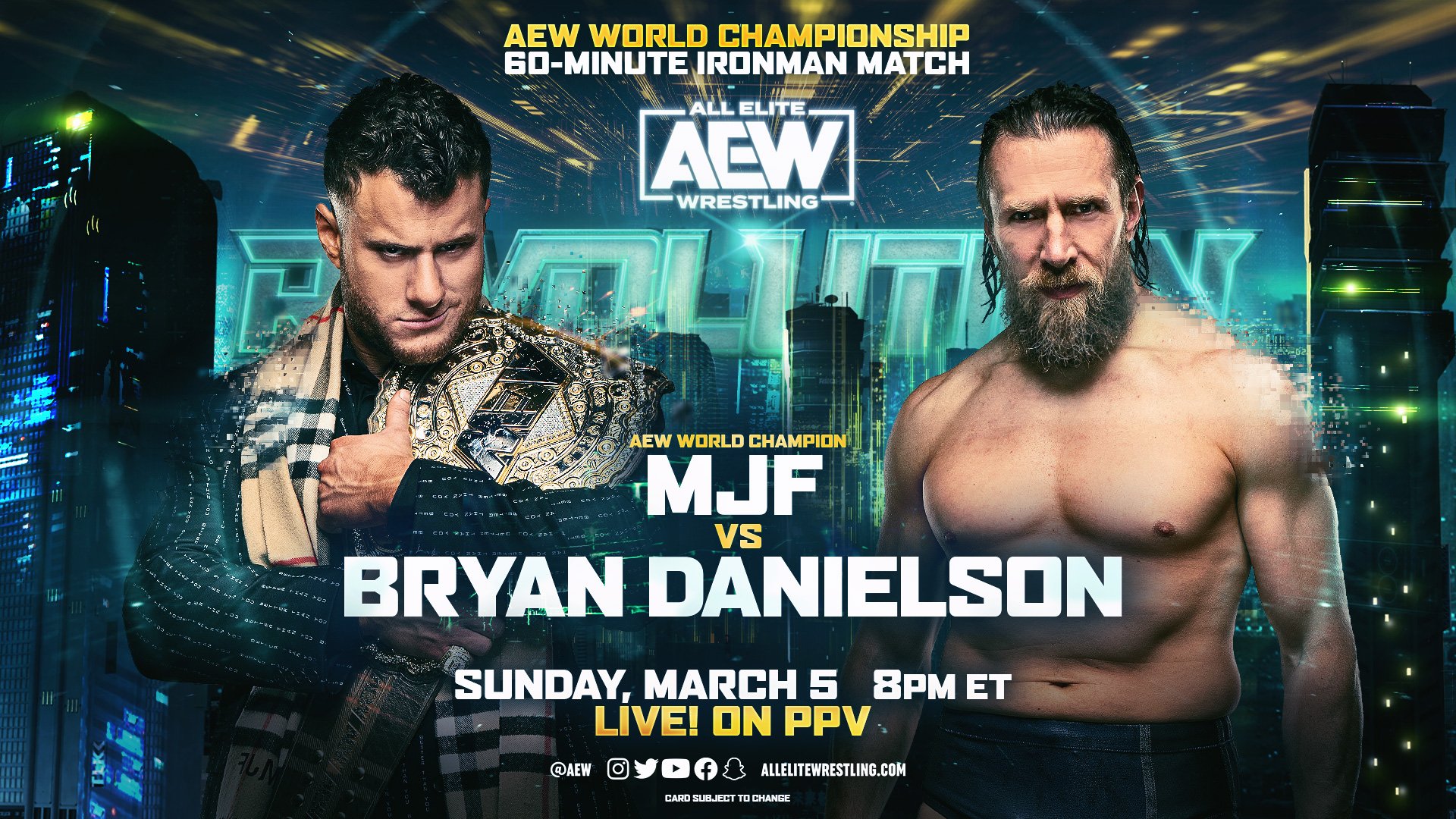 60-Minute Iron Match – AEW World Championship
MJF © vs. Bryan Danielson
Steve: Along with the Texas Death match, how great has this feud been? MJF continues to be a GOD tier promo and when called upon, has had some low key bangers in the ring (see Takeshita, Konsuke). Meanwhile, all Bryan Danielson has done is have an early WOTY run, having good (Thatcher, Cage) to great (Bandido, Rush) matches on a weekly basis. He's also been outstanding on the mic, delivering very emotional, personal, and firey promos to counter MJF. There's a lot of different ways this can go. These two have tremendous minds for the business and Danielson has been in so many of these that I have no doubt they will come up with something great. As much as I would love to see a Danielson title run, I just don't get a sense that's the direction. I see this going one of two ways. The first being that MJF wins without recording a clean fall. He cheats somehow for every fall he gets, while Danielson just out wrestles him for his falls, showing he's really the better man. This would play into MJF's insecurities. The second way, building off that, they wrestle to a time limit draw. The falls are the same way (if there are any), and MJF still can't claim he truly beat Danielson, even if he is still champion. Prediction: MJF retains via falls or draw
Alex: A prediction is irrelevant to this match. No one thinks Bryan Danielson is winning the AEW World Championship. But how do they do it? Another great top-card story in AEW and there's very little question as to whether the match delivers bell to bell. Will MJF hang around until the final seconds to cheat Danielson out of the match? Will the champion draw the Dragon into a DQ to give himself the edge? Could MJF just out-wrestle one of the technical GOATs? We all think we know the destination, but the story has been, and will be, fantastic. Prediction: MJF
Suit: I'm not going to be the man that doubts Bryan Danielson in a PPV main event. And anyone still believing that MJF can't work is stuck in 2019, where he was more style than substance. He's improved tremendously, and putting him in the ring with Danielson should result in a great match. The only way I can see this match being bad is if they go Hart/Michaels style and go with zero falls for the majority of the match, and I don't see that happening. As far as the result goes, this isn't in doubt. Some old ROH-bots may recommission and talk themselves into Danielson winning this one, but it's not happening. The long-term story here is MJF threatening to walk with the title at the end of the year, so I expect him to get through this defense here and move onto the Hangman for Double or Nothing. Prediction: MJF