DDT Wrestle Peter Pan 2022
August 20, 2022
Ota City General Gymnasium
Tokyo, Japan
Watch: Wrestle Universe
This year has been all about celebrating the 25th anniversary of DDT. The conditions have been less than ideal for celebration as Japan has had stringent protocol and restrictions on COVID-19. In the biggest show of DDT's year, however, we have the allowance of cheering. It should be noted that DDT has had two shows already with cheering allowed, which has given the shows a better atmosphere. While the crowds haven't been raucous, the noise is appreciated.
The year has been solid but unspectacular from DDT, but the recent months have made the company feel hot once again. The company is riding a wave of momentum from the CyberFight Festival and the King of DDT tournament, which promised the crowning of a new KO-D Openweight Champion. This Peter Pan card isn't quite the all-out extravaganza of previous years; there are no Ganbare Pro or Tokyo Joshi offer matches, but it's still very solid with interesting matchups.
Before we get into the card, at today's press conference, LiLiCo announced that she would be at Peter Pan and would have an announcement.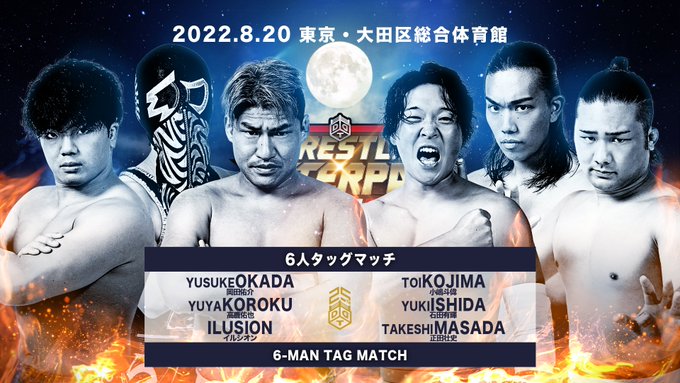 OPENING MATCH 
Yusuke Okada, Yuya Koroku & Ilusion vs. Toi Kojima, Yuki Ishida & Takeshi Masada
Fresh off his debut match at the August 14 Korakuen Hall show, Takeshi Masada makes his debut at a big show. I implore you, keep one eye on this young man. Masada made his debut after only three months of training, and you can see why DDT wanted to put him in front of crowds so soon. He was put in a winning position by being in a match with HARASHIMA but Masada still held up his end of the match. In only his second match, I would expect Masada to take the fall here but I'm confident that he will put in another assured performance. Kojima is closing in on two years since his debut and is making the next steps in his career. He is one of the KO-D Ten Man Tag Champions and won the titles for his team by submitting Thanomsak Toba on June 25th. Ishida is a solid rookie who has been wrestling for less than a year. He uses his sumo background nicely and is still firmly in the role of young boy eating losses.
The Burning duo of Okada and Koroku seem to be anchored to the bottom of the card in these big shows. Yusuke Okada has a discernible quality but cannot seem to get a push, wherever he goes. I really like Okada, but in every big match he's had, he's eaten a fall. He's the most experienced man in this match though, so I'd expect him to pick up the win here. Ilusion is one of the DDTeen youngsters who made his debut at the last Peter Pan show, so we can see his progress exactly one year later.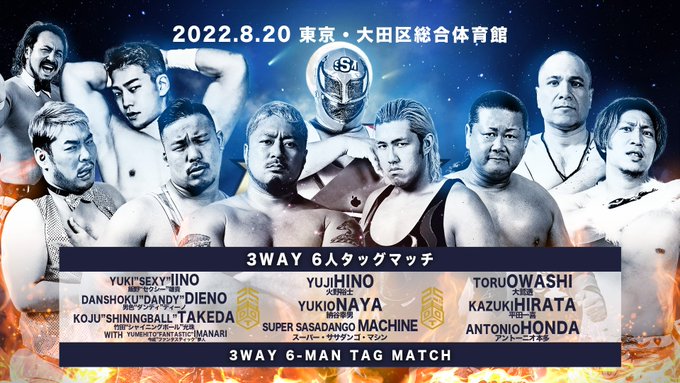 3 WAY 6-MAN TAG MATCH
Yuki 'SEXY' Ino, Danshoku 'DANDY' Dino & Koju 'SHINING BALL' Takeda (w/ Yumehito 'FANTASTIC' Imanari) vs. Yuji Hino, Yukio Naya & Super Sasadango Machine vs. Toru Owashi, Kazuki Hirata & Antonio Honda.
Close your eyes. I can guarantee you that you can imagine at least 70% of this match. Various Pheromones shenanigans, Hirata getting interrupted before he can dance, Gon the Fox, Sasadango giving a PowerPoint presentation, etc.
This is Takeda's first proper match in Pheromones, so it will be interesting to see his shtick and where he fits in the group. Yukio Naya and Yuji Hino as a big man tag team has been the most palatable setting that we've seen Naya in, so hopefully, that continues. They're unlike almost every act in the company, and I wouldn't be surprised to see them win here and work up to a KO-D tag title shot.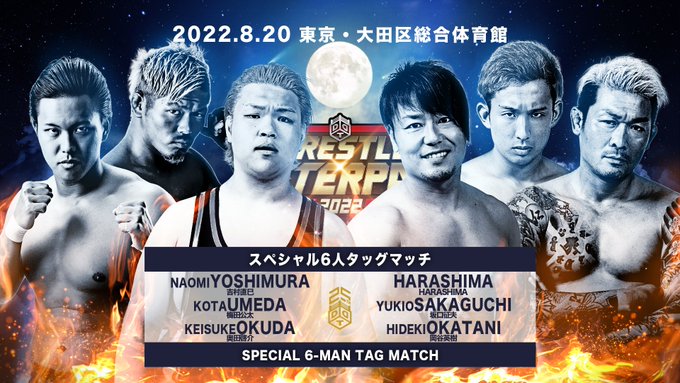 DNA SPECIAL 6-MAN TAG MATCH
Naomi Yoshimura, Keisuke Okuda & Kota Umeda vs. HARASHIMA, Hideki Okatani & Yukio Sakaguchi
DNA was a DDT sub-brand that was focused on giving young wrestlers experience working on smaller shows. Umeda was on the very first DNA show, whereas Yoshimura and Okuda made their DNA debuts on DNA28 and DNA36, respectively. Yoshimura and Okuda were also in the same unit in DNA: Naomi Kingdom, whereas Umeda was one of their rivals.
Yoshimura, now part of Harimao with current K-OD champion Kazusada Higuchi, has been a man re-invigorated this year. After a strong King of DDT where he beat HARASHIMA in a singles match on his way to the final, he has become a KO-D Tag champion with Higuchi and left HARASHIMA and Disaster Box. Yoshimura's work seems to have a real poise and intensity that hasn't been seen since the Eruption and Nautilus series. Keisuke Okuda's position is intriguing. Okuda left Dragongate just before Kobe World this year, and this will be his first match since June. I'm a big fan of Okuda's in-ring work; he's got fantastic intensity, and I hope that this is his landing spot. Umeda feels like a 'what-could-have-been'. Umeda is good but left DDT in 2019 to help run his family business. Nowadays, he pops up here and there and impressed at Dragongate's Kumamoto stop in June 2021 but has only wrestled 19 times in the last three years.
Across from the DNA trio are 'Mr. DDT' HARASHIMA and the no-nonsense Eruption duo of Sakaguchi and Okatani. HARASHIMA has seen them all come and go. He's the measuring stick of DDT and even at 48, is still an excellent wrestler. Okatani has come on leaps and bounds since joining Eruption and had a solid match with HARASHIMA in the opening round of the King of DDT tournament. Sakaguchi is a grumpy old guy who enjoys punishing the young guys. Sakaguchi is 49 but has only been wrestling for 10 years. The son of former NJPW wrestler and president Seiji Sakaguchi, he came into wrestling after a failed J-MMA career. Watching Sakaguchi work when he's on form is magical and being close to 50, it is important to appreciate him while he's still going. Sakaguchi and Okuda have history together too. On April 11th, 2019, their only singles match went to a double knockout after simultaneous head kicks. This should be a hard-hitting affair and is my sleeper pick for match of the night.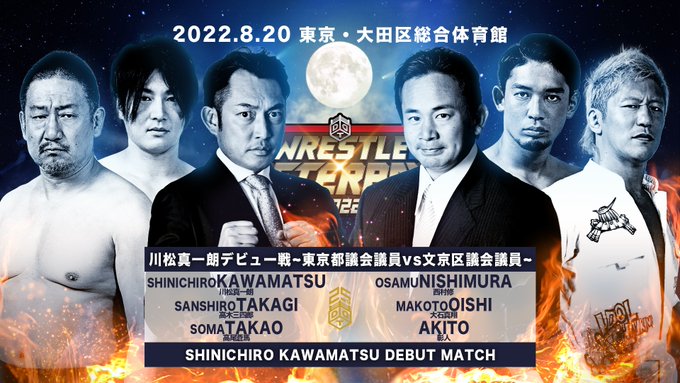 SHINICHIRO KAWAMATSU DEBUT MATCH – TOKYO METROPOLITAN ASSEMBLY MEMBER VS BUNKYO WARD ASSEMBLY MEMBER
Shinichiro Kawamatsu, Sanshiro Takagi & Soma Takao vs. Osamu Nishimura, Makoto Oishi & Akito
I know that Japanese wrestlers have often become politicians, but the move has been made in reverse. Technically, this is not Kawamatsu's first match as he won the Ironman Heavymetalweight Title on March 27 and lost it in a Survival Rumble match at the June 1 Korakuen show. Are Japanese politicians really a draw? Is he a money mark paying for this match? Is he giving DDT some sort of political benefit?
I don't know, but I don't like this happening on the year's biggest show. This is a waste of Takao and Akito. I just hope this is over quickly.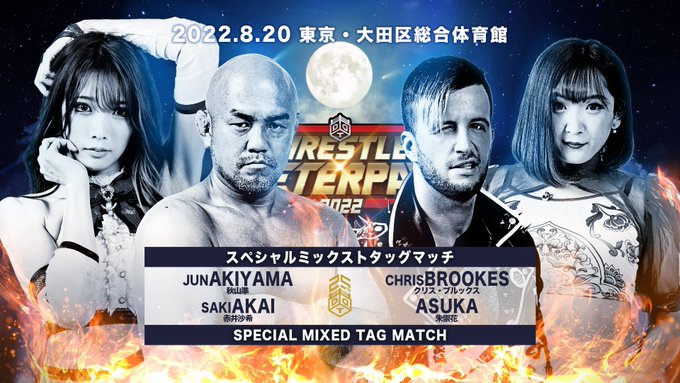 SPECIAL MIXED TAG MATCH
Jun Akiyama & Saki Akai vs. Chris Brookes & ASUKA
I am really looking forward to this match. This is the first mixed tag match that Akiyama has had in his career. This match was spurred on by Akai asking to team with Akiyama so that she could become stronger. Akiyama accepted and here we are. I'm unsure if two people are more opposite than Akai and Akiyama but that intrigues me even more. The team across from Akai and Akiyama are very deliberate. Brookes and ASUKA are not a regular tag team but in the past year, they have surpassed Akai somehow. Brookes and Akai had a double title match last year for the Extreme and Ironman Heavymetalweight Title, which Brookes won. Oddly, for the Extreme title, the match had no stipulation. Brookes had chosen a straight singles match as he wanted Akai to prove herself. ASUKA has also been taunting Akai this year as she was the first female-identifying person to win the KO-D Tag Team title. Akai was also pinned by ASUKA on the August 14th Road to Peter Pan show with the Shiranui.
Brookes, since moving to DDT, has quietly put himself in the upper echelon of wrestlers worldwide. He is an excellent intergender worker, with matches against Suzu Suzuki, Miyako Matsumoto and Akai herself, so I expect this match to be very good.  ASUKA is in the top 1% of women wrestlers. I will listen if you want to make the case that she is THE number one. In DDT alone, ASUKA has had multiple excellent matches against MAO but also with MAO against CDK and Harimao.
I expect this match to be the feel-good win for Akai at a major show, and the crowd will go bonkers as Gwen Stefani plays.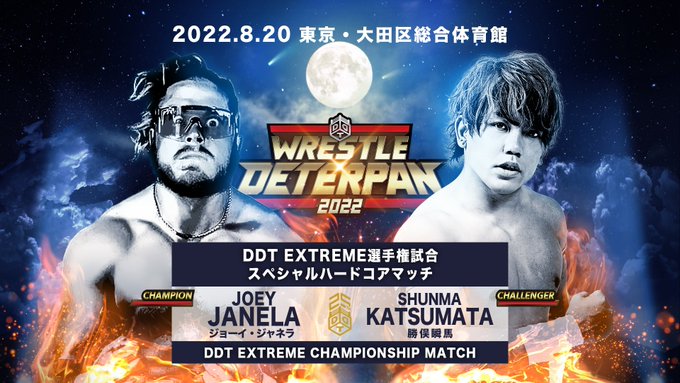 DDT EXTREME CHAMPIONSHIP MATCH – HARDCORE MATCH
Joey Janela © vs. Shunma Katsumata
This was originally booked as a Special Hardcore match but became an Extreme title match after Janela beat Akito on August 14th. I'll be honest, I'm not a fan of Janela. The IPPON Light tube match is a sure-fire way to have a frantic, exciting match, but Janela found a way to slow it down and have the worst IPPON match I've seen Akito have. With that said though, I think this match should be better. Janela does work hard and takes dumb, big bumps, and Katsumata is a great hardcore worker. I have no idea who will win. Janela has said that if Katsumata wins, he will get Shunma booked on GCW shows with the title, but I can easily see Janela taking the belt with him to GCW.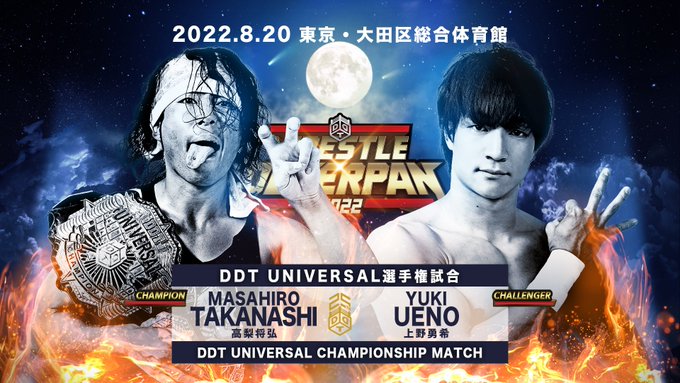 DDT UNIVERSAL CHAMPIONSHIP MATCH
Masahiro Takanashi © vs. Yuki Ueno
This is a never-before-seen singles match. The build has not been the greatest as Ueno contracted COVID-19 and GM Imabayashi just announced that Ueno was challenging for the title on the July 24 Korakuen. I was actually surprised that Takanashi even won the Universal Championship from MAO. Takanashi has been positioned as a crafty wrestler who often must cheat to win and uses every underhanded tactic in the book. Ueno is the up-and-coming star and with Takeshita coming back, I think having Ueno win the title will show that he's also improved as Takeshita has gone to America. If I could bet my house that Ueno was winning this match, I would.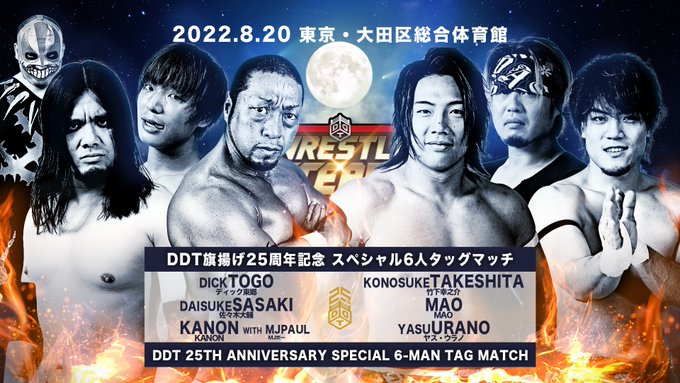 DDT 25th ANNIVERSARY SPECIAL 6-MAN TAG MATCH
Dick Togo, Daisuke Sasaki & KANON (w/ MJ PAUL) vs. Konosuke Takeshita, MAO & Yasu Urano
This match doubles as a celebration of DDT, with big names from the past, present and future, while also being the return match for returning hero Konosuke Takeshita. This is a star-studded match with 11 KO-D Openweight Championship reigns between Sasaki, Takeshita and Togo. Sasaki asked for his old master Togo to return to DDT for one more match and Togo obliged, joining the DAMNATION T.A. team. I think Togo will have his working boots on. He is in the semi-main and there will be higher expectations for him than in his current New Japan role. DAMNATION T.A isn't the furthest departure from House of Torture though, so maybe Togo will bring the garotte wire. Urano is a DDT legend with 5 KO-D Tag Team Championships to his name and has only worked 3 DDT dates this year, mainly working BASARA and 666 now. As I watch neither of those promotions, Urano is always a welcome return and I enjoy his work when he comes in.
MAO and KANON represent the future of DDT and I can easily see both becoming KO-D Openweight Champions in 5-10 years. MAO is a phenomenal talent. He can be a technical wrestler, he's a great flyer and work hardcore matches. I think he's a great singles wrestler, but he truly excels at these trios and tag matches. Expect big spots from him in this match. KANON has really found himself in DAMNATION T.A. When he came into DDT, I hadn't seen him before, but I wasn't convinced. He seemed kind of generic and I thought he was fine, but then he turned heel. He's smarmy, smirks and saunters around at his own pace. He had a nice match with Ueno in the opening round of King of DDT, so the work is coming along too.
Sasaki is one of the best big match wrestlers in the world. His effort and motivation might be called into question in tags and tour shows but Charisma always delivers when it matters, and he comes up against his greatest opponent in Konosuke Takeshita. Takeshita has a 5-4 record over Sasaki in singles matches, and they've also had multiple excellent tag matches.
Has any wrestler risen their stock more in 4 months than Takeshita has this year? Takeshita is a capital-S Star, THE guy. There aren't enough superlatives you can throw at him. He is currently my wrestler of the year and has more 4*+ matches than anyone else this year. His stint in America has done him wonders. Before Takeshita left, some people wondered: 'What do you do with Takeshita?' Whenever Takeshita was out of the world title picture, it felt like he was being kept away because someone else had to win it eventually. I'm ready for Takeshita again. I'm getting excited about Takeshita's possibilities while writing this preview. He's a world-class wrestler that has world-class matches. I expect him to score the fall in this match over KANON.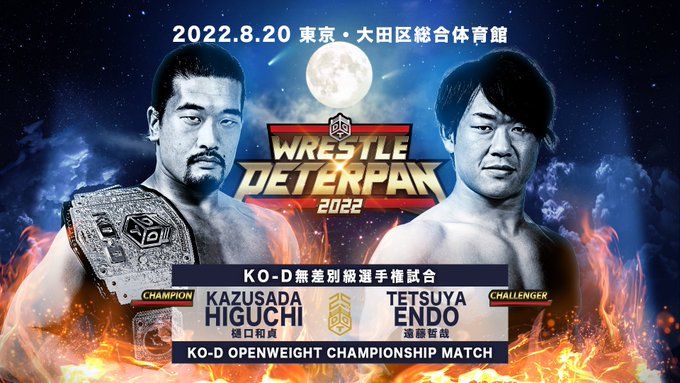 KO-D OPENWEIGHT CHAMPIONSHIP
Kazusada Higuchi © vs Tetsuya Endo
June 12, 2022. CyberFight Festival 2022. NOAH vs. DDT. Atsushi Kotoge, Yoshiki Inamura and Katsuhiko Nakajima vs Jun Akiyama, Tetsuya Endo and Kazusada Higuchi. Kazusada Higuchi approaches the ring waving a huge DDT flag, looking like a conquering hero. The presentation of Higuchi was incredible, all-time great stuff. Five minutes into the match, Nakajima, not even originally scheduled to be in the match, starts refusing to sell for Endo. Endo gives Nakajima some forearms and then Nakajima slaps him. The KO-D Openweight champion instantly folds, his head bouncing hard off the mat. Six minutes and twenty seconds into the match, Matsui waves it off. Tetsuya Endo, finally, after ten years, had beaten his rival Konosuke Takeshita in a KO-D Openweight Championship match. He was on his crowning, career-defining world title run, but that didn't matter anymore.
Katsuhiko Nakajima ended Tetsuya Endo's reign with a slap.
Tetsuya Endo is forced to vacate the belt, as he has been diagnosed with a concussion. GM Imabayashi announces that the King of DDT 2022 Tournament will be for the vacant KO-D Openweight Championship. Enter, Kazusada Higuchi.
Rightly or wrongly, before this year, I had Higuchi typecast. I love Higuchi, but I figured he was the equivalent of Hirooki Goto or Tomohiro Ishii. He was going to put on great matches and be one of my favorite wrestlers, but he wouldn't win the big one. He's a nice filler title challenger. At the CyberFight Festival, he looked like a superstar, and I wondered if his time would come, but I didn't dare hope to save myself the disappointment.
The King of DDT tournament starts, and Higuchi gives Yukio Naya the best match of Naya's career. Truly miraculous stuff. Then, Higuchi squashes the Universal Champion. In the semi-final, Higuchi faces Jun Akiyama. Last year, Jun Akiyama defeated Higuchi to successfully defend the KO-D Openweight Championship and demanded Higuchi strap the belt around Akiyama's waist. Akiyama blasts Higuchi with knees and exploders but Higuchi stays strong and ousts Akiyama in 14 minutes.
Lastly, the final. Naomi Yoshimura: who had defeated HARASHIMA and Yuki Ueno, his two former tag partners, to advance; was all Higuchi had left. After 19 gruelling minutes, Higuchi dispatched Yoshimura. Kazusada Higuchi had finally won the K-OD Openweight Championship. Jun Akiyama, came to the ring and congratulated Higuchi and in reverse of the previous year, strapped the title belt around Higuchi's waist. Higuchi stands tall and holds the Dramatic Dream Team flag aloft, waving it in triumph.
Higuchi and Yoshimura, with newfound respect for one another, tag together on July 7 and win their main event match against Toi Kojima and Yuki Ueno. In a post-match promo, Higuchi and Yoshimura announce they are leaving Eruption and Disaster Box, respectively. Their new name being Harimao.
Tetsuya Endo announces that he's returning on the July 24 Summer Vacation show after a 47-day absence. Teaming with Jun Akiyama and Chris Brookes against HARASHIMA, Yukio Sakaguchi and Soma Takao; Endo pins his former DAMNATION stablemate, Takao, with the Burning Star Press. In the main event, Harimao get stronger, defeating MAO and ASUKA to win the KO-D tag team titles. Afterward, Endo announces his intention to challenge Higuchi for the KO-D Openweight Championship.
As Peter Pan draws closer, Harimao goes unbeaten with an 8-0 record, looking unstoppable. On August 14, at Korakuen Hall, the last stop before Peter Pan, Endo and Akiyama come face-to-face in a tag match with Higuchi and Yoshimura. After a great 22 minutes, Yoshimura hits the Judo Throw on Akiyama and pins him. All momentum with Higuchi and Harimao. After the match, Endo is angered that no wrestler in DDT placed among the Top 50 in the Japanese Pro Wrestling Popularity Election. He says that DDT isn't breaking into the mainstream and his version of DDT is superior and can help DDT to succeed, so Endo must win at Peter Pan. Higuchi agrees that everyone must work hard for the success of DDT but insists he is the man to take the company forward.
I am torn. Even though this all came about by accident, I believe that this has been the best-built match/story in Japanese wrestling all year. I don't know which way this match goes. Do you go with Higuchi, who you've just started pushing and given a new unit as well as two belts, or do you revert to Endo with whatever the plan was before the KO? If I must choose, I'd go for Higuchi. Strike now with Higuchi. He can never have his first reign again, and he's been phenomenal.
Whichever way this match goes, I'm excited for DDT in the coming months.
Powered by RedCircle