Since January 1, 2019, when the All Elite Wrestling promotion was officially announced by the Elite group outside of the Tokyo Dome, AEW had an inherent advantage when it came to marketing themselves to fans and prospective talent.
That advantage bore fruit over the last three-and-a-half years, with the voracious fandom tuning in enough to earn AEW a second television contract with TNT four months after the debut of Dynamite. That advantage delivered them talent by the dozens, from the NXT talent tasked to compete against them in 2019 to men fresh off of main eventing WrestleMania. It was an advantage that AEW wasn't coasting on, but one the promotion was damn sure benefitted from, and planned on benefiting from for a long time.
That advantage went away in one unceremonious tweet on Friday, July 22, 2022.
At 77, time for me to retire.
Thank you, WWE Universe. 
Then. Now. Forever. Together. #WWE #thankful

— Vince McMahon (@VinceMcMahon) July 22, 2022
Vince McMahon ruled the WWE with an iron fist. His voice was the only one that spoke, his vision was the only one that was realized, his perspective was the only one that mattered. The entire company was designed to his liking, to make the stars he wanted to be made. Anyone that didn't fit his vision of a WWE Superstar™ would be in the midcard muck, to win and lose with no real consequence. Those castoffs could sit in catering for months on end. Maybe if they were lucky, they could get left on a Saudi Arabian tarmac with armed guards keeping them company while Vince flew home on his private jet. Vince McMahon was the reason that AEW existed, whether he understands that or not. His inability to understand modern audiences grew such a need for a big-time alternative. It was his inability to book the talent he had to their strengths that allowed multiple money-making stars to slip out of his grasp. His failures as a wrestling promoter bore the need and fed so much of the success of AEW.
But none of that matters now. Vince McMahon is gone.
After weeks of posturing and grandstanding in the face of multiple accusations of sexual misconduct, Vince vanished from the world of pro wrestling like a thief in the night after his resignation disguised as a retirement. The shadow that loomed over every decision made, every match result, every signing no longer exists. The preconceived notions about what a star in WWE could be is gone.
Now for AEW, the Vince advantage is gone.
The new head of WWE creative, for now at least, is Triple H. Triple H's run as the leader of NXT, WWE's developmental sub-brand, gave fans a theoretical look at what a Hunter-led WWE would look like. The first person he signed to the company was Mistico. His tenure as Sin Cara aside, Mistico was one of the hottest names in the world of pro wrestling when he was brought into WWE. Triple H would then morph WWE's developmental promotion into a super-indie and took it worldwide, somehow giving it an underground feel while being connected to the worldwide leader. His leadership of NXT served more as a rebranding of Triple H to wrestling fans. Gone was the conniving politician that buried talent to remain on his golden throne, and here was a guy with an eye to the future of wrestling. He knew who Shinsuke Nakamura was! He peeked through the curtains of EVOLVE and PROGRESS shows! He watched Dragon's Gate! Triple H was the cool uncle in comparison to mean ol' Grandpa Vince, who took all of Hunter's toys and broke them.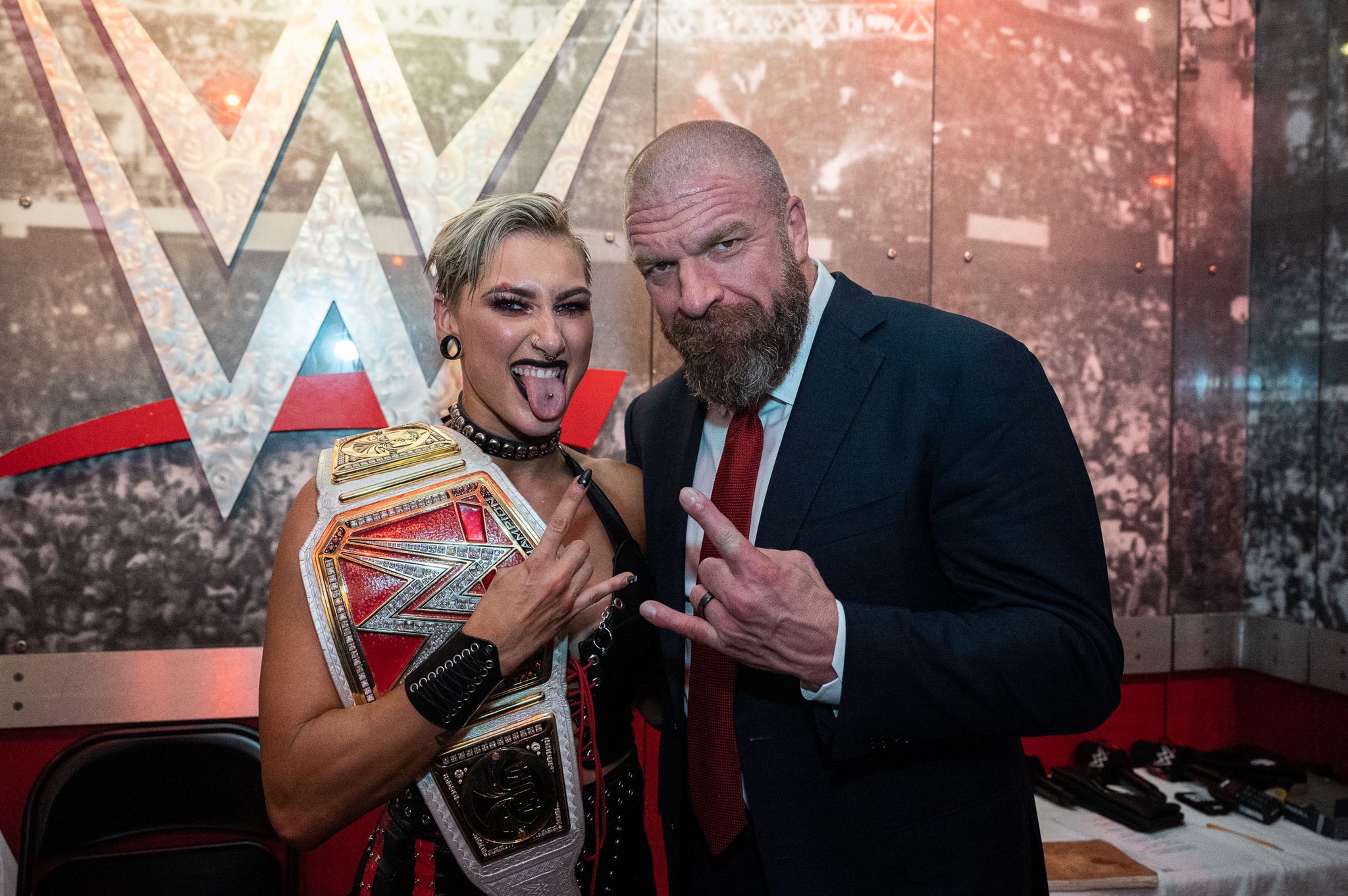 Now cool Uncle Hunter is in the driver's seat of all of WWE television, and now the game has changed (no pun intended) for AEW.
Triple H wouldn't have asked Adam Cole to cut his hair and become a manager.
Triple H wouldn't have given up on Hit Row in three weeks.
Triple H wouldn't have asked Keith Lee to roar like a bear.
Now Triple H's NXT was not flawless, a fact that we learned once NXT went to two hours. Once he couldn't cycle people up to the main roster as quickly as before, the show became stale and reliant on melodrama that would make the cast of Days of Our Lives blush. (Shoutout to Kate Mansi.) But he was more willing to give guys outside of Vince's vision of a superstar a chance to become one, and that willingness to look outside of that mold will be appreciated by wrestlers who never fit it.
Now AEW can't coast into negotiations with wrestlers as the Vince-free utopia. They can't coast with the fans as the well-booked alternative if the mainstream option is also well-booked.
We're heading into a new pro wrestling landscape, one where AEW will have to work a little harder to keep their momentum.