With the G1 Climax just around the corner, many new and old fans are dipping their toe into New Japan Pro Wrestling's style and structure of professional wrestling.
In this guide, I will provide an overview of the G1 Climax tournament and answer many Frequently Asked Questions that arise to newcomers to the greatest tournament in professional wrestling.
What is The G1 Climax and Why Is It Important?
The Grade One Climax (G1 Climax) is a heavyweight professional wrestling tournament held annually by New Japan Pro Wrestling. The tournament typically occurs during the summer months of July and August and is renowned for its high-quality and high-stakes matches. This year's G1 Climax will be the 32nd such tournament in NJPW's history. Due to the format of the tournament, the season it takes place in, and the level of the competition, the G1 is regarded as one of the most grueling events in which a professional wrestler can participate.
Since 2012, the tournament's winner has been awarded a contract for a shot at the top title in NJPW, the IWGP World Heavyweight Championship at New Japan's pinnacle event, Wrestle Kingdom in the Tokyo Dome on January 4. In NJPW, wrestling in the main event at the Tokyo Dome is nearly as prestigious as holding the IWGP World Heavyweight Championship, so within the canon of New Japan Pro Wrestling, the stakes of the G1 are as high as it gets.
What is the format of G1 Climax 32?
The G1 Climax begins as a round-robin tournament with wrestlers divided into equally sized blocks. In round-robin tournaments, each wrestler wrestles each person in their block once, and they are awarded points based on the result of each match. After the block stage of the tournament, wrestlers advance to a single-elimination phase of the tournament. Points are awarded as follows:
2 points for a win
1 point for a time limit draw
0 points for a loss or a No Contest
After all block matches are completed, the winner of each block is the wrestler with the most points. That seems simple, right? It is, but ties are likely with a finite number of matches. That's where "block math" comes into play. As is an annual tradition, towards the end of block competition, commentators, Twitterers, and arbiters of stats & info will share elimination scenarios and block-clinching scenarios that are dependent on the details of how the tournament played out.
If two or more wrestlers are tied, their head-to-head tiebreaker determines the block winner.
For example: if Hiroshi Tanahashi and Tetsuya Naito end the tournament with 8 points, but Tetsuya Naito defeated Tanahashi in their match on July 24, Tetsuya Naito is the block winner.
In the event of a three+ way tie, we look at the wrestler's win-loss record against all of the wrestlers involved in the tie.
For example, suppose Hiroshi Tanahashi, Tetsuya Naito, and Zack Sabre Jr are all tied at the end of block competition and against tied wrestlers. In that case, Naito is 2-0, Tanahashi 0-2, and ZSJ is 1-1; Naito advances because he has the best record within that trio.
The block stage of G1 Climax 32 will feature four blocks of 7 wrestlers, meaning each wrestler will have six matches to accumulate points to advance to the single-elimination phase of the tournament. Once the block stage is complete, block winners will advance to the single elimination stage of the tournament. This year's single elimination stage will feature a semi-final and a final round. The semi-finals will occur on August 17, with the A Block winner facing the B Block winner while the C Block winner faces the D Block winner. The winners of those semi-final matches will advance to the final on August 18.
It is worth noting that G1 Climax matches are slightly different from other high-stakes matches in NJPW because they are contested with a 30-minute time limit. Championship matches in NJPW are contested with a 60-minute time limit, and many matches surpass 30-minutes, so the pace of G1 Climax matches is often more of a "sprint" than the marathon of title matches.
What Else is At Stake During G1 Climax 32?
As the tournament continues, there are a few added wrinkles to pay attention to. Traditionally, when a wrestler defeats the IWGP World Heavyweight Champion during the tournament, they earn themselves a championship match before Wrestle Kingdom. Jay White enters this year's tournament as the IWGP World Heavyweight Champion, so his matches will carry some additional weight as the tournament progresses. The G1 Climax has only been won twice by the wrestler holding the IWGP Heavyweight Championship, so we can expect to see the champion lose a time or two, but we can also hope they will be meaningful title challengers as the year goes forward.
In addition to the top title holder attempting to avenge their tournament losses, the G1 Climax winner also traditionally defends their Wrestle Kingdom title shot against wrestlers that defeated him during the tournament. 2020 was the first time that the Wrestle Kingdom title shot changed hands when Jay White defeated Kota Ibushi at Power Struggle to weasel his way back into the Wrestle Kingdom title picture.
When does G1 Climax 32 take place?
G1 Climax 32 will take place over 20 events between July 16 and August 18, 2022. Scroll to the end of this post for a full schedule of tournament matches.
What Does a G1 Climax 32 Tournament Card Include?
Every card during G1 Climax 32 includes G1 Climax singles matches. Each of the four blocks is represented this year with at least one match on every tournament card. Cards later in the tournament will feature two matches from one block, but all cards between July 16 and August 15 will have four or five tournament matches.
Filling out the undercard on these events will be what is affectionately known as "preview tags." Preview tags are tag team matches that pit wrestlers who will be competing in singles matches against each other. During these matches, you'll see wrestlers attempt to build a psychological or physical advantage over their upcoming tournament opponent.
How can I watch G1 Climax 32?
All G1 Climax 32 tournament events will be broadcast live with English Commentary on NJPWWorld.com. For those who would like to watch on-demand shows, broadcasts are available on NJPWWorld.com shortly after the event ends.
What resources can I use to keep up with this tournament?
There are two primary resources that you can use to keep up with results during G1 Climax 32: Block Tables and Boxscores. I will provide Block Tables and Boxscores at SportofProWrestling.com in my daily previews here and on my Twitter (@TheChrisSamsa)
Block Tables
A block table is a traditional form of reporting round-robin tournament results. The block table lays out the upcoming tournament schedule and the results to date. Different sources will use other icons or colors to show wins and losses, but reading them is pretty simple: Wrestlers' names will be on the left and across the top. The wrestler on the left corresponds to the number of points on the right. In this example, the boxes shaded black are victories and the boxes shaded red are losses. The list of wrestlers across the top will show which person the wrestler on the left won or lost to.
Here is an example of what C Block's table could look like about halfway through the tournament. Here, you can see that Hiroshi Tanahashi defeated Aaron Henare while losing to Tetsuya Naito and Zack Sabre Jr. In this scenario, Tanahashi has a total of two points. He will need to surpass Naito and Zack Sabre Jr to win the block because he will lose a tiebreaker to those two.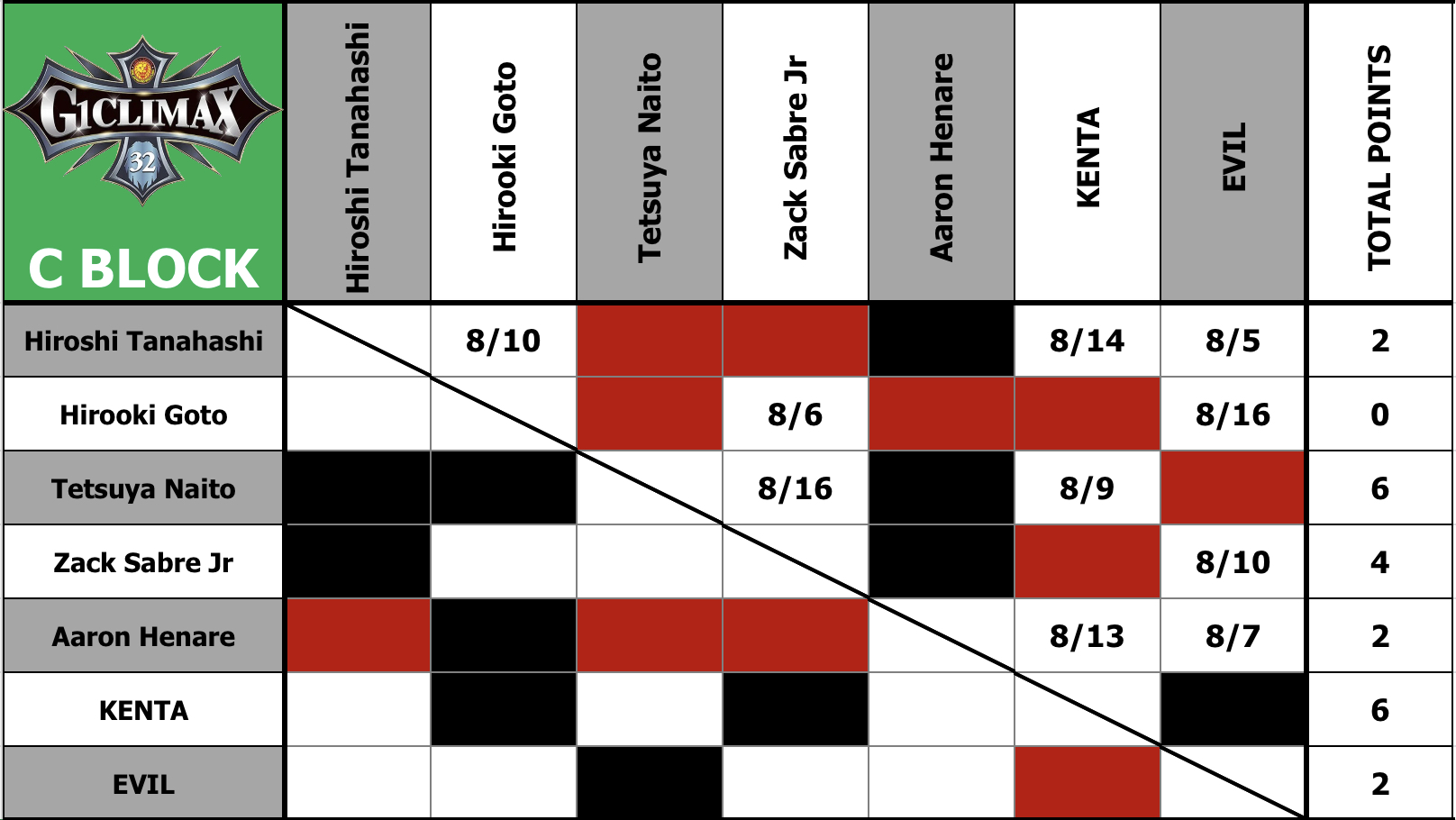 Boxscore
The Boxscore is a traditional form of reporting results in many sports and provides more statistics and details than a Block Table. However, it does not offer tiebreaker information that becomes very important during G1 Climax tournaments. Here is the final Boxscore for 2020's A Block. As you can see, many details provide insight into how wrestlers perform during the G1 tournament. Since each block operates with a balanced schedule (everyone faces the same wrestlers the same number of times), the box score provides a snapshot of wrestler performance via measurable metrics and trends throughout the tournament. There are more advanced metrics as we scroll the Boxscore to the left, but we don't necessarily need to dig that deep right now.

Who is participating in G1 Climax 32, and what block are they in?
A Block
Lance Archer
Bad Luck Fale
Toru Yano
Jeff Cobb
JONAH
Tom Lawlor
Kazuchika Okada
B Block
Jay White
Tama Tonga
Tomohiro Ishii
Taichi
Great-O-Khan
Chase Owens
SANADA
C Block
Tetsuya Naito
Zack Sabre Jr.
KENTA
EVIL
Hirooki Goto
Aaron Henare
Hiroshi Tanahashi
D Block
Will Ospreay
El Phantasmo
Juice Robinson
David Finlay
Yujiro Takahashi
YOSHI-HASHI
Shingo Takagi
Full Schedule
This year's tournament will begin on July 16 and wrap up with the Finals on August 18. Below is the full tournament schedule. For those who want to watch live, I will include international start times on Twitter and in each event's preview post here and at Sport of Pro Wrestling.
Below you'll find the full schedule for NJPW G1 Climax 32.
You can also follow this thread on Twitter which includes graphics for each night:
⬇️G1 Climax 32 Schedule Thread⬇️

NJPW G1 Climax 32 block matches will take place over 18 cards between July 16 and August 16.

Each card will feature at least one match from each of the four blocks.

Semi-Finals and Finals are set for August 17 & 18 in Budokan Hall#G132 pic.twitter.com/QNtbNLUUEX

— Chris Samsa (@TheChrisSamsa) June 21, 2022
NJPW G1 Climax 32
Night One
July 16
Hokkaido Prefectural Sports Center
A Block
Kazuchika Okada v. Jeff Cobb
B Block
SANADA v. Jay White
C Block
Hiroshi Tanahashi v. Aaron Henare
D Block
Will Ospreay v. El Phantasmo
NJPW G1 Climax 32
Night Two
July 17
Hokkaido Prefectural Sports Center
A Block
Toru Yano v. JONAH
B Block
Tomohiro Ishii v. Taichi
C Block
Zack Sabre Jr v. KENTA
D Block
Shingo Takagi v. Juice Robinson
NJPW G1 Climax 32
Night Three
July 20
Xebio Arena Sendai
A Block
Lance Archer v. Bad Luck Fale
B Block
Tama Tonga v. Chase Owens
C Block
Hirooki Goto v. Tetsuya Naito
D Block
David Finlay v. Yujiro Takahashi
NJPW G1 Climax 32
Night Four
July 23
Ota Ward General Gymnasium
A Block
Kazuchika Okada v. Toru Yano
B Block
Tomohiro Ishii v. Jay White
C Block
Zack Sabre Jr v. Aaron Henare
D Block
YOSHI-HASHI v. Shingo Takagi
NJPW G1 Climax 32
Night Five
July 24
Ota Ward General Gymnasium
A Block
Jeff Cobb v. Bad Luck Fale
B Block
SANADA v. Taichi
C Block
Hiroshi Tanahashi v. Tetsuya Naito
D Block
El Phantasmo v. Yujiro Takahashi
NJPW G1 Climax 32
Night Six
July 26
Korakuen Hall
A Block
Tom Lawlor v. Lance Archer
B Block
Great-O-Khan v. Chase Owens
C Block
KENTA v. EVIL
D Block
David Finlay v. Juice Robinson
NJPW G1 Climax 32
Night Seven
July 27
Korakuen Hall
A Block
Toru Yano v. Bad Luck Fale
B Block
Tomohiro Ishii v. Tama Tonga
C Block
Hirooki Goto v. Aaron Henare
D Block
Will Ospreay v. Yujiro Takahashi
NJPW G1 Climax 32
Night Eight
July 30
Aichi Prefectural Gymnasium
A Block
Tom Lawlor v. JONAH
B Block
SANADA v. Great-O-Khan
C Block
Hiroshi Tanahashi v. Zack Sabre Jr
D Block
David Finlay v. Shingo Takagi
NJPW G1 Climax 32
Night Nine
July 31
Aichi Prefectural Gymnasium
A Block
Kazuchika Okada v. Bad Luck Fale
B Block
Jeff Cobb v. Lance Archer
C Block
Jay White v. Chase Owens
Tetsuya Naito v. EVIL
D Block
YOSHI-HASHI v. Juice Robinson
NJPW G1 Climax 32
Night Ten
August 2
Hamamatsu Arena
A Block
Toru Yano v. Tom Lawlor
B Block
Tomohiro Ishii v. Great-O-Khan
Tama Tonga v. SANADA
C Block
Hirooki Goto v. KENTA
D Block
David Finlay v. Will Ospreay
NJPW G1 Climax 32
Night Eleven
August 5
Item Ehime
A Block
JONAH v. Jeff Cobb
B Block
Taichi v. Chase Owens
C Block
Hiroshi Tanahashi v. EVIL
Tetsuya Naito v. Aaron Henare
D Block
Juice Robinson v. Yujiro Takahashi
NJPW G1 Climax 32
Night Twelve
August 6
EDION Arena Osaka
A Block
Toru Yano v. Lance Archer
B Block
Great-O-Khan v. Jay White
C Block
Hirooki Goto v. Zack Sabre Jr
D Block
YOSHI-HASHI v. El Phantasmo
Shingo Takagi v. Will Ospreay
NJPW G1 Climax 32
Night Thirteen
August 7
EDION Arena Osaka
A Block
Kazuchika Okada v. JONAH
Tom Lawlor v. Bad Luck Fale
B Block
Tomohiro Ishii v. Chase Owens
C Block
Aaron Henare v. EVIL
D Block
Juice Robinson v. El Phantasmo
NJPW G1 Climax 32
Night Fourteen
August 9
Hiroshima Sun Plaza Hall
A Block
JONAH v. Lance Archer
B Block
Tama Tonga v. Taichi
SANADA v. Chase Owens
C Block
Tetsuya Naito v. KENTA
D Block
YOSHI-HASHI v. Yujiro Takahashi
NJPW G1 Climax 32
Night Fifteen
August 10
Hiroshima Sun Plaza Hall
A Block
Kazuchika Okada v. Tom Lawlor
B Block
Tama Tonga v. Great-O-Khan
C Block
Hiroshi Tanahashi v. Hirooki Goto
Zack Sabre Jr v. EVIL
D Block
David Finlay v. El Phantasmo
NJPW G1 Climax 32
Night Sixteen
August 13
Machida City Gymnasium
A Block
Toru Yano v. Jeff Cobb
B Block
Taichi v. Jay White
C Block
Aaron Henare v. KENTA
D Block
YOSHI-HASHI v. Will Ospreay
Shingo Takagi v. Yujiro Takahashi
NJPW G1 Climax 32
Night Seventeen
August 14
Nagano White Ring
A Block
Tom Lawlor v. Jeff Cobb
B Block
Taichi v. Great-O-Khan
C Block
Hiroshi Tanahashi v. KENTA
D Block
YOSHI-HASHI v. David Finlay
NJPW G1 Climax 32
Night Eighteen
August 16
Budokan Hall
A Block
Kazuchika Okada v Lance Archer
JONAH v Bad Luck Fale
B Block
Tomohiro Ishii v SANADA
Tama Tonga v Jay White
C Block
Hirooki Goto v EVIL
Tetsuya Naito v Zack Sabre Jr
D Block
Shingo Takagi v El Phantasmo
Will Ospreay v Juice Robinson
Entrants & History 
For details on each and every entrant in NJPW's G1 Climax 32, including past entries, all-time records, G1 Climax victories & more, follow the thread below:
NJPW's G1 Climax 32 will be the largest G1 field of all-time & will occur between July 16 & August 18

The 28 wrestlers will be split into four blocks of 7 and I assume that the block winners will advance to a semi-final round for a chance at the Final #G132

⬇️Entrant thread⬇️ pic.twitter.com/SRl3y5FQku

— Chris Samsa (@TheChrisSamsa) June 12, 2022