GCW
Gringo Loco's The Wrld on LUCHA
April 1, 2022
Fair Park
Dallas, Texas
Watch: FITE / The Collective Bundle (FITE)
Full WrestleMania Weekend Schedule
Friday night, GCW will roll out its first entirely lucha-centric card, Gringo Loco's The Wrld on LUCHA. Gringo Loco joins the elite (depending on who you ask) company of wrestlers who've had a recurring Game Changer event bear their name. It's a well-deserved accolade. Gringo Loco's long been an underlooked performer who's fit right in when given the opportunity with some top-tier luchadors. Now, with some AAA bookings seemingly on the horizon and building momentum here in the states, the "Base God" appears to be getting his due. And to the promotion's credit, Game Changer has never been shy about booking notable luchadors — much of the Mexican talent on this card has made several past appearances.
You have to wonder if this card was hurt by overlapping timeslots with Martinez Entertainment's Lucha Leyendas show, a show that draws heavily from the same pool of wrestlers this one attempted to. (See for yourself on VOW's Wrestlemania Weekend Schedule) That show will feature a smattering of luchadors who GCW has worked with in the past like Black Taurus, Arez, and Aramis. On the other hand, half the guys on this card appear to be working that show too, so who knows what this is all gonna look like in the end.
Either way, Gringo put together a pretty formidable slate of matches. Let's talk about them way too extensively.

Lucha Extrema
Dr. Wagner Jr. vs. Psycho Clown
When I was watching GCW's Welcome To Heartbreak show in LA last month, I barely knew what was on the card before I tuned in. The main thing I remember is what a strange and pleasant surprise it was when Homicide and Dr. Wagner Jr. hit the ring. It's times like this that I'm grateful for this wacky little company — they've developed the sort of cache where now in the middle of a random show I can catch strange wonders like Homicide wrestling Dr. Wagner Jr. That sums up how I feel about this match: I wasn't asking for it, but good on you for makin' it happen.
Wagner and Psycho Clown have each made a small handful of GCW appearances but only overlapped at If I Die First in Texas. They wasted no time getting down to business. Following Wagner's main event victory over Joey Janela, Psycho hit the ring lobbing chairs at his old rival. Apparently, the two had an altercation earlier in the night.
Apologies to those those that witnessed the incident between Psycho Clown & Dr. Wagner during the Meet and Greet tonite in Dallas. We had no indication there were any issues and are taking precautions to ensure there are no further incidents this evening.

— brett lauderdale (@Lauderdale11) February 6, 2022
These fellas sure know how to sell a match. In fact, they even challenged each other to a Hair vs. Mask match. They have a history with apuestas matches: Psycho Clown took Wagner's mask in a historic bout at TripleMania XXV. Gringo Loco and GCW have leaned on that history, promoting this main event as the re-igniting of a classic feud.
Of course, there was never a chance in hell this match would be Mask against Hair, because that would cost a fortune. Also, if you've seen that aforementioned TripleMania main event, there's a good chance you don't see the point in watching this match. Fair, but look: you're gonna see Wagner and Psycho Clown in Texas, in a unique setting, in front of a hot, smart crowd that's wise to all their quirks and signature spots. That's not so bad.

Lucha Extrema
Sadika vs. Pagano
Look, this is my main event. I don't claim to be an expert on Sadika's career, but I can tell you her appearances in Game Changer and ICW-NHB have been EXTREMELY memorable. In July last year she put Nick Gage through such a harrowing beating I'm not sure Gage himself knows what happened. She had two memorable wars in ICW against then-champ John Wayne Murdoch that managed to stand out in a promotion that, at times, looks like a horror film.
Pagano though, well, he's Pagano. He's a two-time TripleMania main eventer in his own right but, more importantly, he's a fucking lunatic. Sadika might hold some reverence for the guy, but even if she doesn't I can't imagine she'll be taking it easy. I can't tell you if this will be good or not, but I can tell you it will not be boring.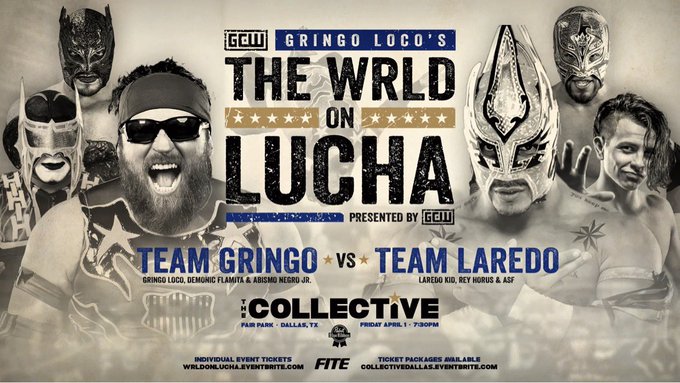 Team Gringo (Gringo Loco, Demonic Flamita, Abismo Negro Jr.) vs. Team Laredo (Laredo Kid, Rey Horus, ASF)
Beginning with the acclaimed six-man tag at GCW and BLP's 2 Cups Stuffed show in 2019, Game Changer's made a habit of pulling out a wild lucha multi-man tag for special occasions. A similar match to this one (swapping Horus and Abismo Negro for Bandido and Arez) even stole the show at The Wrld On GCW in the Hammerstein Ballroom — the biggest show in the company's history.
The constant in all those matches has been Gringo Loco, and the positive attention they received is likely a major factor in all the doors that have opened for him in 2022. He knows where his bread is buttered and it is no surprise he stuck himself in this ultra-stacked trios match, the odds-on favorite for match of the night. And make no mistake, he deserves it. He gets overlooked for a goofball name and a Fieri-esque disposition, but the dude is one of the most solid American workers in this style.
Keep an eye on ASF here. He made his first GCW appearance last year, stealing the show in a luchador-filled scramble match on a joint show with Loko Wrestling in Houston. Since then, Game Changer has highlighted him whenever possible; he was the centerpiece of the six-man tag in Hammerstein.

Jack Cartwheel vs. Johnny Caballero
Jack Cartwheel's been an ultra-hyped prospect of late, an extremely gifted highflyer with a predilection for, well, doing cartwheels. He's made GCW his primary stomping grounds but until recently he hadn't really clicked with me. I haven't seen his talked-up PWG matches (but also, who has?) and maybe I'm worn out on the model of acrobatic scramble-staple that he's played in Game Changer.
That said, I'm excited to watch him in this context — a show where springboards and dives might be as commonplace as a forearm. He recently made his AAA debut (he'll appear on their Wrestlemania Weekend show as well) and stood out while rubbing elbows with the likes of Bandido and Laredo Kid. A recent bout with Nick Wayne provided ten minutes of pretty fireworks.
Johnny Caballero, a.k.a. Johnny Superstar, f.k.a. Johnny Drip-Drip, is a seasoned veteran of dumb, pretty matches. He technically qualifies this match's placement on the card with his history in AAA and recent Rey de Reyes main event against Hijo del Vikingo. Outside of WWE, he's shown he's happy to take to the air and stay there. It's a great opportunity for Cartwheel against a proven veteran.
Elsewhere on the card:
Tony Deppen will take on Psicosis. Like, the original Psicosis!
AR Fox will make a rare appearance taking on Ninja Mack before the latter departs for Pro Wrestling NOAH. This is gonna be nuts.
The card is rounded out by a six-man scramble featuring Aeroboy, Octagon Jr., Shane Mercer, Golden Dragon, Drago Kid, and Chris Carter. I'm hoping Octagon Jr., a personal favorite of mine, gets to show out for some new fans. I'm also looking forward to Mercer picking up all five opponents and juggling them.