AWA World Heavyweight Title Match
Rick Martel (c) vs. Stan 'The Lariat' Hansen
AWA SuperClash
September 28, 1985
Comiskey Park
Chicago, Illinois
You don't need me to tell you how awesome we have it. You don't need me to explain to you how fortunate we are to not only have access to almost any piece of media at our fingertips at any time we want it AND have it consumed without any paying a dime. You absolutely do not need me to waste your time giving you the reasons why the access to all this media has caused most events and moments to no longer feel special. It seems as if every moment of every day is broadcast or captured for broadcast at a later date. In the microcosmic world of professional wrestling fandom, unfettered access has caused me to virtually forget the many matches that used to hold special places in the caverns of my brain. My intention with this somewhat regular series is to bring to light those matches to and write about them in the hope I can introduce you to something you haven't seen before or remind you these things exist and they matter. The reality is, this is as much for me as it is for anyone else. My love of pro wrestling has been rekindled in the last year or so, but I have been watching since the territory days when territories were as dead as that soldier in most war movies who has been shot but doesn't know it yet. AEW, New Japan Strong, and other promotions have managed to pull me back in. With this rekindled love came another welcome return, my passion for writing. For many years and for many reasons not important to this series, I had stopped writing. I have never written for an audience; it has always been something in which I used to descramble my brain. For whatever reason, I have been inspired to write for an audience of complete strangers who love the same hobby for similar or completely different reasons as I do. I hope you enjoy this trip down memory lane for me that will also serve as a learning experience for me as I research what made these matches resonate the way they do.
For roughly five minutes I could not take my eyes off the screen. The wrestling ring being used for nothing but a brief stage in a wrestling match was something my 10-year-old eyes had not witnessed. I grew up in southern California where we were lucky enough to be some of the first Americans to have access to cable television. I remember the black and brown box with red digital numbers signifying what channel you were watching. I remember finding the key (yes, actual key) that parents could use to lock certain channels. I also remember finding out by using the key that my household was subscribed to the Playboy Channel. Nonetheless, I had two channels memorized, 34 was MTV and USA was channel 22. Other than local networks, I really didn't need to know any others than these. Southern California kids did not really have much passion for sports teams until later in their childhood, so I rarely watched ESPN other than when my dad had boxing on. So, I watched MTV because that is what every American kid with access to cable did, and I watched USA Network for my favorite pastime, pro wrestling. Growing up in Ventura County, we were not a very far drive from Las Vegas. My Aunt and Uncle had moved to Las Vegas for reasons that were always shrouded in secrecy in my family. We would visit them occasionally, a much less entertaining drive through the desert than the Griswold's had a couple of years prior to this. I looked forward to these jaunts for no other reason than I enjoyed Circus Circus.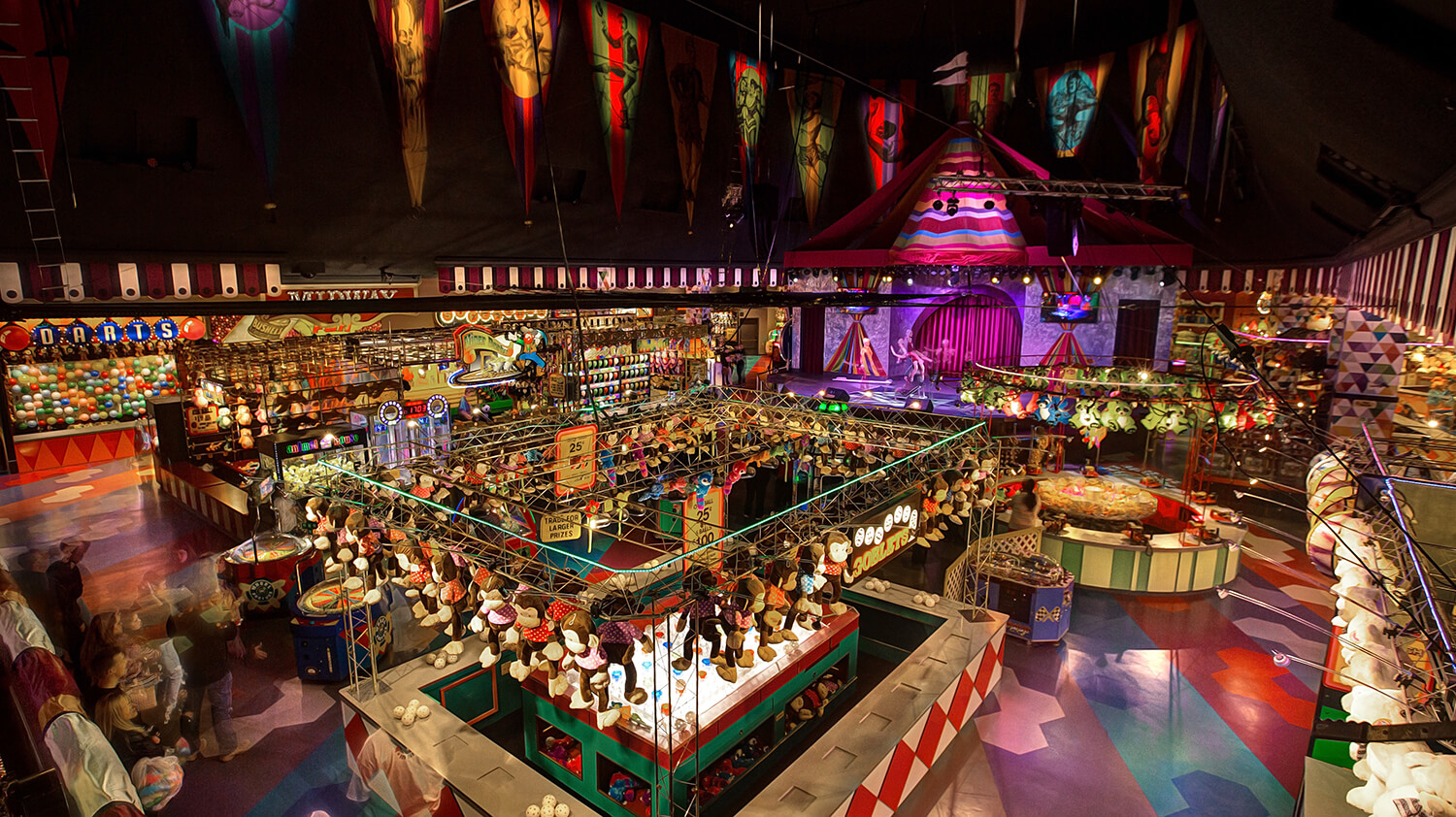 Circus Circus was a hotel and casino whose brilliant gimmick was it had an entire section for kids that was set up like a real casino, minus the intermittent sadness, desperation and free flowing alcohol. Parents would drop their kids off with a hotel key and instructions on how to not get abducted and go their separate ways. It truly was a different time. I loved going there because my folks would gamble at the real casino, get a few high gravity beverages in them, and then the money would flow from their wallets to my sister's and my waiting hands. Anyway, while in Vegas, I found a wrestling show I never knew existed. It was an odd presentation compared to what I was used to, but some of the wrestlers were familiar from the wrestling magazines I perused at the Stop N Go convenience store where my underaged sister would buy my mother's cigarettes using a handwritten permission slip, as if it were some unforgeable legal document, when my mom had forgotten to pick up smokes before coming home from work. It really should not have been as surprising to my parents as it was when both my sister and I began smoking in our teens.  Again, different times.
This particular episode was a recap of a major card they held at Comiskey Park in South Chicago. I have learned over the years how important to Chicagoans it is to clarify whether what you are describing is Southside Chicago, Northside Side or just Chicago proper. On this card Ric Flair, The Road Warriors, Kerry Von Erich, Sgt. Slaughter and numerous other wrestlers I had seen photos of at the very least were featured. The show was called SuperClash because it featured NWA and AWA wrestlers.
The main event of the card, Stan Hansen challenging Rick Martel for the AWA World Heavyweight Championship. This match is what held my unwavering attention and is likely responsible for inspiring me to delve deeper into wrestling from around the country, not just the homogenized shit on USA Network. I probably didn't use those exact words when I thought to myself about what I had just witnessed on that fall evening in Las Vegas.
The card is full of great matchups that have varying degrees of success in practice as matches. This main event may have likely infuriated some of the crowd in stands as it lasted all of four minutes and has less than two minutes of in-ring action. I can tell you this, the folks near the pitching mound and down the first base line do not appear to care one iota if the match takes place in the ring or not, what they are getting is a front-row seat to violence that may well have served as inspiration for what becomes hardcore wrestling. Chair shots to Martel's head and back look to really injure him, there were no gimmick chairs back then. No, these chairs were one-piece plastic monstrosities and due to manufacturing limits could not fold up. Hansen just throws the damn thing into Martel's head and back. He then uses his weapon of choice, a bull rope with a huge, loud cowbell on the end. Stan Hansen terrorized many a territory and foreign country with that contraption for years to come. The two hate-filled gladiators make their way through the throng of fans, gleefully cheering on the carnage, to the away dugout. They fight and claw their way down over the tubular steel railing and down the cold, hard concrete steps and through the door where my ten-year-old brain reckoned they continued their battle of attrition. Oh, the referee had long prior called for the ring bell and assigned the match the dreaded no contest due to a double disqualification. The match result was simply a formality for the record books and PWI readers. What was important was how hate-filled this rivalry was.
These two men fucking hated each other.
They would take this feud on tour throughout the country and world. Whether the subsequent matches were better than this spectacle or not makes no difference to me. On this September night on the Southside of Chicago, these men delivered something that would be hard to follow up, an unheralded classic pro wrestling moment.
Post Script: As I was researching this match today, it occurred to me that this card also featured a match with Scott Hall in it and I think it would have been the first time I had ever seen him wrestle. There is no distinct memory I have of him from this period, other than he looked cool as hell even back then. This week has been tough on fans of his work but no doubt tougher on the people who loved him. Scott wasn't always a stellar example to pattern your life after, in reality, none of us are if we are honest about it, but his ultimate victory over the darkest parts of his psyche should be celebrated. Rest easy, Bad Guy.
Next Up
Flowers for a match from 2007 you have either never seen or undoubtedly think about a lot less than I do. Well, Garrett Kidney, excluded.