Professional wrestling's longest continuously running tournament, the Real World Tag League (AKA World's Strongest Tag Determination League), is once again upon us, with its 44th(!) itineration, but this time with a twist.
For the first time ever, it is a four-team, four-block tournament. The Real World Tag League has traditionally been a one-block tournament, but 2004, 2005, 2012 and 2016 had a two-block format. At 16 teams, it is the largest Real World Tag League ever, surpassing the previous record of 13 teams in 1991.
The tournament begins on November 13 at Korakuen Hall and concludes on December 5, again at Korakuen Hall, with A Block winners facing B Block winners and C Block winners facing D Block winners in semi-finals and then the finals later in the show. There are eight shows in total during the tour. It should be noted that All Japan does not use tie-breakers like New Japan does, so if two teams finish tied at the top of a block, they will have a playoff match to see who proceeds to the semi-finals.
Let's take a look at this year's teams.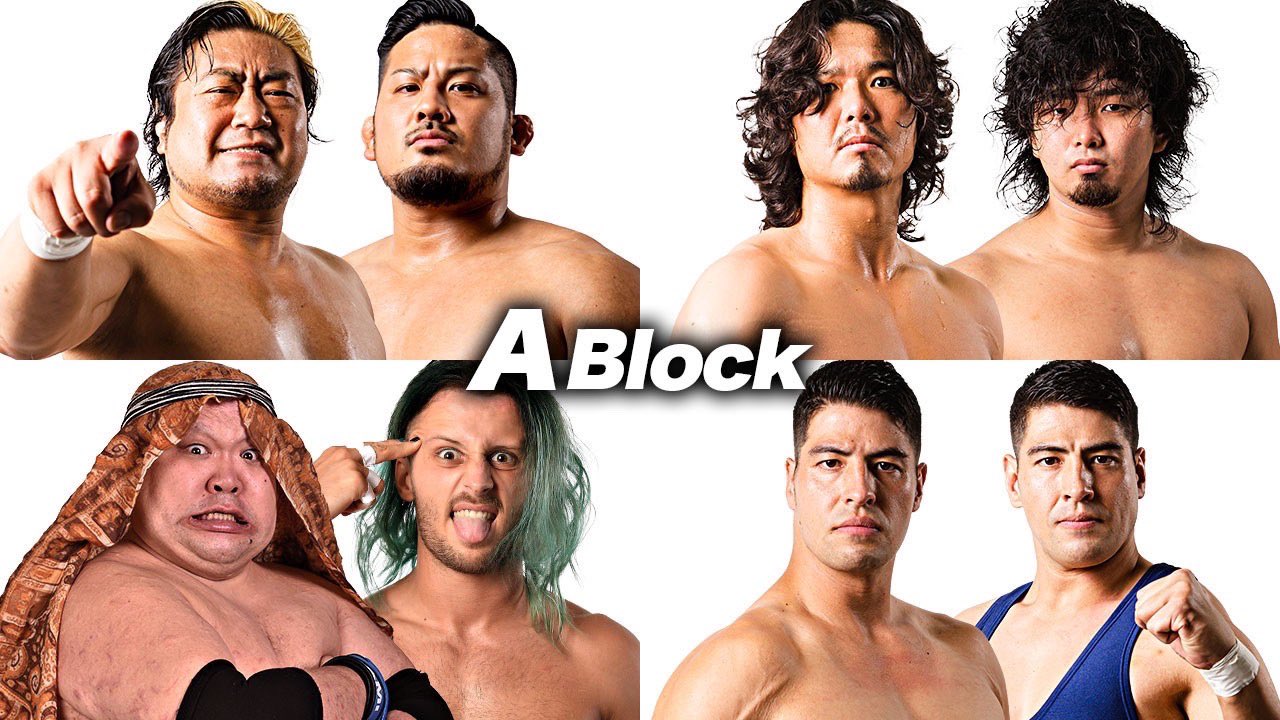 A BLOCK
RUNAWAY SUPLEX (SUWAMA & SHOTARO ASHINO, WORLD TAG TEAM CHAMPIONS)
Runaway Suplex has been great since they formed this past summer, and it has really been a boon to Ashino's position and perception within the company. I expect them to have a good showing here in terms of points and match quality. They are pretty much guaranteed to win this block, but I don't think they will be winning the tournament, as that will instead go to a team who will face them for the tag titles on the January 2 Korakuen Hall show. It will be interesting to see which member of the teams takes the fall in any losses they might have. It should be Suwama, but I suspect it will end up being Ashino.
TOTAL ECLIPSE (JAKE LEE & HOKUTO OMORI)
A big moment for Omori. This is his first tournament in All Japan that isn't the Asunaro Cup, which is for young wrestlers. Teaming with the Triple Crown champion will always give him some rub. This could be a really good team, but Omori has been doing a lot of cheating in his matches, sometimes excessively so, which is really distracting given how much potential he displays when he actually just wrestles. He will be the fall guy here too, unless they set up a challenger for Lee by having someone pin the champ. I don't think they are winning this block but if somehow Runaway Suplex doesn't win, it will be this team.
ABDULLAH KOBAYASHI & DREW PARKER
Kobayashi returns for the second consecutive year, and this time instead of Daisuke Sekimoto, he brings Parker with him from Big Japan. I can't say I'm ecstatic to see Kobayashi, but I think Parker is a good worker and it will be cool to see him outside of a deathmatch environment. This team won't win the block, but once again it will be interesting to see who does the jobs on the team here, as Kobayashi has only been pinned by top guys when he's been in All Japan, and Parker is a pushed commodity in BJW.
JUN SAITO & REI SAITO
Every day, you hear about more and more people joining the Saito Brothers Respect Army. These guys have really begun to show that they are getting more and more comfortable in the ring, and the crowd seems to like them a lot. I am a big fan of their throwback Sumo style. This is a big opportunity for them, given they debuted just over five months ago. It's clear that All Japan is going to push these guys fast as they are already 34, are ex-Sumo and have size to them. They're not going to be everyone's cup of tea, but among regular All Japan watchers, I haven't heard any negativity towards them at all. I think the Saitos will be something for All Japan, probably sooner rather than later. I don't expect them to win any of their matches, but given how the company feels about them, having a draw or even winning a match isn't completely impossible.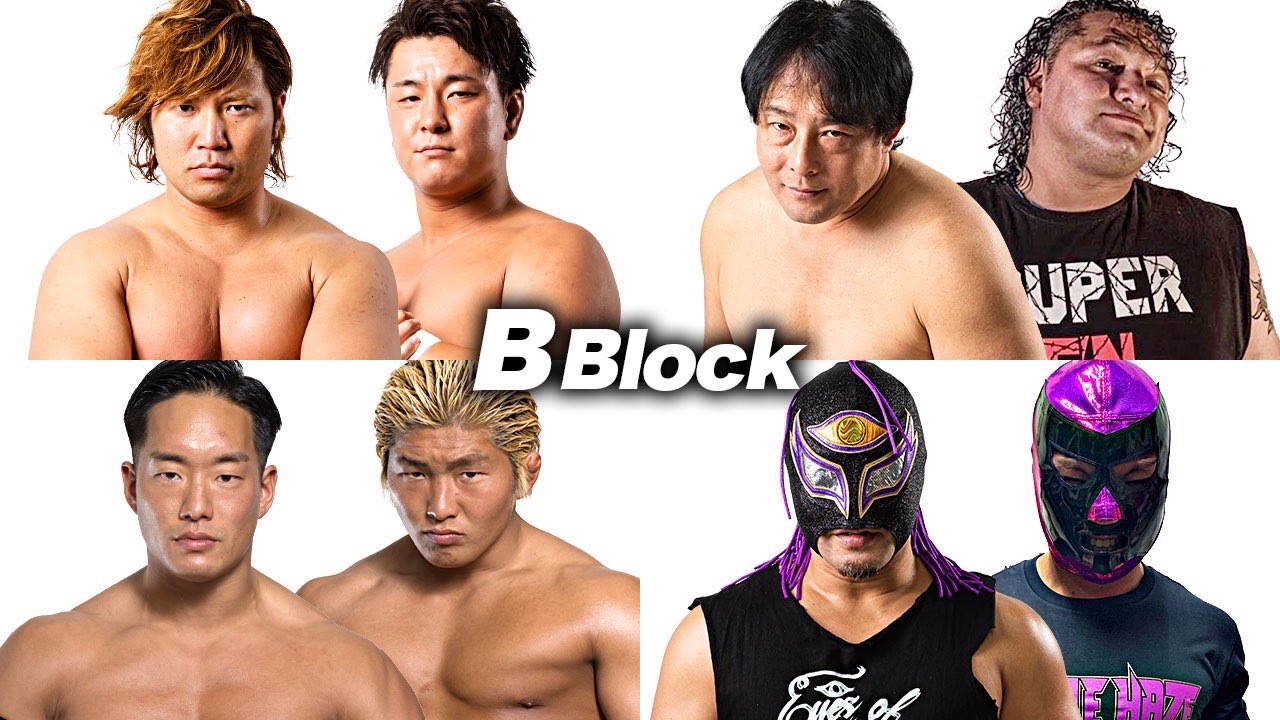 B BLOCK
NEXTREAM (KENTO MIYAHARA & YUMA AOYAGI, 2020 WINNERS)
Since a lot of people seemed to have tuned out of All Japan in the latter half of 2020, the Miyahara and Aoyagi tag team really hasn't gotten their due. They've had some of the best matches in All Japan this year, and the team has really allowed Aoyagi to show just how awesome he has become in the ring. I don't think it is a stretch to say that Nextream has been one of the best tag teams in Japan this year. Despite winning last year, I think they are still the front runners to win here. Winning the Real World Tag League multiple times has always been a booking staple in the company through Baba, to Muto, to the current day. There is also still plenty of juice left in an extended Nextream vs. Runaway Suplex feud for the World Tag titles, which is another reason why I think they're winning.
STRONGHEARTS (T-HAWK & EL LINDAMAN, ALL ASIA TAG TEAM CHAMPIONS)
Like Nextream, T-Hawk and El Lindaman should be in the discussion for tag team of the year. They've had great matches across multiple promotions, and their run thus far with the All Asia tag titles has been great. They will almost certainly be finishing second in this block, but with Nextream in it as well, StrongHearts winning it outright is very unlikely. They face Nextream on the first night of the tournament, which is my most eagerly awaited match of the block stage.
TAJIRI & SUPER CRAZY
Once again, TAJIRI (one of the bookers) has decided to go with ECW nostalgia after teaming with Masato Tanaka last year. One of the strangest things about this team is just how exactly did Super Crazy get into Japan? He hasn't wrestled in Japan since November 2019 and that was for NOAH. Wrestlers who have been in Japan more recently, but before the pandemic haven't been able to get new visas, plus the visas are tied to a specific company. Anyway, I am curious about this team. I haven't seen Super Crazy wrestle since that NOAH show in 2019, and I thought he didn't look bad. I want to see if he still has anything left in the tank. And TAJIRI hasn't been annoying me as much lately. They have a good chance of not even being the worst team in the block.
PURPLE HAZE (IZANAGI & DEVIL MURASAKI)
Izanagi is one of the most underrated Jr. heavyweights in Japan. Just a solid worker who can have a good match against wrestlers of many different styles. Murasaki on the other hand, sucks, or at least has sucked playing this goofball heel character. There's rumors that Murasaki is actually Kyushu Pro's Hitamaru Sasaki and if that is true, the Murasaki character is a huge step down from his usual work. Anyway, despite Izanagi being the Jr. champion, this team is here to lose, and I think they are probably going to lose all of their matches, and I'm not expecting any of their matches to be pretty.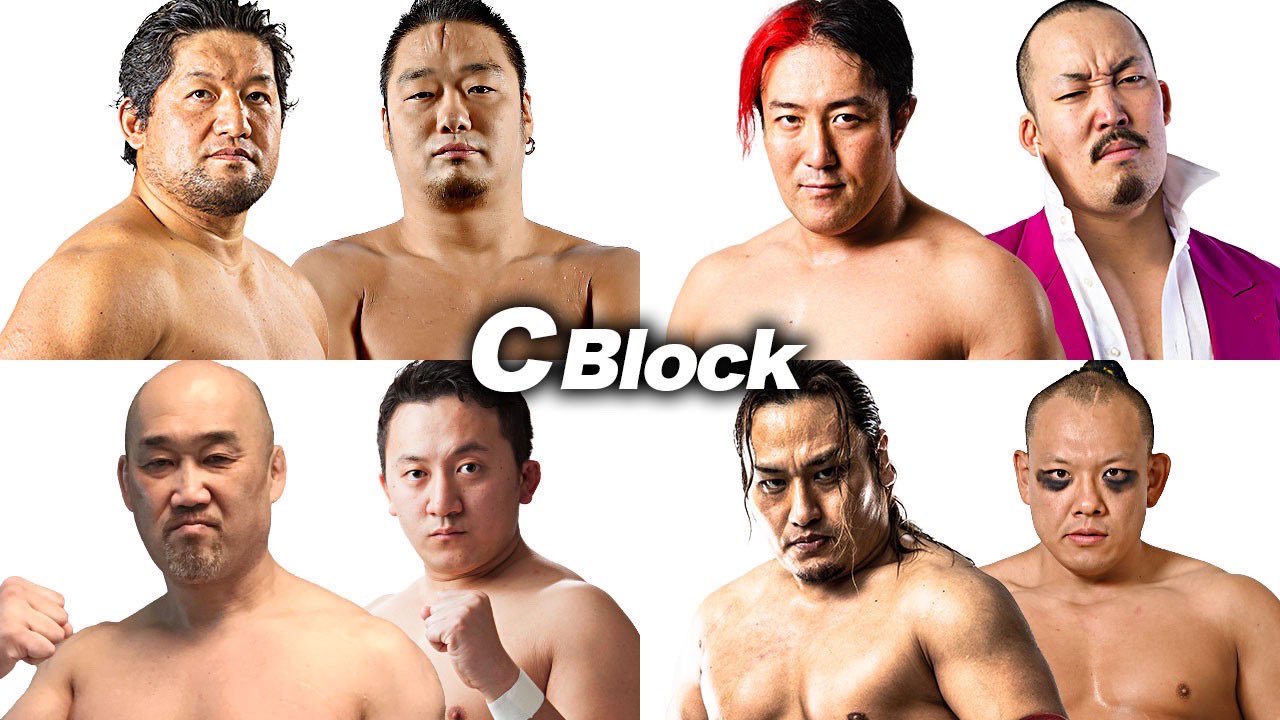 C BLOCK
TWIN TOWERS (SHUJI ISHIKAWA & KOHEI SATO)
The Twin Towers have had a solid enough run since reuniting earlier in the year. Ishikawa has been having a much better 2021 than his 2020 in terms of how he looks in the ring. Sato hasn't really been setting my world on fire apart from the occasional stiff shots he takes in his matches. They will probably have some decent to good matches in the block stage, and I think they will probably be making the semi-finals, though personally there is another team from this block that I would rather see making it.
YOSHITATSU KINGDOM (YOSHITATSU & SEIGO TACHIBANA)
Yoshitatsu is what he is, though I think Tachibana is a lot of fun. Tachibana doesn't always get the credit for his workrate because he has a comedy persona. I think they can have some fun matches if Yoshitatsu's presence is kept to a minimum. Tachibana will be taking all of the falls here, and they have zero chance of winning the block.
MITSUYA NAGAI & LEONA
The worst team in the tournament. Nagai used to be great, but he's 52 now and didn't age like Masaaki Mochizuki did, to say the least. LEONA is not as horrible as he was a few years ago, but he's not that good now either. They will probably be finishing at the bottom of this block at least. Hopefully their matches are kept short.
KENGO MASHIMO & KAZMA SAKAMOTO
SAKAMOTO was in Dragongate for just under two years and he improved a lot. He was starting to show improvement back when he was in NOAH, but his sojourn in the Dragon system really did it for him. Mashimo has been great for a long time. He's had a few injuries over the years which seem to be catching up with him a bit, but he can still go. I'm really looking forward to this team as they are bringing something fresh. If I were booking this thing, I'd have them go to the semi-finals. I actually don't think that is out of the realm of possibility, but I wouldn't bet money on it. But I'm keeping my fingers crossed.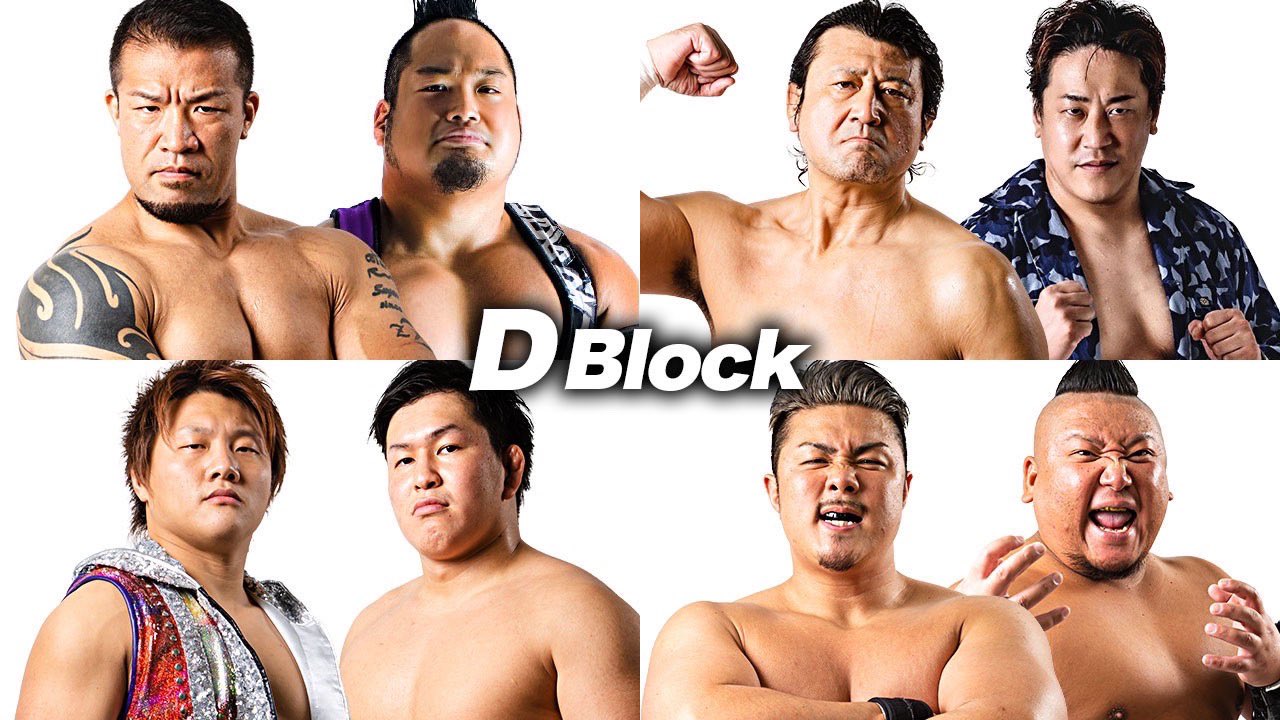 D BLOCK
PURPLE HAZE (ZEUS & SHIGEHIRO IRIE)
With his recent GAORA TV title win over Shuji Ishikawa, All Japan seems prepared to push Irie. Zeus of course is "leaving" All Japan in 2022 to run Osaka Pro, but given the promo he cut after Irie's title win, I get the feeling that he and Purple Haze aren't going anywhere in the new year. Even if Zeus is really on his way out, it is on good terms, so I think he will be getting one last hurrah here by at least making the semi finals. And I'm going to dare say I think they are making the finals. If nothing else, they will have some great matches and the crowd will be really behind them as Zeus winds up his time as a contracted member of All Japan's roster.
AXE BOMBERS (TAKAO OMORI & ISAMI KODAKA)
Kodaka is replacing Yuko Miyamoto who broke his leg and had to pull out of the tournament. I didn't have the Axe Bombers reuniting on my 2021 puro bingo card. The Axe Bombers were an All Japan stable from 2016-2018 consisting of Omori, Kodaka, Miyamoto, BASARA's Daichi Kazato and HEAT-UP's TAMURA. Personally I'm happy to see the reunion as I thought they were a fun little group, and I hope the reunion carries on into next year. This will be a solid little team. I think Kodaka is a better worker than Miyamoto, so his presence improves things. Omori is showing his age like some of the other entrants in this tournament, but he still manages to have a couple of banger tag matches every year. There's no way they are winning this block though.
KOJI IWAMOTO & RYUKI HONDA
Iwamoto and Honda have been a great undercard team. They don't win many matches, as Honda is barely out of young boy status (though he's been winning a few more lately), but have always put on strong performances. I have no doubt they will continue to do so here. If All Japan really wanted to shake things up, they'd send this team to the semi-finals. The company's booking however, is far more conservative than that. But at least we will get some great matches along the way.
TOTAL ECLIPSE (KOJI DOI & KUMA ARASHI)
KojiDoi are a good team. Arashi is much better in a tag environment than in singles. They got a World Tag Team title shot back in July but haven't done much since then. Given the talent in their block (and I think D Block is the most balanced block), they should have some good matches that range from beefy boys hitting each other hard against Purple Haze, to torturing the young guy against Iwamoto and Honda. They are the second most likely to win this block.
PREDICTIONS
Semi-finalists: Suwama & Shotaro Ashino, Kento Miyahara & Yuma Aoyagi, Shuji Ishikawa & Kohei Sato, Zeus & Shigehiro Irie
Finalists: Kento Miyahara & Yuma Aoyagi, Zeus & Shigehiro Irie
Dark Horse Winners: Zeus& Shigehiro Irie
Winners: Kento Miyahara & Yuma Aoyagi