NJPW Resurgence
Date: August 14, 2021
City: Los Angeles, California, USA
Venue: Los Angeles Memorial Coliseum
Time: 8:00pm PST
Watch: Fite.TV (Live English Commentary), NJPWWorld.com (Live Japanese Commentary)
International Start Times

Event Preview
New Japan Pro Wrestling will have their first raucous, full capacity crowd since the end of February 2020 as the company invades The Torch at the Los Angeles Coliseum on Saturday, August 14th. The card is stacked with five singles matches and will be headlined by Lance Archer defending his recently acquired IWGP United States Heavyweight Championship against The Ace, Hiroshi Tanahashi. In the semi-main event, Jay White will finally defend his NEVER Openweight Championship against David Finlay. The remainder of the card will feature appearances by The Good Brothers, Jon Moxley, Tomohiro Ishii, Juice Robinson, Strong Openweight Champion Tom Lawlor, Lio Rush, Chris Dickinson, Karl Fredericks and recently graduated Young Lion, Yuya Uemura.
This card will serve as a celebration of the hard work that New Japan Pro Wrestling has done in America during the COVID-19 pandemic. The company has, almost accidentally, compiled a roster of American based wrestlers who have been competing every Friday night on NJPWWorld as a part of NJPW Strong. Now that they finally have the opportunity to put this group of wrestlers (and some key NJPW natives and guests as well) in front of fans, the roster is likely to give their all to deliver on this Saturday night in Los Angeles.
Double Main Event II
IWGP United States Heavyweight Championship Match
Lance Archer [c] vs. Hiroshi Tanahashi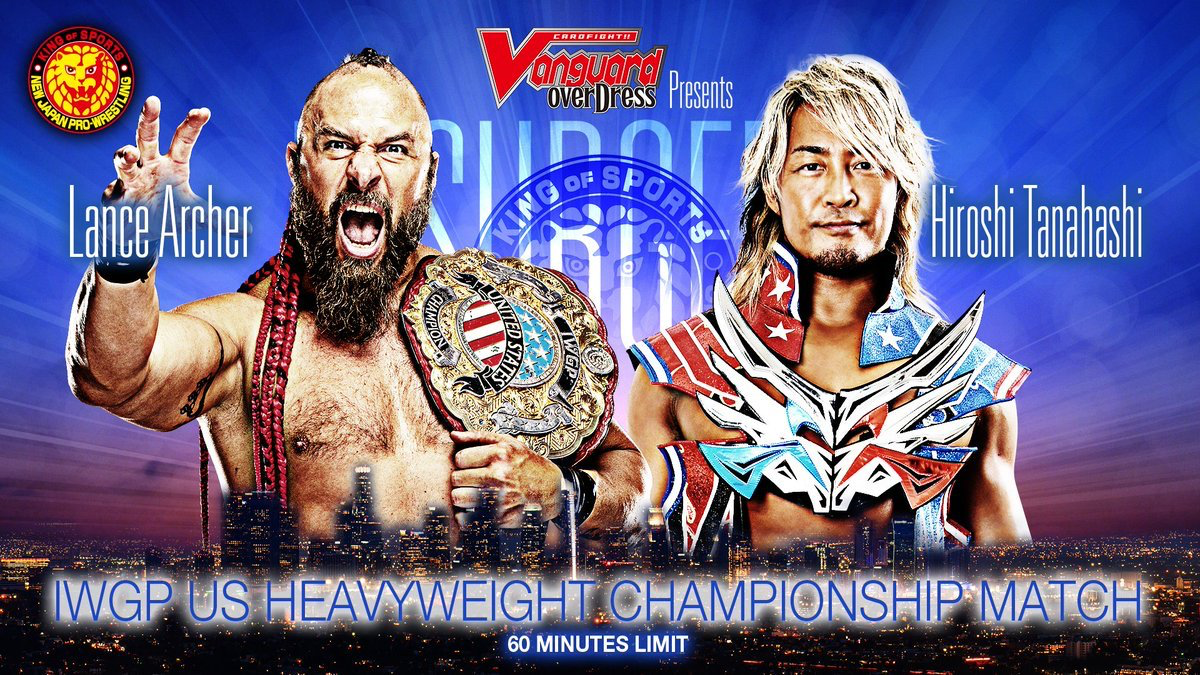 When Resurgence was announced, Lance Archer wasn't anywhere near the IWGP United States Heavyweight Championship. Jon Moxley was in the midst of his record breaking 564 day, five defense reign, and it seemed like he was primed for a major defense in front of American fans, but then AEW hit the road again Lance Archer saw an opportunity to challenge Jon Moxley for a Wrestle Kingdom 14 rematch, challenging the champion to a Texas Deathmatch, this time actually in Texas. Archer was able to use his home-state advantage to with the match on AEW Dynamite, ending Jon Moxley's IWGP United States Championship Reign and beginning his second reign as IWGP US Champion.
Prior to the match between Lance Archer and Jon Moxley, Hiroshi Tanahashi had made his intentions clear via a video aired on AEW Dynamite that he will be the next challenger for the IWGP United States Championship. "It's New Japan Pro-Wrestling's Master of the Century, Hiroshi Tanahashi. I've gotta say, the IWGP US Heavyweight Championship has quite a bit of charm to it. But I've never been the US champ. So I'll be challenging the winner of tonight's title match. And I'll be taking that title in a snap." This challenge came just days after after Hiroshi Tanahashi lost his last-minute IWGP World Heavyweight Championship match in the Tokyo Dome against Shingo Takagi, and in the wake of Tanahashi's most recent NEVER Openweight Title loss to Jay White, but when you're The Ace of The Universe, if you challenge for a title you've never had, the challenge will be granted.
Archer and Tanahashi wrestle with remarkably different styles. Archer often finishes his opponents quickly, averaging just 5 minutes and 28 seconds during his 20 AEW singles matches in 2020. Tanahashi, on the other hand, has averaged 24 minutes and 25 seconds in his singles matches this year, and an astounding 32 minutes and 7 seconds in his losses. In the outdoor heat of Los Angeles, it's tough to say which style will prevail, but it's tough to bet against Hiroshi Tanahashi finally in front of fans who can vocally appreciate him.
Recent History – 2021 Singles


Lance Archer's singles record this year is one of the best in AEW. In 20 matches, he has amassed 18 victories, and a dominant average singles win length of just 4 minutes and 59 seconds.
In over twice the matches, Lance Archer's total Singles Match Length is nearly 2 hours shorter than Hiroshi Tanahashi's. Tanahashi has wrestled in 11 fewer singles matches than Archer.
Hiroshi Tanahashi's 3 hours, 39 minutes and 42 seconds of Total Singles Match length this year is fourth highest in NJPW, behind only Shingo Takagi, Will Ospreay, and Kota Ibushi.
Recent History – Last 365 Days Singles


Lance Archer's only three singles losses in the last 365 days have been against Jon Moxley (AEW World Title), Miro (AEW TNT Title), and Eddie Kingston.
Recent History – 2021 Overall

Hiroshi Tanahashi's total ring time this year is 17 hours, 20 minutes and 16 seconds longer than Lance Archer's total this year and Tanahashi has wrestled in 61 more matches than Archer.
Head To Head History

Hiroshi Tanahashi – Singles Matches in USA

Hiroshi Tanahashi's singles matches in the United States include victories over Roderick Strong, Dave's Richards, Matt Sydal, and Adam Cole, an IWGP Heavyweight Title defense against Charlie Haas and an IWGP Intercontinental Championship defense over Billy Gunn.
IWGP United States Heavyweight Championship

The IWGP United States Heavyweight Championship has been decided in 26 matches over the course of just over four years. It has changed hands in 34.6% of those matches.
The IWGP United States Heavyweight Championship has been decided twelve times in the United States, including the title's last five defenses. The title has changed hands in the US four times, including the crowning of the first champion, Kenny Omega in July of 2017.
Lance Archer's 7 minute and 16 second defense of the US Title against Hikuleo was the shortest IWGP United States Heavyweight Championship Match of all time.
Double Main Event I
NEVER Openweight Championship Match
Jay White [c] vs. David Finlay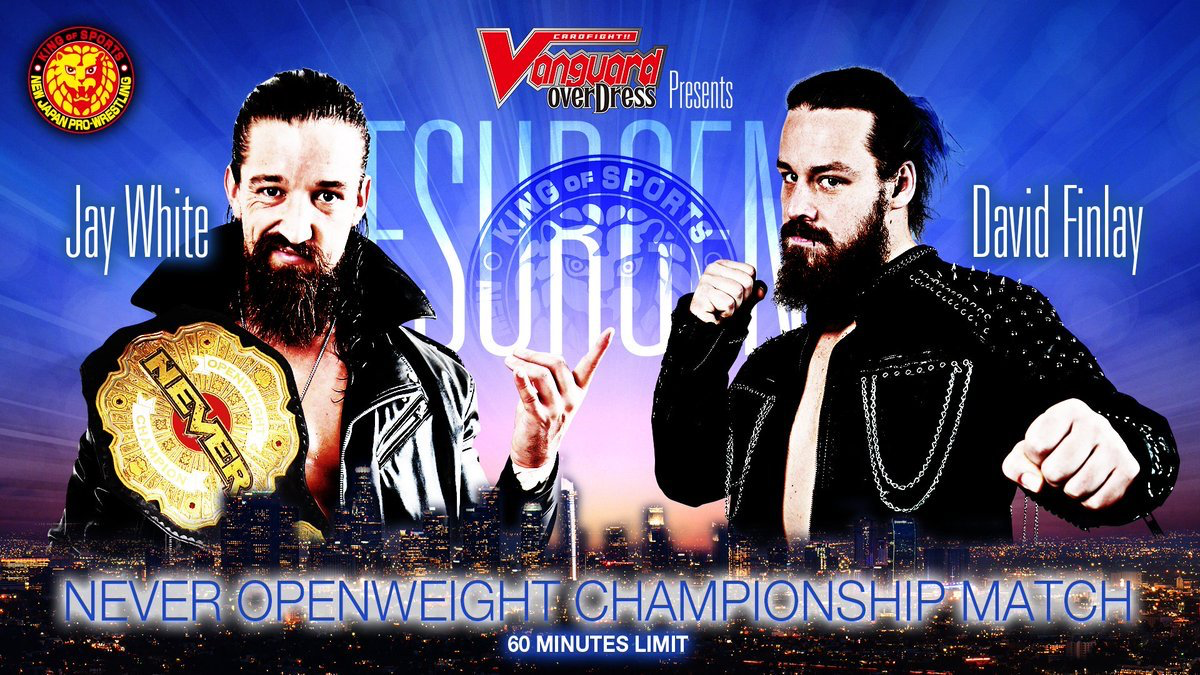 Just under six years ago, David Finlay defeated Jay White in 9 minutes and 46 seconds in an opening match at Korakuen Hall. For over 5 years from that point, Finlay couldn't figure out White again as The Switchblade dominated their series with 10 straight singles victories. That streak ended earlier this year, when David Finlay eliminated Jay White in the quarter finals of the New Japan Cup, finally getting the proverbial monkey off of his back.
In that tournament, Switchblade Jay White had already defeated then NEVER Openweight Champion, Hiroshi Tanahashi, so he had set his target for future success. White defeated Tanahashi in the longest NEVER Openweight Championship match ever (39:01) at Wrestling Dontaku on May 3rd, and that was White's last singles match. Since then, he's only appeared once in an NJPW ring, on the 4th of may in a tag team match.
White and Finlay have been at odds in IMPACT rings as they're each spent time stateside. Finlay, along with tag team partner Juice Robinson, defeated Chris Bey and Jay White by DQ in a tag team match just the other night on IMPACT wrestling after White interrupted a pin with a chair shot to Robinson. White then delivered a bladerunner to David Finlay onto a steel chair, leaving the challenger laying dormant just a few days before he challenges for White's title.
Recent History – 2021 Singles

Jay White's 29 minute and 29 second average singles match length is the longest in NJPW this year.
Jay White's 27 minute and 21 second average singles win length is the longest in NJPW this year.
Jay White has participated in two of the three longest NJPW Singles matches this year. His 48 minute and 1 second loss to Kota Ibushi was the longest match in Tokyo Dome history. His 39 minute and 1 second NEVER Openweight Championship victory is the longest NEVER Openweight Championship match in history.
Jay White has not wrestled in a singles match since May 3, 2021, that is over 100 days and Jay White's only other stretch of 100 days without a singles match occurred at the beginning of the COVID-19 pandemic.
Recent History – Last 365 Days Singles

In the last 365 days, David Finlay has won singles matches in New Japan Pro Wrestling, Ring of Honor, and Impact Wrestling.
Recent History – 2021 Overall

Head To Head History

David. Finlay and Jay White have wrestled in twelve singles matches in their career. David Finlay's wins are only the bookends. Between 2015 and 2018, Jay White dominated the series with ten straight victories, but Finlay was able to overcome to get the proverbial monkey off his back by defeating White during the New Japan Cup Quarter Finals earlier this year.
NEVER Openweight Championship


The NEVER Openweight Championship has been decided in 74 matches over the course of its nearly 9 year existence. It has changed hands in 44.59% of all deciding matches. That is over 10% higher than any other singles title in NJPW.
Jay White's 39 minute and 1 second NEVER Openweight Championship victory over Hiroshi Tanahashi was the longest NEVER Openweight Championship match since
Sixth Match
Special Tag Match
Jon Moxley & "X" vs. Doc Gallows & Karl Anderson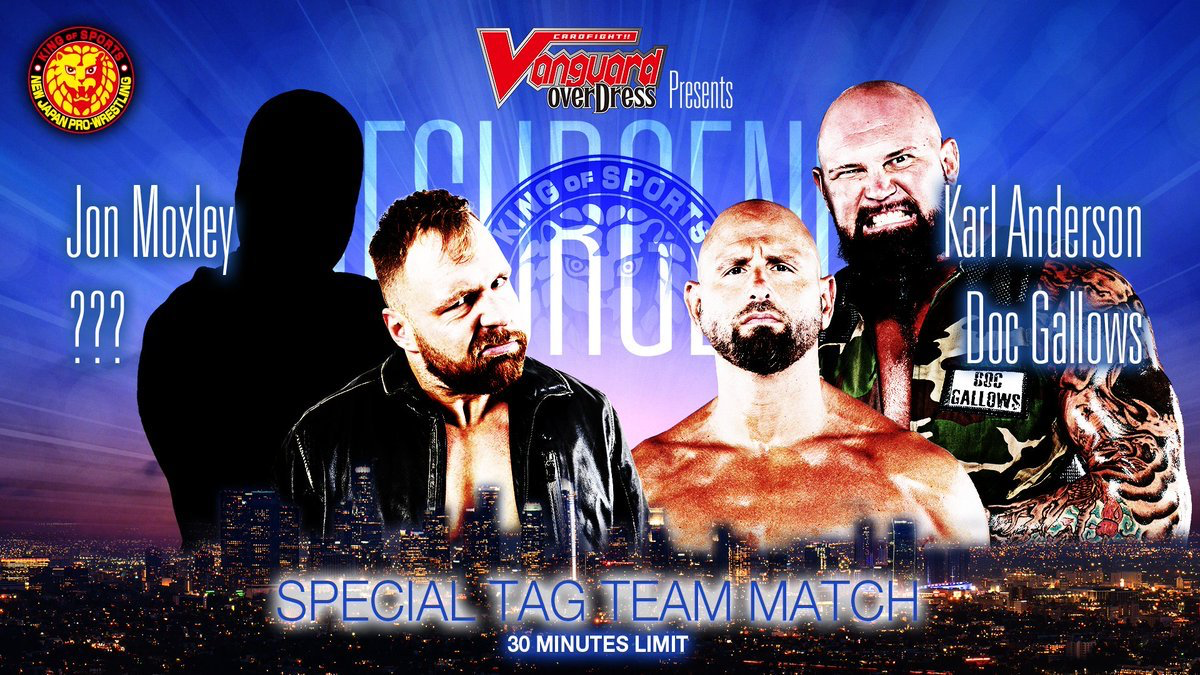 The intrigue with this match is really who Jon Moxley brings as his tag team partner. Undoubtedly, Shota Umino was on the short list, but travel restrictions are keeping him from getting into Los Angeles, so Mox has to convince his friend who he was set to 'meet in LA for some beers' to come wrestle Doc Gallows and Karl Anderson with him.
Finding someone who wants to wrestle the abrasive Anderson and Gallows can't be all that hard, they've caused havoc in IMPACT, AEW, and now NJPW since leaving WWE in the middle of 2020. Gallows and Anderson recently returned to the cerulean blue of an NJPW ring by mowing down the competition and winning the NJPW Strong Tag Team Turbulence tournament.
Notes
The Good Brothers are 17-6 in two-person tags since their WWE departure.

NJPW: 3-0
AEW: 0-1 (Loss to Jon Moxley and Eddie Kingston)
Lariato Pro: 1-0
IMPACT: 13-5

The Good Brothers last 2 on 2 loss was on June 12th when they lost to Sami Callihan & Tommy Dreamer in a street fight.
Jon Moxley is 5-7 in tag matches during his NJPW career.
Fifth Match
Special Singles Match
Tomohiro Ishii vs. Moose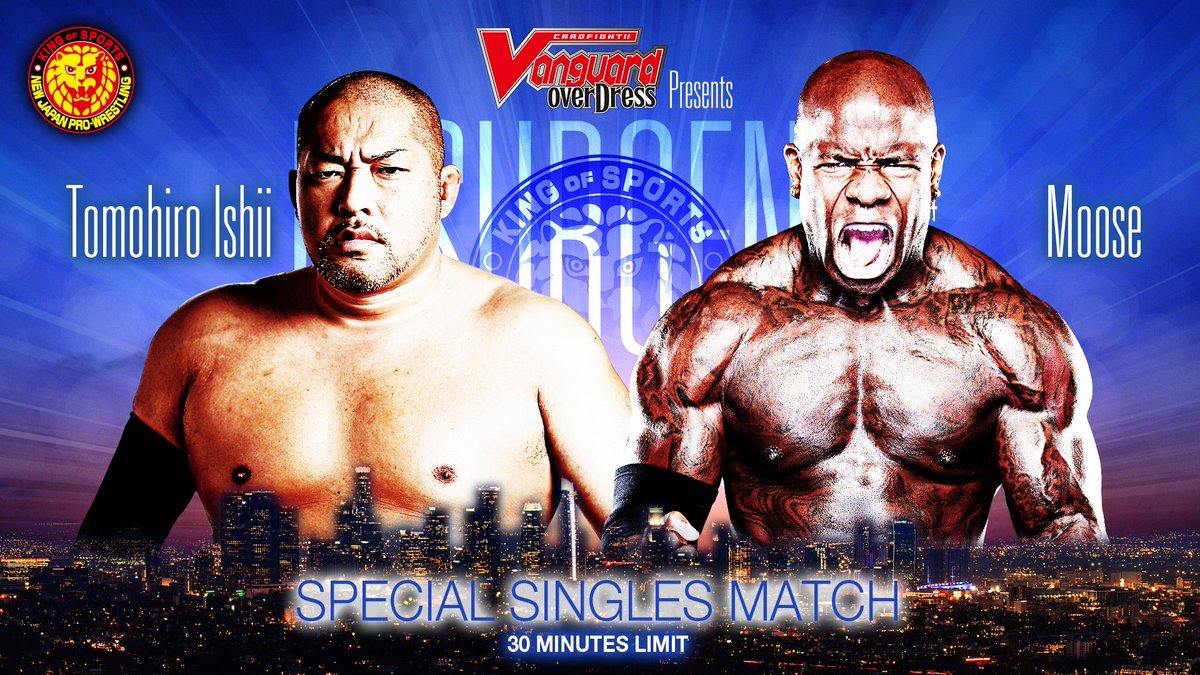 There's truly no notable story to this match except that putting Tomohiro Ishii into a ring for a singles match in the United States is sure to make NJPW fans about as happy as anything. Moose has had a resurgent 18 months or so in IMPACT, making him just about the perfect opponent for Ishii as they face off in a truly heavyweight battle. The Stone Pitbull, Ishii's 75 matches so far this year, as well as a long flight from Japan are likely to bog him down a little bit, but the crowd will undoubtedly be behind him.
Recent History – 2021 Singles

Moose 5-7 in IMPACT Wrestling singles matches in 2021 and he is 6-4 in his last 10.
Moose's average winning match length in 2021 is just 8 minutes and 33 seconds. He las lost all three of his matches over 20 minutes and his longest winning match was just over 17 minutes.
Moose's average losing match length in 2021 is 19 minutes and 3 seconds, over 10 minutes longer than his average wins.
Recent History – Last 365 Days Singles

Moose 9-8 in last 365 days
Recent History – 2021 Overall

Tomohiro Ishii's 20 hours, 14 minutes, and 4 seconds of overall total match length in 2021 is fifth highest in NJPW in 2021. Of course, a significant portion of that time has been amassed during NEVER Openweight Six Man Championship defenses.
Head To Head History

History In USA – Singles Matches

Tomohiro Ishii's singles matches in the United States include two ROH World Television Title matches, the entire IWGP United States Heavyweight Title Tournament, and his victory over Zack Sabre Jr.for the RevPro British Heavyweight Title at WrestleCon 2018.
Fourth Match
Juice Robinson vs. Hikuleo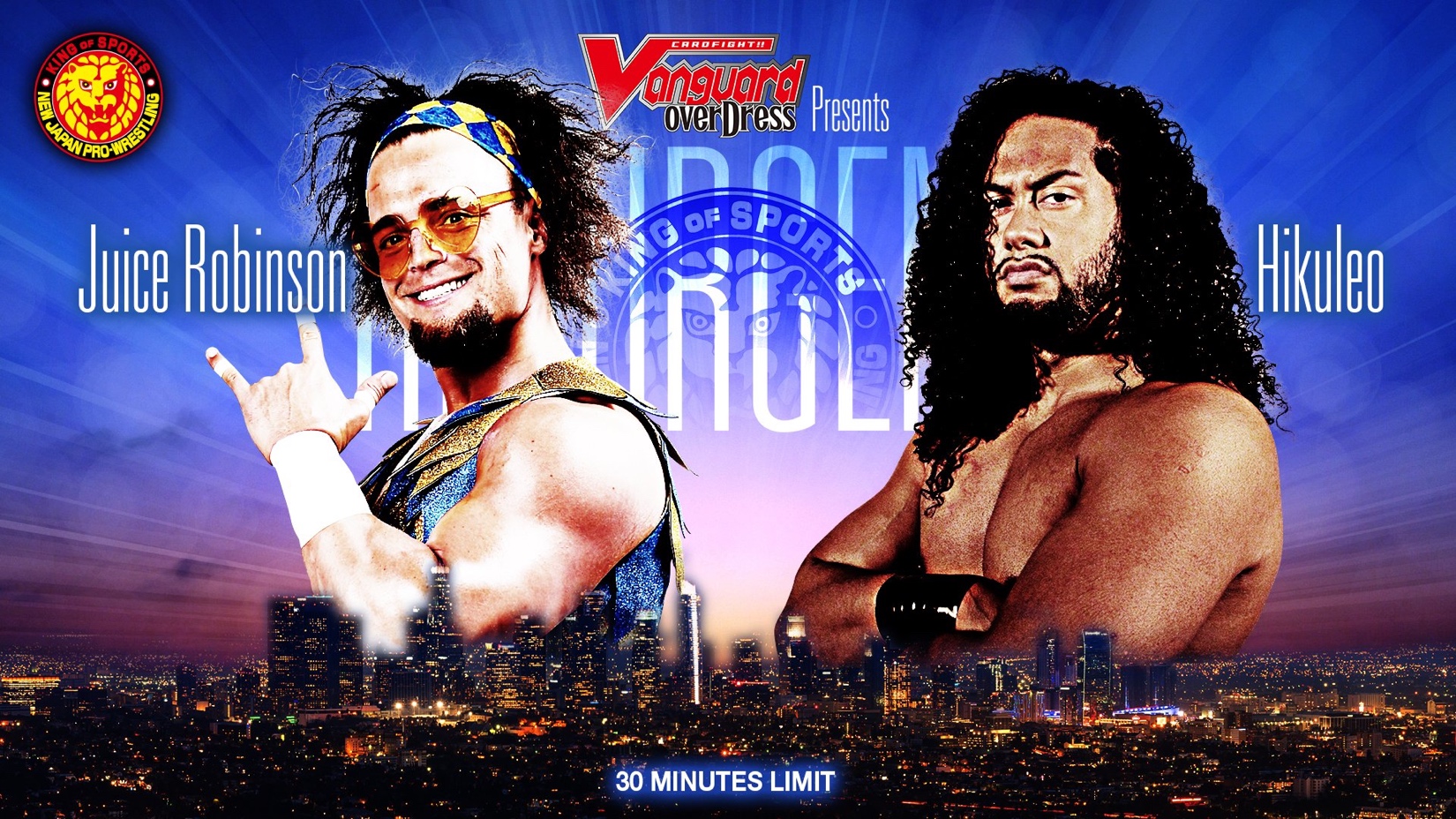 Juice Robinson, by proxy of his partnership with David Finlay, has been at odds with Bullet Club members in the United States lately, leading him to this battle with Hikuleo. After losing an IWGP United States Championship match with Lance Archer on AEW Dynamite, Hikuleo stepped back into an NJPW ring to defeat Fred Yehi on NJPW Strong this past Friday night. He demanded a challenger for Resurgence and Juice answered the call.
Robinson hasn't found the "W" column in a singles match in 317 days. His last victory came on October 17, 2020 when he defeated Hirooki Goto in his second-to-last G1 Climax 30 match.
Recent History – 2021 Singles

Juice Robinson enters tonight on a three match losing streak in singles matches, though only one occurred in a NJPW ring this year. Juice lost to KENTA in the first round of the New Japan Cup and he has lost to Doc Gallows and Chris Bey on IMPACT.
Recent History – Last 365 Days Singles

Recent History – 2021 Overall

Head To Head History
This will be the first singles match between Juice Robinson and Hikuleo
Third Match
Adrian Quest, Chris Dickinson, Fred Yehi, Lio Rush & Yuya Uemura vs. Danny Limelight, Jorel Nelson, JR Kratos, Royce Isaacs & Tom Lawlor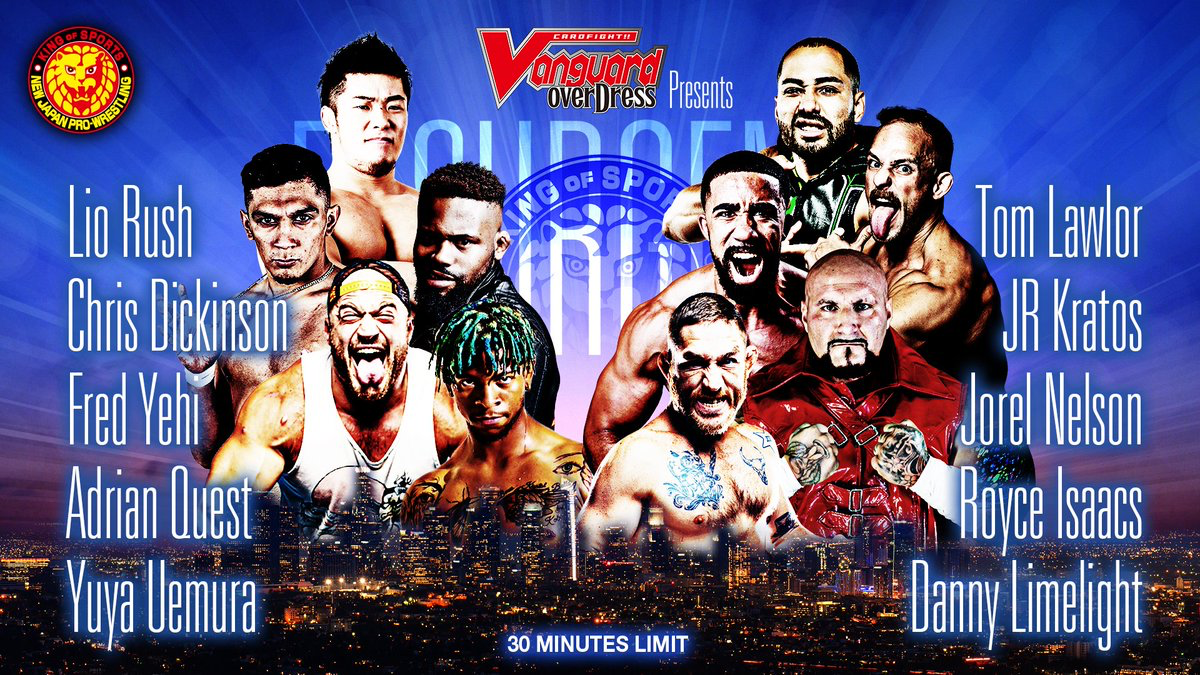 Team Filthy competes in full against a blend of NJPW Strong regulars after Brody King had to back out of the card earlier today. It will be worth paying attention to any interactions between Tom Lawlor and Lio Rush as they are set to face off for the Strong Openweight Championship on Monday, August 16th in Long Beach.
Recent History – 2021 Individual Overall (NJPW Only)


Second Match
Fred Rosser, Rocky Romero & Wheeler Yuta vs. Clark Connors, Ren Narita & TJP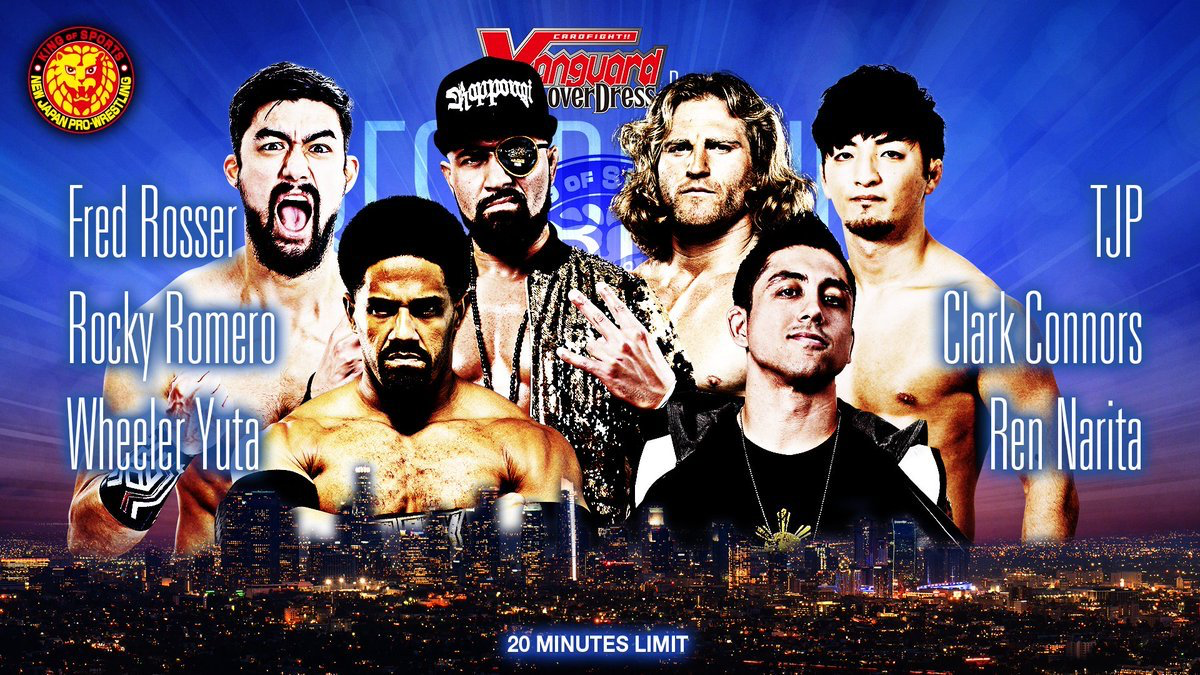 More NJPW Strong regulars face off in the night's second match. Connors, Narita and TJP represent all different phases of the LA Dojo. Connors is a recent graduate, Narita is currently on excursion learning under Shibata, and TJP is a graduate of the original LA Dojo. 'The Wild Rhino' Clark Connors is one to watch here as he is still defining his post-Young Lion role and his on-again, off-again interactions with TJP date back to Super Junior Tag League 2019. On the other side of the ring, Rocky Romero and Fred Rosser have recently been a solid alliance and they bring newcomer and recent journeyman, Wheeler Yuta under their wing as they seek a 6-man glory.
Recent History – 2021 Individual Overall (NJPW Only)

First Match
Alex Coughlin Challenge Match Series
Alex Coughlin vs. Karl Fredericks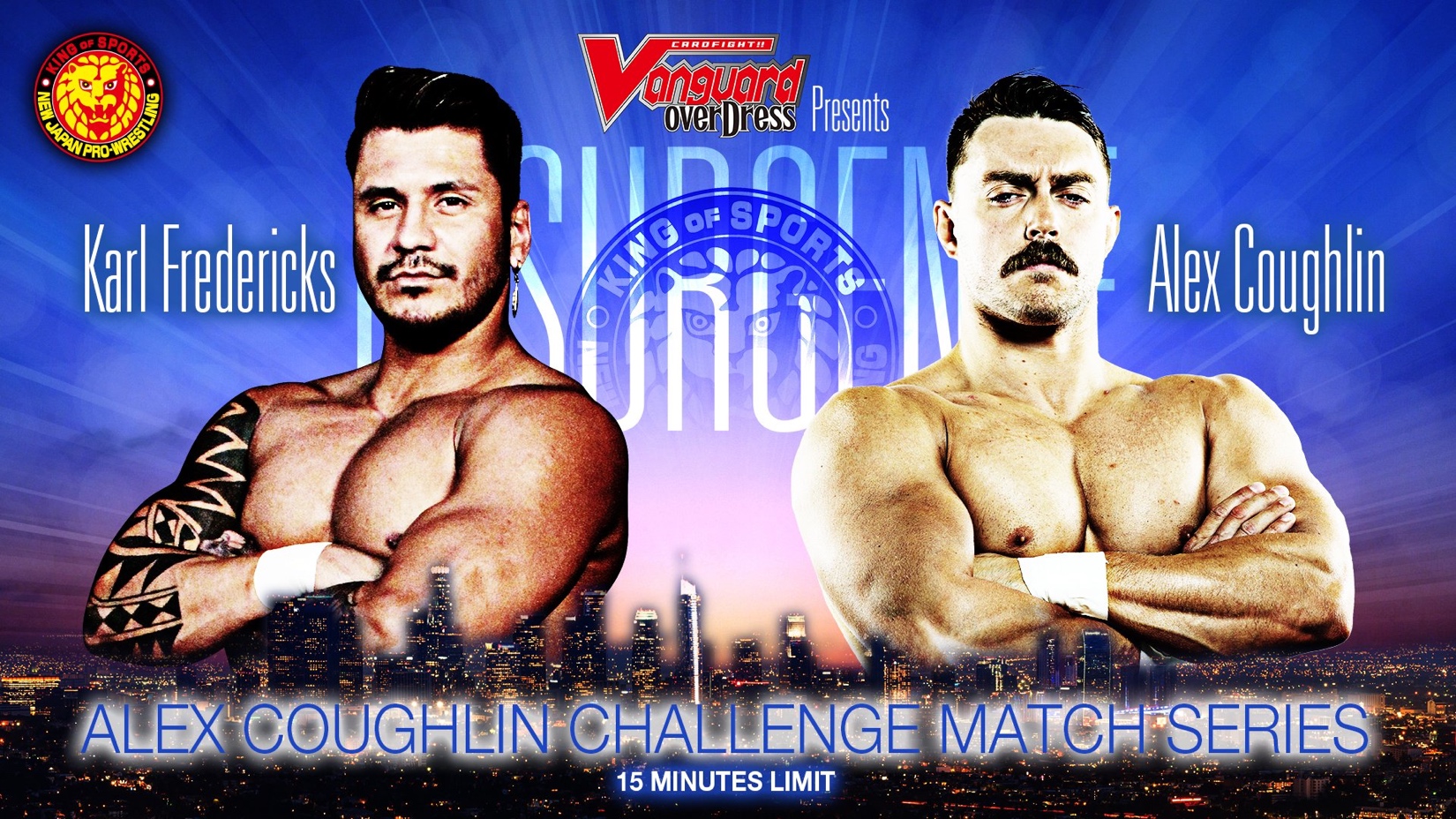 Alex Coughlin continues his challenge match series against a familiar opponent in Karl Fredericks. Coughlin's last singles victory in an NJPW ring came on December 7, 2019 when he defeated Barrett Brown at NJPW's Lion's Break Project 2 in Anaheim. Coughlin is on the cusp of graduating out of his Young Lion status and a strong showing against last year's LA Dojo graduate, Karl Fredericks.
Fredericks is looking for a breakout performance here, as he's cooled off significantly since early 2020 when he was a hot commodity, primed for a surprise-graduated entry in the New Japan Cup.
Recent History – 2021 Singles

Recent History – Last 365 Days Singles

Recent History – 2021 Overall

Head To Head History

Karl Fredericks owns the series against Alex Coughlin 3-0-1