AAA's biggest show of the year returns to its summer spot on the calendar Saturday night when TripleMania XXIX takes place in Mexico City. It's the biggest show in Mexican wrestler since the onset of the pandemic, with three big singles matches and the usual array of AAA weirdness. The biggest matches look like they'll deliver, only AAA is unable to deliver it to most of the people reading this preview. TripleMania XXIX is the A-Team of wrestling shows: it'll get the job done if you can actually find it.
TripleMania takes place Saturday night at 8 pm CT. It's airing live on the Space and Azteca7 TV stations, at Cineapolis movie theatres, and for free on Facebook—but only if you're in Mexico. It doesn't matter if you're in the US, in Ireland, or in Peru, this show is not officially available for you. The short version is AAA is actively ducking a US-based lawsuit over their international IP rights, DMCA takedowns are much tougher to dodge, AAA got hit last December and they've closed up shop outside of Mexico to avoid a repeat. Anyone with a VPN service (like, say, Express VPN) can journey to Mexico to watch the show for free and AAA will be glad to have you. This has been AAA status quo all year, I've resorted to streaming AAA TV on my own Twitch channel to work around it, and I plan to do the same for TripleMania. I'm sure it'll turn up as VOD on video sites after the show too.
(This is a good point to acknowledge my fair conflict of interest. I'm streaming TripleMania for free but I'm asking to get paid—there's a tip jar and a donation goal—so this is an article about something that may benefit me. This stream is costing me actual money to ensure it works and feels like actual work, so it feels fair to ask for people to chip in to make it whole. I'd be writing this same preview if I wasn't somehow involved. There will likely be other just as gray ways to watch TripleMania—AAA-friendly media outlet KameoSports says they will stream as well—so you likely will be able to watch the show even without me. I would've greatly preferred not to be involved in the process at all, but AAA is incapable of normalcy and so I find myself broadcasting a show I'd just like to watch.)
AAA has run empty arena shows, drive-in shows, and outdoor shows in tourist hotspots with local dignitaries sitting just off-screen since the start of the pandemic. TripleMania is AAA's first normal show, the kind where you sell a ticket and a person gets to sit down in it, in seventeen months. The lack of a normal audience leads to the same booking questions other promotions have dealt with—how can you tell what's over and what's working without live fans?—but bigger financial question marks for a company that still makes most of its money off of live events. A lot of the unsolved mysteries surrounding the promotion leading up to the show—why haven't the main outsiders appeared to build it up? Why are they avoiding that lawsuit? Why did Texano suddenly quit the promotion?—may easily be answered by "money, or the lack thereof." TripleMania has long been AAA's biggest moneymaker. They really need it to be again. 
AAA is likely back to no fans shows after this one is over. It's not all their choice, as COVID surges back another time in the country and different locations have different rules about what will be allowed. Mexico City had some of the hardest and longest-lasting restrictions early on and has flipped since the vaccinations started; the government declared this past week that there's almost no situation where they'll shut down again. Arena Ciudad de Mexico is expected to have around 5,000 fans (25% capacity.) They'll be asked to wear facemasks and allowed to cheer. Across town, CMLL's seemingly been limited to shows of a two-hour duration by health ordinances. AAA appears to be getting a pass on that—or we all will get a big surprise midway through TripleMania.
There are seven matches officially on the TripleMania card. There are rumors of a bonus eighth match, which would probably take place a little before the 8pm scheduled start time. AAA TV has been frustratingly bereft of storytelling most of this year, but one bit they've focused on revolves around a mystery man assembled a group of rudos for an unknown purpose. The payoff for that was expected to lead into a match here, including a bunch of the TV regulars (like the Arez/Aramis gang) who don't seem to otherwise have a role on this show. That match would be worth going out of your way to see if it's happening. It is AAA so it's likely no one knows it's really happening until people walk out to the ring for a pre-show match, and it might be a story they're feeding people to keep them from arguing for a real place on the show.
As far as matches actually happening: 
A Marvel Lucha Libre Match
AAA announced this match a month ago with nothing more than a promise of new Marvel Lucha Libre characters. The later released graphic for the match pictures Leyenda Americana, Arcano and Estrella Cósmica against Terror Púrpura, Picadura Letal, and Venenoide, all very much existing characters. Maybe more people will be added; Thor and Loki recently showed up, and there's a bunch more Marvel Lucha Libre characters who have merch and have yet to wrestle. This lineup probably won't be unveiled until the match starts. AAA would still like you to type the hashtags #TeamLeyenda and #TeamTerror on social media to support these teams. I'm not responsible for any watch lists or secret prisons you find yourself in after tweeting #TeamTerror all night.
This Marvel gimmick has never appeared in front of fans, but it doesn't feel like it's worked anywhere close to the plans. The difference between "luchador" and "comic book superhero" has always been thin. The wrestlers mostly have been overacting to play up the difference. The plans for the luchadors themselves have gone awry. The debut match at last year's TripleMania included Brian Cage, Lio Rush, and Daga, none of whom have appeared in AAA in 2021. The Terror Púrpura costume got handed off to Texano, who recently quit AAA (for unrelated reasons!) and we haven't seen Púrpura since. Many of the other characters have been played by whoever is around for that taping; there may have been three different Arcanos so far. Even if AAA announced the superheroes for the match, there's no knowing who'll be under the masks.
Marvel Lucha Libre has basic storylines and multiple matches ending when the bad guy just decided to teleport away when losing. Marvel Lucha Libre is aimed at kids, not people reading very long previews of wrestling shows, so it doesn't really matter that it comes off as a worse version of what AAA usually presents to me. This show is the first time AAA will do this act in front of actual fans, and we might have an idea if any of this has been working.
The real audience for the Marvel Lucha Libre matches is Marvel itself, and there's been no hype from their side going into this. AAA has talked about running a complete Marvel Lucha Libre show for them in spring 2022, which requires more suspension of disbelief than most super-heroics.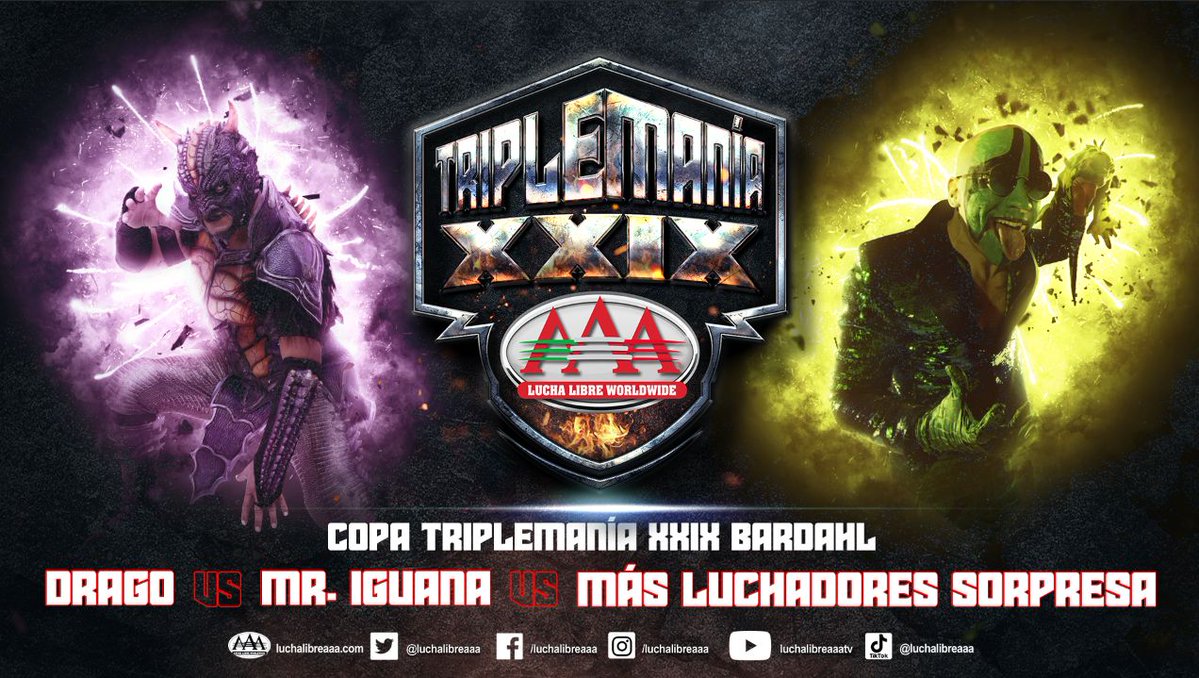 Copa TripleMania Bardahl
The annual Royal Rumble style match to get a few more people on the card returns, this time with car parts sponsor Bardahl. (They're also responsible for the yellow canvas.) Mamba, Mr. Iguana and Drago are the only three announced names in a twelve match card. Mamba's rival Pimpinela, Drago's partner Aerostar and Iguana's pal Nino Hamburguesa seem safe bets. Poder del Norte have easily earned a spot, though I'm not sure if they'll get it. Surprises are likely too. I would've put down indie duo Los Negociantes (Fresero Jr. & Demonio Infernal) earlier this week—they've become fast friends with Konnan on social media and ran their own angle teasing they'd be on this card—but they got surpassed for notoriety. Sanson, Cuatrero, and Forastero leaving CMLL this week and apparently being unrestricted free agents is a dream scenario for AAA. If the NGD trio wants to be on TripleMania, AAA will find a spot for them. 
Copa TripleManias are never good. The format doesn't work for a match; it's geared for entrances and people leaning in the ropes bored. Last year's TripleMania Femenil was a dud—Lady Shani and Maravilla falling apart at the end of that match is likely a big reason Faby Apache is trusted with the title match instead—and a Rey de Reyes version of the match was not much better. The point of this remains not to have a good match but to let the rank and file feel part of the big show, and that might be more important than ever in an economic downturn. You're probably not going to feel like you missed out on something big Sunday if you skip these first two scheduled matches on Saturday.
It's a long TripleMania, make sure to pace yourself.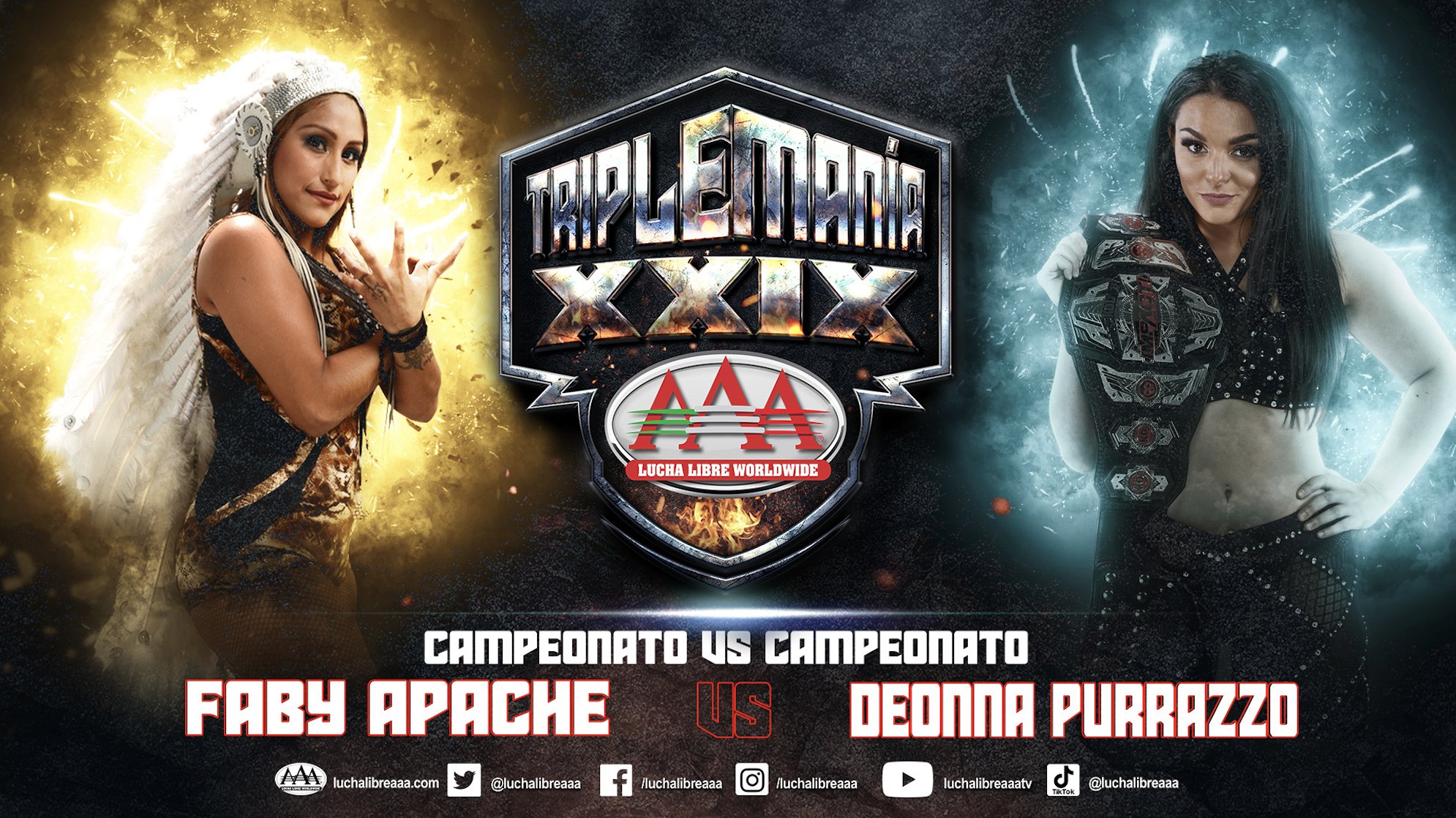 Deonna Purrazzo © vs Faby Apache © in a match for both the AAA Reina de Reinas championship and the Impact Knockouts Championship
AAA has previously run two major events this year. This is the first time I've previewed an AAA show because AAA hasn't announced the lineups in advance until the last moment. (They've also been more like special TV episodes than traditional pre-pandemic AAA big shows.) There were few important moments. Impact's Purrazzo made a surprise appearance at the May Rey de Reyes show to challenge new Reina de Reinas champion Faby Apache to a championship versus championship match. Apache declared she didn't know who Purrazzo was and didn't really care to have a match until Purrazzo forced the idea upon her and then forced an armbar too. Purrazzo also did guest commentary on that Rey de Reyes match, though her commentary rarely moved beyond "I have no idea who any of these women are" and "none of these women are as good as me" in English to a Spanish speaking audience. It didn't do her any favors. Purrazzo returned for July's Verano de Escandalo, cleanly defeating Lady Shani and confronting Apache once again. That appearance went better, though still not great. 
Deonna Purrazzo is transparently being positioned as the female version of Kenny Omega: international champions fighting for AAA's title should raise the profile of both the championship and the promotion through really good matches. The fame part is a question mark—Impact isn't exactly playing to a big house either—and her style may make it harder for this to connect with the AAA fans. Purrazzo is good at what she does, but what she does is a methodical body part attack in a promotion full of flips, cookie sheets, and not a whole lot of selling. Whatever you think of Kenny Omega, he figured out how to fit in AAA right away. The Shani/Purrazzo match was more Purrazzo forcing AAA to adapt to her. Paring Deonna with Faby Apache at least makes sure the match gets a reaction—Apache is forever over in Mexico City—and Apache's got a better chance of making Purrazzo's style work. It just feels like a big tonal shift from the rest of the promotion, something the casual TripleMania fans may not embrace. AAA moved this match down on the card from where it originally was placed, which might give it a fighting chance. They've got a better chance following Copa TripleMania than getting in the ring after  Pagano gets powerbombed into a shopping car or Vikingo reverse spins from the top rope to the floor.
The last time Faby Apache faced a foreigner on TripleMania, she broke Taya Valkyrie's nose. The blood was a bit of an issue but it otherwise worked out great for Taya. She impressed Lucha Underground officials by gutting through the rest of the match, they made her inclusion on the show a priority, and Taya/Frankie's career was made from there. Perhaps a happy "accident" will benefit Purrazzo as well because we can be sure Apache isn't going to work light. Apache is very talented (and will let everyone know about it) but has a history of aggressiveness against foreigners and against everyone who she doesn't believe meets her very high standards. She's as old school as there is in 2021, talented enough to make this work but also likely to make sure Purrazzo feels it the next day.
Purrazzo's the strong favorite. Impact's already started building her for a title defense on the upcoming NWA PPV and barely acknowledged this match; they're not losing their title. The roadmap is the same as the Omega one: have the foreigner win the title, bring her back a few times a year to defend it, and then have the right person in AAA beat her when it's finally time. It just may not end up following that plan, like the Omega one seems to be. 
Powered by RedCircle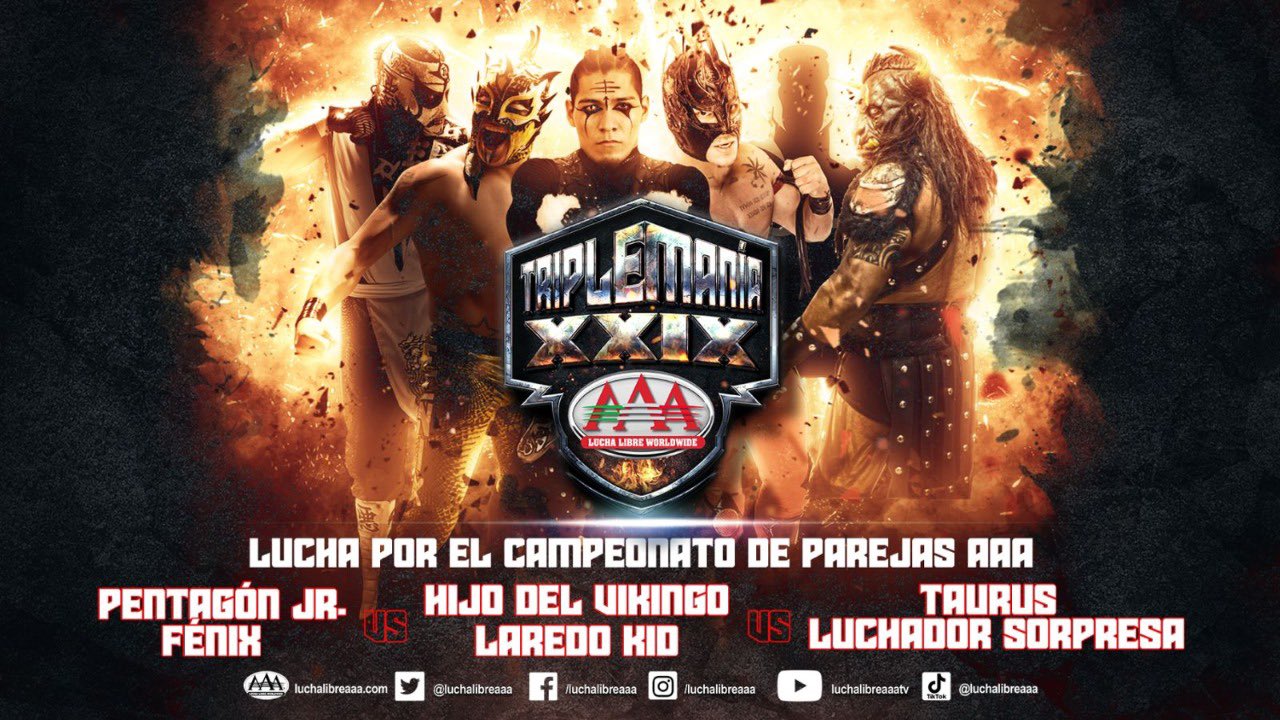 Fénix & Pentagón Jr. © vs Hijo Del Vikingo & Laredo Kid vs Taurus & a mystery partner for the AAA World Tag Team Champions
Fenix & Penta continue to be tag team champions seemingly as an excuse for AAA to bring them back for big shows. The Lucha Brothers have hardly worked in AAA outside of them. Fenix is living in the US and was hurt, so only making it to make for one AAA match this year can sort of be explained. Penta lives in Mexico, works fairly regularly in Mexican indies in addition to his AEW work, so barely working AAA is a bit more of a question mark. TripleMania is a big show, so the Lucha Brothers can be brought back. This is otherwise a forgotten title and unlikely to change hands; neither team is a regular pair and there's been no talk about this match outside of the announcement. AAA obviously isn't concerned about keeping belts on regulars, given what's gone on with the primary singles belts, so a title change here would mean much more about the Lucha Brother's AAA status than the next title program.
This match exists just to be great. Laredo Kid remains the best wrestler in AAA, Vikingo the most exciting, and Taurus the one who's going to make everyone else look great. Taurus' best work of late has come in PWG, which might be the only place with less visibility than 2021 AAA, and he's going to look like a star in this one. AAA hasn't said much about his partner outside of hinting it's a former ROH tag champion, which brings to mind both Dragon Lee and Bandido (technically trios champions.) It was hard to know how serious that tease was meant to be, it's another thing AAA hasn't followed up on it at all and it was said in such an off-hand way that I wouldn't be surprised if they back off it. Whoever the person is, AAA's kept it a deep secret so far.
This match is going to be very good. There will be GIFs. Vikingo will do something crazy and everyone will be once again confused/upset about why he's the only one of these guys not working in the US. (People will tag Tony Khan too much.) There's not much to actually say about it.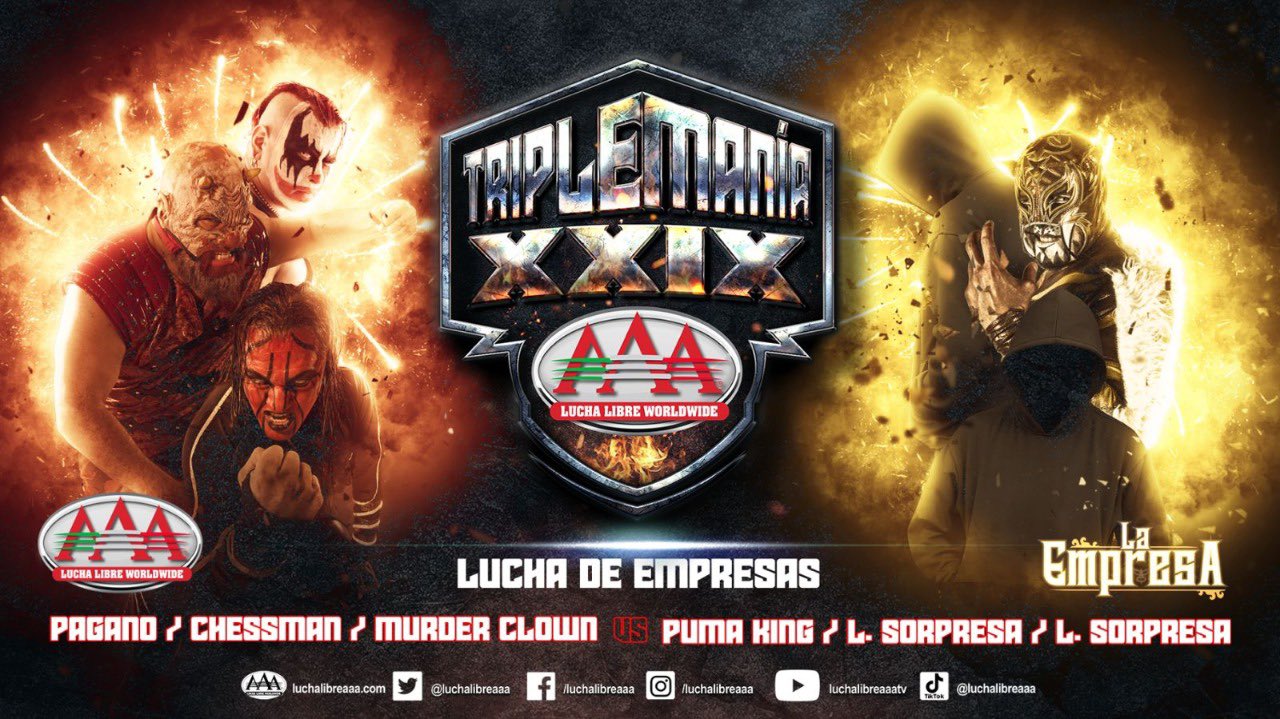 Team AAA (Chessman, Murder Clown, Pagano) versus La Empresa (Puma King, DMT Azul, Sam Adonis)
La Empresa is not only the latest in the long line of evil invaders, they're also the second CMLL parody group. (CMLL began as Empresa Mexican de Lucha Libre and is still referenced as such by the many around the promotion who permanently froze in time around 1985.) The issue is the people involved. DMT Azul came directly from CMLL, while Adonis is three years out and Puma is four. It's also a struggle to convince AAA fans they should care about CMLL wrestlers when even CMLL fans don't seem to care much about CMLL wrestlers at this point. Sanson, Cuatrero, and Forastero would be a much bigger deal than the La Empresa team, but no one knew they were going to be available five days before this show. Probably not even them.
This really is about Pagano & Chessman attempting to put aside their previous TripleMania rivalry and work together for the sake of AAA. Those two luchadors are also weirdos completely incapable of getting along and will eventually stab each other in the back. It's just a matter of how many broken tables and which people go into thumbtacks before Chessman costs his partners the match. This fight is going to be the usual TripleMania Pagano extreme stunt show, which usually gets over pretty well. The CMLL guys don't often do that style, and it'll be a treat to see how they adapt. 
DMT Azul is the one to watch. CMLL had big hopes for him at one point and he never reached his potential. He was actively bad and unsafe in his final years as Diamante Azul, and admitted he lost his motivation in post-CMLL interviews due to the malaise of Arnea Mexico. Azul's post-CMLL indie run seems to have re-energized him a bit and heavyweight wrestlers will always get unlimited chances if they show even the slightest bit of promise. Azul is not a favorite of mine, but there's not a lot of obvious in-house options for next year's TripleMania main event and a run of good performances could launch him into the conversation. Adonis would also be very open to a big match with Psycho Clown; he seemed to lock in this spot in La Empresa off a previous match he had with Psycho in Texas. This is La Empresa's first match as this unit, and there's no read how AAA ranks those guys; Puma's the one they seem to trust the most to talk, and Andrade's even supposed to be tangentially associated with them.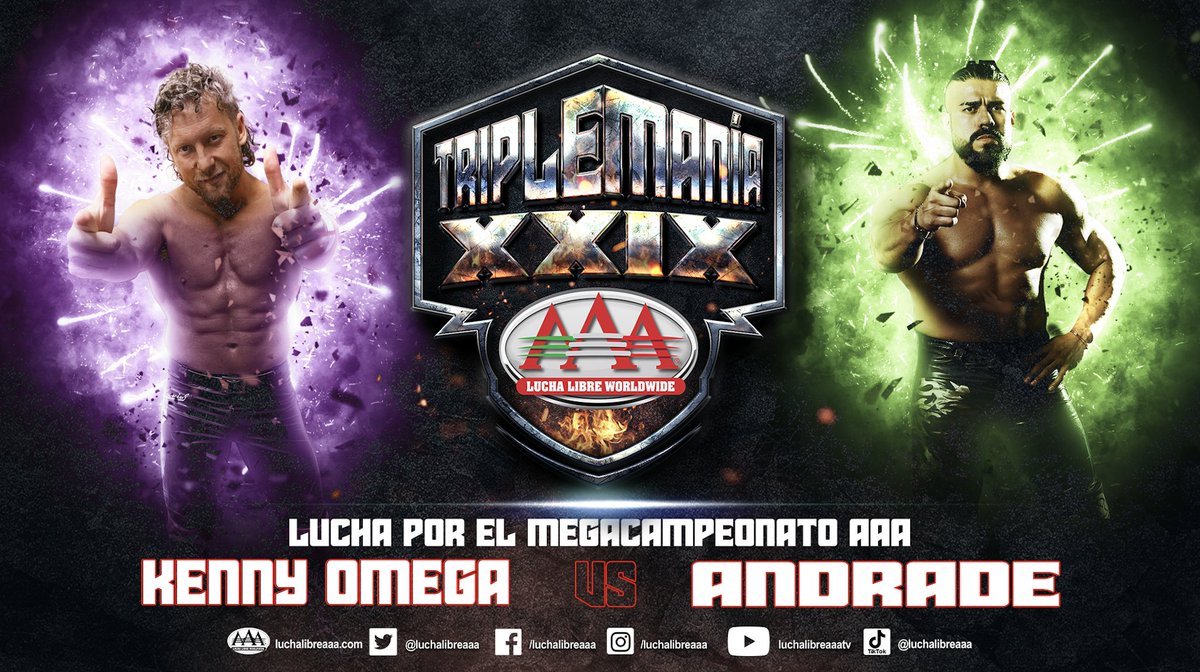 Andrade versus Kenny Omega © for the AAA Mega Championship
AAA's main title has exclusively existed as a weapon in other Kenny Omega title matches this year. This will be Omega's first appearance in AAA since last year's TripleMania. His only on-screen appearances have been skits taped at AEW. Andrade has also only appeared in videos. This is Andrade's first match in AAA; he was always part of CMLL in his previous Mexican wrestling life. Neither man has any great history here. Omega/Andrade is a big match on the marque and one which feels completely disconnected from the promotion where it's being held. Dragon Lee's title challenge was similar, though at least a living breathing Dragon Lee appeared in front of AAA's press to announce the match. These guys have been ghosts.
Andrade left his WWE deal behind, proclaiming in interviews he was tired of wrestling no effort matches on Main Event and just cashing checks. He's since gone on to disappointing wrestle no-effort matches on indies and taking easy payoffs from dubious sources. Andrade choosing to be a part of spectacular failure Federacion Wrestling and Alberto el Patron's dubious attempt at image rehab through badly promoted wrestling events indicated Andrade was more interested in helping his buddies than his stated goal of proving he was one of the best wrestlers in the world. Andrade was handed easy chances for great matches with Matt Sydal and Laredo Kid and half-efforted his way to OK results. The one-time post-WWE Andrade did make an effort was to mock Rush for losing the ROH title, burying new champ Bandido as a guy Andrade was "ten times better than" in the process. You can have takes on how AEW's used him and the various Guerreros he's been associated with—I probably agree with you—but Andrade's done a lot on his own to shed the goodwill he had walking out of Orlando. 
A match with Kenny Omega is a chance at a fresh slate for Andrade. It's also a proving ground. Andrade's set for life and going to be around AEW for a while to come, but this is his chance to prove he's the world-class wrestler he believes himself to be. No one's had anything less than a great match with Kenny Omega in a long time. There's no excuse for Andrade to have anything less. This match will say a lot about what we really should expect from Andrade going forward. I was totally confident this would go well back when this was announced in May and am unsure of it now. Maybe I'm giving too much credit to unimportant matches and Andrade will turn it up for this one. The red flags are hard to miss.
Kenny Omega has never been in serious danger of losing this title. He is in serious danger of losing it this time. AAA's been planting seeds for Psycho Clown versus Andrade even before Kenny Omega versus Andrade was made official. Psycho Clown's also pointed out he's never gotten a chance at the Mega Championships. Andrade versus Psycho Clown for the belt takes care of both, and there's news of an AAA already planning another big show for December where that match could headline. It would be anticlimactic if Omega ruling over AAA ended with no one from AAA beating him and the teased Omega/Vikingo match not happening. It would also be keeping with AAA's booking; sometimes things just end. AAA booking is also capable of pointing strongly in one direction and doing something completely else, especially in title matches. 
The outcome of this match won't affect the day-to-day of AAA; the winner is probably not turning up again for months. It may have a bigger immediate effect on AEW. If Andrade gives Kenny Omega his first singles loss in two years, does AEW ignore it? (Is the Christian/Omega Rampage title match motivated by not wanting to have that first Omega loss happen outside of AEW?)
Everything seems to count in AEW, and there's always another big AEW show that needs a title match.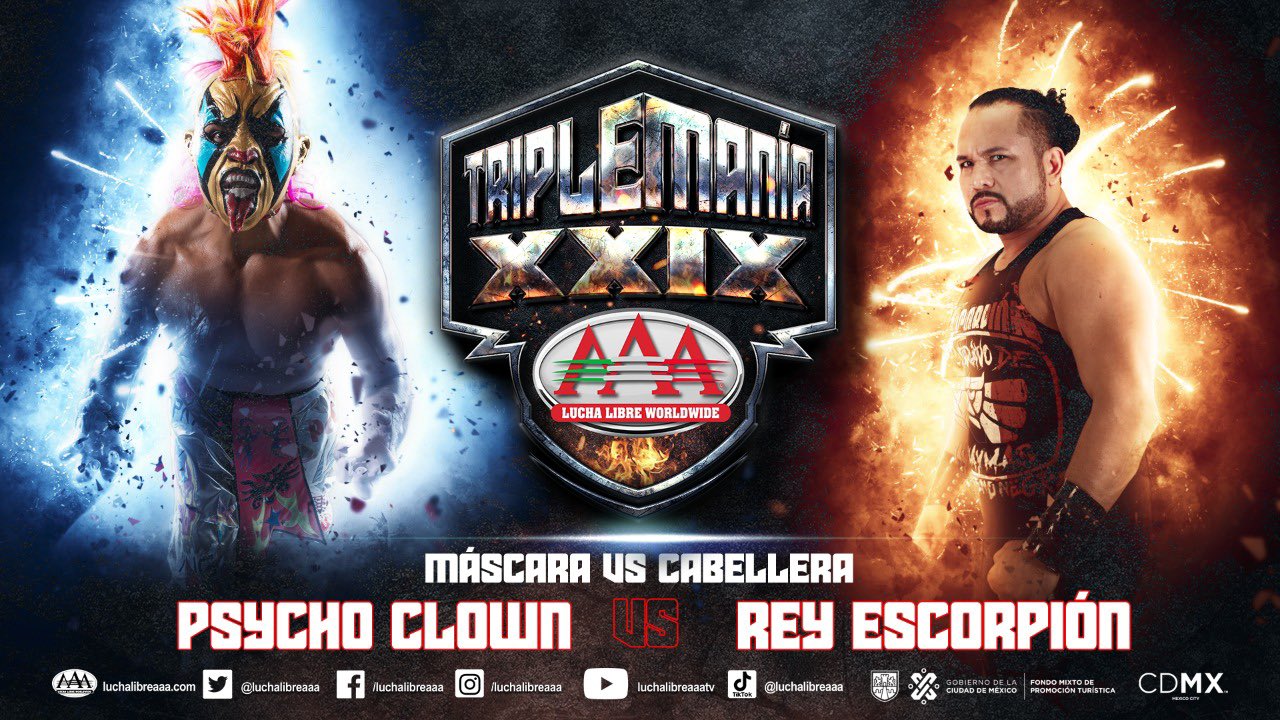 Psycho Clown versus Rey Escorpión, mask versus hair
Brazo de Plata is the link. Psycho Clown's his son, that part is obvious, but that son was floundering badly in CMLL. The promotion forced new characters upon the second-generation Brazos, Brazo de Oro Jr. did fine as La Mascara, Brazo de Platino Jr. took off as Maximo and Brazo de Plata Jr. was an obscure trivia answer as Kronos. Brazo de Plata, unhappy about his own career, took his struggling son with him to AAA for a fresh start. It meant Brazo de Plata Jr. was in the right place at the right time when AAA was casting for a Psycho Clown character and both the promotion and the wrestler went on to great success.
Brazo de Plata himself didn't stay in AAA, and wasn't happy with how he was used. He returned to CMLL, eventually getting into a feud with Rey Escorpion with allusions to Super Porky's street fight past, and culminating in a "punches and chokes are legal" hair versus hair match. Rey Escorpión took Brazo de Plata's hair, as a clear setup for Maximo to avenge his father and Escorpión to get a big payoff. Only, CMLL being CMLL and Escorpión perhaps getting on the wrong side of the wrong person, that match was never made. Escorpión gave it three years to come together, took a brief trip for the indies, became a Los Ingobernables member for about two weeks, and turned up in AAA in 2017. Escorpión was brought in seemingly to feud with others, those guys got hurt, and Escorpión's first match put him in the ring with Psycho Clown. They started feuding immediately, keeping it simmering through AAA upheaval and booking changes, playing off the idea that the Brazo family had never gotten their revenge for Escorpión shaving Brazo de Plata.
Psycho/Escorpión got criticized when it was announced; the feud was simmering, but they hadn't turned it up to full blast levels fans are used to prior to an apuesta match being made. AAA escalated the issue with weekly vignettes of Psycho Clown and Rey Escorpion jumping each other in 'real life' – Escorpión invading Psycho's home during an interview, security cam footage of Psycho attacking Escorpión in a restaurant, Escorpión trying to drown Psycho in a pool – that's raised the intensity while also becoming something of a meme. The two have that shared history, match up well, and both are obviously excited to get something significant to do on AAA's biggest shows of the year. (Number one babyface Psycho Clown has been relegated to all-star trios the last two TripleMania, Escorpión hasn't ever gotten an important match on this show.) Still, I think the skepticism of some fans is understandable. Rey Escorpión is well regarded by regular lucha libre fans but not a name known by the general public on the level of Dr. Wagner or Blue Demon, and I'm not sure he'd get the main event of TripleMania outside of these COVID times. This is a match I'm very much looking forward to seeing, and might only be seeing because the greater world around us has gone wrong and AAA can't afford to stunt book a legend.
Psycho Clown and Rey Escorpión are going to have a knockout drag-out fight for twenty minutes. The two have great chemistry with each other, peaking in a preview trios match on the final week of AAA TV. Rey Escorpión has (or at least claims to have) a boxing background that'll get played up. Psycho Clown's evolution into a 'moves guy' will probably surprise people in a few spots. This will have a serious and emotional investment greater than any other match on this card, even if the outcome is in little doubt. Most of the leadup matches have ended with Rey Escorpion using a reverse superplex to defeat Psycho Clown and the match will likely climax with him going for it one more time. 
(That reverse superplex is better known in Mexico as Ultimo Guerrero's unsurvivable finisher. Psycho Clown kicking out of it on the biggest show of the year would be an intentional middle finger to a man Psycho, Escorpion and a lot of other people in the Mexican wrestling community do not like at the moment.)
Psycho Clown versus Rey Escorpión should be outstanding; it's got a real chance to be the best Mexican match of the year. The Omega/Andrade Mega title and three-way tag match may not be far behind it and other matches look to have a chance to be good. The biggest weakness of this show is AAA's own inability to share it. This is a card intended to sell an international audience on the promotion, and it can't reach one. AAA getting in their own way is nothing new. If you can find this show, you're going to find something to like.