Ever since COVID-19 effectively closed the American borders, AEW fans have been itching to get Joshi wrestlers back in the promotion. Joshi talent has delivered some of the best matches in AEW's short history, and it appeared their involvement in AEW was growing before being forced to take a large step back in 2020. Fortunately, the Joshi have returned in a big way in 2021, making up one side of the bracket in the AEW Women's Eliminator Tournament.  
Eight Japanese competitors will do battle to determine who will make it to the finals to face the winner of the American side of the bracket. Although some names on the bracket may be familiar to AEW fans because of their previous appearances in the company, some may not, as they are making their official AEW debuts in the tournament. 
Below is a primer for all eight competitors, with background information, a list of accomplishments, a guide to what type of wrestler they are, and a handful of matches that will best demonstrate what each wrestler brings to the table. Hopefully, after making your way through this primer you can find a new favorite to root for as they try to make it all the way through this very tough field of women.
AJA KONG
Aja Kong is the legend on this side of the bracket. Although she has only appeared once in AEW back at their first Double or Nothing PPV in 2019, her list of accomplishments in Japan is nearly endless. Since debuting all the way back in 1986, she has been the top champion for six different Joshi promotions, has 18 matches rated ****½ stars or better by Dave Meltzer, and has wrestled for nearly every notable Joshi promotion in history. She enters the AEW tournament as a big favorite due to her sheer size and experience. Although she is now 50, she is still a force to be reckoned with, as evidenced by her incredible match against AEW champion Hikaru Shida just a few years ago (a match that finished #35 in VOW's 2018 Match of the Year Poll, the highest finish of any Joshi match that year). Aja's age may be her biggest hindrance in a tournament stacked with young, hungry competitors, but no one is more capable of running the tournament and winning the opportunity to face her old Japanese nemesis, this time for the AEW title.  
AFFILIATION
OZ Academy/Freelance
STYLE
Bruiser
ACCOMPLISHMENTS
2x WWWA Champion (All Japan Wrestling)

3x AAAW Champion (GAEA Japan)

5x WWWA Tag Team Champion (All Japan Wrestling)

3x OZ Academy Openweight Champion (OZ Academy)
NOTABLE MATCHES
YUKA SAKAZAKI

Sakazaki is one of the more familiar faces on the Japanese side of the bracket, having appeared in a handful of matches for AEW in both 2019 and 2020, highlighted by her upset of Dr. Britt Baker back in February of 2020. Although Yuka's time was cut a little short in AEW, she made the most of her time in Japan, successfully defending Tokyo Joshi Pro Wrestling's top championship, the Princess of Princess Title four times, including an incredible match against close friend Mizuki in a match that finished 18th in this year's VOW Match of the Year Poll. Unfortunately, Sakazaki lost the title to Rika Tatsumi at Tokyo Joshi's annual January 4th show, but the loss may provide Yuka with extra motivation for the tournament. Sakazaki's combination of lovable personality and top-flight in-ring skill makes her one of the best in the world of Joshi and a perfect fit here. Although Sakazaki isn't as big as some of the other competitors in the bracket, her never say die attitude and championship prowess could propel her all the way.
AFFILIATION
Tokyo Joshi Pro Wrestling
STYLE
Speed/High Flying
ACCOMPLISHMENTS
2x Tokyo Joshi Princess of Princess Champion (Tokyo Joshi Pro Wrestling)

2x Tokyo Joshi Princess Tag Team Champion (Tokyo Joshi Pro Wrestling)
NOTABLE MATCHES
VENY

Listeners of Jumping Bomb Audio will be more than familiar with VENY (known as ASUKA in Japan), who I have discussed ad nauseum as being one of the best wrestlers in the world today, regardless of company or gender. She currently is a freelancer, and before COVID struck, I was shocked that an American company seemingly hadn't attempted to bring her to the States. VENY, at only 22 years of age, has an incredible combination of top-shelf in-ring athleticism and natural charisma that makes her stand out in the incredibly stacked world of joshi. She will make waves with her appearance in the tournament, and I cannot wait for new fans to see this under heralded talent shine on the big stage. She is one of the younger competitors in the tournament, which might work against her, but her second-to-none talent could just be enough to get her the big win.
AFFILIATION
Freelance
STYLE
Athletic/High Flying
ACCOMPLISHMENTS
Regina de WAVE Champion (Pro Wrestling WAVE)

World Women Pro-Wrestling Diana World Champion (World Women Pro-Wrestling Diana)

Independent Junior Heavyweight Champion (Ganbare Pro)
NOTABLE MATCHES
EMI SAKURA
If there's anyone in the bracket who can challenge the legendary status of Aja Kong, it is Emi Sakura, who debuted all the way back in 1995. Although Emi is widely heralded for her in-ring work, she has gained the most fame in recent years as an instrumental piece in the creation of two Joshi promotions, Ice Ribbon and Gatoh Move, and her training which has produced countless Joshi stars including current AEW champion Hikaru Shida, former AEW champion Riho, and fellow tournament participant Mei Suruga. However, don't let yourself be fooled into thinking that she is just a trainer. Emi's career is littered with quality matches, including her AEW title challenge against Riho back in November of 2019. Emi's training background may provide her an edge in the tournament, and if she can win the whole thing, she might have an advantage going into a title match with her former trainee Hikaru Shida.
AFFILIATION
Gatoh Move
STYLE
Technical
ACCOMPLISHMENTS
2x ICEx60 Champion (Ice Ribbon)

JWP Openweight Champion (Japanese Women Pro-Wrestling Project)

AJW Champion (All Japan Women)
NOTABLE MATCHES
RYO MIZUNAMI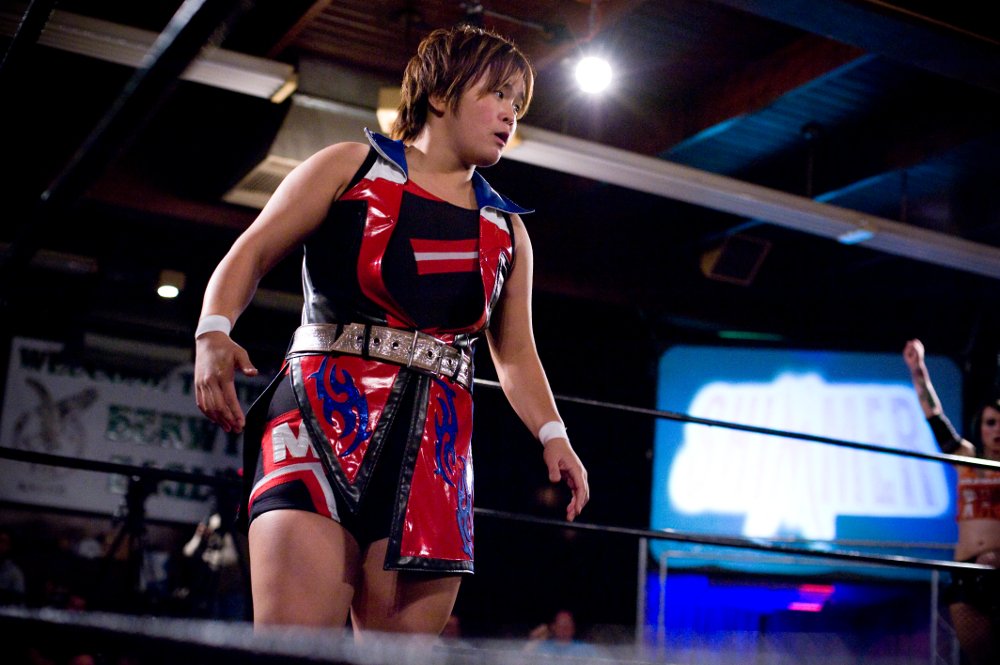 Ryo Mizunami will be the spark plug of the AEW Women's Tournament. Usually accompanied to the ring by the sweet melodies of "Mr. Worldwide" Pitbull, Mizunami has built up a fanbase in Japan through her infectious enthusiasm and fun-loving personality. But don't let the fun times fool you, because if you take Mizunami lightly for too long, she's liable to take your head off with a stiff lariat or big slam. The combination of big personality and tough in-ring style make Mizunami's success in the tournament a little bit tougher to predict. She could make it far in the tournament, or she could be bounced out in the first round. Either way, I hope that Mizunami makes more appearances in AEW, as her personality and in-ring style are a perfect fit amongst the rest of the AEW roster.
AFFILIATION
Freelance
STYLE
Bruiser
ACCOMPLISHMENTS
2x Regina di WAVE Champion (Pro Wrestling WAVE)

Princess of Pro Wrestling Champion (PURE-J)
NOTABLE MATCHES
MEI SURUGA
2020 was the year of Mei Suruga. Suruga, who debuted just two and a half years ago, was in the Joshi headlines all year long, not only in her home promotion of Gatoh Move, but also in Tokyo Joshi and All Japan. Many people were introduced to The Apple Girl for the first time, and learned that even though she is small (she is listed at 4'10''), her speed and quickness in the ring are unparalleled and her bubbly personality makes it very easy to root for her. Of all the competitors announced for this tournament, I wouldn't be surprised if Suruga becomes the most underestimated. At first glance, she doesn't look tough, but she spent 2020 facing increasingly daunting challenges, and capped the year off winning her first-ever title, the Asia Dream Tag Team Championship with partner Baliyan Akki. Even if this youngster isn't able to make it past the first round, I am certain that her charm and in-ring skills will win her many fans amongst the AEW faithful.
AFFILIATION
Gatoh Move
STYLE
Speed/Technical
ACCOMPLISHMENTS
Current Asia Dream Tag Champion (Gatoh Move)
NOTABLE MATCHES
RIN KADOKURA
Of all the announced entrants, Rin Kadokura might be the biggest surprise. While some entrants have a connection to Emi Sakura and some have a connection to Tokyo Joshi Pro, Rin Kadokura comes from the small Joshi promotion of Marvelous. Although Marvelous is one of the smaller Joshi promotions in Japan, they have managed to carve out a niche for themselves by creating a roster full of the best young wrestlers in Japan, largely due to their trainer, the legendary Chigusa Nagayo. Nagayo has trained a number of super talented wrestlers over the last few years, and Rin Kadokura is another successful notch in her belt. Kadokura debuted in 2016 and quickly climbed the ranks, establishing herself as a top-notch tag team wrestler with teammate Takumi Iroha in the tag team NEW-TRA. However, an injury in the middle of 2019 kept her on the shelf for almost 15 months, and Kadokura returned to the ring in September of 2020 looking to prove that she's still one of the best. There isn't a better chance to prove it than in the AEW Women's Tournament, and with Kadokura coming from outside the typical circles, she may be able to surprise some opponents and pick up some big wins.
AFFILIATION
Marvelous That's Women Pro Wrestling
STYLE
Striker
ACCOMPLISHMENTS
2x WAVE Tag Team Champion (Pro Wrestling WAVE)
NOTABLE MATCHES
Powered by RedCircle
MAKI ITOH
Maki Itoh can be perfectly summed in her response to the announcement that she would be in the AEW Women's Eliminator Tournament. She tweeted simply, "HELLO MOTHER FUCKERS!" Itoh started her career in entertainment as part of Japanese idol group LinQ, and although she may look sweet on the outside, inside lurks the heart of a mischievous demon brought to the world of wrestling to wreak havoc. Not afraid to speak her mind, Itoh has gained fans all over the world through her no holds barred attitude and never give up spirit. She often interrupts matches to ask the audience who the cutest person in the world is (the only right answer is Itoh herself) and even when it looks like she won't pull out the victory, she isn't afraid to give a middle finger salute to her opponent. Itoh probably enters the tournament with the most hype, with her fans ecstatic to see her get a well-deserved opportunity on American soil. Will she be able to deliver them a tournament victory?  Who knows, but either way she will provide a memorable show to new and old fans alike.
AFFILIATION
Tokyo Joshi Pro Wrestling
STYLE
Unpredictable
ACCOMPLISHMENTS
International Princess Champion (Tokyo Joshi Pro Wrestling)

6x Iron Man Heavy Metal Champion (Dramatic Dream Team)
NOTABLE MATCHES