G1 Climax 30 comes to a close with the winner of the A Block, Kota Ibushi facing B Block winner SANADA in a no time limit, winner takes the tournament match on October 18th, 2020 from Ryogoku Sumo Hall in Tokyo. Ibushi has taken a steady, efficient path to the G1 Finals, sneaking himself into the final without even wrestling in his block's final match on their final night. SANADA earned his spot in the final by completing a 6 match winning streak with a victory over former tag team partner EVIL in the B Block main event less than 24 hours ago.
My detailed notes and statistics that are pertinent to tonight's main event are below.
---
Date: October 18h, 2020
Venue: Ryogoku Sumo Hall, Tokyo
Time: 3:00pm JST
Watch Live or OnDemand On NJPWWorld
Local Time Conversions: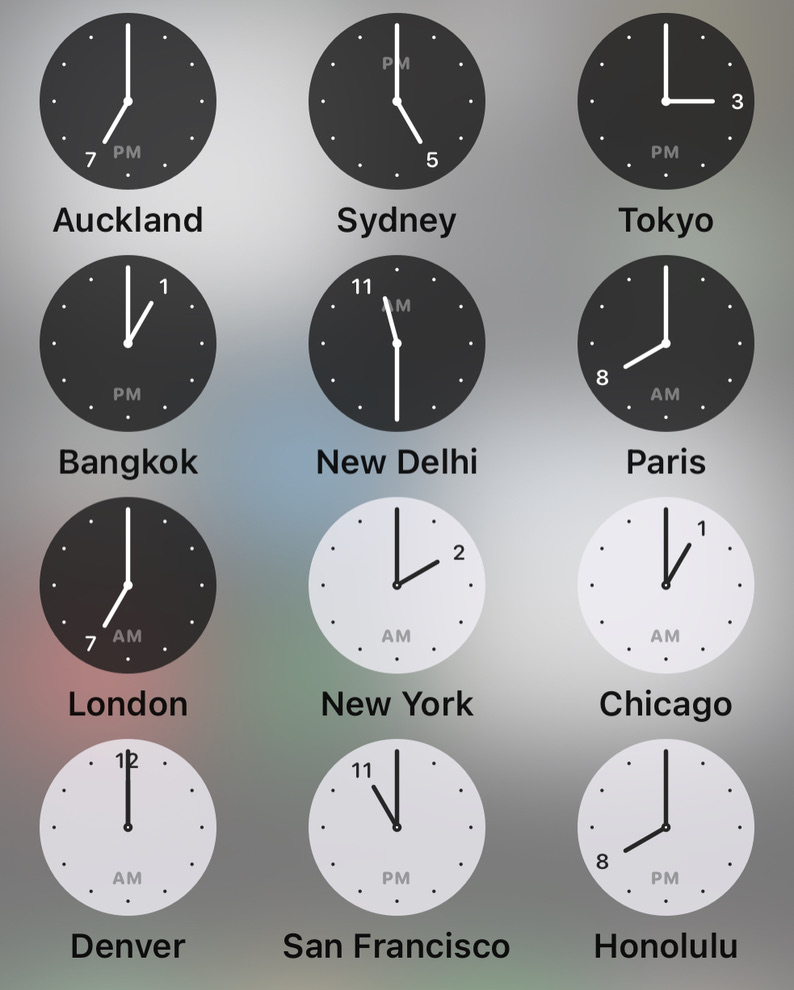 ---
The undercard was announced just moments ago and it will feature the following matches:
BUSHI & Tetsuya Naito v. EVIL & Yujiro Takahashi
SHO & Kazuchika Okada v. Will Ospreay & Great-O-Khan
Master Wato, Jeff Cobb, Juice Robinson, & Hiroshi Tanahashi vs. Jay White, KENTA, Gedo, & Taiji Ishimori
Hiromu Takahashi & Shingo Takagi v. Minoru Suzuki & Yoshinobu Kanemaru
Toru Yano, Tomohiro Ishii, YOSHI-HASHI, & Hirooki Goto v. Taichi, Zack Sabre Jr. DOUKI, & El Desperado
---
G1 CLIMAX 30 FINAL MATCH
Kota Ibushi [A] v. SANADA [B]

G1 CLIMAX 30 – TOURNAMENT TO DATE


Kota Ibushi is the first G1 Climax competitor to participate in 3 straight G1 Finals and he looks to be just the third wrestler to win the G1 Climax two years in a row (Chono '91-'92, Tenzan '03-'04).
Kota Ibushi is just the third G1 Climax finalist since 2010 who didn't participate in his block's main event on their last card of the tournament.
Kota Ibushi landed 75 kicks against Taichi the other night, including his finisher, the Kamigoye. Ibushi took 83 kicks from Taichi in the same bout.
Prior to this year's tournament, SANADA had only ever ended G1 tournaments with 8 points. This year he finished with 12. Two wins better than ever before.
Kota Ibushi's 14 point finish matches his career high. He also finished with 14 in last year's tournament.
Kota Ibushi and SANADA ended with very similar totals in cumulative Match Length metrics. Only 3 minutes and 12 seconds separate them across their 9 block matches.
Ibushi took a measured approach to this year's tournament, with no matches lasting over 21 minutes and 56 seconds, none shorter than 10 minutes and 43 seconds, just an 11 minute and 13 second difference.
SANADA was a little more erratic, especially at first, ranging from just 6 minutes and 16 seconds to the third longest block match with a decision rendered in G1 Climax History, his 28 minute and 25 second victory over Hiroshi Tanahashi.
SANADA labored through his victories and lost quickly in this tournament. SANADA's (-09:45) Win/Loss Differential was the worst in the tournament by over 6 minutes. Ibushi's positive 5 minute and 24 second Win/Loss Differential is good for 3rd best in the tournament, behind just Zack Sabre Jr and YOSHI-HASHI.
After losing to YOSHI-HASHI on September 29th, it seems SANADA has figured something out. He is currently on a 6 match winning streak, the longest singles winning streak of his NJPW Career.
SANADA spent a tournament best 20.86% of his Tournament Match Length in his losing matches this year. It took SANADA 2 hours, 3 minutes and 35 seconds to win his six matches (2nd most in the tournament, behind Tetsuya Naito), while he only spent just 32 minutes and 34 seconds in his losing matches (2nd lowest in the tournament, higher than only Toru Yano).
SANADA has now won 4 of the 13 longest G1 Block matches with a decision rendered. 3 of those matches occurred during this year's tournament (28:25 v. Tanahashi, 27:08 v. Naito, 27:01 v. EVIL)
Ibushi spent just 27.72% of his G1 Match Length in his losing matches this year. Good for second lowest in the tournament, behind SANADA.
Kota Ibushi's longest win in the tournament was all the way back at the beginning of the tournament, his 21 minute and 35 second victory over Kazuchika Okada. Since then, Ibushi has been efficient, maxing out at just over 17 minutes with Taichi on their last block night.
G1 CLIMAX HISTORY

After his victory over Taichi, Kota Ibushi is now 2-2 during the G1 at Ryogoku Sumo Hall, he is 9-5 overall at Ryogoku. Ibushi's victories in the storied building include a Junior heavyweight Title defense against Prince Devitt in 2011, and a successful defense of his Right To Challenge briefcase against EVIL at last year's King of Pro Wrestling event. His losses include his first loss to Kazuchika Okada, in 2013, when Ibushi was still mostly with DDT and Ibushi's first ever IWGP Heavyweight Title match against AJ Styles in 2015.
After his victory over EVIL, SANADA is now 2-1 during the G1 at Ryogoku Sumo Hall. He is now 4-6 overall at Ryogoku (includes AJPW, Wrestle-1, TNA). His most notable match at Ryogoku prior to this weekend was his IWGP Heavyweight Championship loss to Kazuchika Okada at last year's King of Pro Wrestling event.
The G1 Final is contested with no time limit. There have been five G1 Climax finals that have surpassed the 30 minute mark, including three of the last four. Kota Ibushi has participated in two of those matches, including the longest G1 match of all time, the 2018 Finals v. Hiroshi Tanahashi in exactly 35 minutes. Ibushi's victory over Jay White last year came in 31 minutes and 1 second.
SANADA's longest career victory occurred during last year's G1, his 29 minute and 47 second victory over Kazuchika Okada. His longest career loss was his 38 minute and 03 second loss to Kazuchika Okada at 2019's Wrestling Dontaku.
Kota Ibushi's longest NJPW victory was his win over Jay White in last year's finals. His longest victory in any match on record was in 2012 when he defeated Kenny Omega in DDT in 37 minutes and 26 seconds. Ibushi's longest career loss occurred on January 4th when he lost to Kazuchika Okada in 39 minutes and 16 seconds.
2020 RESULTS


SANADA's 10 singles victories over the past 6 months (180 Days) is the third most in NJPW, behind only EVIL and Kazuchika Okada.
Kota Ibushi's only singles matches over the last 90 days have been during the G1. His 7-2 record and .778 winning percentage are by far the best over that time period.
Kota Ibushi has not been pinned or submitted outside of his singles matches in 2020. His only losing falls have come via his singles losses in this calendar year.
When tag and multi-person matches are included, SANADA has the most winning falls in NJPW in 2020 with 25. SANADA also has the best fall differential (winning falls minus losing falls) at +18.
HEAD TO HEAD HISTORY

Kota Ibushi and SANADA have faced each other twice in singles matches, both during the G1. In 2018, SANADA defeated Ibushi in his home town of Niigata. In 2019, Ibushi returned the favor with a victory over SANADA at Korakuen Hall.
---
G1 Climax in Ryogoku Sumo Hall
348 of the 1527 all time G1 Climax matches (excludes forfeits) have occurred in Ryogoku Sumo Hall.
That is 22.8% of all G1 matches, the most of any venue by a longshot.
This will be the 27th G1 Climax Final to take place at Ryogoku. (2014 – Seibu Dome, 2018 &  2019 – Nippon Budokan) have taken place in Ryogoku,

---
G1 Climax: All Final Match Results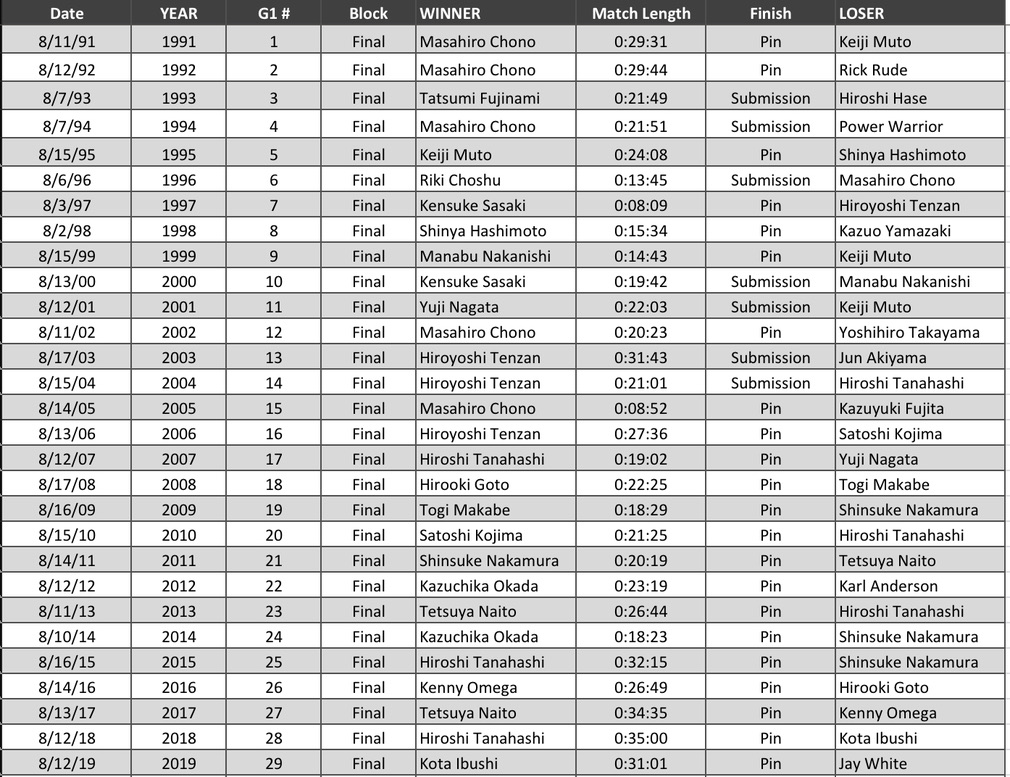 ---
G1 CLIMAX 30: FINAL BLOCK RESULTS
FINAL BLOCK TABLES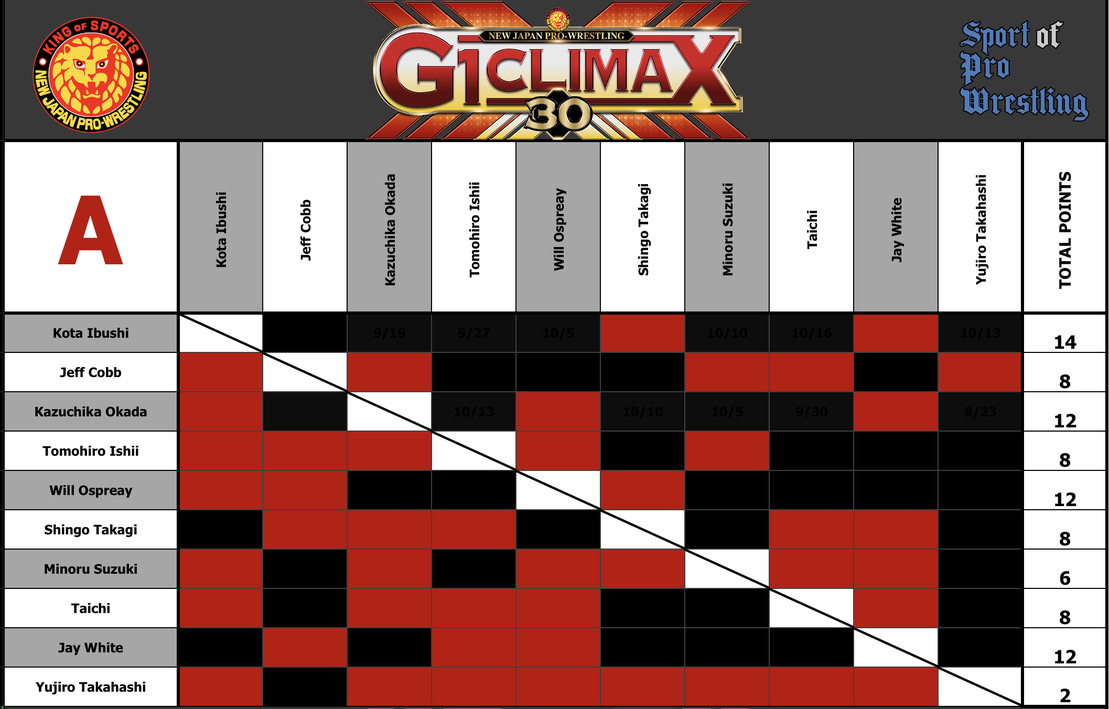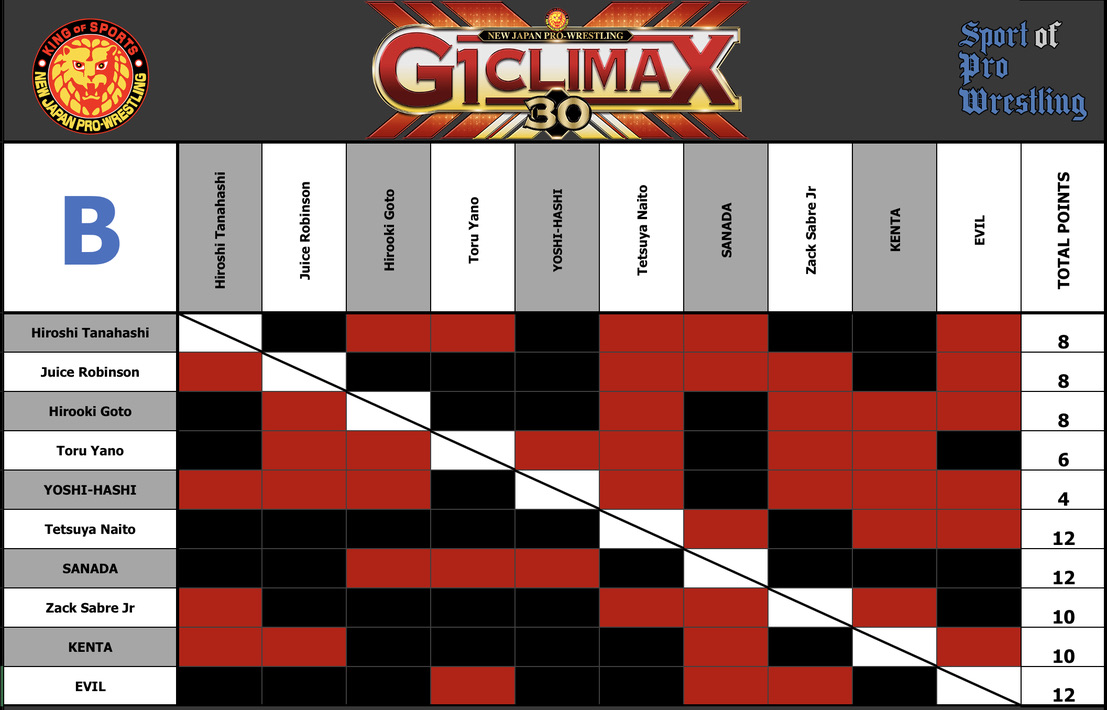 Core Statistics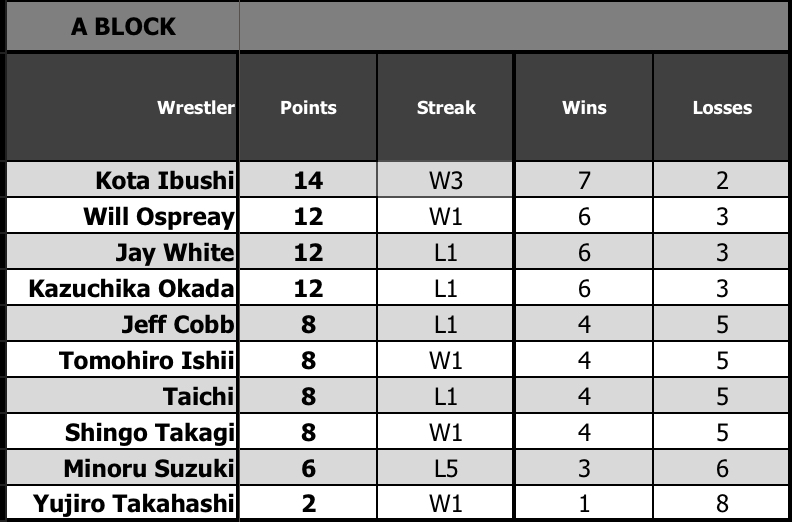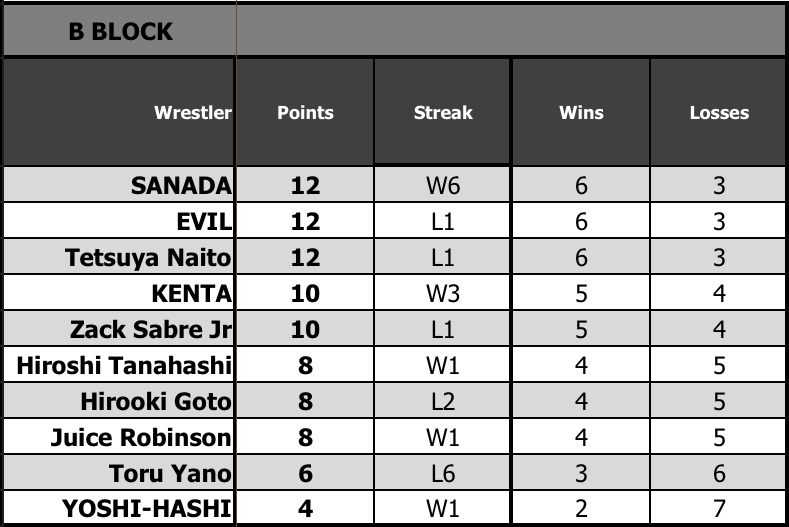 Match Length Statistics


Tournament & Block Totals


---
---
G1 Climax 30 Official ("Unofficial") C Block