Eighteen ninety began with a monumental bout: on January 4, William Muldoon defeated Evan "Strangler" Lewis in Philadelphia in only 48 minutes. This was Lewis returning the favor from their match a few years earlier in Chicago. Importantly, this match was done under Greco-Roman rules, so Lewis maintained his claim to the Catch-as-catch-can title.
In America's heartland, a new face was just getting started, as a youngster named Martin Burns began performing small-time matches in the Midwest, staying close to his home state of Iowa.
As the year progressed, there were fewer big-time match-ups, but Sorikichi Matsuda and newcomer Greek George carried the load of main events. Lewis began working a little more often as the summer went on, including a win over future champion Dan McLeod in San Francisco, in a bout openly reported as a work. Dan McLeod would continue to build himself up in the Bay Area. Also making a name for himself in 1890 was Ernest Roeber, who was a few years away from participating in one of the most important matches in wrestling history.
On November 3, 1890, the Chicago Herald published a challenge from Martin Burns to anyone in the state of Illinois. Burns listed some small-time names as possible opponents. Instead, established star Tom Connors answered the call 5 days later in the Chicago Tribune. The local guy from Iowa was getting his big break. The men wrested to a draw a week after, and a follow match was promised in December, but was pushed back to January, where Connors won three of five falls in Burns' home state of Iowa.
In February 1891, William Muldoon announced his retirement. In April 1891, Muldoon came out of retirement, which was already a trend with pro wrestlers at this time. He wrestled the rising star Ernest Roeber, defeating him in 14 minutes.
That May, Farmer Burns tasted the big time a bit more, as he wrestled a series of matches in Philadelphia, including a 15 minutes draw with Roeber, and a no-contest with Sorikichi Matsuda.
John McMahon, who was still claiming the Collar-And-Elbow championship, defeated W.H. Quinn in Montreal in July in defense of his title claim. While not stating his retirement, this was the last recorded defense for one of the early greats. When McMahon effectively retired though, he took his title claim with him, meaning that the two major champions left were the Greco-Roman—which Muldoon still claimed—and the Catch-as-catch-can title—which Lewis claimed.
On January 14, 1892, after some time since the last women's wrestling match, Hattie Leslie took on Alice Williams in Buffalo, NY, which was won by Williams.
Muldoon and Roeber met once again in March, this time with Roeber getting the edge. Also that month, Dan McLeod defeated Joe Acton, pushing his name further in the papers, as Evan Lewis also scored a couple wins.
On July 26, 1892, Ernest Roeber, claiming the American Greco-Roman Championship—stemming from his win over William Muldoon—defeated Apollon who claimed the French Greco-Roman Championship, to make his stake to the World Greco-Roman title.
In December, it was announced that New Orleans would host a championship match between Ernest Roeber and Evan Lewis, the two major title claimants, in March. This match was widely covered in newspapers all across the country for nearly three months. This match was going to crown once and for all the wrestling champion of America, the first time in about 20 years. The regional titles that dozens had claimed had mostly fallen by the wayside; the Collar-and-Elbow championship had been essentially retired; the Cornish title, while popular and important in Montana, never really gained steam in the rest of the country. So the unification bout between Roeber and Lewis would establish a single, top champion, a first since McLaughlin had done it in 1870. Twenty years of messy title lineages, false claimants, and disputed finishes, would finally find satisfaction in a definitive bout.
The day came on March 2, 1893, at the Olympic in New Orleans, Louisiana. The match would be a best three of five falls: two falls Catch-as-catch-can, two Greco-Roman, and the fifth to be decided by whoever scored the quickest pin in the previous falls. Lewis didn't need the fifth, as he won the first, third, and fourth falls to unify the Catch and Greco-Roman titles, creating what would soon be known as the American Heavyweight Championship. The consolidation of championships completely reshaped American pro wrestling, and the Evan "Strangler" Lewis versus Ernest Roeber match goes down in history as one of the most important ever.
After the historic bout, Martin Burns won a contest in which he was stated to have won a title shot at Evan Lewis. Discussions fell apart in the coming weeks, however, and the match was called off. Reportedly, it fell through due to money disagreements, but it's entirely possible that either they couldn't agree who would win, or even that Lewis didn't trust Burns if he did agree, knowing how good of a shooter Burns was.
Nonetheless, as 1893 progressed, Lewis continued to rack up successful defenses (including a win over rising star Charles Whittmer) and Burns continued to rack up wins, clearly making them the top two in the country. Out in San Francisco, Dan McLeod developed a strong following, and established himself as one of the top performers, just below Lewis and Burns.
In early 1894, a supermatch between Lewis and Burns had finally been agreed to for April 7. But April 7 came and went, and again the match fell through. The most anticipated bout in the wrestling industry was seemingly impossible to put together, echoing McLaughlin/McMahon from fifteen years prior.
Instead, in April 1894, Lewis dropped a Greco-Roman bout to Charles Whittmer in Cincinnati, in a rematch of their 1893 bout. It seemed to not be a title match, indicating that it was indeed a work and Whittmer didn't shoot unexpectedly on Lewis. But if they planned on trading wins, it's odd that Lewis won the first and lost the second, instead of the other way around, which he did plenty of times in the 1880's. Nonetheless, it elevated Whittmer's name into the upper echelon of wrestling.
The year 1894 closed much as 1893 did, with Lewis and Burns getting more wins, and Dan McLeod's popularity finally reaching outside of the Bay Area. Whittmer's name was often mentioned with the other three, making a clear cut Big Four in the country.
The positioning of those as such, created a monumental month of wrestling in April 1895. Dan McLeod signed to meet Charles Whittmer in Cincinnati on April 13, and Farmer Burns was to go for the title against Strangler Lewis in Chicago on April 20. Finally, after two years of on-and-off negotiations, the super match was finally going to happen.
Dan McLeod made easy work of Charles Whittmer, winning the bout in two straight falls, and injuring Whittmer in the process. Any clout that Whittmer earned after his win over Lewis was absorbed by McLeod, as Dan firmly established himself outside of his west coast base, and was now a national star.
The big match at last arrived, and on April 20, 1895, Martin "Farmer" Burns defeated Evan "Strangler" Lewis three falls to two in Chicago. The match was widely reported throughout the country, as Burns was the new undisputed champion. While the match was reported as a fake in the Chicago Tribune, the other papers across the country failed to mention that detail.
Brilliantly, immediately after the match, a representative from McLeod's camp was in attendance and offered a matchup. That offer was also repeated in almost all reports across the country. So now, not only did everyone know who the champion was, they also all knew who his top contender was too. It's possible that Burns, Lewis, Whittmer, and McLeod had all agreed to everything that month, as it clearly set up a money program with Burns and McLeod. That would be one of the first instances of that many wrestlers working together to create a feud. It's more probable, however, that the typical agreements were made for the individual matches, and McLeod was just a shrewd businessman, who set up his biggest match yet in the same month as the biggest match of the year and was ready to challenge the winner.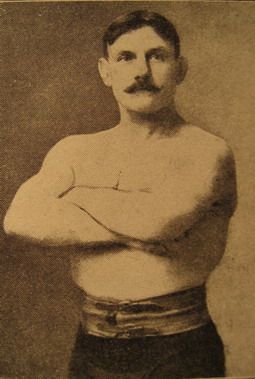 ---
---
Despite the immediate offer, Burns avoided McLeod's challenge, and 1895 ended with both men racking up wins, but no match between them materializing. Whether the match was legitimately hard to arrange (due to money or who would job) or whether stretching it out like this was a work to build interest in the inevitable bout is hard to determine. Eighteen ninety-six in its entirety passed inconsequentially, and played out almost identically to the second half of 1895: Burns and McLeod both kept taking small-time match-ups,and both winning every match they were in, while Burns avoided McLeod.
Much to the chagrin of wrestling fans, most of 1897 continued as it had since the middle of 1895. Burns and McLeon kept winning small matches, while McLeod kept trying to get a match with Burns. While Burns was kept a babyface in the Iowa papers with personality pieces and such, but the national papers criticized his unwillingness to meet McLeod. The only good thing to happen during his reign, was the introduction of future champion Tom Jenkins, who met both McLeod and Burns during this period, holding his own with both.
Finally, after over two years of challenges and dodges, of negotiations heating up and cooling off, Martin Burns met Dan McLeod in a three fall match for the championship. The bout took place on May 6, 1897, in Davenport, IA. After fifty minutes of contesting, Burns won two falls to one, retaining his championship. The Iowa papers were glowing over their home-grown champion.
Five months later, the rematch would take place. In Indianapolis, on October 26, 1897, Dan McLeod defeated Farmer Burns to win the title, and to secure the last title change of the century. No doubt, trading wins with each other was the agreement from the beginning, especially with Burns winning in his home state to save face. Burns would never get the title again, but soon he would turn his attention to training wrestlers, even opening the first official wrestling school in Omaha, NE.
McLeod already had challengers lining up. Much like he challenged Burns immediately after his title win, McLeod was challenged by "Strangler" Lewis who was just coming off a huge win in England, and by Tom Jenkins, the up-and-comer who had held his own with McLeod the year prior.
A month later, Burns, who seemed to be focusing on the future of wrestling, put over Tom Jenkins two falls to none—a feat McLeod didn't pull off—giving him instant credibility as a headliner. Two months after that, in January 1898, Burns and Jenkins met in a best three falls of five match. Jenkins swept, three falls to zero, something unheard of. Jenkins was big time.
As 1898 progressed, McLeod continued to win smaller bouts, behaving almost as Burns had before him. But two important developments marked 1898: the rise of Yusuf Ismail, aka the "Terrible Turk", and the return of major wrestling to Madison Square Garden. The last few years had found the big matches to be favorable in the Midwest, leaving the World's Most Famous arena out in the cold. But Yusuf found he could main event there, and draw good money, even besting the Strangler there in June. After that match with Lewis, Yusuf claimed the championship, despite no reason to believe that Lewis had been champion since 1895.
However, as 1898 turned into 1899, Yusuf would not be the only one to take the name "Terrible Turk", and it was used by others, to diminishing returns. Burns and McLeod did rematch in 1899, a three-hour draw with each man winning one fall. Jenkins and McLeod continued on their paths, with both winning most of their matches, sometimes drawing, but never losing. Jenkins would eventually win the title from McLeod, but as that happened after the turn of the century, it falls outside the purview of this article.
Pro wrestling, from its earliest days, has always been about stars.
From McLaughlin, McMahon, and Muldoon, to Lewis, Burns, and McLeod. And as the nineteenth century closed, it had one more star to offer. There was a young Iowan wrestler that McLeod met in the summer of 1899. After an impressive showing from the youngster, Farmer Burns must have caught wind of it, and decided to see for himself how good this newcomer was. In December, just weeks before the new century, Burns defeated him in eleven minutes, but was so impressed he decided to take the green grappler under his wing.
That young man was Frank Gotch.