The B Block of G1 Climax 30 will return after a full two days off with their seventh card of the tournament on October 11th 2020. The card will emenate from Aichi Prefectural Gymnasium and it will feature a main event that will settle the score between two of 2020's most prominent main eventers as Tetsuya Naito and EVIL will complete a 2020 trilogy that has already been rooted in raw emotions and surprises. The semi-main event will feature two longstanding staples of the G1 Climax Tournament as Hirooki Goto and Hiroshi Tanahashi face off. Third down the card, SANADA and Juice Robinson both look to stay alive with a victory, and the card will kick off with KENTA vs. Toru Yano and Zack Sabre Jr. vs YOSHI-HASHI.
There are two wrestlers at the top of the block with a high probability for victory in Tetsuya Naito and EVIL and they will compete in the main event of the evening. Behind them will be five wrestlers with 6 points, trying to stay alive to have something to fight for in the last two matches of the tournament.
---
You can find my complete statistical breakdown for every competitor in this year's G1 Climax here, I have interactive, sortable tables for NJPW's 2020, detailed results and statistics of all 1500+ G1 Climax matches to date, as well as a full boxscore for This Year's Tournament at SportOfProWrestling.com, and you can let me know what you find when you drill down by dropping me a line on Twitter @TheChrisSamsa.
---
Date: October 11th, 2020
Venue: Aichi Prefectural Gymnasium
Time: 6:00pm JST
Watch Live or OnDemand On NJPWWorld
Local Time Conversions: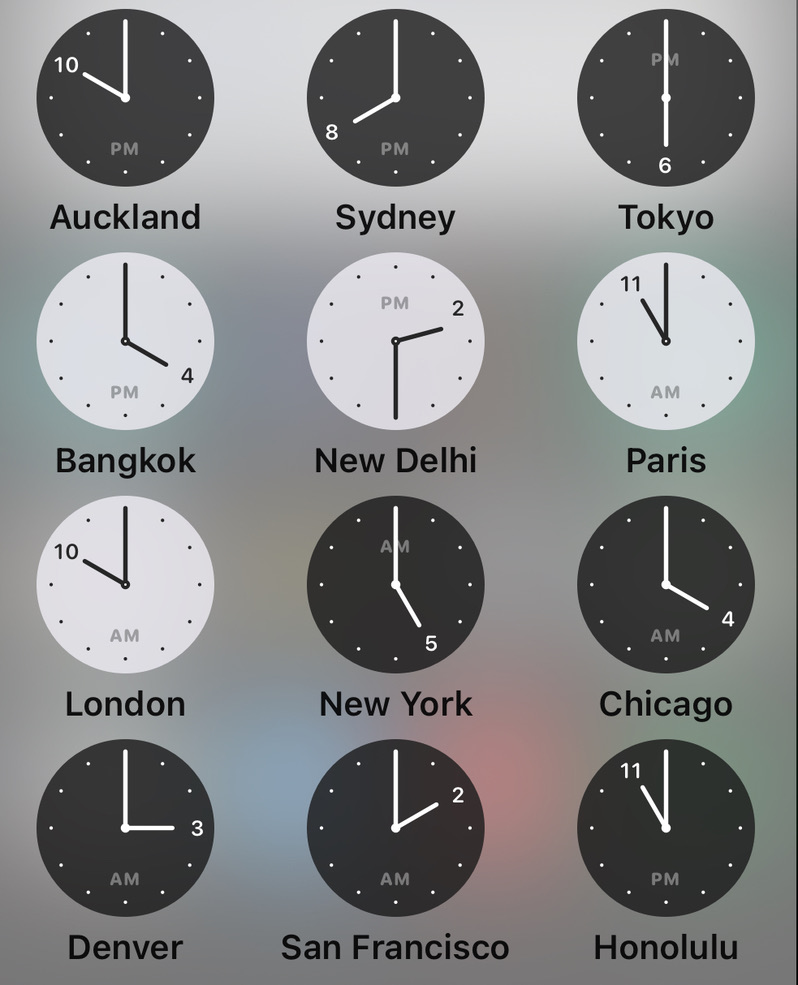 ---
G1 CLIMAX 30: B BLOCK RESULTS TO DATE

•Elimination Number: Elimination # represents the number of wins by the leading wrestler or losses by the trailing wrestler which will eliminate the trailing wrestler.    
•An Elimination # of 0 designates that the best a wrestler can do is tie the block leader. Wrestlers are only eliminated if their elimination number reaches 0 and they have already lost to the block leader.
•A negative indicator in the Streak column indicates a losing streak

BLOCK TABLE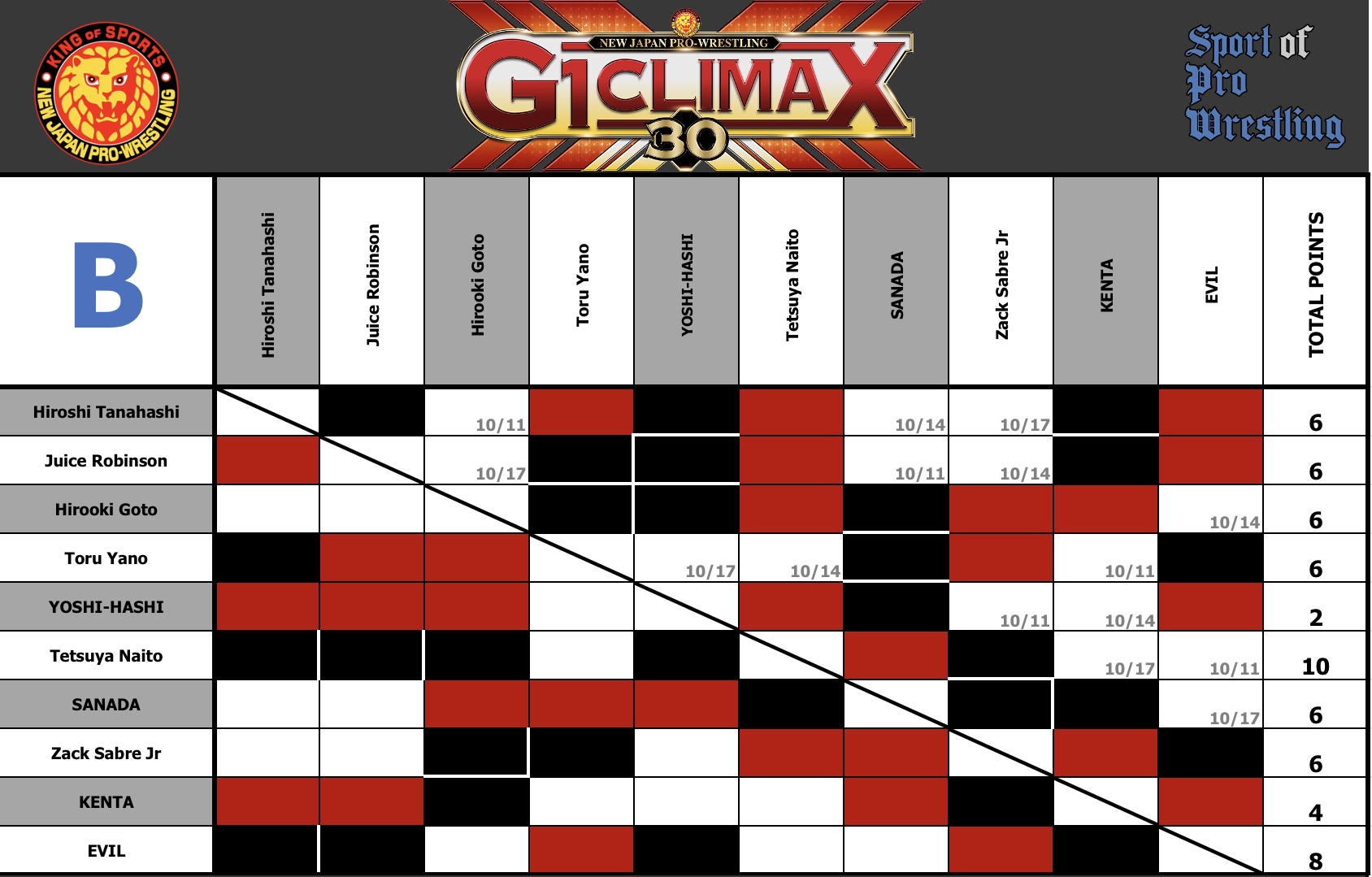 Key Tiebreakers
Tetsuya Naito [10]: Tanahashi [6], Juice [6], Goto [6], ZSJ [6]
EVIL [8]: Tanahashi [6], Juice [6]
Hiroshi Tanahashi [6]: Robinson [6],
Juice Robinson [6]: Yano [6],
Hirooki Goto [6]: Yano [6], SANADA [6]
Toru Yano [6]: Tanahashi [6], SANADA [6], EVIL [8]
SANADA [6]: Naito [10], ZSJ [6],
Zack Sabre Jr [6]: Goto [6], Yano [6], EVIL [8]
KENTA [4]: Goto [6], ZSJ [6]
Weighted Block Win Probability (wBWP)
wBWP is a weighted combination of Points, Max Points, Tiebreaker Values, Efficiency Metrics, Remaining Opponents, Elimination #, and Streak.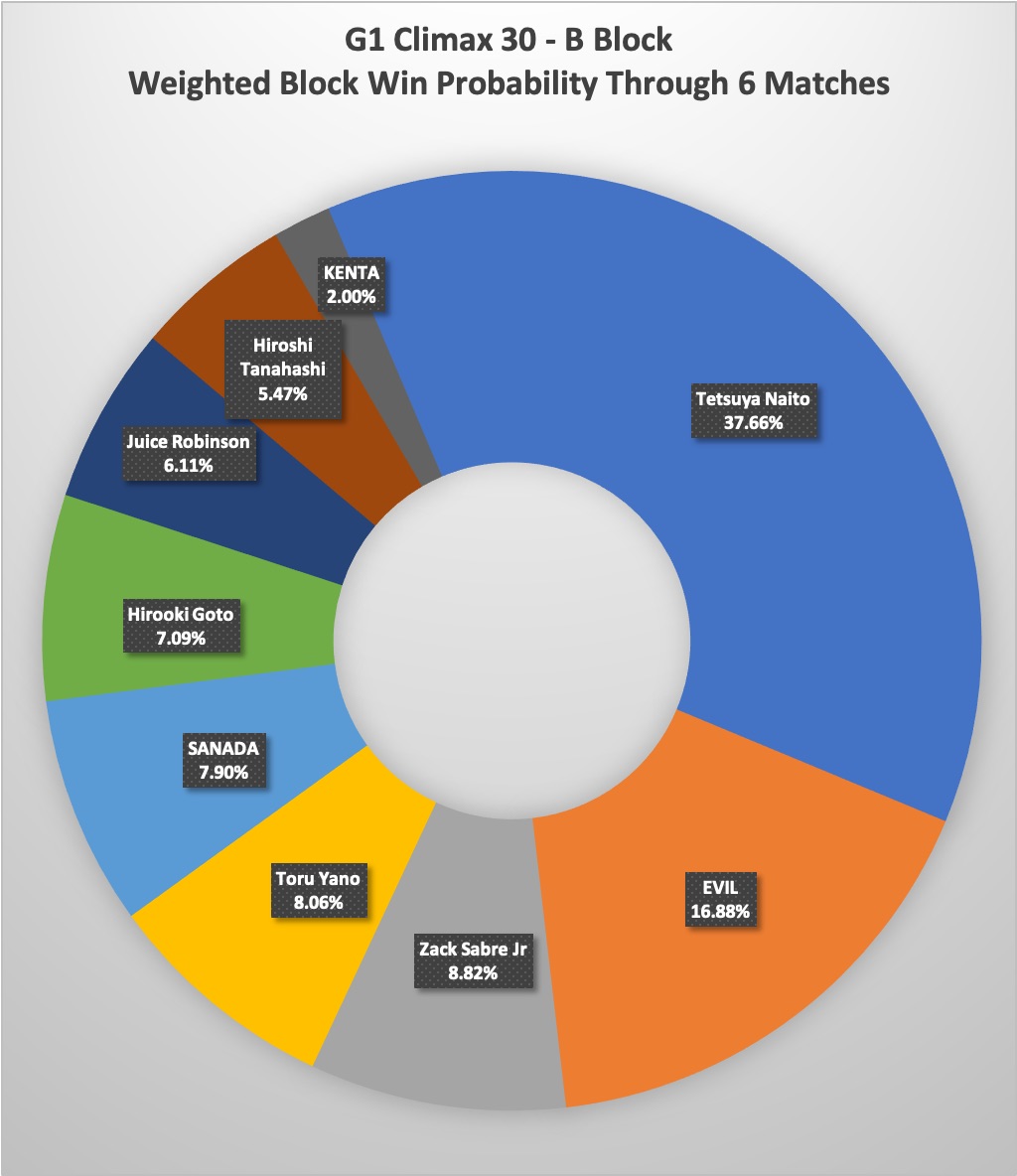 Tetsuya Naito (37.66%) remains the wrestler most statistically likely to win the block. For obvious reasons, wBWP puts a pretty heavy weight on points and Naito has the most points in the block. He also has the most valuable tiebreakers with four against competitors currently sitting at 6 points.
Second most likely is EVIL at 16.88%, he is the only wrestler at 8 points. These two probabilities will likely change wildly after tonight's match between the two.
The group of six wrestlers with 6 points all sit between 5.47% and 8.82%. Zack Sabre Jr, Toru Yano, and SANADA have the second most valuable tiebreakers in the block (tied behind Naito).
SANADA's lack of efficiency, and especially his (-6:50) Win/Loss Differential in this tournament hurts him. SANADA hasn't looked dominant, but he's certainly still in the thick of the block.
---
SPORT OF PRO WRESTLING PODCAST
NJPW G1 Climax 30 – Night 14 (October 11th) Audio Preview
---
G1 CLIMAX B BLOCK MATCH
Tetsuya Naito [10] Vs. EVIL [8]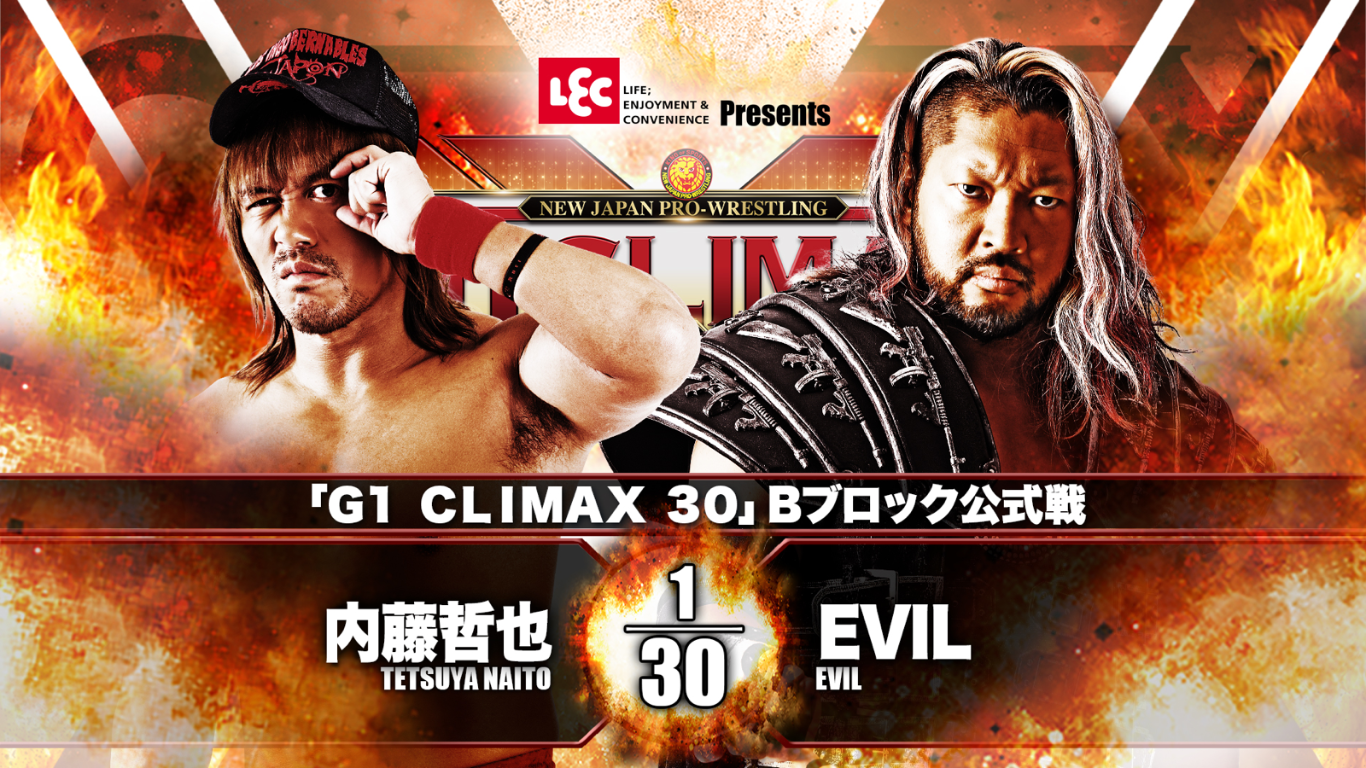 Before this summer, Tetsuya Naito and EVIL hadn't met in a singles match since 2016. They had no reason to fight; EVIL was wrapped up in the tag team division with SANADA, Naito was bouncing around the Intercontinental or IWGP Heavyweight Championship hunt, and they were both pulling on the same rope as members of Los Ingobernables De Japon. That all changed this summer when EVIL defeated Kazuchika Okada with the help of the Bullet Club to win the New Japan Cup and a title shot the very next night against Tetsuya Naito.
Many assumed it would be a friendly match, with EVIL and Naito giving it their all, but honorably and with respect for one another. That wasn't the case at all. When Naito met EVIL in the ring to congratulate him, EVIL skipped the traditional LIJ fist bump and opted for the Bullet Club's "too sweet" instead. He then attacked Naito, left him lying in the ring and pledged his allegiance to his new faction. The next night, a different EVIL caught Tetsuya Naito off guard, going the absolute distance with the IWGP Heavyweight and Intercontinental Champion and defeating him in 38 minutes and 1 second , the longest match of EVIL's career. naito was stunned, Los Ingobernables De Japon faction mates were stunned, and the international fanbase of New Japan Pro Wrestling were collectively stunned. EVIL was now the world champion.
Tetsuya Naito stepped aside briefly and allowed his friend, and then Junior Heavyweight Champion, Hiromu Takahashi to challenge EVIL for the titles. Hiromu was unsuccessful in fending off EVIL and his new manager, Dick Togo, so Tetsuya Naito declared that it was time to stop messing around and that he wanted a rematch for the belts he won earlier this year at Wrestle Kingdom.
The rematch was set for Summer Struggle in Jingu, NJPW's first outdoor stadium show in over 20 year, and Tetsuya Naito made it very clear that he, and his remaining LIJ factionmates were prepared for EVIL's Bullet Club antics. Naito was victorious and Summer Struggle in Jingu went off the air with Tetsuya Naito, now a 2 time double champion, flanked by fireworks and his adoring fans.
The stakes may not be the actual championship now, but for EVIL, a victory over Tetsuya Naito here would all but guarantee another opportunity to fight his new rival and challenge for his two belts. Naito will need to outlast EVIL faster than he did in Jingu, as this match will be contested with a 30 minute time limit. Naito and EVIL have both needed significantly longer than that to put the other away previously.
G1 CLIMAX 30 – TOURNAMENT TO DATE


Tetsuya Naito's 2 hours, 34 minutes, and 34 seconds of Total Match Length is less than 35 minutes short of the all-time record for total length of block matches by a single competitor. He has already surpassed his 9 match total of 2 hours, 29 minutes, and 3 seconds from last year's entire tournament.
Tetsuya Naito has accounted for 16.5% of the B Block's total match length. Next highest in the B Block is Tanahashi with 11.86.  Next highest in the tournament is Shingo Takagi's 13.2%,
Naito's average of 25:46 is more than 4 minutes longer than the 21:02 record that Kazuchika Okada set in last year's tournament.
EVIL is no stranger to double digit points, he finished with 12 in 2017 and 10 in 2018.
G1 CLIMAX HISTORY

2020 RESULTS

Tetsuya Naito's .800 winning percentage is second highest in NJPW this year. Only Taiji Ishimori's .857 is higher among wrestlers with 5+ matches.
Tetsuya Naito's only two losses this year have come at the hands of recent LIJ faction mates, First EVIL defeated Naito after his Bullet Club turn, and then SANADA defeated Naito during this year's G1 Climax tournament.
The last time Tetsuya Naito lost a match in less than 27 minutes and 8 seconds was on August 11th, 2019 when he lost to Jay White in on the last night of G1 Block competition in 18 minutes and 51 seconds.
EVIL's 10 wins in singles matches in 2020 is second highest in NJPW, only trailing Kazuchika Okada.
Tetsuya Naito's 2020 Total Match Length of 4 hours, 59 minutes, and 15 seconds is second longest in NJPW. Naito has had 10 singles matches, Okada has had 18.
Tetsuya Naito's Average Match Length of 29:55 is over 10 minutes longer than his 2019 average of 18 minutes and 43 seconds.
EVIL has logged the third longest ring time in NJPW, clocking in at 4 hours, 40 minutes, and 11 seconds.
HEAD TO HEAD HISTORY

EVIL's 38 minute and 1 second victory over Tetsuya Naito at Dominion is the longest match of both wrestler's career.
Their 35 minute and 50 second match is the third longest match of Tetsuya Naito's career, the second longest match in EVIL's.
Neither of their matches this year would have even come close to ending under G1 Climax block match rules with a 30 minute time limit.
Naito and EVIL did meet once during the G1, in 2016, Tetsuya Naito was victorious.
---
G1 CLIMAX A BLOCK MATCH
Hirooki Goto [6] Vs. Hiroshi Tanahashi [6]

G1 CLIMAX 30 – TOURNAMENT TO DATE


Tanahashi's three wins have taken over 10 minutes longer than Goto's on average. Of course Goto's average is skewed by the shortest G1 Climax victory of all time, his 18 second defeat of Toru Yano.
G1 CLIMAX HISTORY

With a combined 255 G1 Climax matches between them, this is the second most experienced G1 match up in this year's tournament. The match between Tanahashi and Toru Yano earlier in the tournament featured more G1 matches between competitors.
This is also the match in this year's tournament that features the second most G1 experience if we look at it from a ring-time perspective. Only Hiroshi Tanahashi vs. Tetsuya Naito featured wrestlers who have spent more time in a G1 ring.
2020 RESULTS

HEAD TO HEAD HISTORY

Hiroshi Tanahashi and Hirooki Goto have met 12 times in the past. Goto has only defeated Tanahashi once, and they had one, 5 minute, time limit draw over 16 years ago. Tanahashi leads the series 10-1-1. Their five-minute time limit draw in 2004 was immediately restarted and Tanahashi defeated Goto with just 47 more seconds.
Goto and Tanahashi only seem to meet when there is a purpose. Only once in their storied careers have they met outside of a championship match or a tournament. They have competed for the defunct IWGP U-30 Openweight Title. They've had two matches in the New Japan Cup, including the 2012 final. They've battled through three IWGP Heavyweight Championship matches and they've met in three G1 Climax Tournaments (2013, 2016, 2017). The only time Goto was victorious was the 2012 New Japan Cup final at Korakuen Hall.
---
G1 CLIMAX A BLOCK MATCH
Juice Robinson [6] Vs. SANADA [6]

G1 CLIMAX 30 – TOURNAMENT TO DATE


G1 CLIMAX HISTORY

2020 RESULTS

HEAD TO HEAD HISTORY

---
G1 CLIMAX B BLOCK MATCH
Toru Yano [6] Vs. KENTA [4]

G1 CLIMAX 30 – TOURNAMENT TO DATE


G1 CLIMAX HISTORY

2020 RESULTS

HEAD TO HEAD HISTORY

---
G1 CLIMAX B BLOCK MATCH
YOSHI-HASHI [2] Vs. Zack Sabre Jr. [6]

G1 CLIMAX 30 – TOURNAMENT TO DATE


G1 CLIMAX HISTORY

2020 RESULTS

HEAD TO HEAD HISTORY