G1 Climax 30 returns to its starting line with its third card of the tournament from EDION Arena in Osaka. When we last left Osaka, each wrestler had wrestled just once, and the first ever autumnal G1 Climax was in its infancy. The long and winding path of the A Block will step back between the ropes in Osaka on October 10th for their 7th card of the tournament. A resurgent Kazuchika Okada will face Shingo Takagi in the main event in their first ever singles match. In the semi-main event, Kota Ibushi will face MInoru Suzuki in their first singles match since 2013. Third from the top, Will Ospreay and Taichi will meet for the fourth time in their careers, with this being the first time they're both true heavyweights. The block card is filled out with a Bullet Club intra-faction matchup between Jay White and Yujiro Takahashi, and two big brawlers will open up the block matches as Jeff Cobb and Tomohiro Ishii renew their young rivalry.
The stakes are high in Osaka, eight of ten wrestlers in the block sit within two points of the top and at night's end, all eight could feasibly be tied at eight points, in what may be the largest, and latest deadlock of its kind. Here's how the block could land at an 8 point tie:
•Okada [8] loses to Shingo [6].
•Ibushi [8] loses to Suzuki [6]
•Ospreay [8] loses to Taichi [6]
•White [8] loses to Yujiro [0]
•Ishii [6] defeats Cobb [4]
---
Sport of Pro Wrestling Podcast – Audio Preview
---
Date: October 10th, 2020
Venue: EDION Arena Osaka
Time: 5:00pm JST
Watch Live or OnDemand On NJPWWorld
Local Time Conversions: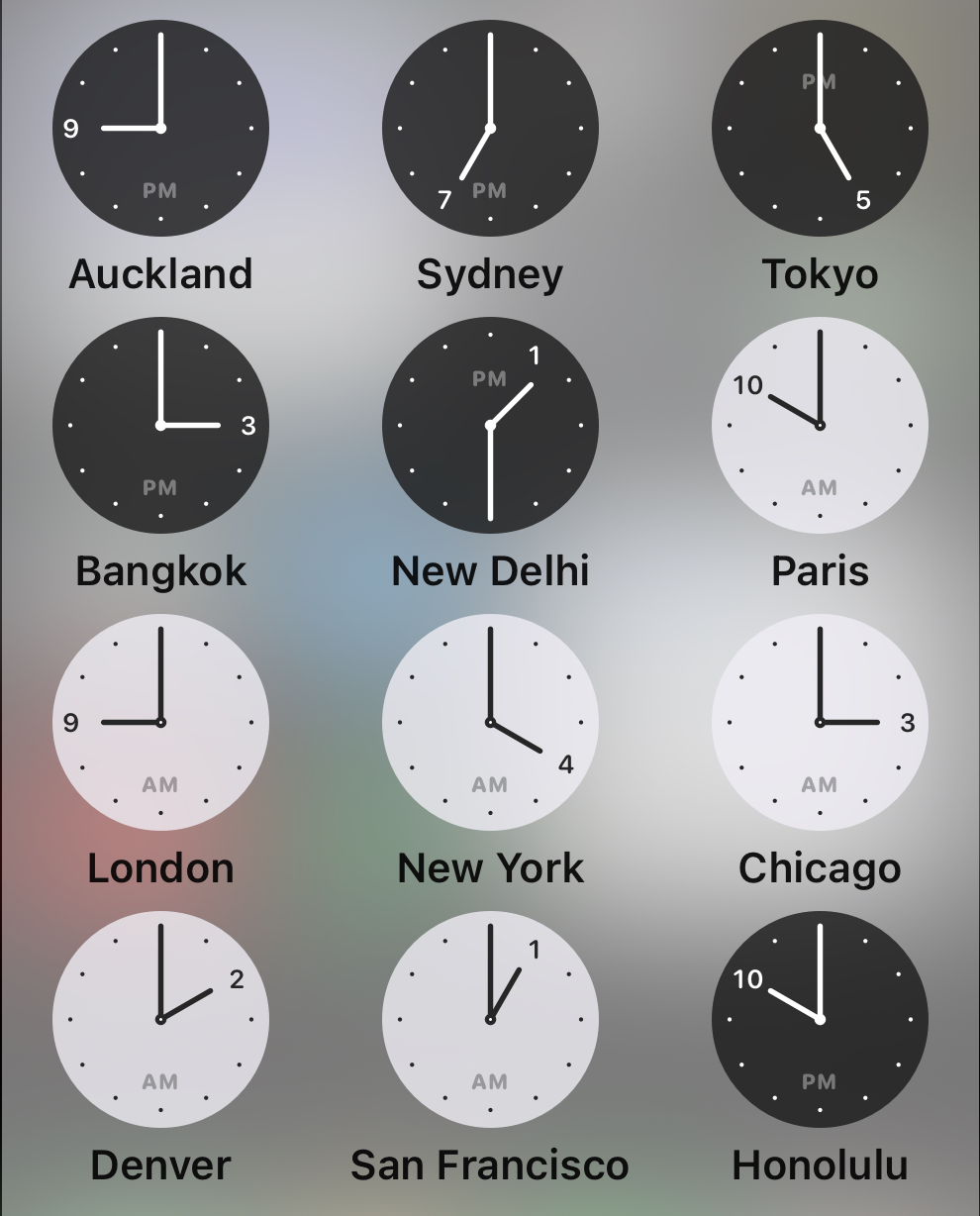 ---
G1 CLIMAX 30: A BLOCK RESULTS TO DATE

•Elimination Number: Elimination # represents the number of wins by the leading wrestler or losses by the trailing wrestler which will eliminate the trailing wrestler.    
•An Elimination # of 0 designates that the best a wrestler can do is tie the block leader. Wrestlers are only eliminated if their elimination number reaches 0 and they have already lost to the block leader.
•A negative indicator in the Streak column indicates a losing streak
BLOCK TABLE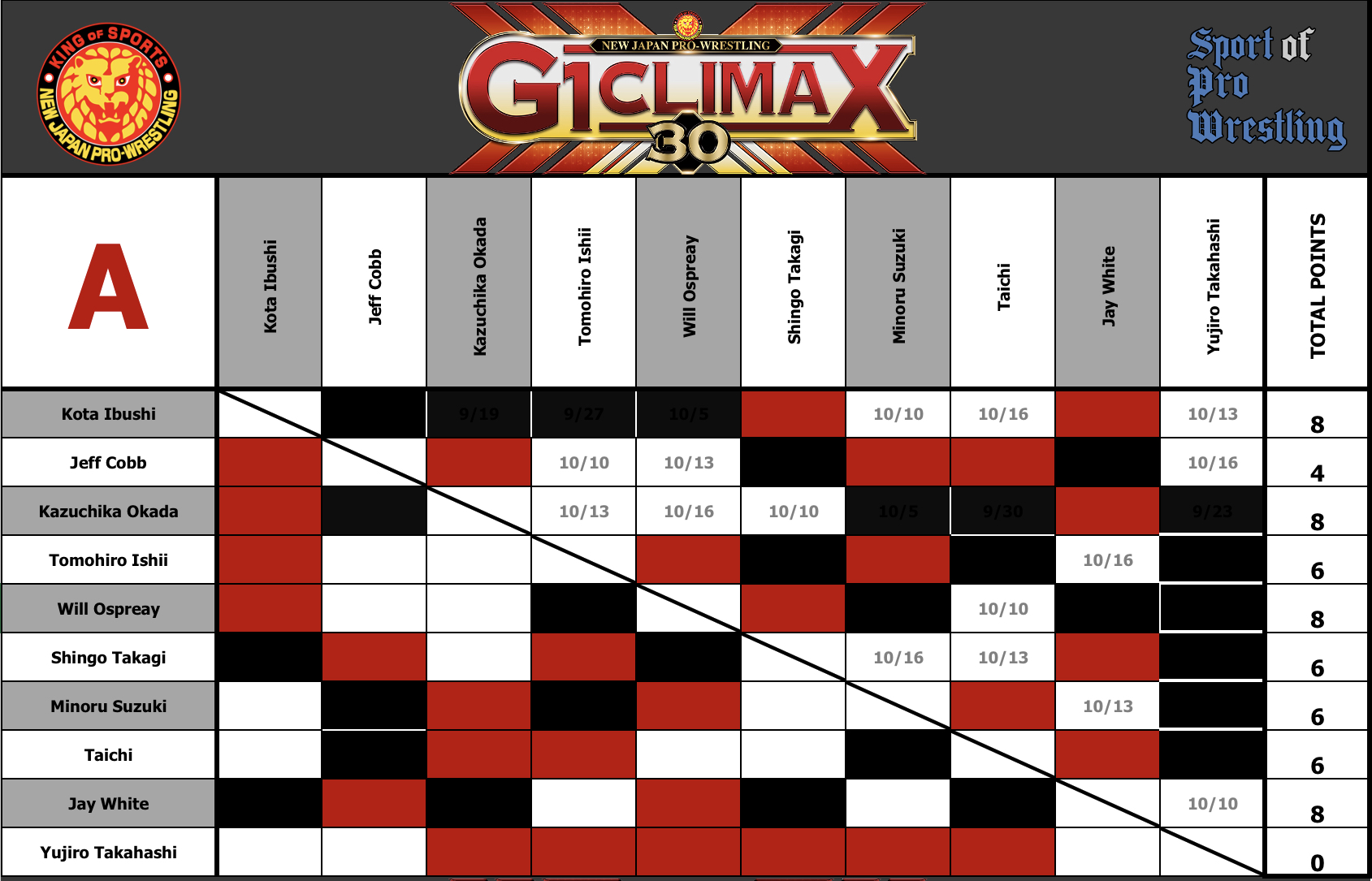 Key Tiebreakers
Key Tiebreakers-A Block (Thread)

Wrestlers With 8 Points

Kota Ibushi [8]:
Okada [8], Ospreay [8], Ishii [6]

Kazuchika Okada [8]:
Suzuki [6], Taichi [6]

Will Ospreay [8]:
White [8], Ishii [6], Suzuki [6], Takagi [6]

Jay White [8]:
Ibushi [8], Okada [8], Takagi [6], Taichi [6] pic.twitter.com/kfvJ88Lfuz

— Chris Samsa (@TheChrisSamsa) October 7, 2020
Weighted Block Win Probability (wBWP)
wBWP is a weighted combination of Points, Max Points, Tiebreaker Values, Efficiency Metrics, Remaining Opponents, Elimination #, and Streak.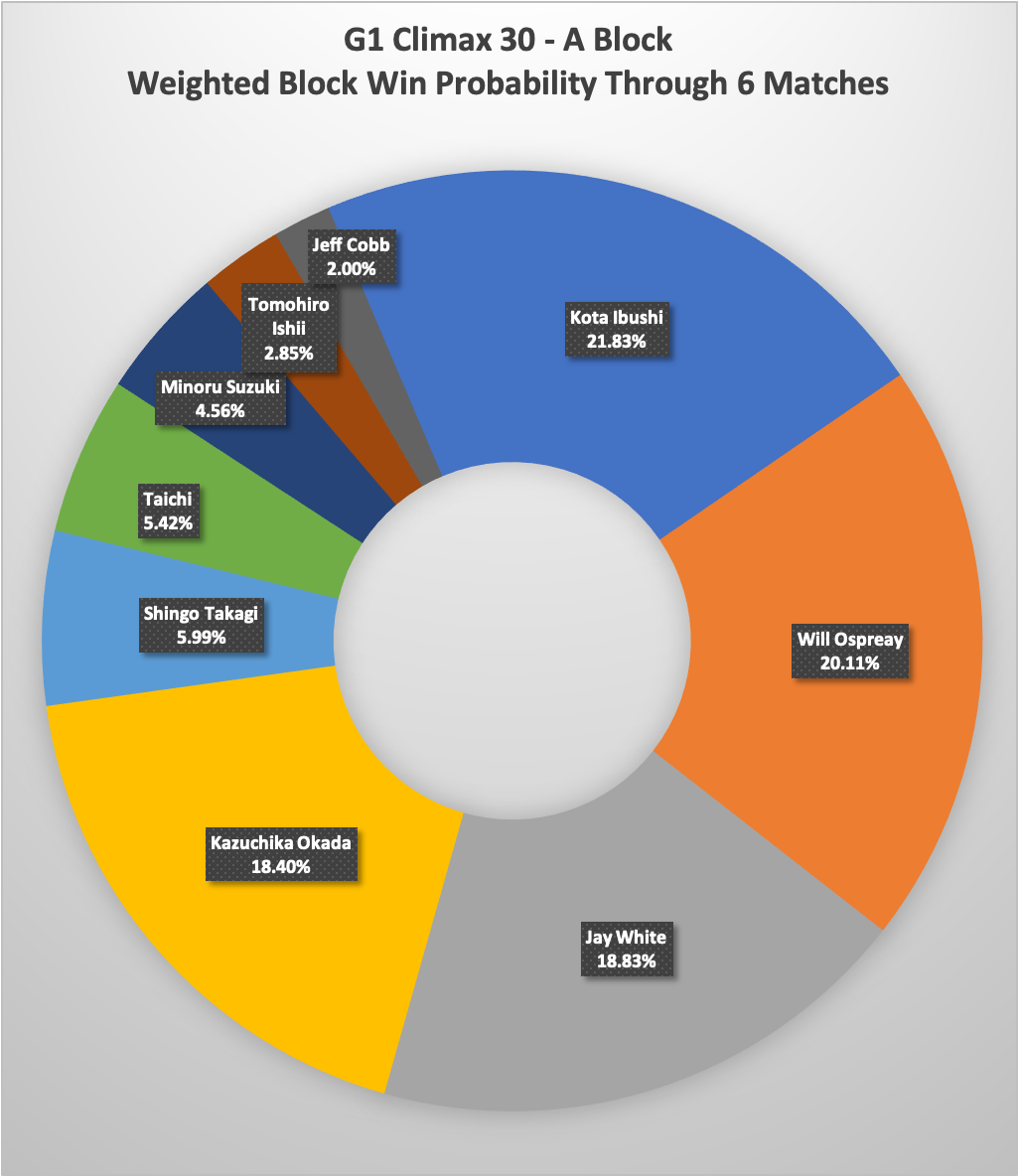 The A Block enters its 7th set of block matches with parity at the top of the block. The calculations for wBWP weight a wrestler's points heavier than anything, so having four wrestlers tied with 8 points at the top of the standings leads to very similar data points, but the details shake out who has the edge going into the last three matches of the tournament.
Kota Ibushi and Jay White are tied for the easiest strength of schedule going forward, largely because they still have Yujiro Takahashi ahead of them. Ibushi's
Jay White benefits from having the most valuable tiebreakers with wins over two of the three wrestlers sitting at 8 points.
Okada has the least valuable tiebreakers at this point. He lost to both White and Ibushi and he faces Ospreay on the last night of block competition. Okada also only has two tie breakers among the 6 point group. Each of his last three opponents in block competition is currently within 2 points of the top of the block.
Will Ospreay has had a very efficient tournament. Just a 16 minute and 11 second average match length, with a positive Win/Loss Differential, he sees some statistical benefit from his evolving style.
---
G1 CLIMAX A BLOCK MATCH
Kazuchika Okada [8] Vs. Shingo Takagi [6]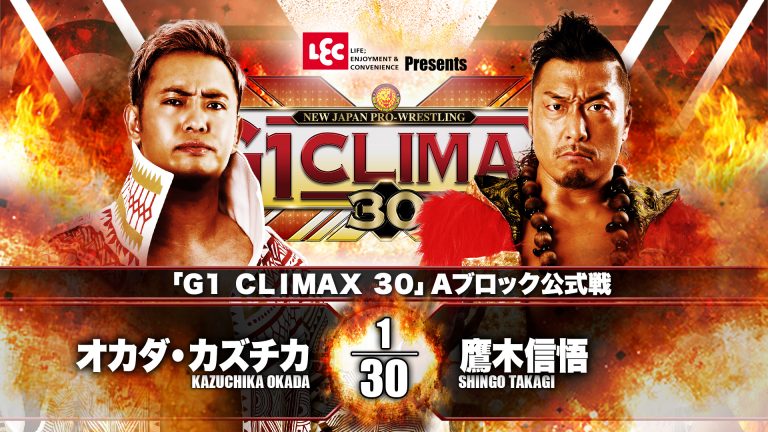 Shingo Takagi and Kazuchika Okada will deliver on first time "dream match" in the main event from Osaka. The last time we saw Shingo Takagi, he was defeating Kota Ibushi in another first-time dream match between two longstanding pillars of wrestling outside of NJPW. Tonight, Takagi will attempt to do the same against resurgent and even younger legend, Kazuchika Okada.
Okada enters this match tied for the top of the block, but it almost seems he got there on accident. Okada has looked less than dominant in his first six matches, but he has somehow found a way to win four of them. His two most recent wins have been via a seated cradle for a pin, first over Jeff Cobb, and then over his longtime rival, Minoru Suzuki. Before succumbing to pinfall temptation in his last two matches, Okada had been dedicated to his submission hold, The Money Clip, which had finished Okada's previous nine winning falls. It is unclear why Okada has abandoned his longstanding impact finisher, The Rainmaker, but Shingo Takagi is not a likely to candidate to submit to any hold. Only Jon Moxley has caused Shingo to submit in an NJPW ring, and that was via a Texas Cloverleaf during last year's G1 tournament.
Shingo has quietly stayed in contention during this year's tournament. He lost his first two matches, but has since won three of four and he currently sits only two points behind the leaders with an opportunity to end the night in a tie for the lead if all of the pieces land in his favor. Takagi looks to start his one-on-one series with Okada off with a victory, hoping to immediately elevate himself himself into contendership for NJPW's most prestigious titles by defeating the former 5 time IWGP Heavyweight Champion.
G1 CLIMAX 30 – TOURNAMENT TO DATE


Shingo Takagi's 1 hour, 54 minutes, and 50 seconds of Total Match Length are the highest in the A Block. Takagi has been a participant in the three longest A block matches thus far in the tournament (26:01 v. Ishii, 22:03 v. Ospreay, 21:56 v. Ibushi).
Shingo Takagi's reputation has grown over the last year, and now the former NEVER Openweight Champion is getting a higher level of effort from his opponents. Shingo's 19 minute and 12 second average match length this year is nearly three minutes longer than his 16 minute and 22 second average in his G1 debut last year.
Kazuchika Okada's 3 match winning streak is currently tied with Will Ospreay and Tomohiro Ishii for the longest in the A Block.
G1 CLIMAX HISTORY

2020 RESULTS

Kazuchika Okada's 12 singles victories are still the highest in NJPW in 2020.
HEAD TO HEAD HISTORY
This will be Kazuchika Okada and Shingo Takagi's first singles match.
---
G1 CLIMAX A BLOCK MATCH
Kota Ibushi [8] Vs. Minoru Suzuki [6]

Kota Ibushi and Minoru Suzuki will meet in the semi-main event from Osaka. Ibushi and Suzuki are both looking to stop their negative momentum, as they are both entering their match in Osaka coming off of a loss in their previous block match.
G1 CLIMAX 30 – TOURNAMENT TO DATE


Kota Ibushi's 1 hour, 46 minute, and 19 second match length, third highest in the block, is especially impressive because he hasn't yet had a match longer than 21:56. Wrestlers know that Ibushi is always a threat to win in the G1, he is the defending champion, and he has been to the finals each of the last two years.
Ibushi has only had one match in this tournament shorter than Minoru Suzuki's longest match (Suzuki's 14:26 loss to Will Ospreay). That was Ibushi's 10:43 victory over Jeff Cobb.
G1 CLIMAX HISTORY

Minoru Suzuki has always prioritized efficiency over anything else. Less than one hour of Total Match length separates Ibushi and Suzuki, though Suzuki has participated in 20 more G1 Climax matches than Suzuki.
2020 RESULTS

Both wrestlers enter their match with each other an even 5-5 in singles matches since the start of 2020. Both started the year off 0-2 and have since course corrected back to .500.
HEAD TO HEAD HISTORY

Suzuki and Ibushi have faced each other once, that was on August 10th, 2013 during G1 Climax 23. Suzuki defeated Ibushi in 13:37 on the second to last night of that tournament. By winning that match, Minoru Suzuki remained tied for the block lead headed into his last match of the tournament.
---
G1 CLIMAX A BLOCK MATCH
Will Ospreay [8] Vs. Taichi [6]

In the middle of the block schedule, Will Ospreay will face Taichi in their fourth match against each other since 2017. Ospreay and Taichi are both using this year's G1 tournament to establish themselves as top tier heavyweights in NJPW. These two have a history of battling through different weight classes, first as Juniors in Best of The Super Juniors 24, then in a Never Openweight Championship #1 Contender's match, and now as heavyweights in the G1 Climax.
Ospreay looks to stay at the top of the block standings with a victory and Taichi looks to match his 8 point output of last year's G1 and potentially make things very messy as the tournament winds down.
G1 CLIMAX 30 – TOURNAMENT TO DATE


Will Ospreay's 16 minute and 11 second average match length is more than 2 minutes shorter than his 2019 G1 average.
Will Ospreay's 3 match winning streak is currently tied with Kazuchika Okada and Tomohiro Ishii for the longest in the A Block.
G1 CLIMAX HISTORY

Ospreay and Taichi have participated in the same number of G1 Climax tournament matches. Will Ospreay has amassed over an hour longer in the ring over that time, coming in at 4 hours, 5 minutes, and 46 seconds.
Ospreay's 20 minute and 22 second average losing match length is still the longest in G1 Climax history.
2020 RESULTS

HEAD TO HEAD HISTORY

Ospreay and Taichi have faced each other three times, progressing through different weight divisions. They first fought in the Best of the Super Juniors tournament in 2017, they then fought at the RevPro Strong Style Evolved special event, and then they battled for the NEVER Openweight Championship #1 contendership in December of 2018. Now, in the G1, they finally do battle as true heavyweights.
---
G1 CLIMAX A BLOCK MATCH
Jay White [8] Vs. Yujiro Takahashi [0]

The story of this match is not in the statistics. With Jay White and EVIL trading questionable comments directed at each other through their back stage comments, it will be very interesting to see if Yujiro Takahashi acts as a subordinate to Jay White or if he proves his allegiance to another leader of Bullet Club through his actions in this intra-faction battle of Bullet Club.
G1 CLIMAX 30 – TOURNAMENT TO DATE


G1 CLIMAX HISTORY

2020 RESULTS

HEAD TO HEAD HISTORY
This will be Jay White and Yujiro Tanahashi's first singles match against each other.
---
G1 CLIMAX A BLOCK MATCH
Tomohiro Ishii [6] Vs. Jeff Cobb [4]

A Block competition will open up with two big and beefy wrestlers facing of in what is sure to be a hard hitting affair as Tomohiro Ishii and Jeff Cobb do battle. Cobb and Ishii have wrestled each other all around the world with Ishii dominating the all time series between the them.
G1 CLIMAX 30 – TOURNAMENT TO DATE


Ishii's 26 minute and 1 second win was the second longest G1 Climax match ever in Korakuen Hall, behind only last year's 27 minute and 16 second match between Kota Ibushi and Will Ospreay.
G1 CLIMAX HISTORY

2020 RESULTS

HEAD TO HEAD HISTORY

Tomohiro Ishii leads the all time series with Jeff Cobb 3-0, with one G1 Climax victory.