G1 Climax 30 continues from Korakuen Hall in Tokyo on September 29, 2020 with the B Block's third set of matches.
The G1 has visited Korakuen hall every year since 2008, with over 10% of the tournament's matches (158 matches) taking place in the storied building. The card is headlined by the sixth G1 Climax meeting between perennial G1 front runners Tetsuya Naito and Hirooki Goto. The semi-main event will feature KOPW 2020 Provisional Champion, Toru Yano against former IWGP Heavyweight Champion EVIL. Third down the card will be a rematch of a Korakuen Hall classic as Hiroshi Tanahashi will look to score his first victory of the tournament over Juice Robinson in a rematch of the 2018 New Japan Cup Semi Finals. KENTA and Zack Sabre Jr. will attempt to break their .500 records on the tournament and the first G1 match on the card will feature SANADA and YOSHI-HASHI, in a match guaranteed to get one of them on the board.
You can find my complete statistical breakdown for every competitor in this year's G1 Climax here, I have interactive, sortable tables for NJPW's 2020, detailed results and statistics of all 1485 G1 Climax matches to date, and This Year's Tournament at SportOfProWrestling.com, and you can let me know what you find when you drill down by dropping me a line on Twitter @TheChrisSamsa.
---
Date: September 29th, 2020
Venue: Korakuen Hall
Time: 6:30pm JST
Local Time Conversions: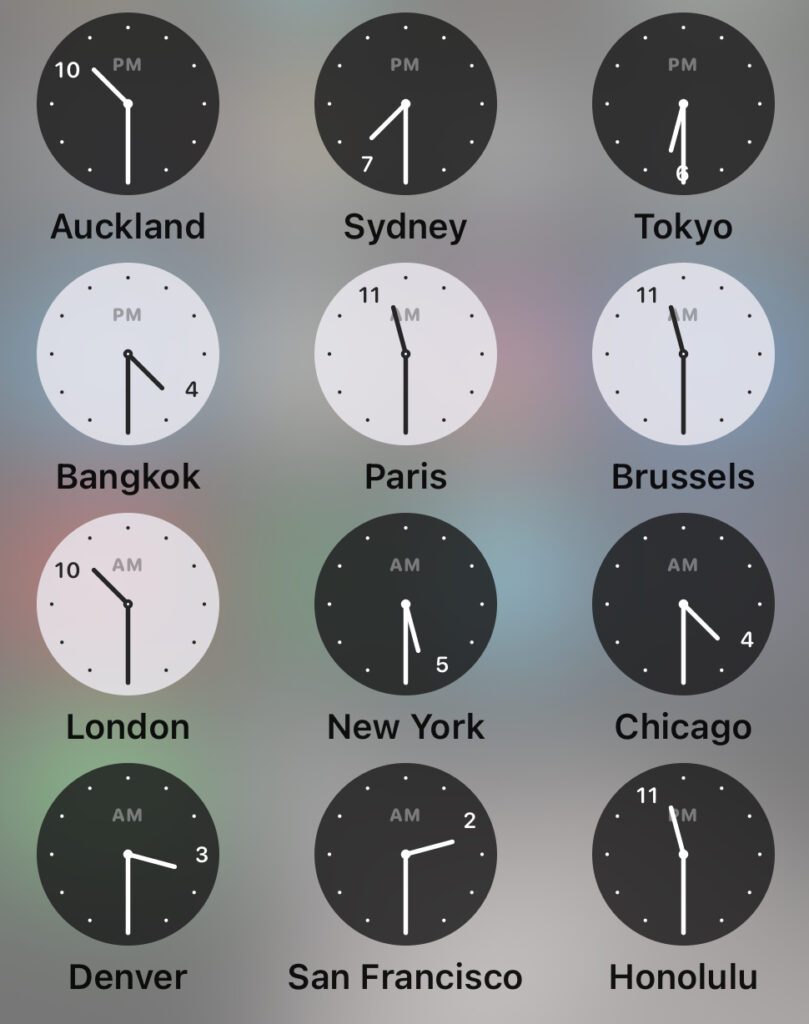 Watch Live or OnDemand On NJPWWorld
G1 CLIMAX 30: B BLOCK RESULTS TO DATE
SPORT OF PRO WRESTLING BOX SCORE


B BLOCK TABLE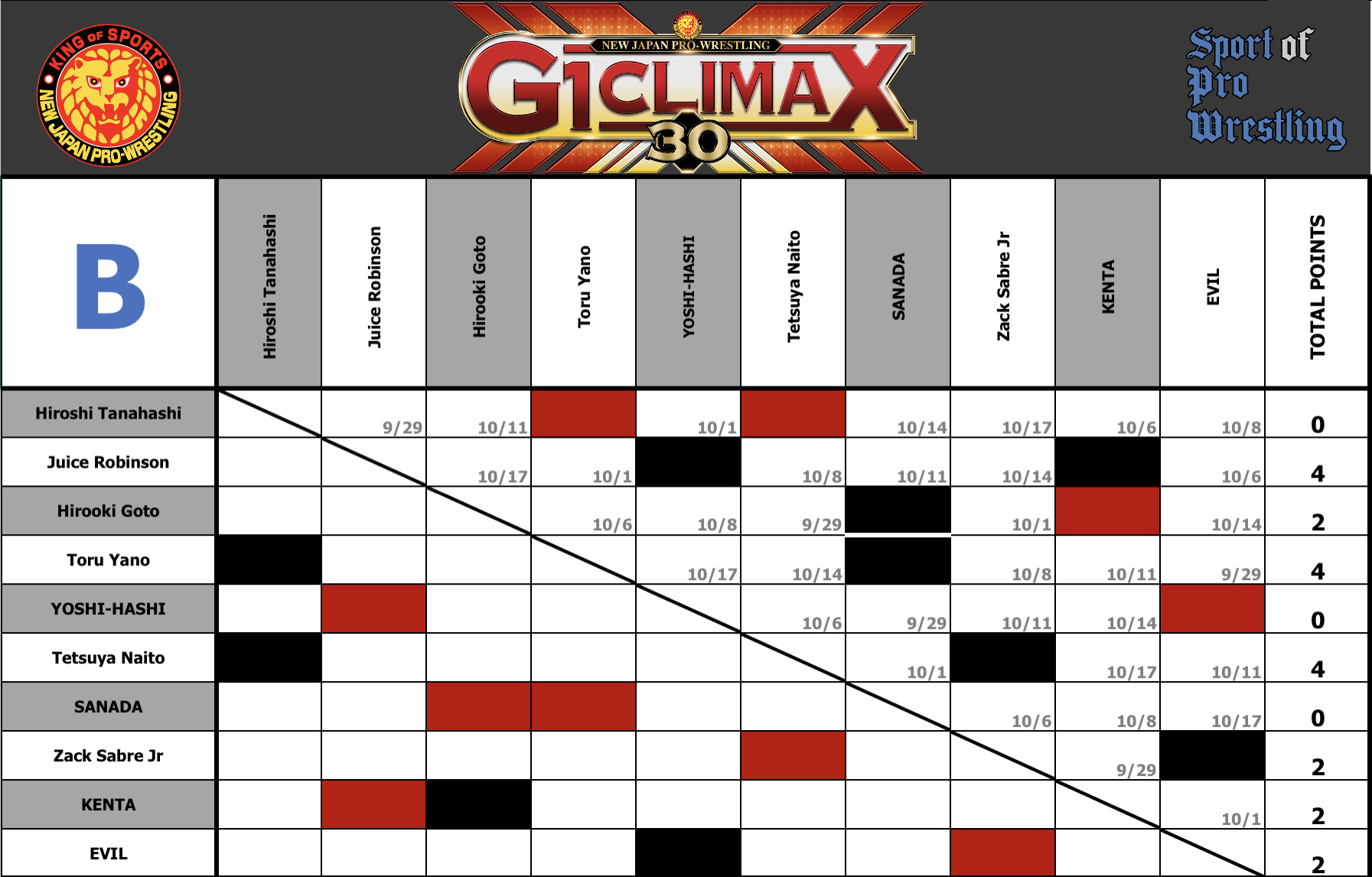 CURRENT DETAILED RESULTS AND STATISTICS CAN BE FOUND AT SPORTOFPROWRESTLING.COM
G1 CLIMAX AT KORAKUEN HALL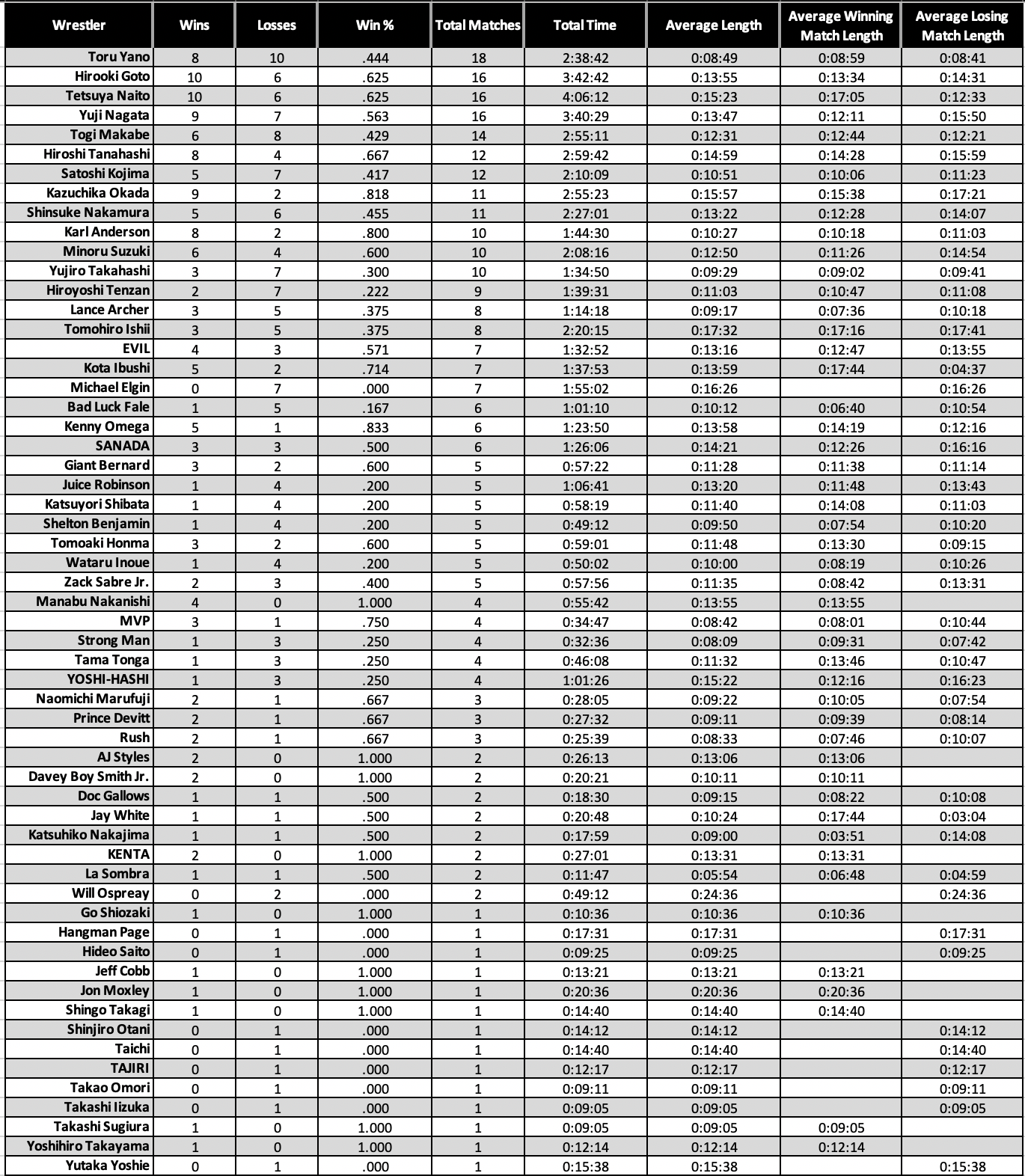 G1 CLIMAX B BLOCK MATC
Hirooki Goto [2] vs. Tetsuya Naito [4]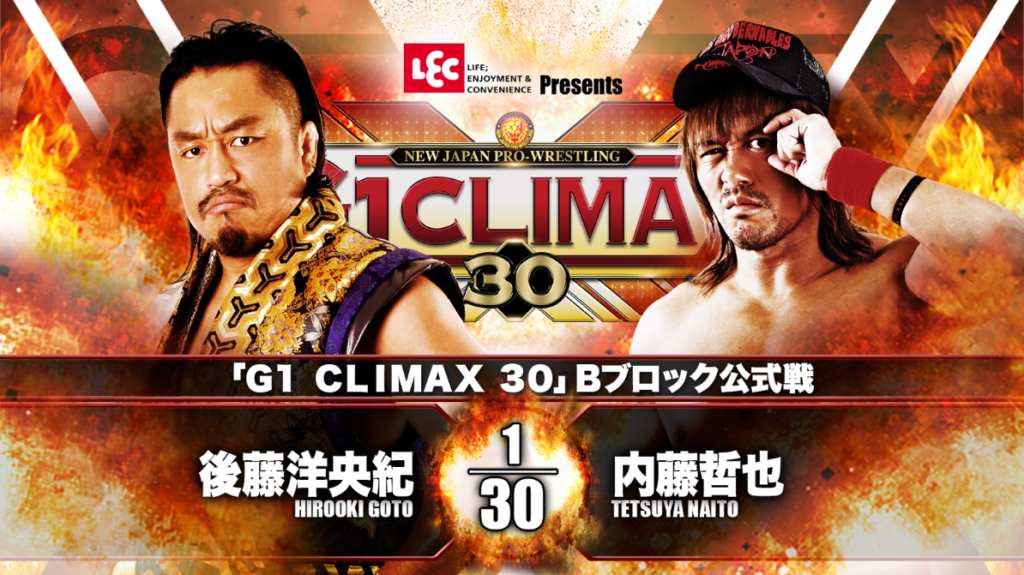 If we look at the entirety of Tetsuya Naito and Hirooki Goto's careers, they may be the most statistically evenly matched competitors in the history of the G1. Their G1 Climax 30 tilt will be their 9th singles match and their sixth G1 meeting. To say things have landed evenly is a little bit of an understatement. Goto dominated the series early, in conjunction with the early successes of his career. Unsurprisingly, Naito has surged recently as he ascended to IWGP Heavyweight Championship status in the last five years or so.
G1 CLIMAX HISTORY


Hirooki Goto and Tetsuya Naito enter their match at Korakuen Hall tied for fifth on the all-time G1 wins list.
Hirooki Goto tied Shinsuke Nakamura for the most wins in the G1 over the course of the previous 15 years (2005-2019) with 55. Naito was one win behind them with 54.
Tetsuya Naito enters tonight's match with an astounding 27:52 Average Match Length through his first two G1 matches. It may be only two matches, but Naito is on pace to have the longest G1 tournament of all time. Only Kazuchika Okada has ended a tournament with an Average Match Length over 20 minutes, and he's done it twice, in 2017 and 2019.
Tetsuya Naito and Hirooki Goto have both participated in sixteen G1 Climax matches at Korakuen Hall. They each have 10 wins and 6 losses. Their 10 wins each are tied for the most in tournament history in the storied Korakuen Hall.
2020 RESULTS

Tetsuya Naito continues to be the most heavily contested wrestler in NJPW during 2020. This is evidenced by Naito's extremely high average match length of 32:12, a full 10 minutes higher than EVIL, who holds the second-place position in the metric.
HEAD TO HEAD HISTORY

Goto and Naito have met in eight singles matches since 2011 and they are deadlocked with a 4-4 record. Goto dominated the first half of their career series, inning their first four matchups including a Wrestle Kingdom 10 victory and two G1 Climax victories (G1 Climax 22 & 24)
Tetsuya Naito enters tonight's main event with a four-match winning streak over Hirooki Goto dating back to March of 2016 when Naito finally overcame Goto in the New Japan Cup Final. He has since defeated Goto in three straight G1 Climax tournaments (27, 28, 29).
In regards to Korakuen, Tetsuya Naito and Hirooki Goto have met once here during the G1. That was during last year's G1 Climax tournament where Naito continued his four-match winning streak against Goto in 16:01.
G1 CLIMAX B BLOCK MATCH
Toru Yano [4] vs. EVIL [2]

Toru Yano and EVIL will meet in the semi-main event in a match we can pencil in as one of the shortest matches of the tournament. This match is truly a battle of divergent styles, as Toru Yano clearly knows that brevity is the soul of wit and he keeps his matches short and EVIL has learned that drawing his matches out longer has lead to some success for him as of late.
G1 CLIMAX HISTORY

Toru Yano will be familiar with his surroundings in his match against EVIL. This will be his 19th G1 Climax match at Korakuen Hall, the most in tournament history.
Yano is 8-10 in G1 matches at Korakuen Hall.
EVIL comes into his match with Yano at 4-3 after his 7 Korakuen Hall G1 matches.
2020 RESULTS

Toru Yano enters his match with EVIL on a four match winning streak, including his victory in the KOPW four-way at Summer Struggle in Jingu.
While Yano is 5-1 on the year in singles matches, it may be important to keep an eye on how Yano's singles matches finish going forward. The crafty Yano has not been pinned or submitted in 2020. His only loss was via count out to Hiromu Takahashi during the New Japan Cup.
EVIL enters his match with Toru Yano in need of a quick match. Evil's 4:04:23 total singles match length is second in 2020 in NJPW, only behind Kazuchika Okada.
HEAD TO HEAD HISTORY

Toru Yano is known for his short matches, but at just 2 minutes and 15 seconds, Toru Yano and EVIL average the shortest matches against each other between any active competitors in NJPW.
---
---
G1 CLIMAX B BLOCK MATCH
Hiroshi Tanahashi [0] vs. Juice Robinson [2]

Juice Robinson and Hiroshi Tanahashi don't have a ton of one-on-one history to draw from, but their one match was certainly a memorable one. Tanahashi and Robinson met in the 2018 New Japan Cup Semi Final here at Korakuen Hall in a match that helped establish that The Flamboyant One can hang in the NJPW Main Event scene.
Juice looks to continue his winning ways since returning to Japan, coming in at 2-0 in this year's G1 Climax. His two wins to begin the tournament match his output to begin last year's tournament, when he started 2-0 before suffering a defeat to Jeff Cobb on his way to an eight point tournament.
Hiroshi Tanahashi has struggled in singles matches this year. He is currently 1-4 in 2020, including two straight losses to begin his G1. After leaving it all on the line against IWGP Heavyweight Champion Tetsuya Naito, Tanahashi wasn't able to outwit Toru Yano in his second block match. Tanahashi has been in the hole at the beginning of G1 tournaments before, but as his age advances, he can't depend on himself to rattle off consecutive victories like he has in the past.
G1 CLIMAX HISTORY

In his 19 previous G1 tournaments, Hiroshi Tanahashi has started 0-2 twice. Once in 2013, and once in 2016. In 2013, The Ace turned around his fortune and was able to reach the finals, only to lose to Tetsuya Naito. In 2016, Tanahashi's attempts to recreate his 2013 magic were foiled by a time limit draw against Kazuchika Okada to end his tournament.
Juice Robinson is already more than halfway to his average point total across his first three G1s.
Hiroshi Tanahashi is 8-4 in his 12 G1 Climax matches at Korakuen Hall.
Juice Robinson enters this match just 1-4 in the G1 at Korakuen.
2020 RESULTS
Hiroshi Tanahashi's 1-4 singles record in 2020 is lining him up for one of the worst calendar years as a singles competitor if he can't turn it around. Tanahashi is also 0-2 in G1, his worst start since the 2016 tournament when he started 0-3.
HEAD TO HEAD HISTORY

Hiroshi Tanahashi and Juice Robinson have met once in the past. Tanahashi defeated Robinson in 29:52 during the New Japan Cup 2018 Semi-Finals at Korakuen Hall.
At 29:52, his match with Tanahashi was the second-longest of his career, only shorter than his 32:55 United States Championship match against Kenny Omega at Destruction in Kobe 2017.
G1 CLIMAX B BLOCK MATCH
Zack Sabre Jr [2] vs. KENTA [2]

Zack Sabre Jr. may have pushed KENTA over the edge during last year's G1. Sabre and KENTA met on the final night of block competition and ZSJ completed KENTA's skid, defeating him and handing him his 5th loss in a row on the eve of his alignment with Bullet Club. It's tough to say how long KENTA had been colluding with Bullet Club, but it is certainly possible that his loss to Zack Sabre Jr. in Budokon that night was the last straw as searched for the right group to align himself with in NJPW.
KENTA looks to even their NJPW series and their G1 series, though he has defeated the British submission master once before. Back in 2011, KENTA met ZSJ on the NOAH European Navigation tour and defeated him in 19:11.
G1 CLIMAX HISTORY
KENTA won both of his 2019 G1 Climax matches at Korakuen Hall, defeating Lance Archer and EVIL in last year's tournament.
Zack Sabre Jr enters this match 2-3 in G1 matches at Korakuen Hall.
2020 RESULTS

KENTA's 7 wins over the last 365 days are fourth highest in NJPW, tied with Jay White, behind only EVIL, Kazuchika Okada, and Jeff Cobb.
HEAD TO HEAD HISTORY

KENTA's loss to Zack Sabre Jr in last year's G1 is the only time he's lost via submission during his time with NJPW.
G1 CLIMAX B BLOCK MATCH
YOSHI-HASHI [0] vs. SANADA [0]

YOSHI-HASHI and SANADA both enter Korakuen Hall at 0-2
G1 CLIMAX HISTORY

YOSHI-HASHI's .276 winning remains percentage in the G1 is the worst among this year's G1 class, and he is rapidly approaching Tomoaki Honma's .143 all time low.
YOSHI-HASHI enters his match with SANADA just 1-3 in G1 matches at Korakuen Hall
SANADA is 3-3 in his 6 G1 matches at Korakuen.
2020 RESULTS

HEAD TO HEAD HISTORY