The A Block of G1 Climax 30 returns on September 30th, 2020 for the 27th all-time G1 Climax card from the storied Korakuen Hall.
The G1 has passed through the historic Korakuen Hall at least once every year since 2008 and 163 G1 matches have been contested in Korakuen, good for over 10% of the tournament's matches, making it one of the most important stops, and often a turning point, as the tournament progresses.
The A Block's fourth card of G1 Climax 30 will feature a main event between Shingo Takagi and Tomohiro Ishii as Ishii attempts to get himself his first points of the tournament in what would be his first win over Shingo Takagi. The semi-main event will be a battle of egos, with the established arrogance of Jay White taking on the recently supremely confident Will Ospreay. Third down the card, we'll see if Kazuchika Okada can right his sinking ship by beating the undefeated Taichi in a rematch of this year's New Beginning in Sapporo main event. Kota Ibushi will face off with Jeff Cobb in a first time matchup, and the tournament card will kick off with Minoru Suzuki against Yujiro Takahashi in their fourth G1 meeting, their first since 2014.
You can find my complete statistical breakdown for every competitor in this year's G1 Climax here, I have interactive, sortable tables for NJPW's 2020, detailed results and statistics of all 1490 G1 Climax matches to date, and This Year's Tournament at SportOfProWrestling.com, and you can let me know what you find when you drill down by dropping me a line on Twitter @TheChrisSamsa.
Date: September 30th, 2020
Venue: Korakuen Hall
Time: 6:30pm JST
Local Time Conversions: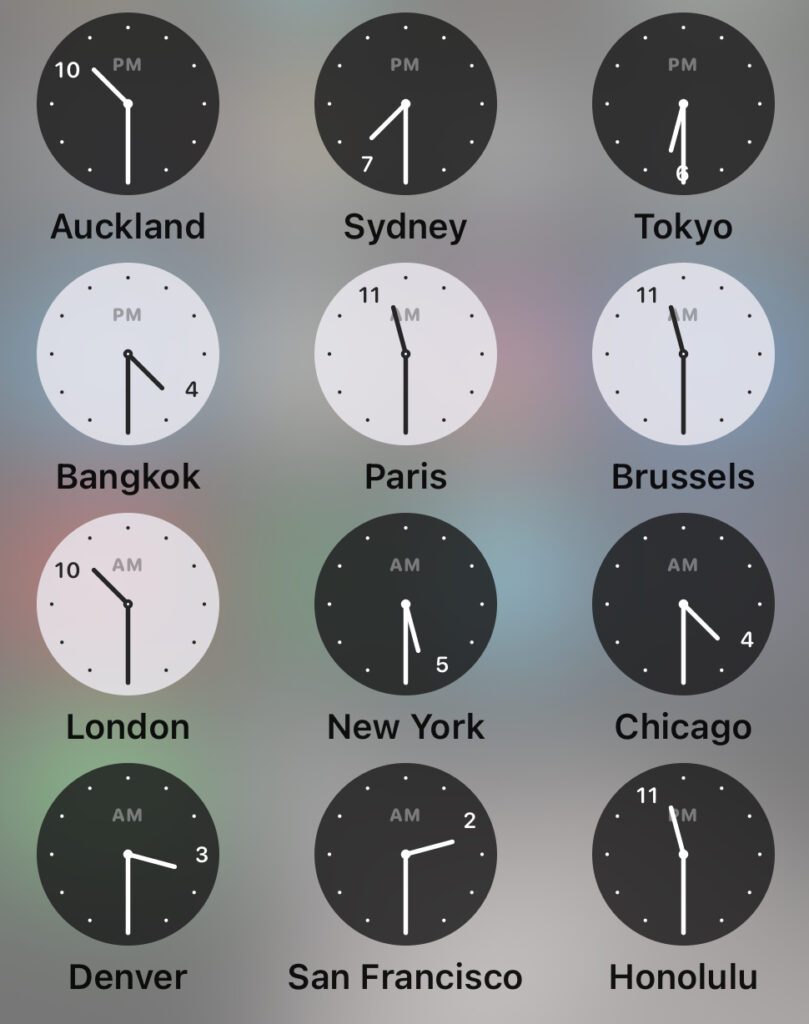 Watch Live or OnDemand On NJPWWorld
---
G1 CLIMAX AT KORAKUEN HALL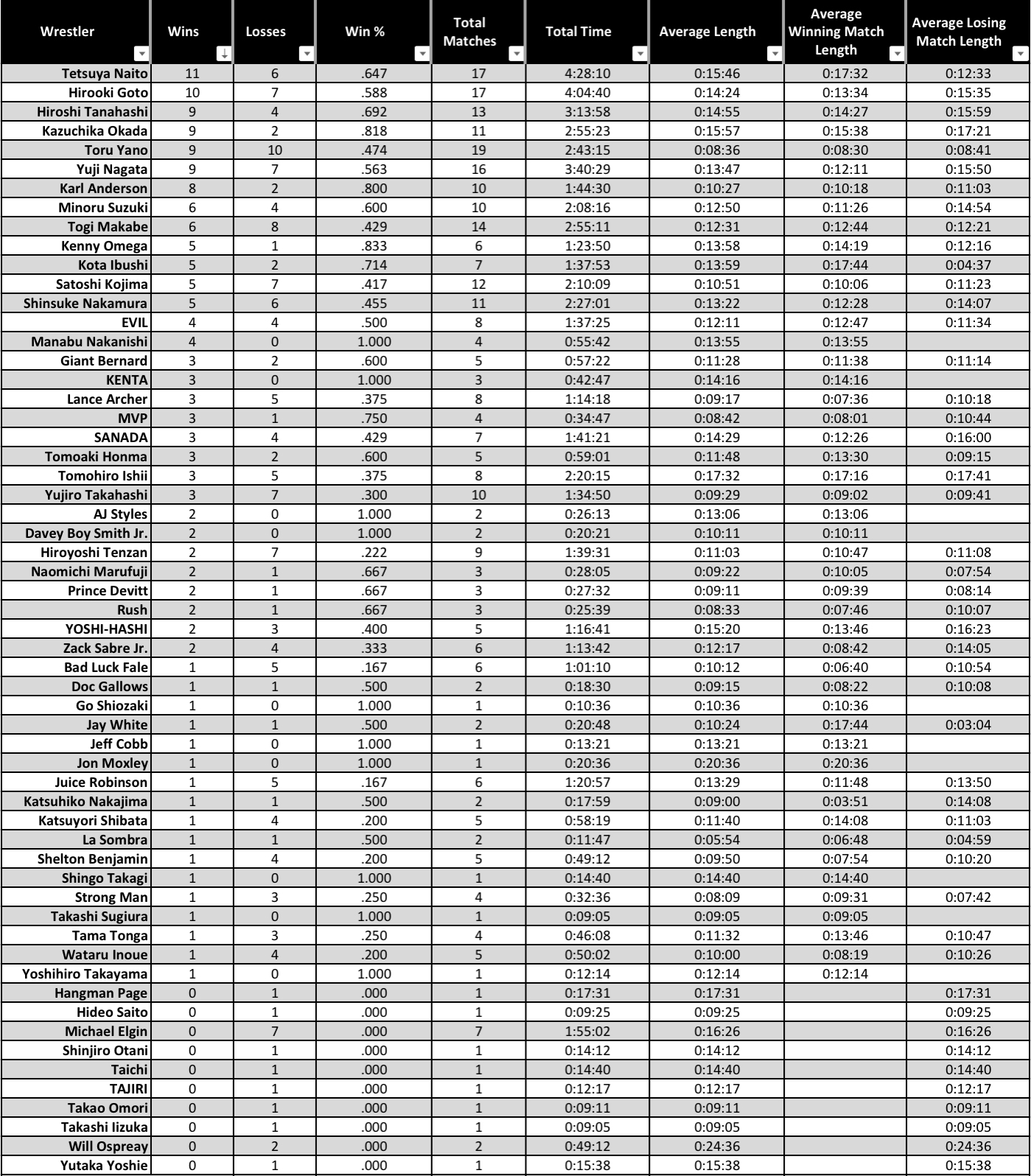 G1 CLIMAX 30: A BLOCK RESULTS TO DATE
SPORT OF PRO WRESTLING BOX SCORE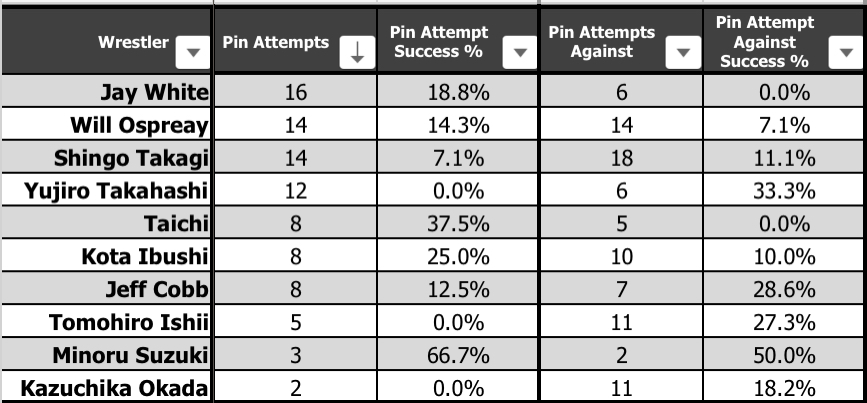 BLOCK TABLE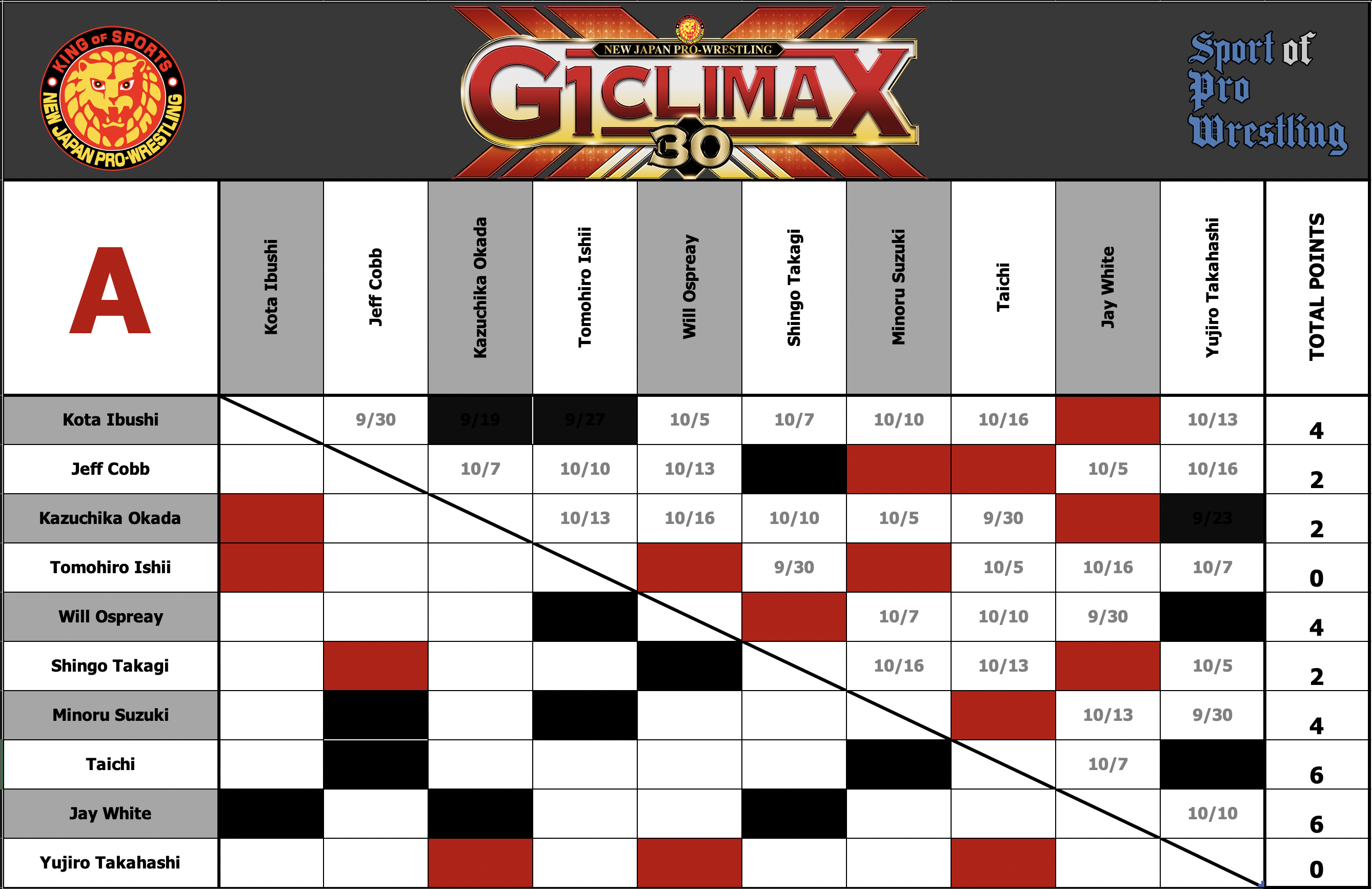 CURRENT DETAILED RESULTS AND STATISTICS CAN BE FOUND AT SPORTOFPROWRESTLING.COM
---
G1 CLIMAX A BLOCK MATCH
Shingo Takagi [2] vs. Tomohiro Ishii [0]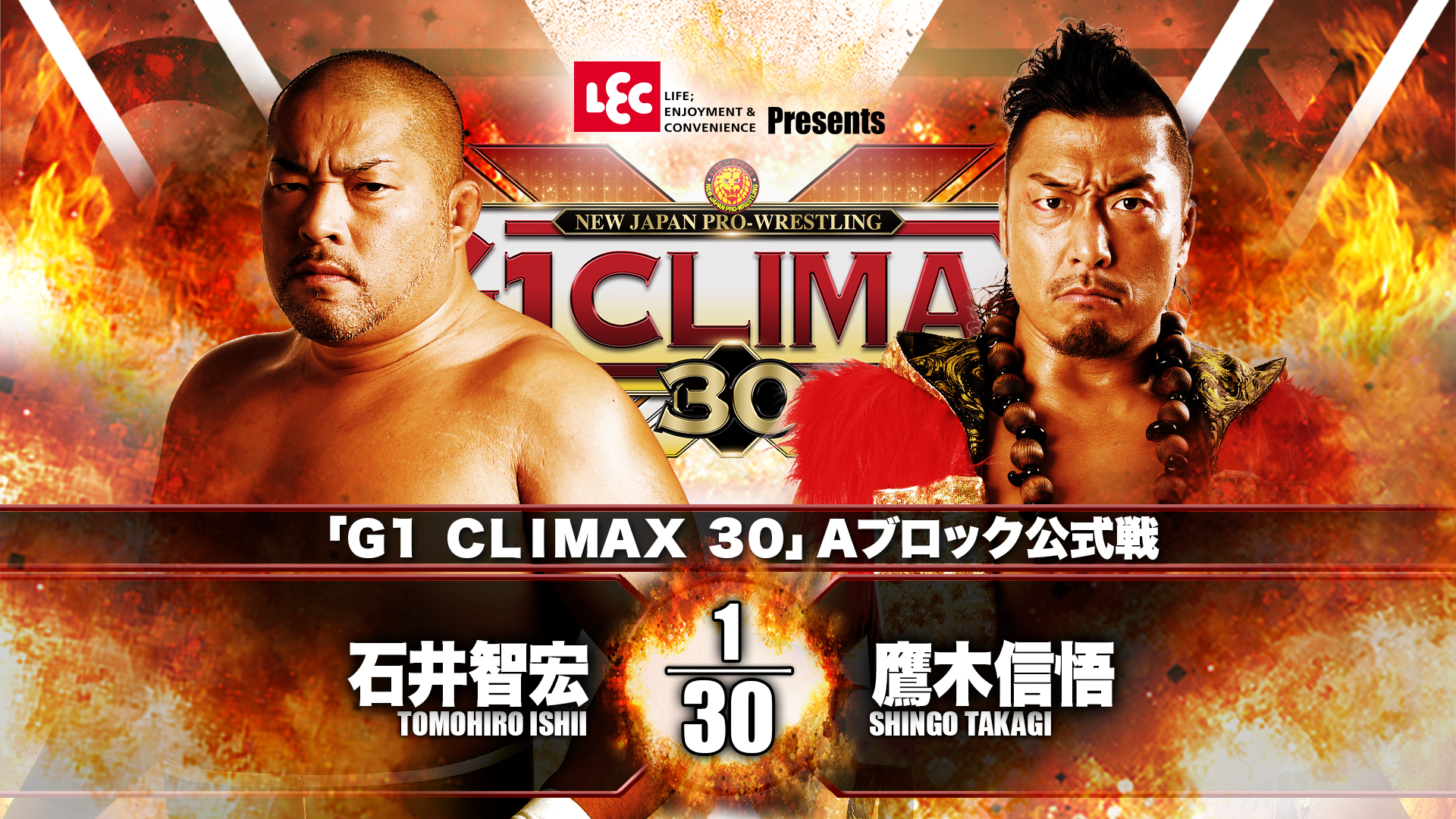 In the main event, Tomohiro Ishii and Shingo Takagi will headline Korakuen Hall together for the second time this year. The stakes are a little bit different entering this match, though. Their previous bout had the NEVER Openweight Championship on the line in Takagi's first ever singles title defense in New Japan. This time, they enter the ring each seeking to gain some momentum, each fighting against an early tournament slump.
Shingo Takagi enters the match with two points having lost three of his last four singles matches. He did finally get out of the bottom of the block table with a huge win over Will Ospreay in Kobe on Saturday, and he will certainly look to capitalize on his ability to defeat The Assasin as he gets into the ring with new rival Tomohiro Ishii.
Tomohiro Ishii enters the match winless in his three contests so far in the tournament. He has already suffered losses against Will Ospreay, Minoru Suzuki, and Kota Ibushi. This is the first time Ishii has started the G1 Climax 0-3, his previous worst jump out of the gate was an 0-2 start in 2016. Momentum in the results may not be on his side, but Ishii has taken each of his first three opponents to their physical limits. His previous bouts with Shingo have been as hard fought as one could imagine. Ishii will look to end this Korakuen Hall main event with a match in the win column after what is sure to be a battle of two true heavyweights.
G1 CLIMAX 30 – TOURNAMENT TO DATE

With 53:15 of ring time already in the tournament, Shingo Takagi sits third in the A Block in the stamina category. Only Jay White (58:44) and Kota Ibushi (57:44) have logged more ring time in the young tournament.
Tomohiro Ishii saves his pinning attempts for when he is almost certain he is on the brink of victory. Only Minoru Suzuki and Kazuchika Okada have attempted fewer pins than Tomohiro Ishii thus far in the tournament. Okada's results here are a little bit of a false negative, as he's made significant efforts to finish his matches via submission using his money clip.
The 18 Pin Attempts made against Takagi thus far in the tournament are the highest in A Block.
G1 CLIMAX HISTORY

Tomohiro Ishii has averaged 8.8 points in the last five G1 Climax tournaments. He has never finished with fewer than 8 points.
Shingo Takagi finished his first G1 tournament last year with 8 points.
Tomohiro Ishii is 3-5 in G1 Climax matches at Korakuen Hall. Notably losing to Jon Moxley in the storied venue during last year's G1 and he was the loser in Tomoaki Honma's first ever G1 victory, a main event at Korakuen Hall during the 2015 G1 Climax Tournament.
2020 RESULTS

Shingo Takagi began the year 4-1 with a victory over Hirooki Goto to gain the NEVER Openweight Championship, and then a series of defenses of the title, including a victory in Korakuen Hall over Tomohiro Ishii. Takagi has since cooled off significantly, losing three of his last four singles matches, including two of three in the G1.
Tomohiro Ishii has lost four singles matches in a row, dating back to his loss to Hiromu Takahashi during the New Japan Cup.
HEAD TO HEAD HISTORY
Ishii and Takagi have met twice in singles matches. Once, during last year's G1 Climax, a 22:41 victory for Shingo, and once this past February, in Shingo's first NEVER Openweight Championship defense.
---
G1 CLIMAX A BLOCK MATCH
Will Ospreay [4] vs. Jay White [6]

In the semi-main event, the undefeated Switchblade, Jay White will do battle with The (formerly aerial) Assasin, Will Ospreay. This match will be a battle of new ego versus old ego, as the now supremely confident Will Ospreay looks to establish himself as a heavyweight competitor at the level of the cunning Jay White. White has a much longer history of using his confidence in his favor, so it will be telling to see if Will Ospreay can leverage his current "best wrestler in the world" mentality to defeat Jay White and end The Switchblade's 5 match winning streak.
G1 CLIMAX 30 – TOURNAMENT TO DATE

Will Ospreay finished his first G1 with the most pin attempts in the tournament, averaging over 5.5 attempts per match. Across the first three matches of this year's tournament, Jay White is setting the pace with 16. Ospreay isn't far behind him with 14 attempts, as both wrestlers are constantly attempting to end their matches, regardless of whether they have hit a finisher or really worn down their opponent.
G1 CLIMAX HISTORY

History suggests that this match may go long.
Will Ospreay's 21:07 all-time G1 Average Losing Match Length is the longest all time among qualifying wrestlers. (Wrestlers with 3+ losses)
Jay White's 18:04 all-time G1 Average Winning Match Length is the longest all time among qualifying wrestlers. (Wrestlers with 3+ wins)
After Jay White's victory on Saturday night over Kazuchika Okada, he now holds the third best all-time winning percentage in G1 Climax history at .682. A win tonight would move White into second place all time, leap-frogging former Bullet Club leader, Kenny Omega (.690).
Jay White is 1-1 all time in his G1 matches at Korakuen Hall. He defeated Michael Elgin during the 2018 tournament, he lost to Toru Yano during last year's tournament.
Will Ospreay lost both of his Korakuen Hall G1 matches last year. He lost to Kota Ibushi and Kazuchika Okada during last year's tournament.
2020 RESULTS

Jay White has been dominant in 2020, entering his tilt with Ospreay at 6-1 on the year, and on a 6 match winning streak. His last loss was his Intercontinental Championship match against Tetsuya Naito on January 4th in the Tokyo Dome.
Jay White's 6-1 record in singles matches in 2020 is tied for the best in NJPW among qualifying competitors, matching both Tetsuya Naito and Taiji Ishimori with the same record on the year.
HEAD TO HEAD HISTORY

Ospreay and White have met twice historically in singles matches. Their first meeting was in May of 2017 when Ospreay defeated White while Jay White was on excursion with Ring Of Honor.
White was successful in defeating Ospreay in March of 2019 in the only singles match White won during his IWGP Heavyweight Championship reign.
---
G1 CLIMAX A BLOCK MATCH
Kazuchika Okada [2] vs. Taichi [6]

In the third match down the card, Kazuchika Okada and Taichi rekindle their budding rivalry for the first time since February. At the time of their New Beginning in Sapporo match up earlier in the year, Kazuchika Okada was seeking just that, a New Beginning, after losing his IWGP Heavyweight Championship to Tetsuya Naito just a month earlier at Wrestle Kingdom.
Okada was victorious in their match in Taichi's hometown of Sapporo, but Taichi may have benefitted the most from his experience in a singles main event against The Rainmaker. Taichi is 5-1 since the matchup with Okada and 3-0 in this year's G1.
Kazuchika Okada, on the other hand, is near the other end of the block table, with a 1-2 record during this year's young G1, he seeks to even his record in a repeat of his victory earlier this year.
G1 CLIMAX 30 – TOURNAMENT TO DATE

Kazuchika Okada has only attempted two pins during this year's G1, both in his opening match against Kota Ibushi. During last year's tournament, Okada averaged just 2.44 pinning attempts per match, but he was successful over 36% of the time, as many of them followed his impact finisher, the rainmaker.
G1 CLIMAX HISTORY

Kazuchika Okada has started 1-2 in the G1 twice before. Once, in 2013 when he ended fifth in his block, and once in 2018 when he finished second in his block behind Hiroshi Tanahashi.
Taichi is already 3/4 of the way to matching his 8 point output from last year's G1.
Kazuchika Okada is 9-2 all-time in his G1 matches at Korakuen Hall. His last loss in the storied hall came in the 2013 tournament to Hirooki Goto.
Taichi lost his only G1 match at Korakuen Hall last year to Shingo Takagi.
2020 RESULTS

Kazuchika Okada's 9 victories are still the most in NJPW during 2020, but now his 5 losses are also third most, behind only Yujiro Takahashi and SANADA each with six.
HEAD TO HEAD HISTORY

Taichi and Kazuchika Okada's match at New Beginning in Sapporo was the longest singles match of Taichi's career at 30:53.
That 30:53 victory would have ended in a time limit draw had it been contested under G1 Climax block match rules.
---
G1 CLIMAX A BLOCK MATCH
Kota Ibushi [4] vs. Jeff Cobb [2]

Kota Ibushi and Jeff Cobb meet in a first time match up as the second block match on the card. Ibushi enters his match with Cobb recently familiar with fighting a competitor with more mass than him, as he most recently defeated Tomohiro Ishii to move his G1 tournament to 2-1
Cobb enters his match with Ibushi 1-2 in the tournament, participating in many of the shortest matches of the tournament.
G1 CLIMAX 30 – TOURNAMENT TO DATE

Jeff Cobb's 33:55 in total match length is the second shortest thus far among A Block competitors. Only Yujiro Takahashi has spent less time in the ring so far in the tournament.
Kota Ibushi's 57:44 in total match length is the second longest thus far among A Block competitors. Only Jay White has spent more time in the ring so far in the tournament, and White sits at just 58:44, so just one minute longer than Ibushi.
G1 CLIMAX HISTORY

Kota Ibushi is 5-2 all time in his G1 matches at Korakuen Hall, his two losses in Korakuen are both at the hands of Toru Yano, one in just 50 seconds in 2015.
Jeff Cobb won his only G1 match at Korakuen Hall during last year's tournament, defeating Juice Robinson during last year's tournament.
2020 RESULTS

Jeff Cobb's 8 wins are second-most in NJPW this year, behind only Kazuchika Okada's 9.
HEAD TO HEAD HISTORY
This will be Jeff Cobb and Kota Ibushi's first singles match against each other.
---
G1 CLIMAX A BLOCK MATCH
Minoru Suzuki [4] vs. Yujiro Takahashi [0]

Minoru Suzuki and Yujiro Takahashi will meet in the first block match of the card. They haven't fought in a singles match since 2014, when Minoru Suzuki completed his G1 three peat of defeating Yujiro in the G1.
G1 CLIMAX 30 – TOURNAMENT TO DATE

G1 CLIMAX HISTORY

Minoru Suzuki is 6-4 all time in his G1 matches at Korakuen Hall.
Yujiro Takahashi is 3-7 all time in his G1 matches at Korakuen Hall. His average G1 match length in the storied hall is just 9 minutes and 29 seconds, second shortest among this year's tournament competitors, longer only than Toru Yano.
2020 RESULTS

HEAD TO HEAD HISTORY

Minoru Suzuki defeated Yujiro Takahashi three straight times during the G1 between 2012 and 2014, once in Korakuen Hall during G1 Climax 22.