G1 Climax 30 continues with a card that many circled on their calendars as one of the most exciting in the tournament as soon as cards were released.
The main event will feature the first meeting of Switchblade Jay White and Kazuchika Okada since Okada defeated White for the IWGP Heavyweight Championship last April in Madison Square Garden. The semi-main event will be a rematch of 2019's consensus match of the year, the Best of The Super Juniors 26 finals between Shingo Takagi and Will Ospreay. Ospreay and Shingo are both now proper heavyweights, but their hard-hitting, athletic styles still stand up against each other in what could be the most hotly contested match of this tournament. The undercard of tournament matches is filled out with Kota Ibushi and Tomohiro Ishii's third-ever G1 Climax tournament match, Jeff Cobb will look to stay hot against NEVER Openweight Champion, Minoru Suzuki, and Taichi will match up with Yujiro Takahashi.
Of course, you can find my complete statistical breakdown for every competitor in this year's G1 Climax here, I have interactive, sortable tables for NJPW's 2020, detailed results and statistics of all 1480 G1 Climax matches to date, and This Year's Tournament at SportOfProWrestling.com, and you can let me know what you find when you drill down by dropping me a line on Twitter @TheChrisSamsa.
---
Date: September 27th, 2020
Venue: Kobe World Hall, Hyogo
Time: 4:00pm JST
Local Time Conversions: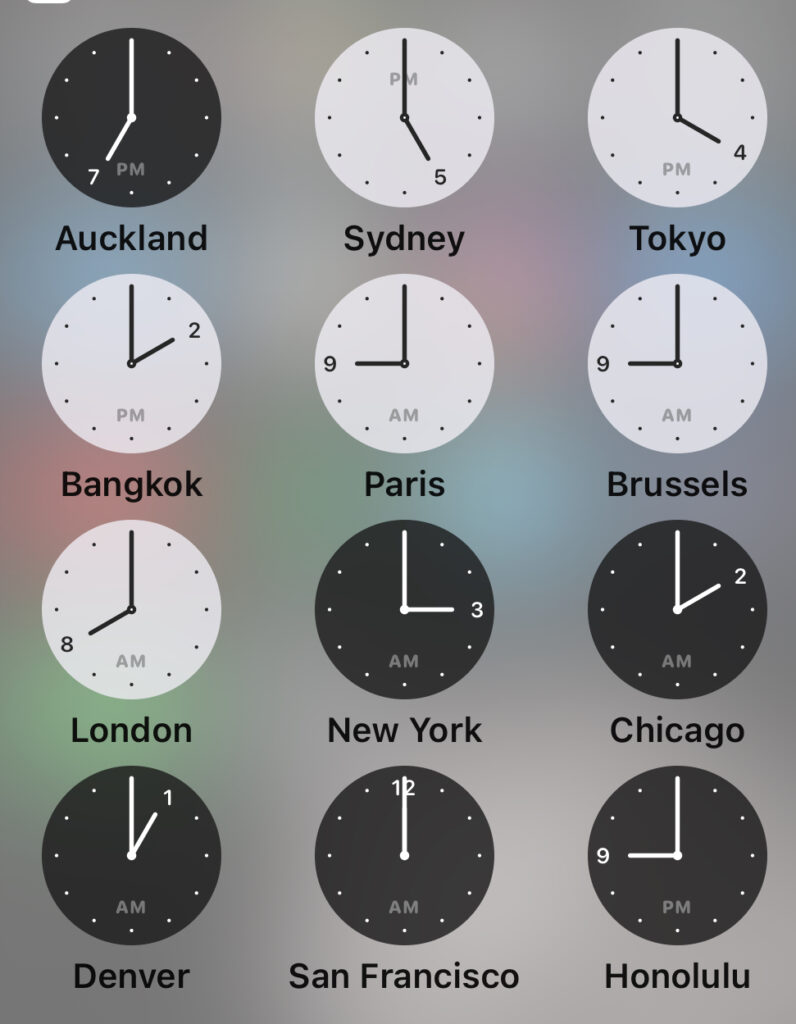 Watch Live or OnDemand On NJPWWorld
G1 CLIMAX 30: A BLOCK RESULTS TO DATE
SPORT OF PRO WRESTLING BOX SCORE


A BLOCK TABLE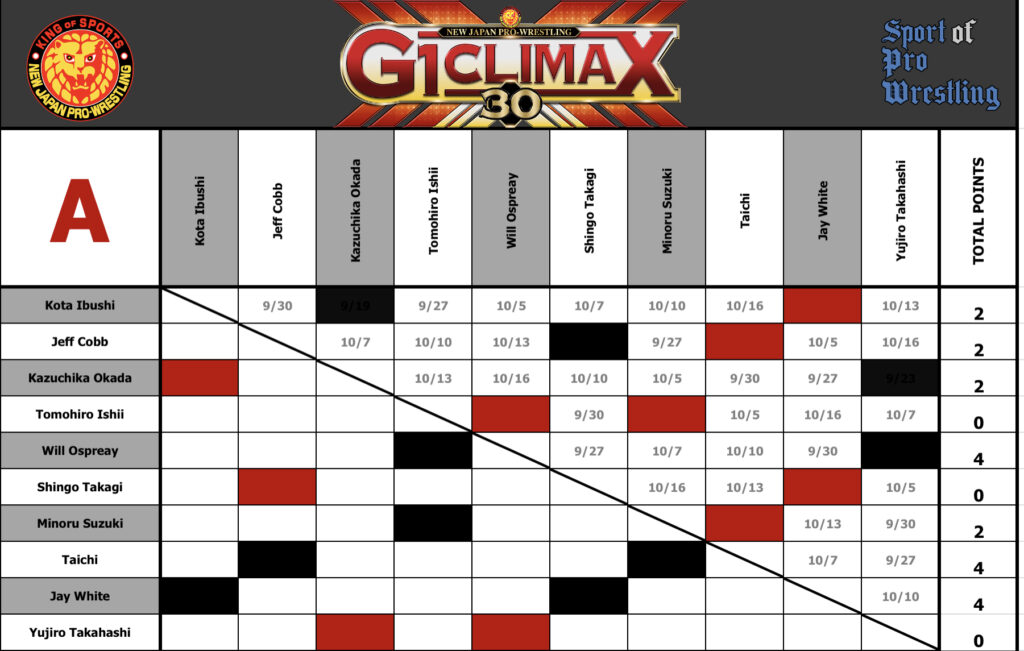 CURRENT DETAILED RESULTS AND STATISTICS CAN BE FOUND AT SPORTOFPROWRESTLING.COM
G1 CLIMAX A BLOCK MATCH
JAY WHITE [4] VS. KAZUCHIKA OKADA [2]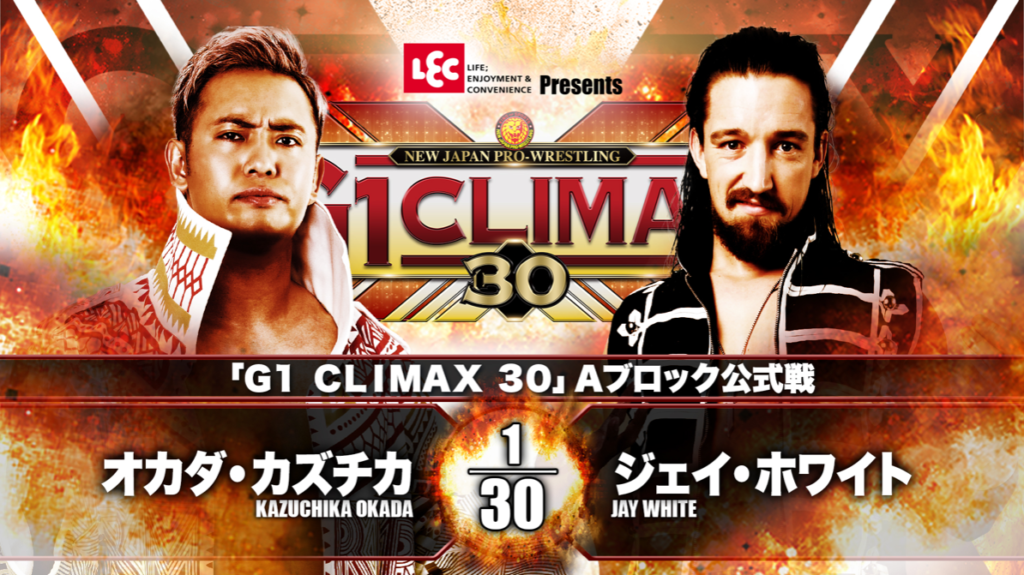 In just two years, Kazuchika Okada and Jay White have built one of the most heated rivalries in professional wrestling. Okada has long been the cream of the crop in NJPW; after a rapid ascent in 2012, he has been able to maintain his status at the top of professional wrestling's mountain for almost a decade. The now-27 year old Jay White returned from excursion in 2018, attempting to follow the blueprint that Kazuchika Okada laid out. White re-entered New Japan as a a bluechip prospect with a clear chip on his shoulder. Like Okada, Jay White challenged Hiroshi Tanahashi in his first major match back, an Intercontinental Championship match at Wrestle Kingdom against Hiroshi Tanahashi.
Unlike Okada, White wasn't able to shock the world with a victory over The Ace in his debut as The Switchblade. After his loss, White joined CHAOS in a move that many felt was disingenuous. The Bullet Club had been recruiting the bluechip prospect and White seemed like a perfect fit for the nefarious faction. The skeptics turned out to be right, White turned on CHAOS leader Okada just a few short months after asserting his dominance over Okada in White's first ever G1 Climax match, a victory over Okada.
These two have met twice since that G1 Climax 28 match: At their Wrestle Kingdom 13 grudge match, Okada returned to his roots, trading his long pants for trunks, spreading his arms wide in a Rainmaker pose and he fought honorably to avenge The Switchblade's defection. Jay White was too much in the Tokyo Dome that night. He caught Okada with a Blade Runner just 14 minutes into their match and pinned him clean in the middle of the ring. White used his momentum to challenge Hiroshi Tanahashi for the IWGP Heavyweight Championship just a month later at New Beginning, coming out victorious and completing the mirror image of Okada's ascent to gain his own IWGP Heavyweight Championship.
A newly motivated Okada went on to win the New Japan Cup in March of 2019, earning himself the opportunity to be the first to challenge White in an IWGP Heavyweight Championship defense at NJPW's largest event ever outside of Japan, the sold out G1 Supercard at Madison Square Garden. That night, Okada was finally able to overcome the combination of Gedo and Jay White to defeat The Switchblade. He regained the IWGP Heavyweight Championship and he has been able to avoid his new nemesis, Jay White, ever since. Okada and White were scheduled to meet on March 7th in each of their first round matches of the New Japan Cup, but of course, the match had to be delayed as NJPW took a hiatus as they began managing the ongoing pandemic.
Finally, in the G1 Climax main event on September 27th, Kazuchika Okada and Jay White will return to the building where Jay White and Gedo defected from CHAOS by turning on Okada, beginning Bullet Club's New Era almost two years ago to the date. As calculated as that moment was, White has grown to be even more cunning and more successful in the two years since he made a statement by attacking two legends of NJPW, Hiroshi Tanahashi and Kazuchika Okada, after their match against each other at Destruction in Kobe.
White has come out of the gates hot in this year's tournament, winning his first two matches. He opened with a victory over Shingo Takagi and he overcame the incumbent champion, Kota Ibushi on Wednesday in a rematch of last year's G1 Final.
Okada has been reminiscent of his 2018 self, asserting less dominance than we're used to from The Rainmaker. Kota Ibushi put him into an 0-1 hole on night one by defeating him in just half the length of their recent Wrestle Kingdom match. In his second block match, Okada was able to defeat Yujiro Takahashi, but he looked sloppy, needing 12 minutes to defeat the consensus worst competitor in this year's G1 field.
If anything is going to snap Okada back into dominance, it'll be seeing Jay White across the ring in the same building of his legendary betrayal. White is as strong as he's ever been in the ring and Okada looks to right his ship early in this tournament and these two are certin to carry hard feelings into their first match against each other in 18 months.
G1 CLIMAX HISTORY

If Jay White wins this match, he will surpass Okada in all-time G1 Winning Percentage. A win would move White into third place all time among qualifying competitors behind only former Bullet Club leaders AJ Styles and Kenny Omega.
2020 RESULTS

Kazuchika Okada's last eight winning falls have come via The Money Clip, his version of the Cobra Clutch. Jay White last submitted in an NJPW ring on June 19th, 2016. In his last match as a young lion, White submitted to Hiroyoshi Tenzan to end a 6-man tag in the dark match of Dominion.
Jay White enters this match on a five match winning streak. He hasn't lost since his Intercontinental Championship match against Tetsuya Naito on January 4th.
HEAD TO HEAD HISTORY

When Jay White has been successful over Okada, his wins have averaged less than 20 minutes, 19:57 to be exact. Okada's only victory over The Switchblade took him 32:33
G1 CLIMAX A BLOCK MATCH
WILL OSPREAY [4] VS. SHINGO TAKAGI [0]

The semi-main event will feature a rematch of 2019's consensus match of the year as Will Ospreay and Shingo Takagi will face off for the first time as truly established heavyweights in a rematch of last year's Best of The Super Junior 26 finals. That match was Ospreay's third Best of The Super Juniors finals, so it'd be fair to define it as his home-field. On September 27th, Will Ospreay and Shingo Takagi will meet in Kobe World Hall, a buliding that Shingo Takagi has wrestled in 15 times over his career in Dragongate and New Japan. This is Shingo Takagi's home turf.
Takagi entered last year's Best of The Super Juniors finals undefeated in NJPW after going 9-0 through the A Block, amassing an NJPW tournament record of 18 points. Shingo and Ospreay enter their first ever G1 matchup with a much wider gap between them than they when entered that match last year. Ospreay comes in at 2-0 with four points after defeating Yujiro Takahashi and Tomohiro Ishii in his first two block matches of G1 Climax 30. Shingo Takagi enters on a three match losing streak with zero points in the tournament, first, he lost his NEVER Openweight Title to Minoru Suzuki at Summer Struggle in Jingu, and he has begun his G1 Climax with losses to Jeff Cobb and Jay White. Takagi looks to right his course and even his head to head record with the man who he may be his most equal matchup in NJPW.
G1 CLIMAX HISTORY

Ospreay and Takagi both ended their 2019 G1 campaigns with 4-5 records, landing at 8 points. Ospreay enters tonight's match at four points, halfway to his total in last year's tournament. Shingo Takagi will have to win 4 of his last 7 matches to match his total in last year's tournament.
Even after a 7:34 victory over Yujiro Takahashi and an 18:20 victory over Tomohiro Ishii, Will Ospreay's 18:59 average G1 match length remains the longest among this year's G1 field.
2020 RESULTS

Shingo Takagi has wrestled 15 times in Kobe World Hall, including 14 straight Dragongate Kobe Pro Wrestling-Festivals, the Hyogo based company's biggest card of the year. While this may be Shingo's home turf, he hasn't fared especially well in World Hall. He is only 3-5 all time in singles matches and 8-7 overall in the building. Shingo's only NJPW match in the venue was a loss to Hirooki Goto at last year's Destruction in Kobe event.
Ospreay and Takagi both enter this match at .500 on the year but clearly on different trajectories. Ospreay started the year 0-2.
It has taken Will Ospreay only an average of 12:57 to win matches in 2020. His average losses take his opponents an NJPW high 25:48.
Shingo Takagi labors through many of his victories. His Average Winning Match Length of 21:06 is fourth highest in NJPW, behind only Tetsuya Naito, Kazuchika Okada, and EVIL. When Shingo loses, it happens much faster. His Win/Loss Differential (Average Losing Match Length – Average Winning Match Length) is second worst in NJPW at -5:17.
HEAD TO HEAD HISTORY

Ospreay and Takagi were scheduled to face each other in the first round of the New Japan Cup on March 8th of this year, but that match was delayed as NJPW went on a hiatus as they began to manage the ongoing pandemic.
At 33:36, Will Ospreay wouldn't have been able to defeat Shingo Takagi under block match rules of a thirty minute time limit.
G1 CLIMAX A BLOCK MATCH
KOTA IBUSHI [2] VS. TOMOHIRO ISHII [0]

Kota Ibushi and Tomohiro Ishii are both coming off of tough losses on Wedneseday night in Hokkaido. Ibushi's 9 match winning streak in the G1 was finally snapped as he fell in the main event to Jay White. Tomohiro Ishii's G1 losing streak was extended to four matches across the last two tournaments as he fell to Will Ospreay in their first ever one on one match. Ishii looks to put his first points on the board in what would have to be considered an upset over the incumbent champion, Kota Ibushi. Ibushi looks to get his 2020 tournament back on track with his third straight G1 victory over The Stone Pitbull, Tomohiro Ishii.
G1 CLIMAX HISTORY
2020 RESULTS

Both Ibushi and Ishii enter their matchup with a win/loss record under .500 for the year.
HEAD TO HEAD HISTORY

The historical series between these two is lead by Kota Ibushi with The Golden Star winning their last two meetings, both in G1 Climax tournaments.
Tomohiro Ishii's only victory over Kota Ibushi came in 2014 as he defended the NEVER Openweight Championship against Ibushi while Ibushi was still splitting his time between DDT and NJPW.
G1 CLIMAX A BLOCK MATCH
JEFF COBB [2] VS. MINORU SUZUKI [2]

Jeff Cobb and Minoru Suzuki both enter their match in the middle of the pack each with one win and one loss in this year's tournament. Cobb enters after a grueling victory over Shingo Takagi in the opening match the other night in Hokkaido. Suzuki enters after a hard fought loss to his Suzuki-Gun faction subordinate, Taichi. Suzuki's loss to Taichi was only the third time a subordinate defeated a faction leader in a G1 Climax tournament match.
G1 CLIMAX HISTORY

2020 RESULTS

Cobb's 8 NJPW wins in 2020 tie him for second most in NJPW with EVIL, behind only Kazuchika Okada.
HEAD TO HEAD HISTORY

This will be Jeff Cobb and Minoru Suzuki's first match in an NJPW Ring. Suzuki defeated Cobb in a singles matc at 2018's RevPro WrestleCon in New Orleans in the USA.
The last time Cobb and Suzuki met in a tag match, Suzuki and then tag team partner Lance Archer defeated Jeff Cobb and Mikey Nicholls in the 2019 World Tag League. Neither Suzuki or Cobb factored in the decision of that match.
---
---
G1 CLIMAX A BLOCK MATCH
TAICHI [4] VS. YUJIRO TAKAHASHI [0]

Taichi and Yujiro Takahashi enter the night at different ends of the scoreboard. Taichi, a surprise leader with four points out of the gate after a huge win over his Suzuki-Gun faction leader, Minoru Suzuki. Yujiro, to nobody's surprise, at 0 points after his matches with Will Ospreay and Kazuchika Okada.
G1 CLIMAX HISTORY

Taichi enters this match on a three match G1 winning streak, dating back to the last match of 2019's tournament. Only Will Ospreay's 4 match winning streak is currently longer than Taichi's.
2020 RESULTS

HEAD TO HEAD HISTORY

This will be Yujiro Takahashi and Taichi's first singles match under their current personas. They have met three times in the past before Yujiro Takahashi began using his last name, and while Taichi was still using his (Taichi Ishikari).