G1 Climax 30 continues from Hokkaido on September 23 with another event stacked with A Block matches.
The card is split with two matches between wrestlers that seek to remain undefeated and two matches between wrestlers who seek their first win of the tournament. The main event will feature the end of another G1 to Wrestle Kingdom back to G1 trilogy involving Kota Ibushi, as he will battle Jay White in a rematch of last year's tournament final. The undercard of tournament matches features some captivating matchups including two intra-stable matchups that we've never seen in an NJPW ring: The semi-main event will feature CHAOS members Will Ospreay and Tomohiro Ishii facing off for the first time in their careers, and third from the top, Suzuki-Gun member Taichi will battle with leader Minoru Suzuki for the first time in NJPW. Earlier on the card, Kazuchika Okada will attempt to continue his 2020 dominance against easy-target, Yujiro Takahashi, and Jeff Cobb and Shingo Takagi will both look to get their first points on the board in the first tournament match of the night.
Of course, you can find my complete statistical preview for every competitor in this year's G1 Climax here, I have interactive, sortable tables for NJPW's 2020, detailed results and statistics of all 1470 G1 Climax matches to date, and This Year's Tournament at SportOfProWrestling.com, and you can let me know what you find when you drill down by dropping me a line on Twitter @TheChrisSamsa.
If you still need a full primer for the detailed rules of the tournament or the recent stories of the competitors, I continue to recommend John Carroll's two-part preview. (A Block, B Block).
Don't forget to check where you stand in the Voices Of Wrestling G1 30 Pick Em! 
---
September 23, 2020
Hokkaido Prefectural Sports Center Hokkai Kitayell, Hokkaido
Time: 6:30pm JST
Local Time Conversions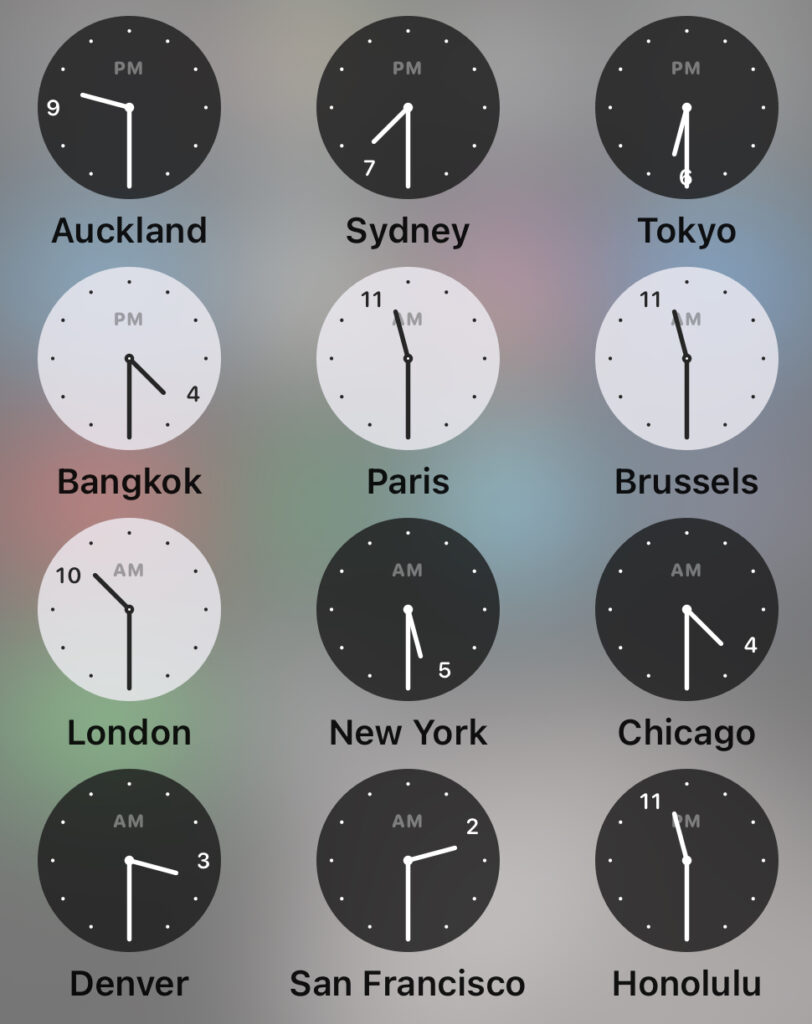 Watch Live or OnDemand On NJPWWorld
---
G1 CLIMAX 30: A BLOCK RESULTS TO DATE
SPORT OF PRO WRESTLING BOX SCORE


A BLOCK TABLE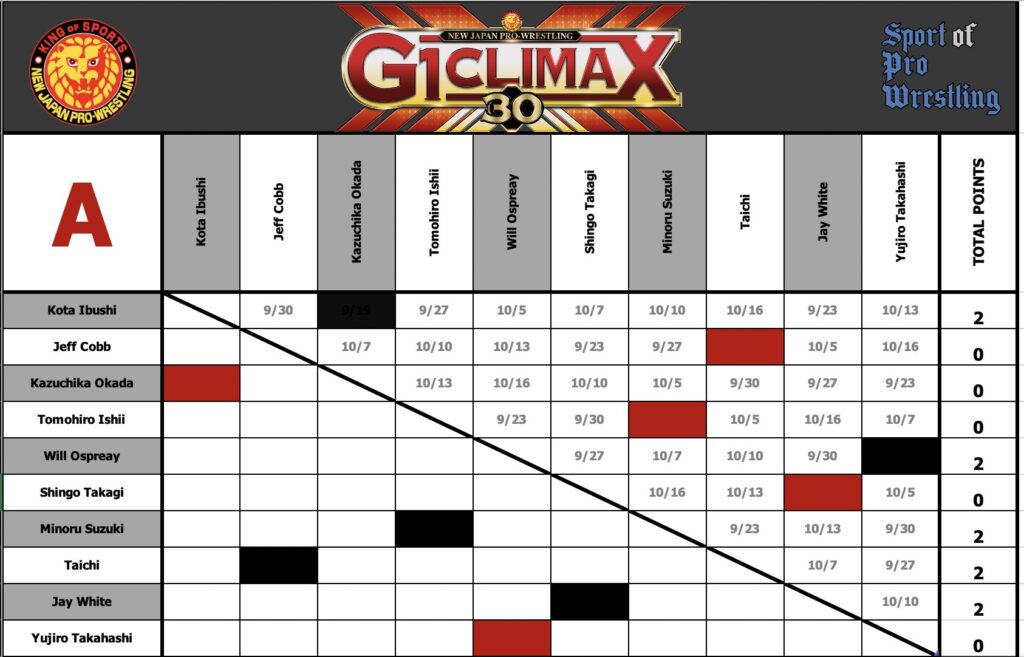 CURRENT DETAILED RESULTS AND STATISTICS CAN BE FOUND AT SPORTOFPROWRESTLING.COM
G1 CLIMAX B BLOCK MATCH
KOTA IBUSHI [2] VS. JAY WHITE [2]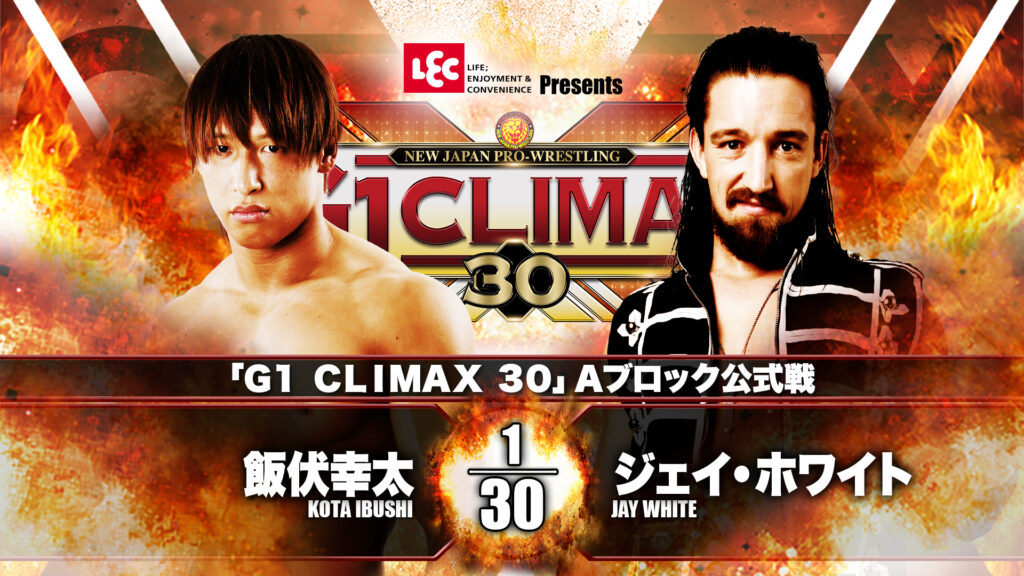 Kota Ibushi and Jay White had only shared the ring once before their G1 Climax final matchup last year. July 25th, 2015, they were unsuccessful tag team partners against the Bullet Club team of AJ Styles and Bad Luck Fale. At that time, Kota Ibushi was still splitting his time between DDT and NJPW and Jay White was still an eager Young Lion with mohawked hair in his simple black trunks, sprinting to the ring ahead of Ibushi during their entrances. They were unsuccessful as a team, and then they kept away from each other for four-plus years until last year's hyper-competitive G1 Climax final which saw Ibushi overcome the Bullet Club antics that brought White to the tournament final last year. Kota Ibushi looks to begin his tournament this year the same way he ended his G1 last year: with back-to-back victories against now-former IWGP Heavyweight Champions Kazuchika Okada and Jay White, avenging his losses to both at Wrestle Kingdom.
Jay White, on the other hand, will look to leverage just his most recent one-on-one matchup with Ibushi, their Wrestle Kingdom Double Gold Dash consolation match on January 5th that White was able to win definitively. White's victory over Ibushi may have served as a turning point in his ability to produce results. He hasn't lost a singles match since that victory, and even with a long layoff, he returned to Japan with a statement victory over Shingo Takagi to begin this year's G1.
G1 CLIMAX HISTORY

Kota Ibushi enters this match with an eight-match unbeaten streak in G1 block matches dating back to last year, nine straight G1 wins if you include last year's final.
Jay White enters this match with a seven match winning streak in G1 block matches. Of course, his overall G1 winning streak stands at one, his victory over Shingo Takagi on Saturday night, as his impressive winning streak to win the B Block last year was halted by Ibushi in last year's final.
Coming into this year's tournament, Jay White had 12 wins over his first to G1 tournaments. Only AJ Styles, with 14, had more victories in their first two G1 Climax tournaments.
2020 RESULTS

The match up of Jay White and Kota Ibushi is a statistical candidate for a time limit draw. It took Ibushi 31:01 to defeat White in last year's G1 final. This match features two of the three longest Average Losing Match Lengths in New Japan in 2020. White's 33:54 and Ibushi's 27:27 come in second and third in the stamina metric, behind only Tetsuya Naito's 38:01.
Jay White enters his match with Ibushi on a four match winning streak. The Switchblade hasn't lost a singles match since dropping the Intercontinental Championship to Tetsuya Naito on January 4th. He has defeated Ibushi, SANADA, Flip Gordon, and Shingo Takagi since then.
White carries the second-best Win/Loss Differential in NJPW into his match with Ibushi. White's average losing match length is +14:44,
Ibushi ended 2019 on an 11 match winning streak in singles matches. The last 365 days have not been so kind to him, going just 4-3 in the last calendar year. White, on the other hand, has been almost unstoppable, going 6-1, only suffering his loss on January 4th to Tetsuya Naito during that timeframe.
HEAD TO HEAD HISTORY

White's ability to defeat Ibushi in just 24:58 at Wrestle Kingdom may have been the product of Ibushi being worn out by his 39:16 IWGP Heavyweight Championship match with Kazuchika Okada the night prior (Ibushi's longest singles match on record). White won't have the benefit of a worn-out Ibushi this time, he's had a few days off to rest and it only took Ibushi 21:35 to defeat Okada to jumpstart his G1 campaign.
G1 CLIMAX A BLOCK MATCH
TOMOHIRO ISHII [0] VS. WILL OSPREAY [2]

Tomohiro Ishii looks to score his first two points of this year's G1 in a first-time matchup against fellow CHAOS member, Will Ospreay. Ospreay and Ishii succeed with very different styles and it will be interesting to see how Ospreay's high impact acrobatics and agility match up with Ishii's no-nonsense striking style.
Will Ospreay was given a layup by the NJPW matchmakers in his first match back since the pandemic hiatus, defeating Yujiro Takahashi in just 7:34. Ospreay looked ready to compete at a high level in the ring, and upon his victory, he was given a microphone to declare that "New Japan has been good in the pandemic era, but It's so much better now that I'm back, and the G1 is about being 'The One' and you're looking at him." Ospreay has never outwardly lacked confidence, but this was one of his first opportunities to declare it so publicly as he scored the first win of the tournament.
Tomohiro Ishii wasn't so lucky. His first tournament match this year was against Minoru Suzuki, the 52-year veteran and NEVER Openweight champion, who was snubbed in the section process in last year's G1. Ishii battled Suzuki as hard as he could, but ultimately succumbed to the Gotch style pile driver in defeat.
G1 CLIMAX HISTORY

Ospreay's all-time average G1 match length of 17:13 is currently tied for the longest among this year's G1 competitors with Kazuchika Okada.
Tomohiro Ishii was the only wrestler who did not even attempt a pin in his first G1 match of 2020.
2020 RESULTS

Will Ospreay's last two losses (Hiromu Takahashi, Ryu Lee) represent his only singles losses in the last calendar year. Those two losses averaged 25:48. Tomohiro Ishii has only one singles victory on record in his career longer than 25:48: his 29:45 victory over Kenny Omega in the first round of the 2017 New Japan Cup.
HEAD TO HEAD HISTORY
This will be Tomohiro Ishii and Will Ospreay's first singles match up.
Ishii and Ospreay have also never been on opposite sides of tag or multi-person matches.
G1 CLIMAX A BLOCK MATCH
MINORU SUZUKI [2] VS. TAICHI [2]

Minoru Suzuki returned to the G1 Climax in a way that only he can, declaring that he's certainly not here on a retirement tour in a hard-hitting, no-nonsense victory over Tomohiro Ishii. On paper, Suzuki's next matchup with Taichi may be a little bit easier to stomach, but the intra-faction nature of the Suzuki-Gun v. Suzuki-Gun match up is an unknown commodity, as these two have only faced off once, back in 2016 before Taichi had even graduated to heavyweight.
Taichi entered his second G1 with a hard-fought victory over Jeff Cobb, and will certainly be battling with pride as he enters his hometown of Sapporo as a reigning IWGP Heavyweight Tag Team Champion.
G1 CLIMAX HISTORY

2020 RESULTS

Taichi and Suzuki enter their head to head match up both 3-2 in singles competition in 2020.
Taichi's average losing match length of 26:52 is fourth highest in NJPW, behind only Tetsuya Naito, Jay White, and Kota Ibushi.
HEAD TO HEAD HISTORY

Here are all the intra-faction G1 matches in recent history. There have only been two occasions (out of 14 matches) where a faction leader has lost to their subordinate. Keep that in mind for Okada v Ospreay, Suzuki v Taichi, White v Yujiro, Naito v SANADA. pic.twitter.com/NKeMq61TZO

— Super J-Cast (@thesuperjcast) September 19, 2020
As The Super J-Cast notes, there have only been two occasions out of 14 matches where a faction leader has lost to their subordinate during the G1.
Suzuki and Taichi have only faced each other once. They have never faced each other in tag team or multi-person matches and they have tagged together a whopping 367 times.
G1 CLIMAX A BLOCK MATCH
KAZUCHIKA OKADA [0] VS. YUJIRO TAKAHASHI [0]

Kazuchika Okada and Yujiro Takahashi continue their seemingly never-ending feud as they both attempt to score their first win of this young G1. Yujiro Takahashi struggled to keep up with the returning Will Ospreay in his first G1 match in over five years, losing quickly to The Assassin in just 7:34.
Okada drew the short straw for his first match of this year's tournament, pitting him against defending G1 Climax winner, Kota Ibushi. Okada, still committed to his Cobra Clutch failed to meet the energy of the explosive Ibushi, losing to The Golden Star in just 21:35. The Rainmaker will look to get back on track against Yujiro Takahashi, a competitor he has never fallen to.
G1 CLIMAX HISTORY

Okada and Yujiro's .292 point difference in G1 winning percentage represents the widest gap between all A Block Competitors.
Dating back to last year's A Block final match with Kota Ibushi, Kazuchika Okada has lost two straight matches. With normal competitors, that wouldn't be cause to panic, but with Okada, it may be. Okada has only lost three straight G1 matches once, between the end of 2017 and beginning of 2018.
Okada showed on Saturday night that he's committed to his finishing submission hold, The Money Clip (cobra clutch). He has only one previous G1 victory via submission, in 2017 against Toru Yano.
2020 RESULTS

Okada's eight singles victories remain the most in NJPW with EVIL and Jeff Cobb hot on his heels at 7.
Okada's five singles victories by submission are tied for most in NJPW with Yuji Nagata and Taiji Ishimori
HEAD TO HEAD HISTORY

Okada has dominated this series in singles matches, going 3-0 against The Tokyo Pimp, Takahashi including 2-0 in G1 Climax matches (2014 & 2015)
Not noted in their one-on-one series is Okada's victory over Yujiro in a 3-1 handicap match to quality for the KOPW 2020 four-way.
---
---
G1 CLIMAX A BLOCK MATCH
JEFF COBB [0] VS. SHINGO TAKAGI [0]

In another match between competitors who lost their first match of this year's G1, Jeff Cobb will face off against Shingo Takagi in a match that is sure to be inspired by Minoru Suzuki and Tomohiro Ishii's hard-hitting battle from night one.
G1 CLIMAX HISTORY

Each at 4-6, this is the only match on tonight's card between two wrestlers with all-time G1 records under .500.
Cobb, Shingo, and Taichi are three wrestlers to keep an eye on, if not for this year, for future years, as they are all in their second tournament and they also shared a block last year.
2020 RESULTS

Cobb's 7 singles victories are second-most in NJPW this year, behind only Kazuchika Okada. He is still looking for his first 2020 victory outside of the US.
HEAD TO HEAD HISTORY

This will be Cobb and Takagi's second one on one singles match and second G1 Climax match. Cobb defeated Shingo in 12:27 with a Tour Of The Islands in last year's tournament.
Though last year's G1 was their first one on one match, Jeff Cobb and Shingo Takagi came into last year's tournament familiar with each other after Cobb defeated Takagi and Bandido in a three-way elimination match in the finals of the 2018 PWG Battle of Los Angeles in a match that defined Jeff Cobb's trajectory as a force to be reckoned with.