The B Block of G1 Climax 30 kicks off with an early and top-heavy card on September 20th, 2020 from Edion Arena Osaka. The 6-match card will feature five B Block matches, headlined by IWGP Heavyweight and Intercontinental Champion, Tetsuya Naito facing off against recently distant rival, Hiroshi Tanahashi for the first time since they battled on their block's final night in 2017.
The semi-main event will feature recent IWGP Heavyweight and Intercontinental Champion, EVIL in his first match since losing his championships as he faces Zack Sabre Jr. The undercard will also feature a Wrestle Kingdom NEVER Openweight Championship re-match between Hirooki Goto and KENTA, SANADA v. Toru Yano, and the return of Juice Robinson as he squares off against YOSHI-HASHI.
The A Block is getting all of the attention being one of the best G1 blocks ever assembled, and rightfully so, but B Block is filled with reliable wrestlers with experience in G1 tournaments. The B Block roster has participated in a combined 606 G1 Climax matches. The A Block: just 359 G1 matches between them. The A block features four wrestlers participating in their second G1 Climax while the B Block only features one (KENTA). Everyone else in the block has been involved in at least three G1 tournaments.
The B Block features three former G1 winners (Hiroshi Tanahashi, Hirooki Goto, Tetsuya Naito), three former or current IWGP Heavyweight Champions (Hiroshi Tanahashi, Tetsuya Naito, EVIL), as well as the current IWGP Heavyweight and Intercontinental Champion, Tetsuya Naito.
Of course, you can find my complete statistical preview for every competitor in this year's G1 Climax here, I have interactive, tables for NJPW's 2020, detailed results and statistics of all 1460 G1 Climax matches to date, and This Year's Tournament at SportOfProWrestling.com, and you can let me know what you find when you drill down by dropping me a line on Twitter @TheChrisSamsa.
If you need a full primer for the detailed rules of the tournament or the recent stories of the competitors, I can't recommend John Carroll's two-part preview enough. (A Block, B Block).
Date: September 20, 2020
Venue: Edion Arena Osaka
Time: 2:00pm JST
Local Time Conversions: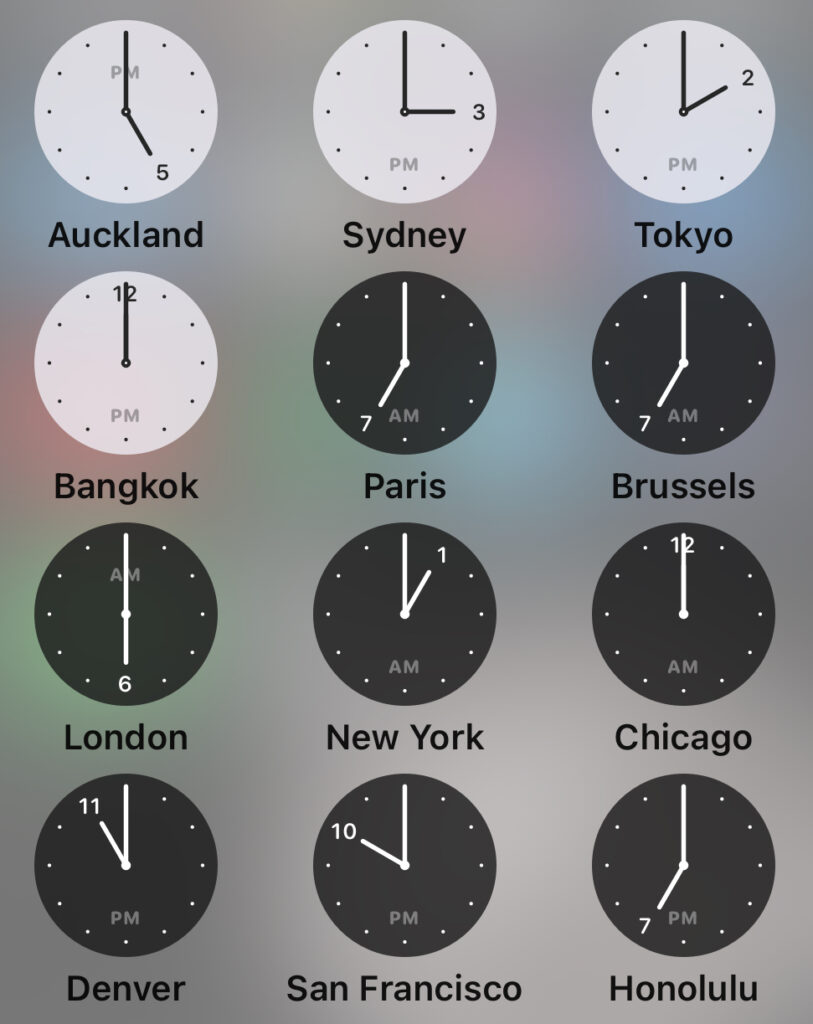 Watch Live or OnDemand On NJPWWorld
G1 CLIMAX 30: B BLOCK RESULTS TO DATE
SPORT OF PRO WRESTLING BOX SCORE


B BLOCK TABLE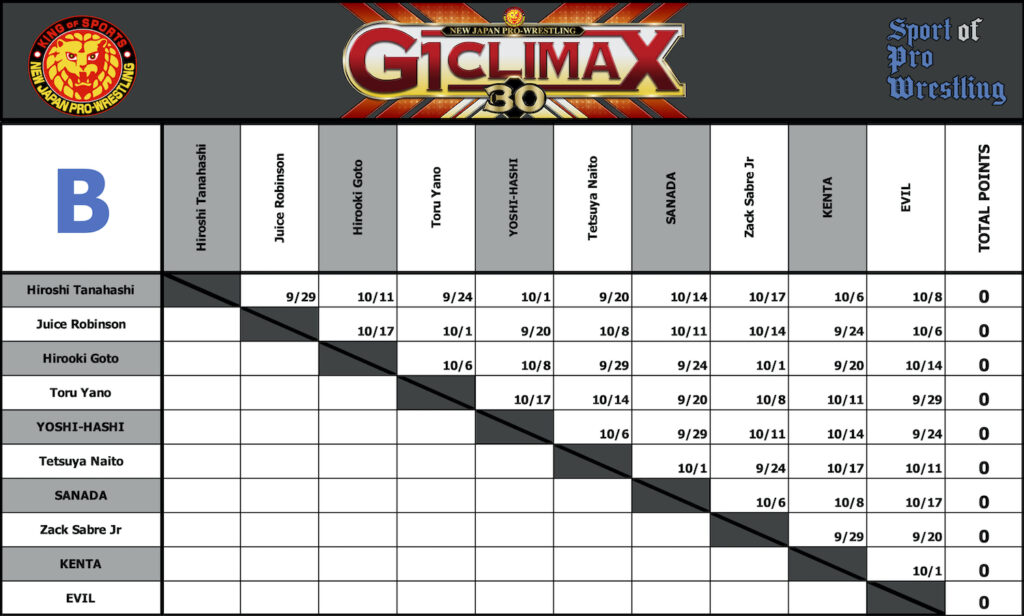 G1 CLIMAX B BLOCK MATCH: HIROSHI TANAHASHI V. TETSUYA NAITO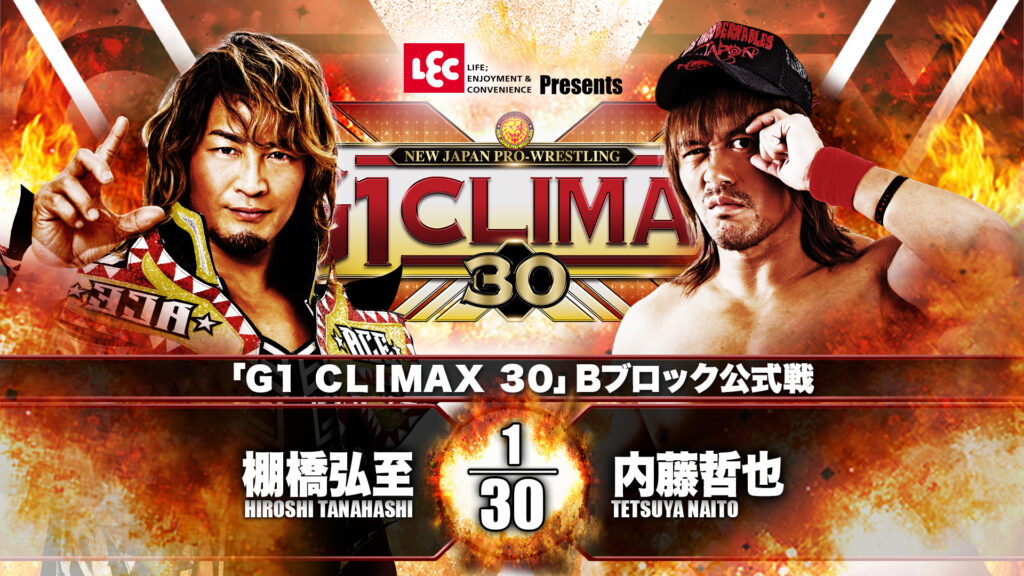 Tetsuya Naito enters tonight's match-up riding high after a triumphant victory over new nemesis, and former Los Ingobernables de Japon stablemate, EVIL at NJPW's Summer Struggle in Jingu stadium event. The NJPW matchmakers didn't go easy on Naito for his first match as a three-time IWGP Heavyweight Champion, matching him up with perennial G1 favorite, Hiroshi Tanahashi. Naito had to back door his way into the title picture last year after Jay White knocked him out of tournament contention on the last night of B Block competition in last year's G1. He was successful in doing so, as he won two matches in a row at the Tokyo Dome to establish himself has the first-ever simultaneous IWGP Heavyweight and Intercontinental Champion.
Of course, it wouldn't be a Tetsuya Naito IWGP Heavyweight Championship reign without a caveat or a surprisingly swift ending. Upon return from NJPW's pandemic hiatus, Naito's then stablemate EVIL earned a title shot by winning NJPW's annual single-elimination tournament, the New Japan Cup. When Naito met EVIL in the ring to congratulate him on his victory and celebrate LIJ's dominance with their signature fist bump, EVIL changed his hand signal to The Bullet Club's "too sweet" and hit him with his signature STO. EVIL capitalized the next night, defeating a shocked Tetsuya Naito for his prized double gold.
After EVIL defended the championships against Naito's clear best-friend Hiromu Takahashi, Naito declared it was time to stop messing around and he asked for a rematch where the LIJ leader handily defeated EVIL in the last time we saw him in singles competition. Naito enters this match standing tall, likely still recognizing that his championships can be lost at a moment's notice.
Hiroshi Tanahashi enters this year's G1 Climax at a low point, with only one singles win this year, a victory on the New Beginning in USA tour against Yujiro Takahashi. Tanahashi and Golden Aces tag team partner, Kota Ibushi, have spent most of their time recently weaving themselves into tag team championship contention. Tanahashi has a habit of getting distracted before a G1 Climax tournament and changing his course, but he'll have to get through a reigning champion if he wants to get off on the right foot in G1 Climax 30.
G1 CLIMAX HISTORY


Hiroshi Tanahashi's 141 G1 Climax matches are the most all-time. Naito's 91 land him 8th all time.
Tanahashi's 37:30:29 in Total G1 Match Length is the longest all-time. Naito's 22:47:22 lands him 4th all-time in this metric.
Tetsuya Naito's 14 victories across 2017-2018 are tied with Kota Ibushi's 2018-2019 stretch the most victories across two consecutive tournaments.
Since the tournament stabilized at 10-person blocks in 2015, Tanahashi has had the second-highest average points per tournament at 12 behind only Kazuchika Okada at 13.
Since the tournament stabilized at 10-person blocks in 2015, Naito has averaged 11.60 points per year, behind only Tanahashi and Okada among competitors who competed in all five tournaments.
Tanahashi enters this G1 looking to improve on his first losing record in a G1 in 11 years.
2020 RESULTS

Tetsuya Naito has been a man of stamina in 2020. His five singles matches have averaged 33:56.
Naito's average victory has taken him 32:55. If he wants to find G1 success, he'll have to trim that down under the 30 minute time limit for G1 block matches.
Tanahashi's one singles victory this year came against Yujiro Takahashi on the New Beginning In USA tour. His losses include a Wrestle Kingdom loss to Chris Jericho and a first round loss to Taichi in the New Japan Cup.
HEAD TO HEAD HISTORY

In this year's tournament, only Hiroshi Tanahashi and Toru Yano (20) have matched up more times than Tanahashi and Naito (14).
Tanahshi leads the overall series between himself and Tanahashi 7-6-1.
Naito and Tanahashi have been battling in the G1 Climax since 2010. Naito leads their G1 series 4-0-1.
Tanahashi and Naito recently battled in a classic trilogy in 2017 initially over the IWGP Intercontinental Championship, and eventually they battled in the main event of G1 Climax 27's final A Block night in the block deciding match. Naito was victorious in that match, as he has been in four of their last six meetings.
Tanahashi dominated the early portion of their rivalry, winning five of their first eight meetings.
Naito's draw with Tanahashi in 2010 is only G1 Climax draw.
G1 CLIMAX B BLOCK MATCH
ZACK SABRE JR VS. EVIL

EVIL enters his fifth G1 Climax with many more accomplishments under his belt than last year when he entered his fourth. EVIL is now a former IWGP Heavyweight Champion, a former IWGP Intercontinental Champion, and he has recently defected from Los Ingobernables De Japon to join Bullet Club. EVIL has established himself as a singles competitor after leaving his former tag team partner, SANADA behind.
Zack Sabre Jr enters his fourth G1 Climax as a IWGP Heavyweight Tag Team Champion with Suzuki Gun stablemate Taichi, his first NJPW championship. In two of his previous three G1 Climax appearances, ZSJ has been Rev Pro British Heavyweight Champion.
G1 CLIMAX HISTORY

EVIL has averaged 9.5 points over his first 4 tournaments.
Zack Sabre Jr has fared slightly better than EVIL, averaging 10 points through his first three.
EVIL and Sabre both look to improve upon middle-of-the-pack 8 point performances in last year's tournament.
EVIL's 3:02 all-time G1 Win/Loss Differential lands him third among competitors in this year's tournament, behind only Juice Robinson and Will Ospreay. Sabre's 2:14 lands him 7th in the metric.
2020 RESULTS

EVIL's seven singles victories year to date in NJPW is second-most behind only Kazuchika Okada.
EVIL's seven-match winning streak through the New Japan Cup and subsequent championship matches give him the longest streak in NJPW this year.
EVIL's 23:34 average match length is almost 5 minutes longer than his 2019 average of 18:42.
Zack Sabre Jr successfully defended his RevPro British Heavyweight Championship at Wrestle Kingdom against SANADA, then at New Beginning against Will Ospreay. Outside of NJPW, he lost that title to Ospreay at RevPro's High Stakes in February. Upon returning from NJPW's pandemic hiatus, ZSJ lost a first round New Japan Cup matchup against Kota Ibushi.
HEAD TO HEAD HISTORY

Zack Sabre Jr and EVIL have faced each other three times in singles action, all in 2019. EVIL leads the head-to-head series with Zack Sabre Jr 2-1 including a 1-0 lead in G1 matchups.
G1 CLIMAX B BLOCK MATCH
HIROOKI GOTO VS. KENTA

KENTA enters his first G1 Climax as a member of Bullet Club looking to improve upon his 8 point performance in his G1 debut last year. KENTA also looks to avenge his recent NEVER Openweight Championship loss to Goto at Wrestle Kingdom. KENTA currently holds the IWGP United States Championship right to challenge after a victorious New Japan Cup USA and a successful briefcase defense against Jeff Cobb.
Hirooki Goto, perennially a threat to finish in the top tier of the block standings enters his thirteenth G1 Climax on the heels of a 10 point performance in last year's tournament.
G1 CLIMAX HISTORY

Goto's 55 G1 victories are second among this year's competitors, behind only Hiroshi Tanahashi, though he is only one victory ahead of Tetsuya Naito.
Unfortunately, Goto's 47 losses are also third-most among this year's G1 class, ahead of only Toru Yano and Hiroshi Tanahashi.
Over the last five years, Goto has averaged 10 points per year, good for sixth among this year's competitors.
KENTA looks to course-correct his G1 career. He entered his first G1 in 2019 with four straight wins, defeating Kota Ibushi, Hiroshi Tanahashi, Lance Archer, and EVIL before losing five straight to end the tournament.
2020 RESULTS

Dating back to last year's G1 Climax, 14 of Hirooki Goto's last 15 singles matches have been part of a tournament or they had a championship on the line.
KENTA opened 2020 with a loss to Goto at Wrestle Kingdom and immediately attacked Tetsuya Naito to stake his claim as a competitor for Naito's then-new double titles. KENTA and Naito battled at New Beginning in Osaka in KENTA's longest match since 2013, a 35:50 war that ended with a bloody Naito defeating KENTA.
Since his losses to Naito and Goto, KENTA has not lost a singles match, rattling off four straight on NJPW Strong.
HEAD TO HEAD HISTORY

Goto and KENTA have faced off once. Goto holds the 1-0 series lead.
G1 CLIMAX B BLOCK MATCH
TORU YANO VS. SANADA

SANADA, one of the only wrestlers in New Japan Pro Wrestling that matches up well with the tricky Toru Yano enters his match with Yano looking to avenge his loss in the four-way KOPW championship match at Summer Struggle in Jingu.
Yano, a perennial spoiler in G1 Climax tournaments enters this year's tournament with hardware to defend, the provisional KOPW 2020 championship. Yano is sure to arrive with his little league sized trophy and avoid losses like he always does, defending the honor of his new trophy.
G1 CLIMAX HISTORY

Toru Yano's 110 all-time G1 Climax matches are second-most, only behind Hiroshi Tanahashi, among this year's G1 class. The 110 matches are good for 5th all time among all competitors.
Yano's 61 losses are also good for 4th all-time better than only Yuji Nagata, Hiroyoshi Tenzan, and Togi Makabe.
Toru Yano has averaged exactly 8 points over the last ten years and he has never finished with fewer than 6 or higher than 10 (8, 10, 6, 8, 8, 8, 10, 8, 6, 8).
SANADA enters his fifth G1 looking to get over the .500 hump, he has finished 4-5 with 8 points in all four of his G1 apperances.
2020 RESULTS

SANADA has participated in 8 singles matches in 2020, fifth most in NJPW behind only Kazuchika Okada, EVIL, Yuji Nagata, and Jeff Cobb.
Only one of Toru Yano's three singles victories this year happened in a traditional singles match via a 3-count pin, his first round New Japan Cup victory over Jado. Yano's other two victories include a 2-count pin victory over BUSHI and a pin of Kazuchika Okada in a four way match at Summer Struggle in Jingu.
HEAD TO HEAD HISTORY

SANADA leads Toru Yano 3-0 in their one on one series including two G1 Climax matches. Yano did technically defeat SANADA in a singles match via his victory in their four-way match for the provisional KOPW2020 championship at Summer Struggle in Jingu.
---
---
G1 CLIMAX B BLOCK MATCH
JUICE ROBINSON VS. YOSHI-HASHI

Juice Robinson returns from NJPW's pandemic hiatus, as well as a leg injury with the B Block opening match against YOSHI-HASHI. Juice hasn't wrestled a singles match since January 5th when he was defeated by Jon Moxley in a United States Championship match. Robinson is the only foreign competitor returning to the G1 without having wrestled anywhere since the company cancelled events due to COVID-19.
YOSHI-HASHI returns to the G1 Climax tournament with something to defend. He is finally a champion in NJPW, carrying his NEVER six man championship with him with pride. YOSHI-HASHI has an uphill battle ahead of himself, carrying an all-time .142 winning percentage over his block opponents, and seeking his first victory against everyone in the block aside from EVIL.
G1 CLIMAX HISTORY

YOSHI-HASHI has averaged 5.33 points in his three previous G1 Climax tournaments, lowest among this year's tournament participants. and two points lower than Juice Robinson, who is third lowest with a 7.33 average.
YOSHI-HASHI's .296 G1 winning percentage is fifth worst all time among competitors with more than 10 G1 matches. Only Tomoaki Honma's .143 is worse among wrestlers who are still active.
The last time we saw Juice Robinson in a G1 Climax, he was defeating Jon Moxley on the last night of B Block competition, spoiling Moxley's chances at winning the tournament, and continuing what would be a year long feud with the current IWGP United States Champion.
2020 RESULTS

On the surface, YOSHI-HASHI's 2020 singles record is more impressive than you'd expect, but his victories have been against less than impressive opponents, Young Lion Karl Fredericks and Misterioso Jr on the NJPW New Beginning in the USA tour,  a 49 year old Hiroyoshi Tenzan, and BUSHI. The last time we saw YOSHI-HASHI in a NJPW singles match, he lost to EVIL in 2:00 by a referee's decision.
HEAD TO HEAD HISTORY
This will be Juice Robinson and YOSHI-HASHI's first head to head singles match. This is both YOSHI-HASHI and Juice Robinson's only first time matchup in this year's block schedule.