The first night of G1 Climax 30 kicks off with A Block action on September 19 from Edion Arena in Osaka! The card is headlined with the third match in 13 months between former IWGP Heavyweight Champion, Kazuchika Okada and last year's G1 Climax winner, Kota Ibushi.
Also on the card, Bullet Club leader, 'Switchblade' Jay White returns to Japan to face off against Shingo Takagi, Tomohiro Ishii v. NEVER Openweight Champion Minoru Suzuki, Taichi v. Jeff Cobb, and Will Ospreay also makes his return to Japan and kicks off his second G1 Climax tournament against Yujiro Takahashi.
Of course, you can find my complete statistical preview for every competitor in this year's G1 Climax here, I have interactive, tables for NJPW's 2020, detailed results and statistics of all 1460 G1 Climax matches to date, and This Year's Tournament at SportOfProWrestling.com, and you can let me know what you find when you drill down by dropping me a line on Twitter @TheChrisSamsa.
If you need a full primer for the detailed rules of the tournament or the recent stories of the competitors, I can't recommend John Carroll's two-part preview enough. (A Block, B Block).
Also, this is your last chance to enter Voices of Wrestling's G1 Climax Pick'Em contest at voicesofwrestling.com/g130pickem.
---
September 19, 2020
Edion Arena Osaka
Time: 5:00pm JST
Watch Live or OnDemand On NJPWWorld
Local Time Conversions: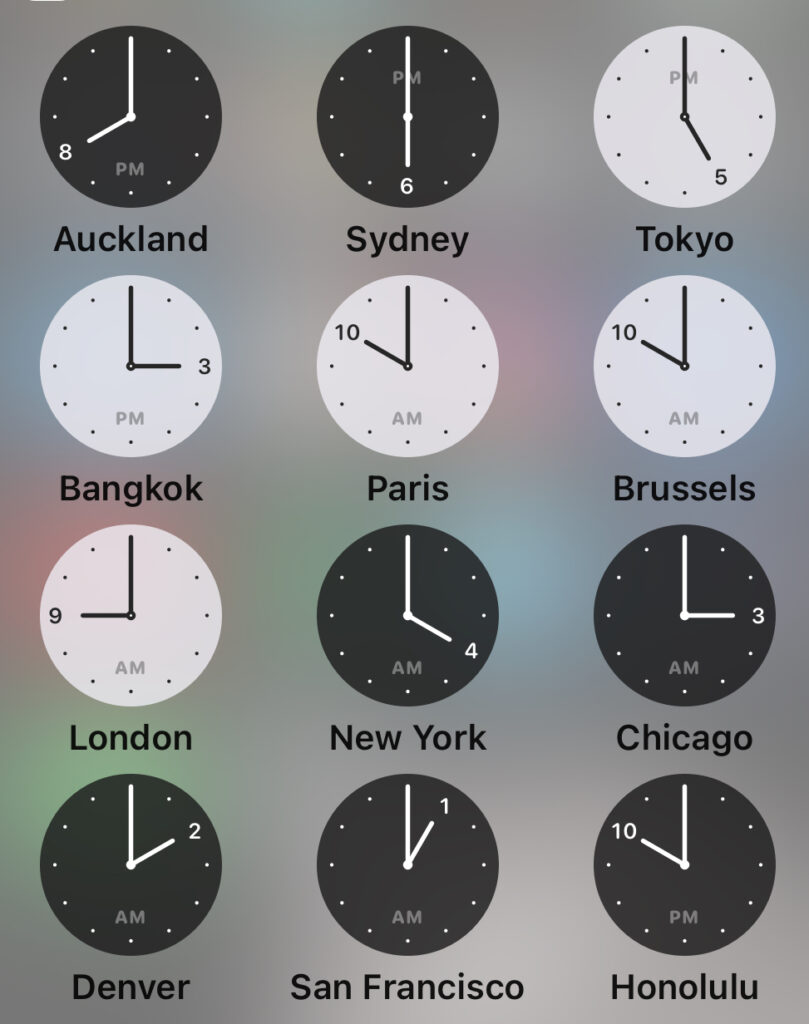 ---
G1 CLIMAX 30: A BLOCK RESULTS TO DATE
SPORT OF PRO WRESTLING BOX SCORE


A BLOCK TABLE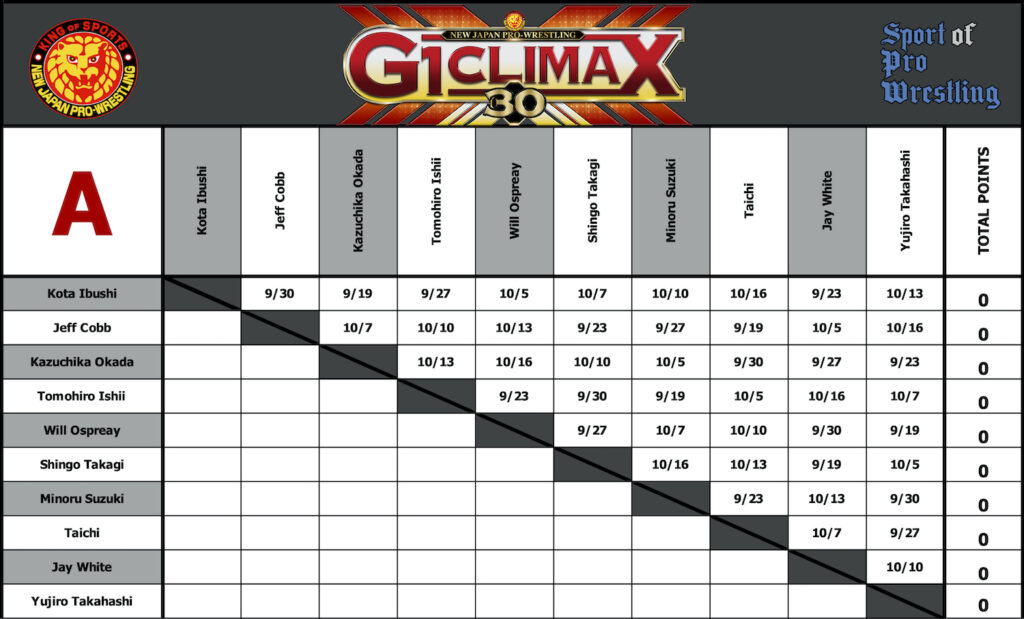 G1 CLIMAX A BLOCK MATCH
KAZUCHIKA OKADA VS. KOTA IBUSHI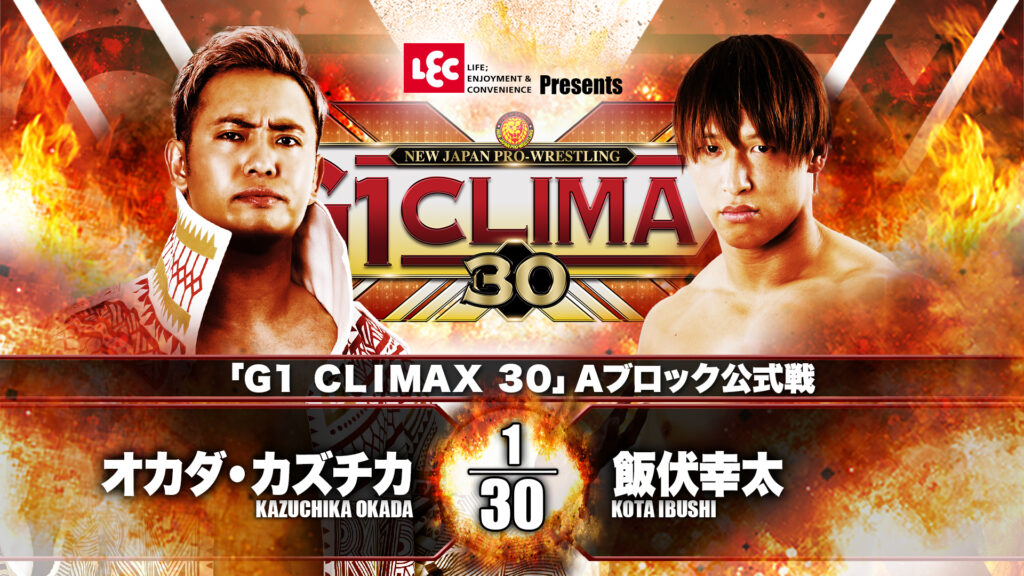 Kazuchika Okada enters G1 Climax 30 without the IWGP World Heavyweight Championship for just the second time in six years. We can assume that Okada intends on using the G1 Climax to set himself up for an IWGP Heavyweight Championship match on NJPW's biggest stage. Okada's most recent memory of the G1 isn't a fond one. Just over 13 months ago, Okada laid on the mat in Budokan Hall, listening to the referee count to three, unable to kick out after Kota Ibushi outlasted him on the final night of A Block competition during G1 Climax 29. That match that would set up his competitor tonight, Kota Ibushi, with an opportunity to go on and win the G1 Climax last summer.
Ibushi entered that match on a tear, having won six straight matches to put himself in contention during last year's final block night. It's fair to say that last year's G1 was Ibushi's high point. He defeated Jay White in the G1 Final, defended his right to challenge briefcase a few times as 2019 wound down, but once Wrestle Kingdom and the Double Gold Dash rolled around, Ibushi wasn't able to leverage his momentum to victory in the Tokyo Dome. Ibushi went 0-2 during the two-night event, losing first in a rematch to Okada in a match for the IWGP Heavyweight Championship, and second in a G1 Climax rematch to Jay White. Since then, Ibushi has shifted his focus to the tag team division, winning and subsequently losing the IWGP Heavyweight Tag Team Championships with Hiroshi Tanahashi.
This match will serve as the rubber match in Okada and Ibushi's 2019-2020 trilogy. Both wrestlers enter G1 Climax 30 with very little momentum. Okada had a nice run through the New Japan Cup, but he was stopped by EVIL in the final of the single-elimination tournament. Since then, he hasn't had a match with meaningful stakes attached to it, as he has been distracted with the new stipulation-heavy KOPW championship, which got Okada booked second on the card at NJPW's most recent tentpole event, Summer Struggle in Jingu.
Ibushi's stakes have been different, as he's been participating in the tag team division, partnered with Hiroshi Tanahashi, getting more frustrated as the year went on that Tanahashi couldn't hold up his end of the bargain to keep them in the mix as tag team champions.
G1 CLIMAX HISTORY

In 2019's tournament, Kazuchika Okada had the longest Average Losing Match Length by a mile. He came in at 27:27 in the metric, while the next longest in the tournament was Ibushi at 20:01.
Only Kenny Omega has a longer Average Match Length than Okada among competitors in the last 10 years who have competed in more than one tournament.
Kota Ibushi's 14 win total over the course of the last two tournaments ties him with Tetsuya Naito's 2017-2018 for the most victories across two tournaments.
2020 RESULTS


Okada's 8 singles wins in 2020 are the most in NJPW, and his 11 singles matches are the most of any NJPW competitor aside from the three young lions that are joining the G1 Climax 30 tour.
Ibushi's only singles victory this year came against Zack Sabre Jr in round one of the New Japan Cup. He was subsequently eliminated by Taichi in the second round.
Ibushi's 11 singles-match winning streak coming into this year had been the longest in NJPW, that streak began during last year's G1.
Okada's nine singles victories over the last 365 days leads NJPW.
Okada's 5 winning submissions over the course of 2020 are the most in the company. Something to keep an eye on is whether Okada stays committed to The Money Clip (cobra clutch) or if The Rainmaker makes a return in what is sure to be his toughest test since returning from the pandemic hiatus.
HEAD TO HEAD HISTORY

This will be the third meeting between Ibushi and Okada in just over 13 months and their sixth overall if we count the time in 2017 when Ibushi spent time in NJPW was Tiger Mask W.
Aside from Will Ospreay, Okada's .800 winning percentage against Ibushi is his highest against this year's A Block field.
G1 CLIMAX A BLOCK MATCH
SHINGO TAKAGI VS. JAY WHITE

Jay White enters his third G1 Climax with a Bullet Club-sized chip on his shoulder. The native New Zealander has been outside of Japan since February, and after ripping through the B block in last year's G1 Climax, White looks to finish the job this year.
Shingo Takagi looks to improve on his middle-of-the-pack performance in last year's G1. Shingo tied 11 other G1 29 competitors with 8 points. Since then, Shingo has won and defended the NEVER Openweight Championship in an establishing championship reign that could catapult him into contention during this year's tournament.
G1 CLIMAX HISTORY

White has averaged 12 points in his first two G1 tournaments.
Jay White's .632 winning percentage in G1 matches is second-best among this year's G1 competitors. Only Kazuchika Okada's .676 is better.
2020 RESULTS

Jay White has been victorious in 11 of his last 13 singles matches. Unfortunately for The Switchblade, the two matches that he lost over that period had hardware attached to them. He lost last year's G1 Climax final to Kota Ibushi and he lost his Intercontinental Championship on night one of Wrestle Kingdom.
In the same time period that Jay White has produced that 11-2 record, Shingo is just 8-7, including losing four straight matches in the middle of last year's G1.
Shingo Takagi is on the heels of an establishing NEVER Openweight Championship run, but his most recent singles match, losing his championship to Minoru Suzuki is sure to have left a sour taste in his mouth.
HEAD TO HEAD HISTORY

Jay White and Shingo Takagi have only met once in singles action. Shingo was White's second B Block victim during last year's tournament as he went on to win the block with a six match winning streak.
G1 CLIMAX A BLOCK MATCH
TOMOHIRO ISHII VS. MINORU SUZUKI

A matchup that was certainly circled by many when this year's blocks were announced is third from the top of the card. Perennial G1 Climax MVP, Tomohiro Ishii, faces off against NEVER Openweight Champion, Minoru Suzuki on the first night of G1 Climax 30 action.
G1 CLIMAX HISTORY

Ishii and Suzuki have competed in a combined 15 G1 Climax tournaments. Neither has ever won a block or participated in a final.
This match features the two most similar G1 Climax Win/Loss Differentials on tonight's card at 0:39 and 0:32. Both of these competitors win faster than they lose, so this is certain to be a barn burner as these two tough competitors are sure to give everything they've got for these first two points.
2020 RESULTS

Minoru Suzuki has saved his singles matches this year for events with higher stakes. He faced Jon Moxley for the IWGP United States Championship, he competed in the New Japan Cup, and he defeated Shingo Takagi for the NEVER Openweight Championship. Suzuki's inclusion in this year's G1 after being left out of last year's tournament continues that trend.
 Tomohiro Ishii opened up his singles calendar in 2020 by defeating EVIL at New Beginning in Sapporo before losing a NEVER Openweight Championship match to Shingo Takagi in February. Ishii rattled off two wins in the New Japan Cup before being defeated by Hiromu Takahashi in the quarter finals.
HEAD TO HEAD HISTORY

Ishii enters this match on a two-match winning streak against Suzuki.
G1 CLIMAX A BLOCK MATCH
JEFF COBB VS. TAICHI

Both Jeff Cobb and Taichi look to improve on their 8 point performances in their G1 debuts last year. Cobb arrives on a two-match losing streak in singles matches in NJPW, losing two in a row to KENTA on NJPW Strong. Taichi is coming off a challenging defense of his IWGP Tag Team Championship at NJPW's last major show, Summer Struggle in Jingu.
G1 CLIMAX HISTORY

On the surface, Jeff Cobb and Taichi had nearly identitcal G1 Climax debuts in last year's tournaments. They had the same record (4-5) and very simliar average match lengths (12:20 and 12:30), but if we look at average win and loss times, they were actually quite opposite. Jeff Cobb was dominant in his victories, averaging 10:54, second fastest in his block, behind only Toru Yano. Taichi need an extra 3 1/2 minutes to finish off his victories, landing his average at 14:24. Cobb's average losing match length landed at 13:29, while Taichi lost in 2 1/2 minutes faster, averaging 10:59.
2020 RESULTS

Taichi has seemingly remedied the stamina issues that presented themselves during last year's G1. His 20:00 average winning match length is fifth highest in NJPW among wrestlers with at least 3 matches behind only Tetsuya Naito, EVIL, Kazuchika Okada, and Shingo Takagi.
Only Kazuchika Okada has participated in more NJPW singles matches than Jeff Cobb so far in 2020.
Cobb's involvement in NJPW of America has kept him busy, all 9 of his 2020 singles matches have taken place on American soil.
HEAD TO HEAD HISTORY

---
---
G1 CLIMAX A BLOCK MATCH
WILL OSPREAY VS. YUJIRO TAKAHASHI

Will Ospreay returns to Japan for the first time since February and now he is a true heavyweight. Ospreay looks to improve on his 8 point performance in his G1 debut last year, He has to be considered the favorite in his first matchup of G1 Climax 30 against Yujiro Takahashi, who is participating in his first G1 Climax since his 6 point performance in 2015.
These two competitors are certainly on opposite ends of their careers, with Ospreay seeking his longterm lane in the heavyweight division, and Yujiro Takahashi very potentially confused as to why he got booked for this tournament.
G1 CLIMAX HISTORY

Statistically, Yujiro Takahshi has significantly more G1 Climax experience than Ospreay, but this is Yujiro's first G1 Climax tournament in 5 years.
Yujiro's 9:44 average G1 match length is second shortest among this year's competitors. Only Toru Yano (7:56) has shorter matches, on average.
Takahashi's .365 G1 winning percentage is 2nd worst among this year's competitors. Only YOSHI-HASHI (.296) has a worse winning percentage.
Excluding finalists Kota Ibushi and Kazuchika Okada, Ospreay's 18:17 average match length was the longest in last year's tournament. His average losing match length of 20:56 was only shorter than Kazuchika Okada's G1 record, 27:27.
2020 RESULTS

Will Ospreay wrestled in 33 NJPW singles matches last year, producing a 22-11 record. Through 8 1/2 months this year, Ospreay has wrestled in two, neither successful. Ospreay lost his Junior Heavyweight Championship to Hiromu Takahashi at Wrestle Kingdom and, the last time we saw him in an NJPW ring, he lost an RPW Heavyweight Title match to Zack Sabre Jr at new Beginning In Sapporo.
Ospreay did defeat ZSJ in a rematch for the RPW Heavyweight Championship at RPW's High-Stakes event. He has had two singles matches in England between February and now. Time will tell whether the time off has been good for Ospreay, who was surely battered after 11:25:35 of NJPW singles match time in 2019.
Yujiro Takahashi did not participate in a singles match in 2019 and his 2020 thus far has been mostly unimpressive. Yujiro defeated Misterioso Jr. on the New Beginning in USA tour, and his three losses have come at the hands of Hiroshi Tanahashi, Hirooki Goto, and Kazuchika Okada.
HEAD TO HEAD HISTORY
This will be Will Ospreay and Yujiro Takahashi's first singles match.