Stardom
Cinderella Summer In Tokyo
July 26, 2020
Korakuen Hall
Tokyo, Japan
Watch: Stardom-World
For the second time in just over a week, Stardom will be running Korakuen Hall in the most loaded card of the year, filled with incredible matchups that have a ton of storyline implications, a tournament final, and two guaranteed title changes.
Hina vs. Saki Kashima
Saki Kashima is the weirdest booked wrestler in Stardom. In January she turned her back on her STARS stablemate Mayu Iwatani and joined Oedo Tai, making her way more interesting as a character. In March, she main evented No People Gate against Mayu in a very underrated match. Since then she has been booked pretty inconsistently, losing in the first round of the Cinderella Tournament, losing to comedy wrestler Death Yama-San in a pretty terrible match a few weeks ago, then giving Giulia her first loss since debuting in the promotion in the most shocking result of the year, setting up a possible White Belt title match. Hina is only 13 years old and is still very green. Up until recently, there was nothing noteworthy about her other than she has two sisters on the roster, but the last couple shows she has had some really impressive performances against her twin sister Rina. I don't think this one will be longer than a couple of minutes, but Saki Is a pro's pro and a very unselfish worker. It will be interesting to see if Hina can continue to show improvement. Prediction: Saki Kashima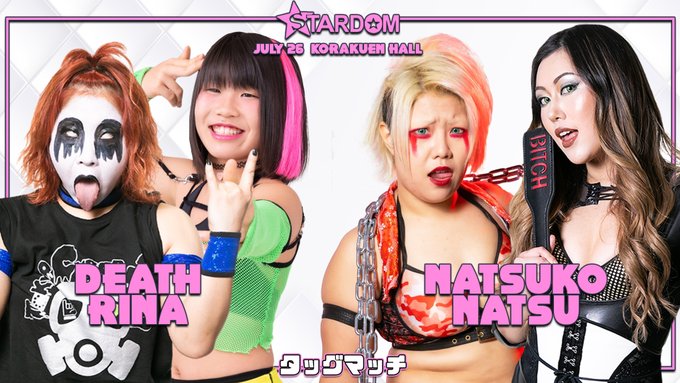 Oedo Tai (Natsuko Tora and Natsu Sumire) vs. Tokyo Cyber Squad (Death Yama-San and Rina)
I don't know if I've ever mentioned this before, but I love Natsuko Tora. Natsuko is coming off a loss to Tam Nakano in the main event of the last Korakuen Hall show in a super fun match where she got rolled up in a banana peel finish. I don't have a problem with her losing that match since it was the right story to tell, but if Stardom is serious about pushing Natsuko as their top heel she has to start winning matches. She just doesn't get the booking respect that the other unit leaders, or even their number two's get, and that's going to be a big problem if Stardom is serious about pushing Natsuko as their top heel.
Facing OT is the TCS team of Death Yama-San and Rina. Death Yama-San is veteran wrestler Kaori Yoneyama in a comedy gimmick, she is the most experienced person on the roster, and also three times as old as Rina. Rina is essentially mini Hana Kimura, same entrance music, pose, and finisher. She is the more charismatic of the twins.
Back in June Natsuko wrestled Konami in a match that ended in a DQ when Natsuko hung Konami by the throat with a chain over the ropes. That issue still hasn't been resolved, and now OT is wrestling her teammates. Death Yama-San also has history with Natsuko, as they are former Artist(trios) Champions, holding the belts with Jungle Kyona back in 2018. If Stardom wants to really kick an OT/TCS feud into the next gear they have an easy way to do that In this match, have Natsuko attempt to murder Rina by hanging her with the chain, which will probally piss a lot of people off, but will get massive heat. By doing that it would also give them a chance to drop the Death Yama-San gimmick, and bring back a serious Kaori Yoneyama. Prediction: TCS 

Stardom High Speed Championship
AZM (Azumi) vs. Starlight Kid vs Riho (c)
In season five episode four of Parks And Recreation there is a subplot where Ben and April (who are working in Washington DC) are visited by congressman Murray, whose reelection campaign they are working on. Any time this congressman interacts with anybody he is in full politician mode, smiling, shaking hands, and talking in generic non-offensive political talk. A total political puppet. Any time he isn't interacting with somebody he sits in an office staring at a wall, which freaks out Ben, and convinces April he is a robot programmed only with the ability to be a mindless government drone.
That's the most appropriate way I can sum up Riho's personality in Stardom.
Riho is not a good fit in Stardom. She does a horrible job of emoting, and comes off like a robot who is only capable of feeling extreme amounts of joy, even when the situation calls for any other kind of emotion. Besides having the charisma of a fictional congressman, the other thing that makes it impossible to sympathize with her is she is unbeatable in Stardom, and has never taken a loss, which makes me believe she can't lose due to her AEW contract. I don't have a problem with Riho's wrestling ability, but there is absolutely no reason to care, it's impossible to believe that she can be defeated at this point.
AZM and Starlight Kid are both wrestling prodigies, and career rivals, having wrestled 80 times in their young careers according to Cagematch, including being on opposite sides of a tremendous tag team match last weekend in a match that also featured Mayu Iwatani and Momo Watanabe.
With this being a three-way this would be a perfect chance to take the championship off of Riho without her having to take a fall, but with two guaranteed title changes later in this show, and Riho being stuck in Japan for the foreseeable future I think she retains in what should be a super fun, high paced match. Prediction: Riho
Powered by RedCircle

Maika vs. Momo Watanabe
While this one doesn't have a lot of storyline implications, from a pure wrestling perspective this might be my most anticipated matchup. Momo is arguably the best in-ring worker in Stardom (I'd put her just behind Mayu Iwatani) and has been used as an ace at points, particularly when she was the Wonder Of Stardom Champion, holding the record most successful defenses. Stardom is not Maika's home promotion. She comes from Taka Michinoku's JUST TAP OUT promotion, where she is one of his top students. Despite not being signed, it's clear that Stardom loves her, as she holds two belts(which could change by this point as Oedo Tai challenges Donna Del Mondo for the trios titles on the 23rd in Osaka even though she has under 30 career matches. Maika is a very different wrestler stylistically than most of the Stardom roster, basing her offense around Judo throws and submissions. While she has no chance of winning, as Momo is being built up as the next challenger for Mayu's Red Belt (if Mayu can get past Jungle Kyona on July 24), this should be Maika's breakout match. Prediction: Momo Watanabe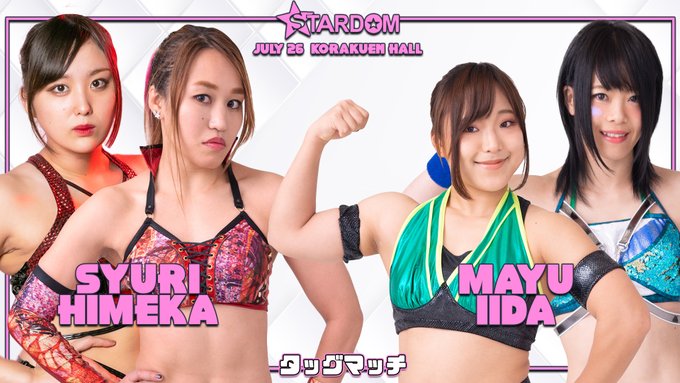 Donna Del Mondo (Himeka and Syuri) vs STARS (Saya Iida and Mayu Iwatani)
Since Stardom started running shows again Donna Del Mondo has been positioned as Stardom's top unit. A big reason for their success is the presence of the "Jumbo Princess" Himeka, who made the jump from Actwres Girl'Z, debuting in the main event of Stardom's first show back, as DDM's mystery partner in an incredible eight-woman tag. When DDM first came into the company they seemed like a generic group of invaders with no real personality. For whatever reason Himeka joining has made the group feel like a complete package, and one of the coolest acts in the promotion. All four members have their roles. Giulia is the star, Maika is the prospect, Himeka is the muscle(as she towers over the majority of the roster), and Syuri is the veteran. With only a few matches as a team under their belt, they feel like a well-oiled machine and already have multiple double, triple, and quadruple attacks. Putting their roles as wrestlers aside, what I love is how their personalities have shined the past few shows. Syuri is the veteran of the group, having an extensive history teaming with AEW's Hiraku Shida, winning tag belts in multiple promotions, along with experience in MMA and has competed in UFC. As a character, Syuri is coming off like the big sister who is extremely proud of her younger siblings, always smiling when the group poses and does an excellent job of conveying that emotion. It isn't beaten over the head, and it comes off as very sweet. Which she manages to pull off without it away from her being presented as a killer.
The most interesting person in this match is Saya Iida. Iida is Stardom's version of Tomohiro Ishii. She's short (4'9″), stocky, hard-hitting, full of fire, and probably won't ever be a main even though she is becoming one of the most consistent workers on the roster. She is a member of Mayu Iwatani's STARS, and is a horrible fit. Stars is a juggernaut of a unit, with Mayu, Tam Nakano, Starlight Kid, and Riho not as an official member, but who often teams with them. They are also known as the "glittery unit" according to former member Saki Kashima, they all have the typical idol look, sparkly gear, cheerful personalities, and flashy moves. Iida is a scrappy underdog who isn't flashy at all. Besides being a bad fit stylistically in STARS, there is also the issue where she can only move up so much with so many big names in her unit, even her role as pin eater has been replaced by rookie Itsuki Hoshino. While STARS has too many members, Oedo Tai and TCS are in desperate need of another body, and if I was to guess, I would predict Iida either remains a face and joins TCS (where she would be a perfect fit) or turns heel and joins Oedo Tai. This might not just wild speculation on my part either, as she showed a lot of frustration at the last Korakuen Hall show, both before and after her match, and even attacked her opponent Maika from behind before the bell rang.
Mayu Iwatani is the ace of Stardom, and my current wrestler of the year, having match of the year caliber matches against Takumi Iroha and Jungle Kyona/Momo Watanabe in a tag match that also involved Kagetsu. On July 24th Kyona challenges Mayu for the World Of Stardom Championship in a match that a lot of people think Kyona will win. If Mayu successfully defends the Red Belt against Kyona then this match could be used to set up Syuri as Mayu's next challenger.
Stylistically this match should be a lot of fun. Iida and Mayu are incredible at selling and their bump taking is second to none, which will come into play as Donna Del Mondo has been presented as an unstoppable force the past few shows. Prediction: Donna Del Mondo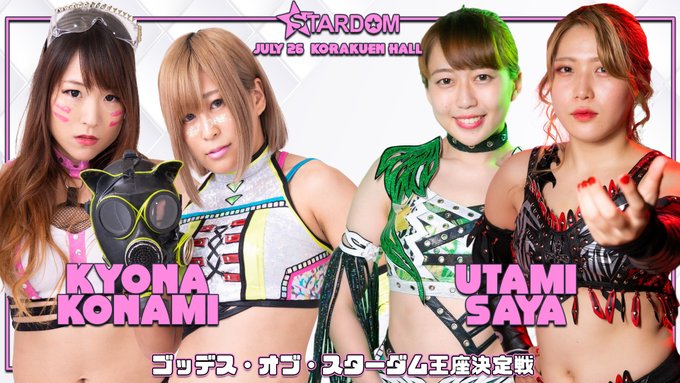 Goddesses Of Stardom Championship
Tokyo Cyber Squad (Jungle Kyona and Konami) vs Queen's Quest (Utami Hayashishita and Saya Kamitani)
This is the first of two guaranteed title changes of the night. On July 20th Stardom announced the Goddesses belts would be vacated due to the Oedo Tai team of Jamie Hayter and Bea Priestly being unable to enter Japan because of COVID.
Ever since Utami made her debut in 2018 she has been a thorn in the side of Jungle Kyona, taking her to a 15-minute draw in her very first match. Three of the past four Goddess title reigns have featured Utami and Kyona. In November 2018, just a few months into her career, the Queen's Quest team Utami and Momo Watanabe defeated Jungle Kyona and Natsuko Tora for the tag belts with Utami getting the
pin on Kyona. A few months later Kyona won the titles back, this time with Konami, with Kyona getting the pin on Utami.
There seems to be a power shift within Queen's Quest. Even though Momo is still the leader and is being built up as the next world title contender, Utami is gaining a lot of power within her own stable. She is the one who recruited Saya Kamitani and is currently attempting to bring in Riho. A couple of years ago Utami was the hot up and coming prospect teaming with the veteran in Momo, now she is the veteran and seems to be being built as the next ace, while Saya is now the hot up and comer.
This is Kyona's second title match of the weekend, as she has arguably the biggest match of her career just two days prior, challenging for Mayu Iwatani's Red Belt. Kyona is one of the most natural babyfaces in wrestling and one of the best wrestlers in Stardom. This is the hardest match to predict, but I think Kyona takes the pin in her second unsuccessful title match of the weekend. Prediction: Queen's Quest
---
---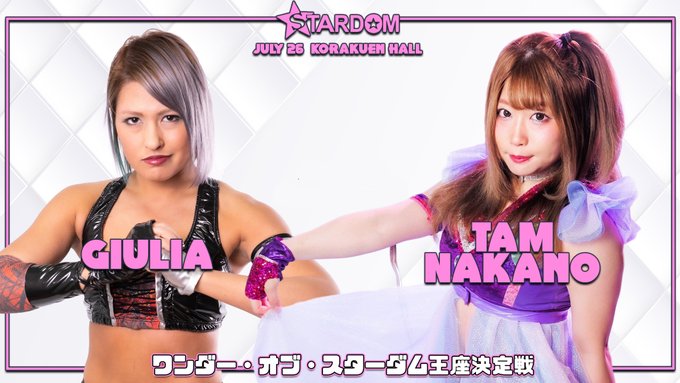 Wonder of Stardom Championship Tournament Finals
Giulia vs Tam Nakano
It's no secret that Giulia was not well received when she first made the jump from Ice Ribbon to Stardom late last year in controversial fashion. Upon her arrival, she was immediately put in a top spot despite being very awkward in the ring, and clearly uncomfortable on the mic. It looked like her push wasn't going to work. In March things finally clicked when she defeated Natsuko Tora in the finals of the Cinderella Tournament in one of the best matches in Stardom this year. Ever since then Giulia has been an absolute revelation in Stardom. While Mayu Iwatani is the best in-ring worker this year, Giulia has been the company's MVP, and the leader of Stardom's coolest unit, Donna Del Mondo. While Giulia isn't the best in-ring worker yet, she is a serious contender for the most improved wrestler of the year. She has also found her confidence and is arguably the best promo in Stardom.
Tam Nakano is one of my favorite wrestlers in Stardom. She is a master storyteller and a proven big match performer. She has been hovering around the main event scene for a while now, but with Stardom losing several key members of their roster over the past few months, she finds herself as one of the top acts in the company. She is a former idol, and really plays up the cuteness aspect of her character, almost to the point where she is psychotic at times.
The reason this match is taking place is due to Arisa Hoshiki being tragically forced to retire at just 24 years old due to neck issues, thus vacating the belt. Tam has an extensive history with Arisa, both as rivals and partners. Last June Tam challenged Arisa for this title in one of the best and most emotional
matches of the year. In November, Tam and Arisa became partners and won the Goddesses Of Stardom Tag League. Arisa retiring also affected Giulia, who was set to challenge for the White Belt at some point after winning the Cinderella Tournament.
In the first round of this tournament, which took place last weekend, Giulia defeated Konami in a match that was kind of a slog and had way too much time. While I didn't love the match as a whole, there were elements I did enjoy. Giulia almost works like a New Japan wrestler, starting her matches slow and escalating to a hot finish built around her finisher, the Glorious Driver. Tam defeated my favorite wrestler, Natsuko Tora, in a really fun match.
The finals of this tournament were never in doubt, as this has been the main feud in the post-shutdown era. Giulia wins in what should be a great match. It might be a predictable result, but that doesn't make it the wrong one. Prediction: Giulia