The 1880s began with a void to fill: James McLaughlin, the first champion of America, had retired.
On top of that, the title lineage was a mess, with several men claiming the championship. But William Miller and John McMahon were still around as the top guys in the industry, although neither of them would be as active as they were in the previous decade. Just underneath them were Thiebaud Bauer, Henry Dufur, Andre Christol, Ida Alb, Edwin Bibby, James Daly, GW Flagg, Mademoiselle Marcia, and James Owens. 
And then there was an up-and-comer named William Muldoon. 
Muldoon, who had started wrestling periodically in 1878, already had a small taste of the big time. He wrestled Bauer in May 1879 at Gilmore's Garden—soon to be known as Madison Square Garden—and again in January 1880, when it was actually called Madison Square Garden. His stock would continue to rise in the coming months. 
In February 1880, Mademoiselle Marcia and Ida Alb traded wins in Chicago. The following month, McMahon and Dufur met in a much anticipated—and much delayed—match, that resulted in a six-hour draw. Also in March, Miller and Muldoon met which likewise resulted in a draw. This was huge for Muldoon, as this showed he could hang with the top Greco-Roman guy in the country. 
On July 30, the first-ever recorded intergender match in America occurred. At Dear Lodge, Montana, during a benefit for Mademoiselle Marcia, Ida Alb wrestled Henry Standbrook, with Alb taking the second and third falls to win the bout. Alb and Marcia continued to trailblaze. In December, Clarence Whistler and Edwin Bibby wrestled to a five-hour draw with no falls in New York.
Throughout 1880, Henry Dufur claimed the collar-and-elbow title for himself, although it appears McMahon was more widely accepted as the champion. At the start of 1881, McMahon was still claiming the collar-and-elbow title, and Muldoon was claiming the Greco-Roman championship, so a super match was set up in New York between the two title claimants. The first fall was to be determined under Greco-Roman rules, the second collar-and-elbow, and the third catch-as-catch-can. So it looks like a Three Stages of Hell match is not a new gimmick. Muldoon won the first fall in five minutes and McMahon the second in a matter of moments, as was to be expected, since each man won the fall that corresponded with his style. The third fall, much to the chagrin of the increasingly restless audience, never happened. The wrestlers had a disagreement about what attire was allowed, and an agreement couldn't be reached. Whether this was the planned work all along, or if one of them got cold feet about doing the job, is impossible to know, but the dispersing crowd absolutely believed it to be a work. Despite the lackluster conclusion of the bout, this was a star-making moment for Muldoon. He had been paired with one of the top guys in the industry in one of the biggest cities in America. 
Muldoon did, however, lose to Clarence Whistler, who was by this time calling himself the catch-as-catch-can champion (to differentiate from Muldoon's Greco-Roman title claim and McMahon's collar-and-elbow title claim) in both Pittsburgh and Detroit in May of 1881. Muldoon and Whistler continued to tour together throughout the year, (which ended up being a years-long partnership) with Muldoon winning the Greco-Roman falls and Whistler winning the catch-as-catch-can falls.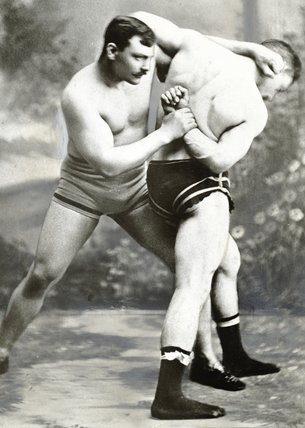 Eighteen eighty-one saw tons of new faces in the wrestling world, almost everyone was claiming one championship or the other, including the Chicago championship and the Irish Championship of America. Despite the increased number of workers, there were fewer big-time match-ups happening, and the year concluded newslessly. 
Hilariously, the Boston Globe reported on January 1, 1882, that worked wrestling's time had passed and that it wouldn't be as profitable as it used to be. Come February, Muldoon secured another big won by winning two straight falls over Andre Christol in St. Louis, which was one of the first signs of St Louis being a wrestling city. As the year progressed, Muldoon and Whistler continued touring together working their champion versus champions gimmick. 
On April 23, 1882, the Courier-Journal in Louisville, Kentucky published an extended article on the worked nature of the business. All the big names were called out: Muldoon, Bauer, Christol, McMahon, and Owens. The article talked about the development of mixed matches (each fall is a different style: Catch-as-catch-can, Greco-Roman, etc) so that wrestlers could protect themselves in their own style while still doing the job. It also mentioned how often the winner wouldn't be decided until the final fall so that the man with the best money-making odds could go over, since the wrestlers made most of their money betting on their matches. The information was said to be fed to the paper by an unnamed wrestler. Notably, James McLaughlin wasn't mentioned once in the article.
(Not so) Coincidently, the article came out the day before a big match in Louisville featuring William Muldoon, Duncan Ross, HM Dufur, and Andre Christol. What seems likely but unprovable, is that someone in the business had it out for one fo those four men and paid off the Louisville newsboys to hurt them in the press things like this were not uncommon in the early days of wrestling. While the bout was not technically a tag team match, it was the first instance of a two on two contest, with only one member from each team wrestling at a time, and the partners alternating after every fall. Muldoon and Christol got the disputed victory. 
In May of 1882, Evan Lewis—the first "Strangler" Lewis—made his debut in Montana competed in a Cornish rules (don't ask) wrestling tournament. He would parlay that into promoted singles matches in Butte in June. John McMahon also returned in June, although he faced mostly no-names during the summer, most likely working with those in his troupe. 
George W. Flagg won a moderately starred tournament in Vermont in October, with the likes of Duncan Ross and Henry Dufur also participating. This was somewhat of a forerunner of the bigger tournaments that would happen next summer. 
In December, William Muldoon and Clarence Whistler took a break from wrestling each other for a few months to have big singles matches, including Whistler drawing with rising star Joe Acton in Madison Square Garden. In January of 1883, John McMahon announced he was looking to retire soon. He wanted to wrestle a few more high profile matches and then call it quits. But until June, he didn't have any high profile matches. Come June, however, the wrestling world was flush with big events.
On June 8, 10, and 11, St. Louis hosted a major wrestling tournament. The featured combatants were Clarence Whistler, Edwin Bibby, Andre Christol, Fred Zachritz, Bixermos, Alexis Lawrence, and Ernst Freno. Whistler took the Greco-Roman bracket (interesting since he claimed the catch title and frequently jobbed to Muldoon in Greco falls), and Bibby won the catch tourney. Boston, not to be outdone, hosted its own wrestling tournament, on June 11 and 12. They saw Henry Dufur, Duncan Ross, GW Flagg, Patrick O'Donnell, Burton, and Burbank. Dufur won the tournament which was contested under mixed rules, and Flagg took second. Although McMahon was advertised, he did not perform. Buffalo likewise wanted to jump on the tourney bandwagon, and put on its own on June 29 and 30, featuring Ross, Duncan, Flagg, Daly, O'Donnell, and others. Duncan Ross won, with new-comer and local Buffalo wrestler Dennis Gallagher coming in second. 
Muldoon, who was out in California during these tournaments, mixed and matched with different performers for the rest of the year on the Golden Coast. Come December, Henry Dufur and John McMahon met again, in McMahon's first high profile match in some time. After two hours, no falls had occurred, and McMahon gave up, forfeiting his purse. The crowd was not happy. 
In January of 1884, Sorikichi Matsuda debuted in a losing effort against Edwin Bibby. Matsuda would go on to have a big year, working all the top names in the country. 
On January 29, 1884, James McLaughlin made his return to pro wrestling. He defeated Henry Dufur two falls to one in Detroit, MI. American wrestling's first top guy was back, and he worked a series of matches with Dufur through the first half of the year. 
In Spring of '84, Clarence Whistler, upset that Muldoon stiffed him on a payday, came forward to the San Francisco Chronicle and admitted in the paper that he and Muldoon worked together every time they wrestled, and that Muldoon had never wrestled a "square" match. This also put scrutiny on other wrestlers, and a few—namely McLaughlin and Ross—came forward in the papers and categorically denied any put-ons. Despite all the talk that wrestling was fixed, which wasn't news anyway, Ross v Muldoon drew 2,000 in Cincinnati on June 20th, with Muldoon getting the win 3 falls to 2. Their rematch a week later in the same city also drew a full house, and Ross got his win back.
John McMahon also returned to the ring drawing with Ed Decker, once again showing his willingness to wrestle, but not with the big names. As spring turned into summer and summer into autumn, a lot of the big names mixed it up with each other. Muldoon, Ross, Dufur, Matsuda, McLaughlin, and others provided an event-filled summer, mostly credited to McLaughlin and Matsuda, because McLaughlin returning and Matsuda debuting created some much needed fresh match-ups. The summer also saw more jobs from McLaughlin that the entire decade of the 1870s.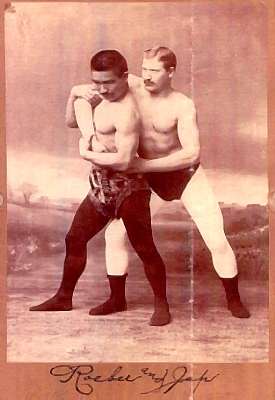 ---
---
That autumn, there was another forerunner of tag team wrestling, as McLaughlin and Benjamin teamed against Dufur and the returning George W. Flagg. McLaughlin wrestled Flagg, and Benjamin wrestled Dufur, and McLaughlin's team won three falls to two. 
McLaughlin scored a big win over Dufur in October 1884, and afterward, Muldoon challenged McLaughlin to their first-ever match. Finally, the biggest star of the 1870s and the biggest star of the 1880s would collide. In the five fall match in Detroit, McLaughlin took three of them, winning the bout. Once again, McLaughlin wins in Detroit. Their rematch a month later in St. Louis saw Muldoon emerge the victor, as McLaughlin returned to his 1879 ways of splitting big bouts. 
Eighteen eighty-five and 1886 also saw Minneapolis rise as a wrestling city, seeing the likes of McLaughlin and the British legend Tom Cannon come through for matches. On one such visit from McLaughlin, he set the record for the longest one on one pro wrestling match in American history, going to a six-hour draw with Charles Moth. 
Additionally, future champion Evan "Strangler" Lewis was starting to gain notoriety outside of his home base in Montana, including a big win over Cannon in Madison, WI. He also had a match with Sorikichi Matsuda in which he reportedly broke Matsuda's ankle on purpose, which was reported everywhere and thus got him work everywhere. In a matter on months, Lewis went from an obscure unknown only wrestling a handful of times each year, to one of the most talked-about wrestlers in the country, wrestling seemingly every other week. 
In April 1886, James McLaughlin, America's first pro wrestling legend, retired for the second time. And no, it wouldn't be his last. Some things in pro wrestling never change. He defeated Henry Dufur in Minnesota, handed him the belt he won in Detroit all those years ago and announced to the crowd that he was done. 
Despite losing pioneer Ida Alb earlier in the decade, women's wrestling persisted, as Libbie Ross and Belle Stewart took to the mat in May of 1886. 
On June 29, in Chicago, "Strangler" Lewis scored the biggest victory of his career so far, beating William Muldoon. Lewis had ascended to the top of the business, and pro wrestling had its newest star. 
Interestingly enough, his first match after the Muldoon victory was a loss, jobbing to Tom Cannon. Smartly, though it was only done to build a rematch, as Lewis came back two months later to not only beat Cannon, but "injure" him as well, building the "Strangler" aura. Lewis would continue that pattern, of jobbing the first match and winning the second several times over the next few years. He also defeated Joe Acton in 1887 for his claim to the Catch-as-Catch-Can Championship. And although title claims became so disparate and diluted in the 1880s, Lewis' claim to this belt had quite the significance come 1893. 
McLaughlin, setting the precedent for innumerable pro wrestlers in the future, came out out of retirement again in 1887, defeating a no-name in Minneapolis, and had a handful of small matches throughout the spring. 
In April 1888, Jane Highblow and Sarah Quillhoover performed the first American women's wrestling match in years, which was won by Quillhoover. Also, in February 1889, there was the first three wrestler match. While only two wrestlers performed at a time, and they were rotated in, it was the first instance of such a concept. 
The decade concluded no differently than the previous few years. Evan "Strangler" Lewis and William Muldoon were the top stars, with Duncan Ross, Henry Dufur, Sorakichi Matsuda, and Tom Cannon as additional headliners. In 1899, Tom Cannon was also the first big-name opponent of a young Iowan wrestler that had been making a name for himself in the Midwest. The young man was Martin Burns, now much better known as "Farmer" Burns, and by the end of the century, he would become one of the biggest pro wrestling stars of all time.