New Japan Pro Wrestling returned to action on June 15th with the NJPW Together Special and then they immediately launched themselves right into the New Japan Cup, their annual single-elimination tournament that was canceled in March as the COVID-19 pandemic swept through the globe. The New Japan Cup that is in progress right now looks a little different than it was intended in the spring. The NJPW roster is diverse and internationally based, so that left 14 of the 32 original competitors unable to compete due to travel restrictions. Like many sports and professional wrestling companies, New Japan was forced to get creative to keep their athletes active and keep their product top of mind.
Lion's Break Collision is NJPW's solution to get some of their United States-based wrestlers back in the ring and it will be broadcast weekly on NJPWWorld on Friday Nights beginning July 3, 2020, at 10 pm Eastern.
Some of NJPW's best young stars will take on NJPW stalwarts at New Japan's United States Dojo near Los Angeles. The renowned English commentary team will be back with Kevin Kelly, Gino Gambino, and Chris Charlton all confirmed to be providing their perspective on the action. While we don't know what to expect on all of the cards, NJPW has announced 11 wrestlers for the events, including four competitors who will be making their New Japan Pro Wrestling debuts.
JEFF COBB

Jeff Cobb is the most successful wrestler participating in Lion's Break Collision. He is the ultimate freelancer, in 2020 alone, he has worked for Ring of Honor, ECCW, NJPW, RevPro, OTT, Defy, AEW, and he competed in the wXw 16 Carat Gold Tournament. Before COVID-19, Cobb had been slated to face Togi Makabe in the first round of the New Japan Cup but he was ultimately replaced by Yota Tsuji. Cobb's presence on these cards is sure to be felt, he boasts a 5-0 singles record in a New Japan ring since the calendar turned to 2020.
ROCKY ROMERO

Rocky Romero is the longest standing member of the NJPW Roster to compete on the Lion's Break Collision cards. He has been competing for New Japan Pro Wrestling since 2002. Romero often serves as an English speaking ambassador for NJPW so it comes as no surprise that he is ready to compete at his old stomping grounds, the LA Dojo.
TJP

TJP wrestled for NJPW between 2002 and 2005 as Pinoy Boy after he completed his training in NJPW's original LA Dojo. He also competed in the 2011 Best of The Super Juniors Tournament. After an extended stay in WWE, TJP returned to an NJPW ring in for the 2019 Super J-Cup, The Fighting Spirit Unleashed Tour, and he tagged with Clark Connors during the 2019 Super Junior Tag League. TJP has most recently been wrestling in IMPACT where he has been teaming with Fallah Bahh in their Tag Team division.
KARL FREDERICKS

Karl Fredericks is undoubtedly the most interesting competitor on the Lion's Break Collision cards. Fredericks has long been the Young Lion with the most perceived upside in NJPW's developmental system. Fredericks won the 2019 Young Lion Cup by going 6-1 to maintain his status as the top of his class. Fredericks was slated to take on KENTA in the first round of this year's New Japan Cup, but travel restrictions kept both of those competitors home. Fredericks recently shared with Kevin Kelly that he has graduated from Young Lion status and he is now a full-fledged member of the NJPW roster. The big story to come out of the first Lion's Break Collision card will be how this high-potential rookie presents himself now that he can hang up the black trunks and short black boots.
MISTERIOSO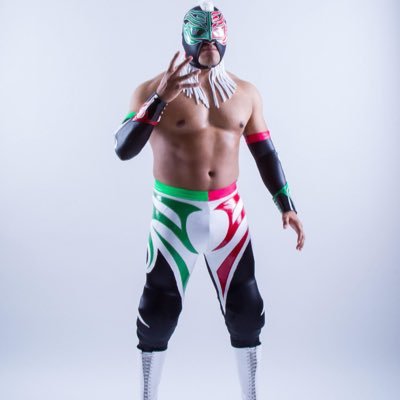 Misterioso returns to NJPW after appearing on this January's New Beginning in USA tour. Misterioso has had something of a journeyman career, spending his time wrestling in many promotions between California independents,  Dragon Gate and most recently NJPW of America.
CLARK CONNORS

Clark Connors has recently been the LA Dojo Young Lion with the biggest chip on his shoulder. Connors began his journey as a professional wrestler by training with Lance Storm in Canada and he is now under the tutelage of Katsuyori Shibata. Connors has been a staple on NJPW American tours over the past two years and he participated on the G1 Climax 29 tour alongside Karl Fredericks. Connors also participated in the 2019 Young Lion Cup, the 2019 Super J-Cup, and he teamed with TJP during the 2019 Super Junior Tag League. With Karl Fredericks graduating out of Young Lion Status, Connors is likely the LA Dojo with the highest perceived upside going forward.
ALEX COUGHLIN

Alex Coughlin is another of Katsuyori Shibata's LA Dojo Young Lions. Coughlin began his time with New Japan Pro Wrestling in the fall of 2018. He has since competed in the 2019 Young Lion Cup and he defeated Shota Umino during the 2019 Super J-Cup Tour. Coughlin hasn't racked up nearly the accolades or experience that Clark Connors or Karl Fredericks have, but with Frederick's graduation, there may be space for Coughlin to shine on these cards.
TOM LAWLOR

"Filthy" Tom Lawlor makes his NJPW debut after nearly 20 years as a professional fighter. Lawlor is currently a staple on MLW television and the United States independent wrestling circuit. Lawlor's background is in MMA and Brazilian jiu-jitsu and he appeared on season 8 of The Ultimate Fighter. After his time on The Ultimate Fighter, he competed in UFC between 2010 and 2016 where he compiled a 10-6-0 record. Lawlor was recently the MLW World Heavyweight Champion. He held the title between February 2019 and July 2019.
DANNY LIMELIGHT

Making his NJPW debut at Lion's Break Collision is Danny Limelight. Limelight is a 28-year-old freelancer from New York City. He has been active on the California independent wrestling scene since late 2014, most recently working for Championship Wrestling From Hollywood, Ground Zero Pro, and Millenium Pro Wrestling.
---
---
RUST TAYLOR

Rust Taylor is also making his NJPW debut after nearly 16 years in professional wrestling. Taylor is a regular at PCW, wXw, Championship Wrestling From Hollywood and the now-defunct Bar Wrestling. In June of 2019, Taylor appeared on WWE TV episodes of Monday Night Raw and 205 Live.
THE DKC
Dylan Kyle Cox (aka The DKC) is the least experienced wrestler on these cards. He began his in-ring career in 2018 and he has worked almost exclusively in California.
ANNOUNCED CARDS
JULY 3
Clark Connors v. Alex Coughlin
Jeff Cobb & Rocky Romero v. TJP & Karl Fredericks
July 10
TBA
JULY 17
TBA