Despite the COVID-19 crisis, lucha libre has not stopped. Some indie companies have run shows to raise money and AAA had a successful four-week tournament. Of course, everything has been behind closed doors and even though it can be depressing to watch this format of wrestling, we've had a bunch of great lucha that hopefully will make you forget all about the quarantine. 
In this article, you will find links to watch these lucha shows, a brief rundown of them and recommended matches (highlighted in bold).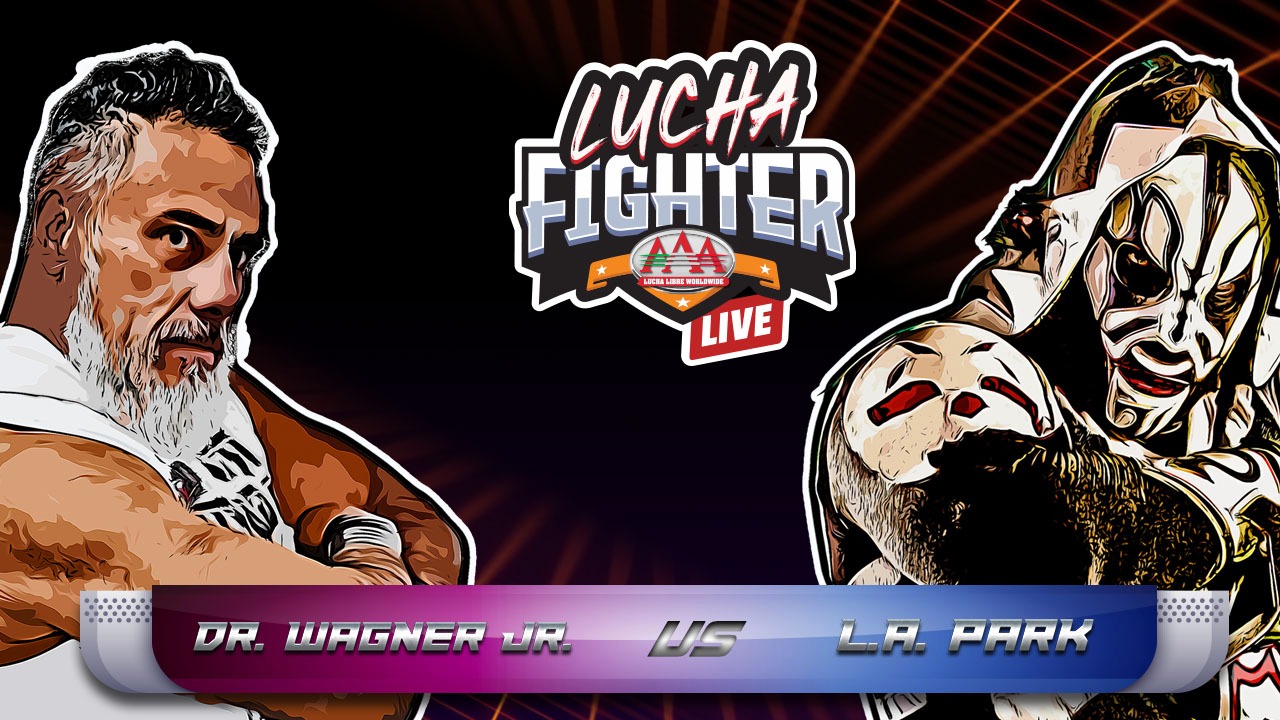 AAA Lucha Fighter
Lucha Fighter was a (mostly) singles match tournament featuring the women, mini and men divisions of the company. 
AAA shows are usually filled with multi-man and trios bouts, so Lucha Fighter was a refreshing opportunity to showcase one-on-one action. Each event was two hours long with everything being at least enjoyable. No match exceeded the 11-minute mark and we had a handful of outstanding performances from the likes of Laredo Kid, Hijo del Vikingo and Pentagón Jr. For me, Lucha Fighter has been one of my favorite empty arena ideas: it was a breeze to watch and gave me two notebook matches.
Episode 1
Highlights from Episode 1 include a great Octagoncito vs. Dinastia opener, Dr. Wagner Jr. giving Mr. Iguana a surprising amount of offense and a fun Drago vs. Psycho Clown main event. We also got to see a welcome change of pace in Mamba working as a heel trying to maintain VIkingo grounded and the Hiedra vs Hades bout showed how much both of them have improved… look out for Hades' crazy dive, it rocked. 
Octagoncito vs. Dinastía

Laredo Boy vs. Drago Kid

La Hiedra vs. Hades

Mamba vs. Hijo del Vikingo

Dr. Wagner Jr. vs. Mr. Iguana

Texano Jr. vs. Dave The Clown

Drago vs. Psycho Clown
Episode 2
Although a step down from the first night, Episode 2 featured what I consider the best match of the tournament so far, LA Park vs. Laredo Kid: an easy notebook match that had great pace, Laredo bumping like crazy and an inspired LA Park. Pagano vs. Octagon Jr. was a surprisingly solid match given how bad Pagano usually is in singles action and Pentagón Jr. vs. Niño Hamburguesa was very entertaining: Pentagón was relentless and Niño's selling was absolutely fantastic (I truly wanted to hug him).
Big Mami vs. Vanilla

Keyra vs. Lady Maravilla

Faby Apache vs. Lady Shani

Chessman vs. Myzteziz Jr.

LA Park vs. Laredo Kid

Octagon Jr. vs. Pagano

Pentagon Jr. vs. Niño Hamburguesa
Episode 3
The second round of the tournament was a breeze to watch. Pentagón Jr. vs. Hijo del Vikingo was outstanding: a spectacular back-and-forth that highlighted the strengths of both men, keeping Vikingo strong even in defeat. The women's matches were good but slightly disappointing; Chessman vs. Pagano was an entertaining brawl between two men with good chemistry that are trying to build to their TripleMania match (no clue if that's happening though). The biggest surprise of the tournament so far was Wagner vs. LA Park having a singles match… and a clean finish! Unfortunately, the audio in Wagner/Park and Penta/Vikingo was a little out of sync: they are perfectly watchable, but the issue was quite annoying.
Big Mami vs. La Hiedra

Lady Shani vs. Lady Maravilla

El Texano Jr. vs. Psycho Clown

Chessman vs. Pagano

Pentagon Jr. vs. El Hijo del Vikingo

Dr. Wagner Jr. vs. LA Park
Episode 4
The final Lucha Fighter show was slightly disappointing with only the final being a good match, everything else is okay. The Pentagón Jr. vs. LA Park was so dumb it was quite entertaining but if you are in no mood for shenanigans, you might want to skip it.
Mini's final: Dinastía vs. Laredo Boy

Women's final: La Hiedra vs. Lady Shani

Semi final 1: Psycho Clown vs. Chessman

Semi final 2: Pentagón Jr. vs. LA Park

Men's final
---
---
Más Lucha Torneo Supremo
YouTube lucha giants Más Lucha ran a 16 men single-elimination tournament featuring some of Mexico's most important indie luchadores such as Arez, Aramis and Ricky Marvin. The goal was to raise money for the participants: you can donate in this Paypal link.
In my opinion, empty arena matches work best if they are kept short (as seen with Lucha Fighter). Unfortunately, half of the Torneo Supremo bouts ran a little too long. Sometimes good, sometimes dull, these matches were hit-or-miss for me. Hijo del Pirata Morgan was the standout of the tournament: he showed lots of potential and his matches with Metaleón and Aramis are worth watching. I hope this pushes Pirata to the forefront of the indie circuit because he's been sneaky good in the last year. Besides that, Aramis vs. Ricky Marvin is the only other match that I would highly recommend.
First round
Second round
Semifinals
Final
Celeste's Mi Sagrada Lucha Libre
This might be the best empty arena lucha show so far. It clocks under one hour, has fast-paced action, all matches are short and Dragon Gate's Shun Skywalker and Yuki Yoshioka are in it. The only downside is bad lighting in the ring but it won't bother you that much. 
Yoruba vs. Futuro vs. Tromba

Cris Stone Jr. vs. Prismatic vs. Shun Skywalker

Demasiado & Yuki Yoshioka vs. Kilvan & Blaze

Tempo (c) vs. Shun Skywalker vs. Yoruba – Campeonato Celeste
AKE La Casa Extrema: "Aquí Nace la Lucha, Nosotros la Hacemos"
AKE Lucha Extrema ran a five match show in Tijuana's X-Gym to help out raise money for talent and promoters. You can donate to Tijuana Pro Wrestling Paypal here.
The first two matches were straight-up forgettable. Kamikc vs. Skalibur was fine but it had a dumb Eddie Guerrero type finish. The story repeated itself when Haraganes got themselves disqualified after having a fun match with Black Destiny and Ángel Metálico. Finally, the main event delivered: a cool 10-minute brawl with chairs, skewers and lightbulbs. This is the complete card with recommended matches in bold.
Martinete vs. Tirano

Tahur Jr. vs. Tempestad Guerrera Jr.

Skalibur vs. Kamikc

Black Destiny & Ángel Metálico vs. Demencia & Silver Star

Nicho el Millonario vs. Crazy Frank vs. Jonathan
Lucha Memes (w/T.W.E.) Chairo Bill Vol. 5
A big empty arena benefit show with a couple of pleasant matches. The three-way tag team match was an exciting 15-minute spotfest with a good finish and although not nearly as good as their 2019 sprint, Ricky Marvin and Arez had another engaging battle that mixed strong style and submission wrestling… it would've been fantastic in front of a crowd. Even though Marvin got the win, it looks like Arez is getting closer to finally defeating his nemesis.
La Heroína vs. Infest vs. Lunatik Extreme

Alas de Acero & Iron Kid vs. Cobre & Moria vs. Corsario Negro & Drako

Diosa Quetzal & Hahastary vs. Garrobo & Gremlin

Aramis vs. Perro de Guerra Jr.

Psicosis II vs. Toxin

Ricky Marvin vs. Arez
IWRG Revolución
A standard indie lucha show that featured an entertaining 8-man trainwreck between the Purasanta family and a Black Terry-led team. The main event had some comedy but it was too much of a mess to be enjoyed. There's not much in this show. You can skip it.
Lady Cat & Perla Lagunera vs. Diosa Quetzal & Lilith Dark

Arkangel Divino, Lunatik Extreme & Ultimo Maldito vs. Baby Extreme, Hijo del Alebrije & Metaleón

Black Warrior, Hijo del Payaso Purasanta, Payaso Purasanta Jr. & Payaso Purasanta vs. Black Terry, Chicanito, Death Metal & Puma de Oro (Elimination match)

Herodes Jr., Hijo de Pirata Morgan & Shun Skywalker vs. Jessy Ventura, La Diva Salvaje & Pasión Crystal
Black Metal's indie show
Indie luchador Black Metal ran a very modest, three-match indie show to raise money. It was streamed with a very basic camera (maybe even a smartphone) so there's a lot of issues that might give you motion sickness. If you manage to watch it, the show has the heart in the right place and the bouts are entertaining. If somehow you find a way to donate to their bank account (it's a mexican bank), that would be wonderful. 
Príncipe Romano vs. Arbok vs. Elemento

Black Metal vs. Destino

Astrolux vs. Memo Romero
????Es hoy es hoy!!!!!!!!???Recuerde pueden apoyar a estos jóvenes? talentos con su donación de $10 pesitos créanme que será de gran ayuda que los apoyen.Número de cuenta:4027665003261444BANCO AZTECA#Quedate en casaComenzamos astrolux vs memo Héroe Romero LuchadorElemento vs príncipe romano vs arbokBlack metal vs destinoEsperemos nos puedan considerar en sus 10 momentosMonje Mas Lucha

Posted by Luchador Blackmetal on Friday, May 8, 2020