New Japan Pro Wrestling's Wrestle Kingdom 14 is finally upon us! Here are all of my statistics and research for night two of the two-night event in the Tokyo Dome.
Each match includes NJPW 2019 statistics (overall and singles/tag team) as well as complete Tokyo Dome statistics (overall and singles/tag team), miscellaneous notes and facts on each competitor's head-to-head match up.
For more in-depth statistics on NJPW and Wrestle Kingdom 14 weekend, follow me on twitter, @TheChrisSamsa, visit my complete NJPW 2019 statistics on SportofProWrestling.com, buy the Voices of Wrestling NJPW 2019 Year In Review eBook, and check out the Voices of Wrestling Predictions and Preview Columns (Night 1, Night 2) as well as the Voices of Wrestling Wrestle Kingdom 14 Night 1 Review.
JYUSHIN THUNDER LIGER RETIREMENT MATCH
Jyushin Thunder Liger & Naoki Sano Vs. Ryu Lee & Hiromu Takahashi

-This is Jyushin Thunder Liger's 50th Tokyo Dome match, the most in the building's history. In his previous 49 matches, he has won 29, also a record.
-Liger's 11 hours and 59 minutes and 52 seconds of Total Ring Time is also the most in Tokyo Dome history. Yuji Nagata's 10:07:00 is the closest, followed by Hiroshi Tanahashi's 9:10:27.
-This will be Ryu Lee's Tokyo Dome debut.
IWGP Jr. Heavyweight Tag Team Championship
Taiji Ishimori & El Phantasmo (C) Vs. Sho & Yoh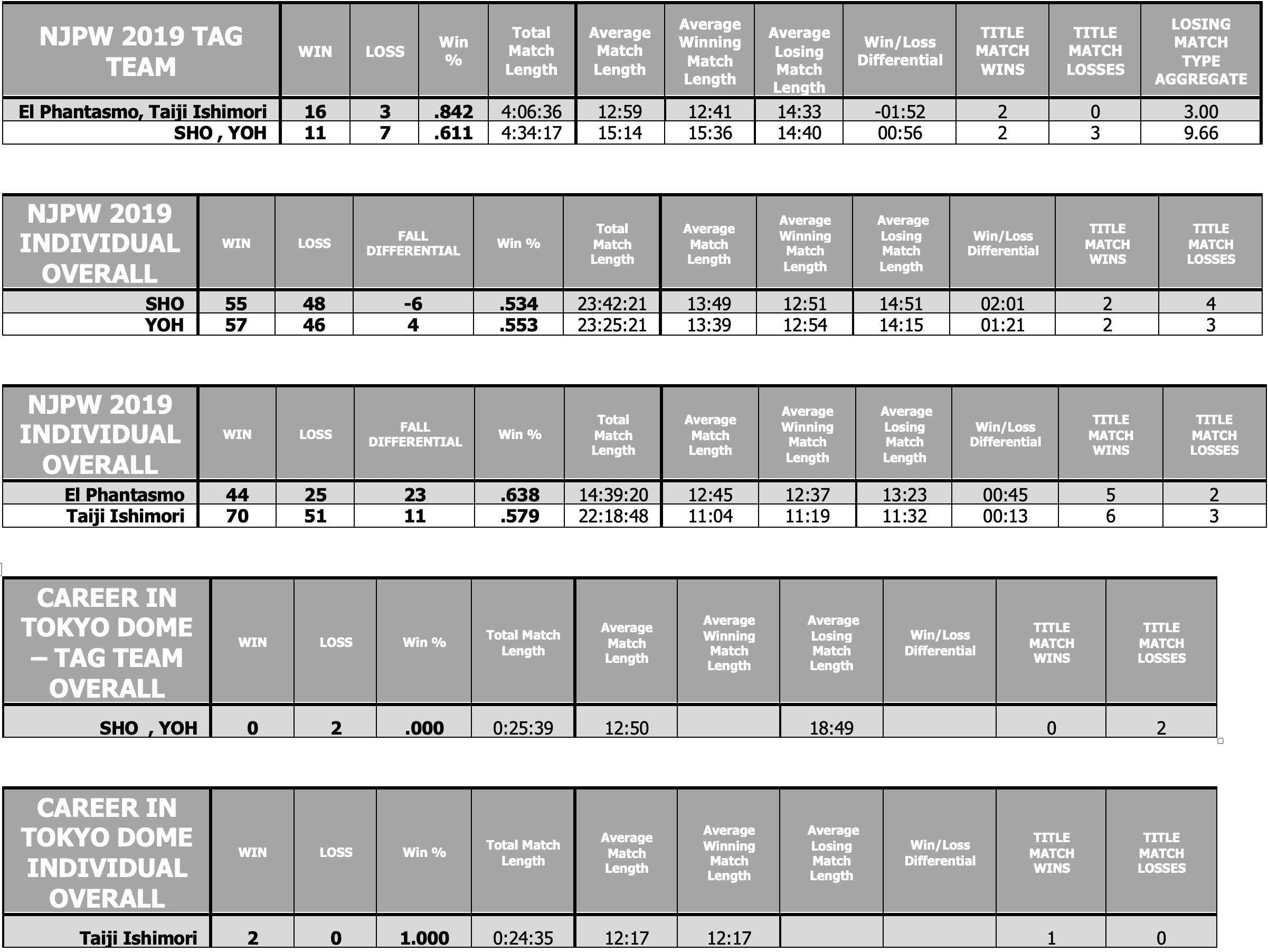 -SHO and YOH have unsuccessfully competed for the Jr Heavyweight Tag Team Championship each of the last two Wrestle Kingdoms.
-This will be El Phantasmo's Tokyo Dome debut. He is coming off of a very productive 2019. His 14-4 record in singles action was good for the best winning percentage of qualifying NJPW singles competitors (10+ matches).
-El Phantasmo and Taiji Ishimori's 16-3 and .842 winning percentage in 2019 record was good for 2nd best of qualifying NJPW Tag Teams (10+ Matches), and best of the junior tag teams.
Rev Pro British Heavyweight Championship
Zack Sabre Jr. (C) Vs. SANADA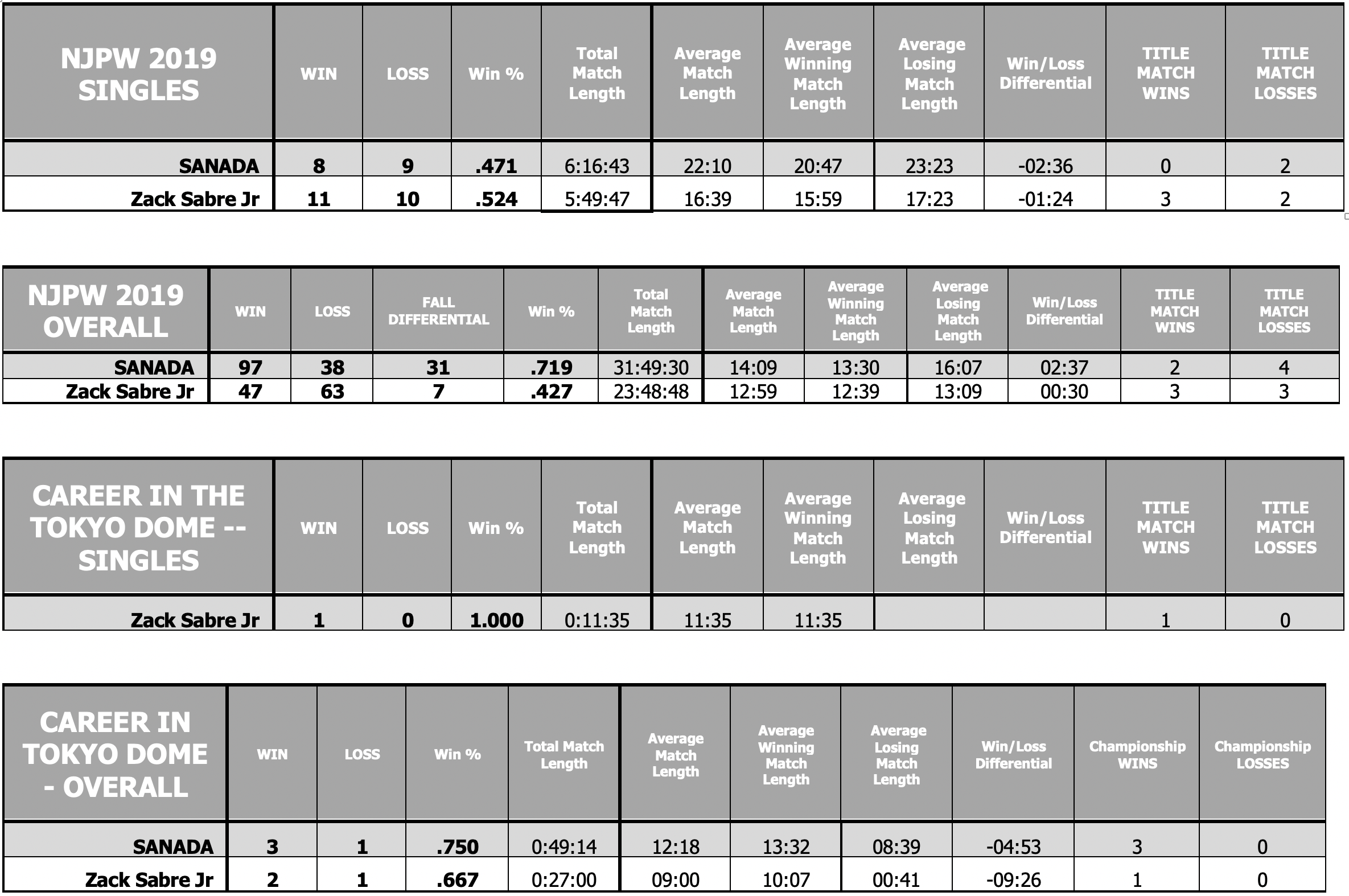 -This will be SANADA and Zack Sabre Jr's fifth singles match. They are currently 2-2 with SANADA defeating Sabre in the 2018 and 2019 G1 Climax Tournaments and Zack Sabre Jr defeating SANADA in the 2018 New Japan Cup and in a British Heavyweight Championship Match at RevPro Ungovernable in June of this year.
-This will be SANADA's first Tokyo Dome singles match. He is 3-1 in tag and multi-person matches, winning championship matches in the Tokyo Dome each of the last three years.
-Zack Sabre Jr defended the British Heavyweight Championship in the Tokyo Dome last year against Tomohiro Ishii
IWGP UNITED STATES CHAMPIONSHIP
Jon Moxley (C) Vs. Juice Robinson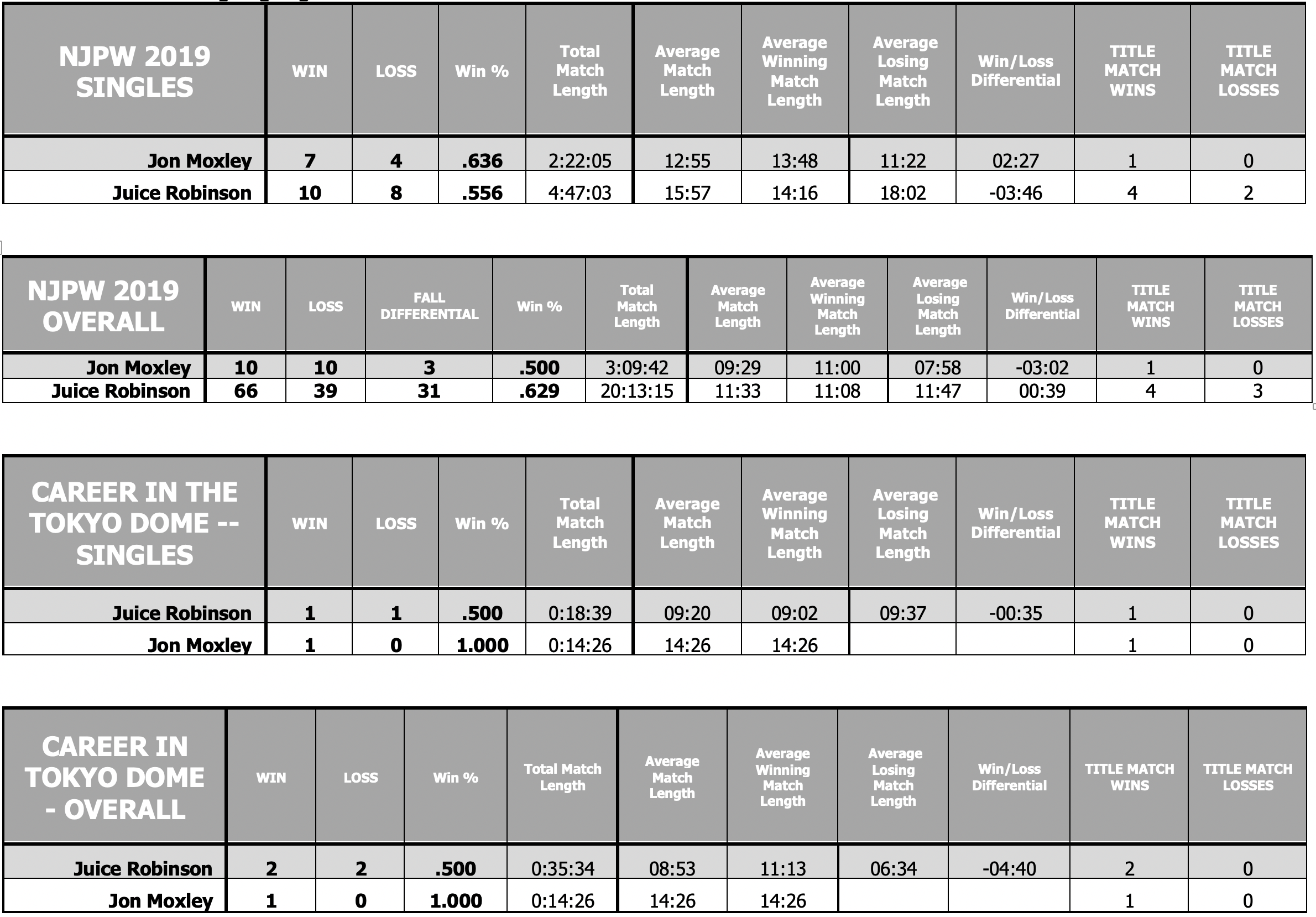 -Jon Moxley first defeated Juice Robinson on June 5th to win the United States Championship in a match that lasted 24:14.
-Juice Robinson defeated Jon Moxley on August 12th to mathematically eliminate him from the G1 Climax in a match that lasted 16:26, since then, Juice has only defeated Karl Fredericks in singles competition.
-Moxley spent 14 minutes and 26 seconds in a grueling Texas Death Match with Lance Archer to win the US Championship on Night 1 of Wrestle Kingdom 14. Juice Robinson was the legal participant for only 4 minutes and 55 seconds of his 13 minute, 25 seconds in his Tag Team Championship match.
– When Juice wins singles matches, he wins relatively quickly. When he loses, it takes his opponent much longer to finish him. His -3:46 Win/Loss differential has been one of the best in NJPW.
NEVER OPENWEIGHT CHAMPIONSHIP
KENTA (C) Vs. Hirooki Goto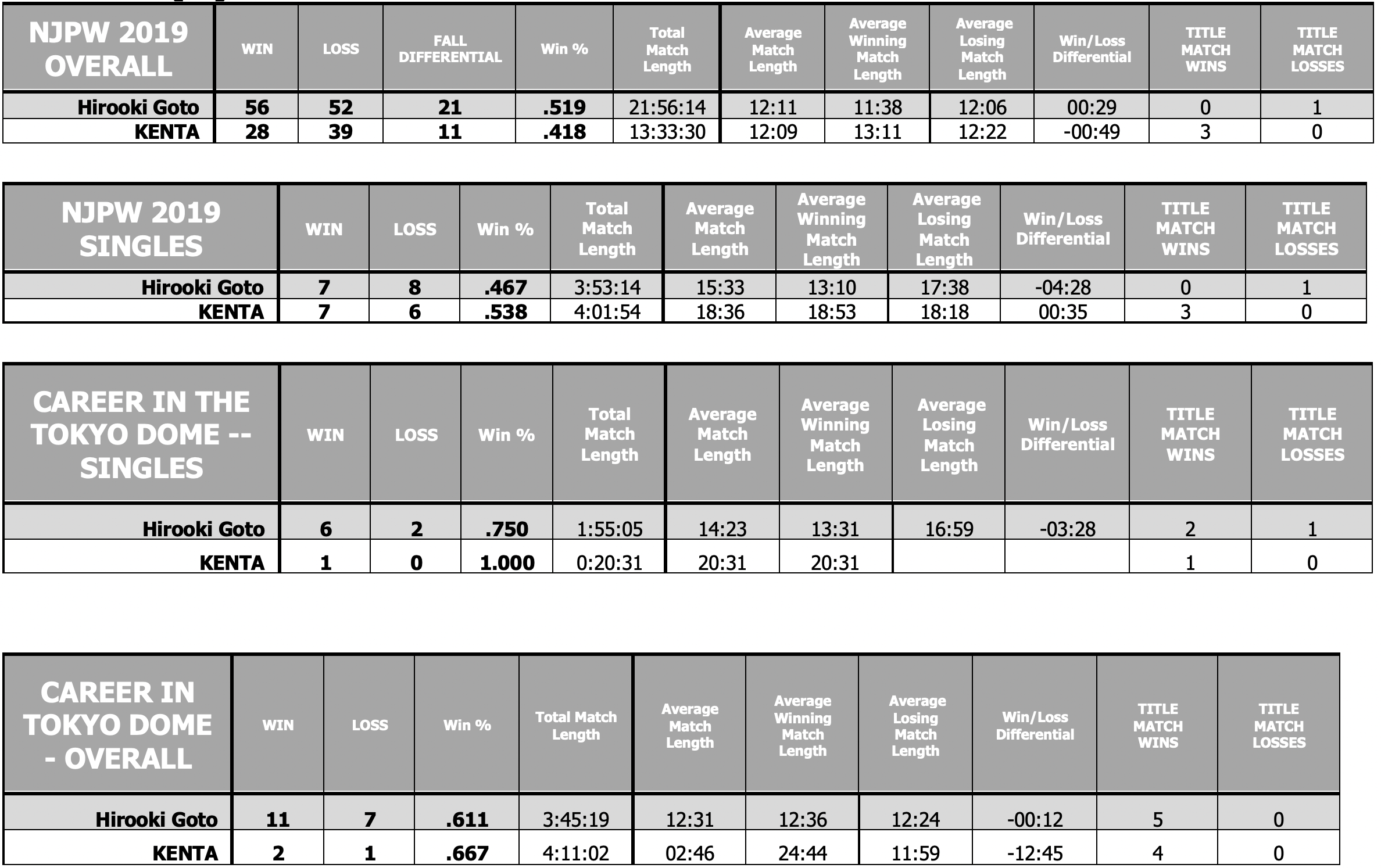 -This will be Hirooki Goto's third NEVER Openweight championship match in the Tokyo Dome. He was victorious in both previous competitions (2017 v. Katsuyori Shibata, 2018 v. Minoru Suzuki).
-This will be KENTA's first singles appearance in the Tokyo Dome since 2005 when he won the GHC Junior Heavyweight Title from Yoshinobu Kanemaru at NOAH Destiny.
DOUBLE GOLD DASH CONSOLATION
SPECIAL SINGLES MATCH
JAY WHITE Vs. KOTA IBUSHI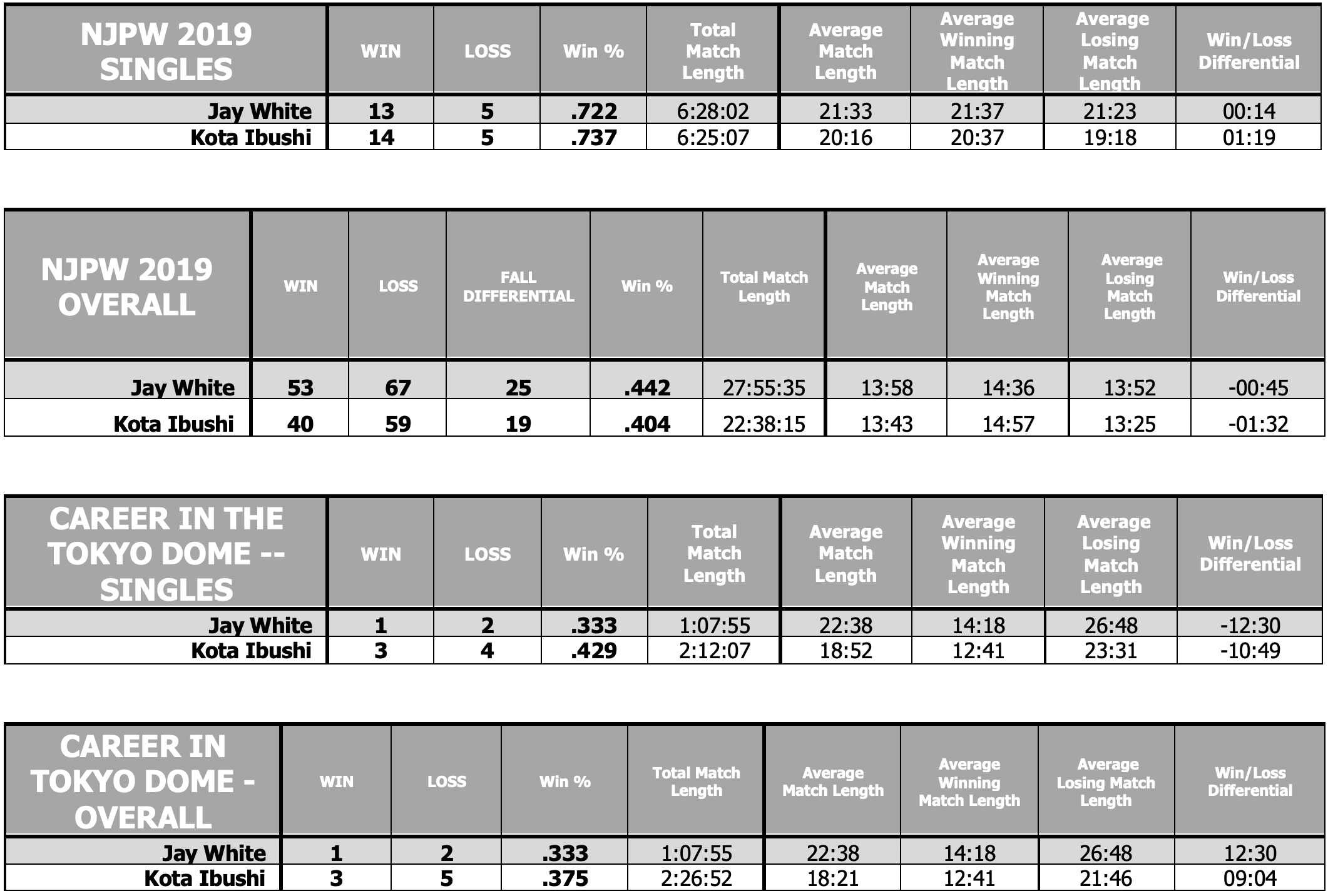 -Jay White and Kota Ibushi's 2019 were statistically similar with Jay White going 13-5 and Kota Ibushi 14-5 in singles competition. Their total ring time in singles competition was within 3 minutes of each other.
-Ibushi was defeated on night one in 39:16. White was defeated on night one in 33:54.
SPECIAL SINGLES MATCH
Hiroshi Tanahashi Vs. Chris Jericho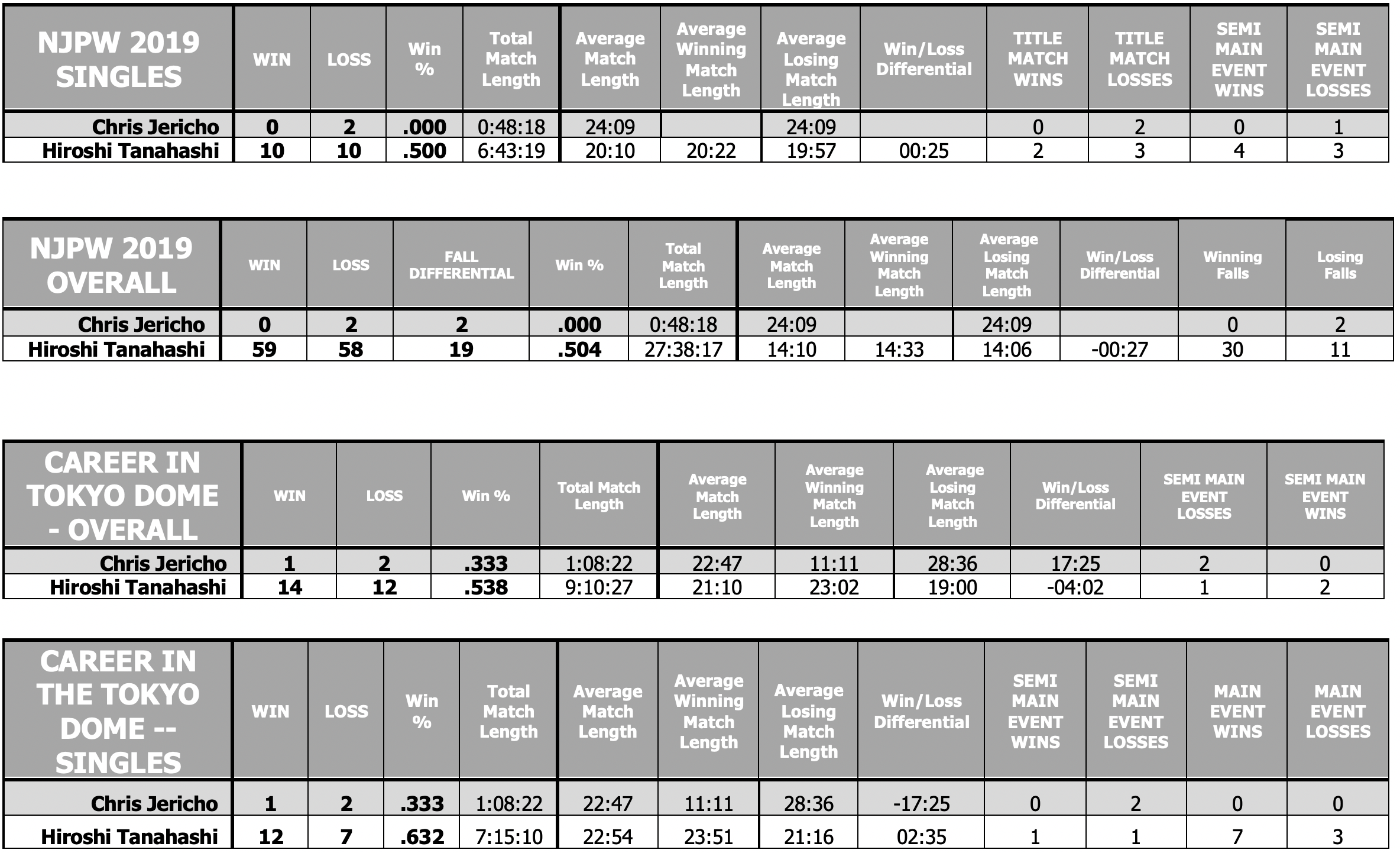 -Hiroshi Tanahashi's 7 hours, 15 minutes and 10 seconds of match time in Tokyo Dome singles matches is the highest of all competitors, almost two hours higher than the second-highest competitor (Jyushin Thunder Liger).
-Chris Jericho's lone Tokyo Dome victory took place in 1997 as Super Liger.
-Only Jyushin Thunder Liger (17) and Yuji Nagata (17) have more singles victories in the Tokyo Dome than Hiroshi Tanahashi's 12.
IWGP INTERCONTINENTAL & HEAVYWEIGHT CHAMPIONSHIP MATCH
Kazuchika Okada (C) Vs. Tetsuya Naito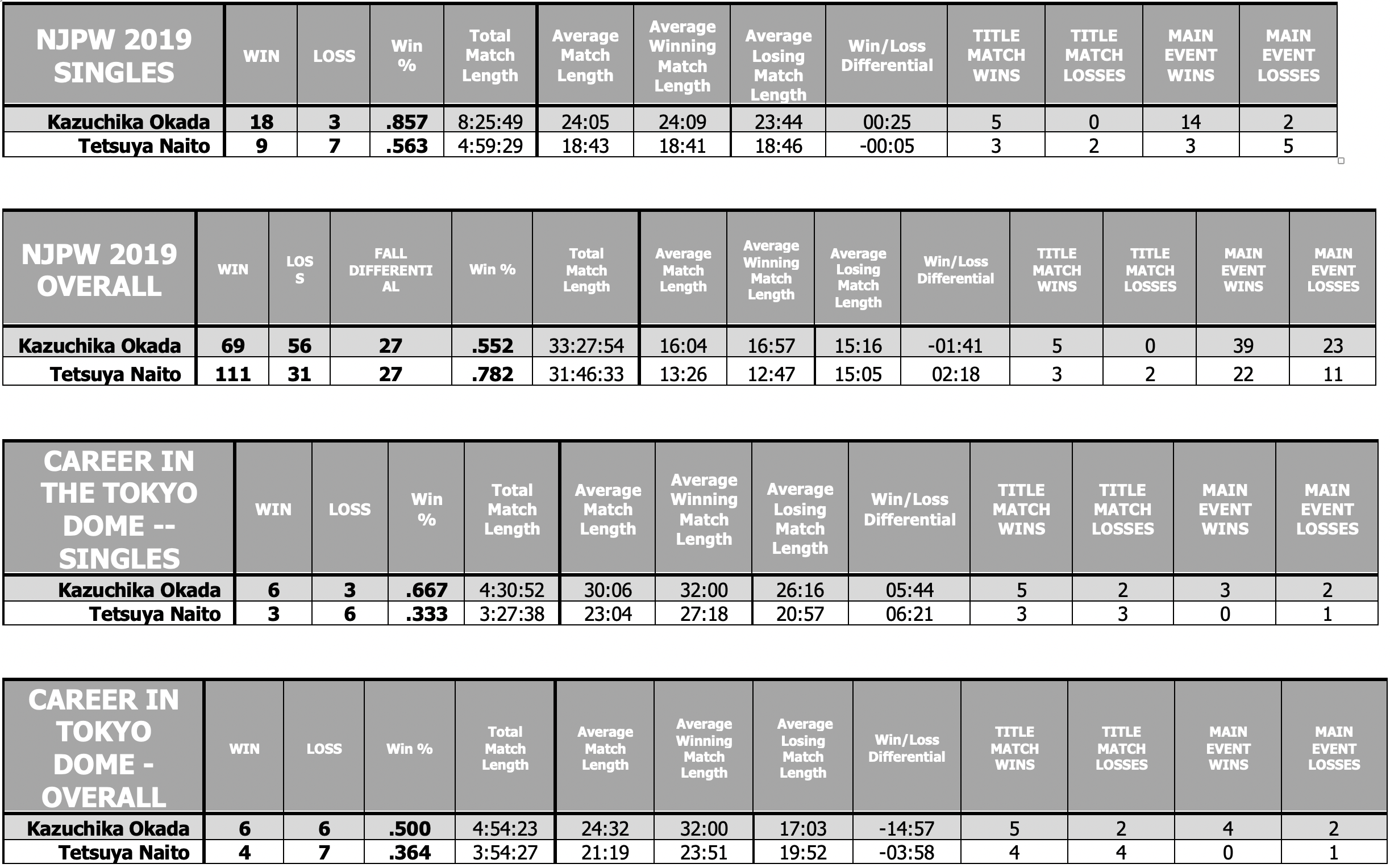 -During his career, Kazuchika Okada has been IWGP Heavyweight Champion for five reigns, totaling 1790 days. Tetsuya Naito has held the championship once for 70 days. Tetsuya Naito has also been Intercontinental champion for five reigns, totaling 498 days.
-Tetsuya Naito has won three straight Intercontinental Championship matches at the Tokyo Dome while Kazuchika Okada has won four straight IWGP Heavyweight championship matches at the Tokyo Dome.
-Since returning from their excursions (2010), Tetsuya Naito and Kazuchika Okada have met 8 times in singles matches. Kazuchika Okada holds the series lead 5-3 with a 4-1 series lead in five IWGP Heavyweight Championship matches.
-Okada's five victories over Naito average 28:30, peaking with his 34:26 victory in the main event of Wrestle Kingdom 12.
-Naito has defeated Okada three times since 2012, once for the IWGP Heavyweight Championship, Twice in the G1 Climax. Naito's victories against Okada have averaged 21:34.
-Their previous five IWGP Heavyweight Championship Matches have averaged 30 minutes and 24 seconds.
-Okada defeated on night one in 39:16. Naito won on night one in 33:54. Both just about FIFTEEN MINUTES longer than their 2019 singles averages (Okada 24:05, Naito: 18:43).