It's not unusual for sports with a large talent pool to use a ranking system to determine contenders, challengers, playoff competitors, or future matches. College Football has no fewer than three relevant rankings each week. Boxing has at least four recognized governing bodies with rankings.
All Elite Wrestling announced their initial rankings for each of their titles yesterday.
#AEW Rankings
Friday, November 8th, 2019 pic.twitter.com/thyimkly1S

— All Elite Wrestling (@AEWrestling) November 8, 2019
AEW is a self-proclaimed sports-centric alternative in the professional wrestling world. Wins and losses are tracked and announced, matches end almost exclusively by pinfall or submission, and the championship opportunities have been presented to contenders that have a reasonable claim to them.
In an attempt to analyze their booking trends, I've been generating Sport of Pro Wrestling's AEW Statistical Rankings since the young company's inception. Needless to say I was waiting for AEW's official rankings with baited breath and excitement to look at how AEW's rankings compare to what the statistics are telling us.
AEW is building their rankings around their championships and they remove their champions, as they are the de facto number one. AEW is also officially disregarding Lights Out matches. This approach creates some disparity in ranking structure.
Sport of Pro Wrestling's rankings include champions and they are centered around overall performance, regardless of a wrestler or team's path or desire to gain championship contention. Most notably, Sport of Pro Wrestling's Men's Overall top 20 is occupied by quite a few wrestlers in prominent tag teams, pushing some singles competitors down in the ranks. I have also chosen to include AEW's Lights Out Matches, as I feel they are an indicator of performance, thus should be recognized.
Our rankings are also entirely based around statistics. We analyze and weight over 40 metrics to build a statistical ranking, which I don't expect to mirror AEW's more subjective mode.
AEW WORLD CHAMPIONSHIP RANKINGS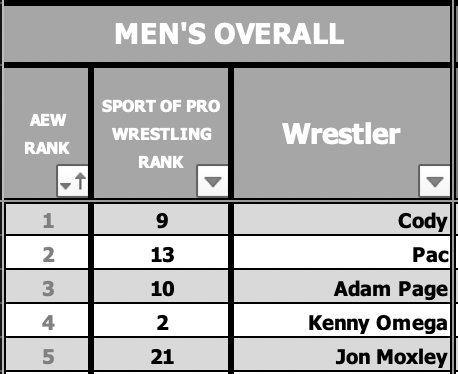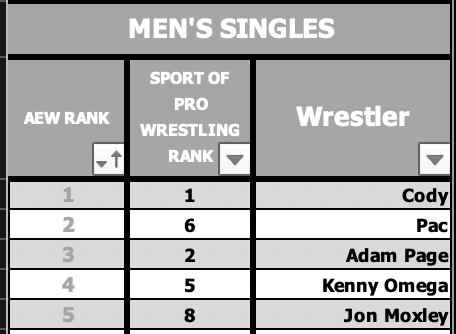 Full Statistics and Rankings at SportofProWrestling.com
Too High: Jon Moxley
Statistically, Jon Moxley has very little reason to be on this list. In theory, our rankings would have Moxley significantly higher than AEW's because we're including his Lights Out victory over Joey Janela while AEW has chosen to omit it. Moxley has participated in only two officially sanctioned singles matches, a victory over Shawn Spears and a draw with PAC.
Moxley's victory over Spears isn't especially impressive, as Spears hasn't shown an ability to beat top-level talent in AEW, defeating only Michael Nakazawa and Brandon Cutler.
Too Low: Kenny Omega
Kenny Omega struggled to get into the win column in AEW, but since he found his way there, he hadn't turned back until this week's tag team loss to Chris Jericho and Sammy Guevara.
In our model, Kenny benefits some from volume. He has wrestled in ten matches, which is the most in AEW. Five of Kenny's matches were tag matches, where he has picked up two more pinfall victories while not participating in any losing falls.
Omega is a hot hand coming into his matchup this weekend with Jon Moxley. It's a shame a victory in the Lights Out match won't affect his ranking going forward.
Notable Omission: Darby Allin
Darby Allin's three singles victories are tied for second-most behind only Adam Page. Allin has participated in an AEW championship match and he put up a strong fight. Statistically, I have Allin third in the Men's Singles ranks.
I'd hypothesize that Allin was left out of the top five because he lost his championship opportunity and AEW is perceiving that as a sign that he's not ready to challenge for the title again so soon.
AEW WOMEN'S CHAMPIONSHIP RANKINGS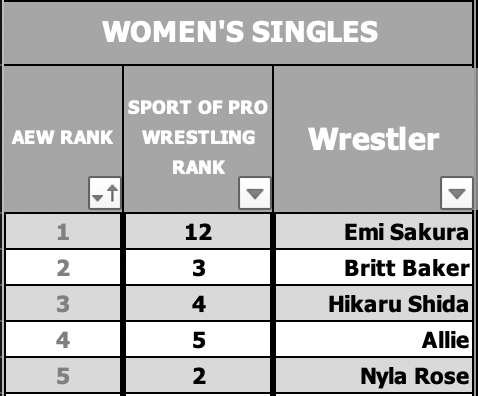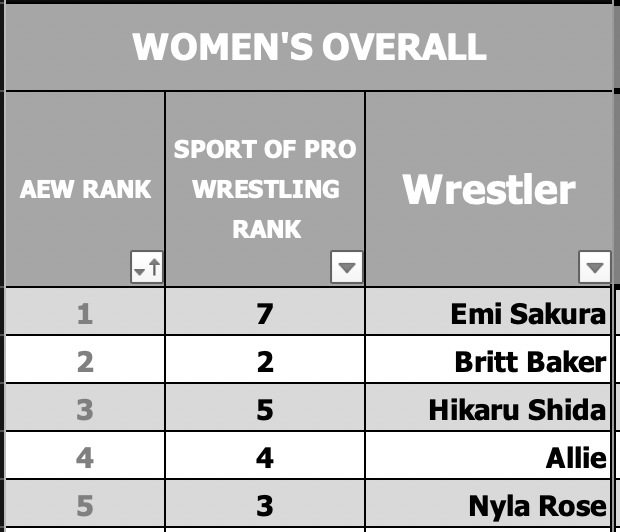 Full Statistics and Rankings at SportofProWrestling.com
Too High: Emi Sakura
To say Emi Sakura is ranked too high is not an indictment of her Women's World Championship opportunity at Full Gear; she did recently pin the champion in a tag team match, after all. Emi Sakura has only participated in one singles match in AEW and while we're working with small sample sizes, Sakura's in AEW is the smallest of them all.
Clearly Emi Sakura's historical performance elsewhere is carrying some weight at AEW, but it's still tough to justify the top spot in the Women's rankings after only one singles appearance in a four way match.
Too Low: Nyla Rose
Nyla Rose seemed primed to be the inaugural AEW Women's Champion, but her momentum was halted by Riho. Since then, Rose has mostly been absent from big matches, but she recently reminded us that she is a force when she defeated Leva Bates on AEW Dark.
Statistically, Rose has been dominant and she should remain a top contender for the women's world championship, especially in an inexperienced division like AEW's.
Notable Omission: None
These are very clearly the top five women in AEW. With strong future performances, I won't be surprised to see Bea Priestley, Jamie Hayter, or Shanna enter the top five soon. Brandi Rhodes always remains a threat to push herself into the conversation as well.
---
---
AEW WORLD TAG TEAM CHAMPIONSHIP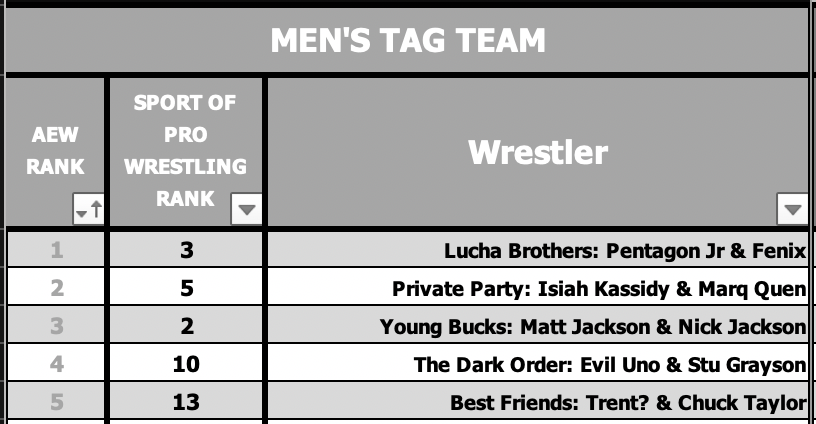 Full Statistics and Rankings at SportofProWrestling.com
Too High: Best Friends, Trent? and Chuck Taylor
Best Friends' inclusion on this top five is a stretch. Trent? and Chuck Taylor have lost three tag team matches in a row and neither have shown much in singles or multi-person competition either. They have not had a victory since June 30th's Fyter Fest and they're clearly down on their luck.
Trent? and Chuck Taylor will need to win a couple of matches to move themselves up in our statistical rankings.
Notable Omission: Proud N Powerful, Santana and Ortiz 
Even with only one victory, it is surprising to see Santana and Ortiz not make AEW's list. Proud N Powerful's squash style victory skyrocketed them up our rankings to number four.
Their matchup with the Young Bucks at Full Gear will be telling to what their future path to the AEW World Tag Team Championships looks like.
SPORT OF PRO WRESTLING RANKINGS
Sport of Pro Wrestling's AEW Statistics and Rankings are the preeminent independent source for All Elite Wrestling in-ring statistics and analysis. Sport of Pro Wrestling's rankings are a balanced aggregate of each of our reported metrics weighted by a wrestler or team's strength of schedule.
Our objective is to provide transparent analysis of AEW wrestler's in-ring performance and their match-maker's processes. Every Friday, we'll take a look at the risers and fallers in our divisional and overall rankings and we'll compare our rankings to AEW's.