DRAGON GATE
GATE OF DESTINY 2019
NOVEMBER 4, 2019
EDION ARENA OSAKA, OSAKA, JAPAN
Watch: Dragon Gate Network
MEET OUR PREVIEWERS:
Case Lowe (@_InYourCase): Voices of Wrestling's official young boy for four years now. I review Dragon Gate shows and cover OWE's Strong Hearts for this website.
Mike Spears (@fujiiheya): Co-host and producer for both Open the Voice Gate and Everything Elite. I'm eagerly looking forward to the voice of Dragon Gate USA, Lenny Leonard, to make his first call of the parent promotion I've loved for over a decade. 
Taylor Maimbourg (@tamaimbo): Taylor is excited to preview another show from this big weekend of puro shows after previewing DDT's Ultimate Party earlier.  Also look out (or listen out?) for his reviews of shows from this big weekend on the upcoming episode of Wrestling Omakase.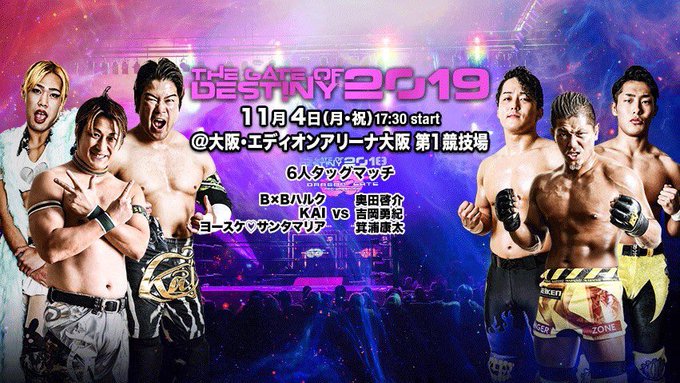 BXB HULK, KAI, YOSUKE SANTA MARIA VS. YUKI YOSHIOKA, KEISUKE OKUDA, KOTA MINOURA
Case: Nothing is going to fire me up more than a beefed-up Keisuke Okuda throwing around a beefed-up KAI. Give me fighting spirit in the opening match, please. BxB Hulk has been moving around better than normal lately and Yosuke Santa Maria, given her current motivation levels, fits perfectly in this opener. Hopefully, this is just a showcase for the Mochizuki Dojo kids, all of whom have been killing it lately. It'd be nice to see them get the win over an established team like the Tribe Vanguard trio, so that's what I'm predicting. Prediction: Mochizuki Dojo 
Mike: Usually openers don't have a lot of juice to them in Dragon Gate. It's typically shoved everyone else on the card and work it out from there. This one has a bit of foresight, however, in getting two units facing off. With Mocchy busy, his charges get a chance to leave their mark on the opener: Keisuke Okuda would win the best newcomer/new returnee award if DG had one, Yuki Yoshioka has become the heir to Susumu's "most unassumingly great" crown, and Kota Minoura has taken a significant step forward in his development as he enters his second year. Tribe Vanguard? Well this is probably Tribe's strongest trio without YAMATO in for Maria. Hulk hasn't returned to his 2014 form, but he's looked better now than he has for any stretch of time since then, Twin Gate run notwithstanding. Maria's in their usually precarious position of being incredibly talented and a great underdog, but only played for cheap laughs. KAI is KAI. He's doing a produce show soon that's going to have a lot of DG folks on it. So I'm picking his team to win. Prediction: Tribe Vanguard
Taylor: Behind Keisuke Okada, who Mike correctly mentioned as DG's best new wrestler for 2019, Hyo Watanabe had been Mochizuki Dojo's best wrestler.  However, Hyo is now H*Y*O and is off with R.E.D. My biggest question for this match is who will step up to take the number two spot in MD now that Watanabe has moved on? Both Yoshioka and Minoura have been solid, if unspectacular, but now with a less crowded group and more opportunity to shine, I'm interested to see who makes the most of the opportunity. There's not much going on in the opposite corner, as Tribe Vanguard has firmly settled into their role as a middling faction that doesn't seem in any danger of disbanding soon.  Kai, after an impressive run closer to the top of the card, has fallen back down into the opener. Hopefully, this match is a chance for him to start climbing back up the card.  Prediction: Tribe Vanguard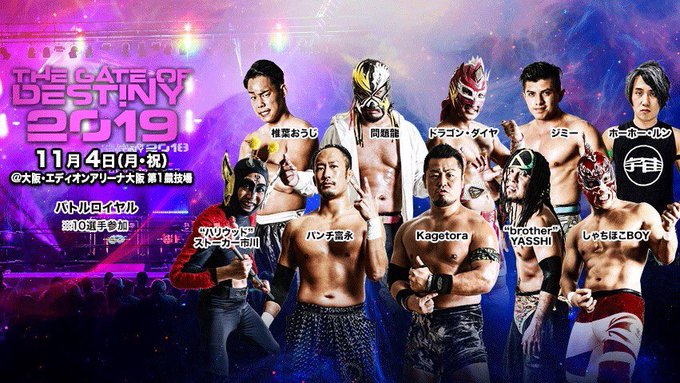 TEN MAN BATTLE ROYAL
FEATURING: KAGETORA, "HOLLYWOOD" STALKER ICHIKAWA, SHACHIHOKO BOY, "BROTHER" YASSHI, PUNCH TOMINAGA, PROBLEM DRAGON, OJI SHIIBA, DRAGON DIA, JIMMY, & HO HO LUN
Case: I really hate these battle royals. Kagetora is the best worker in this match and I think he's overrated. Is Jimmy #2? Oji Shiiba? Shachihoko BOY and YASSHI were excellent on their best days, but those days are long, long gone. Not only are these battle royals a waste of time, but they've compiled the worst workers on the roster to do this one. Ho Ho Lun is in this, for Christ's sake. I'm not looking forward to this. Prediction: Ho Ho Lun 
Mike: Woah boy. One of my least favorite things about Ultimo being back and having influence are these useless battle royals. Oji Shiiba and Jimmy started a feud at the last Korakuen, so that's nice that they'll be facing off. I'm to the point with the veterans in this match where they are what they are, but nothing about them enthuses me in late 2019. Dia's recently entered year two, and we still don't see a lot of growth or attention paid towards him. Ho Ho Lun seems to be on this tour as a nice gesture for his work helping to promote Dragon Gate's Hong Kong shows. That's nice. Think I'll go with the most consequential veteran in this match, but I doubt it matters because nothing is on the line here. Prediction: Kagetora
Taylor: We're all in agreement.  These battle royals are the worst.  What point do they serve? They determined a #1 contender a while back, but couldn't that be done in a much more exciting singles or tag match?  To make matters worse, this talent grouping may be the worst of any of the battle royals to date. Great, you won a battle royal against Ho Ho Lun, Oji Shiiba and Punch Tominaga.  Woo hoo. Stop it with these.  Prediction: "Brother" YASSHI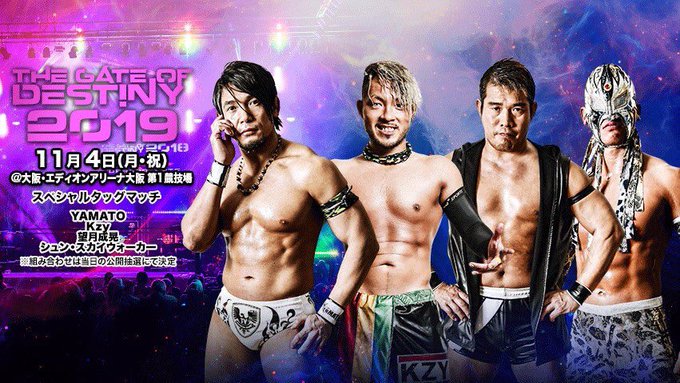 SPECIAL TAG TEAM MATCH – TEAMS WILL BE DECIDED BY LOTTERY
FEATURING: YAMATO, MASAAKI MOCHIZUKI, KZY, & SHUN SKYWALKER  
Case: Hard to gauge this match because we don't know the teams. My ideal pairing would be Skywalker & Mochizuki vs. YAMATO & Kzy because former partners teaming together again is always fun. If not that, I like Skywalker & Kzy vs. Mochi & YAMATO in some sort of generational warfare. I can't make a prediction without knowing the teams. Prediction: N/A
Mike: Finally we get into the meat and potatoes of the card. I've really liked Shun's not officially a trial series trial series he's had over the most recent big shows. There's a lot to sink your teeth into here with the possible match-ups. Case mentioned the lineups that I found most interesting, so let me proposed my galaxy brain one: DIA.HEARTS REUNION of Mochizuki and Kzy going up against "what will they talk about, one's a former MMA guy and the other is a high flyer" YAMATO and Shun Skywalker. Yeah really only one side of the pairings have any sort of backstory, but it'd be an interesting match! Not going to predict without knowing the teams, but Shun's taking the fall regardless of whom he's tagging with tonight. Prediction: Dunno who wins, but Shun's taking the fall.
Taylor: The good news with this match is that no matter what pairings we end up with, the match should be at the very worst, solid.  Shun hasn't been very successful in singles matches recently, but has done very well in tag matches, mostly with Ben-K. The next part of Shun's story seems like it intertwines with Ben-K's, but who knows when that next step happens.  As Case said, without knowing the teams, it's a bit difficult to predict, but I'll stick my next out predicting the pairings and winners.  Prediction: Masaaki Mochizuki & YAMATO
---
Powered by RedCircle
---

ULTIMO DRAGON, GENKI HORIGUCHI, SUPER SHISA, & K-NESS VS. TAKASHI YOSHIDA, KAZMA SAKAMOTO, H*Y*O, & DIAMANTE
Case: The only thing that intrigues me about this match is how HYO handles himself in such a big role. This might actually be his highest-profile match ever. He's a pushed commodity in a big match with Ultimo Dragon. I expect this match to be ugly at times. Ultimo, K-Ness, and Shisa might struggle against the clunky Diamante or the giant Sakamoto. I have to go with Ultimo's side simply because for as much as Dragon Gate loves their heel units (isn't it weird to think we've almost had five years of VerserK/Antias/RED?), they are not afraid to beat their new acts. I think Ultimo pins Diamante here, leaving HYO protected. Prediction: The Old Guys 
Mike: The Team Toryumon group here is interesting as K-ness and Genki have got extensive history as members of M2K, Do'FIXER, Real Hazard and the Jimmyz. Never really were dedicated tag partners, which is a big same for Ultimo and Shisa. HYO's played a great nuisance/yapping dog rudo since he turned last month so it'll be great to see the moment where the miles more technical veterans tie him into knots. RED's in an interesting place with Eita's RED demons and no really taking the third slot in the unit. Ultimo has made Diamante look fine, but I expect this match to be somewhat of a mess with the RED side trying to sleaze it up, and the vets not really wanting to take the beating to put over the beat down. Maybe Ultimo probably hits the Asai Moonsault to the outside finally (This will probably not be the match where he hits the Asai Moonsault to the outside.) Prediction: Team Toryumon
Taylor: Dragon Gate, I really appreciate you bringing him back, but I'm good on Ultimo Dragon matches for a good long while.  Please. My only hook into this match is H*Y*O. I haven't watched any Dragon Gate since his turn at the last Korakuen, so I'm excited to see the energy he brings to R.E.D. No matter what, he'll be an improvement over Kanda, who was the weak link in a group that didn't exactly have a lot of in-ring savants. Hoping H*Y*O's energy brings this one up, or it could get dicey.   Prediction: R.E.D.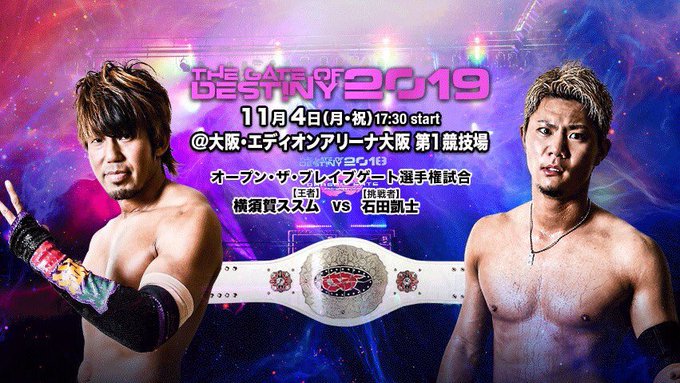 OPEN THE BRAVE GATE CHAMPIONSHIP MATCH
SUSUMU YOKOSUKA (C) VS KAITO ISHIDA
Case: This is Kaito Ishida's match to win. Other than the aforementioned HYO, no one has done more to rehabilitate their image this year than someone who was once known as simply Takehiro Yamamura's tag partner. Ishida has been one of the most compelling wrestlers to watch in Dragon Gate this year and if there was ever a time to reward his hard work, this would be it. 
Ishida has never won a title before. He's never been in a singles title match before. Every time he's fallen short of gold in the past, it's been in a multi-man environment. This time, he was a chance to knock off Mr. Consistency, Susumu Yokosuka. I am 100% sure this will be a great match and 50% sure Ishida will win. I can live with those odds. Prediction: Kaito Ishida 
Mike: Susumu's had an incredible year of 2019. I feel like I write that each time I get to the point I predict his match. After a couple of years of rather mediocre or disappointing Brave Gate reigns, he's given the title some much needed life while elevating the younger generation with matches that they rise to the occasion before Susumu puts them down.
Ishida's been something special since he came back from a rather troublesome neck injury in 2016 and 2017. If it's being the fall guy in a tag championship challenge team, or the aloof asshole that kicks the crap out of his generation, Kaito Ishida has started to reach the potential we saw in him when folks thought he was a better prospect that Takehiro Yamamura. On top of his successes, he's having his biggest title match to date in his hometown. Susumu Yokosuka's had an incredible reign, and the feel good moment coming out of this show will be when the reign comes to its highway exit. It's time to pass on the Brave Gate to the newest generation and give them something more prestigious to fight for as a reward for their stellar work. Prediction: Kaito Ishida
Taylor: I would love to believe my fellow reviewers and go with Kaito Ishida pulling out the biggest victory of his career, but you know the old saying.  Fool me once, shame on you. Fool me twice, shame on me. I feel like I've been in this very spot before, predicting a big win for a young wrestler in a Brave Gate match, just for the rug to be pulled out from under me.  I mean, look at the list of the last five champions. Yokosuka, Dragon Kid, Eita, Punch Tominaga and Yasushi Kanda. That's essentially the last two years of the title. The good news is that, although the belt hasn't been the waists of DG's younger wrestlers, Susumu has rescued the Brave Gate for the land of the gentlemen's three, delivering a string of solid to very good Brave Gate Title matches.  That will be the consolation prize when another rookie goes down fighting for the Brave Gate. Prediction: Susumu Yokosuka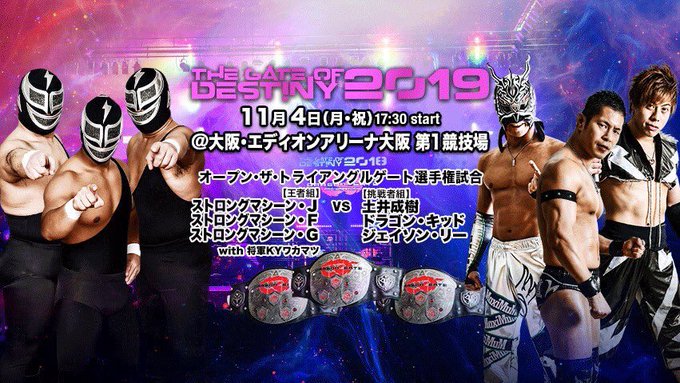 OPEN THE TRIANGLE GATE CHAMPIONSHIP MATCH
STRONG MACHINE ARMY (C) (STRONG MACHINE J, STRONG MACHINE F, & STRONG MACHINE G) VS. MAXIMUM (NARUKI DOI, DRAGON KID, & JASON LEE)
Case: The Strong Machine Army have been dominant forces in Dragon Gate since their debut in April…when they've been on the screen. Strong Machine J, the prized pupil of the group, has been dealing with a shoulder injury since his first moments in the company and his pain gotten worse as time goes on. He started by missing house shows, then he started missing TV. For as much as Dragon Gate is behind this group, I can't imagine they want an injured champion. This is the end of the line for the Strong Machine Army. Doi and Kid are worthy Triangle Gate Champions and Jason Lee has been killing it lately. This is their time to shine. Prediction: MaxiMuM
Mike: The Triangle Gate has been in a perilous place since its would-be star found himself unable to stay out of the trainer's room. That's not to mention that Strong Machine Army is an act that's only somewhat over the first time a crowd sees them. Strong Machine J still seems like somewhat of a prodigy, but it's difficult to trust these belts with his tricky shoulder. F & G played their gimmick fine, but again, the crowd's over them.
MaxiMuM has taken the backseat since Yoshino's Dream Gate reign last year. They've had plenty of Twin challenges consisting of Doi and a partner, but the resident super face unit hasn't had much moment of direction other than Doi's being annoyed by Dragon Kid, and when Big Ben turned on them. This match will be a great highlight for wrestlers whom have been the glue of the promotion: Doi's the best tag wrestler the Dragon System has ever seen, Dragon Kid was able to shoulder last year's big feud, and Jason Lee has consistently performed above his push since his first show in a Dragon Gate ring. I'm really interested in seeing how a match where a dominant team SHOULD lose when they haven't ever looked in trouble before. With a shifty undercard, this match will be the indicator for if we are watching a run of the mill big show, or an excellent one. Prediction: MaxiMuM 
Taylor: Putting aside Strong Machine J's inability to stay healthy, my biggest concern with the Strong Machine Army is that the crowd is not behind them.  Multiple times this year they've been put into fairly big spots (i.e. winning these belts) and the crowd seems to react with apathy every time. They just seem totally ill-fitting for a promotion like Dragon Gate, and even if Strong Machine J were 100% healthy, I still might consider taking the belts off of them and trying to re-tool.  As it is, he isn't 100% and this is a solid team to put the belts on while you try and figure out next steps. The MaxiMuM team will at the very least have solid matches with the titles. Prediction: MaxiMuM
---
---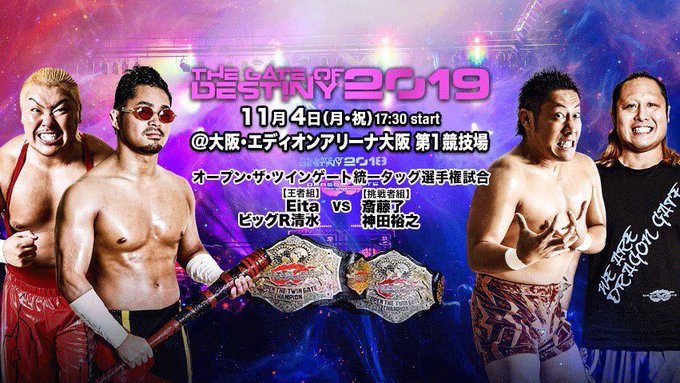 OPEN THE TWIN GATE CHAMPIONSHIP
EITA & BIG R SHIMIZU (C) VS. RYO SAITO & YASUSHI KANDA
Case: God, this match makes me nervous. Very high ceiling, very low floor. This could be the first truly great Yasushi Kanda match since his title challenge vs. Masaaki Mochizuki in 2011, or it could be a bumbling failure that brings out the worst in all 4 men. I truly have no idea how this is going to go. All I know is that at the end of this bout, Yasushi Kanda is going to eat a Shot-Put Slam and get pinned. Big E shall retain. Prediction: Eita & Big R Shimizu 
Mike: I don't think the decision here, or who is pinning who, is in doubt with the Twin Gate match. Big E's been a fun heel team consisting of two great tag wrestlers. SaiRyo's biggest strength is his second-to-none crowd connection or his ability to make a beating look convincing. Yasushi Kanda seems to have an extra pep in his step ever since he turned on RED in October. I don't know if he's having a last hurrah in-ring or not, but I hope that recently turned energy continues on a bigger show. It'd be cool if Eita breaks out another rare move of his, or a variant in how he helps Shimizu deliver the Shot-Put Slam. Prediction: Eita & Big R Shimizu
Taylor: I've not hidden my feelings on Kanda's sharp decline with regard to in-ring ability over the last few years, but if there is ever a time to give him a high profile match, it is here.  His turn at Korakuen was received incredibly well, and it's smart to put him in at least one hot match before people start to cool on him again. This match result seems clear cut, but I'm not sure it will matter much as the crowd cheers on Kanda.  I'm hopeful that this breath of fresh air will put some wind in Kanda's sails and help him to put together a great match, but if this match fell apart, I wouldn't be super surprised. Either way, expect Big R and Eita to soldier on as tag champs. Prediction: Eita & Big R Shimizu
OPEN THE DREAM GATE CHAMPIONSHIP MATCH
BEN-K (C) VS. MASATO YOSHINO
Case: Ben-K has been solidified as a main eventer after his October Korakuen Hall classic against Masaaki Mochizuki. This is the spot he was meant for. A year ago, he was in the spot of the challenger, who oddly enough was the champion at this point last year. This is a rematch a year in the making and a win here for Ben-K is going to put him into another stratosphere. Ben-K has the strength edge, Yoshino has the speed advantage, and they are arguably even on the mat. 
Ultimately, unless some massive angle happens that causes Ben-K to lose the match, Ben-K not only should win, but he needs to win. A loss here kills what Dragon Gate has been building towards for years now. When Ben-K came into the company, people compared him to the next Shingo Takagi. I always said that he could be the next CIMA. A win over Yoshino here continues to build towards that. Prediction: Ben-K
Mike: DEAD OR ALIVE featured two Aichi natives in U-T and Dragon Kid challenging for Dragon Gate's singles belts in their home prefecture. Hey, that's a cute coincidence with that happening again with Yoshino and Ishida in Osaka. Funny how things work out like that!
Ben-K took one of his last steps to being an Ace with his first Dream Gate title defense. The amount of physical charisma he can emit has made the very careful treatment of him worth it. I think it's not unfair to say that he has his obvious weaknesses in the ring, but the company understands this enough to get PAC or Mochizuki to plug him into their formula. One day we will see a "Ben-K formula" Dream Gate match, but I think it's going to come another night. I look forward to what that will be.
The reason I say we aren't going to see that new formula is because Ben-K makes his third defense against Masato Yoshino. Yoshino embodies the traditional style of Dream Gate match, so I expect that this will be a slower built match that finally kicks into its last gear in the last five to ten minutes. I want to be clear: I don't think that's a bad thing. The traditional Dream Gate match is over with the Dragon Gate fan base and it's important for Ben-K to excel at both portions of it. (I don't consider his defense against YAMATO a traditional Dream Gate defense; YAMATO's a unique wrestler that loves doing a much longer opening section to show off his MMA acumen.)
Put simply: This is a match that can be seen as important for the future of the company, but it's not the time for Ben-K to lose. Yoshino's been the biggest star in this promotion for the last six years and it will be crucial to see how a partisan crowd will react towards the retaining champion. Prediction: Ben-K
Taylor: It seemed for quite a long while that the Dream Gate was in a state of suspension, just waiting for someone to come along and truly imbibe the belt with purpose.  That person is Ben-K. His title reign is the most important reign in at least the last few years of Dragon Gate. If it all works out, we'll probably look back on it as the start of something huge.  Part of that path is that these matches are must win. Like Case, I really can't imagine a scenario in which Ben-K loses outside of some catastrophe where Ben-K is so injured, it only makes sense to have Yoshino win.  Any other outcome than a Ben-K victory probably kills this whole thing and turns into Dragon Gate's big "what if". Prediction: Ben-K