Tetsuya Naito started 2019 by defeating a legend for a championship in a main event match at the Tokyo Dome. This set of accomplishments would be the pinnacle moment in most professional wrestler's careers, but Tetsuya Naito didn't see it that way.
Even in the afterglow of his IWGP Intercontinental Championship win over Chris Jericho, his signature self-awareness was on display as he declared his annoyance that the white-strapped title continues to follow him.
Naito was clear that the IWGP World Heavyweight Championship will forever be his focus and that his objective was to retain the Intercontinental Championship while pursuing the World Heavyweight Championship.
This declarative statement seemed like it was a ploy to enter the New Japan Cup as the Intercontinental champion, but by announcing his mission to become the "champ champ," Naito ignited a fuse with New Japan Pro Wrestling's top tier of competitors.
In the months after planting the dual championship seed, Kota Ibushi, Zack Sabre Jr. and Bullet Club leader Jay White have all declared their intention to lift both titles at the end of this year's Wrestle Kingdom. IWGP Heavyweight Champion, Kazuchika Okada seems content to ignore this pursuit as he continues to quietly and dominantly defend his title at every opportunity.
Although the match makers haven't signed any matches for Wrestle Kingdom yet, all signs are pointing towards a title vs. title, winner-take-all match to headline night two of the first two-night Wrestle Kingdom. Fans and analysts have presumed the participants, Tetsuya Naito included, and throughout New Japan's fall calendar it has seemed that only formalities stand in the way of the assumed mini-tournament.
There's a pretty significant problem with the assumed participants though. Tetsuya Naito hasn't performed at a level that merits an opportunity at the World Heavyweight Championship.
There's no denying his charisma, his longevity as a front man of New Japan Pro Wrestling, and the fanbase's desire to see him succeed, but Tetsuya Naito has become the Lovable Loser of New Japan Pro Wrestling.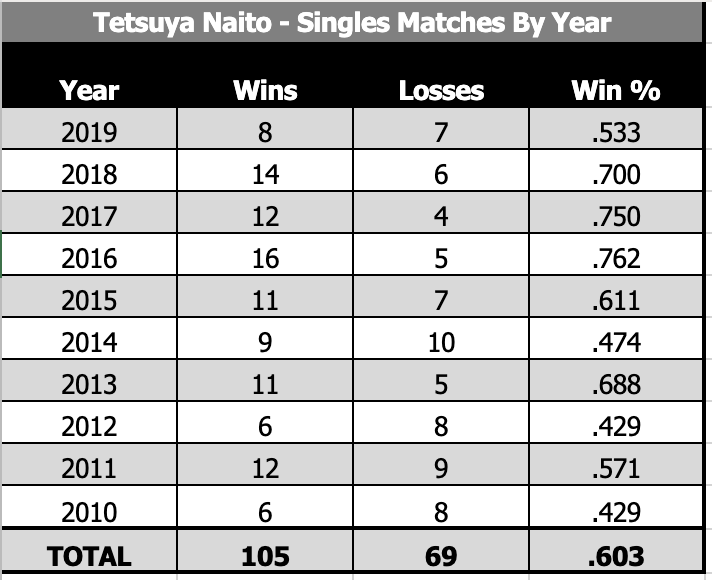 If we're looking exclusively at our simplest categories (wins and losses), he's in the midst of his third straight year of regression and his worst year since 2014. So why is the professional wrestling community still talking about Tetsuya Naito as a top-tier competitor?
The NJPW faithful desperately want Naito to succeed in high-stakes matches, but those victorious moments are few-and-far-between. In 2019, beyond his Wrestle Kingdom 13 victory, he has failed as often as he's succeeded in singles matches and the amount of high-stakes contests that he has lost in 2019 is staggering.
Naito has lost the Intercontinental Championship twice, he fell to the reigning United States Champion during the G1 Climax, he has lost two of three matches to G1 winner, Kota Ibushi, and he has now lost two matches in a row to The Bullet Club's leader and current Intercontinental Champion, Jay White. All of these significant losses would have been bypassed with a G1 Climax victory but he couldn't get past The Switchblade as B-Block competition wound down.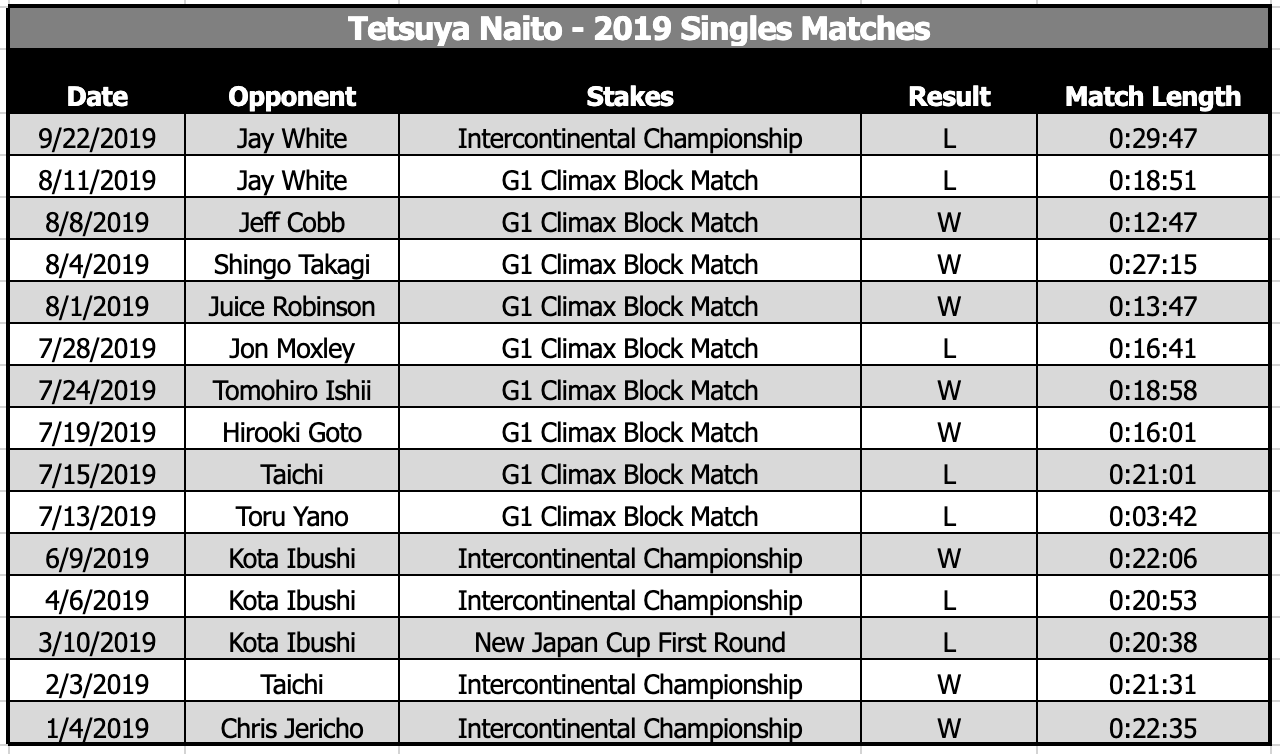 Aside from Naito, the likely combatants have all earned their way into title contention. Kota Ibushi won the most competitive G1 Climax Tournament in history. Jay White holds the Intercontinental Championship and although it feels like it was a lifetime ago, White was also the IWGP Heavyweight Champion less than six months ago. And of course, Kazuchika Okada, the reigning IWGP Heavyweight Champion is the target of everyone involved
Ibushi, White, and Okada all have a clear set of obstacles in their way to proceed towards the Tokyo Dome shows. If they each get through their next set of competitors, they're onward to main event matches at Wrestle Kingdom.
Okada will defend his IWGP Heavyweight Championship against Sanada at King Of Pro Wrestling, Ibushi needs to defeat Evil to retain his January 4th right's certificate, and Hirooki Goto challenged Jay White immediately after he won the championship from Naito at Destruction in Kobe. Our lovable loser, Tetsuya Naito is without a clear path to Wrestle Kingdom.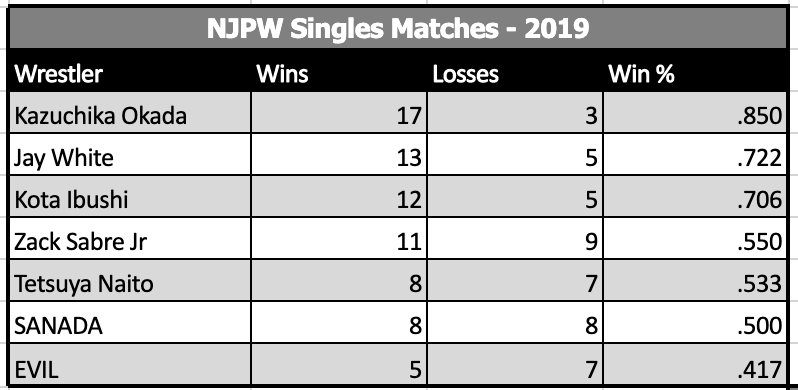 The Tranquilo One has a well-documented complicated relationship with the Intercontinental Championship. While he held it he treated his path to Wrestle Kingdom 14 as a foregone conclusion. The leader of Los Ingobernables De Japon planned to drag the IWGP Intercontinental Championship to the ring at the Tokyo Dome as a conduit to earn a match for his real priority, the IWGP World Heavyweight Championship.
The white-strapped championship has gone from a title that Tetsuya Naito has no use for to his only path to earning a Heavyweight Championship match in the foreseeable future. I'm just not sure how he convinces the Intercontinental Championship holder that he deserves a shot at the belt.

A personality like Tetsuya Naito doesn't always win his way into a competition. He has long been a thorn in the side of NJPW matchmakers and titleholders. His previous trajectory, paired with his clearly undeniable charm has gotten him booked onto the card at eight of the last nine Wrestle Kingdom events.
Many competitors rise to the occasion of fighting in front of a dome full of the New Japan faithful, not Naito. While getting booked onto the Wrestle Kingdom card has not been a problem to this point in his career, what he's done once the bell rang in the Tokyo Dome has left something to be desired.
Naito has only won twice at the annual Tokyo Dome event. The stakes in both of his victorious matches: that annoying IWGP Intercontinental Championship. His carelessness regarding the Intercontinental Championship seems to help keep him "tranquilo" on NJPW's biggest stage.
It would seem that getting back into contention for the secondary title is Naito's only route to the top of the card at the Tokyo Dome and it's may be fitting that Naito's fate is probably dependent on his least favorite championship.
Tetsuya Naito has had a long, successful, and lucrative career even without a significant IWGP World Heavyweight Championship run. The likelihood of that changing anytime soon looks slim, but for years, Naito's faithful fans have willed him into high stakes matches, main events and some of the most memorable moments in New Japan Pro Wrestling history. Will the Los Ingobernables De Japon fanatics do the same leading to Wrestle Kingdom 14 in 2020 or will Tetsuya Naito continue on as professional wrestling's lovable loser?