DRAGON GATE
DANGEROUS GATE 2019
AUGUST 24, 2019
OTA CITY GENERAL GYMNASIUM
TOKYO, JAPAN
Watch: Dragon Gate Network
MEET OUR PREVIEWERS:
Case Lowe

(

@_InYourCase

): Voices of Wrestling's official young boy for four years now. I review Dragon Gate shows and cover OWE's Strong Hearts for this website. 

Mike Spears:

(

@fujiiheya

):  I'm a co-host of both Open the Voice Gate and Everything Elite and write way too much about the Dragon System.

Ricardo Gallegos:

(

@theunderwally

): After a beautiful Kobe World show, I'm looking forward to continuing my Dragon Gate high with this stacked card. I also write about lucha for this site and talk about DG in Spanish at

Pólvora

and

Lucha Jobbers

.
"BROTHER" YASSHI, PUNCH TOMINAGA, PROBLEM DRAGON, HIROSHI YAMATO, & MARTIN KIRBY VS. KAGETORA, YOSUKE SANTA MARIA, SHACHIHOKO BOY, DRAGON DIA, & JIMMY
Case: Lots of odd names in this match. YASSHI could be in there with Jimmy, Dia could be mixing it up with Punch, and Hiroshi Yamato could be tangling with Martin Kirby. We're living in strange times. I hope Kirby gets a chance to showcase his skills. He's been incredibly charismatic on the undercards but has struggled to pick up wins. Prediction: YASSHI, Tominaga, Dragon, Yamato, & Kirby
Mike: Possibly fun ten-person tag to open this up; we've got nominally a Natural Vibes side and a Tribe Vanguard side with scattered unaffiliated veterans/rookies/freelancers/gaijin to fill up both teams. I'd never thought I'd really say this, but I'm pulling for the Vibes side as Punch has been solid since his return (and not Punch Tominaga-like). Case and Ricardo did a solid job talking about Kirby and Jimmy, who've been a delight and I'm hoping we get to see more of them going forward. We're approaching a year with Dragon Dia, and he's at a point where I wonder what the second year of him will finally have him reach some sort of potential Prediction: YASSHI, Tominaga, Dragon, Yamato & Kirby
Ricardo: This should be a fun short match to kick things off. My main focus would be in Martin Kirby and Jimmy. In his first tour with the company, Kirby has impressed crowds with a mix of charisma and technical skills; he's been fantastic in the undercards and I would love for him to get a bigger chance to shine. Young luchador Jimmy stuck around after Kobe World and has been consistently fun in this undercard role; I'll keep my eye on him during this match to see if there are any signs of him returning for a future tour. Prediction: Kagetora, Santa Maria, Shachihoko Boy, Dragon Dia & Jimmy
RYO SAITO, SUPER SHISA, K-NESS, & KENICHIRO ARAI VS. KAZMA SAKAMOTO, TAKASHI YOSHIDA, YASUSHI KANDA, & DIAMANTE 
Case: I love the idea of the Toryumon OG's teaming up. As you all know, I'm for anything that gets Super Shisa on the card. Being saddled alongside Arai and K-Ness is an added bonus. Unfortunately they're going to fall victim to the R.E.D. quartet that is flanked by Diamante, who has been…less than stellar since entering the company. I can't figure out how he ended up in Dragon Gate. Nothing about it works. He feels very much like a random foreigner they would have brought over in 2006 when the floodgates opened and Westerners rushed in. I fully expect him to grab the pinfall, though, likely over Arai. Prediction: Sakamoto, Yoshida, Kanda, & Diamante 
Mike: Well, This is Certainly an Undercard Match in 2019. Diamante is a replacement level luchador. He only looks good because he's much bigger than everyone else. No clue why he's here, and I will keep myself awake trying to figure out why he's here and who's friend he is. Hopefully Saito or Arai take the powerbomb and they don't get hurt.  Prediction: Sakamoto, Yoshida, Kanda, & Diamante
Ricardo: I'm trying to understand how – out of all luchadores on Earth – did Diamante got recruited by Eita. Was it because of his past tours with AJPW? Did Eita watch him in the recent Stardom Lucha Libre Fiesta show? It's all so weird. Diamante looks like a useful dude to have around for dumb brawls, but that's it: he isn't bringing much to the table, and because of that, he fits right in with Yoshida and Kanda in this faction. The DG Originals team looks great but it's a shame they probably won't have much of a chance to entertain us in a big way thanks to their opponents. Prediction: Sakamoto, Yoshida, Kanda, & Diamante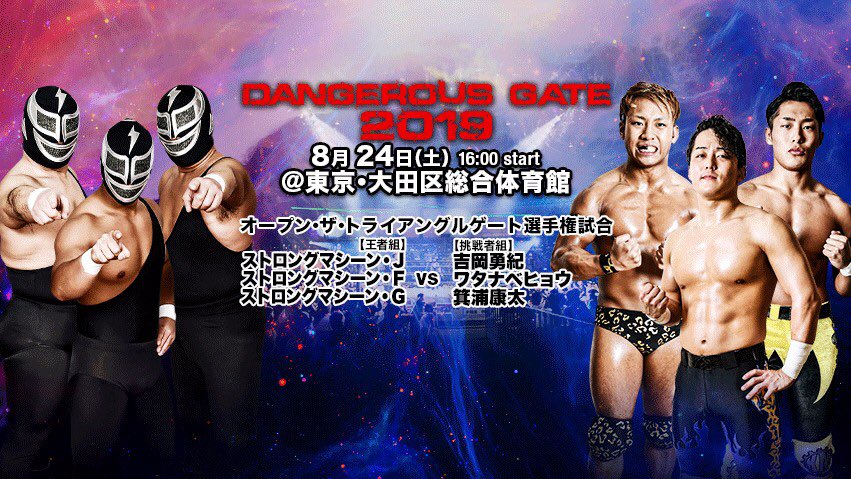 OPEN THE TRIANGLE GATE CHAMPIONSHIP MATCH
STRONG MACHINE J, STRONG MACHINE F, & STRONG MACHINE G VS. HYO WATANABE, KOTA MINOURA, & YUKI YOSHIOKA
Case: Strong Machine J has had some time off to heal his banged up shoulder. He returns to the ring and looks to find success in his first defense since winning the gold at Kobe World. The Strong Machine Army are the favorites coming in, but I can't entirely rule out the possibility of the Mochizuki Dojo trio winning. Hyo Watanabe is on the best run of his career and he's been racking up victories at a rapid pace. If they do win, it's going to be on the back of Watanabe finally living up to his full potential. 
My gut says to go with the Strong Machine Army. I think Watanabe will be more interesting as a character when he decides to leave the Dojo, and I believe there's more left in the tank of the Strong Machine run. Somehow, a loss in this match would do more damage to the Machines than if a certain someone loses his title later on in the night… Prediction: Strong Machine Army 
Mike: It's been frustrating being the leader of the BIG CAT NATION (that's what I'm calling the internet fanbase behind Hyo Watanabe). He's approaching the third anniversary of the now historic veterans vs Class of 2016 match and firmly in last standing amongst the surviving members of the class. Yoshioka's had a strong string of tournament appearances in 2019 including King of Gate, Shun won the Rookie Ranking tournament, and Ben-K? Enough said. However, Watanabe's starting to put it together in 2019, including a string of his best matches of his career. He also dislikes Keisuke Okuda, and wants belts. He's got a really exciting offense now based around his gymnastic prowess and using his smaller-than-usual-DG body in inventive ways. Hyo cuts good promos too. He's become a compelling figure.
Strong Machine Army have been mostly absent since Strong Machine J had to go back to the factory for repairs after August's Korakuen. He's had his shoulder wrapped up since his debut. It's most likely that SMA retains, but if J's injury is a serious one that is going require longer "repairs," they're probably going to have to do a title switch. I don't think that is going to happen this night. Prediction: Strong Machine Army 
Ricardo: This is all about Hyo Watanabe, who's doing a tremendous job of developing his character. During the last month, watching Hyo's matches has been so interesting: he's cocky, grumpy and it seems like he's planning something nefarious. He already hates the fact that Mochi admitted Okuda into the dojo and I think a loss here would be a chance to add interesting layers to his character; maybe he gets frustrated and blames his MochiDojo teammates for the loss, which would lead to more conflict within the group. Whatever the case is, I highly encourage everyone to closely watch this man and the little details he's using to push his prickly attitude. Prediction: Strong Machine Army 
NARUKI DOI & KAITO ISHIDA VS. MASAAKI MOCHIZUKI & KEISUKE OKUDA
Case: Putting all of my money down on this being the match of the night. Mochizuki wakes up and has four star matches, Kaito Ishida has been one of the best wrestlers on the roster this year, Keisuke Okuda is the most interesting wrestler in the company right now, and Naruki Doi is one of the best tag wrestlers to ever walk the planet. There's no way this match isn't GREAT. I'm super curious to see how Okuda mixes it up with Ishida and how he plays into the finish. With the way Okuda has been booked after Kobe World, he appears to be staying around for a decent amount of time. He's already become an integral part of the Mochizuki Dojo. I would love for him to choke out Ishida in the middle of the ring, but I'm afraid he's going to end up eating a Bakatare Sliding Kick for the loss. Prediction: Naruki Doi & Kaito Ishida 
Mike: HERE. WE. GO. Doi and Ishida have become the tag team out of MaxiMuM and they've ruled. Okuda has become an incredibly interesting part of this promotion and has a move that really should be considered when places do their best of the year ballot (Frankensteiner Triangle. It's nuts). Doi's going to be the mustard on this baloney (Ishida) sandwich (Mochizuki and Okuda are the bread. This simile got away from me.) As long as this gets time, this could be outstanding. One of the best things this promotion has done this summer was being willing to have high value non-title matches on these shows.  Prediction: Doi & Ishida
Ricardo: As Case mentioned, Doi is one of the best tag wrestlers in history and with our beloved Kick Boy as his partner and the all-mighty Mochi on the other side, we can be sure that we're getting an exquisite kick-heavy bout. If it wasn't for the Susumu/Skywalker title match, I would pick this as my prediction for Match of the Night. 
During a recent Gate of Adventure show, Ishida and Okuda did an excellent job of hyping this match as both looked ready to tear each other apart; big props to the always intense Okuda, who looks like an absolute jerk ready to pick a fight with anyone. I am so ready to see them lock-up, but I expect Okuda to be the one eating the pinfall. Prediction: Doi & Ishida.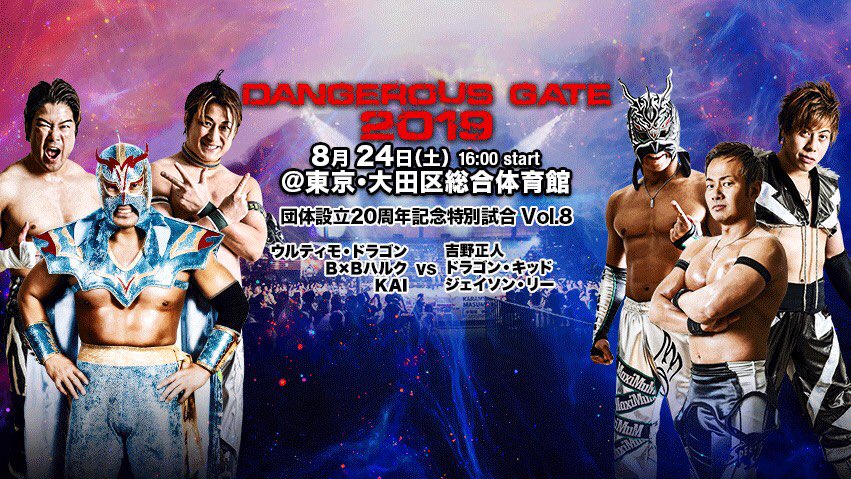 20TH ANNIVERSARY CELEBRATION SERIES MATCH VOL. 8
ULTIMO DRAGON, BXB HULK, & KAI VS. MASATO YOSHINO, DRAGON KID, & JASON LEE
Case: Ultimo Dragon's staycation in Dragon Gate has been a good time, hasn't it? Each match he's had has been laid out to perfection with Ultimo coming out of every match looking fantastic. It's been a great change of pace from the shitty junior "epics" that he's been trying to create in other promotions for nearly a decade now. This time around, he's squaring off against the people that he teamed with a month prior at World. 
Yoshino and DK should have excellent chemistry with Ultimo. They're pros, and DK, especially, has plenty of moves that should play well against his mentor. Jason Lee is the wild card. I have no doubt he's talented enough to hang in the ring with Ultimo – honestly, he's probably the best match-to-match wrestler in this match. He doesn't take nights off like Yoshino or DK. I'm just very curious to see how much Ultimo gives him, if anything. We know he's taking the fall, so it'll be interesting to see whether or not he gets any offense in on the legend. BxB Hulk and KAI will exist and, by proxy, win. Prediction: Ultimo Dragon, BxB Hulk, & KAI
Mike: It's cool to finally see Ultimo face against his constant partners Masato Yoshino and Dragon Kid in this series. Ultimo has been a pleasant surprise and at the very least, we won't have to watch him versus the shell of BxB Hulk in this match. His teamwork with Tribe Vanguard will be interesting to say the very least. One thing we know for certain: Lee's taking the fall. That stinks. Hopefully Ultimo is in a good mood and just doesn't eat him up.  Prediction: Dragon, Hulk & KAI
Ricardo: I strongly recommend listening to the latest Open the Voice Gate show where Case and Mike talk about the bad blood between BxB Hulk and Ultimo Dragon: I guarantee you will become much more invested in this match and the weird team-up it's offering. 
My first impression was that the underrated Jason Lee is only here to eat the pinfall, but I'll try to be positive and think that he will have a bigger role and maybe even steal the show: his fate in this match is fascinating to me. Will he – in fact – just be Ultimo's whipping boy? or will he get a chance to show what he's made of to earn more opportunities in the future? 
Anyway, we can expect Masato Yoshino working very hard, Ultimo masterfully teasing spots to pump up the crowd and KAI doing what he does best: being a great supporting performer that is somehow involved in a great match without doing too much. Prediction: Ultimo Dragon, BxB Hulk & KAI 
---
---
SUSUMU YOKOSUKA VS. SHUN SKYWALKER
Case: Hmmmm, this is almost as odd as the Kzy vs. Shun Skywalker match we saw a month ago. This is another random Skywalker singles match, but this time he's squared off against the Brave Gate Champion, but the title is not on the line. Another very strange, yet welcome match on a big show. This is probably the only match that, on paper at least, could be better than the Mochizuki Dojo vs. MaxiMuM tag. Skywalker has developed an incredible resume of singles matches this year and I expect his output here to be no different. 
I'm fascinated to see the way Skywalker is booked in the coming months. He's expressed personal frustration over the fact that Ben-K became Dream Gate Champion before him, but I don't think a losing gimmick is going to happen, nor would it be right for his character, especially given the fact that he's in a huge match against SpeedMuscle next week. The only realistic option here is for Skywalker to win, which puts Yokosuka in an odd place. He hardly ever drops falls, especially when he's a champion. This match will say a lot about Dragon Gate's future booking plans in one way or another. Prediction: Shun Skywalker
Mike: Susumu Yokosuka is having an All-World year. One of the best matches of the year with U-T. A tremendous King of Gate that he focused on getting others to the next level like Yuki Yoshioka and Eita. A strong Brave Gate defense at Kobe World against Flamita. If the Visa Situation ended up being different over Wrestlemania, we could have added a David Starr match to this list. He's 40 now, and he's arguably just as good as he was at 20, if not better.
And in our second high stakes non-title match of the night, he gets Shun Skywalker. In another year in another era, this would be match two of the Shun Skywalker Elite Elevation Trial Series. Or something like that. He's someone who's been more and more frustrated that he hasn't been able to break through to the next level like his ally and rival Ben-K. He ate a brutal Ragnarok at Korakuen from Ben's challenger tonight, YAMATO. Like Case mentioned, HUGE MATCH WITH DOIYOSHI ON SEPTEMBER 1ST WHERE REALLY ANYONE IN THAT MATCH COULD CHALLENGE BEN IF HE RETAINED.
I think he takes it here. Just makes more sense to build up intrigue towards the rest of Dragon Gate's year. It's the hot season of Dragon Gate's year. Buckle up. Prediction: Shun Skywalker
Ricardo: I don't know exactly why we are getting this match but I'm thankful for it. Susumu's 2019 has been beautiful and lowkey very important for the company by helping young guys like U-T and Jason Lee. Now he'll work his magic with Skywalker, who – as we know – is more than capable of having a Match of the Night, and I expect this bout to be just that. 
The twist here is Skywalker's position in Dragon Gate. In a couple of weeks. he will be tagging with Ben-K in the Gate of Origin show to take on Yoshino and Doi but he already admitted some jealousy of his teammate's success. After the defeat at the hands of KZY at Kobe World, what would another singles loss mean to Skywalker? Will that affect his dynamic with Ben-K? In what sort of fashion would that push him and his dreams of success in the company? This is a fascinating match, especially considering that Susumu is not a man that loses a ton of matches and is being kept strong as Open the Brave Gate Champion. But Skywalker should really start winning these type of matches. Whatever the case is, I am here for ALL OF IT. Prediction: Shun Skywalker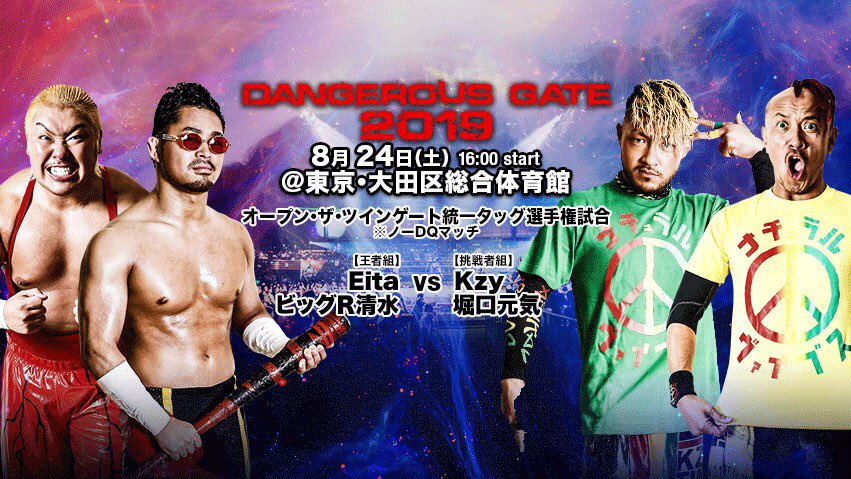 OPEN THE TWIN GATE CHAMPIONSHIP – NO DISQUALIFICATION MATCH
EITA & BIG R SHIMIZU (C) VS. KZY & GENKI HORIGUCHI
Case: On the 8/18 show in Kyoto, Genki Horiguchi went on a rampage that could not be stopped by his unit mates, R.E.D., referees, or the constant ringing of the timekeepers bell. He has become a man possessed and he doesn't plan on stopping until he gets the Twin Gate titles for the third time in his career and the first time since 2011. 
I was confused at first as to why this match needed to be No DQ (in storyline, R.E.D. wanted Dangerous Gate to live up to its name), but Horiguchi's rage on the August loop of TV has quieted any qualms I had about the stipulation. I fully expect this match to be a war. It feels like Horiguchi is channeling something that we've never seen before – not even during the warpaint Jimmyz era. He's unhinged and violent and I'm all for it. I don't know how realistic it is for he and Kzy to win, but I hope they do. I'm putting my money on them and hoping that that's what takes them over the top. Eita and Shimizu are a fine team, but I am so much more excited at the idea of Horiguchi and Kzy fighting together and defending the gold. Prediction: Kzy & Genki Horiguchi 
Mike: If you are a DG Network subscriber and are reading this before Dangerous Gate, please go and watch the Kyoto KBS Hall show on the 18th, or at least the match preceding intermission between Eita/Kanda and Horiguchi/YASSHI.
Okay, you watched that? BOY IT'S A GOOD THING THAT THEY MADE THIS NO DQ HUH!?
Genki's not really a Twin Gate stalwart. His only titles in the division came with Ryo Saito. Funny enough, for the Jimmyz, an unit with remarkable tag teams such as Yokosuka Ichoume, Knessuka, Original M2K, Marraha Isappa is really the only time he held the belts. Kzy's known tag team partner is Hulk and they aren't in the same unit and he's never held the Twin Gate.
Big E (come on go with me on this. And give WWE's Big E back his last name while we are at it), really has the potential to be a great tag team. Shimizu has worked great with both T-Hawk and Ben before this team, and Eita finally understands how to project himself like the top level rudo that he's been positioned as.
Plus we've got Eita's big surprise. It's probably a turn or new member. Last year he promised three surprises and it ended up being KAZMA, PAC and Daga. I'm personally hoping it's Watanabe saying "you know what, screw all of you guys I'm doing this now," but YASSHI seems just as likely given how much he likes turning on folks. That gives them the edge Prediction: Big E (Eita and Big R Shimizu)
Ricardo: Eita has been teasing a huge announcement and for that single reason I'm betting on him and Big R defending the Twin Gate. A DQ match sounds like the perfect opportunity to introduce a new member to R.E.D., whether it's a returning gaijin (Swann? Mack?), a disgruntled young man (Hyo Watanabe) or a big treason (Brother YASSHI? Genki?), I can totally see this new guy being key in the development of this title bout. 
And even without the Eita tease, this is some must watch action thanks to Genki Horiguchi's rage; the man seems possessed and ready to tear Eita's head off with his own teeth. Watching him show this intense side has been amazing and I'm sure he will bring all the violence to this No DQ match. Prediction: Eita & Big R Shimizu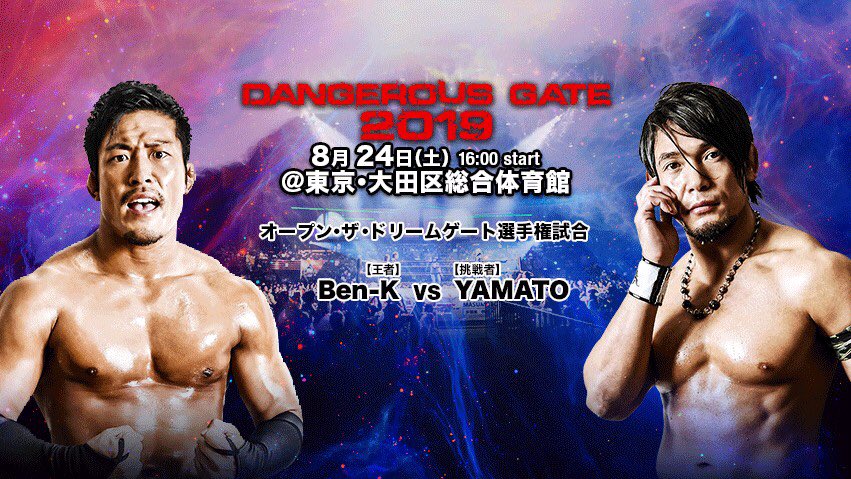 OPEN THE DREAM GATE CHAMPIONSHIP MATCH
BEN-K (C) VS. YAMATO
Case: At Kobe World, I felt like there was a 95:5 ratio that reflected Ben-K's odds of winning. He was the favorite to win, and in the end, he did just that. A month later, I don't feel crazy for saying that it's 60:40 Ben-K over YAMATO. I think Ben-K will win. I hope he does. However, it will not shock me at all if YAMATO goes over. He ended Shingo Takagi's reign in 2013 on his first defense and people thought that reign was going to last a very long time. YAMATO, more than anyone on the roster, has the credibility to win this match without killing Ben-K's star potential completely. 
That being said, I think this is Ben-K's night. His first defense should be a successful one and the first of many more to come. He and YAMATO have shown excellent chemistry against one another in the past, mainly at the August Korakuen Hall show, and I expect them to put forth a big match effort here. Ben-K's reign has been quiet and unassuming thus far. He was the focus of the August Korakuen show, but felt like a background player on the rest of the TV loop. That changes here. He once again will have to follow Ultimo Dragon and this time he'll have a heated Twin Gate bout right before he heads to the ring. If he doesn't deliver, it will be obvious. I have faith in him, however.  Prediction: Ben-K
Mike: I will be beside myself if, given the last 18 months and given the last few attempts at elevating young talents falling flat, they pull the rug out under Ben-K. YAMATO's done it before. He's the tried and true. They've kept him away from the title picture after he lost the title at this show two years ago, so if they were to reboot him, this is the time. 
But this should be the first, of hopefully, many keys for Ben-K's title belt. The two showed a willingness to sock each other right in the face at Korakuen. Potentially, Ben could have his remaining defenses for this year settled by the tag match on the 1st in Sendai. I constantly have to remind myself: "this is Ben-K, they've set this up for three years" to talk me out of the title change here. 
Dangerous Gate is a big place for title weirdness. 2014 had a "vacant" title match between BxB Hulk and Naruki Doi (really weird scenario, Hulk lost a 4-on-1 Handicap match and then they decided Doi was an interim champion until Dangerous Gate, where Hulk won), Shingo Takagi defeated Masato Yoshino in 2015 and turned heel as new Dream Gate Champion, 2016 had Akira Tozawa's final Dream Gate title shot and where he declared he was leaving the company, 2017 was YAMATO losing it to Mochizuki, and last year DG decided they needed to blow off one of their biggest title matches on paper with Yoshino vs Doi. Let us hope there's no weirdness this time. Prediction: Ben-K
Ricardo: As someone that started watching Dragon Gate during YAMATO's 2016/17 reign, I've never been able to fully trust him to deliver the goods and since I am so invested in Ben-K right now, I was terrified when I heard about him being the first challenger. Then I remembered their great King of Gate match… and then I watched how this challenged was set-up and almost all my worries disappeared: if you haven't, go watch Ben-K & Skywalker vs. YAMATO & KAI from the latest Korakuen Hall show: the chemistry between YAMATO and Ben-K was off the charts and it's a great indicator that we will get a big match out of these two on August 24. We cannot write YAMATO off, but the Ben-K build and execution was so perfect that I cannot imagine him dropping the title in his first defense, especially because his storyline with Shun points at a title challenge soon. Prediction: Ben-K