This won't be a traditional look at matches of Takuya Nomura and Yuji Okabayashi. I won't be writing or recapping every move like a play-by-play review. Instead, I want to focus on the story that was told between Nomura and Okabayashi over their previous four matches that made tape, concluding with their title match. Each match built on the next so I will put my focus towards the stories and layers to each match as well as what I enjoyed about each of them.
I highly recommend watching all three of these preview tags before watching the title match. Links to all matches will be provided below. To tell the story though, we must start at the very beginning
Beginnings
When Takuya Nomura first arrived on the scene in 2016, everyone could see that he had something special. Even in his rookie year, Nomura had many battles with Kohei Sato, one of the stiffest workers in all of Japan, and he always took the punishment and dished it straight back without blinking. This quickly earned Nomura the love of the fanbase. If you aren't familiar with Nomura or have never seen him wrestle, he reminds me a lot of Katsuyori Shibata in everything from his stiff shoot style offense, to the fact that he is a very handsome man. If all goes well, Nomura could be one of the biggest and most marketable stars in wrestling in a not so distant future. It has been obvious to those who knew him for a long time, that it was a matter of time before we would see his breakthrough. However, Big Japan Wrestling (BJW) has the unfortunate reputation of not getting the most out of their young wrestlers. Likewise, the BJW Strong Division isn't regarded as the best-booked division. So, while Nomura had all the potential, there has always been a little fear, that he wouldn't get the proper opportunity to make the most of it.
Despite the uphill climb, there's no denying that Nomura has officially arrived and this series of matches helped make it happen. 
June 23, 2019
Korakuen Hall
Tokyo, Japan
Watch: https://bjwcore.com/set/616/contents/612?fcid=4

Yuji Okabayashi, Daichi Hashimoto & Hideyoshi Kamitani vs. Takuya Nomura, Ryuichi Kawakami & Kazumi Kikuta
Takuya Nomura doesn't manage to get the better of Okabayashi in this match—in fact, he gets pinned by him. Bad start. Certainly this doesn't bode well for his chances in their upcoming title match. Nomura, at this point, is still just a young boy way over his head, going for a title match against the veteran ace Okabayashi.  However, it was impossible to ignore the valiant effort from Nomura, who takes a massive beating, but also fights back. 
Ultimately, while Nomura is beaten in a convincing fashion, he gets some important hits to Okabayashi's left arm. This will become important later. ***1/4
It's important to note here that the upcoming title match will be the second of Nomura's young career. The first one, a year ago against Hideki Suzuki, was a fairly one-sided affair, where Nomura lost all his preview matches and then got dominated. At this time, it appeared that BJW was just going to repeat the same story. The reaction of Twitter after these results came out were full-on disappointment, as we were looking to just have another filler title defense in the strong division. 
However, the turnaround in this feud–which we'll be covering shortly—helped make it special. The fact that many, myself included, didn't believe it would be any different than Nomura's previous helped make it all that much more rewarding. 
June 30, 2019
Susukino Mars Gym
Sapporo
Watch: https://bjwcore.com/contents/617

Takuya Nomura & Daisuke Sekimoto vs. Yuji Okabayashi & Kazumi Kikuta
Okabayashi comes into this match with his arm now taped up. It's not unusable, but Nomura's created a weakness in the veteran. Nomura fights valiantly throughout the match and fully targets Okabayashi's already-injured arm. Halfway through this match, Nomura rips off Okabayashi's elbow protection and fully goes in for the kill. The constant targeting by both Nomura and teammate Daisuke Sekimoto on Okabayashi's elbow leaves his left arm almost unusable by the end of the match. 
In the end, though, Okabayashi gets Nomura up in the torture rack and puts him away. Or so we thought. Nomura is prepared and counters it into a sleeper before transitioning into another arm submission. Okabayashi fights like a wounded animal — one of the best images you'll see in wrestling. Nomura gets Okabayashi down in an armbar, and Okabayashis arm is too injured to lift him up for a powerbomb. In a total shock, Nomura makes Okabayashi tap out and scores the first big win of his career against one of the top guys of BJW no less! Nomura tapped out the Strong World Champion. Nomura has now gone from a young boy to a deserving title challenger! 
July 16, 2019
Korakuen Hall
Tokyo
Watch: https://bjwcore.com/set/635/contents/632?fcid=4

Takuya Nomura, Fuminori Abe & Kohei Sato vs. Yuji Okabayashi, Daichi Hashimoto & Hideyoshi Kamitani
We're five days away from the title match, and the two square off for the last time before their singles match. At the start of the match, Nomura goes straight after Okabayashi's arm. Okabayashi still has enough strength in his left arm here to use it in here and there but clearly, he wants to avoid it. The intensity is taken up another notch from the previous tags as Nomura is intent on getting the upper hand on Okabayashi one final time. By the end, Nomura doesn't even need to target the injured arm to win the match, as he picks off Okabayashi clean in the middle with a dragon suplex. 
With this victory, Nomura has now established two different finishes going into the title match. Additional, this win, in front of the Korakuen Hall crowd, this felt like his true breakout win. Nomura's longtime rival Sato, who kicked the shit out of him for years while he was a young boy, stands next to him raising his arm for all the fans to see. Korakuen Hall finally saw their upcoming ace—after three years of ups and downs—get the breakthrough victory. ***3/4
---
---
July 21, 2019
EDION Arena Osaka #2
Osaka
Watch: https://bjwcore.com/set/644/contents/643?fcid=20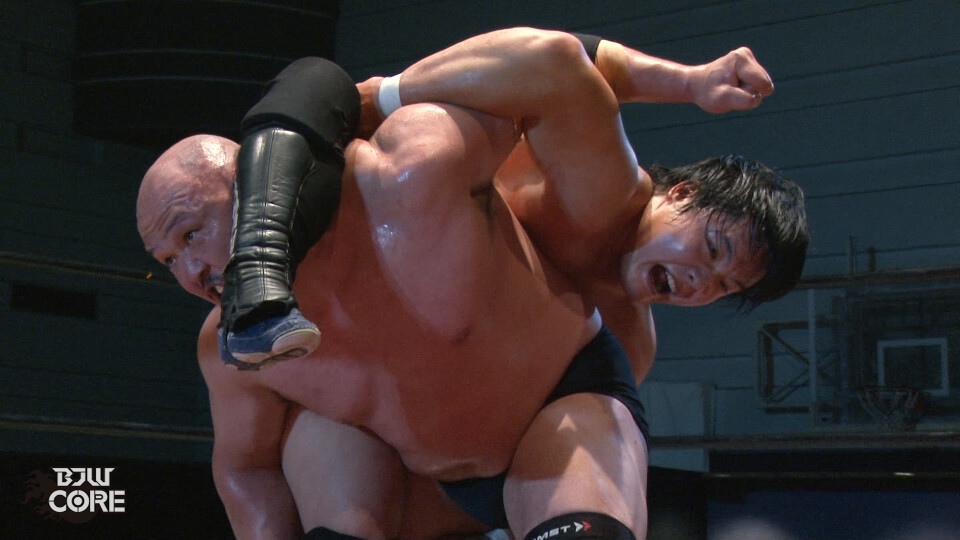 Strong World Heavyweight Championship
Yuji Okabayashi © vs. Takuya Nomura
We're finally here. The title match.
It's been a long road to get here and at points, I and many others feared that BJW would find a way to mess up this push. But, instead, they've built this brilliantly and Takuya Nomura feels like a huge upcoming star against the established veteran. Nomura has arrived. He receives a huge streamer shower as the crowd is firmly behind him.
The Osaka crowd is ON FIRE all the way through this match eating up every moment and cheering on the young Nomura. Okabayashi looks like an injured animal, having to defend himself from the constant targeting from the young and hungry lion Nomura. 
The key story to this match, built over the previous tags, is that Okabayashi's left arm is now completely unusable. At no point until the finishing stretch of the match does Okabayashi use the arm. Early on, Okabayashi realizes that he cannot afford to let Nomura get any submissions in, and therefore the match gets into a high pace very early. Okabayashi's only counter weapon is to repeatedly attack his opponent at full power. He cannot and will not let Nomura get the upper hand. 
About 15 minutes in, Okabayashi beats Nomura to the ground setting up his finishing Golem Splash. Many felt this could be the finish. But It wasn't. Nomura then took back the advantage through multiple arm submissions. Each one felt like it could be THE ONE but Okabayashi continued to survive. 
The final moments of this match are brilliant, as Okabayashi finally gets Nomura down after a long fighting sequence. 
As a last-ditch effort, he removes the tape from his injured elbow, and he lariats Nomura—the first time he's used the arm. This gives him the opportunity to hit his finisher once and for all and put the youngster away. It worked. Okabayashi only used the arm when he absolutely needed to and it's what got him the victory and helped him retain his title. This is a brilliant detail and a perfect ending to this multi-match story. ****3/4
This was one of my favorite matches of this year. The multiple layers building upon each other from previous matches just added so much. This felt like Nomura arrived and while he lost, it feels like just a matter of time before he rules the BJW Strong Division. 
It's time to jump aboard the Takuya Nomura train because that title win and prolonged title reign is coming soon. 
A great series of matches that really showed how good wrestling can be at it's best. Even in defeat, Takuya Nomura gained so much momentum from this match. It was the classic failed title challenge, that eventually leads to the big title win down the line. This was BJW telling their fanbase, that they are fully behind Takuya Nomura for the long run and that this is the guy that the promotion will be built around in the not so distant future. 
If you made it this far, thank you for reading my thoughts on this series of matches! This is the first time I've written a longer piece on a wrestling topic, so I would appreciate any feedback that you may have. You can also find me on twitter @brothermort.