AJPW CHAMPION CARNIVAL
APRIL 4 – APRIL 29
Watch: AJPW.TV
The Champion Carnival these days isn't what it once was, but it's heading in the right direction.
It lacks the kind of legendary names like Giant Baba, The Destroyer, Jumbo Tsuruta, and Abdullah the Butcher that were mainstays of the tournament in the 1970s and early 1980s.
The tournament went on hiatus after 1982, and was brought back in 1991 which saw Mitsuharu Misawa and the rest of the Four Pillars make the tournament known for having high-level matches rivaling and often surpassing those in the G1 Climax.
After the NOAH split, the Muto years of All Japan didn't produce much memorable stuff in the Champion Carnival. Some interesting things have been happening since Jun Akiyama took over the company and AJPW has been slowly but surely rebuilding the Champion Carnival.
The last couple of years have produced some really great matches featuring Kento Miyahara, Shuji Ishikawa, Jun Akiyama, Shingo Takagi, Daisuke Sekimoto, and Naomichi Marufuji that have gone under the radar in many respects but have been highly lauded by hardcore puroresu fans (It also doesn't help that the tournament has opened this during WrestleMania weekend in this year and the last).
This year, there aren't as many big-name outsiders, and Jun Akiyama has finally phased himself out of the tournament. What the Champion Carnival has is a red hot Kento Miyahara and several younger wrestlers who are out to prove themselves as future main eventers.
More so than the outcome of the tournament in the past couple of years, the results of this year's Champion Carnival will play a big role in shaping the future direction of the company and who will be main eventers in the not too distant future.
Thomas Fischbeck (@rasslinratings) previews the A Block, while Gerard Di Trolio (@gerardditrolio) previews the B Block.
A BLOCK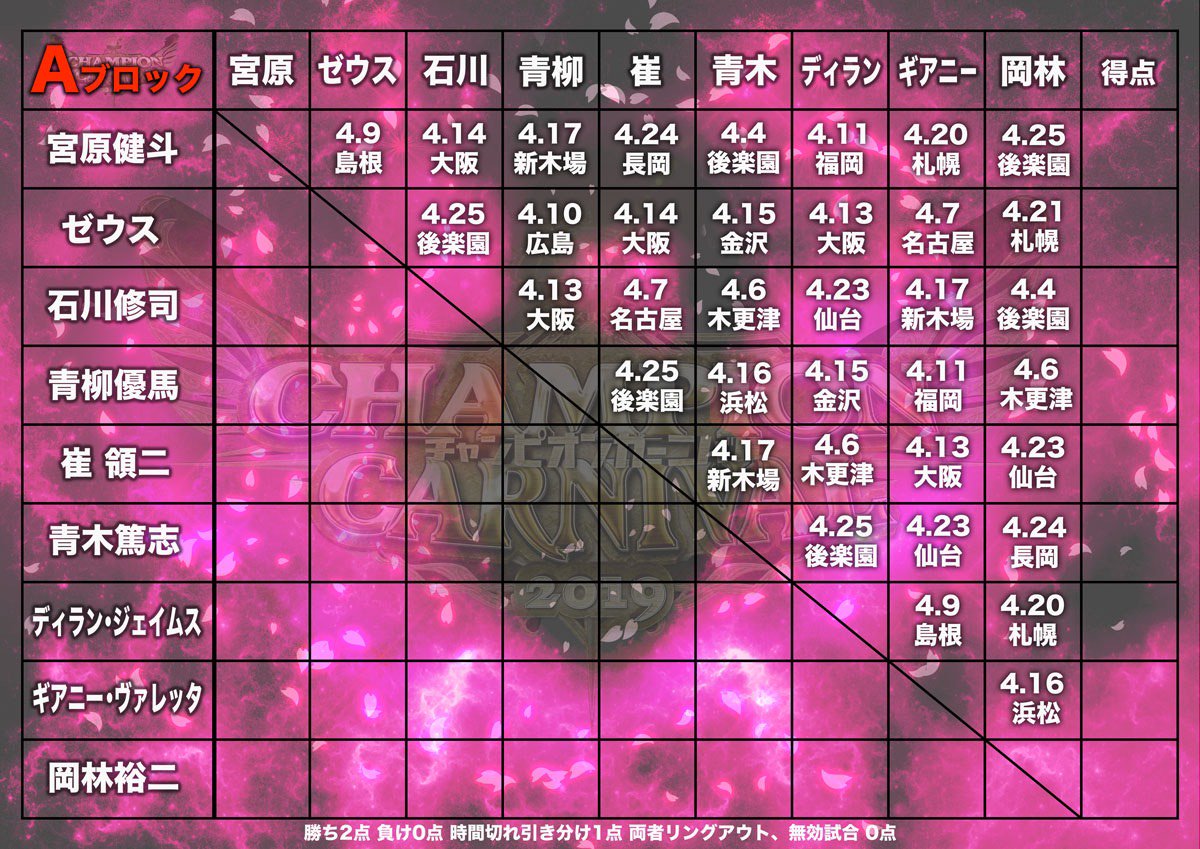 ATSUSHI AOKI
Aoki will be making his second appearance in the Carnival this year, he also took part in the 2016 edition, finishing with six points, tied for fourth of six in his block.
Aoki is only in here because of a shoulder injury suffered by K-DOJO wrestler Kengo Mashimo, which caused him to pull out right after we originally finished writing this preview. Many expected longtime Carnival staple Jun Akiyama to fill into that role, but Jun decided to step aside and give Aoki a shot.
Aoki floats between being a junior and heavyweight, he has been in the Jr. Battle of Glory (JBOG) more recently than he has been in the Carnival, but those lines are more blurred in All Japan than they are in other promotions.
I did watch the entire JBOG this year, and Aoki was just fine in it, but hopefully the increased spotlight and tougher competition gets the best out of him. I'm not Aoki's biggest fan in ring, but when he is motivated, the 41 year old can still go. I'd recommend taking a look at his tag match teaming with the aforementioned Jun Akiyama against Daisuke Harada & Takashi Sugiura, which was the semi main event of the Marufuji Anniversary Show last year.
As for this tournament, expect Aoki to eat a lot of pins, there are no ways around that, but I'd also expect him to go all out and hopefully put on some more great matches in what will probably be his final Carnival appearance.
YUMA AOYAGI
At just 23 years of age, this is Aoyagi's very first appearance in the Champion Carnival, although he may have been in the tournament last year if not for an ankle injury that kept him sidelined for much of the first half of 2018 and forced him and Nayoya Nomura to vacate the All Asia Tag Titles.
While his (former) tag partner Nomura and Jake Lee get a lot of the attention, Aoyagi is a bit of a darkhorse contender to be a future star. I would say the rumblings of that started back in late 2017 when Aoyagi got a featured match with Taichi back on the Anniversary Show, but have since picked up with Aoyagi becoming a two time tag champ with Nomura, where they never lost the belts, just vacated them both times.
While I think it's fair to say Nomura was the better half of the tag team, his absence means Aoyagi steps into the #2 role in NEXTREAM behind Kento Miyahara, and I think Aoyagi puts in a good showing in this tournament and finishes up in the top half of the block, with an outside shot to win it. I'd watch out for the April 17th Shinkiba 1st Ring show that will be headlined by Miyahara vs Aoyagi. With Nomura getting a featured match against Miyahara already, I wouldn't be surprised if they give Aoyagi a good showing too, and if we get a draw in this tournament, I think that would be a good place to do it, putting Aoyagi over big against his stable leader (and the ace of the company).
SHUJI ISHIKAWA
Somewhat surprising to me, this is just Ishikawa's third Champion Carnival. The Big Dog won it in 2017 and then finished tied for second in a stacked Block A last year. This is the first Carnival Shuji is doing while under an AJPW contract though, so I'll be interested to see if they book him any differently.
Ishikawa is year in and year out consistently one of the best wrestlers in the world, and this year has been no exception, with two incredible tag matches with Suwama against Strong BJ of Big Japan Pro Wrestling, an awesome trial series match against Kota Umeda in DDT, and more already to his name this year.
Not only is Ishikawa a former Carnival winner, he is a former D-Ou Grand Prix winner and a 2 time former Ikkitousen Strong Climb winner, so he has proven to be a contender in tournaments, and I don't expect this to be any different.
Ishikawa faces Okabayashi to kick off the tournament at Korakuen on April 4th and finishes it against Zeus on the A Block Finals show. As could be expected, they are also sticking Shuji-Miyahara, their best drawing match, in the main event of the Osaka EDION show, which should be a certified banger after the two had a great match last year.
I don't really see much hope for Ishikawa getting out of the block stage, but he should finish near the top and will undoubtedly be a wrestler of the tournament contender.
DYLAN JAMES
Ya know, I said it on my Wrestling Omakase appearance, but I'm sorry, Dylan James is good now, I don't make the rules.
I'm not sure exactly when I turned the corner on James, who will be making his second Carnival appearance this year after finishing middle of the pack in Block B last year at six points. Maybe it was when I (gasp) liked the James-Miyahara title challenge, but I would say it was probably him and Joe Doering's run as "The Bomber" during the AJPW Real World Tag League last December, a run that probably didn't get a lot of eyes because lots of good December wrestling ends up getting hand waved.
I don't see a path to the finals for James here, and he probably is destined for a mid-table finish again, perhaps even lower than he was last year because of being placed in the stacked Block A, but I think he will turn some heads and impress some people in the process.
KENTO MIYAHARA
The current Triple Crown champion is up next, Kento Miyahara. This is Kento's sixth straight appearance in the tournament, and while he is considered the ace of the promotion, he has never won the tournament, and has only made the finals once: last year against Naomichi Marufuji.
If you are maybe only a New Japan fan when it comes to puroresu, it may seem like a foregone conclusion that the champion isn't going very far in a block tournament, but All Japan does things differently. The champion(s) made the finals in the last Champion Carnival, the last Real World Tag League, and the most recent Jr. Battle of Glory, with champion Koji Iwamoto actually won the whole thing over WRESTLE-1's Seiki Yoshioka.
Miyahara has been one of the best wrestlers in the world so far this year. He is one of just three wrestlers (Suwama and Tetsuya Naito being the other two) to have multiple matches in my top ten for the year so far. All three of his title matches have been great so far this year, as was the tag match at the Baba Memorial show, and with this tournament up next I think there is a good chance Miyahara is the leader of the pack for wrestler of the year going into G1 season.
As for his chances in this tournament though, Miyahara will obviously finish near the top of the pack, and has a decent chance of making it to the finals, but there is the small problem of…
YUJI OKABAYASHI
Okabayashi is from Big Japan. His only Carnival appearance was back in 2012 when the tournament had just 14 participants. He finished with five points there. He'll have a lot more this time around.
Okabayashi has had a great start to the year with his series of matches with Daisuke Sekimoto against the All Japan team of Violence Giants, throw in a decent little defense against the Sweeper team of Jake Lee and Ryouji Sai, and I think it's fair to say Okabayashi is having a top ten year in the world right now, with a chance to climb higher with a strong showing in this tournament.
When predicting block tournaments, you always have to look at the schedules, and Okabayashi faces Kento Miyahara in what looks to be the main event of the A Block Final show at Korakuen on 4/25. That has block decider written all over it, and I think it would be fair to call Okabayashi the favorite to win A Block right now.
RYOUJI SAI
This will be Ryouji Sai's fourth straight appearance in the Carnival. Sai finished second in Block B back in 2016 but has fallen each year since, netting a sixth place finish in last year's Carnival (back when we had blocks of eight).
Sai is a solid hand in the ring but nothing that special. His match against Jun Akiyama and Yuji Nagata when he teamed withe Naoya Nomura (due to Aoyagi's injury) back early last year comes to mind as a top level Sai match, but I honestly can't think of many others, although there are some a lot higher on the Super Cyborg than me personally.
Sai seems destined for a finish near the bottom of the table again this year, let's just hope he can put in some good matches along the way. The match against Aoyagi interests me because of Sai's role filling in for Aoyagi during his injury last year, and Sai had an underrated match with Kento last year in the Carnival, which I hope we'll see a repeat of.
GIANNI VALLETTA
When the nicest thing you can say about someone is: "Come on, they aren't THAT bad" it probably isn't a good sign.
This Valletta's first Carnival, and while I do think he takes some unfair criticism at times, I'm not going to try and spin it and say this dude is some kind of super worker.
As for how I think he'll do, Valletta has been in All Japan for about a year now, and while this is his first Carnival appearance, he did appear in the Royal Road and the Real World Tag League last year, where he was eliminated in the first round and finished last, respectively.
If you are some sort of Gianni Valletta fan, don't get your hopes up about a finals run; Valletta is the one guy left off of the A Block finals show. The best you can hope for is for Valletta to prove some doubters (including me) wrong and put on some strong performances in defeat.
ZEUS
One of just five men in this tournament to have held the triple crown title (Suwama, Joe Doering, Shuji Ishikawa, and Kento Miyahara being the other four), this is Zeus' sixth straight Champion Carnival. After finishing with just three points his first two years, Zeus made the finals in 2016. In 2017 he finished middle of the pack in a stacked Block A, but last year he rebounded and finished tied for second.
Zeus' Ttriple Crown run was something of a failed experiment. After winning the title from Kento Miyahara to a jubilant crowd at EDION Arena Osaka, the promotion realized that he just couldn't draw on top, and after just one successful defense and less than 90 days as champion, the "God of Destruction" lost the title right back to Kento.
Zeus is 37, and not to be overly dramatic, but that may have been his one shot. To be fair, another AJPW wrestler, Suwama, is 42 and still putting in incredible performances, but has been  Triple Crown transitional champion a couple of times since hitting his late 30s.
Zeus should finish near the top of the block again… right? This A block is stacked, and with Kento and Shuji to protect, Okabayashi the likely winner, and then two rising stars in Dylan James and Yuma Aoyagi, my hot take is I think there is a decent shot Zeus finishes fourth or fifth. I think it's telling that they put Kento-Zeus on night four. If you look at All Japan booking in the past, Carnivals are always back loaded except for night one, so putting Kento-Zeus in random ass Matsue tells you something about how they view Zeus as a contender to win the block. Maybe I'll be proven wrong here, but I think Zeus puts in some great matches here but ends up finishing with like eight points.
---
---
B BLOCK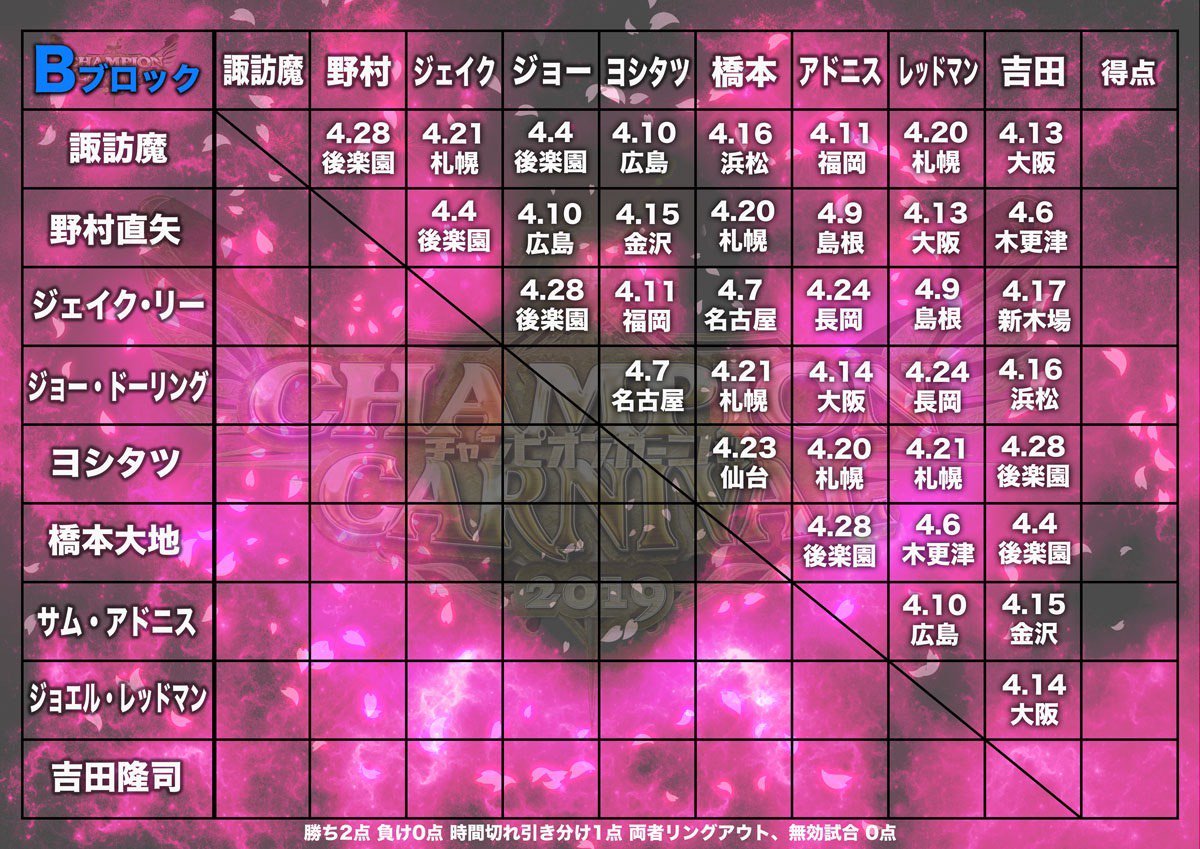 SAM ADONIS
I haven't heard anyone express any enthusiasm for Adonis' participation here. I haven't been particularly impressed with his work but I don't think he's awful.
He's been in All Japan a couple of times before, most recently in November 2018 during the Lucha Fiesta series of shows.
He'll probably get a couple of wins because he's a big gaijin, and Jun Akiyama seems to be going the old school All Japan route of bringing them in when he can.
Interestingly enough, while Adonis gained notoriety in CMLL for his pro-Donald Trump gimmick, it, like so many gimmicks based on current events seems to have run its course. He hasn't been in CMLL for nearly a year. With his last appearance there on April 6 2018. Since then he's bounced around a bunch of indies, a few in Mexico but mostly in the U.S.
The one silver lining that his presence may bring is that he may try to work hard in the tournament order to try to get a new full time gig. I would expect Adonis to get a couple wins, maybe even a big one if they are going to bring him back, but otherwise, he won't sniff the finals.
JOE DOERING
Doering has been a mainstay for All Japan since 2007. In that time he's been a two-time Triple Crown Champion among other accomplishments including making it to the finals of the 2017 Champion Carnival, losing to Shuji Ishikawa.
When Doering returned after treatment for a brain tumour in early 2017, he was a massive babyface. Despite turning on SUWAMA's Evolution stable not long after returning and playing a stereotypical Stan Hansen like heel, he still gets lots of face heat. Despite the often babyface reaction of the crowd, Doering's heel work is great.
Doering is a pretty good big man, and those who are hardcore All Japan fans seem to really like him. He can always be counted on to have fun hoss matches with guys like SUWAMA who he will be facing in this tournament and will probably be one of Block B's better matches.
Doering will probably in contention going into the final days of the tournament. I wouldn't expect him to make the finals, but it's certainly not impossible.
DAICHI HASHIMOTO
This is Hashimoto's second Champion Carnival. He was in 2017 edition scoring only four points in a block of seven.
I, like a lot of people am ambivalent towards Hashimoto. I've thought he has looked good in a bunch of tag matches, but especially in singles, he's not much better than above average let alone having a ring presence that comes anywhere near his father's.
I've only seen two Hashimoto matches in 2019, with both coming during the All Asia Tag Team Championship Tournament from All Japan's March 21 show. He was solid but not spectacular. Not sure he can have a great match with everyone in the block, but I am definitely intrigued to see what he can do in his matches against Lee and Nomura.
Hashimoto will most likely do better than he did in 2017. And with the ongoing All Japan vs. Big Japan feud, he might even score an upset or two to set up interpromotional matches down the road. However, making the finals for Hashimoto is extremely unlikely.
JAKE LEE
This is Lee's third Champion Carnival. He was in the 2016 and 2017 editions, but missed last year's due to injury. In his previous appearances, he only managed to gain a single win in each tournament.
That is going to change this year. But the question is, just how many wins is he going to get?
As recently as a couple of weeks ago, I thought he had a chance at winning this thing. But two things have happened that leave me second guessing.
First, was Naoya Nomura's incredible performance on March 19 against Miyahara for the Triple Crown. That match currently sits in my top five for the year. Lee has never had a singles match as good as that and Nomura showed a fire that Lee never has.
Second was that Lee and Koji Iwamoto won the tournament for the vacant All Asia Tag Team Championship on March 21. Traditionally in All Japan, someone who has just won the secondary tag team titles, isn't going to get a massive singles push a couple weeks later. Now, under Akiyama's booking, the hierarchy of an All Asia Tag Team Title holder compared to the top of the card isn't as strict as it has been in the past. But Lee's victory in the tag tournament definitely gave me pause about his chances in the Champion Carnival.
Lee's 2019 has also been lackluster, though he's shown much better work in the past couple of weeks during the Dream Power Series tour. I thought he performed well against average opponents in the All Asia Tag Title Tournament. Whether or not he can translate that momentum into a star making performance in this tournament is certainly up in the air. He still can be hit or miss.
Lee is going to get big wins in this tournament. And he's got a shot of taking it all. But I'm far less confident in that than I was before. But it should be noted that Okabayashi has a pin over Lee from a World Tag Team Title challenge from February. Given that Ryoji Sai could have taken that fall instead, the seeds for a Okabayashi vs. Lee finals as certainly been planted.
NAOYA NOMURA
Nomura, my beautiful boy. I've (almost) always believed you were the future of this company and I think you've clearly emerged above Lee and Aoyagi in the workrate department among the young guys in the company tapped to be future main eventers.
This is Nomura's fourth Champion Carnival and he has not managed more than four points in any of his previous appearances.
This will be an interesting tournament to see where exactly Nomura's ring work is. He doesn't have a best-in-the-world opponent like Miyahara in the block. However, I thought he did have a good match against Dylan James during the Excite Series in February. I know some people didn't think much of it, but I thought it showed Nomura's ability to carry more limited opponents.
Nomura is going to have his best ever tournament in points. And given his match drew All Japan's best attendance in Korakuen Hall in several months, I could see Akiyama calling an audible and giving this tournament to Nomura. At this point, expect him to be in contention for the finals going into the last day or two of the tournament block matches.
JOEL REDMAN
Arguably the most random choice of the tournament. Makes me wonder if Akiyama realized that New Japan was having success with some British guys so he thought he needed one.
Anyway, I'm going to be honest. I've never seen Redman in action beyond a few matches on YouTube I skimmed in preparation of writing this. I never saw him in NXT.
He's got a decent look and is athletic. From the little I've seen of him, I didn't see anything spectacular but I didn't see anything crappy either. The main issue that may work against him is that this is his first tour of Japan. Even wrestlers that go on to incredible success in Japan can have a weak first tour getting adjusted to the style. But Redman isn't a stranger to working with Japanese wrestlers. In his RevPro days he faced TenKoji and EVIL & BUSHI in tag matches. And all the way back in 2008, he worked two of NOAH's UK shows in singles matches against Aoki and Naomichi Marufuji.
Redman will probably end up with a losing record. But again, like Adonis I'd expect at least a good effort in order to try to snag a regular gig. Ultimately it will come down to how good his natural skills and instincts are in order to make a splash on his first tour of Japan.
SUWAMA
SUWAMA is back baby. After a lackluster return from an Achilles tendon rupture in July 2016, a lot of people were saying SUWAMA was toast. By then he was approaching 40 years old. His first challenge for the Triple Crown against Miyahara after he returned wasn't very good.
But then his tag team with Shuji Ishikawa, the Violence Giants gave him a new direction and brought him back to prominence. Everyone knows how Ishikawa is, but SUWAMA is no slouch either. Just look at his performance in the Violence Giants vs. Strong BJ tag matches from this year. And his Triple Crown challenge against Miyahara in February was a ****½ affair. SUWAMA brings all the big guy beating the shit of someone else action you need.
This is SUWAMA's 14th Champion Carnvial. He's been in every one since 2005 with the exception of 2016 which he missed to to his aforementioned injury. However, he has only won the tournament in 2008. But he has made losing appearances in the finals three times: in 2006 and 2012 vs. Taiyo Kea, and 2015 vs. Akebono.
SUWAMA will probably be in contention down to the final days of block action. It's certainly not impossible for him to make the finals, but I don't think it's likely. His matches against Doering, Lee, and Nomura are the ones that jump out at you when looking over the B block. The only thing working against him is his age. At nearly 43 years old, a 19 show tour can definitely work against you.
TAKASHI YOSHIDA
The former Cyber Kong makes his All Japan debut. As the Dragon Gate representative, he's a notable step down from last year's, Shingo Takagi.
I barely watch Dragon Gate, but I have seen Yoshida play the role of power guy in fun multi-man tags. I'm pretty sure I've never seen him in singles action. However, I know of his not so great reputation in singles matches and have heard it from people whose wrestling takes I trust. I'm going in with low expectations so it's not going to be that hard for Yoshida to entertain me, to be honest.
That being said All Japan is one of the best promotions in Japan if you want to see hoss on hoss action. I'm looking forward to his matches against Doering and SUWAMA. I hope they are smart in their work and just hit each other really hard.
I'm expecting Yoshida to finish in the middle or near the bottom of the pack. I would bet the farm that the chances of a finals appearance is absolutely zero.
YOSHITATSU
This is Yoshitatsu's second Champion Carnival appearance since his jump from New Japan to All Japan. Last year, he managed six points.
In a previous review of an All Japan show this year for Voices of Wrestling, I entertained the idea that maybe we can call Yoshitatsu underrated. I know that is a preposterous idea to many. But hear me out.
He was awful when he left New Japan, and he was still awful when he first joined All Japan. He has evolved into a decent tag worker. He works a lot of the multi-man tag main events of the smaller spot shows. He's pretty decent in them, but to be fair Miyahara, SUWAMA, and Ishikawa are also in a lot of those same matches. The couple of recent singles matches he's had have not be great but they have been inoffensive. So when I saw underrated I mean he's not some shitty wrestler that deserves to be the butt of jokes like he has been in the past.
Yoshitatsu has also been looking like he's been enjoying himself in the ring a lot more recently as well. Anyway my crazy thesis will be proved once he faces off against guys like Nomura and SUWAMA. I'm not expecting much, but I don't think he is going to be some kind of truly shitty drag on the B block.
Don't expect him to do much better than the six points he got last year though.
FINALS PREDICTIONS
Thomas:
Boy am I tempted to go with an Aoyagi-Nomura final here, I just don't think that All Japan has enough faith in Aoyagi to give him that Block A victory just yet. If you are worried about drawing, that show will draw ahead of time no matter what, and the match will be great with an obvious story to tell.
The chalk pick here is Lee-Okabayashi. Okabayashi pinned Lee in the tag title match in February when Ryouji Asia was right there to take the pin, leading many, including me, to think it was only obvious Lee would get his win back in the Carnival final. Since then though, things have changed. Young upstart Naoya Nomura drew AJPW's best non-tournament Korakuen number in forever, and Jake Lee took the All Asia Tag Titles in a little mini tournament on a house show at the end of the last tour.
All Japan seems to not like having guys with belts challenge for the TC, as evidenced by Violence Giants losing the AJPW World Tag Title straps for about two months while Suwama was challenging for the Triple Crown, and that scares me off of Lee. I have no doubt that Okabayashi-Lee was the original plan, but I think that Akiyama calls an audible here and pushes Nomura, who has clearly overtaken Lee in the eyes of your average All Japan fan, to the finals before he ultimately loses to Okabayashi in another star-making performance for the former All-Asia Tag champ, as the trend of outsiders winning the Carnival continues.
Gerard:
I'm still going with an Okabayashi vs. Lee finals, with Lee winning. As I explained before, I'm less confident that this is how things would turn out due to recent events, but that final has already been teased through the booking.
Of course, given the success of Miyahara vs. Nomura, Akiyama could decide that it's Nomura's time to shine. But generally I've come to realize that your first hunch when it comes to wrestling booking is usually the right one, so I'm sticking with Lee winning this tournament.
I also expect Okabayashi to pin Miyahara during the Block stage and am predicting Okabayashi will challenge for the Triple Crown in May, while Miyahara vs. Lee will be saved for a big show in the Summer.