Throughout 2018, Impact Wrestling made fairly regular use of TV specials, which were regular-length episodes badged with a title and usually structured like a mini-PPV quality card to bring stories to their climax. This Friday night, on Pursuit and Twitch, we get the first TV special of 2019, titled UnCaged.
As I did with some of the TV specials last year, I thought I'd offer a preview in this week's column as it's a pretty interesting card on paper and its outcome should have an influence on the card for the next PPV, Rebellion, which is scheduled for the end of April.
UnCaged will feature four matches in all, two of which are title matches. It will also be the final week of Impact's tapings in Mexico, with them taping the TV for the next six weeks later this week in Las Vegas.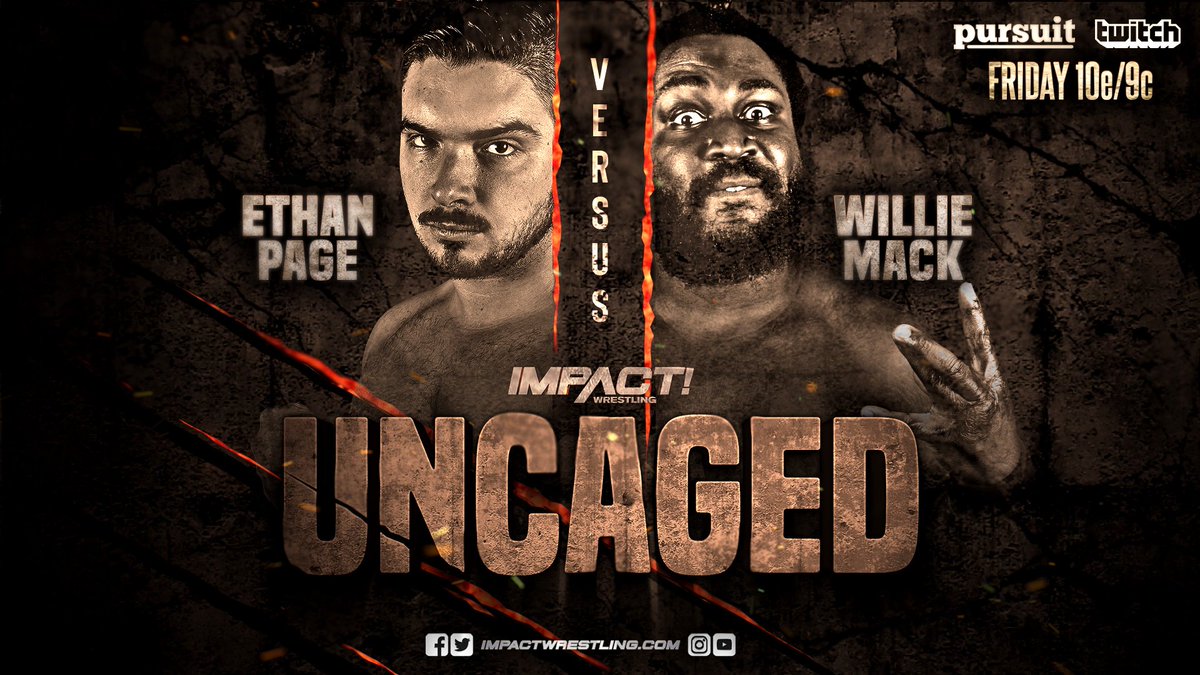 Willie Mack vs Ethan Page
This is the only match on the card with no build. Mack has been on a winning streak since his Homecoming defeat to Sami Callihan, winning the return match against the OvE leader before coming out victorious alongside Rich Swann against the Crist brothers on the last episode of Impact. As for Page, he's been on a slightly different trajectory since Nashville. He was highly impressive in the Ultimate X match but without Matt Sydal by his side they've been trying to tell the story of him trying to find his feet as a solo act without much success. He won a match Eddie Edwards by DQ, but that was more of an angle for Eddie's feud with Eli Drake than anything else, and lost a singles bout to Trey Miguel. There appears to be little on the line in this one other than a showcase for both men, but Mack is the much more featured act so it would make the most sense to have him go over. Prediction: Willie Mack.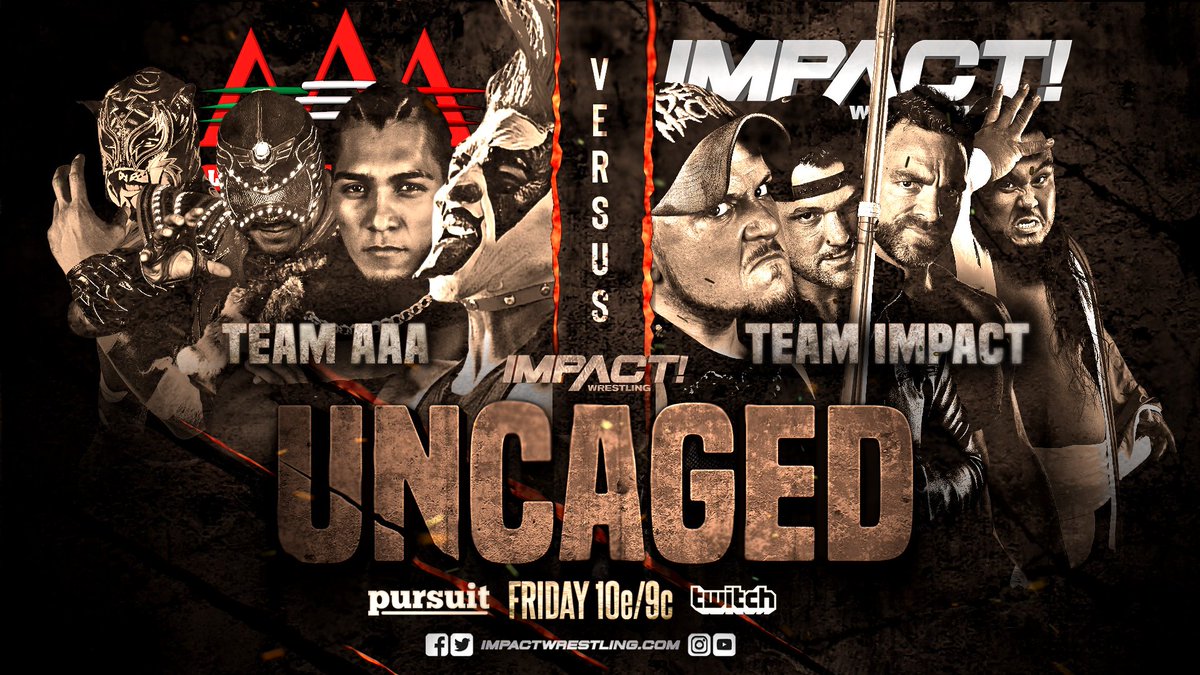 Impact Wrestling World Cup
Team AAA (Psycho Clown, Aerostar, El Hijo del Vikingo and Puma King) vs Team Impact! (Eli Drake, Eddie Edwards, Fallah Bahh and Sami Callihan)
Impact Wrestling has a strange history with World Cups. The first World Cup to take place in the company was the 2004 World X Cup, that saw Team America/Team TNA (comprising Jerry Lynn, Christopher Daniels, Chris Sabin and Elix Skipper) come out victorious against Canada, Mexico and Japan. Two subsequent World X Cups took place in 2006 and 2008, with the United States and Mexico the respective winners.
The other World Cup to have been featured in Impact was the TNA World Cup, contested on One Night Only shows annually from 2013 to 2016. That format saw teams of five, comprising a heavyweight star, an X-Division wrestler, a tag team and a knockout compete in singles matches, before the two top teams faced off in a five-on-five elimination tag team contest.
This match here appears to have no link to either of those tournaments, and in fact has lineage beyond Don Callis and Josh Mathews announcing it on commentary a couple of weeks ago. The format of the match between Team AAA and Team Impact (neither of those are countries, and it's usually countries that contest World Cups, but never mind), is a four-on-four elimination tag team style match. They have attempted to preview this in recent weeks by spotlighting Puma King, who lost a singles match to Sami Callihan, Psycho Clown, who beat Fallah Bahh, and El Hijo del Vikingo, who had a great match with Rich Swann on their first show in Mexico this year.
---
---
Picking a winner in this one feels fairly straightforward. The Impact team are not a team or faction, so there's no need for them to win and a win for Team AAA gives them cache for future appearances in the company and if Impact returns to Mexico later in 2019. Similarly, this match is clearly an opportunity for Eli Drake and Eddie Edwards to continue their feud/alliance that's developed over recent weeks, likely with Eddie and Eli being the last two and Eddie's hardcore tendencies getting him disqualified. Also, Sami Callihan has requested promo time earlier in the night to discuss his issues with X-Division Champion Rich Swann, something that could spill over here. As such, I'll opt for the home team. Prediction: Team AAA, with Psycho Clown and Vikingo surviving.
Impact Knockouts Championship Street Fight
Taya Valkyrie (C) vs Tessa Blanchard
The first of the title matches at UnCaged is the fourth match between Taya Valkyrie and Tessa Blanchard over the last five months. The first saw Tessa retain her title at Bound for Glory, the second saw Tessa get herself disqualified and the third saw Taya take the title at Homecoming after a match riddled with shenanigans involving Gail Kim as special guest referee. So that leaves their record at 2-1 to Taya.
Whilst her title reign hasn't been too popular thus far, it is too early to cut the legs from under Taya's push. Likewise, she really could do with a clean win over Blanchard to give her some credibility moving forward, where I envision a programme with Jordynne Grace for the title. With regards to Blanchard, the big match with Gail Kim has only been teased a little at the moment, but seems a lock for Rebellion in April. That match doesn't need the title, so there's no need for Tessa to win it back here. I like the Street Fight stipulation, as it should bring the best out in both women. Prediction: Taya Valkyrie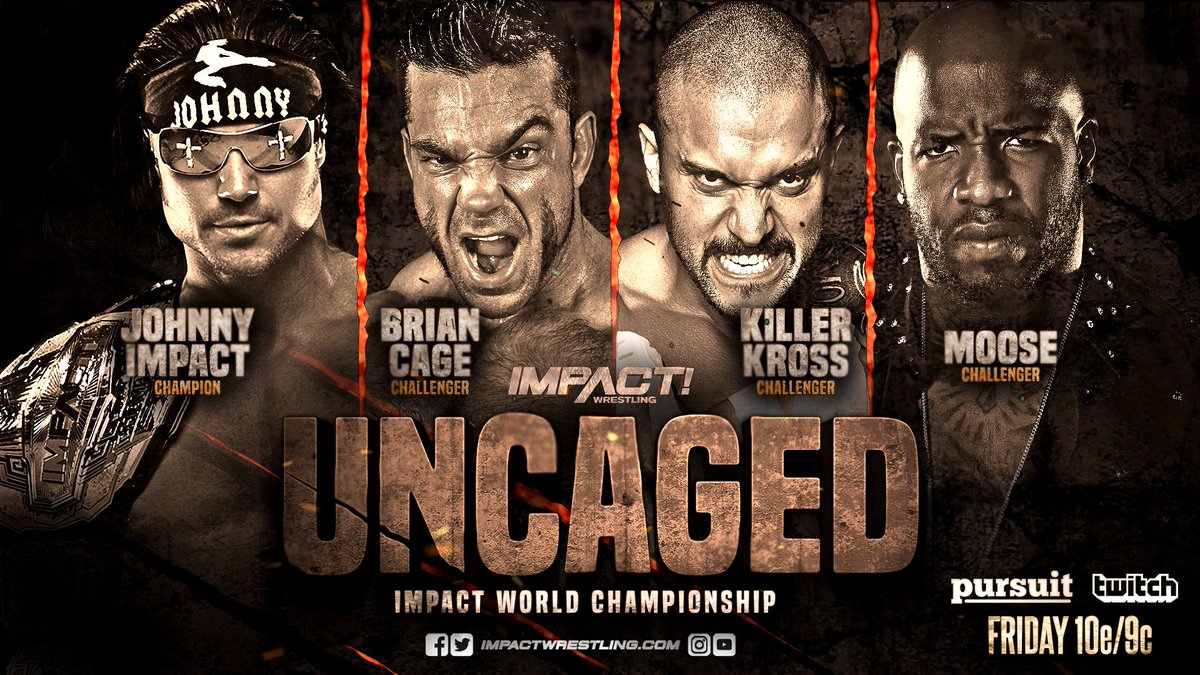 Impact World Championship
Johnny Impact (C) vs Brian Cage vs Killer Kross vs Moose
As much as I hate the bait and switch that got us here, I like the story they are telling with Johnny Impact at the moment and I like this match.
Since the beginning of 2019, they have presented Impact as a highly vulnerable champion who is often preoccupied with other issues, be that his wife or other opponents. He was pinned for a 10 count by Cage at Homecoming but retained his title through a dodgy finish and Impact has since been pinned by both Kross and Moose, which is why this is a four-way and not just the Impact-Cage rematch.
The vulnerable champion angle has been interesting, as it has moved Impact away from the traditional white-meat babyface role that he had embraced since winning the belt. However, that angle has a cut-off point where the champion just looks weak but this match won't be it. I think it's almost a certainty that Impact retains here, probably pinning Moose. Cage is the obvious next champion but I don't see him taking the belt until Rebellion, so a win here for Impact elongates their programme and also gives him some more credibility. Prediction: Johnny Impact.
The Week in Review
LAX against the Lucha Brothers for the tag team titles was some serious hot fire. Almost as good as their match from Homecoming, this match had much more of a story behind it and was the best match on Impact TV thus far in 2019.
The Lucha Brothers will face the team of Rob Van Dam and Sabu at Impact's Wrestlemania weekend show. That is certainly a funky match-up that no one else is booking, so you've got to respect the creativity at least…