The independent scene has been depleted, all the big names have gone, and the future is looking a little dreary.
Of course, this is over exaggerating. Yes, the loss of guys like Matt Riddle, Keith Lee and WALTER has caused a lot of the bigger name promotions to lose some of their top guys. Yet much like in the past, the scene rebuilds itself. New talents emerge, and new stars are made. Obviously, with WWE being so proactive in signing as many talents as they can, it does make things quite difficult. Guys are being moved up the cards before they've really made a name for themselves and being thrust in front of a bigger audience before they're really ready.
There are also guys who thrive on these opportunities. Ones who take the chance and become stars overnight. One obvious case this year would that of Marko Stunt. A low-level guy, he has a breakout performance at the Scenic City Invitational; which then got him booked at GCW. Then before you know it, he's on every show in the land.
Now with so many names gone, everybody is looking for the next big indie star. The next guy to take the scene by storm and become a true indie darling. With that, I decided to take a look at 10 guys and girls who could breakout in 2019. I did a similar list for 2018 and it's interesting to look back at and see where I was right (WALTER at number one baby), and where I went wrong (Danny Jones hasn't quite taken off like I thought he would).
Since the line between indie and contracted wrestler can be bit blurred, I added a few rules to keep things fair. Nobody currently under contract with any of the major promotions (WWE, NJPW, ROH, IMPACT, CMLL, AAA) is eligible. I've also excluded guys I had in the list last year, as well as some of the bigger, already established indie names like David Starr, Nick Gage, Shane Strickland etc.
There are no guarantees in indie wrestling. But each of these names has the potential to have a great year. So, take a look at who could be the next big names in the world of independent wrestling.
Honorable Mentions
Wrestlers who just missed the top 10 include Scotty Davis, Spike Trivet, Sierra Loxton, Trey Miguel, Kobe Durst.
10. Ilja Dragunov
If I had written this list one week ago, then Ilja Dragunov would have been number one without a doubt. The wXw stand-out who has only recently started venturing outside of Germany, has long been seen as a future star. His MOTY contender matches with WALTER, along with his performances in this year's BOLA made him a lot of new fans, and with WALTER signing an NXT:UK deal, it seemed that Dragunov was the obvious choice to take over his role as the top guy on the indies.
Then it was announced that Ilja had canceled his upcoming appearance with UK promotion, Pro Wrestling Chaos on the same day as the first NXT:UK Takeover event on January 12th. Suddenly the image of Ilja Dragunov being sat ringside during Takeover began to emerge, and with WWE locking up as many talents as possible for their UK and Europe expansion, it doesn't take a genius to figure out that Mr. Dragunov may not be long to the world of independent wrestling. Now, this could be all speculation and it's totally possible that in one years' time he could be one of the biggest names on the indies. On the other, it's perfectly plausible that he could be a WWE employee by the end of the month. Whatever happens, it's going to be an interesting few weeks.
9. Josh Briggs
There is a shortage of truly big guys on the indies right now. The scene is so frequented by cruiserweights, that when a true heavyweight appears, they stand out instantly. Of the few big men currently working in the indies, Josh Briggs is the one who impresses me the most. At 6'8 and 260 lbs, the former footballer is an absolute beast. Trained by Brian Fury, the big man only began wrestling in 2016 but has quickly become one of the most in-demand heavyweights around.
Beginning his career at Chaotic Wrestling, this year he has become a regular for companies such as Beyond, Alpha-1, Northeast Wrestling and the promotion that brought him to the attention of most fans, Evolve. Soon after his debut with the promotion, it was announced that he had signed a contract with WWNLive, and it was pretty obvious from the get-go that Gabe Sapolsky had big plans for him.
While he isn't going to blow you away in the ring, he is more than capable of putting on a great match. His match against Jonathan Gresham at Beyond Wrestling's All Day event was a perfect example of how far he has come in such a short time. Of course, with his size and his alliance with Gabe and EVOLVE I would not be too surprised if he is signed with a certain developmental brand in Florida by the end of next year. This is one of the reasons he is so low on this list. So even if he's only around for another few months, enjoy the big bastard while you can.
Oh, and remember, he doesn't like you.
8. Kylie Rae
This one may surprise many, but I absolutely love this woman. If I see Kylie Rae on a card, then you can guarantee it will bring a smile to my face. The women's scene on the independents is always growing, but with WWE signing a lot of female talent right now, positions are constantly being made available and Kylie Rae is my pick to fill the void.
Still only a few years into her career, she started under the tutelage of Booker T for his Reality of Wrestling promotion, winning the women's title in her debut match. It didn't take long for her to become a fan favourite everywhere she went. This is especially evident in Freelance Wrestling, a promotion where she has become a star this year through her feud with GPA. Whether it male or female, Kylie has shown she can hit as hard as anybody. She has also worked multiple shows for both RISE and SHIMMER, as well taking her first tour with Stardom in July.
Other accolades this year include winning the first Making Towns Classic tournament and recently defeating Kimber Lee to become the AAW Women's Champion, a victory that brought a tremendous cheer from the crowd and a tear to the eye of the new champ. The always smiling, loveable face is like a harder hitting Bayley and it's impossible not to cheer for her. The only way is up for Kylie Rae, and I look forward to seeing what she will accomplish in 2019.
7. Bobby Gunns
Not many guys have gone from solid mid-card heel to beloved babyface as quickly as Bobby Gunns. 'The King of Smoke Style' has taken wXw by storm this year. With an old-school, methodical style and charisma out the wazoo, it's incredible to think how popular he has become. The six-year pro has rarely ventured outside of his German homeland during his career, choosing instead to hone his craft in Germany. Adopting the King of Smoke Style moniker of the always smoking, cool and calculated, no-nonsense alpha male who starts every promo with 'Bitches and Gentleman', the wXw fans took to him like no other this year.
With his character work perfected, his brutal match with 'Speedball' Mike Bailey over 16 Carat week-end showed what he was capable of in the ring. He followed this up by winning the Shortcut to the Top rumble match to earn a shot at the wXw Unified Championship. The title match – which was originally intended to be a three-way – took place between him and Ilja Dragunov over the world tag league weekend. As the two biggest faces in the promotion, the loss of champion Absolute Andy meant the dynamic of the match shifted, and the match becomes an almost endless barrage of dual chants. The atmosphere for the match was unlike any other in indie wrestling, and it showed exactly how popular he had become. The Match was released for free on the wXw YouTube channel and through its exposure, Bobby picked a lot more fans.
The big hurdle for Bobby is the fact that he is very exclusive to Europe, never really venturing outside of his homeland of Germany. However, 2019 could be the year that he finally reaches a wider audience. With wXw announcing a show in the States over WrestleMania weekend, and the announcement that he will be talking bookings outside of Germany next year, the world may be about to find out that 'Smoking kills, but Bobby Gunns is killer'.
---
---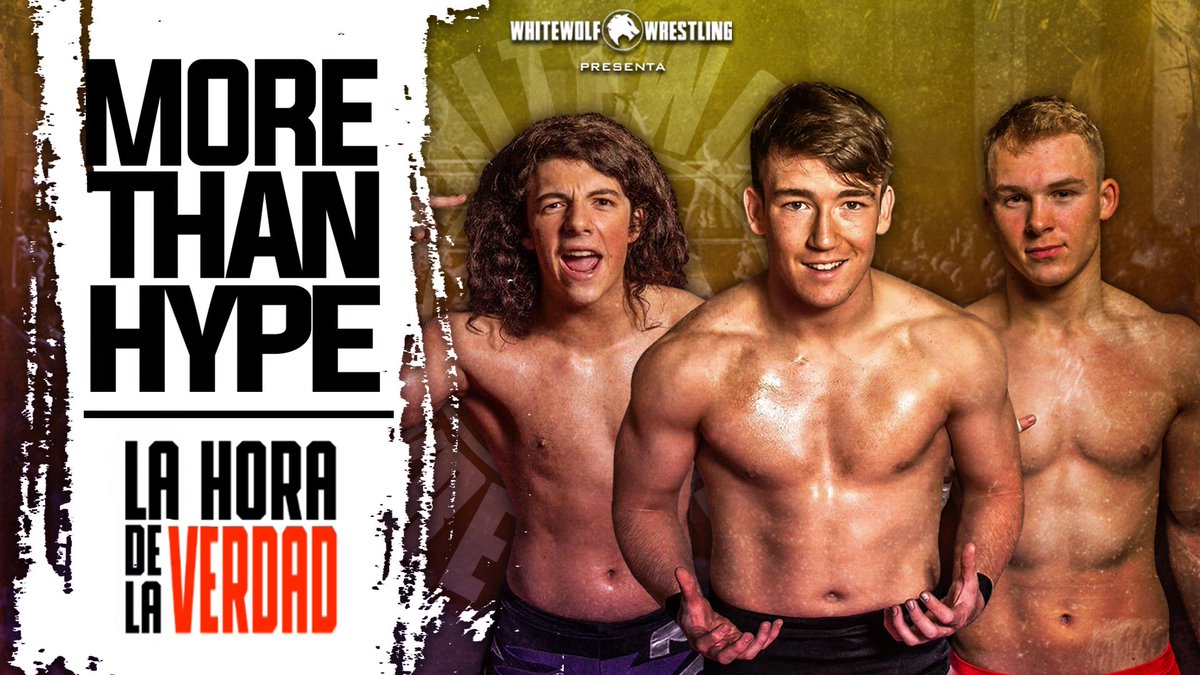 6. More than Hype (LJ Cleary, Nathan Martin and Darren Kearney)
Ireland has become a real hotbed for wrestling this year. OTT has been putting on great shows with a mixture of great young Irish talent and New Japan guys. Jordan Devlin has elevated the promotion to the upper echelons of the Euro scene, and the rivalry between Devlin and WALTER will go down as a serious contender for feud of the year. The atmosphere is incredible, the fans are wild and the talent coming through the ranks is outstanding.
No other promotion — maybe with the exception of wXw — have such a promising group of young talent emerging as OTT. Scotty Davis, Raven Creed, Valkyrie, Debbie Keitel, Curtis Murray and Michael May are all about to take the Irish scene to new levels, and I could probably have done an entire list of just Irish talent alone. Not wanting this to turn into a breakdown of the future of Irish wrestling I decided to only include only one. That being the team of More Than Hype.
The team consists of the annoyingly young trio of LJ Cleary, Nathan Martin and Darren Kearney. The trio performs in both singles and tag matches for the promotion and they all bring their own unique style to the group. Cleary is the charismatic frontman with the crazy hair. Martin, the sometimes psychotic kickass, and Kearney the aggressive technician with the handsome face. All three men are also under 21, and that terrifies me.
Not only are they incredibly over with the OTT faithful, but their in-ring work is also great. Their 6-person tag match against Meiko Satomura and The Rascalz at OTT's, Fan Appreciation Night show in September was probably one my tag matches of the year. it's the match that really proved they can hang with the best talent in the world.  Of course, whether they can get over outside of Ireland to the level they have in OTT is the true key of how big this group could be. With British Strong Style leaving the UK indies due to their NXT:UK restrictions, More Than Hype could be the group to take up the 6-man mantle. If they can translate that success to other places, then 2019 could become the year that independent Wrestling falls in love with More Than Hype. Blehhhhh.
5. El Phantasmo
Another guy who could take advantage of the sudden opening in the UK is El Phantasmo. The Canadian who now resides in the UK, he's been a mainstay in many of the top UK indies this year. The 32-year-old has been wrestling in Canada since 2005, but it was only when he moved to the UK last year that he really took off. His high-flying style quickly saw him pick up regular bookings with IPW:UK, Progress and Southside and it wasn't long before he was popping up all over the country.
His best work has certainly come in Rev Pro. This year alone he has competed against New Japan talents such as Zack Sabre Jr, Rocky Romero, El Desperado, and Tiger Mask. As well as picking up wins over Jushin Liger, Bandido and KUSHIDA on his way to winning the British J-Cup. The promotion seems to be building him up as the obvious contender for David Starr's Cruiserweight Title, and there are rumors abound that he could be seen as a possibility for future New Japan shows.
He's among the bigger names in the UK right now and I expect him to take more bookings in the US and maybe PWG next year. With the look, the style and a pretty cool name, I'd be amazed if he isn't one of the biggest names on the indies next year.
4. Myron Reed
At only 21-years old, Myron Reed has a hell of a bright future ahead of him. 'Hot Fire' has only been wrestling since 2016 and he's already working at a much level much higher than he really should be. He spent his first-year wrestling mostly for IWA and OVW, and while he showed a lot of promise early on, it's since becoming a regular with AAW that he has really improved and began to look like a future star.
The high flyer, with his bleach blonde hair and innovative style, has really turned heads this year and become a mainstay with a lot of the top indie promotions around the US and Canada. AAW is where he is at his best though, the current tag team champion along with AR Fox, he seems an obvious candidate to fill the inevitable void left by the soon to be probable departures Trevor Lee, ACH and Shane Strickland.
If AAW is going to rebuild, then Myron Reed is locked and loaded and ready to move up the card. He's another young guy who would suit PWG as they also look to rebuild, so expect to be seeing a lot more of 'Hot Fire' Myron Reed over the next 12 months.
3. Ace Romero
Like I mentioned earlier with Josh Briggs, a proper big man is few and far between. Well, Ace Romero is a big man. The big chunk of beef has made a name for himself over the past few months by pouncing guys around and out of the ring with absolute ease. He became a bit of GIF star in July, when a clip of his pouncing Anthony Gaines out of the ring at an ESW show began to circulate the internet.
The big man has been in the business for about five years and has slowly been improving his profile with every passing year. Trained by current NXT star, Oney Lorcan, he began his career for the Maine promotion independent Wrestling Entertainment before moving onto to bigger promotions like CZW and Beyond. It was really this year that he broke out. Becoming a regular with AAW and House of Hardcore, as well as debuting for MLW in November.
To the eye, Romero looks like just another out of shape, low level indie guy. Yet when you see him move with such agility it is hard to not be impressed with the big hoss fighter. At 320 Ibs, he is one of the biggest guys on the indies and with guys like Keith Lee, Walter and Brody King signing with WWE and ROH, there is a gap for an agile big man. Ace Romero is the perfect guy for that role. With his unique look, he is always going to stand out. Something that really helps when there are so many indie wrestlers floating around these days. If you see Romero on a show, then there is little chance you will forget him. His look, strong hitting style and signature pounce move, brings similarities between him and WALTER. The big Austrian was in the business a long time before he really broke out this year, and you could argue that it was his size and dreaded chop that really helped make him a star. Something Romero could certainly do with his pounce.
He looks tailor-made to get over in PWG, especially since they are so short on star power right now. There is something there with Romero and I could really see him becoming a big name on the independent scene in 2019.
---
---
2. Team White Wolf (A-Kid & Carlos Romo)
Now this one I'm cheating a bit and giving you two for the price of one. A-Kid came to the attention of the wrestling world due to his 5-star match with Zack Sabre Jr in his home promotion of White Wolf Wrestling earlier this year. However, he was making waves in the UK for a few months before that match as part of the Team White Wolf tag team with Carlos Roma. As the two stand-outs of the upstart Spanish promotion, they quickly found themselves working regularly as a team all around the UK. Appearing for Rev Pro, OTT, Attack and even as part of the Chikara King of Trios tournament in Wolverhampton.
Of course, A-Kid gets a lot of the attention due the ZSJ match, but it was Carlos Romo who really caught the fans attention first. Appearing on PROGRESS Chapter 59 as a last-minute replacement due to heavy snowfall, he had a great match with Chris Ridgeway under his original of Adam Chase. A few months later he chased his name to Carlos Romo in an effort to sound a bit more Spanish and the team have gone to become one of the most sought-after teams in Europe. Both capable of working a mixture of style. From high flying to technical, there is nothing these two guys can't do.
The UK and Euro scene are desperate for great talents right now. So, whether it's as a tag team, or as singles wrestlers. A-Kid and Carlos Romo are about to blow up.
1. Filthy Tom Lawlor
Like I mentioned earlier, my original pick for number one was Ilja Dragunov. Then when the rumours began of his probable departure to the promised land, I put him at ten so as not to look like an idiot when it eventually happens. That left me without a number one. After some intense analysis of the remaining names, one really stood out to me as someone who could be the biggest name in independent wrestling in 2019. That being, 'Filthy' Tom Lawlor.
The MMA fighter and long-time wrestler has always seemed like an obvious choice to be a big name in wrestling. Matt Riddle became a huge name after moving from MMA to wrestling, and Lawlor is much more charismatic than Riddle. Yet for some reason it just hasn't happened to the level many thought. I would love to see more promotions booking him as the kick-ass, cocky heel to elevate the top babyface. Just give the guy a microphone and he'll get over.
He does work a hell of a lot on the indie scene. Performing regularly for MLW, Black Label Pro and AIW, but is still yet to appear for some of the bigger promotions like PWG and AAW. Maybe that is the one thing missing from truly making him a big star, because he is certainly good enough. In MLW, he has emerged as the break-out guy on their weekly TV series. As the leader of Team Filthy, his character work is incredible, and he's had some cracking matches with guys like Shane Strickland and Sami Callihan, as well as becoming the first winner of their 40-man Battle Riot rumble match.
I feel Filthy Tom is only a stone's throw away from truly breaking out on the indie scene. When that does happen, I will proudly be screaming 'I told you so' to as many people as I can. Come on Tom, prove me right.