New Japan Pro Wrestling
Power Struggle 2018
November 3rd, 2018
Osaka Prefectural Gymnasium (EDION Arena Osaka)
Watch: NJPW World
Meet our previewers
John Carroll

: Lately all I can think about is

Sound Voltex

, so if anyone wants to buy me a

very expensive home controller

please let them know. You can follow me on Twitter

@toshanshuinla

if you like dumb shit, or my podcasts

@wrestleomakase

and

@moonmakeupcast

if you like slightly less dumb shit. I know the Democrats suck ass but please go vote for one next Tuesday anyway if you live in a competitive state/district. Thanks. Also, don't watch Crown Jewel.

Joel Abraham

: Co-host of the Super J-Cast (now fully endorsed by Tama Tonga) and Champion of negativity in wrestling – if you like something, I'll dunk on it. Follow me

@thesuperjcast

for burials of things you love related to New Japan, or

@joeljabraham

where I might take a big dump on your favourite video games, political beliefs or photos of loved ones.

Toa Henare, Ryusuke Taguchi, ACH & Chris Sabin vs. Jushin Thunder Liger, Tiger Mask, Volador Jr. & Soberano Jr.
John: Here's our "well, you're on the junior tag league tour so I guess you need to have a match" opener, as the luchadores and the Americans that were brought in mix it up with the New Japan regulars. If I was gonna give all the guest stars grades based on their performances in what turned out to be an aggressively mediocre tournament, I would give Sabin a C+ as he was totally fine, ACH a B as one of the more consistent performers, and the two CMLL imports an F. I hear that Soberano is a lot better in his home promotion than he showed on this tour, which I sure hope is true because other than one or two matches at most he was pretty awful. Volador has a rep for mailing things in back in Mexico and apparently decided to do the same thing here, which I can't even really blame him for given what their record ended up being. But yeah, they were bad. Anyway, this match will be fine and Jushin Liger will get pinned. Prediction: Henare & Taguchi & ACH & Sabin
Joel: Soberano didn't have the greatest league, but it's okay because Hirai Kawato is struggling in CMLL, and they both cancel each other out for some reason. It's the farewell match for the Jrs who featured in the tag league, but the interesting question here in who eats the pinfall. Liger is a good shout, but Soberano also did his fair share of staring at the lights, as did ACH and Sabin. And Henare being the least tenured in this match makes him a tasty outsider to be on the wrong end of a pinfall, despite being the only heavyweight in the match. Invite your friends over, put some money on the table and lay it all on Uncle Liger to take the L tonight. Prediction: Henare & Taguchi & ACH & Sabin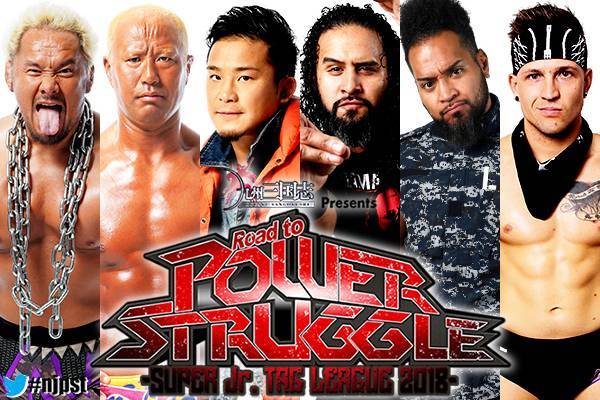 GBH & KUSHIDA vs. BULLET CLUB OG (Guerrillas of Destiny & Robbie Eagles)
John: I assume this would have been an eight-man tag originally if Taiji Ishimori hadn't gotten hurt, with Ishimori on the BC team, Sabin teaming with his tag league partner KUSHIDA here, and probably a young lion or something in Sabin's place in the opener. Hopefully Taiji's injury isn't serious (it's apparently some kind of ankle injury), because the direction for the junior title was clearly going to be KUSHIDA-Ishimori (whether for the Dome or like the World Tag League finals or a Korakuen or something) and I assume that will still be the plan if he isn't out for any real length of time. Anyway, either Honma or Eagles is capable of eating a fall here, so when in doubt go with the junior I guess. Prediction: GBH & KUSHIDA
Joel: I believe this would've been a chance for Ishimori to get another pinfall over KUSHIDA to cement his title challenge at Wrestle Kingdom, but with him on the shelf then there are some possible stories to build for the World Tag League. Do G.O.D. pick up the win here to establish themselves as the powerful reigning champs, or does relative rookie Eagles find himself on the wrong end of a King Kong Knee Drop to give Great Bash Heel the all-important momentum heading into the competition? I'm going with the latter, as GBH have been quietly picking up a few wins in recent weeks. Prediction: GBH & KUSHIDA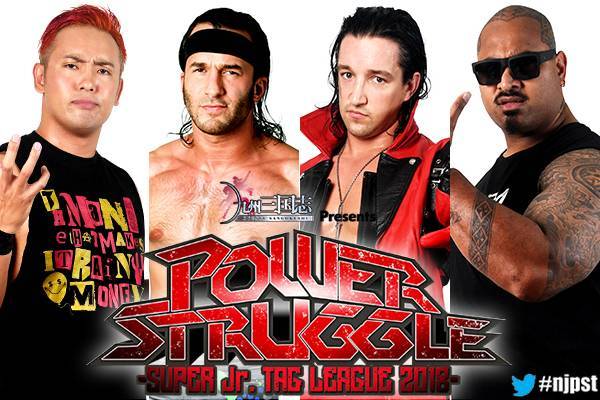 Kazuchika Okada & Beretta vs. Jay White & Bad Luck Fale
John: Since as mentioned earlier the junior tag league ended up being a bit of a dud, the ongoing slow build to Okada-White for the Dome ended up being kind of the highlight of the tour. White's promo work after these shows has been very strong if you haven't seen it, and he's repeatedly stated that there's a mole in CHAOS waiting to betray Okada and join up with him. That obviously adds another layer to this match, as we wait to see if the CHAOS BETRAYER will make himself known. People have wondered if it might turn out to be Goto or Ishii, but if either one of them is the traitor then they probably won't be turning on Okada here. It would be more than a little awkward to have either guy turn heel on Okada, join the BCs, and then come out later in the night for their scheduled title match (that they're each supposed to be the babyface in). Of course, if the traitor is Beretta then he could easily be turning on Okada in this match. Either way, I've enjoyed this feud and I look forward to seeing it continue through Wrestle Kingdom. Prediction: Jay White & Bad Luck Fale
Joel: I've been suggesting for a while that Beretta could be the Bullet Club mole (he is, after all, named after a gun) and his recent grumblings at Okada getting too pally with Tanahashi could provide some storyline motivation for the switch. However, I don't really know how that would play out in this match. Is he going to wrestle an entire match attacking or getting beaten up by his future stablemates? When would the turn come? A smart way to do it might be to have Okada as the babyface in peril with Beretta building for the hot tag, only to refuse the tag at the last minute with Okada eating a Bad Luck Fall. That sounds pretty good, right? Prediction: Jay White & Bad Luck Fale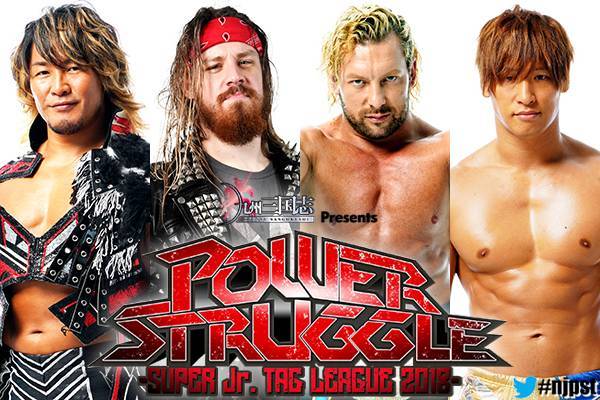 Hiroshi Tanahashi & David Finlay vs. Golden☆Lovers
John: On the other hand, the build to Tanahashi-Omega on this tour has been completely nonexistent, with Omega out doing the much more important work of wrestling on a boat, leaving the BAD shows to the BAD wrestlers. That has left the build to the biggest match of New Japan's year feeling exceptionally flat so far, with Kenny's partner Kota Ibushi playing Kenny Stand In™ on the Korakuen Hall shows in a way that felt completely pointless and dumb. That's not even just my take on it- that was basically Kota's as well in his post-match promos! The only interesting thing about all of this then is Kota's ongoing "I don't know what I'm doing here or anywhere really" storyline, which (assuming Kenny is going to stick around) is probably the start of a long build for a Kenny-Kota rematch, maybe at MSG next April. That's far more interesting than this Tanahashi-Kenny meta-feud, which has really been quite bad so far. If you want to hear more about wrestlers debating their MATCH STYLES and STORYTELLING then buddy this is the feud for you. But if, like me, you'd rather hear guys say they're gonna beat the other man because they're better at fighting than they are, you'll have to look elsewhere. Prediction: Golden☆Lovers
Joel: This match serves a dual function of not only building up the Omega v Tanahashi feud WITH ACTUAL WRESTLING but also the Lion's Break Project 1 match on November 11 between Omega and Finlay. Knowing Kenny's weird sense of priorities, this match is just as likely to focus on interactions with Finlay that the upcoming main event of frigging Wrestle Kingdom. Finlay seems to be screaming out as the designated pin-eater here, although it'd be a strange way to build up to the Anaheim match. And who better to take the fall to preserve the integrity of a dispute between two North Americans than Kota Ibushi? He did the job at King of Pro Wrestling, don't be shocked if he does it again here. He's the biggest casualty of all this nonsense – one of the very best wrestlers on their roster, with very little on the horizon for Wrestle Kingdom. Let's hope he escapes from these doldrums and moves on to a feud with the NEVER champion. Prediction: Tanahashi & Finlay
---
---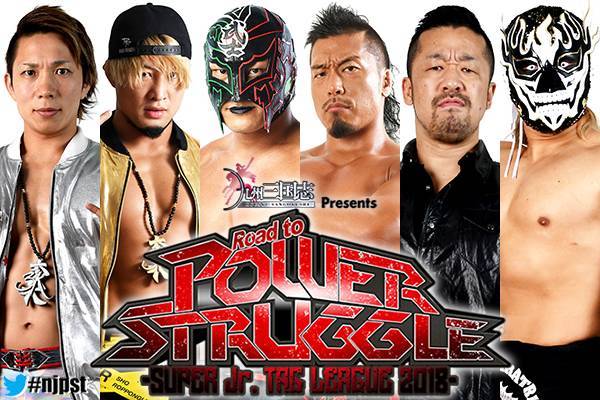 Super Jr. Tag League 2018 Final
El Desperado & Yoshinobu Kanemaru vs. Roppongi 3K vs. Shingo Takagi & BUSHI
John: I guess this is one we all should have seen coming in hindsight. Of course the final of the Super Jr. Tag League would be a three-way match! Gedo has booked basically this exact same three-way match twice already this year for the belts (obviously with Shingo in the place of Hiromu), and if there's one thing he loves it's junior tag multi-way matches. I don't think this is going to be awful or anything but I definitely would have preferred a straight up 2 vs. 2 tag final. But if it leaves the junior tag title match at the Dome as a normal tag instead I guess I can live with that trade-off. As for who's winning, you can probably eliminate the champions pretty safely, which leaves an interesting choice between R3K and Shingo/BUSHI. My heart says Shingo/BUSHI but my head says we're still doing the R3K redemption story, so I'm gonna go with my head. Prediction: Roppongi 3K
Joel: This is a super- *checks notes* -common kind of match in NJPW, and devalues the whole point of having the Super Jr Tag League if you're going to stick nearly half the teams in the final. Let's hope they're just getting it out of their system here because if it's anything but a 2 v 2 at Wrestle Kingdom, I'm going to be pissed. The only certainty here is that the champs aren't winning, an outcome that would serve no purpose unless there are some unforeseen challengers on the horizon (hey, maybe Hiromu and Dragon Lee join forces). This leaves R3K and the LIJ team in a tricky position as whoever doesn't win is left somewhat directionless heading into Wrestle Kingdom. R3K have come across as big stars during this tour so I'll pick them for the win and to finally rectify their faltering year at the Dome. Perhaps we get a SANADA/BUSHI/Shingo team winning the NEVER 6-man belts for LIJ on the same show if EVIL and Naito are both still in singles action. I am tempted to go for Shingo and BUSHI for the possibility of a big LIJ victory roll-call to close the show, but I'm going to pick R3K here. Prediction: Roppongi 3K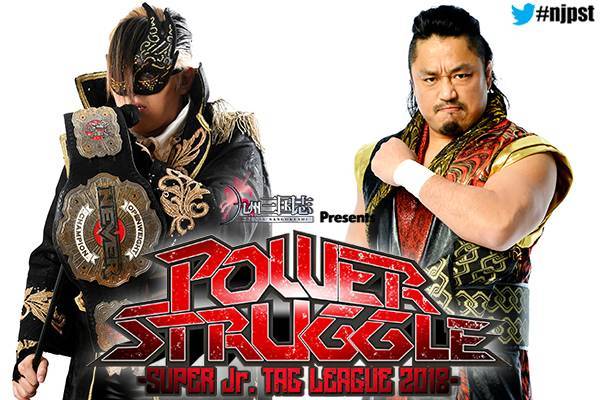 NEVER Openweight Title
Taichi © vs. Hirooki Goto
John: This one stings. Instead of getting Taichi vs. Ospreay, a completely fresh match (that the live crowd went crazy for when Young William pinned the champion at King of Pro Wrestling), we're stuck with Goto challenging for this damn belt yet again. To say this is uninteresting would be an understatement, but it's tough to really blame the promotion when it was caused by an injury that was out of their control. What I CAN blame them for, however, is if they make the decision I think they will and give Goto the belt back. You may not like Taichi as much as I do (in fact I can probably guess that you don't), but you would have to be deaf to not hear the reactions he's been getting for months now. Korakuen especially just treated him like a major star with the dueling Taichi go home/Let's go Taichi chants during the confrontation that set this matchup, and he just comes off like a bigger deal than he ever has in his career right now. But will they really let him go into the Dome with the title? I have my doubts. Maybe they let him retain here in hopes Will can come back in time and beat him for the belt before the Dome anyway, but given how little time we really have between now and then (especially in terms of New Japan shows remaining), they may not think that's a safe bet. So as much as it pains me to say this, I think Goto probably wins this belt back for seemingly the ten thousandth time. Sigh. Prediction: Hirooki Goto
Joel: I am going to delude myself and be optimistic that New Japan makes the right call here and keep the belt on Taichi, who as John has pointed out, is very close to becoming a babyface with certain crowds. I also want to see him making a grand entrance at the Dome, perhaps accompanied by a live music performance by Moi Dix Mois. That said, our Holy Emperor needs to deliver a better match than he did at Destruction. Goto has run the full gamut of hard-hitting challengers for this title, so putting the belt back on him for a third successive NEVER title match at Wrestle Kingdom would be a big step backward. Let's have Goto and Ishii win the World Tag League and have a banger with G.O.D., while Taichi can face Ospreay or Ibushi at the Dome. Prediction: Taichi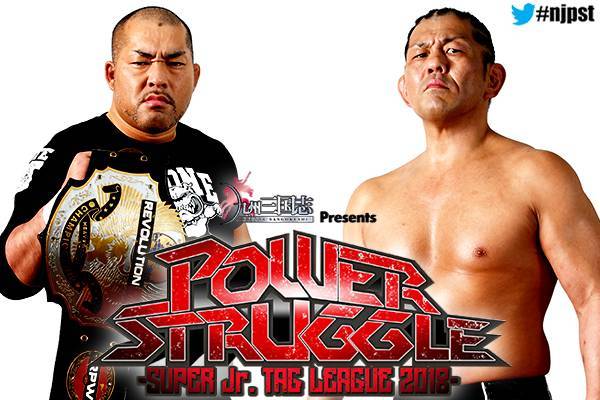 RPW British Heavyweight Title
Tomohiro Ishii © vs. Minoru Suzuki
John: This was a late addition to the card made after Ishii won the British title for a second time, defeating Suzuki on an RPW show on October 14th, adding another strong match to what already looked like a pretty solid lineup on paper. That match is available for viewing on New Japan World if you haven't seen it and was a pretty damn good like ***¾ level match, but I'm pretty sure they can top that here if they feel like it. This is Ishii's second reign with RPW's top title, having originally won the belt from Zack Sabre Jr. in New Orleans on 4/6 before losing it to Suzuki on 7/1. Suzuki seemed more proud than you might expect to be CHAMPION OF THE BRITS, so he's been out for blood all tour, violently brawling with Ishii backstage while demanding HIS title back. I don't think he'll be successful, but I do think this has a chance to be a really great match. Prediction: Tomohiro Ishii
Joel: I felt like these guys were holding back during their RPW match, so hopefully they can improve upon what was already a pretty good performance. I can't see the belt flip-flopping back to Suzuki, so I'm sure Ishii wins here, and an interesting question is what both men end up doing at Wrestle Kingdom. Does this title get defended on the show? I'm struggling to see it. My aforementioned Ishii/Goto team and current RPW tag champs Suzuki & Zack Sabre Jr. would both be excellent additions to a usually dull World Tag League, so now that I've said that they'll probably end up doing some three-way bollocks with G.O.D. at the Dome. At any rate, this match will deliver. Prediction: Tomohiro Ishii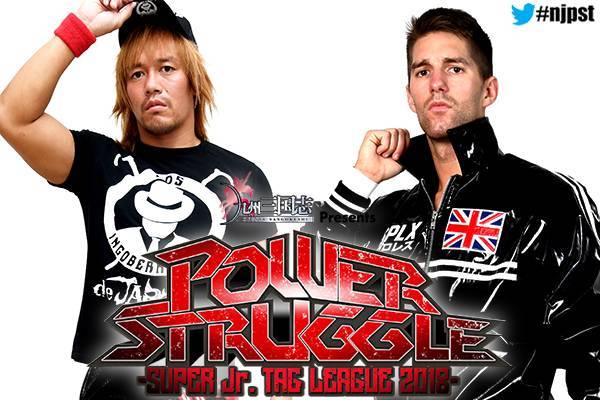 Tetsuya Naito vs. Zack Sabre Jr.
John: Naito and ZSJ get the semi-main spot for what feels like a pretty big non-title match. They've met twice already this year and Zack has won them both, first in the New Japan Cup and then on the last night of the G1 where he played spoiler to eliminate Naito from contention. While I thought the NJC match was just okay I thought they had a near-classic in the G1, a match I went ****½ on, so obviously if they can even approach that here it will go a long way toward making this a great show. Zack's New Japan run this year has varied wildly in quality- his run through the NJC was pretty mediocre in my opinion and his title challenge of Okada at Sakura Genesis was easily Okada's weakest title match of the year, but then on the other hand Zack was quite great in the G1, putting up multiple ****+ matches (including two of my favorites of the entire tournament with Ibushi & Naito). Hopefully, the G1 was him turning a corner in New Japan, because it felt like he was more comfortable with the style and also the opponents were more comfortable wrestling him as well, which is a good combination. Anyway, I think Naito winning here is very likely, as I doubt he'll go 0-3 against him and he'll probably be challenging Jericho at the end of the night. Prediction: Tetsuya Naito
Joel: Like John, I cannot see ZSJ going 3-0 over Naito this year. This seems like the time for everyone to get in their lanes for Wrestle Kingdom, with Naito needing a big win here to steady the ship and set him up for a probable rematch with Chris Jericho. Zack loses nothing from defeat here and could make some waves in the World Tag League as mentioned earlier. Another possibility is a rematch with EVIL, which plenty of people were looking forward to and was never resolved. I enjoyed ZSJ and Naito's New Japan Cup match (and ZSJ's run) a lot more than John, but I'm a British socialist who loves Stewart Lee and hates Halloween, so what do you expect. This match will be great, as I think they have excellent chemistry and their respective personalities play off each other very well. Prediction: Tetsuya Naito
IWGP Intercontinental Title
Chris Jericho © vs. EVIL
John: Power Struggle has been headlined by an IWGP Intercontinental Title match every year going back to 2014 (Nakamura over Shibata, Nakamura over Karl Anderson, Naito over Jay Lethal, and Tanahashi over Ibushi), but you'd have been forgiven for wondering at first if that was going to be the case this year, just given Chris Jericho's status since Dominion as absentee champion. Ultimately though Jericho made a surprising appearance at King of Pro Wrestling to attack EVIL, giving us our standard IC title match after all. Interestingly enough even though the title has been defended at every Power Struggle it has never once changed hands here (they weren't main events in 2011-13 but at those shows Masato Tanaka defeated Goto, Nakamura defeated Anderson again, and Nakamura defeated Minoru Suzuki). Will that streak of 7 straight years of successful Intercontinental Title defenses come to an end in 2018? At first blush I think you would probably say no, and I still lean that way as well, but I do think the possibility of a title change is stronger than most might think. We're obviously building to the Jericho-Naito rematch at the Dome with Naito getting his win back, but does that match NEED the Intercontinental Title? I think it's pretty safe to say it does not (and given Naito's general attitude towards the belt you could probably argue it would actually be a detriment). On the other hand, EVIL winning the title here would both be easily the biggest win of his career and would give you another big singles match at the Dome in whatever his title defense ended up being. The real problem with this scenario of course is that it involves Jericho losing two big matches in a row, which he may not be keen on doing, but does anyone really think that would hurt him at this stage of his career? He's Chris Jericho. He'll be fine. With all that said, I still think the most likely outcome is Jericho retains and we get the big challenge for the Naito-Jericho IC Title match at the Dome afterwards, but I wanted to put that seed of doubt into your mind at least. If EVIL wins I'll be surprised, but I won't be shocked. Prediction: Chris Jericho
Joel: I've spoken recently on the Super J-Cast about my belief that EVIL has star potential. Tickets always sell well when he's headlining, and fans (particularly in Osaka) seem to love him. The only thing holding him back from reaching those upper echelons is the gimmick, which is still a bit too camp to be taken seriously as a sustained main eventer. This could be a great chance to elevate him to the next level, by beating the guy that Naito couldn't. Naito v Jericho seems like the likely direction for Wrestle Kingdom, but I think that match actually works better without the Intercontinental Title, a belt that could really make a difference for EVIL. I do have some concerns about the stylistic match-up here, as they both have a slower, brawling style that could be a bad mix (see EVIL v Goto at New Beginning) but I trust Jericho as an experienced enough wrestler to figure out a way to make this exciting. This is a fantastic chance to turn EVIL into a star and get a big match at the Dome, possibly against ZSJ, although there would be plenty of other interesting options (Ibushi springs to mind). EVIL wins, then we can get a big LIJ roll-call to close the show and send the fans home happy. Book it Gedo, you coward! Prediction: EVIL