National Wrestling Alliance
70th Anniversary Show
October 21, 2018
Nashville, Tennessee
Tennessee State Fairgrounds Arena
Watch: Fite.TV
Meet our previewers:
Joe Lanza: I've always had a (sometimes perverse) fascination with the NWA. We've covered the last three regimes of this meandering oddity from day one of the Flagship, so I wasn't going to miss an opportunity to preview the (i)PPV debut of the latest, and seemingly most competent, of those regimes.
Jack Beckmann: A month recovered from the burnout that is reviewing a WWE PPV, Jack is back here to preview another American promotion with lackluster in-ring wrestling, the NWA. Despite that, he's actually very excited for the show, and will be reviewing it as well. Catch them on Twitter @packerman120.
Andrew Sinclair: Voices of Wrestling's resident Impact aficionado, Andrew is currently on the come down from Bound for Glory and the Austin Aries saga, and decided he'd jump in on this because he's both curious and being crushed by his dissertation reading. You can follow Andrew on Twitter @AMSinclair97.
Laredo Kid vs. Barrett Brown
Joe: Most of you are probably familiar with Laredo Kid, so let's talk about Barrett Brown.
Going back nearly a decade, Brown was considered something of a prodigy on the Texas indie scene. It's felt like he's had about a half dozen careers since then, but shockingly, he's still only TWENTY FOUR YEARS OLD. Over the last couple of years, he's gotten himself into shape, popped up sporadically in places like EVOLVE (and WWN sub-brands FIP & Style Battle), Wrestle Circus, and WWE (doing local job duty), all while continuing to work all over Texas for every indie of note. He's small, but that's not a barrier in the modern scene. For comparison's sake, and this is not meant to slight his opponent in any way, I've seen Brown have more good matches than Laredo Kid.
In a trivia note, Brown was the last recognized NWA World Junior Heavyweight champion of the old guard before the Corgan/Lagana regime froze the secondary titles. Prediction: Brown. I think this is a chance for the new NWA to build a star.
Jack: This match was the last match announced, but at the end of the day, it may be the best match of the show. I know that Joe is more familiar with Barrett Brown than I am, so I'll defer to him on Brown. Laredo Kid is one of the most underutilized independent workers out there. He recently worked the IMPACT tapings in Mexico, but outside of that and some IMPACT shots last year, he hasn't really worked in any big name indies yet. While I wouldn't consider the NWA a big time indie just yet, I'd reckon that outside of AAA, this is the biggest shot he's gotten yet this year. Him and Brown are the type of names that need to be built up to keep the independent scene thriving, and if the NWA plans on doing that, it is a good idea by them. Prediction: Laredo Kid
Andrew: Fun Fact – I first saw both of these men for the first time on the same show back at the start of 2017. It was Evolve 77, with Barrett Brown teaming with Darby Allin to beat Ethan Page and The Gatekeepers in the show opener before Laredo Kid got grappled to death by Tracy Williams. I definitely came away from that show more impressed by the Texas native Brown, but since then I've not seen another match of his. Laredo Kid, conversely, I've seen a fair bit of. He was one half of an exciting team with Garza Jr in Impact throughout last summer and was featured at the recent Mexico tapings. There were suggestions that he and Garza were NXT-bound earlier this year but they came to nothing. Both men are very talented and this will probably be the best match of the night. I'd back Laredo to win, but Joe's got me thinking otherwise. Prediction: Laredo Kid, probably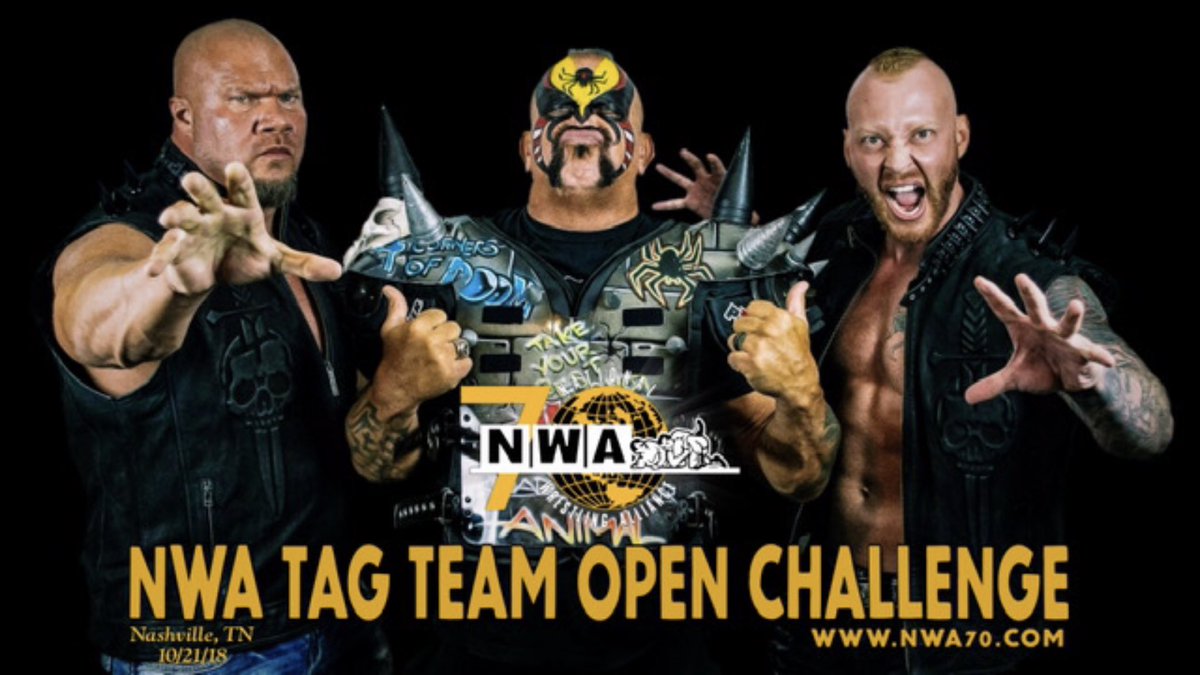 Crimson & Jax Dane (w/ Road Warrior Animal) vs. Jocephus' Crew
Joe: Look, I dug Jocephus when he was first introduced, and I think he served a useful purpose, but i'm long since over it. I've always felt he'd be better suited for a manager role, so maybe this will be a good spot for him, but I fear the type of wackiness that never feels like it fits the tone of the rest of the promotion. Crimson is another familiar NWA face, having hosted NWA matches in his Tennessee promotion, including coming up short in challenging Nick Aldis for the world title back in March. Crimson teams with his old VOW (no, not this VOW, the other VOW, "Veterans of War") tag team partner here, but I have no idea what to expect from this other than Jocephus taking a bump from Animal. Prediction: Wackiness
Jack: Jocephus' character is exactly the type of cringe campiness I love in my professional wrestling. When this show was announced, I wondered if the NWA would bring him back for some sort of role. Thankfully, Billy Corgan did not disappoint me here! This is easily the weirdest match on the show, as the wrestlers managed by Jocephus go by mysterious names such as "Hollywood" as well as his spiritual advisor. The video that announced the accepting of Crimson and Dane's challenge was some of the cringiest shit yet, so I have high hopes for some more cringe here. Oh, and Road Warrior Animal is here too. Prediction: Jax Dane & Crimson
Andrew: The Road Warriors remain one of my historical tag teams, and as a child I was delighted to see Animal win the tag titles alongside Heidenreich for his buddy Hawk. There was just something about face paint and shoulder pads. Anyway, back to the match.
Jocephus, who notably appeared on an Impact One Night Only show in 2016 losing to Chris Melendez (what a time to be alive), was fun at first. His promos were Wyatt-levels of wacky but more interesting and perhaps a bit darker. His match with Tim Storm in the empty arena was really good, but that was the peak. He's now at the level of weird where it's just not very good and the video where he accepted this open challenge was odd.
On the other side, you've got Crimson, who was always very average, and Jax Dane, who I think is quite underrated. I have no idea how this match will look, or whether it'll be a proper match at all, but my guess is that the regular tag team win. Prediction: Crimson and Jax Dane
Tim Storm vs. Pretty Peter Avalon
Joe: Storm was the feel-good story of indie wrestling in 2017. The career weekend warrior, universally regarded as a nice guy, getting the biggest break of his career at the age of 52, almost totally due to happenstance via being inherited as the reigning NWA World Champion by the new ownership group. While the title matches were passable at best and (very) bad at worst, his simple yet compelling story was key in drawing attention to the new NWA brand and set the tone for the promotional style they'd employ moving forward. Storm probably has a role with this regime for as long as he wants one, even if it's not in the ring.
Oddly, Storm & Jocephus, easily the two most limited wrestlers featured in the reboot, put together the best match of the "new" NWA to this point, the falls count anywhere match at the Impact Zone.
Avalon is a Championship Wrestling From Hollywood mainstay and the perfect heel foil for this type of match. Obviously this won't be a star fest. The intrigue lies in whether this is Storm's last stand, or if this leads to one more big match down the line. I think there might be one more story to tell with Storm. Prediction: Storm
Jack: As someone who had never seen much NWA before the Billy Corgan/Tim Storm, I'm willing to say that Tim Storm is the reason why I'm previewing this show today. While I may have fallen off watching Ten Pounds of Gold as much as I did during Storm's reign as champion, it is a result of Tim Storm that I give any shits about the NWA at all. It's good to see him be rewarded for his hard work with a singles match on the first NWA reboot show, and I look forward to seeing him once again. I don't watch any CWFH so I've never seen Avalon before, but nevertheless, I expect Storm to get the feel-good win here. Prediction: Tim Storm
Andrew: It's Impact icon Norv Fernum against the main reason I got into the NWA, Tim Storm.
The Ten Pounds of Gold series highlighting Storm's title run was terrific, harking back to a time where storytelling in wrestling was simple, logical and easy to understand. There was no nonsense, no contrived beef. It was just the story of man, a teacher, who'd got an opportunity he never thought he'd have and was living it to the full. He defined what it meant to be a people's champion. He may not be the champion anymore, but he deserved a spot on this card as much as anyone and I'm glad he's here. He'll be facing Avalon, a CWFH mainstay and very solid hand. Win or lose, this feels like they're setting Storm up for one last big story. Giving him a feel-good win on a show that's meant to celebrate all the good Corgan and Lagana have done over the last year and a bit makes sense. Prediction: Tim Storm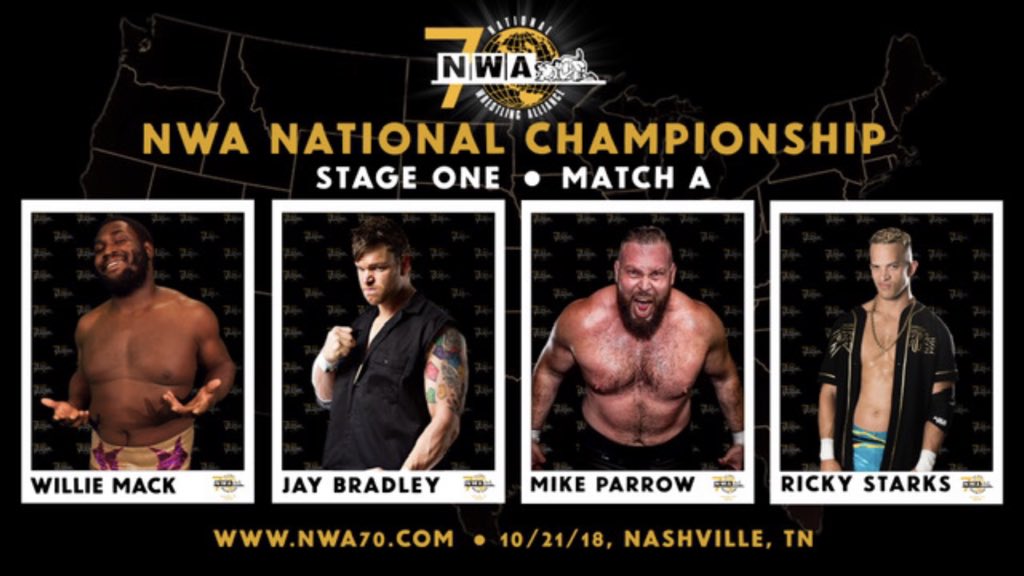 NWA National Title Match A
Willie Mack vs. Jay Bradley vs. Mike Parrow vs. Ricky Starks
Joe: The two National Title qualifiers are an eclectic mix of current indie stars (Mack, Cabana), Billy & Lagana's old pals (Bradley, Shaw), and wrestlers who promote themselves in the forward-thinking, outside the box ways that fit the NWA style (Sammy G, Starks). Mack is the chalk pick here, but I think Starks would be the bold one. He's an under the radar star in the making, who when given a chance always gets over big. Go with Mack if the idea of the tournament is to push the biggest names. If the idea is to get behind a talent who is hungry for a major break and potentially catch lightning in a bottle, Starks should win this and maybe even win the entire tournament. Prediction: Starks
Jack: This match and the one that follows it should be very interesting matches. All eight men in this mini-tournament have a bit of intrigue around them, be it that they are good wrestlers or just weird (see: Shaw, Samuel). I'd be fine with any of these four advancing, as they all bring different things to the table. Jay Bradley has the Billy Corgan connection, Mike Parrow has Ten Pounds of Gold story written all over him, Willie Mack has impressed recently with IMPACT and his NWA title match with Cody, and Starks is a rising name in the rebuilding indie scene. Despite just losing his NWA title shot, I think Mack will take it here. He's the biggest name in the match and has in-ring skill as well, something the NWA could use more of. Prediction: Willie Mack
Andrew: This match is decidedly harder to pick a winner for than the other four-way. Bradley is here as a friend of Corgan's and is the one I feel comfortable discounting as a potential winner and marking out as the likely pin-eater. Mack is a star, bursting with charisma, and has the most name value, so he probably starts as the favourite. Ricky Starks is a budding star and is someone they could quite easily strap a rocket too and see what he can do for the NWA brand. Then you have Mike Parrow. The New Yorker has got some buzz this year for his work in Evolve and more recently MLW and is, as Jack pointed out, prime material for the Ten Pounds of Gold because he is one of few openly LGBT+ wrestlers in the US with name value.
When it comes to picking a winner, my logic is Parrow. Mack is the most likely to be pushed elsewhere (the chances of him signing a deal with Impact are fairly good), so Corgan et al gain the least unique value from him. That leaves Parrow and Starks and I think Parrow has the better story potential for them and it's a story I want to see told. Prediction: Parrow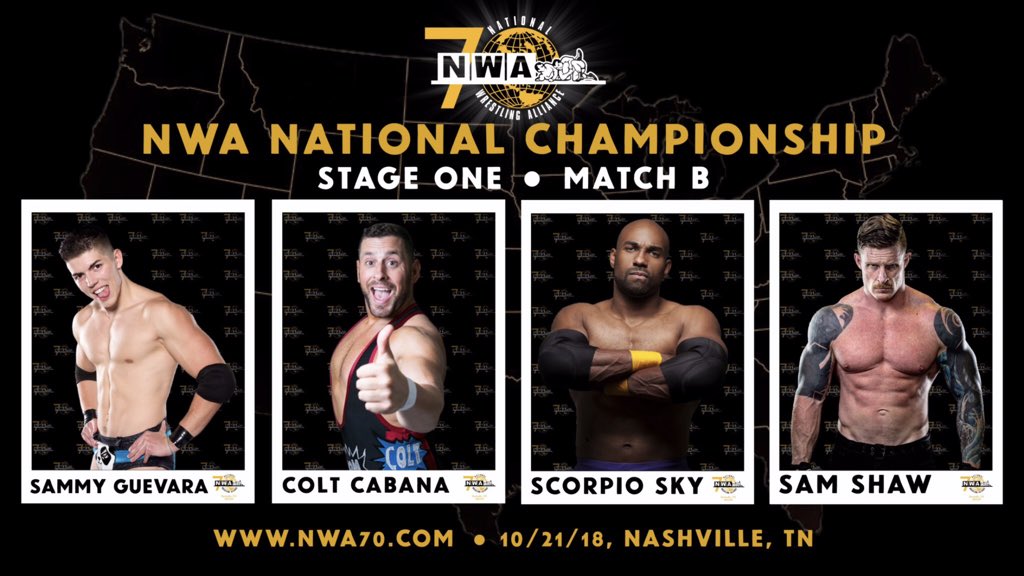 NWA National Title Match B
Sam Shaw vs. Colt Cabana vs. Scorpio Sky vs. Sammy Guevara
Joe: Thinking along the same theory as qualifier #1, Cabana is the pick if you're going with the star, but if the idea is to make new stars, i'd go with Guevara. Like Barrett Brown, Sammy G was a Texas indie prodigy who has seen a lifetime of ups and downs in his relatively short career. At times he's been his own worst enemy, but he's matured, and the talent in undeniable, which is why he never struggles for bookings across the globe. His vlog is something every indie wrestler trying to break through should be copying. If I'm making the call, Guevara wins. Prediction: Sammy G
Jack: It's fascinating to see the rise Scorpio Sky has had as a result of SoCal Uncensored. A year ago, I reckon that most weren't aware of his existence, but in 2018, he's one of the hottest names in Ring of Honor. Sam Shaw is here due to being friends with Lagana & Corgan, and I'd guess he's also playing some sort of a role backstage. He's fine. Colt Cabana would be an interesting choice to win this match, a proven veteran who excels at controlling the crowd and producing average matches, which we know the NWA can't get enough of. However, I think this four-way has a clear winner, and that man is Sammy Guevara. As Joe said, Guevara's had a lot of ups and downs, but when it comes to bell to bell, he's very talented. If he can keep his personality in check, he can be a big deal. On top of that, he has his own vlog, which must have Dave Lagana salivating. Guevara can also work heel, which would make him a natural foil in my predicted title match against Willie Mack. Lock this one in folks, Guevara's winning. Prediction: Sammy Guevara
Andrew: I genuinely had never realized how over SCU were until I watched All In. Scorpio has done very well for himself and I expect he'll have a good showing here. Shaw, much like Bradley in match one, is a Corganite and likely doesn't have a shot at winning. That leaves Cabana, the definition of solid, or Guevara. He may be difficult to work with and a bit hit or miss, but Guevara has so much talent and is ready-made for the way the NWA have shown they want to work. His vlog and ability to play the natural heel set him apart. Prediction: Sammy Guevara
NWA National Title
Match A Winner vs. Match B Winner
Joe: By picking a Ricky Starks vs Sammy Guevara final, I'm not only going bold with fresh names over established stars, but I'm going with a match that I know will deliver, because I've seen them have excellent matches together. If this is the direction, they'll get over with what could easily be the match of the night, and who knows, this could wind up being the "workrate" rivalry that NWA match quality critics can get behind. Prediction: Sammy G
Jack: I predicted a title match of Willie Mack vs. Sammy Guevara. This would make sense as it would have a natural face vs. heel dynamic, and it would most likely be a great workrate match as well. As for the winner, it's a tough call, as legitimate cases could be made for both men. Willie Mack was fantastic in his brief stint on Ten Pounds of Gold, and he has more stories to tell. However, like the previous match, I think Guevara will end up winning here. He's a star the NWA can build around, and his creative mind combined with Dave Lagana can lead to great things. Prediction: Sammy Guevara
Andrew: I have gone for a title match of Parrow vs Sammy Guevara. I think we are all united in picking Guevara as the National Champion because he could quite easily be the person they get behind to make this title a workrate belt. Win or lose, Parrow could be featured in Ten Pounds of Gold and his story could be told. Sammy G is the right business decision. Prediction: Sammy Guevara
---
---
NWA Women's Championship
Jazz (c) vs. Penelope Ford
Joe: Aside from Tim Storm, Jazz was the only inherited champion retained by the new regime. Ford is a perfect "first" challenger, a red-hot name coming off a star-making performance at All In, and is almost too obvious of a pick to win here. I feel like Jazz has a story that can be told, and is more than a one and done. Prediction: Jazz
Jack: Fun fact – Jazz has held the NWA Women's Championship longer than Kazuchika Okada held his IWGP Heavyweight Champion during his epic reign that concluded earlier this year. Now, she's only made one defense (as far as Wikipedia knows), but the fact still stands. All jokes aside, there is a case for both of these women to win. Jazz has an excellent story to tell due to her experience and her shoot job as a prison guard. Penelope Ford, the oft-underlooked second to Joey Janela, is loaded with acrobatic in-ring talent and could be a good wrestler for the NWA to build the women's division around. Despite all of that, I think Jazz wins here. Jazz can be the Tim Storm of the women's division, telling great stories for a couple months before the NWA puts the title on a hot upstart (or Nick Aldis). This should be fun. Prediction: Jazz
Andrew: I'm sneaky quite looking forward to this, despite the fact Jazz hasn't wrestled in over a year. That, like most things related to the NWA, is down to their video work. The one featuring the announcement of Jazz's title defense was tremendous and it's quite clear they have a lot further to run with her as champion. It's nice also to see Penelope Ford to get some great opportunities for herself with Janela (sadly) on the shelf for so long. Ford feels like a strong pick, but Jazz has more mileage as a 'storytelling' champion. Prediction: Jazz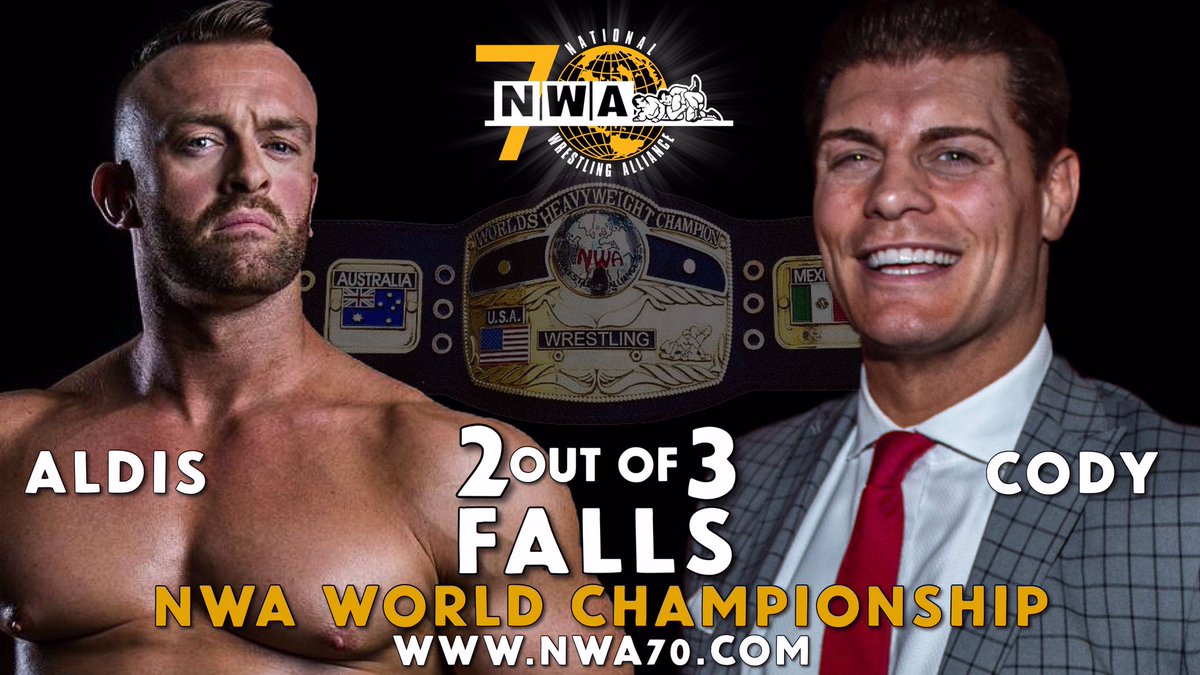 NWA World's Heavyweight Championship – Two-out-of-three Falls
Cody (c) vs. Nick Aldis
Joe: Bell to bell, I've been outspoken about Aldis (and for that matter, Cody too), whose title run I was not a fan of. These are two guys that will give you a professional performance, but anything above average here would be clearing the expectations bar. At All In, they had a perfectly acceptable match, helped tremendously by great presentation and an awesome "hometown" crowd of 11,000 Elite fans that were super into the idea of Cody winning the title on his "home" turf. I'm doubtful the atmosphere in Nashville will help carry this match in the same way, but if there is any carryover, this could possibly be a pleasant surprise. The excellent 10 Pounds of Gold episodes have helped, but they'll have to do a good job between the ropes convincing fans that Aldis can win, because coming into the match I don't get the sense that anybody thinks he can. Prediction: Cody
Jack: As someone who was in the crowd at All In, I can safely say that these two's match at said show featured some of the loudest crowd reactions I've ever heard at a live wrestling show. The crowd added a ton to that match, and took it from a perfectly fine story-based match to a match I will always remember. I have less enthusiasm that that will happen here, as lightning often doesn't strike twice. This will be a fine match. It may even be good. But they won't be able to recreate the magic they had six weeks ago, and the match will naturally suffer as a result. Now that the belt is on a big-name champion in Cody, Cody needs to pin Aldis clean and signify the true change in eras to the Cody era of the NWA. They will be better off as a result of that, as Aldis stinks, and Cody doesn't. Well, he kinda stinks, but Aldis sucks. I may not be excited for this match, but I'm fascinated to see what they try and do to make it unique. Prediction: Cody
Andrew: The latest 10 Pounds of Gold episode did a tremendous job of selling you this rematch, but I'm still down on this. At All In, these two were pushed above and beyond by a red-hot crowd. They had a good match that was made memorable by a crowd that were on the edge of their seat throughout. Creating that magic once, on the biggest stage in independent wrestling, was hard enough. Doing that again, seven weeks later, was always going to be much more difficult. Neither man is a workrate star, and making this two-out-of-three falls worries me that this could be very long, slow and boring.
If the match itself could be a mess, the booking logic is clear as day. Aldis has a good physique and looks good in a suit, but he's not a star. In fact, he's quite mediocre. Cody, on the other hand, is a damn star. That man is money right now and they need to push him to the moon. Not only does he need to win here, he needs to win 2-0. He needs to establish himself as the face of the new NWA on their first big showcase as a promotion. Prediction: Cody