Impact Wrestling
Bound for Glory 2018
October 14, 2018
Melrose Ballroom
Impact Wrestling returns to pay-per-view for the third time this year on Sunday with Bound for Glory. The event takes place in New York's Melrose Ballroom, marking the promotion's first to the Big Apple in over three years. Prior to the big show itself, Abyss will rightfully be inducted into the Hall of Fame, setting the stage for what should be a fantastic evening of wrestling.
Following up the home run of Slammiversary was always going to be difficult. Some moving parts haven't landed, some have. That's the way things go sometimes. Austin Aries still stands atop the mountain as World Champion, now flanked by Killer Kross and Moose. Aries defends his belt against Johnny Impact in one of only two title matches on the card, with the other involving Impact's wife Taya Valkyrie, who challenges Tessa Blanchard for the Knockouts Championship.
The main event is almost certain to be LAX and Konnan against The OGz in a Concrete Jungle Death Match, providing a fitting end for the best feud in North America this year. Aside from that, you've got some interesting stuff including an Eli Drake open challenge, Allie going into the shadow realm to battle Su Yung and Willie Mack making his official Impact debut alongside Rich Swann as they battle Matt Sydal and Ethan Page.
Despite the poor TV ratings, Impact is still doing well and I'm proud once again to be joined by two other previewers – Kelly Harrass and Suit Williams. Let's go!
Meet Your Previewers
Kelly Harrass:

You might be wondering what Kelly is doing here. Normally you find him reviewing WWE shows, but he decided to actually preview something he's excited about for once. Rest assured, Kelly really does like quite a few things and you can see him talk about those things over on Twitter

@comicgeekelly

.

Suit Williams: Hey, a decent card! Suit is here to rep for Impact like he always has, unless you count the Destination America year. Follow him on Twitter, @SuitWilliams, and listen to him rep for 205 Live on the Smark Sports podcast.
Andrew Sinclair: Voices of Wrestling's regular Impact columnist, Andrew is decidedly on the fence for this card. You can follow him on Twitter at @AMSinclair97. All filler, no thriller.
Eli Drake's Open Challenge
Kelly Harrass: To be completely honest, Drake does nothing for me. He comes off as the top star of your forums e-fed because he cuts Rock tribute promos that pop the guys who make cool signatures. My enjoyment of Eli Drake seems to rest solely on how much Scott Steiner is around. My hope is that the master of the Frankensteiner answers the challenge, but he has important things to do like run a Shoney's, so I doubt we'll see him. I wouldn't be shocked to see a guy like Dezmond Xavier or Zachary Wentz pick up a decent win here. God, Eli Drake is somehow an afterthought in his own open challenge. Prediction: So yeah, not Eli Drake
Suit Williams: I'm disappointed that Eli Drake has been slotted with the "open challenge" deal, where Impact clearly doesn't have an idea for the guy but he re-signed, so they have to use him. On the other hand, he gets on Bound For Glory, so that's good. As for who answers the challenge, he's restricted it to people only from New York. I'll throw the hail mary and say that the Manhasset, NY-born Chris Jericho answers the call, beats Drake quickly, and plugs his cruise. Do I actually expect that to happen? No. Do I want the credit if I'm right? Hell yeah. Prediction: Chris Jericho (or whoever answers the challenge)
Andrew Sinclair: As someone who is an unabashed Eli Drake supporter, his booking recently has been a little disappointing. There is the clear sense that they perhaps didn't expect him to re-sign and now don't know exactly what to do with him. His squashes and open challenges have been amusing, and my hope is that this one brings out a fun opponent and perhaps a debut. Eli's won them all with ease thus far, so I suspect a defeat here will provide the catalyst for a serious feud as we close out 2018. Restricting it to NY natives certainly narrows the field down, and Suit's pick of Jericho is a rogue one but a good one. Within the roster it could be KM, or it could be someone like the recent free agent Tracy Williams. Other less appealing options include Big Cass… My hope is Trent Beretta, but we know that's not happening. Prediction: Whomsoever answers the Open Challenge
Allie vs. Su Yung
Kelly Harrass: Is this going to be one of those wacky pre-tape things in the dead zone? I have a feeling that it is and if that's the case, this probably won't be very good. The Su Yung stuff lands for me about fifty percent of the time, but recently it just hasn't been working for me. I respect them for doing something different, but I just don't think that it's been very good. Prediction: Allie puts the demon behind her
Suit Williams: I have nothing nice to say about Su Yung, the supernatural gimmick doesn't work for me. Allie has asked Father James Mitchell to bring her to the underworld for this, so this will be one of those pre-tapes that end in the arena. All I'm hoping for is that this is sub-10 minutes, and Rosemary comes back to deal with Su Yung. Prediction: Allie
Andrew Sinclair: The Su Yung stuff only just about hit the mark for me when she was champion and now they've (thankfully) taken the belt off her, it does nothing. Nothing. I'm never going to be against a Father James Mitchell appearance though, so this should be reasonably entertaining. Allie has to win, putting the demon in the rearview mirror and presumably moving her back towards to Tessa. Prediction: Allie
Matt Sydal & Ethan Page vs Rich Swann & Willie Mack
Kelly Harrass: I've been hoping for a while that we would see Ethan Page return to Impact and I guess I have to thank Matt Sydal for making it happen. I've been enjoying this feud between Sydal and Swann while the X Division Champion is otherwise occupied with oVe. Willie Mack is a late but welcome addition to the match as Swann's mystery partner. More than anything, I hope we get to see Page and Mack show off a bit to gain them some more fans and potentially get them a longer run in the company. I'm assuming that Sydal and Page will win as it seems like they want to do something with this team, but it's a coin flip really. Prediction: Those Third Eye Boys
Suit Williams: An undercard X Division feud, hurrah! One of my biggest and most consistent issues with Impact is that the X Division is usually just champion vs. challenger, with random four-ways and six-ways in the interim. I like when there is real depth to a division, and these kinds of simple feuds help with that. Sydal wanted Swann to join his quest to open everyone's third eye, and Swann refused. Ethan Page debuted (the two-week Chandler Park run aside) and joined Sydal's side, leaving Swann to get Big Willie Mack on his. This one is a toss-up, but I'll go with Sydal and Page getting the win and heading into the tag team division. Prediction: Third Eye Blind
Andrew Sinclair: This is actually one of my most anticipated matches on the show. I like the work of all four guys and I expect them to mesh very well here. Sydal's 'third eye' gimmick has been excellent, as it's the sort of thing that would wind up other roster members, and I like they've brought Ethan Page back to the company as his partner – any man that threatens to kick another's brown eye on national television is a certified star. That said, I'm slightly annoyed. I mean, canon matters guys, so where's the Chandler Park references?
Willie Mack is underrated talent in my book and was excellent alongside Shane Strickland at the Impact/LU show over Wrestlemania Weekend. As for the outcome of this match, I'm leaning towards the Third Eye Brotherhood for a couple of reasons. Firstly, I feel like Sydal needs the win more. Aside from that though, it depends for me on whether they've got Mack under a deal or just a casual basis. If it's the latter, it makes sense for the two signed guys to get the win and perhaps move towards the tag title scene. Prediction: The Third Eye Brotherhood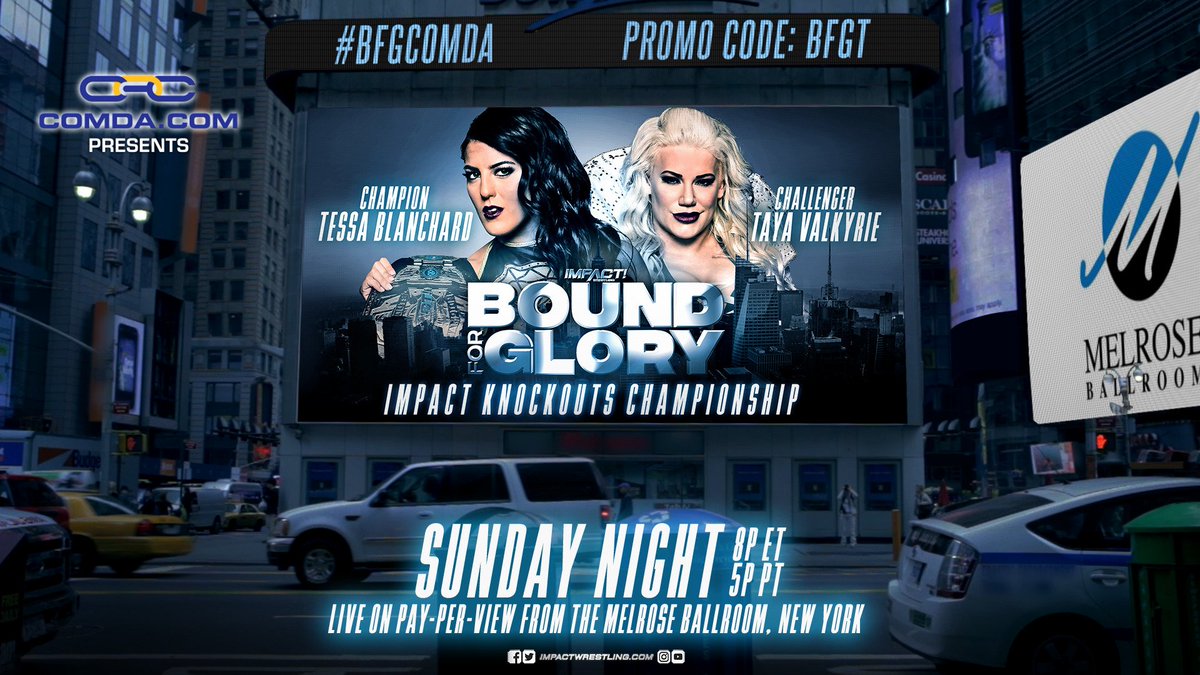 Impact Knockouts Championship
Tessa Blanchard (C) vs Taya Valkyrie
Kelly Harrass: Impact made the right move when they moved the Women's title off of Su Yung and onto Tessa. People enjoy Su and her demon bride character, so she doesn't really need the title belt. Blanchard's character is obsessed with being the best so it makes all the sense in the world to give her the championship. It seems to me that Impact is in it for the long haul with this reign. Unfortunately for Taya, that means that she's a speed bump for Blanchard. With next to no build when it comes to this challenge, it would be a total waste to have Tessa lose the title here. Prediction: Tessa Blanchard
Suit Williams: A problem that I have with both the title matches on this card is that neither challenger has been presented as much of a threat. Tessa has been a very good champion in her short reign, quickly establishing herself as the class of the division. On the other hand, Taya hasn't been on TV in months and made her challenge through a video package. There's absolutely no reason to believe that Taya has a chance of winning this title. So I'll say that Tessa wins a competitive match, and does it decisively. Prediction: Tessa Blanchard
Andrew Sinclair: The new regime in Impact have done a lot of good. The booking has been consistent, there've been little to no screwy finishes and mostly everything has paid off. This match though doesn't fit that bill. Taya had not appeared on Impact television in approximately three months when she popped up a few weeks ago to challenge Tessa. There was no sense of the opportunity being earned, especially as three of Taya's last four matches ended in defeat.
Surprisingly, they've not played up the fact that Johnny Impact and Taya, now husband and wife, could leave BFG holding both world titles. That's almost certainly because this is going to be a routine defence for Tessa over a big name, hopefully leading her into a feud with Allie or Rosemary following this event, or a more logical and developed one with Taya. Prediction: Tessa Blanchard.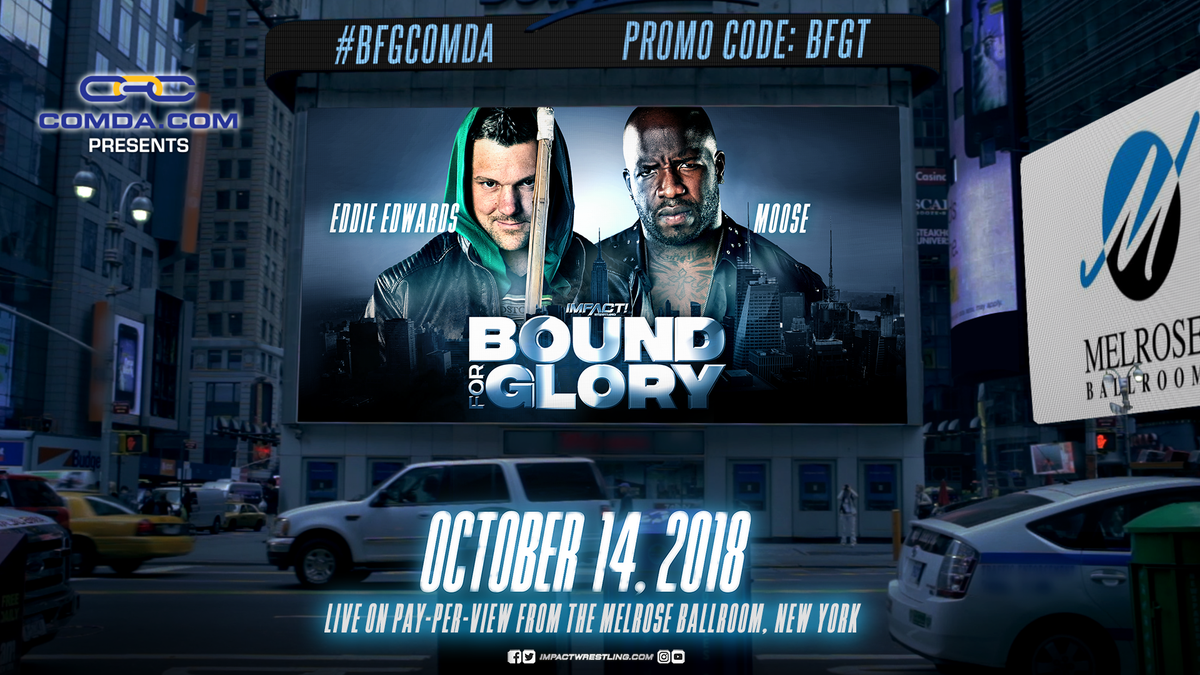 Eddie Edwards vs Moose
Kelly Harrass: I don't know if this is a hot take, but both of these guys have had a great 2018. Moose impressed me a ton back in March when he and Keith Lee had one hell of a match in AAW. Then Moose and Austin Aries capped off Slammiversary (which is still my favorite North American show of the year) with a fittingly awesome title match. Now Moose has allied himself with the champion and has become the biggest douche imaginable.
Meanwhile, Eddie Edwards got hit in the face with a baseball bat, but then found himself in the middle of one of the most talked about feuds of the year with Sami Callihan. Then he immediately transitioned into one of the most interesting feuds of the year with Tommy Dreamer where Dreamer was essentially fighting himself from the past. Since then Edwards has settled into his role as crazy guy with a kendo stick.
This feud has been really well built, especially because Moose seems totally justified in his anger towards Edwards. He should be upset that his friend never checked on him in the hospital. Eddie is still paying the consequences for going too far off the deep end in his quest for revenge. With the personalities of both men involved, I highly doubt we'll see a reconciliation between the two, but hey, that's good for us as viewers because they'll probably chop the hell out of each other. As much as I would like to see Moose win the match and maybe teach Eddie a lesson in being a friend, Edwards is clearly on the path to a title shot. Prediction: Eddie Edwards
Suit Williams: One thing Impact has done very effectively is given guys with one-dimensional characters something more for people to sink their teeth into. Eddie Edwards was a good pro wrestler, but he was very featureless. After his feuds with Sami Callihan and Tommy Dreamer, he's got an psycho edge to him now. Moose was a good pro wrestler, but he was just a guy who had a chant. Now after turning on Eddie, he's Moose Money. He's cocky, he dresses like an absolute douchebag, and he feels justified in everything he does. Now these guys feel like fully fleshed out characters, and that only helps Impact in the long run. I'm picking Eddie to win this one. I really thought he was challenging for the World Title on this show after being screwed out of the title on TV, but getting a solid win on PPV should build him up nicely for whenever the next PPV comes. Prediction: Eddie Edwards
Andrew Sinclair: I said back in the Slammiversary preview that Moose losing the world title match gave them more booking possibilities and by gosh has that been proved correct. Moose Money has breathed new life into the former NFL player's career and he's as interesting as he's ever been in the company. His fashion sense is outrageous and annoying and he's been very easy to boo.
The simplicity of this feud has been the beauty of it. Moose, the only friend Eddie seemingly had left after he went a bit nutty, turned his back on him and aligned with the high-school bullies, Austin Aries and Killer Kross. They worked the old trope that Eddie didn't bother with him whilst he was concussed, only Austin did, so Moose stabbed him in the back. They've also kept the use of Eddie's wife to an appropriate level, meaning this feud is bubbling at the right level. I'm firmly of the belief that the long-term plan is for Eddie to dethrone Aries, but he's not done with Moose yet. Moose needs the win to establish his new character inside the ring, and it gives Eddie one more hurdle to overcome because he reaches the mountain top in Impact once again. Prediction: Moose Money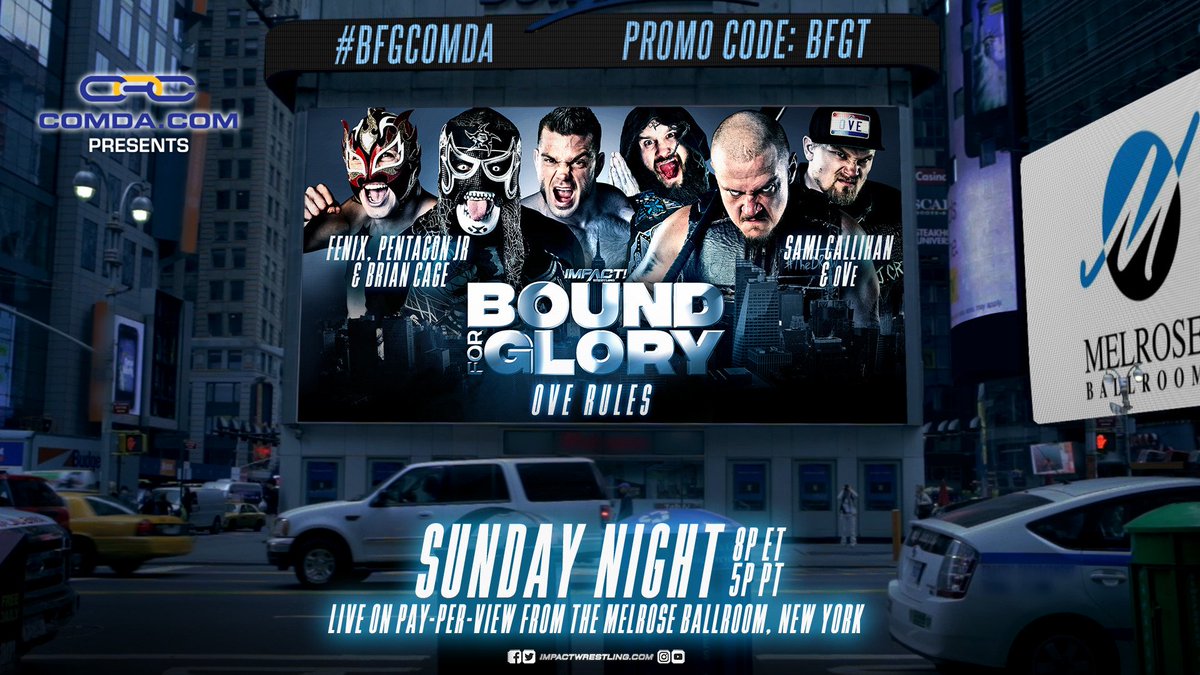 OvE Rules
OvE vs The Lucha Brothers & Brian Cage
Kelly Harrass: Watching the Crist Brothers stand behind Sami Callihan and react to his promos has been the most consistently funny thing in wrestling this year. I honestly don't have many thought on this match other than it'll probably be rad. All the men involved are pretty great and thrive in these kind of multiman spotfest matches. While this will ultimately lack the heated blood feud feel that the Pentagon/Sami match had at Slammiversary, this should still be a match guaranteed to end up on my list of 4+ star matches from this year. Prediction: Lucha Bros & Cage, then the Lucha Bros transition into a Tag Title chase
Suit Williams: If you were to tell me that Sami Callihan would be in two of my most anticipated matches of the year on Impact, I would've called you insane. But Sami and OVE have been involved in the most talked about feuds of the year, and have held their end of the deal up in-ring as well. Pentagon Jr has been a candidate for Impact MVP, holding their World Title earlier this year and having their Match of the Year against Sami Callihan at Slammiversary. Cage and Fenix have been big players as well, building up the TV with great matches. Six of the company's best in a no-DQ brawl should make for an insanely good match. As for the winner, I say Callihan gets a win here and transitions from getting payback on Pentagon to the X Division Title held by Cage. On a side note, I love when OvE says "EVERYTHING!" at the end of their promos. They're like cartoon hyenas, it's great. Prediction: OvE
Andrew Sinclair: My biggest question here – what are OvE rules? My guess is that it's either a tornado-style six-man or just a No DQ spotfest – either way it'll be the sort of environment all six men thrive in.
Callihan divides opinion amongst fans but I don't think anyone can deny he's had a phenomenal year in Impact and is rightfully pushed as a big deal. As Kelly said, having Jake and Dave stand behind him all year just shouting 'EVERYTHING' is great. Cage has been excellent since debuting and I love this wacky alliance with the Lucha Brothers. There's a chance this could be the best match bell-to-bell on the night and to me it feels like it could go either way. I too think the Lucha Brothers are moving towards the tag title scene, but Callihan pinning Cage and getting himself a title shot for the NY tapings would make sense. I'll go with Cage and the masked brothers, but I'm not convinced. Prediction: Brian Cage and The Lucha Brothers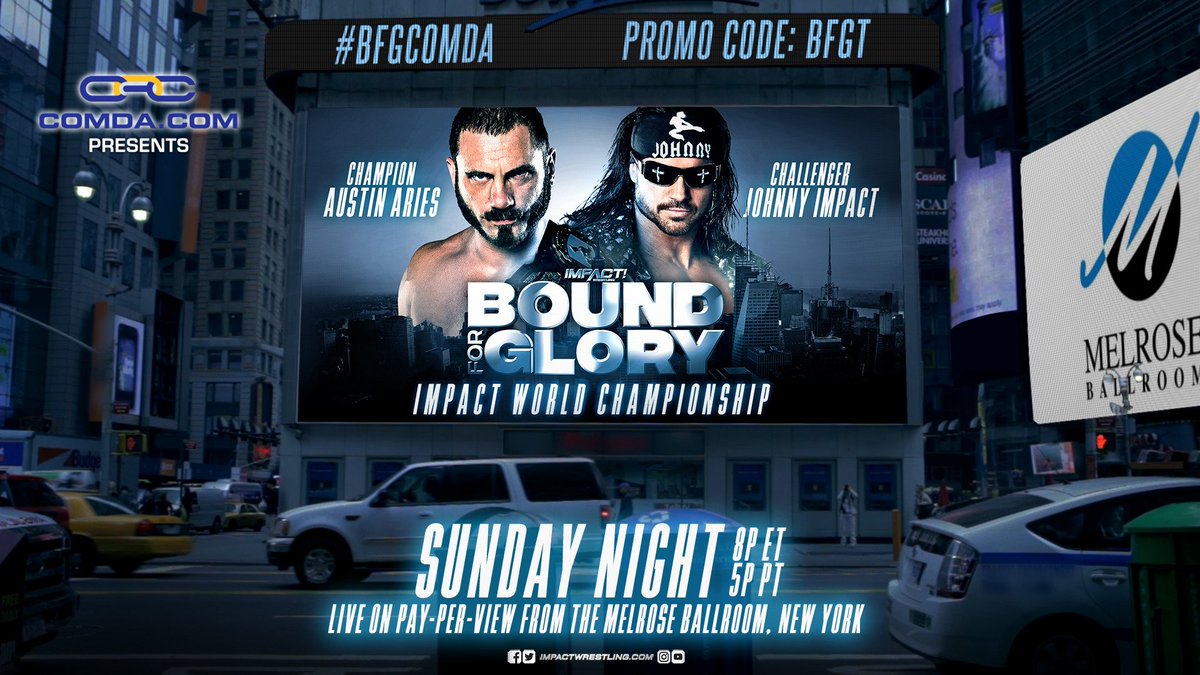 Impact World Championship
Austin Aries (C) vs Johnny Impact
Kelly Harrass: I don't think there is a better champion in North America right now than Austin Aries. He's a recognizable wrestler, cuts awesome promos, and routinely puts on tremendous matches. He's the perfect face of Impact. Johnny Impact could also fit the bill of the face of the company, but now is not his time. Oddly enough, most of my thoughts on this match echo that I thought about the match involving Johnny's wife Taya. Outside of a couple great promos from Aries, there hasn't been much of a build leading up to this one. I feel like I was far more invested in Aries' match with Fallah Bahh than I will be in this match. I have no doubt that it will deliver, but I see no chance of Johnny picking up the win. Prediction: Austin Aries
Suit Williams: Austin Aries has been on a great run since turning heel and winning the World Title for a third time. He has had stellar matches with Pentagon, Moose, and Eddie Edwards, and has brought the title to a level with a style only Aries can bring. He is the cornerstone of the company, and one that they really needed when he came back. Johnny Impact can be that top line champion for a company, as he can bring it when he needs to as well. But the build-up isn't there. He just showed up one week and said he was getting a title shot at the PPV, fresh off of a mediocre feud with Kongo Kong. I had a similar problem with Aries and Moose main-eventing Slammiversary, but like that match, this should be a standout performance from both men. Aries will take another win here. Prediction: Austin Aries
Andrew Sinclair: Much like the title opportunity afforded to his wife on this show, Johnny Impact being the top challenger sort of came out of nowhere. He's a recognisable name and he put on a banger against Aries earlier in the year at Crossroads, but I would have liked a longer-term story between these two. That said, I'm still hyped for this and that's a testament to the work of both men. Aries' promos have been terrific, as is to be expected because he is the best champion in wrestling right now, but Impact has stepped up too with some fun tag team performances and getting a rise out of Aries in their twitter exchanges.
Impact will be world champion in this company eventually, but it's not his time. It's A Double's time, and deservedly so. Prediction: Austin Aries

Concrete Jungle Death Match
LAX & Konnan vs The OGz & King
Kelly Harrass: This is the best feud of 2018. All six men involved are doing a great job of playing their characters, but King and Konnan are two of the best in the game on the mic. No one else feels more real than these two. I unabashedly love everything about this feud and those two are a big part of it. And when I say that I love everything about this feud, I mean everything. Even when they ran over that kid (though I wish they had actually killed him off) or had the goofy mob meeting. The sincerity that all six men bring to the feud sells all of it for me. They've brought a gang war into the ring and made it totally work. Their match at Slammiversary is one of my favorite matches of the year and I really hope that this one tops it. I'm not entirely sure what a Concrete Jungle Death Match is, but a part of me hopes that the ring mat gets covered in concrete blocks. One thing I feel certain about is that this is the end of this story and if that's the case, LAX has to win and put away the OGz for good. If I'm Impact, I'm making this the main event and I'm telling them to steal the show. Prediction: LAX wins the war
Suit Williams: When you put Eddie Kingston on your TV, good things happen. Putting him against Konnan to go head-to-head on the mic has resulted in absolute gold. Bringing him in with the original LAX to feud with the new version of the team in a Midnight Express special was a great call. And then the fights these teams have had have been wars, to say the least. This is my feud of the year by a country mile because this isn't just guys fighting for a title. In fact, I'm not sure if the Impact Tag Titles are on the line. But it doesn't matter in this feud. The titles are secondary, and in a rare occurrence, I'm absolutely fine with that.
This feels personal, this feels like these guys truly hate each other, and it is a credit to all six of these guys. Now it will come to an end in a Concrete Jungle Death Match. These guys are going to fight with no ring mat and no turnbuckle pads. They will brawl in a battlefield of wooden boards and exposed turnbuckles. I have no issues with Konnan getting involved because I don't expect him to be involved much. But hey, maybe he wants to give that new hip a test run. This is going to be memorable at the very least, and I can't wait to see how this gang war comes to an end. Prediction: LAX
Andrew Sinclair: This is it. The end of the 2018's best feud. These six men have brought a gangland war to Impact screens and it's been believable. It's been gritty. It's felt real. And now it will close out Impact's biggest show of the year, as it should.
The two sides will square off in the company's first-ever Concrete Jungle Death Match (more on that later) and LAX will be played out by New York rapper Bodega Bamz. This match will be made to feel like a big deal, as it damn well should be. To my reckoning, this has been a career-defining bit of work by the LAX boys, who are my favourite tag team in the world right now, and demonstrable proof of just how good Konnan and Eddie Kingston are. This is a feud other companies will and probably have tried, but no one could it the way those two men have. The bad blood feels real, the promos have been excellent and they've got you hooked.
Perhaps the thing I love most of this, and I may be in the minority, is the fact the tag team titles are nowhere to be seen. This isn't a title match where the belts are a distant concern. No, they are gone because at the end of the day this feud has gone beyond that. This is a real blood feud, a real burning hatred, and the belts don't matter. This is about justice. This is about prestige. This is about family.
Now, the Concrete Jungle Death Match. It's the first of that stipulation to take place in Impact and the rules are fairly simple. The teams will wrestle on the hard wooden base of the ring, with the turnbuckle pads taken away. There are no rules in this war, and it could only ever end like this. My only worry in this stipulation is how Konnan looks. The 53-year-old has obviously had his hip replacement (the catalyst for this masterpiece) earlier this year but hasn't wrestled a tag team match like this in 5 years. Fun fact: The last time he wrestled in an Impact ring was back in 2006 alongside Homicide and Machete against Bob Armstrong and the James Gang. I don't know how K-Dog will look, but as these teams showed at Slammiversary, they are creative and will make this a bloody mess.
LAX are winning this war. They have to. They might have taken out that young lad a few weeks back, but you can't stop a revolution. Hasta la muerte y despues. Prediction: LAX