Joey Janela's Lost In New York
Friday, August 17
Melrose Ballroom
Queens, NY
Watch: FITE TV
New York City, the Land of Opportunity. Smell that?  It's another Joey Janela show! While Spring Break has become a well-known must see, Janela has put in his name on a number of other shows over the past few years. Most of those other shows have lived outside the world of Spring Break, however, this show will have a direct effect on Spring Break 3 (taking place in the same city) as the winner of the ladder match will get to book their own match on SB3.
Like the last time I previewed a Joey Janela show, this won't be a typical preview. In keeping with the Lost in New York theme, instead of predicting who I think will win each match, I will instead provide you the Home Alone 2: Lost In New York booby trap that most closely corresponds with the match. Does that really make sense?  No, not at all, but does anything on these Joey Janela shows really make sense?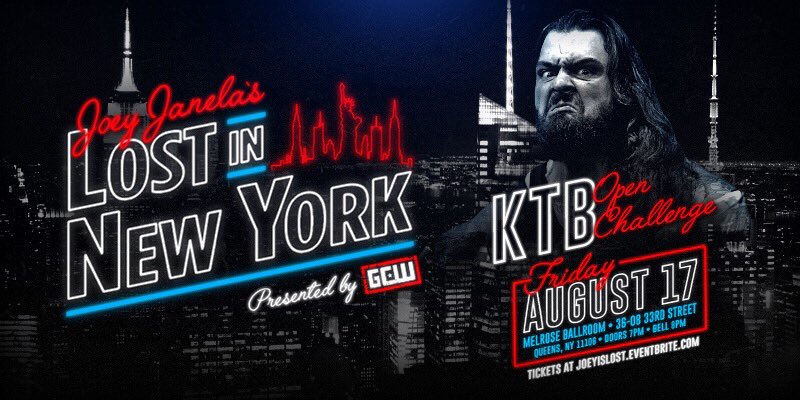 KTB Issues An Open Challenge
KTB has been a staple of the Spring Break shows, appearing both years in losing efforts. At this show, he's thrown out an open challenge, and I really have no idea who could be making an appearance. It could be a GCW guy like Markus Crane or Joe Gacy, it could be a New York guy like Low-Ki or it could be someone totally random and off the board. Your guess is as good as mine!
Home Alone 2 Trap: Marv attempts to reach Kevin on the second floor by climbing a rope that he finds dangling in the basement. Unbeknownst to him, there is a 100-pound bag of cement connected to the other end of the rope, which comes hurtling down and hits him square on the dome. What is on the other end of the rope is a mystery and who will come out from behind the curtain to open this show is a mystery. The crowd is Marv, and we're all hoping whatever is on the other end of the rope is a lot better than a 100-pound bag of cement.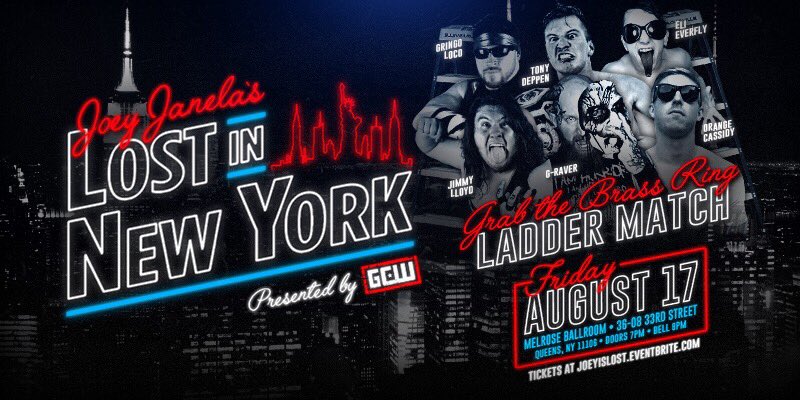 Grab The Brass Ring Ladder Match
Tony Deppen vs. Gringo Loco vs. Eli Everfly vs. Jimmy Lloyd vs. G-Raver vs. Orange Cassidy
Eli Everfly, Tony Deppen and Gringo Loco were all in the opening match of Spring Break 2, a match that started fast and never let up. I expect no different here, especially now that the winner will get to book their own match at Spring Break 3. Add a ladder in the mix and you could see some truly wild stuff.
Home Alone 2 Trap: Just like in the first Home Alone movie, Harry gets his head lit on fire, this time while walking into the bathroom of the townhouse where Kevin has laid all of his traps. Although there (most likely) won't be any literal fire in this match, I have no doubt all five of these wrestlers are going to wrestle like their hair IS on fire. No move too crazy, nothing left in the chamber. It's going to be wild. In the movie, Harry sticks his head in the toilet thinking it will put out the flame, not realizing Kevin has put flammable liquid in the toilet bowl. There's a spectacular explosion, and I expect this match to end with a spectacular explosion. Maybe someone jumping off the balcony at Melrose?  Anything's possible.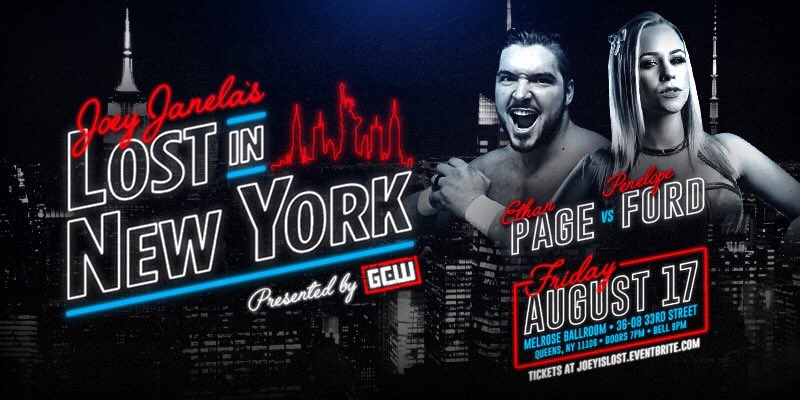 Ethan Page vs. Penelope Ford
This match was a late addition to the card, and like the match before it, has ramifications for Spring Break III. Ethan Page was the agent for the Clusterfuck at Spring Break II, a thankless job, and unsurprisingly, he doesn't want to do it again!  However, through some nefarious means, Joey Janela has gained possession of Page's soul and will force Page to agent the Clusterfuck at Spring Break III. The only way for Page to avoid that terrible fate is to win a series of three matches of Janela's choosing. His first match takes place here, as he faces the Bad Girl herself. I can't imagine Page not getting to at least the third match, but it's Joey Janela, so anything could happen.
Home Alone 2 Trap: This match isn't one of the traps, but is actually the Home Alone movies themselves!  Joey Janela is Kevin McAllister, setting traps for his nemesis Marv (Ethan Page). It's debatable that Janela is the protagonist in this scenario, but go with me here. There were three Home Alone movies where Kevin and Marv faced off (Home Alone, Home Alone 2 and Home Alone 4), just like there are three matches that Page has to get through. Let's hope that Ethan Page is a lot more successful than Marv ever was, or he might just end up back in agenting hell.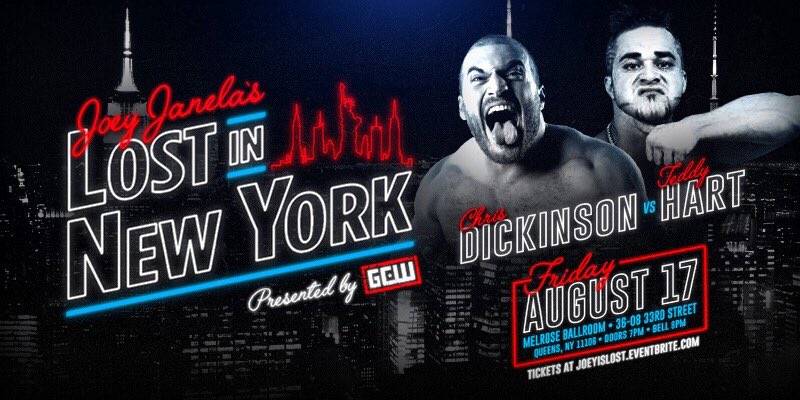 Chris Dickinson vs. Teddy Hart
There's really no story here, just a fairly normal one-on-one contest. Well, as "normal" as a Teddy Hart match can be. Even with his stock rising in EVOLVE, I still think Dickinson is underrated by some, but a big performance on this show could certainly give him a higher profile. As for Teddy Hart, who knows what he will do. He'll probably do three moves that make you scratch your head before pulling off something incredible you've never seen before. That's the Teddy Hart formula. Sandwiched between the weird and wild openers and the bigger matches ahead of it, I'm interested to see how the crowd reacts.
Home Alone 2 Trap: At the beginning of the night as Marv and Harry try and sneak into the townhouse where Kevin is holed up, they meet a cornucopia of misfortune – shot with staples, knocked off a faulty ladder, hit with a bag of tools and doused with paint. It's a lot all at once. Kind of like a Teddy Hart match!

Nate Webb vs. MJF (with Special Appearance by Wheatus)
I'm not sure exactly how Wheatus' appearance will work – it seems pretty obvious to me that they would play "Teenage Dirtbag" for Nate Webb, but do they get more involved than that? Do they play more than one song? Your guess is as good as mine. If it were up to me, I'd have Webb pin MJF before Wheatus even stops playing and have him exit to the triumphant final chorus of Teenage Dirtbag. Short and sweet.
Home Alone 2 Trap: As previously discussed, Marv ends up in the basement getting hit by a 100 pound bag of cement, but he ends up in the basement by missing a hole on the first floor of the townhouse and falling into the basement unexpectedly. Like falling through a hole in the floor, I think this match may surprisingly end quite abruptly.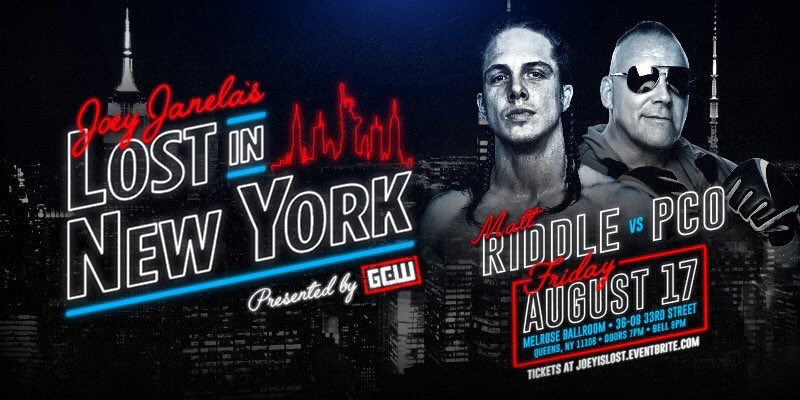 PCO vs. Matt Riddle
This match was huge before, but now that Matt Riddle's departure to WWE is imminent, this match gets even bigger. Riddle got an ovation at PROGRESS's show last week at La Boom, and I can't imagine him not receiving another ovation here. If there is any better match to go out with than this, I'm not sure what it is, as fans have been clamouring for this match since PCO broke out at Spring Break 2. It can almost be guaranteed that PCO will do at least one inadvisable thing and with Matt Riddle riding off into the sunset, this match could be something special.
Home Alone 2 Trap: This one is pretty easy. After Marv has paint spilled on him, he goes to the sink to wash up, not realizing Kevin has connected a welder to the handles of the sink. Once Marv touches the handle, he has a lot of volts shocking him, making his hair stand on end and briefly exposing his skeleton. A perfect analogy for this match, even putting aside the fact that PCO connects a car battery to himself in nearly every one of the strange hype videos he has posted with Destro. This match will most likely be electrifying – the crowd is going to be hyped up and I wouldn't be surprised to see at least one moment that shocks people. PCO has shown a willingness to do just about anything, and back on the big stage of a Joey Janela show, I'm sure he has a few tricks up his sleeve.
Nick Gage vs. ????
This match was originally supposed to be Nick Gage against Meng, but Meng unfortunately had to pull out and so now we have our second of two mystery matches. Like I said in the KTB preview, I have NO IDEA who it could be, so here's a list of supporting actors from Home Alone 2 that could wrestle Nick Gage:
Catherine O'Hara

Devin Ratray

Kieran Culkan

Mike Maronna

Rob Schneider

Rip Taylor

Jimmie Walker

Ally Sheedy
Home Alone 2 Trap: Even not knowing both sides of this match, there is no doubt this match is the very first trap when the Sticky Bandits arrive at the townhouse. Kevin throws bricks off the roof of the townhouse down onto the heads of the unsuspecting attackers. And any match with Nick Gage in it is like those bricks: quick and brutal. I'm not sure if Kevin McAllister would be MDK affiliated, but using bricks against your opponent is something I think both Kevin and Nick Gage could agree on.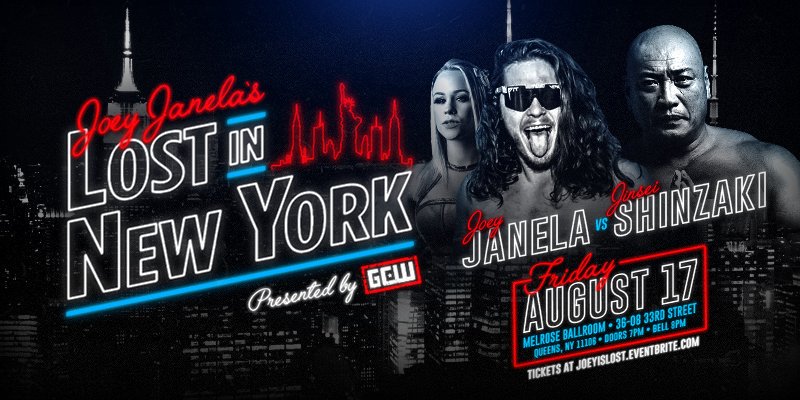 Joey Janela vs. Jinsei Shinzaki
Joey Janela continues his odyssey against the best of Japan as he takes on Jinsei Shinzaki in the main event. Shinzaki is probably the least well know of the Japanese stars Janela has faced (Great Sasuke and Ultimo Dragon being the other two), but there's a high probability that Shinzaki may deliver the best match of the three. Shinzaki has shown throughout his career that he can produce high-end matches against a variety of opponents, and I can imagine he will pull out all the stops in this match, even at the age of 51.
Home Alone 2 Trap: The main event is the biggest match of the night, and it deserves no less than the biggest trap in all of Home Alone 2. After chasing Kevin around the townhouse all night, Marv and Harry think they have him trapped on the roof. However, Kevin has a rope down to street level, and manages to evade the Sticky Bandits by climbing down it. Marv and Harry attempt to follow, but it turns out Kevin had soaked the rope in kerosene. Kevin lights the rope on fire, and Marv and Harry, with nowhere to go, plummet onto a wooden platform. That wooden platform breaks and Marv and Harry plummet even further before hitting the ground. Just like this trap, the main event is the big finish. And I think like Marv and Harry's plunges, there could be a lot of surprises in the match. I think a lot of people in the audience may be surprised by the skill of Jinsei Shinzaki. I think Janela or Shinzaki (or maybe both!) could pull out something crazy in this match. And just like Marv and Harry, finally defeated after a night of humiliation, I have a feeling that the person who wants to win the match is going to have to dish out a lot of punishment to their opponent.