ROH 16th Anniversary Show
March 9th, 2018
9:00 PM EST
Sam's Town Casino
Las Vegas, Nevada
Watch: Traditional PPV, Honor Club (rohwrestling.com), FITE.tv/the FITE app, Playstation 4 (Live Events Viewer)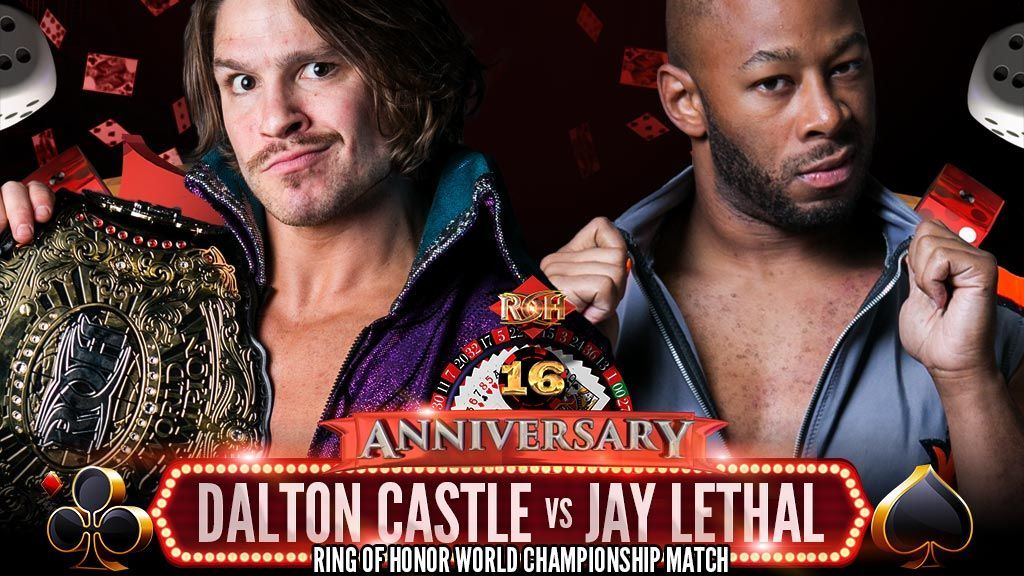 ROH World Title – Dalton Castle vs. Jay Lethal
Following his incredible victory at Final Battle I was very curious to see how Dalton Castle would be handled as ROH World Champion. After binge watching several episodes of ROH TV, I have to say that I've been very pleased with his run thus far. Several challengers have stepped up to the plate, and Castle made it clear that he wasn't backing down from any of them. He passed his first major test as champion when he retained against Punishment Martinez on ROH TV, and later overcame the challenge of an impromptu Triple Threat Match against Beretta and The Beer City Bruiser on Honor Rising: Night 2 a few weeks ago. Now Castle has to make his first title defense on ROH PPV, as he goes up against a former ROH World Champion in the form of Jay Lethal.
There really isn't much to this match in terms of storylines. It's a battle between two babyfaces, as the fighting champions takes on a strong challenger. At the very least, this will be very good, and it's certainly a match of the night contender on paper. I doubt that Castle is going to lose the title this soon, and I can't see it going back to Lethal, so in that regard, the result is very predictable.
With that being said, if Lethal does indeed come up short, I'm very intrigued to see where he goes after this PPV. He's been relatively uninteresting as a babyface, and as I've said previously, a heel turn would really freshen him up. As for Castle, a win over Lethal would be his biggest win yet as champion, and even though anything can happen in the world of wrestling, I would say that Castle retaining is almost a certainty. Prediction: Dalton Castle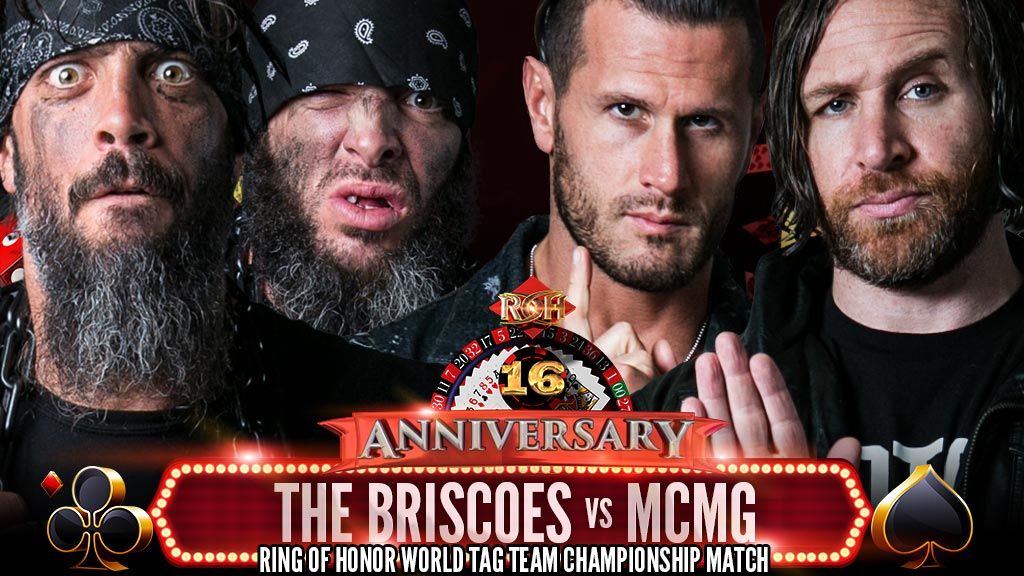 ROH World Tag Team Titles – The Motor City Machine Guns vs. The Briscoes
It's been a long time since The Briscoes have been involved in a feud over the ROH World Tag Team Titles, but in Las Vegas, they're back in the hunt, as they look to capture the titles for a 9th time when they take on Alex Shelley & Chris Sabin.
These two teams have had great matches together in the past, and there's no reason why they shouldn't be able to deliver another strong tag team bout here. However, what's different about this particular encounter is that The Briscoes are now heels for the first time in almost seven years. After a definitive victory over Bully Ray & Tommy Dreamer at Final Battle, the brothers from Sandy Fork appear to be more vicious and driven than ever, and they'll do anything to get the ROH World Tag Team Titles back. Again, this should be really good, if not great, and I fully expect The Briscoes to win the titles. The Motor City Machine Guns have had a fine run as champions, but it just feels like the right time for The Briscoes to be back on top of the tag team division, especially with this newfound mean streak they've developed in recent months.
The Briscoes holding the ROH World Tag Team Champions is certainly nothing new, but their most recent title reign ended in March of 2013, meaning it's been five years since 'Dem Boys have held tag team gold in ROH. They've been separated from the titles for so long that a potential 9th reigns feels completely fresh, and in 2018 ROH, I'll take anything that's fresh and (relatively) new. I don't want to say that The Briscoes winning is a 100% lock (because anything can happen), but if I was a betting man, I would put all of my money on a title change occurring here. Prediction: The Briscoes
ROH World Six-Man Tag Team Titles – Las Vegas Street Fight – The Bullet Club (The Young Bucks & "The Hangman" Adam Page) vs. SoCal Uncensored (The Addiction & Scorpio Sky)
At Final Battle, Scorpio Sky joined up with The Addiction to form SoCal Uncensored. The trio was determined to cause chaos in ROH, and after Christopher Daniels threatened to share ROH's expansion plans with his friends from other companies (alluding to AJ Styles and Don Callis from WWE and TNA respectively), Joe Koff decreed that after Final Battle 2018, they would not be renewing their contracts, meaning that the trio would be gone from the company after that date. With the clock ticking, SoCal Uncensored immediately got into a feud with The Bullet Club.
They appeared to win the ROH World Six-Man Tag Team Titles from The Young Bucks & Adam Page several weeks ago on an episode of ROH TV (via nefarious means), but the match was restarted by Bully Ray (the new "ROH Enforcer) and SoCal Uncensored would go on to lose. Now, the two sides are facing off once again for the titles, but this time, it's a Las Vegas Street Fight. This should be a great match, and it wouldn't shock me if it ended up being the best bout of the night. Of course, The Addiction & The Young Bucks know each other so well, and you can always count on them to deliver a quality match. It's also a big opportunity for Adam Page as well as Scorpio Sky, and I'm sure both will have moments to shine in this one. There will probably be a ton of weapons used, and a number of crazy spots. Normally, I would never go against The Young Bucks in a hardcore match like this, but I'm picking SoCal Uncensored will capture the titles here (for real, this time), as it would certainly add some juice to their current storyline. Prediction: SoCal Uncensored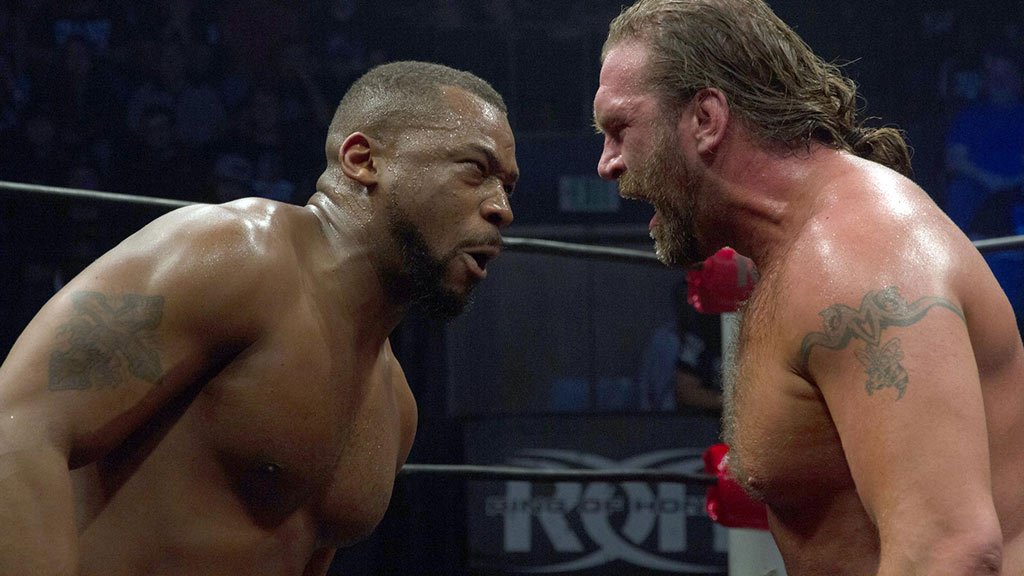 ROH World TV Title – Kenny King (c) vs. Silas Young
2017 was a very strong year for the "Last Real Man". He came out on the winning end of an intense rivalry with Jay Lethal that lasted several months, and finished off the year by winning the ROH World TV Title at Final Battle. ROH did a great job elevating Young in 2017, and after capturing his first singles title in the company, it looked like he was going to continue to gain steam in 2018.
Unfortunately, his reign came to an abrupt end on a recent episode of ROH TV, as Kenny King recaptured the title. Now, I was fully expecting these two to meet in a singles match on this PPV, especially given how King lost the title in the first place (he was the second person eliminated in the Four-Way Elimination Match for the title at Final Battle when Young hit him in the back of the head with a beer bottle). However, this decision to put the ROH World TV Title back on Kenny King shortly before the PPV was nothing short of baffling. It really feels like a step in the wrong direction, especially when you consider the work that was done to elevate Young last year. That's not to say I don't like Kenny King (he's fine in his role as a mid-card babyface and had a decent run as champion), but to cut Young's title reign short just to put it back on King makes absolutely no sense.
As for the match itself, I'm not expecting it to set the world on fire, but these two are fully capable of having a solid, mid-card title bout, if they're given a decent amount of time. I really want to see Young win the title back (since he never should've lost it), but if that happens, then what the hell was the point of putting the title back on King? It does have the chance of going either way, but I'm going with King to retain, which is unfortunate, because I was looking forward to seeing a strong title reign from Young. Prediction: Kenny King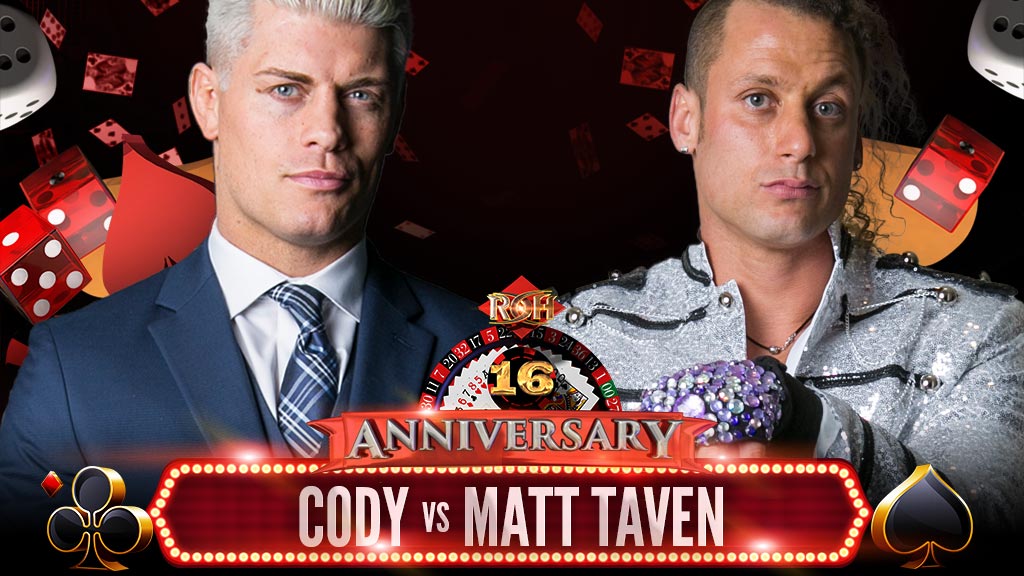 Cody vs. Matt Taven
On paper, this is probably the weakest match on the PPV card, and I doubt many people are interested in it. At the same time, however, I do have to give ROH credit, as they've done a decent job building up this feud.
Both men staked their claims to a shot at the ROH World Title following Final Battle, and this led to a match on ROH TV. While Cody managed to get the win after a low blow behind the referee's back, The Kingdom stood tall as they attacked him afterwards. Later, Taven stole Cody's "Ring Of Honor" after pinning him in a Six-Man Tag at the Honor Reigns Supreme event in early February. Now that both have each scored a win over the other, a rubber match seems to be the next logical step. Again, I doubt anyone is seriously invested in this feud, and to be completely honest, I'm not looking forward to it either. Still, I can easily see these two having a nice little *** undercard match (if there isn't a ton of interference).
Since The Kingdom has seemingly gotten the upper hand in most of this feud, it would make sense for Cody to get the win here. It's nice to see Cody somewhere other than the main event for a change. Some of his matches were a chore to get through when he was on top, but I feel like he'll be much more tolerable in a situation like this. Prediction: Cody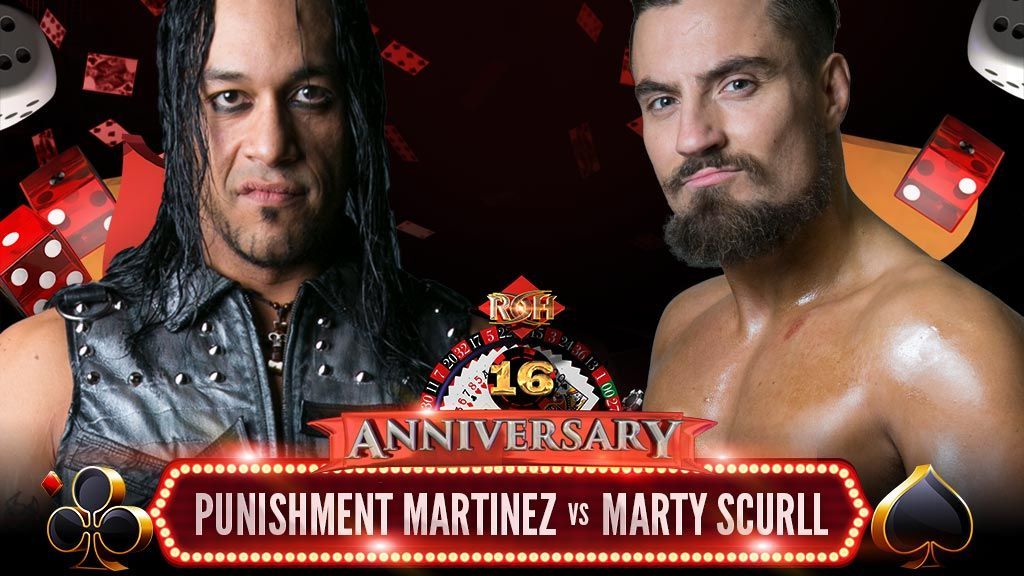 Punishment Martinez vs. "The Villain" Marty Scurll
I mentioned earlier that ROH did a very good job setting up a number of challengers for Dalton Castle following his big title win at Final Battle. Over the past few months, these two have firmly established themselves as strong contenders to the ROH World Title, and the winner of this singles bout with get a future title shot. For Punishment Martinez, he's looking to earn another opportunity after coming up short against Dalton Castle a few weeks ago on ROH TV. Meanwhile, Marty Scurll is looking to earn his first shot at the ROH World Title.
This has the potential to be a great singles encounter, and it's certainly another strong match of the night contender. Scurll has an incredible track record when it comes to delivering on ROH PPVs, and I fully expect him to have another strong performance here. As for Punishment Martinez, this is definitely the biggest match he's had on a ROH PPV, and it's an excellent opportunity for him to shine. With regards to the winner, I'm going with Marty Scurll. As he's said multiple times on ROH TV, he's never challenged for the ROH World Title, and it's about time that he gets the chance to fight for the top prize in ROH. Prediction: "The Villain" Marty Scurll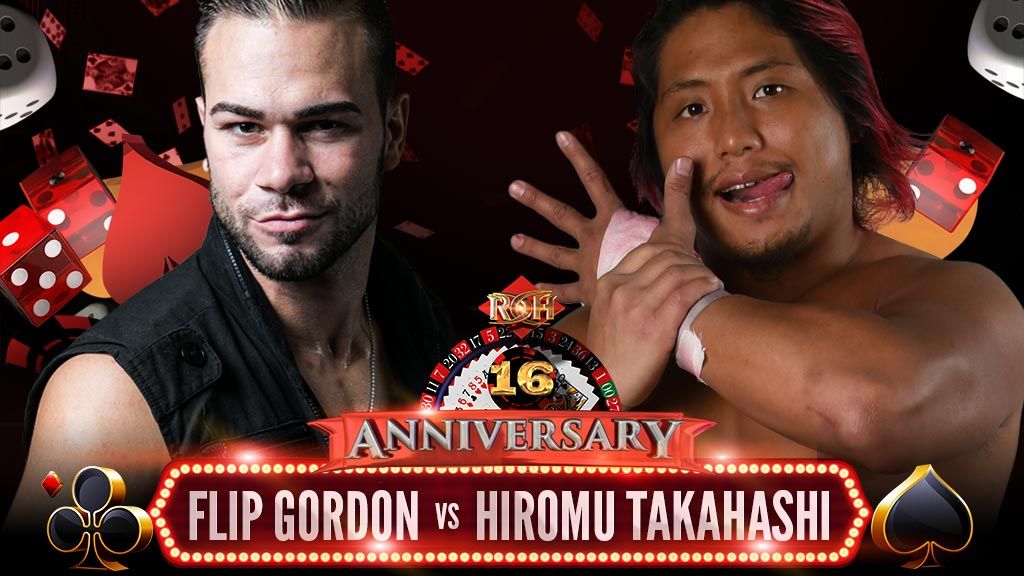 Flip Gordon vs. Hiromu Takahashi
While the majority of ROH vs. New Japan matches don't have any real story behind them, this singles encounter is an exception.
These two recently clashed on multiple occasions during the Honor Rising events a few weeks ago. Flip Gordon picked up a huge upset win over Hiromu in a Triple Threat Match (which also involved KUSHIDA) on the first night, but then came up short against the LIJ duo of BUSHI & Hiromu. This is their third meeting, and it has the potential to be great. Of course, we all know what kind of crazy things Hiromu is willing to do to inflict damage on his opponents, and when you combine that with the athletic ability of Gordon, you have all the ingredients you need for a match packed with nonstop action.
It might not be quite as awesome as the Flip Gordon/Will Ospreay bout from Global Wars in Chicago last October, but the objectives of both are pretty much the same. Hiromu will probably get the victory in the end, but it should be a strong showcase for Gordon. Don't sleep on this one. If given time, it could be a dark horse contender for match of the night. Prediction: Hiromu Takahashi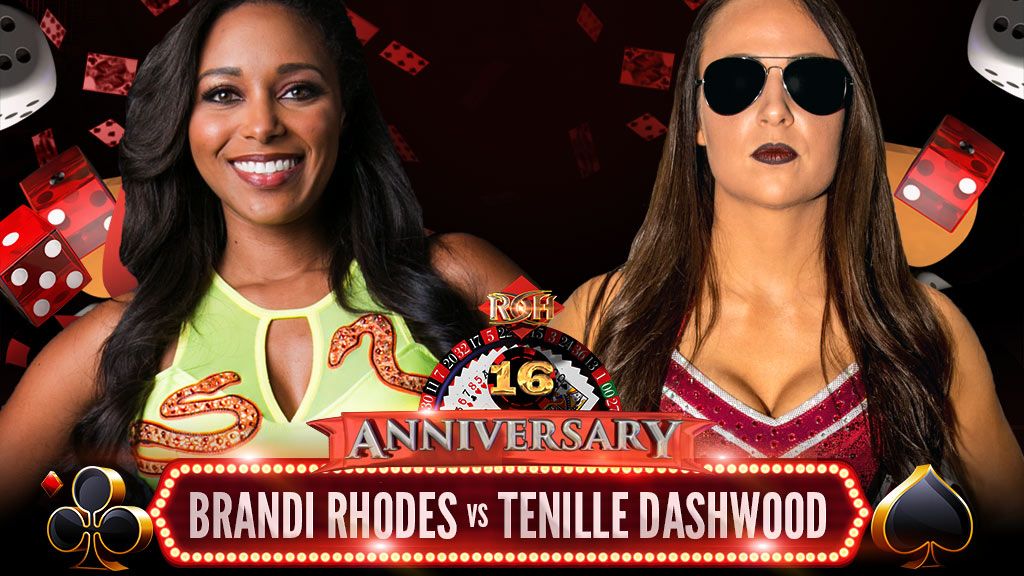 Before the PPV officially begins at 9:00 PM EST, there will also be two matches streamed on ROH's Facebook at 8:30 PM EST. Both bouts are part of the ongoing Women Of Honor Title Tournament. In the final first round matchup, Sumie Sakai will take on Stardom's Hana Kimura. That will be followed by the first second round of the tournament, which will see Brandi Rhodes go up against Tenille Dashwood.