All Japan Pro Wrestling
Yokohama Twilight Blues Special
February 3rd, 2018
Yokohama Bunka Gymnasium – Yokohama, Kanagawa, Japan (Attendance – 1,998)

Koji Iwamoto, Kotaro Suzuki, Hikaru Sato & Yohei Nakajima Def. Shuji Kondo, Atsushi Maruyama, Keiichi Sato & Yusuke Okada
Iwamoto and Suzuki have been feuding for the past few months now, as have Okada and Keiichi Sato, so it was interesting to see those guys on the same side. Okada and Sato played up their feud early on, repeatedly attacking one another on the apron, where as Suzuki and Iwamoto were mostly cordial. Iwamoto for my money is the best junior in the company at this point and so seeing him as a featured player in matches like these is nice but I do wish All Japan would pull the trigger on him. He had a nice exchange with Kondo in the post-match, hopefully building towards something in the future. They are in opposite blocks in the upcoming junior tournament, so I suppose they could win their respective blocks and meet that way. Oh, and yes, Shuji Kondo is back in All Japan, and I could not be happier about it.
Hot six-man junior opener that served as a preview for the tournament later this month. For a while the junior division in All Japan was severely lacking, with Atsushi Aoki and Hikaru Sato seemingly being the only two guys they were willing to push. Now they have a division full of young, hungry guys like Okada, Iwamoto, Keiichi Sato, the return of some old faces in Suzuki and Kondo, etc. At this point it is just a matter of actually pushing them and not wasting time with TAJIRI as champion, which I will obviously get to later. Nonetheless, fun match here with the Iwamoto team scoring the win. ***1/4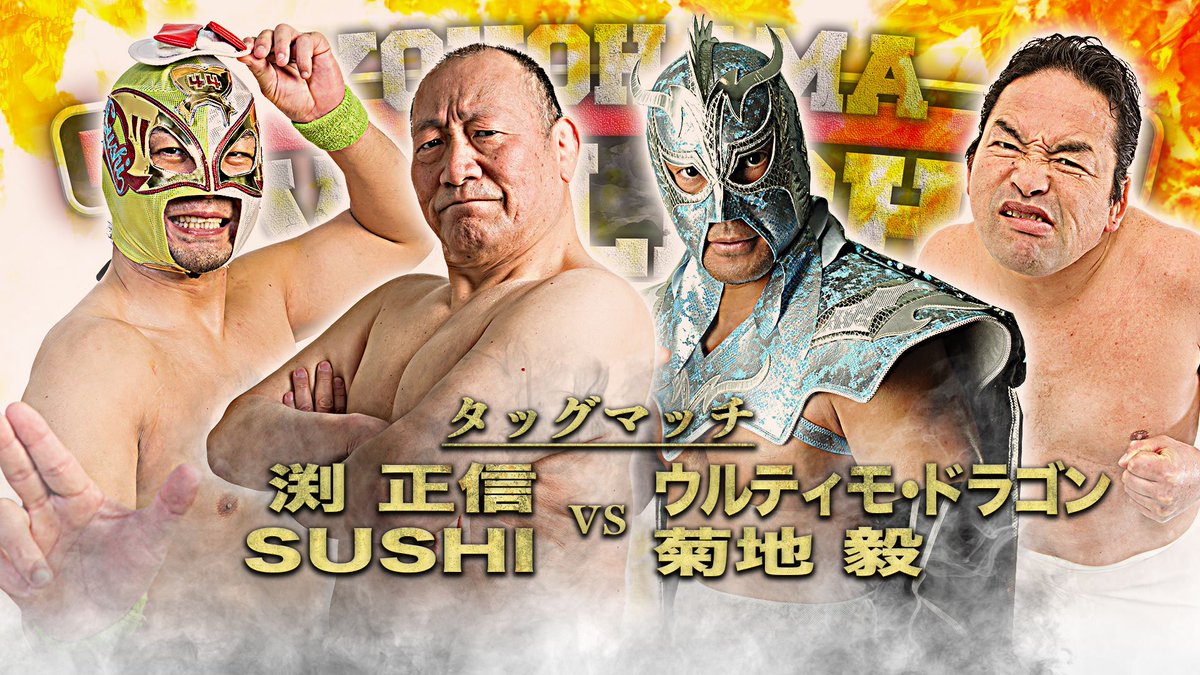 Ultimo Dragon & Tsuyoshi Kikuchi Def. SUSHI & Masanobu Fuchi
Decent enough old man tag. For as shot as his body is, Ultimo Dragon always works hard so I will never complain about seeing him so long as he stays out of big title matches. SUSHI was making his return to the promotion here, so good for him. He gained some weight in his time away but god bless him he looked happy to be back. Fuchi and Kikuchi worked harder than they needed to as well. **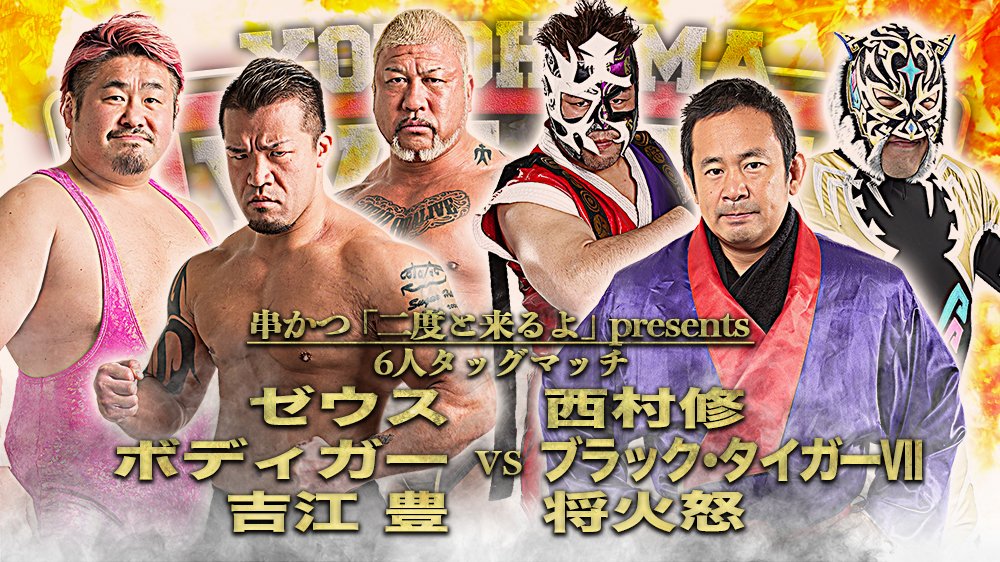 Zeus, The Bodyguard & Yutaka Yoshie Def. Osamu Nishimura, Black Tiger VII & Masakado
Zeus and Bodyguard laying it in on a couple sleazeballs in Black Tiger and Masakado. Zeus never wins anything so good for him picking up the big win over Black Tiger in this one. Both him and Bodyguard looked good as always, the highlight of the match however came once Zeus scored the fall, shook hands with Kobashi and then danced his way up the the ramp and into the back. A rare appearance by jolly Zeus. As you can tell there was not a lot to this. Another decent little tag match. It had Yutaka Yoshie in it so it had a ceiling for sure, but not bad. **1/4
Blocks for the Champion Carnival were announced. As follows:
A Block
Kento Miyahara

Shingo Takagi

Yuji Hino

Shuji Ishikawa

Joe Doering

The Bodyguard

Ryouji Sai

Naoya Nomura
B Block
Suwama

Zeus

Naomichi Marufuji

Jun Akiyama

KAI

Yoshitatsu

Dylan James (James Raideen)

Yutaka Yoshie
All Japan also announced the launch of their own streaming service in March which will cost 900 yen a month.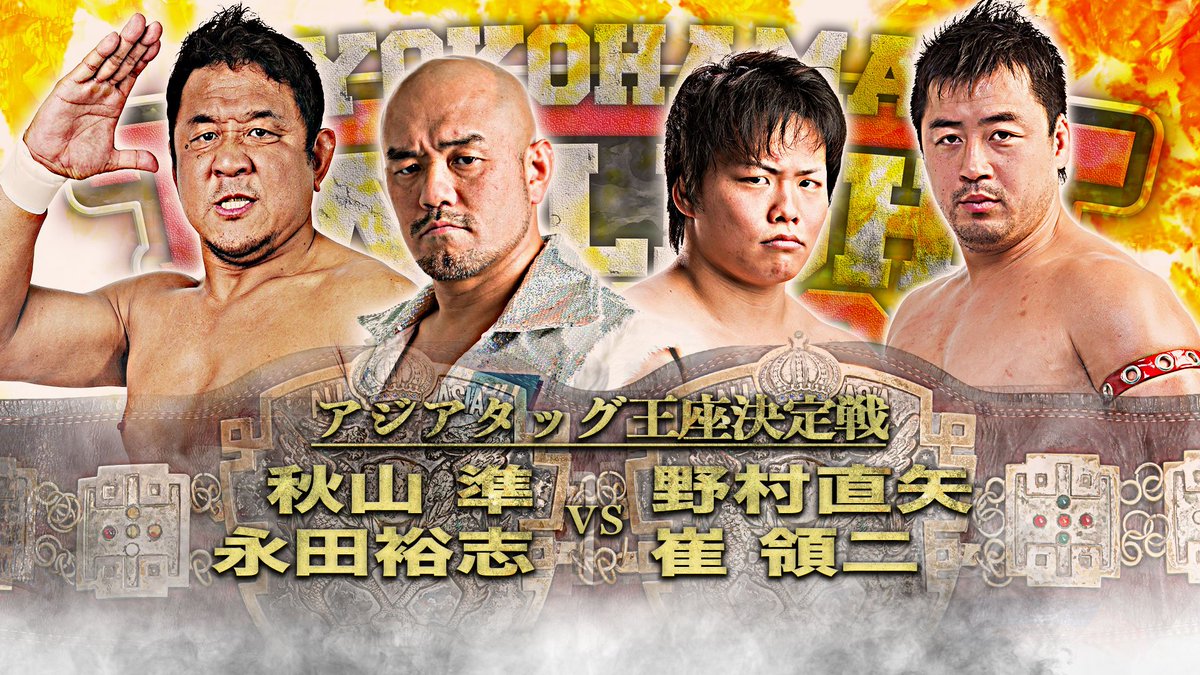 All Asia Tag Team Championship  Decision Match
Jun Akiyama & Yuji Nagata Def. Ryouji Sai & Naoya Nomura
Naoya Nomura has teamed with four people in the past six months, two of which have been injured while teaming with him, one of which is in the main event of this show. The man has the worst luck. He and Jake Lee won the tag titles in July and immediately had to vacate them because Lee was injured, then teamed with KAI at Sumo Hall and lost to Strong BJ, then began teaming with Yuma Aoyagi, who he won the All Asia tag titles with in October, and is now teaming with Sai to challenge for the titles he had to vacate because Aoyagi got injured. And of course he lost here. I think people should probably just stop teaming with him.
With that said, this was another great performance by him. He is quite easily the star of these tag matches. He works so well as the babyface in peril, you cannot watch this guy and not feel connected to him. I was critical of his look for a long time as I thought he looked awkward and silly and not tough enough for the way he was presented, he bothered me in the way Akira Taue bothered me. And now it turns his look helps him more than anything. He is awkward, he does look a bit weird, he is a bit pudgy, but because of that, he makes for a guy you can sympathize with. He cares so much about winning, he tries so hard to win but his opponents are always a little bigger, a little tougher, a little quicker and so he ends up in the same position every time, working from underneath and desperately trying to get ahead.
He was up against two legends in this match, two men much tougher, much wiser. For Nomura this was the biggest match of his career next to the previously mentioned Sumo Hall tag, but for Akiyama and Nagata, this was a Saturday evening. They tore away at Nomura and took no shit from him, they wanted to embarrass this punk, this rookie. Nomura would not go down easily though, he made sure to push through until the end, never to give up as they attempted to rip his arm from his body and as Akiyama attempted to knee him into oblivion. They grew increasingly frustrated as the match came to a close and Nomura grew more and more resilient. It took a lot from Akiyama to keep down, a lot more than he would have liked, and so more than anything, this was Nomura proving himself. Even in defeat, he managed to earn the respect of every person sitting in that building, and perhaps even the two legends themselves. And at the end of the day, that was all that mattered. Excellent match. ****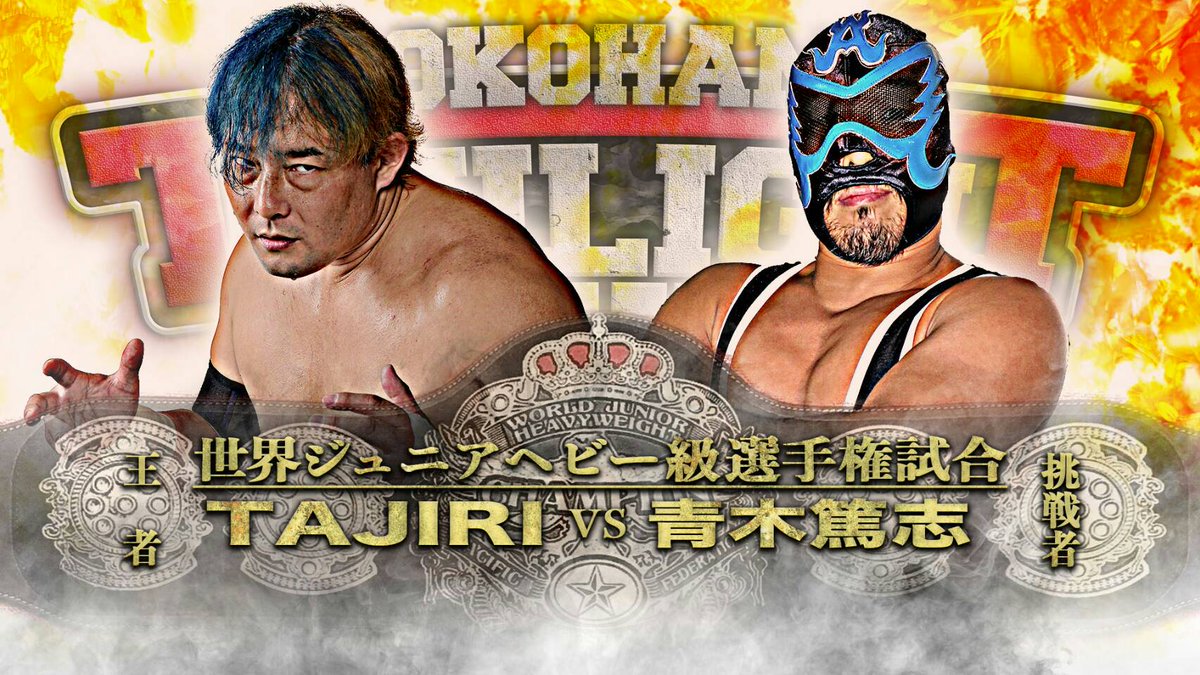 AJPW Juior Heavyweight Championship
Atsushi Aoki Def. TAJIRI (c)
TAJIRI has got to go. He has no business, and never had any business, being a pushed guy in 2018. It is embarrassing that All Japan pushed him and had him in a featured position on their cards for the past six months. His body is shot, he never does anything to make the crowd care, his matches are full of chin locks, he wrestles like he would in the second hour of RAW against some random goof with two commercial breaks thrown in, the guy sucks. At least in his modern form. I could watch old TAJIRI all day, but 2018 TAJIRI is one of the dullest, pushed wrestlers in any major league wrestling promotion in the world. Aoki would not have been the guy I would have had beat him, but at this point how could you possibly care. I have no problem with Aoki holding it for a few months and losing to a guy like Iwamoto.
Not a good match. 16 minutes of them grabbing holds, walking around and brawling like a couple dads dads. It was too long, no one cared, and the only good thing about it was the result and the fact that Aoki is done wrestling in a mask. **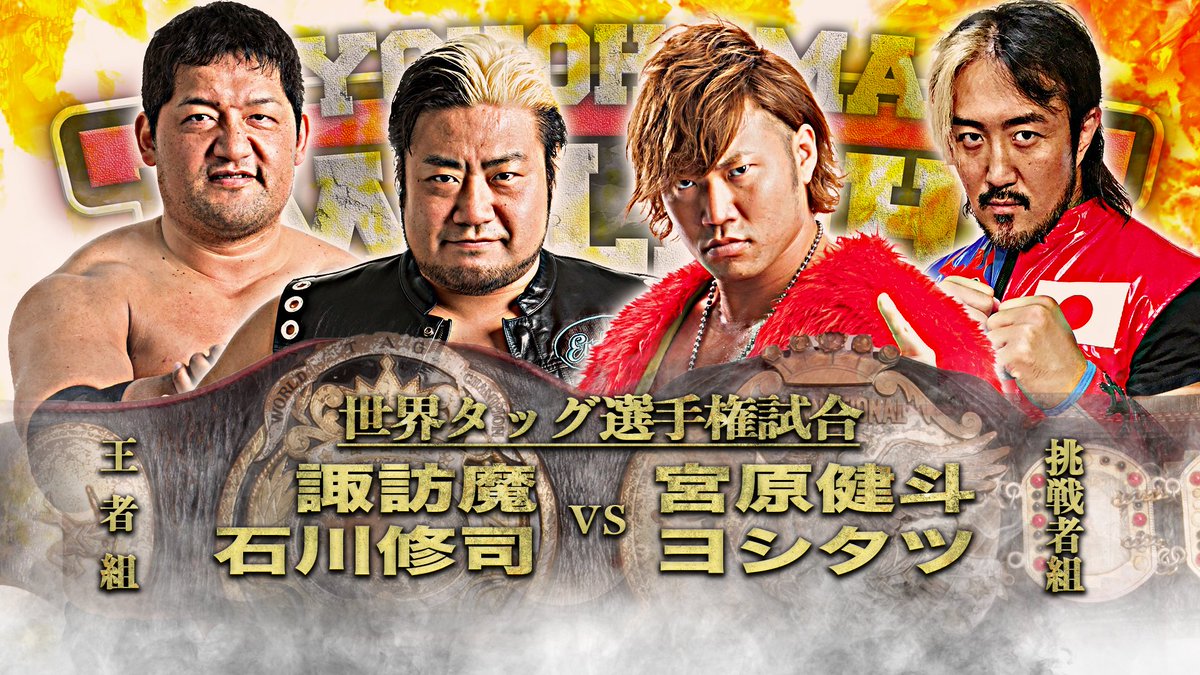 AJPW Tag Team Championship
Kento Miyahara & Yoshitatsu Def. Suwama & Shuji Ishikawa (c)
Is there a greater success story in wrestling than Yoshitatsu over the past few years? Yoshitatsu, within months, went from New Japan undercard jobber to All Japan tag team champion with the biggest star in the company. And not only that, he went from being one of the worst major league wrestlers in the world to being the star of these tag matches. Shuji Ishikawa and Kento Miyahara are two of the best wrestlers around, and Suwama is no slouch either, and yet Yoshitatsu, this ex-WWE and New Japan jobber, is the star of these matches.
His story in here was similar to the story of Naoya Nomura in the All Asia match. They told the story of him not being on the same level as Ishikawa and Suwama, not being on the same level as Miyahara and Miyahara needing to do the work for him but him never giving up and still trying to prove himself. He wanted nothing more than to prove that he was good enough, that he deserves his spot, that his life-threatening neck injury was not going to hold him back anymore. He failed to overcome them in December, he was not about to do it again. He needed this win, he needed the respect of the fans, he needed to prove that he deserves the respect of Miyahara. Suwama and Ishikawa did everything to keep him down, and he refused. He kept coming back, kept pushing through in spite of whatever pain he was in, and eventually he and Miyahara did manage to overcome the giants.
Was this as good as the previous match between these two teams? No, it was a little slow at points and it never hit that same level, but what this match had was yet another excellent performance by Yoshitatsu as he continues to prove, both in kayfabe and not, that he is good enough to be in this position. He and Miyahara defend against Zeus and Bodyguard later in the month, and so long as they stick with this formula, I cannot imagine that not being great. ****
Following the match, Suwama was attacked by Kazuyuki Fujita, NOSAWA Rongai and Kendo Kashin. Hikaru Sato and Yusuke Okada ran in to make the save and so it appears Okada will be joining Evolution. I have no idea what this Fujita thing is meant to be and I have zero interest in it but it was a decent l angle I suppose.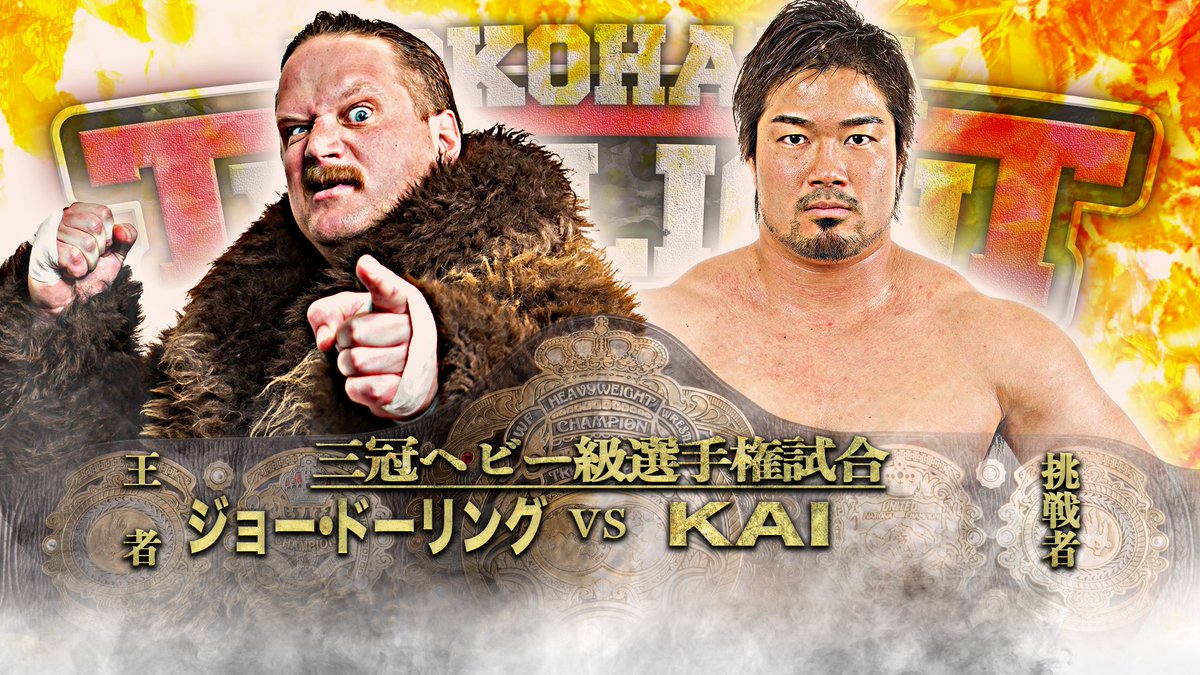 Triple Crown Championship
Joe Doering (c) Def. KAI
KAI is another great example of a success story in wrestling over the past year or so, though not exactly in the same way as Yoshitatsu. Unlike Yoshitatsu, KAI was a pushed commodity before coming to All Japan, or returning to All Japan in his case, he just happened to be a pushed commodity in a promotion that was failing, with him being one of the reasons for it. He was not good in WRESTLE-1, he was the biggest loser on the planet, no one cared about him or any of his dozen title runs, he just did not work. Once he made the jump back to All Japan he managed to get himself together. He became motivated, he dropped the silly Onita tribute gimmick he was doing, he worked his way up, he earned it, and now here he is headlining the second or third biggest All Japan show of the year, in front of fans who care about him and take him seriously. He turned his career around, and how could you help but feel good for the guy.
It was up to KAI, the returning star, to take out this force, this threat to the rest of the roster, as a way of showing his loyalty to the promotion that gave him a home when he had no home. He was their top soldier on this night, and he tried his best, he tried real hard not to let them down, but his best was not enough for Joe. Joe went through too much hardship to let this title slip away from him. His battle with cancer, Suwama, his best friend, taking his spot in Sumo Hall from him, all the obstacles he had to overcome on his way to the top, he was not ready to throw it all away, especially not for KAI.
This by no means was a blow-away match, it was far from one of the best Triple Crown matches of recent vintage, but both put in some hard work and seeing these two guys who have been through hell and back to get here, battle for this title, was real cool. It was well-worked, hard-hitting at points and used the same basic formula we see in most Triple Crown matches these days, so a good job by them. ***3/4
In what was a bit of a surprise, Miyahara made the challenge to Joe and looks to be getting a shot before the Carnival.
Final Thoughts:
A good show by All Japan. Had the junior title match not been an absolute chore and had the main event been maybe a little bit better, it might have even been a great show. Make sure to watch the two tag title matches and if you have time you can watch the main event too. With the incredible looking Champion Carnival coming up, expect a good deal of All Japan coverage from this site moving forward.