The Road to WrestleMania begins in Philadelphia as WWE Royal Rumble 2018 makes history with the first-ever women's Royal Rumble and an unpredictable and surprising men's Royal Rumble.
WWE Royal Rumble
January 28, 2018
Wells Fargo Centre
Philadelphia, Pennsylvania
Watch: WWE Network
Meet Our Reviewers:
Kelly Harrass is sick and tired of these shows that start while he's at work. Ultimately, his only hope for tonight is that he isn't disappointed by the Rumble yet again. In an effort to keep things interesting, Kelly will once again not be using typical star ratings and will instead be comparing each match tonight to whatever Pop-Tart flavor they are most like. Find Kelly on twitter @comicgeekelly.
Robin Reid mostly runs the European side of the site but occasionally gets roped into these group reviews when he feels like having a stable sleep pattern is overrated. He consistently enjoys a Rumble, so is quite looking forward to two. Handicap matches? Less so. He doesn't know what a pop tart is, but fully supports Kelly's metric of choice. Find Robin on twitter @theRDouble
Kalisto, Lince Dorado & Gran Metalik def. Drew Gulak, Jack Gallagher & TJP
Robin Reid: Verrrry dark empty arena for this one. Also far too much dabbing. This was a really fun opener, with both teams working well together. They worked a good pace with a nice flow, worked in some lovely character pieces like Gulak getting annoyed when Gallagher went to the second rope, and managed to get the little crowd that was there for this into the match over its course. ***1/4
The Club (Gallows & Anderson) def. The Revival
Robin Reid: I'm going to be honest, I was mostly cooking during this match. I had it on in the background though, and from what I saw this was a solid albeit somewhat formulaic tag match. Was cool to see Revival get a clean win. **3/4
United States Championship
Bobby Roode def. Mojo Rawley
Robin Reid: My laptop chose to update during this match, so I missed it. However, I have been reliably informed that it caused the newest addition to the Baker family to cry all the way through and that Mojo botched the finish by forgetting to jump. Sounds like it was gripping.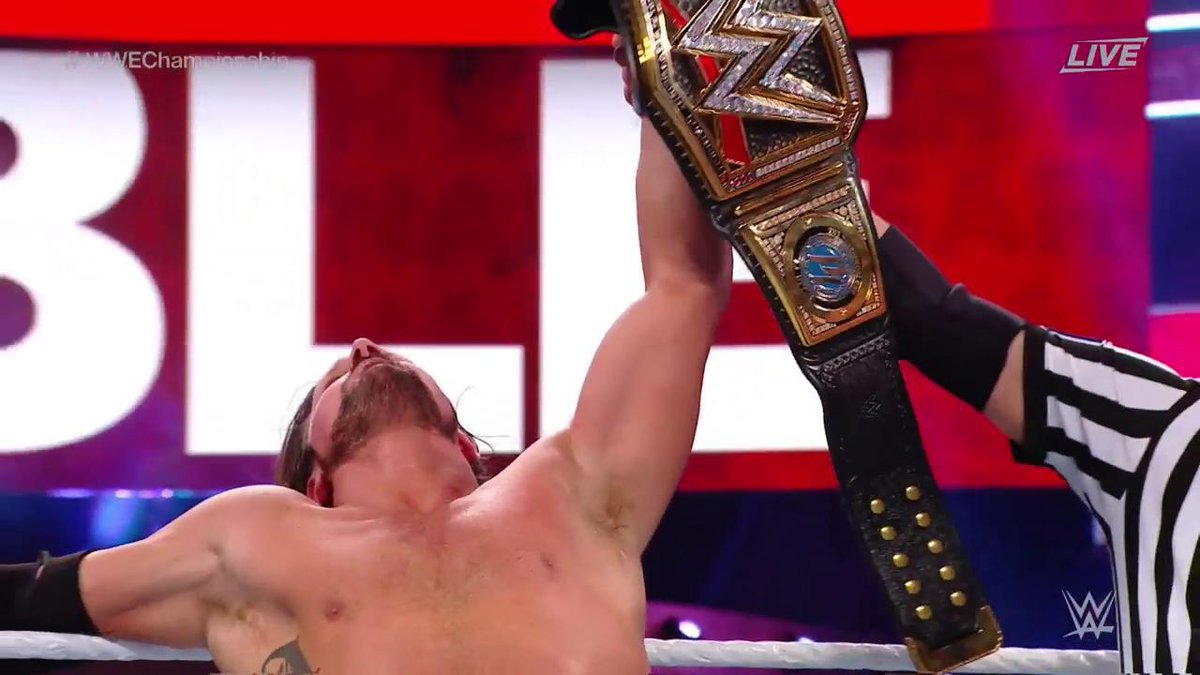 Handicap WWE Championship Match
AJ Styles def. Kevin Owens & Sami Zayn
Robin Reid: I hate handicap matches. The action here wasn't bad, the wrestlers involved are too good, but in WWE especially they always make the heels look so weak. They managed to do a great job of building tension and suspense in the match, but in doing so they had to present Styles as being leagues better than either Owens or Zayn and in the long run I don't think that's something you really want to do. I did like the nerdy tag legality finish, although as a base level choice I hate Styles being able to beat two top level heels. ***1/4
Kelly Harrass: I missed most of this match due to work and then losing my phone once I got home. It was a trying time, but I've gotten through it for all of you. What I saw of this, I did actually enjoy. It was an incredibly stupid match and made Owens and Zayn look terrible, but the action was strong. AJ comes out of this match looking great, but is that worth the cost of hurting these two top heels on the brand? I don't think so, but I can see why WWE would make this choice. I guess I would call this a Chocolate Mocha Pop-Tart. It wasn't exactly what it could have been in terms of quality, but the taste wasn't entirely terrible.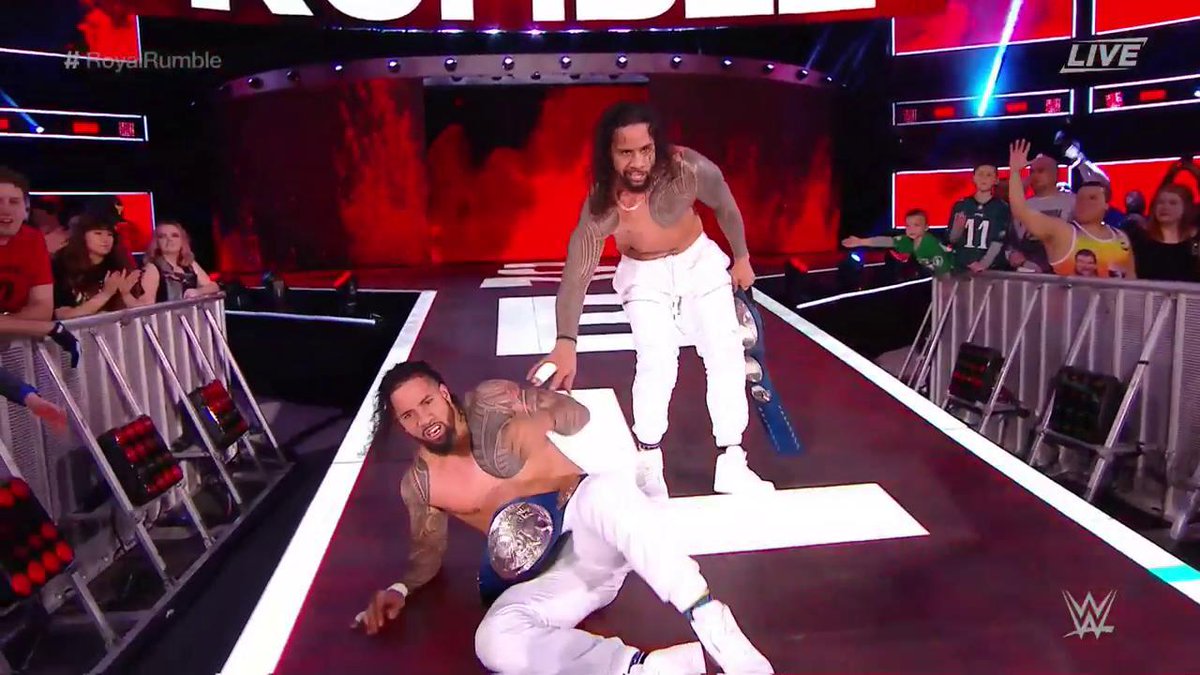 Two Out of Three Falls Smackdown Tag Team Championships
The Usos def. Shelton Benjamin & Chad Gable
Robin Reid: I loved this. I loved how the first fall felt like a full match, logically why shouldn't it? I loved how that a two out of three falls match ended 2-0, it adds so much to the cannon that that's a possibility for future matches. Both teams did an amazing job of creatively varying up their offense and making every tag really feel like it mattered with creative use of legal man/non-legal man dynamics. The Usos are really on another level right now, but credit also has to be given to 42 year old Shelton Benjamin for keeping up every step of the way. I don't know what Pop Tarts are really, but if I did I'd rate this a particularly tasty one. ****
Kelly Harrass: Has there ever been a better opening fall in a two out of three falls match? What a match! Once we saw how much they put into that fall, it made sense why the match ended like it did. The abrupt second fall that saw the Usos pick up the win was a welcome shock. The Usos continue their streak of incredible work in a match the subverted the tropes of this stipulation. I honestly can't get over how great this was. Most two out of three falls matches have a boring opening two falls that typically don't end up affecting the finish. With how the match was structured, everything mattered here and that was so refreshing. The Usos were just as good as they have been lately and World's Greatest Tag Team V.2 matched their work. Just an awesome tag match, just as awesome as the surprisingly great Cherry Jolly Rancher Pop-Tart that I ate this morning.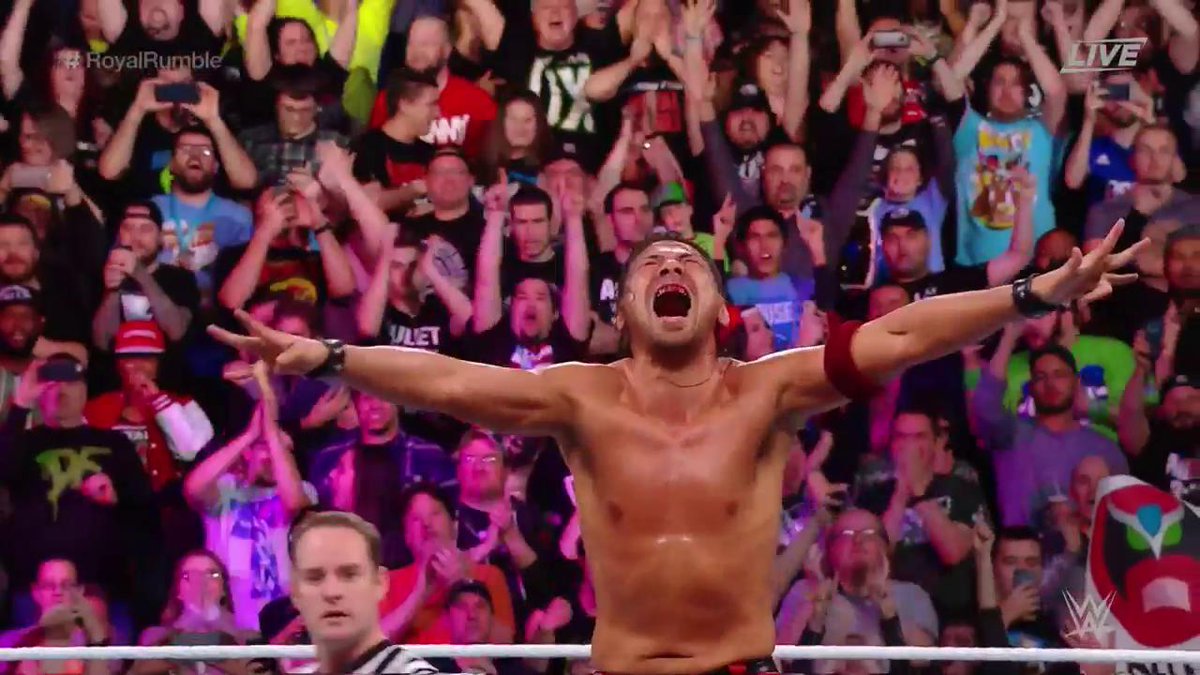 Men's Royal Rumble
Robin Reid: For my money this was the best Rumble in years, probably since the Taker-Shaun one. The first two thirds were fine. They were perhaps a little light on surprises and big names, but there was always something going on to hold the attention. Elias' deal was fun. I loved Slater's arc. Kofi's yearly spot delivered yet again. Almas did a good job, and it was great to see how over Rusev was.
The final eight or so though was when this match was really made. I could have done with a more impactful #30, but the whole ending sequence was everything I want from a Rumble and it was tremendous. For some reason they have just chosen not do these extended sequences in recent years and the Rumbles have suffered as a result; this year really made me realise how much they'd been missing the dramatic finishing sequences. Rey was awesome. The generational standoff was great. Balor and Nakamura's sequences were excellent. Cena was great in his role. Then the final two delivered, and Nakamura's victory got a great reaction. Well done WWE. You did it this year. You remembered how to do a good Rumble.
Kelly Harrass: We're going stream of consciousness for this one, so strap in folks. Rusev Day kicks things off and I'll never get over how over it is. It's also worth noting that Finn's jacket looks nice. I almost said that Rhyno was a nice surprise, but then I remembered that he's a regular roster member. *shrug emoji* I'm honestly surprised that they care enough about Corbin to let him get some shine by beating up Rusev, Balor, and Slater after he was eliminated. Once Elias made his entrance, it made perfect sense for everyone to be taken out. I appreciate a good song, thanks Elias! Almas gets a good reaction when he makes his surprise entrance, but then we got Bray Wyatt looking like the lead singer of Korn all over the place. I can't express how much I loved Heath Slater eliminating Sheamus in the shock of all shocks. Such a great Rumble moment… that was quickly ruined by Wyatt. He truly is the Orange Crush Pop-Tart of people.
Things got boring for a bit, but then Kofi did his fun thing where he gets tossed out and finds a crazy way back in. It was made even better by the New Day pelting Jinder with pancakes. Imagine what a scene it would have been if Jinder won… yikes. Rusev gets eliminated by Matt Hardy and Bray Wyatt, who then eliminate each other in a terrible looking spot. Why couldn't Rusev have been spared? The Hurricane fills a "Legend" spot and Michael Cole has to explain who he is. Time passes and Adam Cole enters the Rumble to an incredible reaction. Randy Orton enters next and Almas is fed to him. Titus O'Neil's name comes up next and the crowd somehow makes a negative amount of noise. Scientists will study this moment for decades to come in order to discover how a man could erase noise.
The crowd makes a whole bunch of noise when Rey Mysterio makes his shocking entry. After the company strung along his contract, I didn't expect to see him in WWE again. All the joy that Rey caused is sucked out of the room when Roman Reigns' music hits. Goldust shows up and there was a second where I really thought he was going to eliminate Randy Orton. Dolph Ziggler enters at 30 in what was a pretty boring reveal, but he gets eliminated pretty quickly after taking out Goldust first. I laughed when Jerry Lawler accused Nakamura of hiding. Our final four are Cena, Nak, Balor, and Reigns. The two New Japan alumna have the best exchange of the match in between two Cena/Reigns exchanges that the crowd poops on. Balor's 57+ minute run in the match is ended by Cena, who then joins with Reigns to attack Nakamura. Maybe they've embraced that they're heels in this match. In a sentence that I still can't believe I'm typing, John Cena is eliminated by Shinsuke Nakamura, leaving just he and Roman. The closing stretch between the two was thrilling and was so back and forth, I had no idea who was going to win. Nakamura pulled out the victory and I was so happy to see that they're finally doing something of value with him. Outside of the initial Zayn match, this was Nak's best outing in the company thus far. Overall, this Rumble wasn't much until the final four, but then it was awesome. It's not my favorite, but it's still very good so this Rumble is a Brown Sugar Cinnamon Pop-Tart.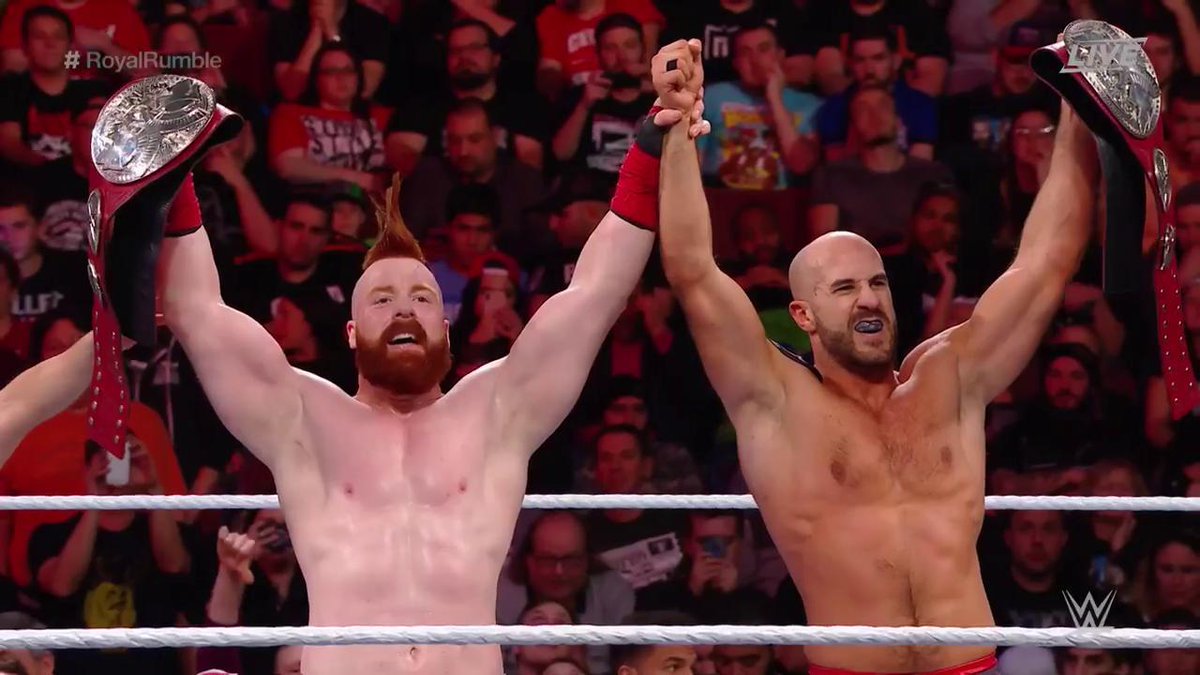 RAW Tag Team Championships
The Bar def. Seth Rollins & Jason Jordan
Robin Reid: This was far more of an angle than a match, which was probably a good thing as the crowd were not ready to give any sort of reaction. I think it served its purpose, very little more than that and very little less. Oh, and Cesaro's Frog Splash sell was incredible. That was my takeaway. **1/2
Kelly Harrass: The utter silence of the crowd for this match shows that wrestling directly after the Royal Rumble might be the worst place in any card ever. Look, this match sure did happen and I watched it, but I have no thoughts on it. Much like a Wild Berry Pop-Tart, it exists and I'll never think about it again.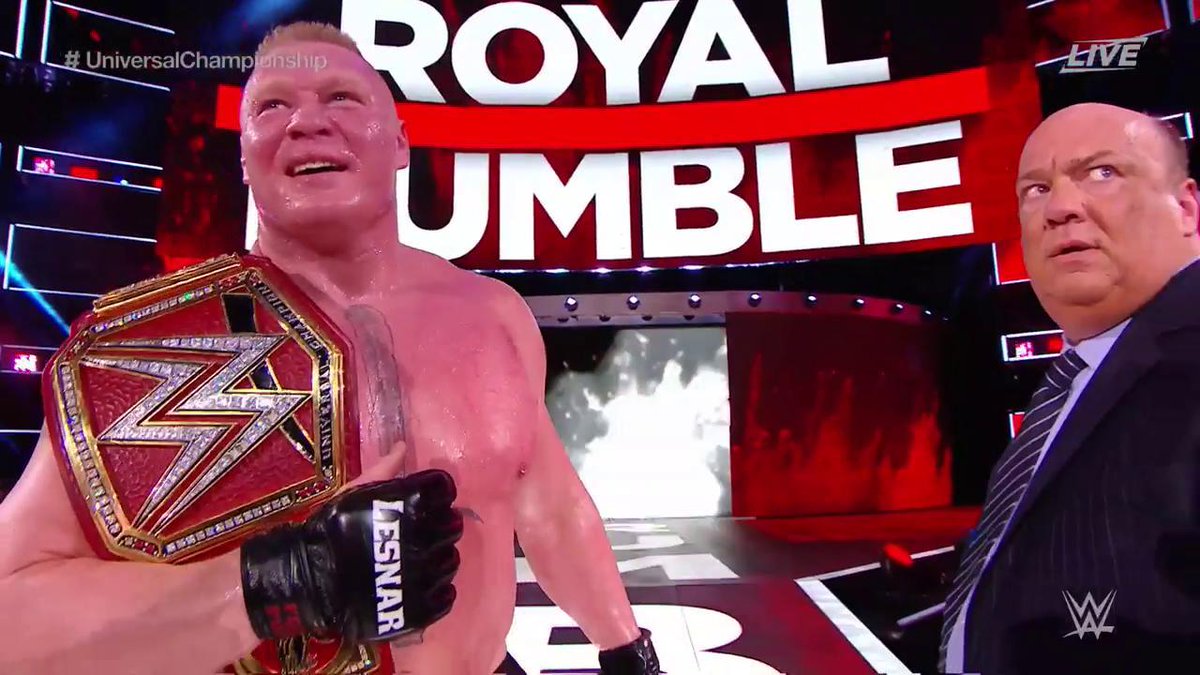 WWE Universal Championship
Brock Lesnar def. Braun Strowman & Kane
Robin Reid: I'm probably going to get slaughtered for this opinion but I loved this match. It wasn't good in any sort of traditional sense. It was sloppy as hell. Kane served very little purpose other than to take the pin. It was the opposite of smooth. There were some awful table spots.
What it was though was carnage. It was raw, it was brutal and it was a hell of a lot of fun. It sure as hell woke the crowd up. There were intermittent moments of shooting after a knee landed way too snug. The weapon usage felt very random, but they kept the pace high enough that it all just worked. It felt visceral. Maybe it's just because my brain is very tired, but this delivered way above and beyond any expectations I had for it and was exactly what I wanted. ****
Kelly Harrass: This was a whole bunch of fun. Following the.. whatever the hell the match before it was, this was exactly what was needed. It was quick and violent, getting the crowd back into things, myself included. Braun Strowman is one of the most fun wrestlers to watch today just because of how much of a monster he is. I want to see him toss people and objects around and I got that. This was essentially a kaiju movie. It had the big, bold flavor of a Chocolate Fudge Pop-Tart.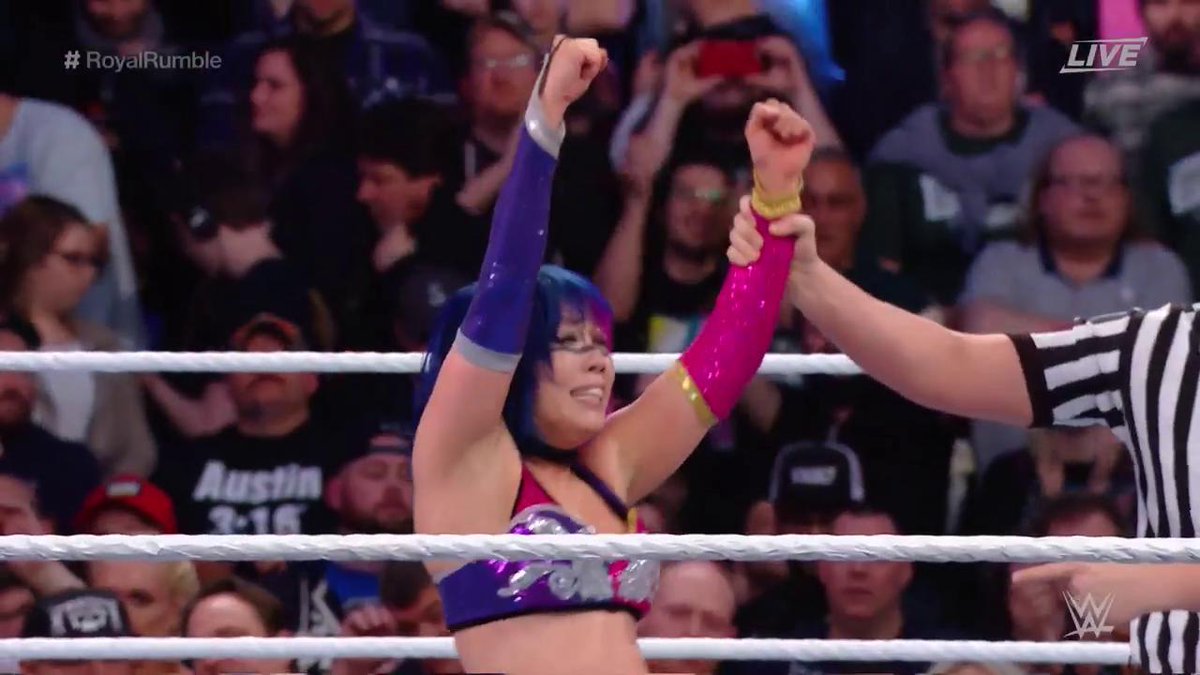 Women's Royal Rumble
Robin Reid: There were definite problems with this match. Vast swathes of it were very sloppy. There were numerous awkward moments. They way overused the under the bottom rope deal, to the extent that you never had any sense for how many women were left in. The retired women were focused on more strongly than the full-timers. Kelly Kelly in general. It was far from perfect.
However, overall I had a good time watching this match, and that's always my litmus test for a Rumble. Star performers for me were Jacquie, Nikki, Sasha, Nia and Asuka. I was somewhat worried that the match could fall flat, but overall they kept me engaged and put in a showing they can all be proud of. Thumbs up from me.
Kelly Harrass: Time for the second Rumble and all my word vomit that goes with it. It's straight up garbage that Jojo gets pushed aside for a shitty guest announcer just because they could get a F-List celebrity to show up. Sasha and Becky start off things. I'm a big fan of Sasha's Wonder Woman gear. My guess is that these two will survive through the full match and will be the final two. When Lita showed up I was very surprised, I honestly didn't think that she could still physically wrestle. I had a pretty good scare when it looked like Lita was going to snap off her head on a moonsault. Kairi Sane entered the match and started murdering people, making me incredibly happy. She's eventually eliminated by Dana Brooke of all people and I'm upset. Watching this makes me smile though.
Damn Sasha… #RoyalRumble pic.twitter.com/TMiwUD1rj6

— Deno (@KiingDeno) January 29, 2018
Torrie Wilson and Molly Holly both looked great in their returns, Holly in particular. Lana and her amazing music got me to really wake up and oddly enough, it did the same for the crowd. Seriously, listen to Lana's music and try not to smile. Michelle McCool came in and cleared house, looking like she should have a comeback. I laughed hard at the whole Vickie Guerrero thing. That is how you do a comedy spot in the Rumble. Sorry Hurricane, this was better.
Kelly Kelly looked as dangerous as Sabu in this match. Someone could have died at any second with her around. On the flip side of things, Jackie returned and looked great, even though she was quickly eliminated by Nia Jax. Thankfully Nia took out Kelly Kelly too before any casualties were incurred. Nia played the monster role to perfection, tossing everybody around. Naomi played an important role as well, doing a pretty fun Kofi spot.
Beth Phoenix makes her entrance and I'm realizing that I'm enjoying this quite a bit more than the men's rumble. This is every bit as fun as I want a Rumble to be, which the men's Rumble really wasn't. The moment that Phoenix and Nattie had together was awesome. Loved seeing those two back together, even if it ended with Nattie pulling the dirty double cross. Asuka's music hits and the tone of the match changes. Death comes to fun town. Then both Bella twins make their entrances at 27 and 28 and fun lives again.
I'm not going to lie, I forgot that Bayley was on the roster until she made her entrance. She's become such a nonfactor on the roster, but who cares about that Trish Stratus is here! Goddamn she's still in amazing shape. Her exchange with Mickie James was perfect. Nia Jax finally gets eliminated when the rest of the women in the match team up to take her out. It was surreal to see Trish Stratus and Asuka in the same ring. Trish was finally eliminated after a standoff with Sasha Banks, who was then eliminated after getting too cocky around the Bellas, taking us to our final three. Nikki tossed out Brie because of course she did (I can't wait for this to pop up on Total Divas), leaving only Nikki and Asuka. There was little doubt that Asuka was going to win, but the closing stretch had me doubting it as the match finished with both women on the ring apron and Asuka throwing the last kick to knock Nikki to the floor.
I really enjoyed this match, but then the UFC girl had to come out and ruin Asuka's moment. The replacement Rousey moment wasn't even good. She came off like a totally non-threatening dork when she was pointing at the sign. The Rumble itself was fantastic and absolutely belonged in the main event slot. It was a ballsy call, but it paid off. This was a real Hot Fudge Sundae Pop-Tart of a match that was topped off with a horribly bruised banana in the form of Ronda Rousey.
BREAKING NEWS: Former @ufc Women's Bantamweight Champion @RondaRousey makes her presence felt following Women's #RoyalRumble Match! https://t.co/LIvlJKZ2kp

— WWE (@WWE) January 29, 2018