WWE Royal Rumble 2018
January 28, 2018
Wells Fargo Center
Philadelphia, Pennsylvania
Watch: WWE Network
Meet our previewers:
Jeff Martin: Jeff made a comic book parody of pro wrestling and Pokemon called Wrestlemon. You should go buy it. Done that? Cool, cool. He also writes about wrassle stuff for VOW, and is one of the people willing to subject himself to WWE previews. You can find his late night musings about old Royal Rumbles on Twitter @HEATcomic.
Andrew Sinclair: Voices of Wrestling's new Impact Wrestling aficionado, Andrew is most definitely not hyped for this card. Follow along on Twitter @AMSinclair97 for a series of mindless tweets on darts, boxing and all things Scotland.
August Baker: If you are looking for mild wrestling takes and pictures of the gosh-darned cutest newborn baby in the world, follow August on Twitter, @augustbaker12.

2-out-of-3-falls match for the WWE SmackDown Tag Team Championship
The Usos (Jey and Jimmy Uso) (c) vs. Chad Gable and Shelton Benjamin
Jeff Martin: On paper this is the best thing on the show. The Usos' series of matches with the New Day was a highlight of 2017, and the brothers have already had several excellent, albeit very short, matches with Gable and Benjamin already. Two out of three falls seems to have fallen back into WWE vogue in the past few years, but at least it suggests that this will get some time. There's so much time between now and WrestleMania that I suspect this feud is going to continue for a while before we arrive at the 'Mania program. A title change will give this thing enough legs to take us to whatever the February show is called this year. Prediction: Gable & Benjamin
Andrew Sinclair: The loss of both the US Title and Cruiserweight Title matches from this show not only takes away my worry that this show might spread over 6 hours but also means the decent matches on the show, like this, get some breathing room. Whilst their way of getting to it was contrived, I do like two-out-of-three falls matches and both these teams are excellent. The Usos had a banner year in 2017, whilst Gable and Benjamin are really beginning to gel as a team, with Gable in particular excelling on the mic. Gable and Benjamin could well win here, and as I hate the idea of them losing again it's not the worst idea in the world, but my booking says the Usos against the Bludgeon Brothers is the Wrestlemania programme, so the Usos retain 2-1. Prediction: The Usos
August Baker: The two tag team matches should easily be the best matches on the show. Gable and Benjamin don't get much of a reaction, but they're putting on good matches that make Gable look like a future star. But while he may be a future guy, the Usos are one of the few acts in WWE right now with any juice behind them, so taking the titles off them would be a mistake. Prediction: The Usos
WWE Raw Tag Team Championship
Seth Rollins and Jason Jordan (c) vs. Cesaro and Sheamus
Jeff Martin: Somehow the RAW Tag Titles are the only feud that feels like an actual feud. Rollins' history with the Bar gives this a lot more narrative depth than most of the bouts on this card, and Jason Jordan's subtle heel turn has been impressively nuanced (especially by WWE standards). Jason Jordan has been saddled with an awful storyline, but his lot has improved substantially since he's followed in his "father's" footsteps by being a heel that thinks he's the hero. Like the Smackdown Tag Title match, I expect this to be quite good between the bells. I have no idea who the Bar wrestle if they win the tag titles, and there's not a story thread that offers a convincing argument for a title change yet. Prediction: Rollins & Jordan
Andrew Sinclair: Of the four title matches scheduled for the Rumble, this is one that I have the greatest inkling will change hands. Rollins and Jordan still make for strange bedfellows, and both have further teased heel turns in recent weeks, turns that both of them desperately need. I think it really depends on the direction of the tag team titles. I suspect Rollins vs Jordan might be a Mania programme, and as Raw have another PPV between now and April, I think they retain here before dropping them at Elimination Chamber to The Bar or The Good Brothers. Prediction: Rollins and Jordan
August Baker: I enjoy Jordon's heel gimmick, though he doesn't have the charisma his "father" has, so doesn't pull it off quite as well. Regardless, it's at least given him a character to work with, which is more than he had before. Going forward, there's no reason for Rollins and Jordan to keep the titles. I expect both guys to be in the Elimination Chamber before kicking off a feud with each other, while the Bar is versatile enough to defend against any team of heels or faces. Prediction: Sheamus & Cesaro
---
---
WWE Championship
AJ Styles (c) vs. Kevin Owens and Sami Zayn
Jeff Martin: I die a little inside every time AJ Styles has to say "Kami" on television. The second-hand embarrassment I've been feeling during his promos lately has been agonizing. These guys are pretty much just pawns in a Daniel Bryan/Shane McMahon feud that can't lead to a match, so what are we even doing here? If KO is injured and ends up lurking in periphery of this one, it turns into a Zayn/Styles singles match, it'll probably be pretty good, but… why? Remember the period between the brand split and the Superstar shakeup when Smackdown was incredible even though the roster was weak? I miss that. Prediction: AJ Styles
Andrew Sinclair: Everything about this makes me angry. AJ Styles, the best guy in the company, is being overshadowed by McMahons taking centre stage. Why is Daniel Bryan the heel? And Kevin and Sami being co-champs? Give me a goddamn break. KO is legit injured and I think this will be a re-run of the AJ/Sami singles match from this week's Smackdown, which was good. I just sincerely hope AJ wins and we can move onto something bigger, brighter and better. Something Strong perhaps. Prediction: AJ Styles
August Baker: What a waste of three of the best dudes on the roster. This whole thing is, to use the slang of the youths, cringe. It's dumb, and it doesn't feel important. Picking a winner here is entirely dependent on what you think happens in the Rumble. I don't think the WWE has enough faith in Nakamura to win, and he's the only decent challenger for AJ. So screw it, do the co-champion bit. Go all out with the stupidity. Why not, it's not like they can degrade these guys any further. What a mess. I hope AJ Styles loses the WWE title at the Royal Rumble every year. Prediction: Kevin Owens & Sami Zayn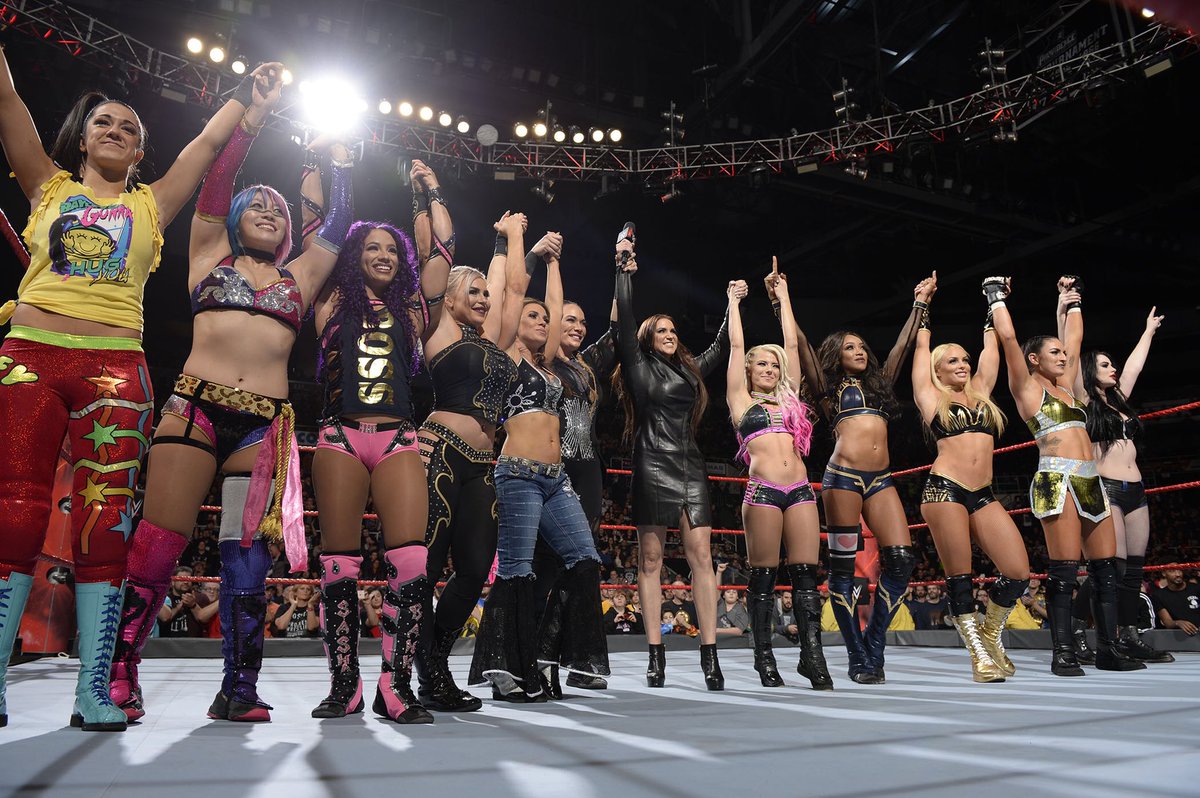 30-woman Royal Rumble match
Jeff Martin: I have no read on this one at all, because neither of the Rumble matches on this show have any real build to them. This one has been predicated on "it's the first one," which doesn't give a lot to go on if you're just looking at the narratives presented on TV. Obviously if Ronda Rousey is in it, she HAS to win, but as far as what's been presented on television, Ronda Rousey doesn't exist. Asuka's the only woman who feels like she has any real purpose on the RAW side, and the Smackdown women's division has fallen off a cliff since the Superstar shakeup and still hasn't hit the ground. This has potential to be fun and exciting or a complete disaster, but I suspect it'll land somewhere in the neighbourhood of "fun, but not as good as the praise many will heap on it on Twitter." Prediction: Uh… Asuka? Yeah. Sure. Asuka
Andrew Sinclair: There's a lot of intrigue about this for me. It's fantastic that the ladies are getting a Rumble of their own and within the match there are interesting subplots. How does Paige's unfortunate injury change their plans? Is this going to be where we see Ronda Rousey's big debut? How many NXT roster members get opportunities? Asuka has to be the overwhelming favourite but I don't think she wins – she doesn't need to. She's already been presented, to a greater or lesser extent depending on your opinion, as dominant thus far and with another PPV before Mania, she can gain top contendership then, perhaps in a first ever women's Chamber match? Eliminating her from a Rumble also keeps the streak alive but allows someone else to get the spotlight. Likewise Rousey doesn't need to win, her debut appearance is a big enough moment. As for who does win though, I have no clue, so I'll go with my heart. Prediction: Becky Lynch
August Baker: Picking a winner here is hard, because, as pointed out above, there hasn't been much story to the match other than being "first." My initial pick would have been Charlotte, because she's the WWE's favorite, but she's not in the match. My second pick would be Stephanie McMahon, but since she's doing commentary for the match, that seems less likely, though not impossible. Debuting Ronda Rousey here and having her win is such a terrible idea that the WWE might actually do it. I have thought Asuka vs Alexa Bliss was the match they should be shooting for, and still think so. I think they have faith in Asuka, I think her team wins the Mixed Match Challenge, and I think she wins the first ever Women's Royal Rumble. An Asuka win will make the Philly fans happy, and they're going to need it. Prediction: Asuka
WWE Universal Championship
Brock Lesnar (c) (with Paul Heyman) vs. Braun Strowman vs. Kane
Jeff Martin: What is Kane doing here? Did he get lost on the campaign trail? At this point, I want Brock to drop the belt to Roman Reigns so that we can get some kind of juice into the Universal title picture. Brock's previous absentee reign felt really special, but this one has been so obviously leading to a Reigns/Brock 'Mania match that it's just been a year of placeholder defences built by the same Paul Heyman promo. Not only is it dull and repetitive, it's created an underclass of guys who could be in the title picture but instead meander around the upper midcard with nothing to do until Brock and Roman have their showdown. Maybe Braun Strowman will just throw Kane into the sun? The only hope this thing has is being a human demolition derby, because there's no intrigue at all in the result. Prediction: Brock Lesnar
Andrew Sinclair: Another monstrosity. For WWE to be the market leader and to keep network subscribers (let alone attract new ones), they need intrigue and programmes people can invest in. Perhaps 50-year-old Kane in a mask is some people's kink, but as I'm not a masochist, it's not mine. Brock will win, Kane will eat the pin. I just pray this is short and sweet and doesn't kill the feint interest I will have left in the show by this point. Prediction: Brock Lesnar
August Baker: Kane's Royal Rumble appearance in 2015 almost killed my love of professional wrestling. You may recall that year as the year the crowd turned against the Rumble match completely. Roman was the obvious guy WWE wanted, and Daniel Bryan was the guy the crowd wanted. This disconnect permeated the entire match, and was never more evident than the Big Show and Kane, both having been wrestling for over 20 years each, throwing away guys like Dean Ambrose, Cesaro, and Dolph Ziggler like literal sacks of shit. WWE sacrificed their entire future that night to make Roman look strong. Anyways, this match up sucks and I hate it. Prediction: Brock Lesnar
30-man Royal Rumble
Jeff Martin: Is this the worst-built Royal Rumble of the last decade? Two decades? It feels like a complete after-thought. And yet, it's the Royal Rumble, so I'm still pretty hyped about it. Roman Reigns is the only option on the RAW side, but they've got the Elimination Chamber this year. Would they waste the Chamber on a lame duck Lesnar title defence? Probably not, so that's likely where Reigns earns his title shot. That leaves Smackdown and… I guess Nakamura? An Orton win would tie him with Austin, and there's no way that happens. A Cena win is always an option, but Nak seems like the only upper-card guy who would benefit from the win, AND we might get an AJ Styles match out of it, which is Nak's best shot at a blow-away main roster match to salvage his lacklustre run. I do know one thing for sure: I am going to be completely shittered by the end of this match, because my friends and I play a Royal Rumble drinking game that does NOT fuck around. Prediction: Shinsuke Nakamura
Andrew Sinclair: I love the Rumble. No matter the state of the booking in the WWE at the time, the unique spectacle of the Rumble is something that always energises me. This year also stands out to me as there's no overwhelming favourite, at least not to my reckoning. With RAW having the Elimination Chamber this year, I suspect Roman's inevitable crowning as Brock's successor will take place then. That leads me to think a Smackdown guy is the one left standing looking at the Mania sign come the end of the show, and that man will be Shinsuke Nakamura.
Nakamura's WWE run has been crap thus far. There's no other word for it (well there is, I'm just not using it). A Mania programme with AJ could be the spark he needs for motivation, and could be the last programme the WWE need to decide they're not interested anymore. There are other options with cache too – Cena is someone they could well go with. In an ideal world I'd love Big E to win, although in my fantasy booking I'd also have had him win the US title, so I'll leave that for another day. Nakamura wins, last eliminating Finn Balor and Randy Orton.
NXT names I think we'll see include Almas and Ohno, whilst I think Elias could well be getting a lot of shine here. He's growing increasingly confident in the ring and on the mic and is clearly someone they see a lot in. Prediction: SHINSUKE NAKAMURA
August Baker: I wish I had my fellow previewers optimism about Nakamura. I think WWE has given up on using him as anything other than a sorta-popular guy. There are a lot of guys who could really benefit from a Royal Rumble win. Finn Balor would be a good surprise win, and he's a HHH guy so that's not impossible. I've been on the Big E train for years, and a win for him would give the New Day something different to do in the main event. But let's be real here. There's only one winner possible, because there's only one match they are building too. I'm not convinced the Elimination Chamber will be where Roman wins his title shot. The Chamber could be for the IC title instead. Or even better, Roman could defend his title shot in the Chamber. That way, he gets to beat 34 other people instead of a mere 29. Prediction: Roman Reigns