With the deadlines for numerous award ballots rapidly approaching I thought I'd take the chance to take a look back at the tremendous year of wrestling that occurred in Europe in 2017, hopefully bringing to light some gems that may have slipped through the cracks in your watching. The matches listed below will be a combination of the most hyped matches by the scene, as well as a few favourites of my own that I feel somewhat slipped under the radar and deserve more credit for their brilliance and to be in contention for the title of European Match of the Year.
Revolution Pro Wrestling
Over the past few years RPW has consistently been the place that has been home to my European match of the year. It's hardly a shock, the promotion itself is affectionately referred to as the Dream Factory by its fans and boasts a talent list that perhaps no other company can match. They mix together the elite talent from the US indies, Ring of Honor, New Japan and the native British scene and it leads to some remarkable outcomes.
Perhaps the very first critically praised European bout to occur in the calendar year took 21 days to come around in the main event of High Stakes when Matt Riddle met Katsuyori Shibata for the Undisputed British Heavyweight Championship. The two men wrestled a tight fifteen minute hard hitting war that was everything you'd want from those two; the word that best described the action was brutal.
Riddle would go onto have another celebrated match against a New Japan hard-hitter a few months later at the British J Cup when he took on the Stone Pitbull Tomohiro Ishii. I personally wasn't as high on this one, but it was certainly the talk of BritWres for a few weeks.
The segues continue as it was now the Stone Pitbulls turn to churn out a second contender towards the end of the year on the first night of the Global Wars UK series. Facing off against Limitless Keith Lee on a stacked card, this match was the topic of every conversation heading out of the York Hall. It's a match I'm very confident will be getting votes in the Voices of Wrestling Match of the Year Poll.
However, my favourite match of Global Wars UK actually took place the following day when Zack Sabre Jr. defended his Undisputed British Heavyweight Championship against Will Ospreay in the rubber match of their series. People rag on RPW for being an entirely dream match promotion, but this match here provided the conclusion to my favourite in-ring storyline of the year.
A while back Ospreay and Sabre faced off in RPW for the first time briefly after Sabre first won the title from AJ Styles. Ospreay brought the fight, but was utterly outclassed and fell resoundingly to Sabre's superior skill. To call that match an extended squash would really undersell the quality of the bout, but it was a contest utterly dominated by the technical wizard. Eighteen months later Ospreay and Sabre Jr. would meet again in Portsmouth (August 2017), but this was a far different encounter. Ospreay showed the growth he'd achieved over the intermittent year and a half and how much better rounded a wrestler he was from his time in Japan, and was able to go toe to toe with the man who had crushed him emphatically before. While he still wasn't a match technically for ZSJ, he was able to strike with him which allowed him to create openings for his high flying rather than having to rely solely on his aerial aspect. Zack wasn't going down lightly though, but in the end Ospreay managed to pull out a quick pin to earn himself a title shot.
This took us to the rubber match at Global Wars UK for the title, and what a rubber match it was. One of my favourite things in wrestling is when you are rewarded for your previous watching through the means of call-backs to prior matches, and I'm not sure when I last saw a match that did a better job at that than this one. While Will again brought the fire to stand up to Sabre, this time Sabre was better prepared for it and had many a counter up his sleeve. This only led to Ospreay, who already has for my money the most diverse and varied great looking offense in wrestling, diversifying his offense up all the more to try to find something, anything, that would work against Sabre. My biggest emotional reaction of the European wrestling year came when Ospreay finally managed to hit the Red Arrow. What followed only drained me further.
This match was my own personal European Match of the Year, and a match I implore all of you to check out. It holds up on its own, but for the full experience I would highly recommend watching their prior two RPW encounters to get the full experience.
You can watch all these matches on their streaming service: RPWonDemand
20-25 minutes of wrestling ZSJ last night a RevPro. Upset i didn't get the title but, but not in my performance. In those minutes I can say I did 3 flips and not 1 dive, and the fans were going nuts #GlobalWarsUK

— ウィル・オスプレイ (@WillOspreay) November 11, 2017
PROGRESS Wrestling
2017 was a weird year for PROGRESS. I think the majority of fans will agree it was a poor year creatively for the promotion, but I think that lost in that is that they also experienced fairly comfortably their best in-ring year in their existence. The quality stuff was somewhat frontloaded towards the beginning of the year, but throughout the year there was almost always one aspect of the promotion that was delivering bangers. Whether it was the South Pacific Power Trip and Ringkampf tearing it up in the tag division, Ospreay's tremendous in-ring heel run, Travis Banks' challenge series, Riddle and WALTER's Atlas title runs… There was almost always some silver lining with regards to match quality.
So going chronologically, the year started off with the tag division being on absolute fire. The match that got all the hype was a barnstormer between the Ringkampf team of WALTER and soon to be WWE bound Axel Dieter Jr. facing off against the South Pacific Power Trio at Chapter 43 that received particular championing from Voices of Wrestling's own Joe Lanza. However, my own personal preference on the tag matches from this period was that same Ringkampf team's encounter with the Hunter Brothers two chapters later at 45.
Will Ospreay's early year heel run in PROGRESS was something that was met with mixed response, but personally I thought it delivered some of the greatest matches in the history of the promotion. I'm an unapologetic mega-fan of Ospreay's work, but I particularly loved the added viciousness he added to his work in the role and there was no match that better encapsulated that than his showdown with Mark Andrews at Chapter 45. That's a fringe top 10 match of the year for me and my personal PROGRESS MotY; I loved it that much.
The standout match from PROGRESS' big Super Strong Style 16 tournament was almost undoubtedly Matt Riddle facing off against Jeff Cobb. While personally I didn't feel it translated to tape as well as it was hyped, the live hype from this match was something rivalled only by Keith Lee-Ishii and a certain tournament final in Germany that we'll get to soon.
Finally I want to give credit to the amazing series of matches WALTER and Riddle had over the Atlas title. They had three singles matches under the PROGRESS banner (Chapters 46 and 51 and their New York show) as well as a triple threat with Thatcher at Chapter 55. I'd personally give their New York match the slight edge over the rest, but all four kicked ass. While we're on the topic of the Atlas division, I'll give an honourable mention to Thatcher and Dijak's match also from New York.
Demand PROGRESS is the home of all the aforementioned epics.
Over the Top Wrestling
Ireland's premier wrestling promotion had a banner year, running the two thousand plus seat National Stadium for the first time (and then the second and third later in the year). They delivered not just at the gate but in the ring too. My personal favourite match of the year from them occurred on the Belfast leg of Martina's Gaff Party when a returning from injury Mark Haskins showed he hadn't lost a single step by going toe-to-toe against Matt Riddle in an absolutely fantastic contest.
You can't mention great matches in OTT in the year of 2017 without mentioning Jordan Devlin though. The Import Killer had a series of matches against a who's who of international talent that can be put up against pretty much any series of matches and stand tall; to put it simply he was brilliant. My personal picks of the bunch were his contests against David Starr from WrasslePOPS and Mark Haskins from Being the Elite, but honestly if you pick any of his ten singles matches against outsiders you won't go far wrong.
All these great matches can be viewed on OTT on Demand.
Westside Xtreme Wrestling
Both of wXw's big tournaments produced some epic encounters. The standard at the World Tag Team League was extremely high so there's a number of matches I could have chosen to highlight and I know the final between Ringkampf (this time WALTER and Thatcher) and Massive Product was many a person's match of the tournament, but for me Massive Product against A4 was tag team wrestling at its very best and stood head and shoulders above everything else on the weekend. The way they utilised tag structure and legal men is something that should be studied by every tag team on the planet.
Any list on European great matches would be invalid if it didn't at least give a mention to WALTER and Ilja Dragunov's 16 Carat final. It was an absolute war between a monster of a man and a psychopath who wouldn't back down even after being chopped so hard that his chest began peeling off. For me it was a great match but I didn't have the visceral reaction to it that so many did, but I know for a fact that this is many a person's worldwide favourite match from last year. I would not be shocked in the slightest if it ends up being the highest placing European match in our 2017 Match of the Year poll.
My favourite match from the 16 Carat though was the first round match between WALTER and David Starr, continuing their on running story of Starr never being able to get the upper hand on the Ring General but getting that much closer every time. In fact their entire series deserves mention; every time they faced off was magical, be it in a tag at Dead End, the 16 Carat match, the aforementioned Tag Team League final, their impromptu match in London or even outside of wXw at Beyond Cold Brew.
In a year where women's wrestling took a big step forward in Europe wXw played host to my favourite showdown at the Femmes Fatales tournament when Wesna went from somebody I'd never heard of to an instant favourite after her tremendous gritty brawl with Toni Storm.
wXw Now is the place to go for all that quality stuff.
WWE United Kingdom
I won't go into too much depth on this one since the list is focused on the European scene and throwing in a WWE product to that feels a tad off, but it's including many of the same wrestlers who ply their trade on the scene so I thought their great work at least deserved some attention.
I think by now everybody has seen Tyler Bate and Pete Dunne's great trio of matches over the WWE:UK belt so I won't waste your time throwing praise at matches that have already been showered in the stuff. I will however throw out a mention to a marvellous match between Tyler Bate and Mark Andrews for the same title that took place on the WWE:UK special that I don't think anywhere near enough people checked out. I would put it right up there with the Bate-Dunne series.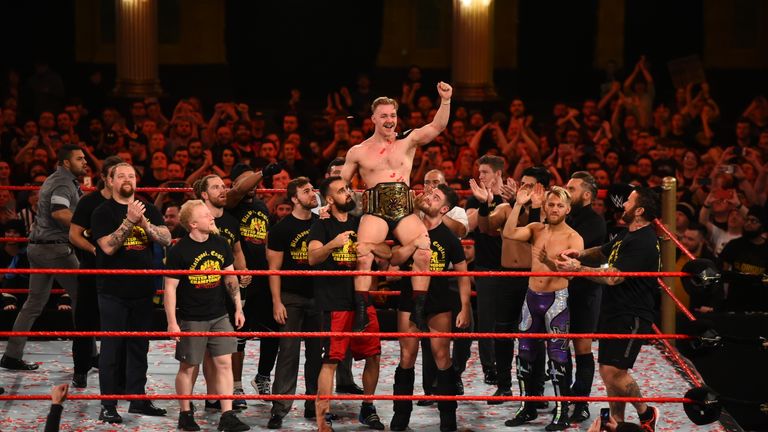 Best of the Rest
Outside of the big promotions there's also been a plethora of quality action. Keith Lee had the absolute banger that you would expect him to have with Daisuke Sekimoto at XWA's exclusive series which you can check out on EVE on Demand.
When Ring of Honor toured the UK with their War of the Worlds UK tour, KUSHIDA took on Titan in a match that I had zero expectations for and absolutely blew me away in the York Hall.
Whether you love them or hated them, you can't really tell the story of Euro Graps in 2017 without mentioning WCPW. While their product wasn't always for me, they did have some matches that I adored. My favourite match they hosted was Kyle O'Reilly against Mike Bailey from the Canada leg of the World Cup tournament, but in terms of matches taking place in Europe Ricochet against Drew Galloway was the pick of the bunch.
Finally Fight Club Pro had an amazing year in terms of growth and expansion, but didn't really deliver any match of the year contenders. The match that stood out the most and got the most people talking was their Death House match pitting the Callous Hearts team of Margera and Havoc against Drew Parker and Rickey Shane Page in the main event of the first night of Project Mayhem. I personally get no enjoyment out of watching deathmatches, but I'm told by those that do that this was a particularly outstanding one. I wouldn't be shocked to see this get some traction in our match of the year poll.